Most people starting from Yangon will make the journey ahead from Bagan to Mandalay. After enjoying the great Bagan Pagodas, it is time to explore the laid-back Mandalay. And being a big town, there are plenty of options of getting to Mandalay from Bagan, which was not the case earlier. Traveling in Myanmar is easier now, and the same goes to get from Bagan to Mandalay.
Here are the options available out of which you can choose depending on your budget and time. Bagan to Mandalay distance is about 180km.
Bagan to Mandalay By Boat
Relatively short distance, comfortable cabins and amenities onboard make traveling by boat a popular option between Bagan and Mandalay.
Bagan to Mandalay cruise on the Irrawaddy river will have upper-class seats, food and drinks would be provided and you can enjoy the journey passing through some fantastic views. It takes about 12 hours to reach from Bagan to Mandalay. So it is not the fastest way to reach Mandalay from Bagan, but travelers prefer it for a memorable experience in the river.
Taking a boat from Bagan to Mandalay is an awesome journey, and is highly recommended if you have time. You will watch the life of the fishermen, pass through amazing pagodas, houses, witness views of the countryside, and of course, not to miss those spectacular views of the sunrise and sunset.
This journey begins early in the morning before sunrise, around 4:30 AM, where a free pick up from your hotel is provided with the ticket. If you can shake off your sleep, you will be rewarded with some fabulous views of the sunrise. You will start your day with a light breakfast, and next, soak in the views of life on the Irrawaddy River. Throughout the rest of the journey, all you have to do is sit back and relax.
Return Journey
You can also travel the other way around, that is going from Inle Lake to Bagan by boat as well, and the journey is equally scenic and good. It takes less than 12 hours and is slightly expensive though.
You can book the boat trip through your hotel, which will include a free pick up. The price for one way boat trip from Bagan to Mandalay costs around 30 to 35 USD and from Mandalay to Bagan starts at around 45 USD per person.
Some tips:
It can be chilly in the early morning, so carry a jacket with you.
Carry some snacks and drinks with you although there is breakfast and lunch because you may or may not like them.
If you are seasick, take some basic medicines with you.
Editor's note: How to reach from Mandalay to Inle Lake?
Bagan to Mandalay By Bus
If traveling by boat is not possible for you for the lack of time or your preference, the next best option is to take Bagan to Mandalay bus. Earlier the buses weren't comfortable or frequent, but it has changed now. It takes around 5 to 6 hours to reach from Bagan to Mandalay by bus.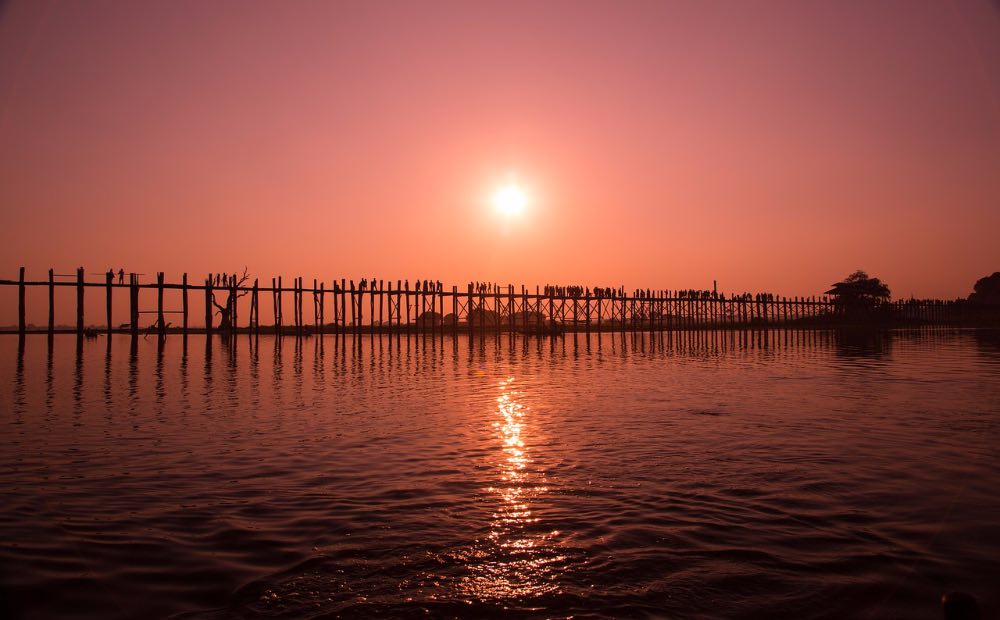 There are different types of buses to reach Inle Lake – minivans, regular buses and VIP buses. Both regular and VIP buses are air-conditioned, have reclining seats and are comfortable. You'll get blankets, drinking water and some snacks. 
You can book buses easily online with just one click on Bookaway. Book your tickets here!
The VIP buses have 2+1 layout though, and have extra leg space and are better. The price difference between the two is not much, so I would highly recommend you to book VIP buses while traveling in Myanmar if buses are your choice.
Buses depart from Shwe Pyi Bus Station in Yangon, and you will arrive at Kywel Sel Kan station in Mandalay.
There are motorbikes and cabs available at the station to get to your hotel. It is better to haggle well to get better rates and share your ride if you are alone to cut down the cost.
There are buses during the day that usually leave early in the morning around 6 or 7 AM as well as buses in the night. The cost of the bus is around 8 to 15 USD per person.
Some tips for bus from Bagan to Mandalay
The JJ express VIP buses sell out very soon because of their popularity, especially during the peak season. Hence it is better to book a few days in advance.
Also, JJ Express bus from Bagan to Mandalay offer free pick up and transfer from your hotel to the bus station. This is highly beneficial because the station is far and outside the town.
It is an advantage to book night buses if you are traveling by bus in Myanmar. But on this route, avoid taking the night bus. It takes just around 6 hours and you will reach Mandalay at odd hours say around 3:30 AM or so. Unlike in other destinations, hotels and hostels don't allow early check-in and the time for check-in is around 12 PM to 2 PM.
I didn't know that and I was refused check-in and had to pay another day's cost when I landed up at 4 AM at the hostel door. Definitely not a pleasant experience to deal with when you are sleep-deprived.
Carry some snacks/food with you as a backup. The buses stop usually for a break but you might not like what you find to eat.
The air con in buses makes it too cold, which looks like a norm across all of the routes in Myanmar. Carry a jacket or a sweater and socks.
I used 12goAsia to book the buses while traveling in Myanmar, and it is super easy to use and get the best prices because you can compare the timings, reviews of the buses and plan your trip in one go online. You don't need to take a printed copy of the ticket to board the bus as well.
By Minivans
If you want the cheapest option, you can also get to Mandalay from Bagan by minivans. But most avoid them because of very limited leg space and the discomfort, especially unbearable if taking a night bus as it is almost impossible to get a shut-eye.
Editor's note: How To Get From Yangon To Mandalay in Myanmar?
By Flight from Bagan to Mandalay
If you don't want to travel slowly by boat for a memorable journey on the Irrawaddy or not comfortable sitting in buses for long, taking Bagan to Mandalay flight is the best option.
But know that it is very expensive, although the flying time is under an hour. There are also limited flights and getting a good deal on the ticket is only possible if you book in advance. The price varies from 50 to 100 USD.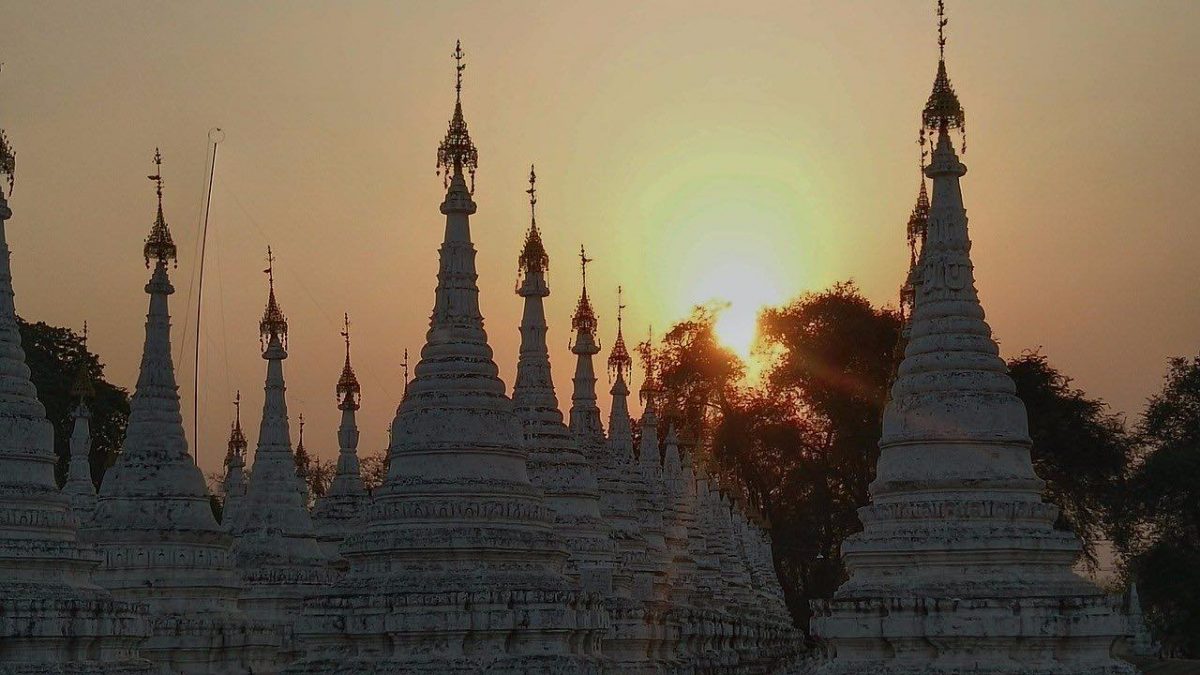 Here are some of the airlines that make a trip from Mandalay to Bagan – Myanmar National Airlines, Yangon Airways, Air KBZ and Asian Wings Airways.
It takes about an hour to reach the city centre from Mandalay airport. Taxis are available outside, but they can be slightly expensive, at about 20,000 Kyat.
Start early from Bagan centre to reach the airport as the traffic can get bad. Also, taxis are the best way to reach Bagan airport, but being about 30 km away it is very expensive unless you share the ride or negotiate to get good prices.
You can get a better deal if you share your ride with others, which is helpful if you are traveling alone. Also, haggle a bit for prices, because it is not uncommon in Myanmar for tourists to bargain.
Editor's note: How To Get From Yangon To Bagan in Myanmar?
By Cab
Traveling from Bagan to Mandalay by car is an expensive option but comfortable compared to taking the bus, boat or the train.
It takes about the same time to reach, i.e, around 7 to 8 hours, and more if you make stops along the way. The price for a one way trip to Mandalay from Bagan by car starts from around 120 USD to 220 USD. You can get great deals if you book through your hotel or guesthouse rather than booking online or via tour operators in Bagan.
By Train
If you want to experience a train journey in Myanmar, you can do this route, but otherwise, if you just think of it as a mode of transport, it is not recommended. It takes about 7 hours of slow ride from Bagan to Mandalay railway station.
It is a rickety ride, and the best way to enjoy is to book a seat in the upper-class or first-class cabin, which has reclining seats. But note that there is no air con in Myanmar trains.
Run by Myanmar railways, there are two trains every day from Bagan to Mandalay as well as the other way around. It is best to avoid the evening train leaving at 7 PM because there are no sleeper cabins. However, the day train will let you experience the beautiful landscapes as well as you get a chance to interact with the locals.
Some tips for Bagan to Mandalay train
Unlike buses, they don't accept the e-tickets on trains in Myanmar. You need to show a paper ticket.
You can book the tickets online at 12goAsia, but make sure to take a printed copy of the ticket before getting on the train. The upper-class seats cost around 15 USD.
It is better to book the tickets many days in advance(preferably a week or so before) as the upper-class cabins are limited, and since it is mostly used by tourists, they tend to get booked quickly, especially during the peak season.
OTHER POSTS FROM MYANMAR TO PLAN YOUR TRIP
How to reach Inle Lake from Yangon?
17 Best Bagan Pagodas That You Should Visit (Among the 800+temples)
How to get from Yangon to Mandalay– Bus or Train?
Watching Sunrise & Sunset in Bagan – Here is how to do it in 2019
Ways To Reach Bagan From Yangon in Myanmar
Offbeat Myanmar – 21 Awesome Things to Do in Hpa An
Crossing Thailand-Myanmar By Land – Here is a complete guide to do it
Pin this post to read later!