If you are traveling constantly or on the road for the long term, especially on a budget, cutting costs on the flight would go a long way. One of the possibilities to do so is traveling between Thailand and Myanmar and vice versa. You can cross from Thailand to Myanmar overland. After spending a few days in Chiang Mai, I had to reach Myanmar. I chose this option and traveled from Chiang Mai to Myanmar overland. Here are the details including how to do it.
About Thailand-Myanmar border towns
The nearest border town of Thailand towards Myanmar is Maesot. The nearest border town towards Thailand is in Myawaddy.
How to book buses from Chiang Mai to Maesot?
There are direct buses from Chiang Mai and Bangkok to Maesot. There are many bus companies offering buses between these cities. I took the Greenbus, which provides VIP buses from Chiang Mai to Maesot. It costs 490 baht at the time of writing this(August 2019). The first bus leaves at 8:30 AM, one at 1.10 PM and the last leaves at 5 PM. It takes between 6 to 7 hours to reach Maesot.
You can book the ticket online through their website. The company send a code to your mobile number(I had a local sim), which you can show at any of the 7-Eleven shops and get a print ticket. If you don't have a local mobile number, you can dial the number using a phone at the hotel or ask anyone to telephone for you to book a seat and get the code.
Unless you are planning to stay overnight in Maesot, it is better to take the first bus to exit with some buffer time so that you can also reach Myanmar the same day. It is a magnificent journey to this border town during which you pass through lovely landscapes.
Chiang Mai to Myanmar Overland – To the Immigration & Friendship Bridge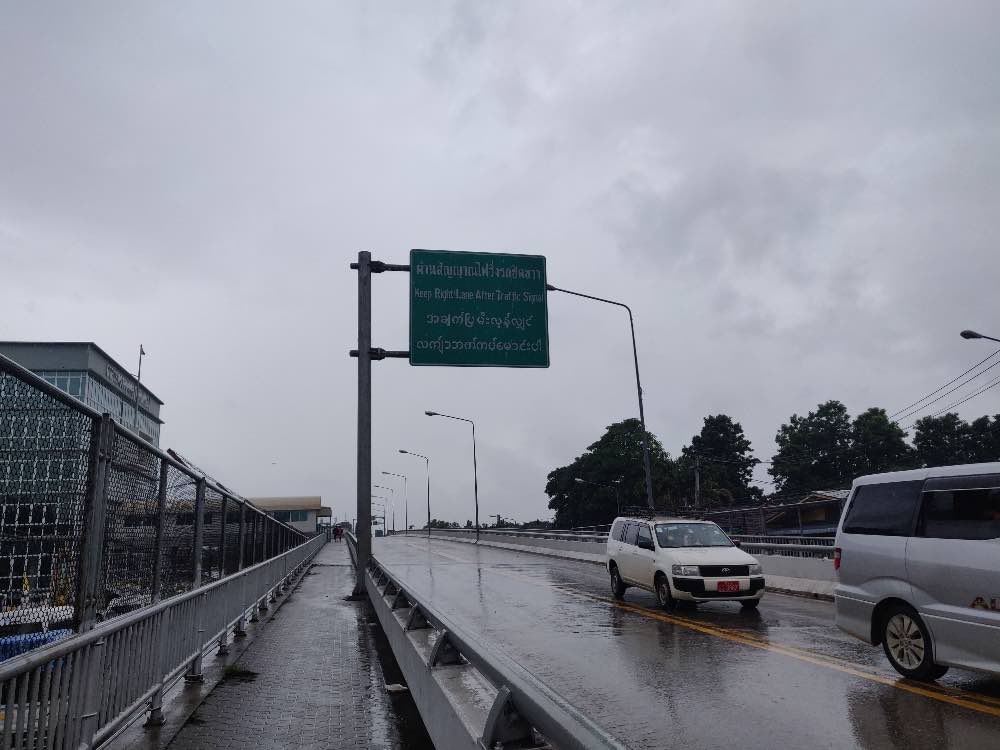 From Maesot bus station, you need to take a shared taxi or Tuk-Tuk to reach the immigration point. I paid 50 THB for a ride from Maesot bus station to the immigration centre.
Depending on the crowd, it takes between 10 to 25 minutes for you to exit Thailand. They take your departure card and biometric and check for your Visa approval letter of Myanmar.
Keep this printed out as you need to submit the same for your Myanmar Visa upon your arrival.
Getting Visa – Last step in going from Chiang Mai to Myanmar Overland
After you clear the immigration, you will have to walk over the Thailand-Myanmar friendship bridge for about 8 to 10 minutes, which will take you to Myanmar immigration point in the border town of Myawady. You can also hire a Tuk-Tuk or a taxi to head there, but I didn't see any.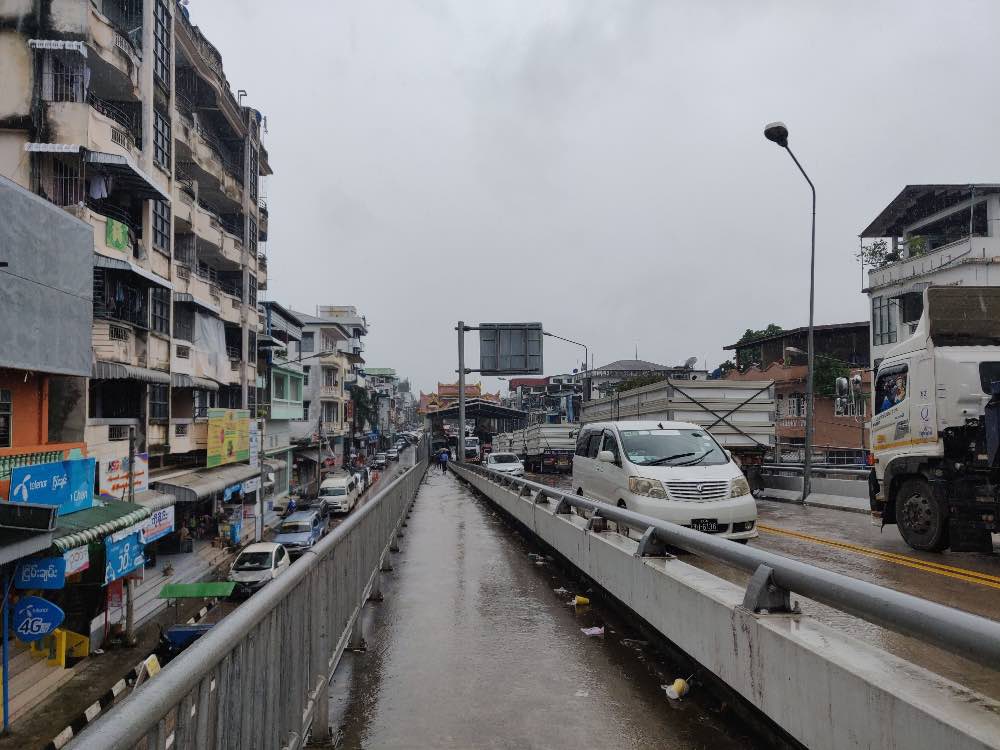 It is time for you to get your Myanmar Visa here at the immigration. You need to feel an entry form with some details. Have a hotel booking for one or two days and keep a print copy. It is necessary for an address in Myanmar and visa. They didn't check my hotel booking or ask anything, but the case may be different.
They might ask you for additional documents like your return ticket or hotel booking and in rare cases, an itinerary. No need to prepare an itinerary or a return ticket as you can tell you would be traveling overland(when asked or a return ticket), and you plan to book the local transport later.
The officer would give you the visa and handover the passport. Easy, right?
From Myawaddy to other cities in Myanmar
Once you are in Myanmar now, you can plan your next move. Most people travel from Chiang Mai to Myanmar overland travel from Myawaddy to Yangon. Head to the bus station for express buses, or you can book online as well.
Editor's note: 11 Day Trips from Yangon That You Can Plan
Myawaddy to Hpa An
I headed to Hpa An from Myawaddy to spend a few days. Buses are few to Hpa An from Myawaddy and have fixed timings. So the cheapest and the best way to reach Hpa An from Myawaddy is by a shared cab.
It costs 10,000 Myanmar Kyat or 200 THB. You can pay in THB or even in USD. The best way is finding an ATM and getting some Kyat ahead before looking out for the taxi. You can also head to a bank on the way to exchange, but the rates are better at ATMs.
Next challenge is finding a shared taxi. There is no designated station for these cabs, and the taxi drivers would be just calling Hpa An, parking their cars on the roadside.
Editor's note: 5 Amazing Day Trips from Hpa An That You can plan
For someone who just entered a new country, it is almost impossible to notice or hear them. It is hard to find people who understand English in Myanmar. I just asked around for Hpa An after I couldn't find any station after I got out of immigration centre. You need to travel for about 10 to 15 minutes to get to the place where shared taxis gather.
So find a moto-taxi or a Tuk-Tuk and tell them 'Hpa An shared taxi'(which didn't work) or for best results, show them Hpa An typed on your mobile.
They will understand that you need to go to Hpa An (pronounced as Pa Ahn). They might take you to the bus station, so on the way, you can try making the driver understand that you need a shared taxi.
Editor's note: 21 Awesome Things to do in Hpa An
Some drivers might quote a higher price, but don't give in. Just smile and decline before walking away. Also, they don't begin until they find 3 to 4 passengers additionally. I traveled in August, which is a low season. I had to wait for almost an hour as my car driver tried hard to find passengers. Finally, he gave up and took just me for the same price (He asked for more amount, but I politely refused). It takes between 4 to 6 hours to reach Hpa An from Myawaddy.
I was able to travel from Chiang Mai to Myanmar overland and reach Hpa An the same day, which is one of my most adventurous trips!
The problematic part of Myanmar is communication because English is almost non-existent. But the significant part is that the people are really friendly and welcoming. That's it about getting into Myanmar. Have a great trip!
OTHER POSTS FROM MYANMAR TO PLAN YOUR TRIP
17 Best Temples in Bagan That You Should Visit + Tips To Avoid Scams
Watching Sunrise & Sunset in Bagan – Here is how to do it in 2019
A complete guide to Hpa An, Your Offbeat Myanmar Experience
How to travel between Yangon and Bagan – The best transport options with tips & tricks
Share Love. Pin this post!

Latest posts by Reshma Narasing
(see all)