If you think of Bagan, what comes to mind might be those stunning pictures of sunrises and sunsets apart from the thousands of temples. Bagan sunrise is magical. Bagan sunset weaves its magic upon people too, and that's why people come in thousands every year.
Almost all of the Bagan Pagodas were available to tourists to watch Bagan sunrise and sunset. People could climb the steep stairs of Shwesandaw, Bulethi and Tisa Wadi, and other scores of smaller temples to admire the spectacular views in all colours.
Since May 2019, all of these temples are closed for tourists to climb. I had done my research, making a Bagan Pagoda list for securing fantastic views. So don't bother looking up and reading forums or blogs for these spots as they are gone.
It is a good move for the monuments as they will be preserved better without human intervention. For travelers like us, it means that we have to go for alternatives to spot the spectacle of Bagan sunrise and sunset. Don't get disheartened, because you can witness the best view of sunrise and sunset in Bagan.
If you are on your Bagan trip from 2020 onwards, here is the list of places from where you can get the best Bagan sunrise and sunset.
Best Places for Bagan Sunrise & Sunset
As alternatives to climbing temples for sunrise views, they have built hill viewpoints at elevated levels, from where you can witness Bagan sunrise and sunsets. There are 3 of them, and I have given reviews of all below.
I was in Bagan for over five days and visited all these chasing sunrise and sunset in Bagan. That's why you can trust me on this.
1. Bagan Sunrise at Sulamani Hill View Point
The most popular among the places to visit Bagan sunrise and sunset is Sulamani Hill View Point. Located behind Sulamani Pagoda, this hill viewpoint is adjacent to a pond.
It has become the best spot for sunsets in Bagan as well as sunrise. You'll find tourists lined up on the viewing platform and locals trying to sell stuff. If you want to capture clear, beautiful shots of sunrise and sunset, please use your camera.
My rating: 5/5
Review: The best place for sunrise and sunsets in Bagan currently. The sunrise felt better than the sunset, although that might have been due to poor weather. The views of the temples are great from here compared to the other two mounds below, where you can spot Ananda Pagoda, Bulethi and Htilominlo temple from a distance. On bright days, you can also see up to Dhammangayi Pagoda.
Editor's note: How To Reach From Bagan To Inle Lake in Myanmar?
2. Nyaung Lat Phet Viewing Mound
It is also one of the viewing platforms available on the same name on Google maps. It offers a partial view but is still great for some fantastic views of the horizon.
My rating: 4/5
Review: Nyaung Lat Phet is not as good as Sulamani Hillview point because it is at a lower height and also the temples look a little further away.
Editor's note: How To Get From Bagan To Mandalay? – Should You Take The Boat?
3. East O-Htein Taung Viewing Mounds
The furthest of all view mounds is East O-Htein Taung. To be honest, its location is excellent, diagonally opposite to Bagan temple clusters. The height is too low, and even if you are over 6 feet, you won't be able to spot many temples.
It is a right place for Bagan Sunrise and Sunset if you are okay with having lesser temples in your frame. Because temples or not, the backdrop is gorgeous, and you can view the silhouette of the hills over the other side of Irrawaddy from here.
My rating: 3.5/5
Editor's note: 7 Best Day Trips from Bagan That You Can Plan
Bagan Sunrise & Bagan Sunset 2020
4. Official Bagan Sunrise & Sunset Spot – Bagan Viewing Tower
If you are willing to pay 8000 Kyat per person, then head to Bagan Viewing Tower. The ticket is valid for a whole day. So you can view both the sunrise and sunset. It is open between 5:30 AM to 10 PM. Bagan archaeological park aims to make this tower the primary viewpoint, which I guess has become successful already.
The building looks awful, to be honest. You have to get to the 13th floor, which has a viewing platform. Expect this tower to get crowded during the peak season. The tower is located in a great place and offers beautiful views of Bagan sunrise and sunset. If you are hesitant to shell money, you can check the reviews on Tripadvisor to get an idea.
If you are looking for a romantic tour, then check this Sunset Dinner at Bagan Viewing Tower, which allows you to have a delicious dinner overlooking the gorgeous views. You will be picked up from your hotel at 5 PM and will dine until 8 PM. Even if you are traveling alone, you can book this tour to romance self!
Editor's note: A Total guide to reach Bagan from Yangon
5. Take the cruise on the Irrawaddy River
You can have views of temples that form silhouettes from the Irrawaddy River as you cruise along passing through hills and Bagan Pagodas in the distance. It is a totally unique and a different view to witness Bagan sunrise and sunsets from the river.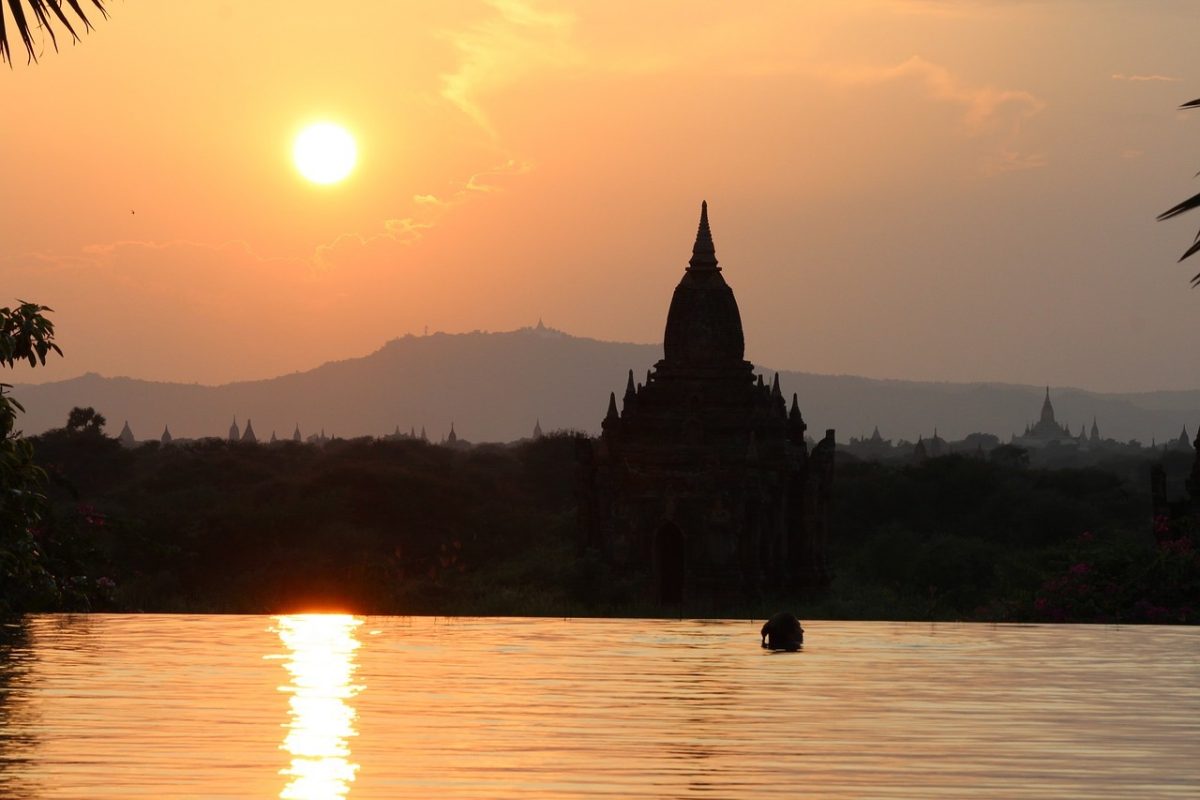 The Bagan sunrise cruise and sunset cruise can be booked from your hotel/hostel or head directly to the pier in Old Bagan to negotiate deals.
My rating: 5/5
Sunset tours
There are two guided tours that I'd recommend if you want to have some company and also enjoy a guided trip at an economical price. One is the Bagan Bike and Boat Sunset Tour, where you will cycle as well as hop on the boat in the Irrawaddy, which has high ratings. Best if you want to combine some soft adventure with a peaceful boat ride.
The other is Sunset Cruise Tour with Local Guide, which is an amazing 2.5-hours guided tour to witness the lives of the locals on the Irrawaddy. Best if you want to have a relaxed evening to witness Bagan sunset.
Editor's note: How to reach Inle Lake from Bagan
Best Temples for Bagan Sunrise and Sunset
Now, these temples are probably the only Pagodas from where you can watch stunning Bagan sunrise or sunset. But that's because of their excellent location.
6. Lawkananda Pagoda
Located on the banks of the Irrawaddy, you can enjoy a full view of Bagan sunrise and even better gorgeous sunset in Bagan from Lawkananda Pagoda. A few temples will be seen, although they appear vague. But you can watch all the after-colours in the sky on the river, and the boats looming in.
My rating: 5/5
Editor's Note: 17 Best Bagan Pagodas That You Should Not Miss
7. Bu Phaya
Also located beside the Irrawaddy, it offers 360-degree views of the landscape across the river. You can take up Bagan sunset cruise or sunrise cruise from here or stand next to the Pagoda to soak in the blissful views of the city. It is a perfect way to end or start a day witnessing serene sunrises and sunsets in Bagan.
My rating: 5/5
Best Bagan Temples – Which are the top Bagan Pagodas to Visit?
So start your day or end it by witnessing magical Bagan sunrise and sunset. There are over 1000 temples to visit in Bagan. If you are wondering what are the best Pagodas in Bagan, check this post.
Bagan Travel Tips – Some Tips to Know while visiting Bagan Pagodas
You must take a moment out to plan your temple visit. While some of the Pagodas are located close to each other, some of them are not. The best way is to select the ones that you want to visit from Bagan Pagoda list, mark them on your map. It will give you an idea of the locations of Bagan temples and pagodas, based on which you can plan.
Although the probability of checking may vary, carry your Bagan Archaeological Zone Pass – the one that you got after paying 25,000 Kyat.
Dress respectfully – Needless to say, all of these are Buddhist temples – so you need to cover your back, knees and legs. No spaghetti tops, shorts, tight jeans and any skimpy clothes are allowed. You need to remove shoes and socks before entering the temples. Also, ask permission before clicking any locals.
With the boom of tourism, especially in places like Bagan, where it is one of the main revenues, you are going to encounter aggressive selling – whether it's from kids at temples or shopkeepers. You can politely but firmly decline if you are not interested, but don't be a bad tourist who yells.
Beware of Bagan scams – In general, there are some scams in Myanmar, like in any country. The ones specific to Bagan are those men and sometimes women whom you would encounter. They will try to converse with you harmlessly, and then tell you that they know the best spots for sunsets and sunrise in Bagan. Don't fall for this – All of the temples are now closed for climbing.
Also, don't buy tours or tickets from random people or shops that aggressively market. Most of them are overcharging. Look for them at your hotels, hostels and guesthouses. To make sure you get the best price possible, check with those shops where they are not actively trying to sell anything.
Editor's note: How to travel from Bagan to Yangon?
Bagan Sunset Tours
There are some amazing boat tours on the Irrawaddy river at the time of sunset that will take you on a memorable journey.
Popular Group tours: This Guided Sunset Temple Day Tour and Traditional Lunch is one of the recommended tours to enjoy a traditional Myanmar lunch followed by a guided tour around sunset. Has amazing reviews, can be easily booked and you can also cancel for free up to certain hours before.
OTHER POSTS FROM MYANMAR TO PLAN YOUR TRIP
7 Amazing Day Trips from Bagan
3 Days in Yangon – Itinerary Ideas for 1, 2, 3 days and tips for exploring Yangon
11 Cool Day Trips From Yangon to Check Out
Yangon Circular Train – How To Plan Your Local Train Trip & Things To Know
How to get from Yangon to Bagan – A total travel guide with tips
An Ultimate Travel Guide to the Best Temples in Bagan + Tips & Tricks
Best Ways To Reach Mandalay From Bagan – Should You Take the Bus or the boat?
A complete guide to Hpa An, Your Offbeat Myanmar Experience
Crossing Thailand-Myanmar By Land – Here is a complete guide to do it
Pin this post to read later!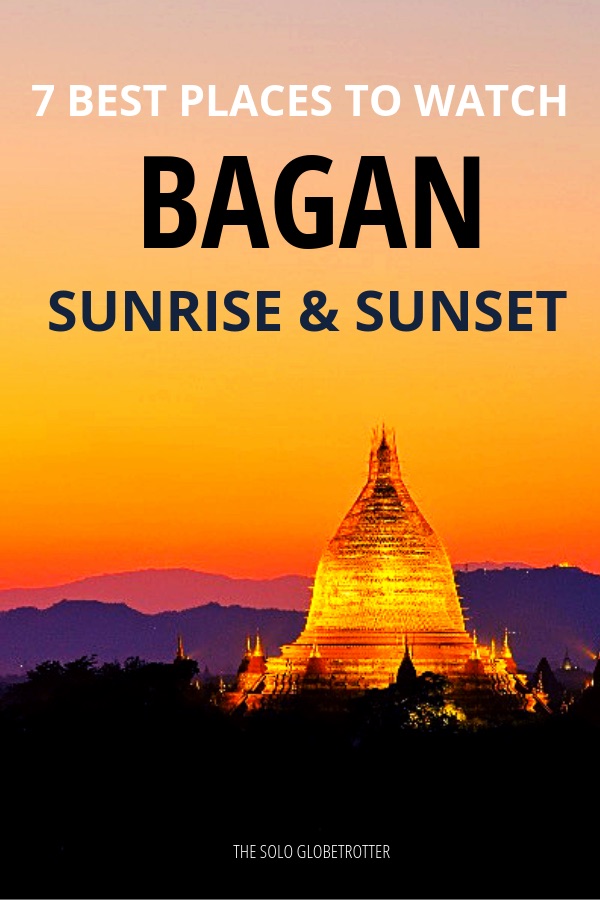 Connect with me on Facebook, Twitter, and Instagram for travel stories.

Latest posts by Reshma Narasing
(see all)