If you think the Yangon Circular Train is a regular train ride, think again. Myanmar railways are a fantastic way to experience the country. And this heritage line is among the bucket list in Myanmar itinerary on every travelers' list. On this city circle train, you will witness Yangon unlike no other in 3 hours – a commotion of people in the carriages and an equally buzzing life that unveils on the outside.
If you want to add this experience among the plenty of amazing things to do in Yangon, this post will help you. In this guide, you can get to know what to expect and tips plan your circle train tour to have a fabulous journey.
What is the Yangon Circular Train Line?
Yangon Circular Railway, more popular among the tourists as Yangon Circle Line Train is a local commuter rail operation in the Yangon Metropolitan area. It runs for about 28 miles or 45km and consists of a 39-station loop system connecting the outskirts of the city.
Yangon circle line is the cheapest mode of transport and is highly used by the low-income section of people for the everyday commute. The decrepit heritage carriages receive up to two hundred thousand passengers every day.
With this huge number, it gives slices of Yangon life for tourists who board the circle train. It is indispensable for travelers not to have any interaction with locals, even if it means awkward hand gestures or just kind smiles and laughter.
Yangon Circular Train History
The Yangon Circular Train was constructed by the British in 1954 as a part of the introduction of the railway in Myanmar to connect different cities and suburbs. Most of the present-day coaches were replaced in the late 2000s when new Japanese ones were introduced. Also, some new coaches with air-conditioning were added recently, and the non-AC ones are the oldest, brought from Hungary in the 19060s.
The true experience and joy lie in traveling in the antique coaches with hard seats adjoining windows, like in modern-day metros. The ceiling fan dangles just above and most don't work, but overall, the carriages in bearable conditions. There are about 15 departures on a double-track every day going clockwise(Right) and counter-clockwise(Left) or loops. It is a bumpy ride on old carriages that move very slowly.
Editor's note: A total guide to spending 3 Days in Yangon
How long is the Yangon Circle Line?
A complete journey on the Circle Line of Yangon takes about 3.5 hours, but you can get on and off anywhere. (See below for best stations to do them)
How many stations on the Circle line?
As you can see from the stations on the circle line map, there are 39 circle line stops or train stations.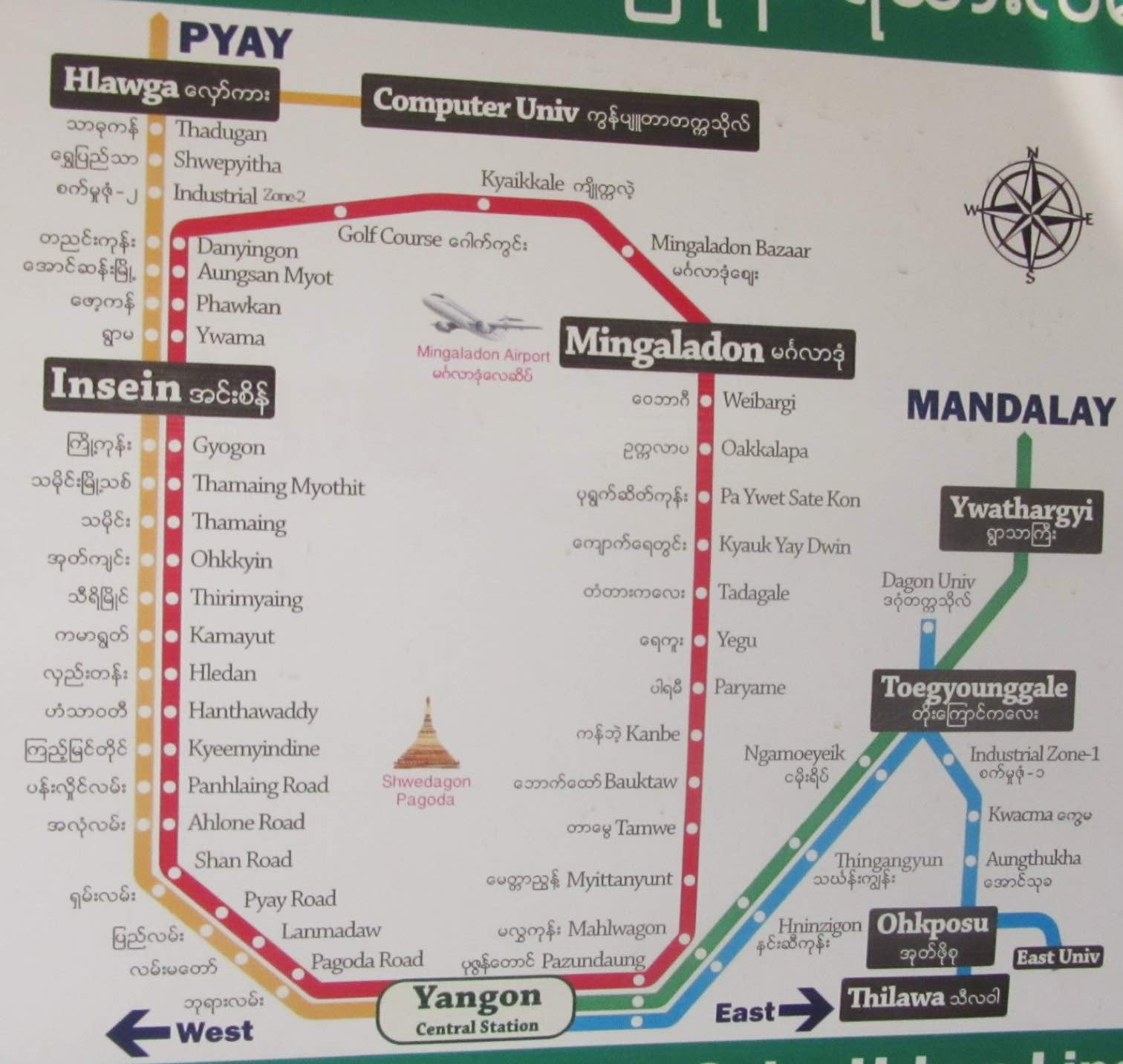 What is the cost of the Yangon Circle Train?
The cost of a single journey loop ticket for the circle line is 200 Kyats for non-AC coaches and 500 Kyats for an Aircon carriage. For shorter rides, the price is 100 Kyats. The few AC carriages are seasonal and subject to availability. They also quickly fill during the peak hours and high seasons.
Recommended: 11 Awesome Day Trips From Yangon
Where to buy Yangon Circular train tickets?
Usually, you buy train tickets at the main counter that is generally located at the entrance. But in Yangon railway station, it is different, at least for the circular train line. Look for signs, if you don't find, say circular train, and people will show you the way. 
Head to platform 7, which is the standard track for the circle line. However, they change platforms sometimes, so it's best to double-check with someone. There is an exclusive ticket counter at platform 7 for the Circular train line. You will get instructions about boarding from an official who speaks decent English, and the ticket itself is quite antique and handwritten. There is a map on the wall, with all the details (some in English), which will give you an idea of the routes to expect.
Yangon Circular Train Timetable
The first train in both directions starts at 6:10 AM (Both ways) and the last is at 5.10 PM (Right). The rest of the circle line operating hours are:
8.20 AM (Right); 8.35 AM (Left) 9.30 AM (Right); 10.10 AM (Right); 
10.45 AM (Left); 11.30 AM (Right); 11.50 AM (Right); 12.25 PM (Left); 
1.05 PM (Right); 1.40 PM (Left); 2.25 PM (Right); 3.30 PM (Right); 4.40 PM (Left)
Not all of them do the full circle. The first full circle line leaves at 8:20 AM and the last full loop one is at 5.10 PM.
Keep in mind Myanmar railways timetable are subject to change without prior notice. Also, Myanmar train schedules often run late, so expect a few minutes of delay to be common.
Editor's note: A Complete Yangon Travel Guide With Itineraries & Tips
What is the best time to do Yangon Circle Train?
As you see in circle line timings, the Yangon city circle line runs almost the entire day every day. The best time to get on the circle line train would be early in the morning, preferably between 8 AM to 10 AM.
Because the train comes to life right after dawn, when the commotion begins the carriages as the locals start getting in and out. It is the best time to witness the city life, on the train as well as outside, as you pass through fields welcoming farmers, and people running for work.
It is also the best time weather-wise, as it becomes a challenge to make a journey in non-AC coaches later during the day when it gets too hot.
Where to board the Circle Train?
You can board the circle train on any of the stops mentioned on the route, but the best place to start the journey is at Yangon Central Railway Station.
Here it is easier to figure out tickets, platforms, and train information as it is the main railway station in the city, and hence you will find English speaking locals and tourist information centre to help you book your ticket.
Where to hop off on Yangon Circle train?
Some people travel end-to-end starting and ending the journey at Yangon Central station. It takes about 3.5 hours and is recommended if you have time. 
However, if you want to cut down your train time to cover other attractions, these are some of the stops close to popular Yangon pagodas. If you get off at Yaegu, Kabar Aye Pagoda is closeby. You can visit Chauk Htat Kyi and Ngar Htat Gyi Pagodas if you get off at Myittar Nyunt. 
You can get off anywhere and take a cab or a tuk-tuk to get back to Yangon. Your ticket allows you to hop off and hop on the same train as well. So when the train stops, you can get down(maybe at interesting stops like the market) and get back on before it leaves.
The Journey on the Circle Line of Yangon – What to expect
Your journey experience on the circle line depends on when you board the train. I took the morning one at 8:20 AM, as that was the full circle line that would pass through all the 39 circle line stations. I was not sure if I would make the entire trip, but I picked this one because it would let me do the entire trip if I loved. And that's what I did, and sat through all the stops.
There isn't much action at the beginning, which is good because it gives you some time to find a good seat, with windows offering better views. A few stations later, the almost empty coaches get filled with people, goods, chickens, and everything.
The landscape outside gradually changes from city scrapers to the countryside, making you turn your head at every bend. The frames change constantly, and you will begin clicking left right and centre instinctively.
The number of concrete structures reduces giving away to a handful of homes located amidst fields. The roads lined up with endless cars will turn into muddy roads with kids enjoying their day. The city's chaos will turn in to a pleasant morning as the train makes its way to the suburbs making rattling noises.
The scenes within the train change as well. Riding Yangon Circular train is one of the most affordable ways to explore the city, no doubt. So being very cheap, you will find all kinds of people boarding the train, from school kids to monks, who are on their regular commute.
With every stop, you will see a different set of characters leaving and entering the train, which begins to get slowly overcrowded after some stops.
Plenty of hawkers hop on and off the train selling various things, mostly food including light snacks like peanuts, boiled eggs, fresh fruits, bottled water, bottled fruit juices, to full-fledged lunch items as the time hits close to noon. You will be amazed by this moving cafeteria when women will cook fresh omelettes and salad items on the go.
The maximum commotion happens around the train market. You know you are close to this market on tracks when people with huge bags start hurling in and out of the train a few stops before. The crowd thickens and your seat starts feeling cramped with your legroom shrinking by every minute.
As soon as the train stops at the market, scores of people barge in and out. If you manage to get out, don't expect a seat when you get back on the train. You will have enough time to click a few shots, take a quick walk and see the market frenzy though.
Very soon after the train leaves, you will feel like sitting in a moving market, with more vendors selling all kinds of stuff in the carriages.
At other stops, people get down for tea or just to flex their muscles. You can do to, just follow a few locals to make your way and get out for fresh air before getting on.
It comes as a little surprise that you will end up interacting with different sets of people during this journey. The people of Myanmar are the shyest people that I have interacted with, among all the SE Asian countries!
Their shy smiles turn into a conversation if you manage with some English and sign language. If you want to engage with youngsters or school kids, they will be better in English. Many locals love chatting with foreigners as most want to improve their English as well as quench their curiosity about travelers.
To me, the journey was faster than I had imagined it to be, and not boring at all(against my expectations). I came out with sensory overload, and chitchat, all giving me glimpses of Yangon that otherwise would not have been possible.
Yangon Circular Train – Things To Know Before Your Trip (Some Tips)
Keep your passports with you to purchase your ticket. Foreign travelers need to show them for id verification and visa details.
The best way to plan your day is to take the train ride first thing in the morning, do it for about an hour or two so that you can get plenty of time for other places to visit in Yangon.
The Myanmar railway is slow, so expect the train to move at a snail's pace, thudding over the track in slow motion.
The toilets are in really bad shape, so keep a check on your liquids intake throughout the journey 🙂
You don't have to carry anything for drinking and eating. As I said earlier, you will meet vendors all along, so buy snacks, bottled water, and other stuff from them. Also, by buying on board, you are supporting the locals.
Clicking people is fine, but avoid shoving cameras in their faces. It is tempting to click those rare candids or interesting people, but it is important to respect them. Ask before capturing the locals, and be polite and keep up the smile.
Yangon Circular Railway Tours
If want to travel with a guide, you can take up these Circle Line Tours, where an English speaking guide will narrate some stories and show you the local life happening inside and outside the carriages.
With these tours, you don't have to run around for tickets and arrive comfortably. Here is a full-day guided trip in Yangon circular train that I'd recommend, which is the best way to glimpse the lives of locals.
Final Thoughts on Yangon Circular Train – Should You Do it?
I am a total fan of train journeys – Trains are where you can witness the local ways of life, passing through the heart of places, no matter which part of the world.
I was hesitant to make this Yangon circle train, but I am glad I did. I was prepared to get off after an hour or so, but the journey was so curious, amusing and interesting for people and landscapes watching that I ended up doing the entire circle line.
So if you have time to spare, hop on the Yangon Circular Train. It doesn't matter if you hop off at the 5th or the 15th station. It will be one of the journeys that you will remember for long, in your Myanmar trip.
OTHER MYANMAR POSTS THAT YOU MAY WANT TO CHECK
21 Best Things To Do in Yangon (With Itineraries for 1,2,3 & 4 Days)
17 Best Places To Visit In Mandalay
17 Best Bagan Pagodas That You Should Visit (Among the 800+temples)
How to get from Yangon to Mandalay– Bus or Train?
Watching Sunrise & Sunset in Bagan – Here is how to do it in 2019
Ways To Reach Bagan From Yangon in Myanmar
Offbeat Myanmar – 21 Awesome Things to Do in Hpa An
How to get from Mandalay to Inle Lake?
Crossing Thailand-Myanmar By Land – Here is a complete guide to do it
Pin this post to read later!
Connect with me on Facebook, Twitter, and Instagram for travel stories. 
Subscribe to My Blog Posts for Travel Inspiration, Tips, Travel Guides & Stories. No Spam!