There are so many places to visit in Mandalay, but I was surprised to know how travelers often overlook this lovely city. For many, it is a stopover to move to Bagan, Inle Lake or further up to Lashio, or maybe the starting or the ending city in their Myanmar trip. It is a shame because I guess this city is so underrated. Beautiful pagodas, the Irrawaddy river, ancient buildings with enriching architecture and history are some of the things to do in Mandalay.  
Mandalay deserves at least a day or two in your Myanmar itinerary. If you don't believe me, read further to find out everything in this Mandalay travel guide.
Places To Visit In Mandalay
1. Mandalay Palace
Among the top Mandalay attractions are the Royal Mandalay Palace or Mya Nan San Kyaw Palace, which was the centre of the seat of the power for many decades. It is located in the city centre and hard to miss. The palace is huge, surrounded by a moat and walls on all sides.
Most of the Palace area was destroyed in World War II bombing, and have been rebuilt in the 1990s. There are a lot of things to see and know in Mandalay Palace, including many rooms that now house the collection of the Burmese Royalty.
The combo ticket allows you free entry, and you can reach the premises by walk if you are staying in the downtown area.
2. The Wooden Monastery of Shwenandaw Kyaung
Close to Mandalay Palace is Shwenandaw Kyaung monastery made of teak wood. It is called Golden Palace Monastery as it was a part of the Palace during the 19th century.
It was an important monastery for the royal family and hence is grandly built. Don't forget to check the intricate carvings on the wooden walls.
Editor's note: How to reach Inle Lake from Mandalay – Bus or boat?
3. Kuthodaw Pagoda – World's Largest Book
Do you want to see the world's largest book? Then head to Kuthodaw Pagoda in Mandalay. It is not an actual book and it is the world's largest because of the time needed to finish this book!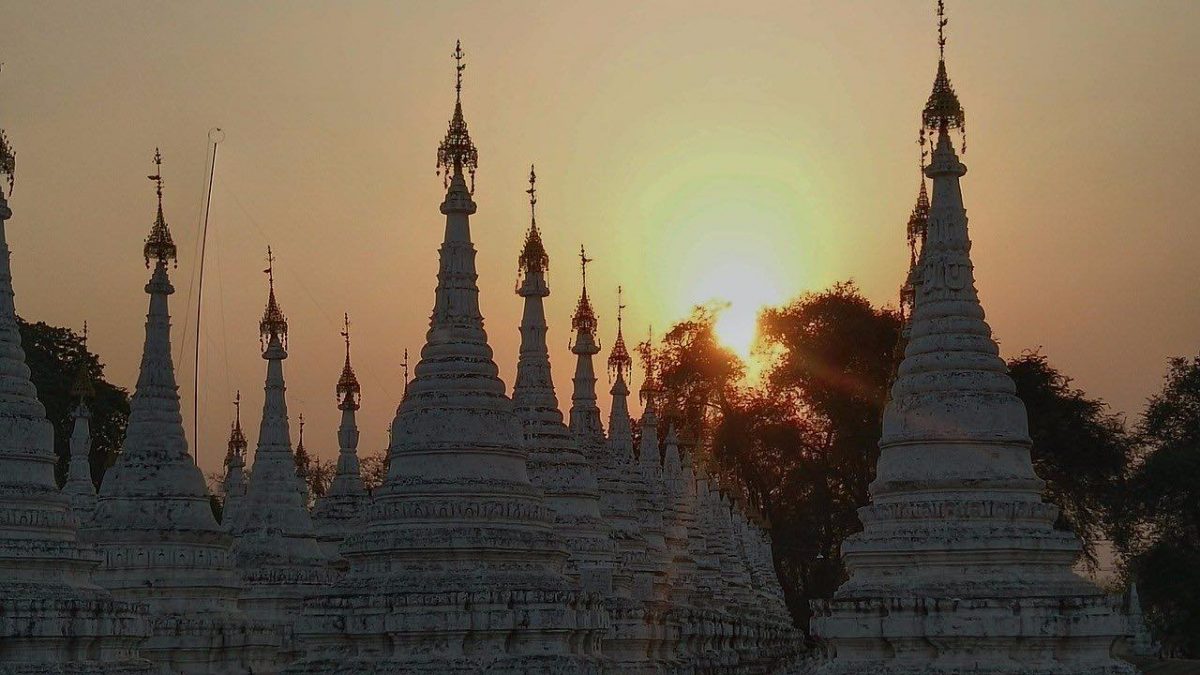 The book is 729 stone pages or stupas, which contain the Buddhist scriptures. It is estimated that it takes more than a year to read the inscriptions. The series of stupas arranged to form pages of a book, which look splendid, towering at over two meters in height.  Kuthodaw is surely one of the best places to visit in Mandalay.
No need for an entry fee with Mandalay archaeological zone ticket.
4. Maha Myat Muni Pagoda – Watch The Bathing Ceremony
One of the awesome places to visit in Mandalay is Maha Myat Muni Pagoda. It is not yet another temple in Mandalay. It is the most sacred site for the locals in the city. Head to Maha Myat Muni Pagoda to see Buddha wrapped in golden leaves, which is worshipped every day by people offering gold leaves. This huge Buddha statue is decorated with at least six inches of gold. 
Sadly, women can not(but why?) but men can offer gold leaf to Buddha. Visit this temple to admire the beautiful statue.
Every morning, monks bathe Buddha an apply Thanaka to his face, a ritual which is witnessed by hundreds. You can join in to see the unique tradition.
Editor's note: How To Get From Bagan To Mandalay? – Should You Take The Boat?
5. Mingun Pahtodawgyi – The Unfinished Pagoda
Mingun is located about 11km from the city centre of Mandalay on the banks of the Irrawaddy and is home to some attractions. The most popular of them is Mingun Pahtodawgyi. It is a huge temple, which has an unfinished tower at the top, which would make it the largest at about 500 feet.
The construction of the temple began in 1790 by King Bodawpaya. It is said that the King stopped the construction of the temple half-way when an astrologer in his court proclaimed that completing the pagoda would bring King's death.
So it was never finished, and today, the walls bear the cracks that occurred during an earthquake. It is one of those few structures that still sizzles in ruins.
Recommended read: What is the best way to get to Mandalay from Yangon?
6. Hsinbyume Pagoda – For Instagram Worthy Shots
Close to Mingun Pahtodawgyi is the White Temple, or Hsinbyume Pagoda, which is a must attraction in Mandalay for all Instagram lovers. It is also called Sat Taw Yar Pagoda or Mya Theindan Pagoda.
It is known for the waves like carved walls around the temple, which makes it look splendid. The stairs leading to the temple will give you some great angles for pictures. You can walk to all the levels through these stairs.
Until a few years ago, it was not that popular among travelers, but thanks to Insta shots, it is one of the must-visit places in Mandalay these days.
Editor's note: A guide to spending 3 days in Yangon, the Quirky Capital
7. Places to visit in Mandalay – Mingun Bell – Largest Ringing Bell
As you can see, Mandalay city has a handful of attractions with world records. One of them which makes to the list of places to Visit in Mandalay is The Mingun Bell, which was built to go with the unfinished pagoda or Mingun Pahtodawgyi.
This 13-feet tall bell weighs more than 90 tons and is the world's second-largest ringing bell, which makes it worth a visit.
8. Sandamuni Pagoda – For World's Largest Iron Buddha
Close to Mandalay hill is the Sandamuni Pagoda, which makes it ideal to stop before heading to the hill for sunset.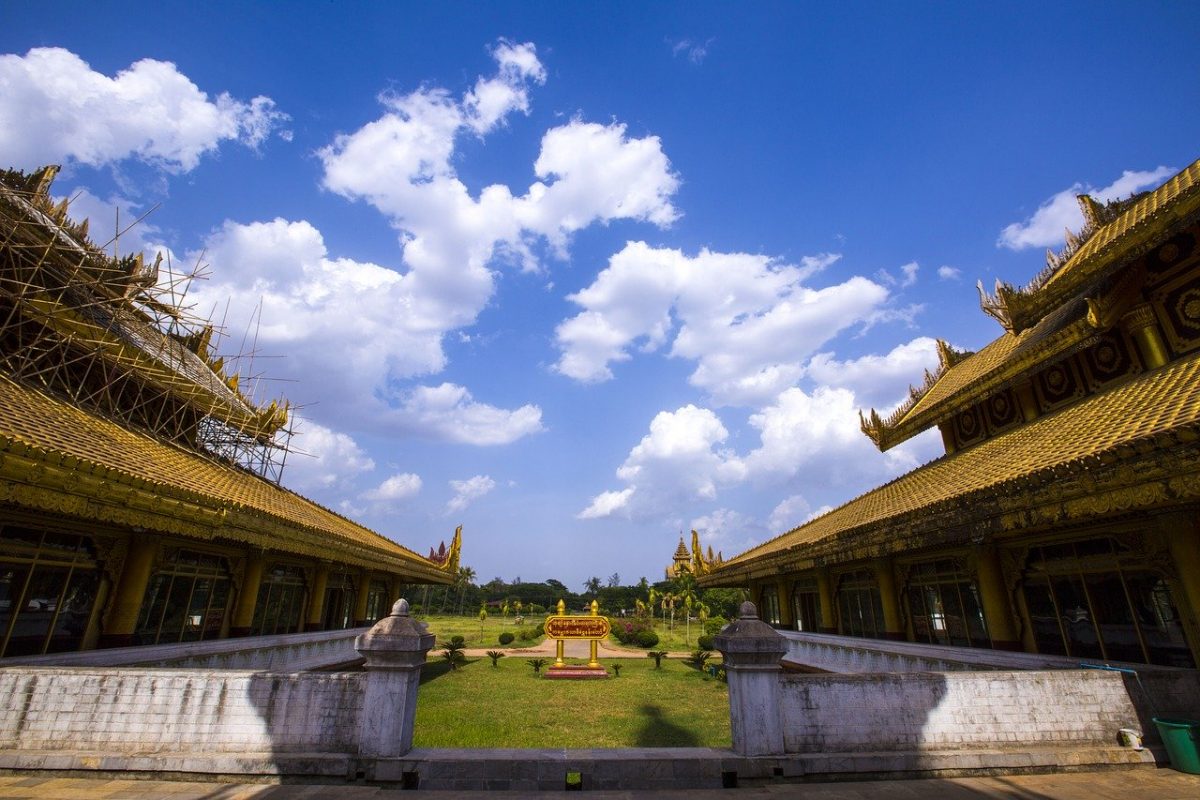 Sandamuni Pagoda houses the largest Iron Buddha statue, which is built from over 40,000 pounds of Iron. There is a huge stupa, which is surrounded by hundreds of smaller ones, making it a great place to visit in Mandalay for photography lovers. 
Getting to Mingun from Mandalay
You can take a ferry from Mandalay to Mingun, which starts in the morning from Myan Gyan Jetty around 8:30 AM. The problem is if you miss this, there are no boats, and also, if you want to come back by ferry, you would have to stick to the return ferry timing, which is in the afternoon and plan your day around it. You will have half a day and is perfect if that's your ideal time to explore Mingun
So if you don't want to feel anxious and have time, I would suggest reaching Mingun by renting a motorbike or a tuk-tuk. If you are in a group, you can also get by car, which is economical. Check with your hostel/hotel for transport options as their prices are slightly better sometimes.
Mandalay Archaeological Zone Ticket
The most economical way to explore all the places to visit in Mandalay is to go for this. One of the unique things in Mandalay, there is a combo ticket available for attractions that fall in Mandalay Archaeological Zone. It is valid for one week, and at just 10,000 Kyat, it's a steal deal. 
What is covered?
You can visit Shwenandaw and Atu Mashi monasteries, The Royal Palace, The Mandalay Cultural Museum and all the sites in Inwa that include Nan Myint Watch Tower, Yandina Sine Pagoda, Mai Nu Monastery and Bagaya Monastery.
What is not covered?
The entry to these places is not covered in the Mandalay archaeological zone ticket.
Mandalay Hill – 1000 Kyat
Mingun and Saigang Hill combo ticket – 5000 Kyat, which covers all attractions.
More Places To Visit In Mandalay
1. Hike to Mandalay Hill For Gorgeous Views
One of the top places to visit in Mandalay is Mandalay Hill. This small hill is famous for its stunning panoramic views of the city, especially during the sunset when hundreds of tourists gather at the top.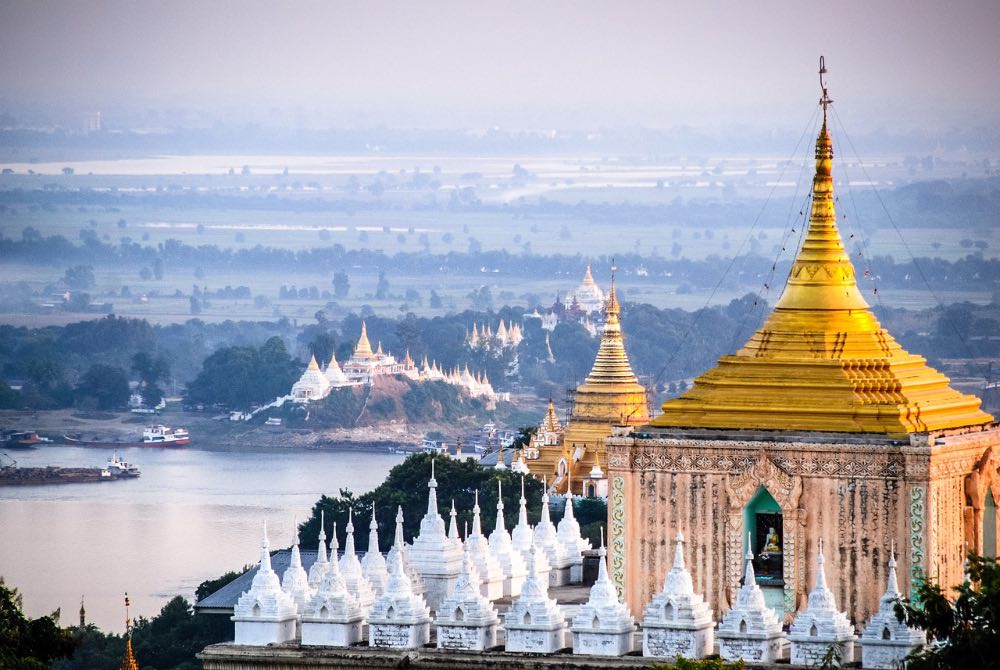 If you want to hike up, it takes about 45 minutes to one hour. You can also go by a tuk-tuk or a cab. There are elevators once you reach the entry point. 
It is best recommended to start before the sunset. It is close to the city centre and is not hard to reach. There is no entry fee, but if you want to use your camera, it costs 1000 Kyat.
2. Take a stroll on the world's longest wooden bridge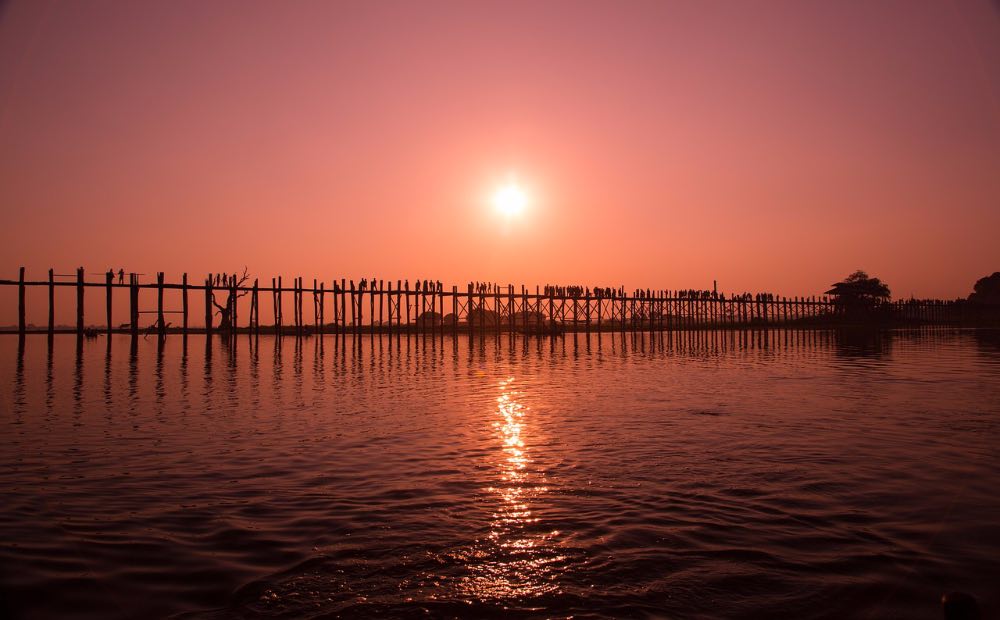 All those wondering what to do in Mandalay should check out the iconic U-Bein Bridge across the Taungthaman Lake in Amarapura. For starters, at over 2km, it is the oldest and longest teak footbridge in the world, which was built in the 1850s. It is still in use connecting people on two sides of the lake. Witnessing a sunrise or a sunset from this bridge is one of the top things to do in Mandalay.
Many people say sunrise is better here as there are very few people. I, not a morning person at all, went during the sunset and enjoyed the stunning views.
You can also opt for guided sunrise and sunset tours, both private and groups. You can also take up bike tours to enjoy a bike ride along the lake. I'd recommend these tours if you are traveling in groups for the best value of money and experience.
3. Hike to Sagaing Hill
Sagaing Hill is located on the banks of Irrawaddy close to Mandalay. It is one of those beautiful places to get away from the city to enjoy these stunning views and serenity overlooking the river. 
You can see over 500 monasteries peeking between greenery, with their golden towers beautifying the view. Sagaing Hill was love at first sight for me. 
You can easily spend half a day or more on this hill visiting these monuments. If you are short on time, you can combine it with Mingun or Inwa (Ava).
If time is not your constraint, the best way to plan your trip is to make this a day trip from Mandalay. Keep at least 6 to 7 hours including the evening for sunset.
Start from the 30 Caves Pagoda or U Min Thoze Caves, which is a lovely crescent-shaped temple. There are about 45 images of Buddha seated in cave-like structures. The view from the pagoda is equally good.
Later check out Ywahtaung village, where you will see the art of smithing practised by the local community.
Next head to Kaunghmudaw Pagoda, which is inspired by a white temple in Sri Lanka. This egg-shaped temple was once white as well but is now painted gold. Worth stopping for a while.
When it is the time for sunset, head to Soon U Ponya Shin Pagoda, which is the most popular of all. A short climb later, you'll be rewarded with majestic panoramic views and simple architecture of the pagoda. 
Watch the myriad of colours as the sun sets across the river and head back to Mandalay or continue your journey further after a fulfilling day at Sagaing Hill.
Entry Fee: You can buy the entry at 5,000 Kyat, which gives access to attractions in both Sagaing and Mingun.
4. Enjoy a Swim at Dee Doke Waterfalls
Dee Doke is a cascade of waterfalls, with beautiful turquoise pools, and is a perfect option from Mandalay to get away for a relaxed day. It takes about 1 hour to get to Dee Doke from the city centre of Mandalay, covering a distance of about 50 km. 
The tiered waterfalls have pools in between, which are lovely and best for swimming, making it one of the recommended places to visit in Mandalay. Take care of the slippery path and the rocks in between as they are dangerous. Avoid diving or jumping in and going out of marked trails. 
Carry modest swimsuits as Myanmar is still conservative. Also, take some snacks and drinks with you for a picnic.
You can get there by hiring a tuk-tuk or a cab. You can also drive if you don't mind the adventurous roads and distance. 
5. Visit the Gold Leaf Makers of Mandalay
In Mandalay, it is a tradition to offer gold leaves in pagodas. It is a unique tradition practised by people here as Mandalay is the centre of gold leaf industry.  The gold leaves are carefully carved by hands by hundreds of locals in many factories in the city. 
You can take a tour for free by attending one of these workshops, where you will see the end-to-end process of making a gold leaf, which is quite interesting. Head to 36th and 78th streets ask for these shops, and you will find many. The locals are more than welcome to show you around. If you like, you can also purchase these as they are perfect for souvenirs. 
6. Hike to the base of Dat Taw Gyaint Waterfall
At 120-meter in height, the sight of Dat Taw Gyaint is one of those to behold. If you want a hike amidst mountains, then this waterfall will be good for a day trip from Mandalay. 
You have to get to the entry point which is about 50km from Mandalay. Take a cab or a tuk-tuk or if you love driving, rent a motorbike, load your map and drive for about an hour. Start your hike wearing good hiking shoes, a pair of clothes if you want to swim(the possibility of this depends on the season and water levels).
Start your day early because you also have to come back and the trail is not good and would be difficult if it gets dark. Also, there are some small shops selling snacks and drinks. Pack some food and water, sunscreen, and a spare set of clothes. 
7. Check out local life at Zegyo Market 
If you are like me who like visiting local markets, you are in luck when in Mandalay because the city boasts of quite a few markets – one each for vegetables, seafood, fish and everything else. 
If you don't have the time to visit all of these, at least don't miss checking out the largest market in Mandalay – Zay Cho or Zegyo Market. You will be astonished to find how wide the range of products is, from seafood to meat to electronics to kitchenware. It is one of those cool places to watch local life go by.
8. Watch the Sunset on the Irrawaddy
Watching a sunset on the Irrawaddy is one of the must-have experiences when in Mandalay. You can watch the magical sunset from climbing one of the hills as mentioned above, but even better if you can take up a sunset boat tour.
With a beer in hand, quietly watching the sun go down across the river is one of the amazing things to do in Mandalay. Just walk to any of the piers and book a short tour on the spot, it's that easy.
There are many restaurants along the riverfront offering splendid views. You can plan for an early dinner by going to one of these restaurants where you can enjoy sunset plus roof-top dining.
Where to stay in Mandalay?
Hotels in Mandalay come in all budget ranges. It is also not difficult to find accommodation in Mandalay. The most popular areas are around the city centre. But unlike other cities, the attractions are far off and hence it which part of the city you choose doesn't really matter. Because you will have to use some kind of transport for getting around Mandalay.
Tip: Note that unlike other towns in Myanmar, free early check-in is not a norm in Mandalay. If you are taking a night bus, you will still have to pay almost a day's price if you want to check-in during the odd hours of the morning. You certainly will need a place as you would be dropped off around 3 to 4 AM!
So be ready to pay once you arrive or better, check with your hotel before you reach on whether early check-in is available(at an extra price or complimentary).
Below are some of the best budget hostels that I would recommend. These have rooms as well, in case you want to opt other than dorms.
These are some of the best hotels in Mandalay in the mid-range budget.
If you fancy a luxurious stay, I would recommend these. The reviews are great, and be sure to get pampered.
How to Get to Mandalay?
You can reach Mandalay from all major towns by buses, flight, car, train or boat.
If you are traveling from Yangon, check this post to find out what are the possible options – Yangon to Mandalay
If you are arriving from Bagan, read how to reach Mandalay here – Bagan to Mandalay
If you want to head from Inle Lake, these are the various way to reach Mandalay – Inle Lake to Mandalay
Getting Around Mandalay
Unlike other cities in Myanmar, a majority of attractions in Mandalay are located far from the city centre. 
You can hire a cab on day-basis if you are traveling in groups or can find passengers to do a trip. You can negotiate the attractions you want to see and the number of days, and make a deal to get around in Mandalay. It is the best way if you are traveling with kids as well. 
The daily prices vary between 30 to 50 USD, but you can get better prices sometimes if you book through your hotel or guest house. Check with a few of them before finalizing to compare prices. 
If you are a solo traveler, taking a moto-taxi is the best option IMO. You don't have to drive and the rates are very cheap, starting at 2000 Kyat per ride.
If you want to drive and feel confident about it, you can rent a motorbike, which is slightly economical at 5 to 6 USD per day. 
That's it about all the places to visit in Mandalay. Hope you find this Mandalay travel guide useful. Do check out the other posts to plan your Myanmar trip.
OTHER POSTS FROM MYANMAR THAT YOU SHOULD CHECK OUT
17 Best Bagan Pagodas That You Should Visit (Among the 800+temples)
How to get from Yangon to Mandalay– Bus or Train?
Watching Sunrise & Sunset in Bagan – Here is how to do it in 2019
Ways To Reach Bagan From Yangon in Myanmar
Offbeat Myanmar – 21 Awesome Things to Do in Hpa An
How to get from Mandalay to Inle Lake?
Crossing Thailand-Myanmar By Land – Here is a complete guide to do it
Pin this post to read later!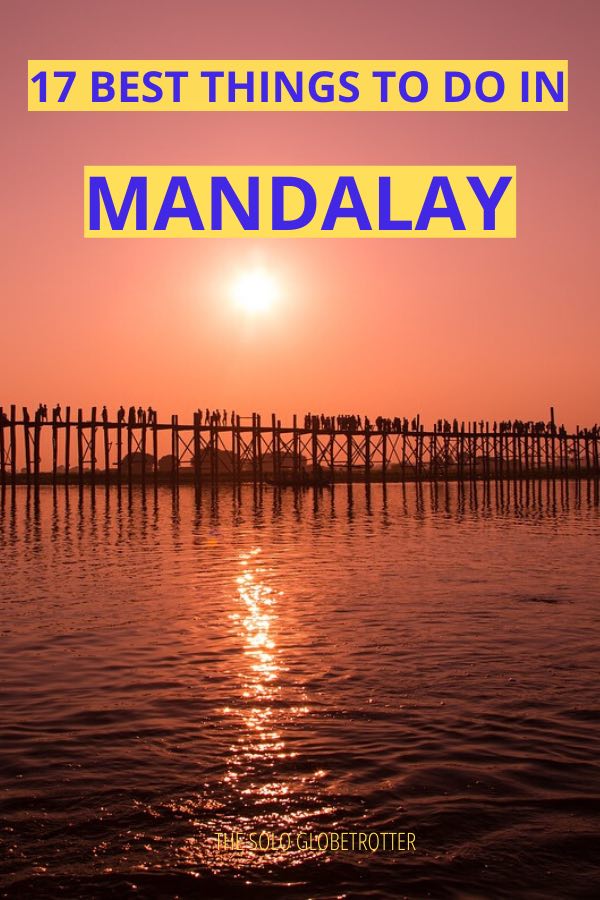 Connect with me on Facebook, Twitter, and Instagram for travel stories.