If you are visiting Myanmar, I am sure you wouldn't skip Bagan. The fantastic pictures of Bagan Pagodas with hot air balloons and mountains in the backdrop will make you take the Bagan trip.
At least, that's what made me go. And, yes, you'll be thrilled at first sight of thousands of Bagan Pagodas sprinkled all over.
With over 1000 temples, how to pick the best Bagan Pagodas? Don't worry, this Bagan travel guide for best Bagan temples will help you make the decisions.
Top Bagan Pagodas To Visit
If you found the history of Bagan, one of the best places to visit once in a lifetime, interesting, wait for the best of Bagan Pagodas. Here is a list of best Bagan temples that you can visit on your first Bagan trip.
Most Popular Bagan Pagodas
1. Dhammangayi Temple
My favourite of all Bagan Pagodas is Dhammangayi Temple, the largest of all, which looks like one of the Incan pyramids.
Its vast size makes it one of the dominating temples in the area. You can't skip the biggest Bagan Pagoda.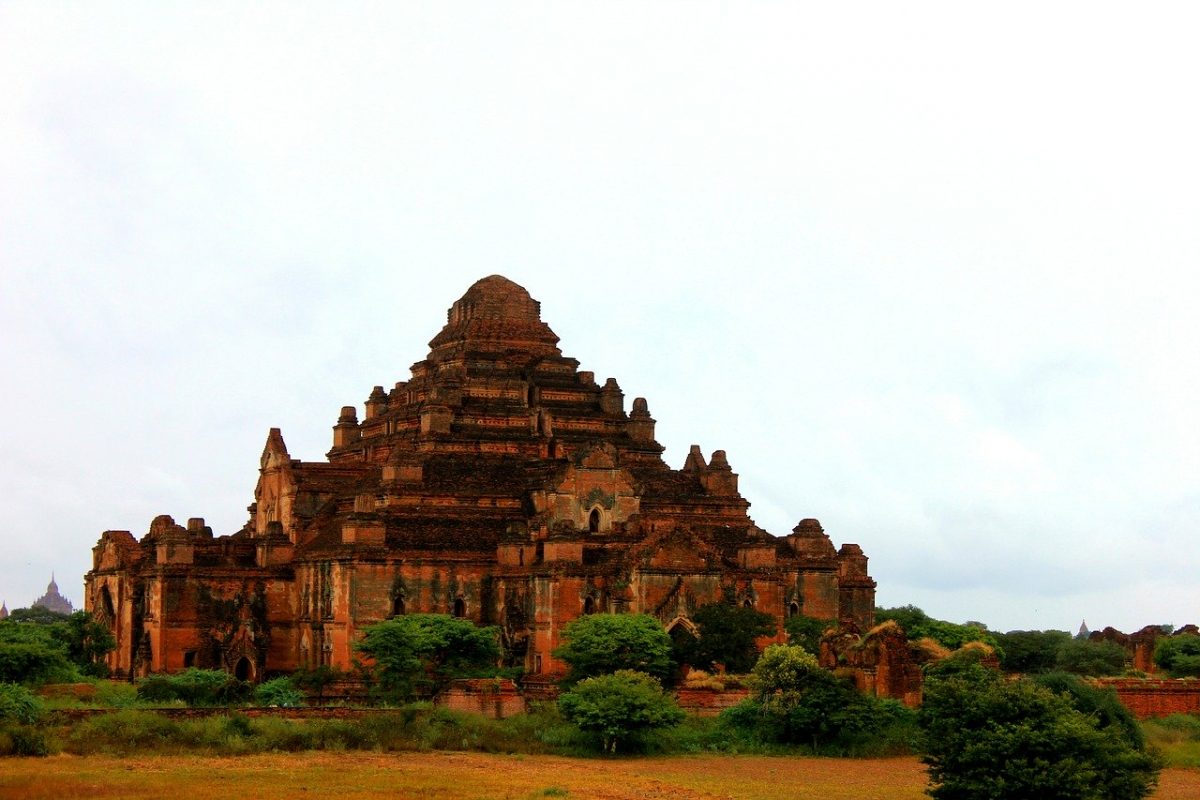 Plus, the temple has a fascinating history. King Narathu, who built this temple, became the emperor after murdering his father and brother.
Worried that bad Karma would get back at him and to seek some good merit, he constructed this vast temple.
2. Bu Phaya
This temple is exclusive because of its unique location.
It is situated on the banks of the Irrawaddy River, from where you can get some stunning panoramic views of the mountains and the river.
It is also the oldest Bagan Pagoda in the city. Another reason not to skip this.
The sign at the entrance states that it was built in the year 300 AD, many centuries before the Bagan Kingdom.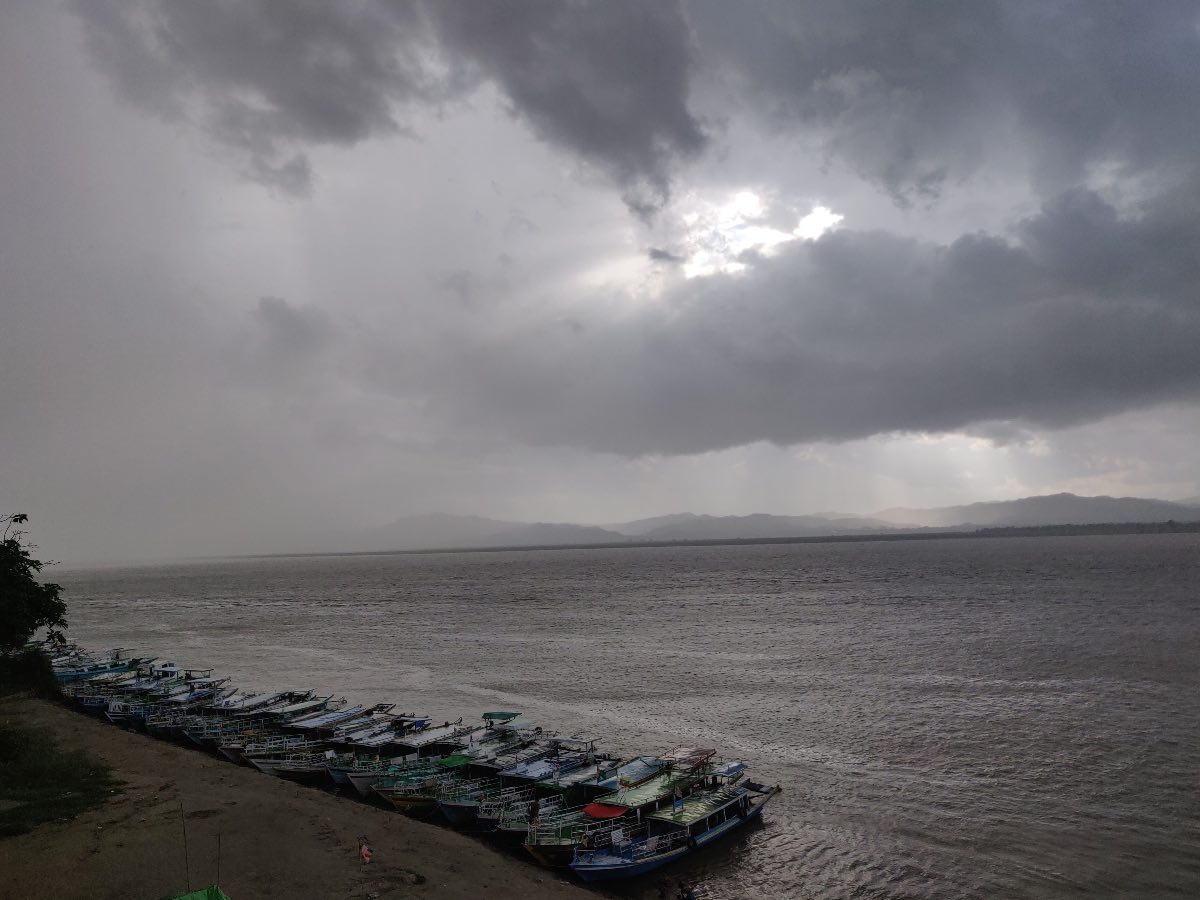 Beautiful views of the Irrawaddy along Bhu Paya temple[/caption]
Bu Phaya means the temple in the shape of a gourd.
At this place, the farmers couldn't grow due to gourds that destroyed crops. King Pyusawhti solved this problem and built a pagoda here. Go here during the evening to watch a fantastic sunset.
Editor's note: Traveling from Bagan to Mandalay – Should You Take the bus?
3. Shwezigon Pagoda
I know, the name is similar to Shwedagon Pagoda in Yangon.
Well, it's not just the name, the Pagoda is enormous and golden as well resembling the Yangon one.
The best time to visit this temple is at night when it is lit, and the golden colour shines through.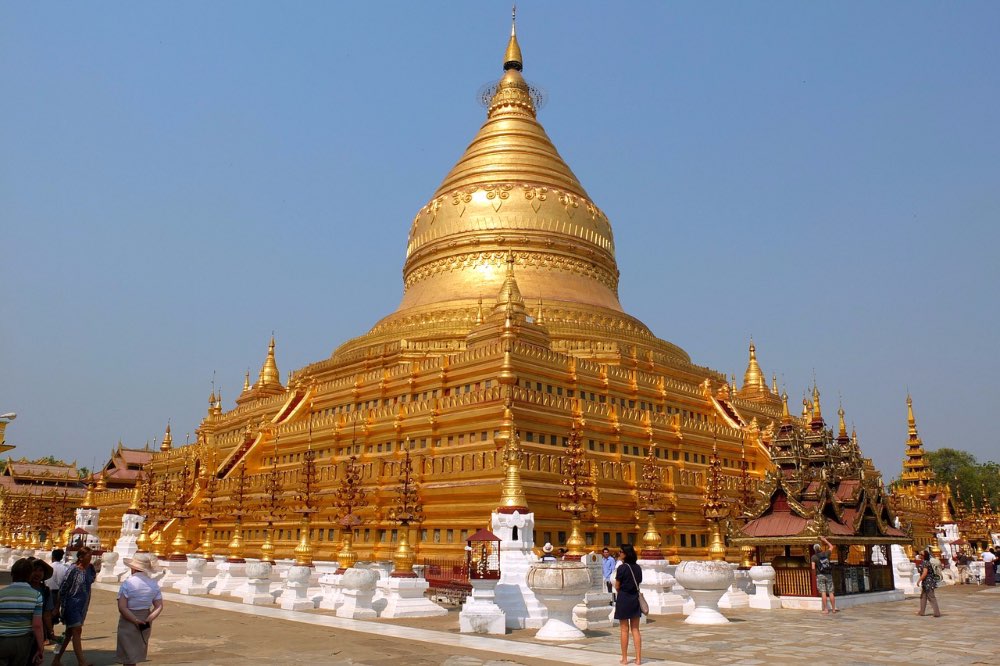 The golden stupa is the most impressive part of this Pagoda. It was one of the first temples built in Bagan and started the tradition of constructing large temples.
If you travel to Bagan In December, visit this temple for a unique festival that takes place here, during which Shwezigon Pagoda is decorated.
4. Ananda Temple
The most touristy of all Bagan Pagodas is Ananda Pagoda. It is a giant white Pagoda housing majestic standing Buddha covered in gold.
You should visit this temple because of its grand structure and the serene-looking Buddhas.
The best time to visit Anand Phaya is early in the morning in the evening if you want to escape crowds.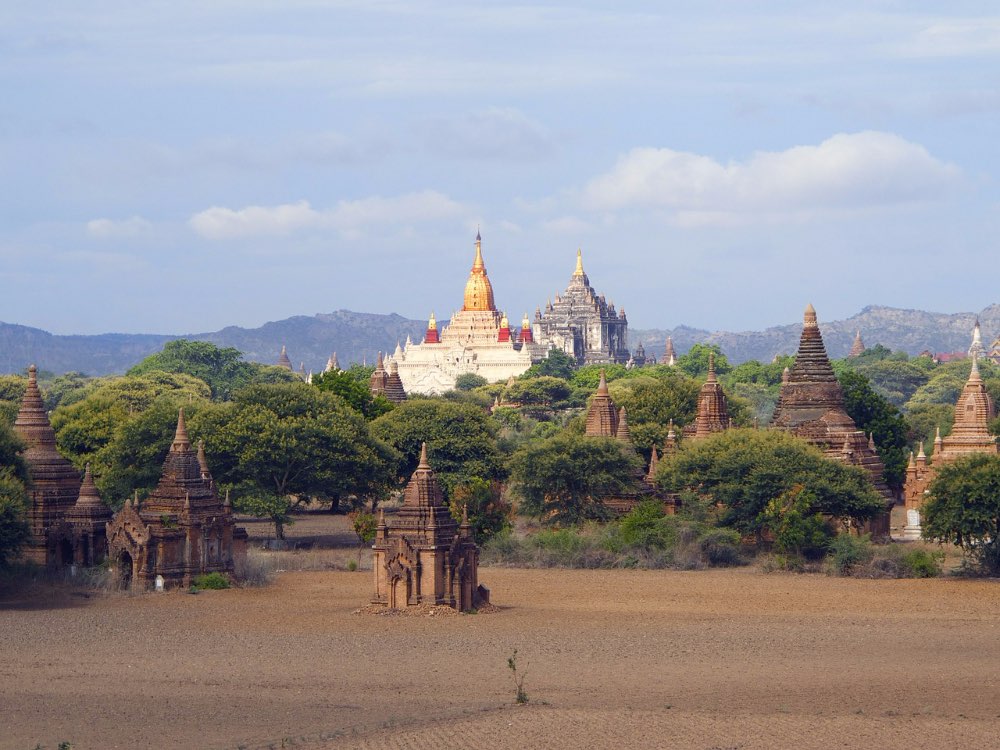 The beautifully sculpted temple is topped with a golden tower or Shikara.
The architecture is North Indian style, which was brought here by the Indian monks who visited the King.
So you'll notice that it is different in a manner than the other Bagan temples, which follow the Burmese architectural style.
Editor's note: How to reach from Bagan to Inle Lake? The Best Ways to Travel
5. Sulamani Temple
Sulamani Pagoda lies away from the main road and is one of those large temples that stand out in the group.
You should visit this temple for the grand tiered architecture. It is one of the popular Bagan Pagodas that can't be skipped.
6. Gawdawpalin Temple
Gawdawpalin is the second-largest Bagan temple, and one of the four white Bagan Pagodas.
It is also one of the temples built during the best times of Bagan empire, which is reflected in its rich architecture.
7. Thatbyinnyu Temple
It is very similar to Gawdawpalin in architecture and is one of the white and large temples in Bagan. Visit this between other brick temples to have a mix of Pagodas.
Editor's note: The Best Ways to Travel from Bagan to Yangon
8. Shwesandaw Pagoda
Shwesandaw Pagoda is my favourite among the white temples.
To begin with, it is tall – 328 feet high. Plus the stupa resides on top of five levels of square terraces with steep steps leading to the top(which you can no longer climb).
The perfectly symmetrical terraces are carved with motifs – all of these make it an impressive monument.
If you want to choose between the four large white temples, I'd recommend you to keep this one.
9. Bulethi Temple
Bulethi is one of the unique among Bagan Pagodas. It is located on a hilltop, and its architecture is a mix of Bagan and Sri Lankan style.
Sculpted square terraces are leading to a bulbous top, which is unique to this temple. Visit Bulethi to feel this difference.
More Beautiful Bagan Pagodas
10. Htilominlo temple
Htilominlo is one of the large temples known for its magnificent architecture, named after King Htilominlo.
Designed in Indian architectural style, it's three-storeyed that is sculpted, with a Shikara or a tower at the top.
It is also one of the well-maintained Bagan Pagodas. It is located close to Bulethi, and you can combine them in a visit.
11. Dhammayazika pagoda
One of the temples that I loved is Dhammayazika pagoda. It is off the touristy list, which cuts down the number of people visiting.
It is very neatly kept, has a garden and shady places to relax( which you'll be craving for in that hot weather).
The temple is worth visiting for its vast golden dome-shaped stupa at the centre, and the intricately decorated terrace.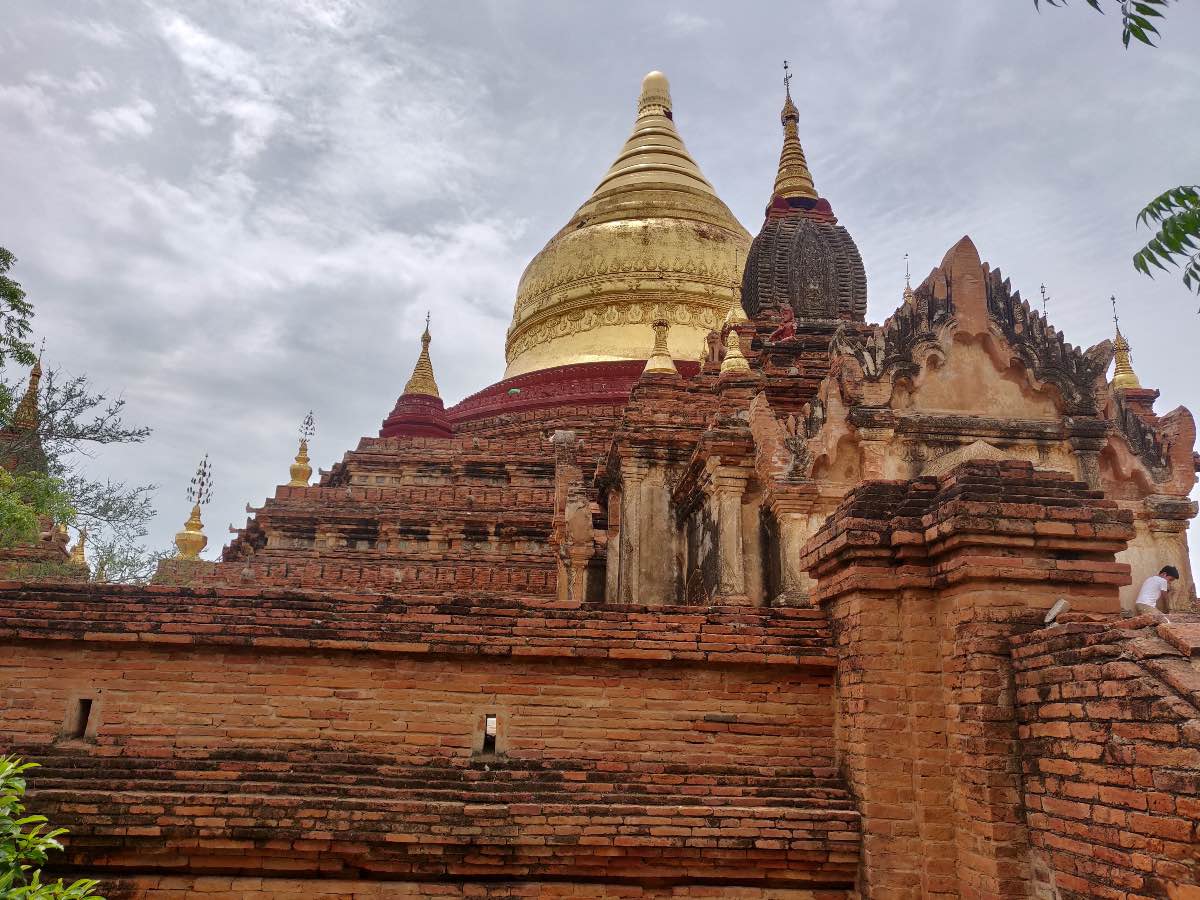 PS: I got confused with Dhammayangi( which spell similar except the last part), which I am mentioning here to tell don't be like me.
Editor's note:
How to spend 3 days in Yangon? A guide with all itineraries
Yangon Circular Train – How to take a trip on Myanmar's heritage train
12. Seinnyet Sister Temples
If you want to go offbeat, Seinnyet Sister Pagodas are worth adding to your list. They are 12th century, small twin temples dedicated to Queen Seinnyet and her sister.
13. Gubyaukgyi Temple
Gubyaukgyi is one of the few remaining cave temples in Bagan as most of them are gone. It is a small pagoda built in Indian style but worth visiting for its architecture and encaved shrine.
14. Pyathadar Temple
Pyathadar is one of the last large temples in Bagan. It is worth visiting its architecture – large brick outer structure houses a double cave monastery, which was earlier surrounded by wooden structures.
It is also one of those prominent temples built during the peak period of the Bagan kingdom.
15. Mingalazedi Pagoda
Again, one of the last large Bagan Pagodas built is Mingalazedi, known for intricate carvings of the Jataka tales of Buddha.
The stepped terraces with a stupa on the top – it's a classic example of a Bagan temple style.
16. Myazedi Pagoda
Myazedi Pagoda is one of the temples with a beautiful large golden gilded stupa.
But the temple is in this list of worth visiting Bagan monuments for the Myazedi stone inscription. It is the oldest stone inscription of Burma ever discovered.
The inscription has a mixture of 4 ancient languages – Pali, Pyu, Old Burmese and Mon and consists of a story of a King and his father.
17. Mahabodhi Temple
One of the worth visiting temples in Old Bagan is Mahabodhi.
It is a small pagoda built replicating the temple of Mahabodhi located in India, the place where Buddha attained enlightenment over 3000 years ago.
Bonus Bagan Pagodas
If you have time or you don't mind adding two more pagodas to your list, I would suggest checking these two.
18. Lawkananda Stupa
Lawkananda Stupa is another temple influenced by India. It is a simple Pagoda in style with a golden top, but what makes it worth visiting is its location.
It sits on the other side on the banks of Irrawaddy, and the sunset views are gorgeous.
If you want to watch a sunset for views something apart from the silhouettes of the temples, Lawkananda is the place.
19. Thisa Wadi Temple
Thisa Wadi or Thitsawadi is one of the last major Bagan temples to be built. Just after its completion was the start of the decline after Bagan empire was invaded.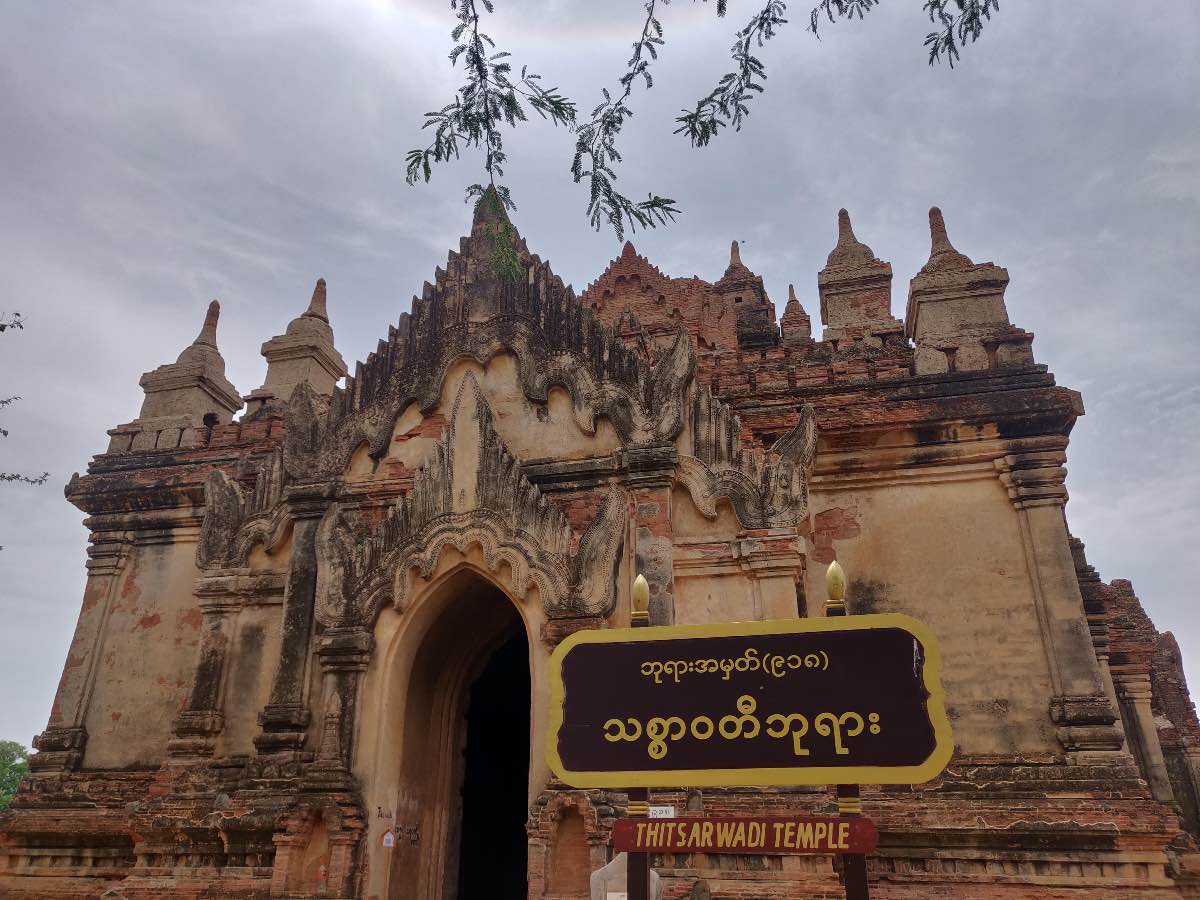 It is located away from all the famous temples.
Why should you visit This Wadi? Until a year ago, it was one of the few temples available to watch the sunset from the top. Now that it's not possible, you should visit to get off the beaten path in Bagan.
Most likely, you would be the only tourist. And also, there are scores of smaller temples on the way in case you wish to get lost amidst Bagan Pagodas.
A quick recap of Bagan Pagodas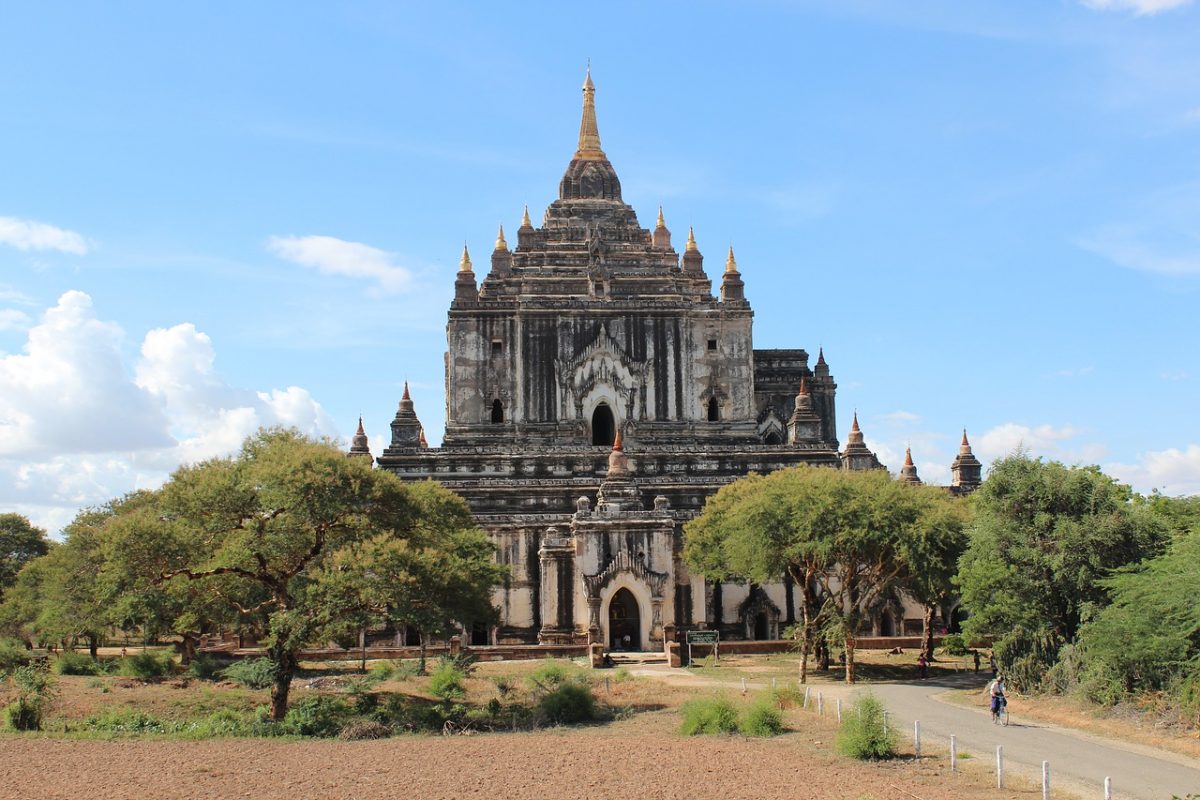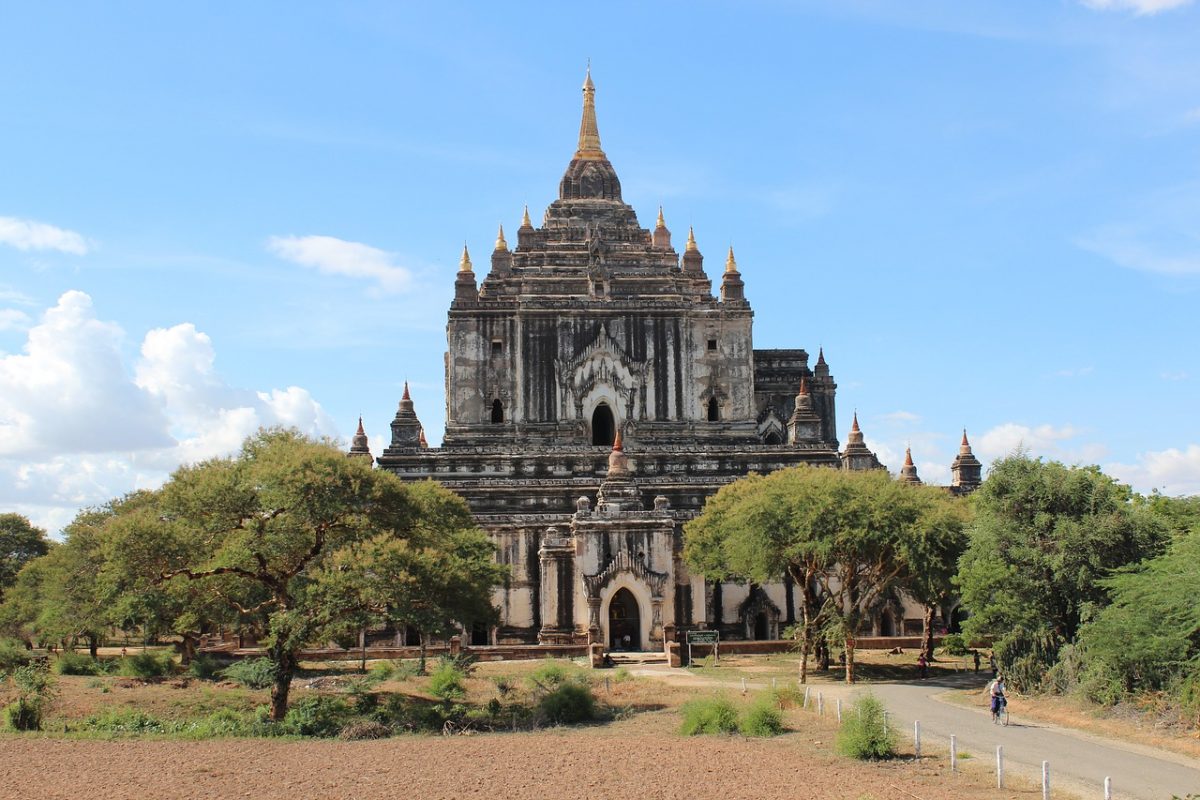 With so many temples in Bagan, you might get confused and end up messing up and mixing things, which I guess is quite reasonable.
For you to remember better and choose your temples, I have come up with these Bagan temples category ideas.
Large Bagan Temples – Dhammangayi, Sulamani, Shwezigon, Htilominlo, Pyathadar, Bulethi and Mingalazedi
Large White Bagan Pagodas – Ananda, Gawdawpalin, Shwesandaw, and Thatbyinnyu
Other smaller Bagan Pagodas – Bu Phaya, Dhammayazika, Gubyaukgyi,Thisawadi, Lawkananda, Myazedi, Mahabodhi andSeinnyet sisters
Editor's note: Read this complete guide to find out the options for getting from Yangon to Bagan.
Bagan Pagodas Map
Here is a map of Bagan temples that I got from my hostel Arthwaka. The spots with the sun sign are sunset/sunrise places.
Keep these Bagan temples map handy, especially if you don't have the internet on your phone. Alternatively, you can download a map of Bagan Myanmar on maps.me, which works offline.
Are you looking for the best places to watch the sunset in Bagan? Check this post.
Exploring Bagan Pagodas – How to get around?
If you are wondering how to explore all these temples, there are 3 to 4 ways to do so.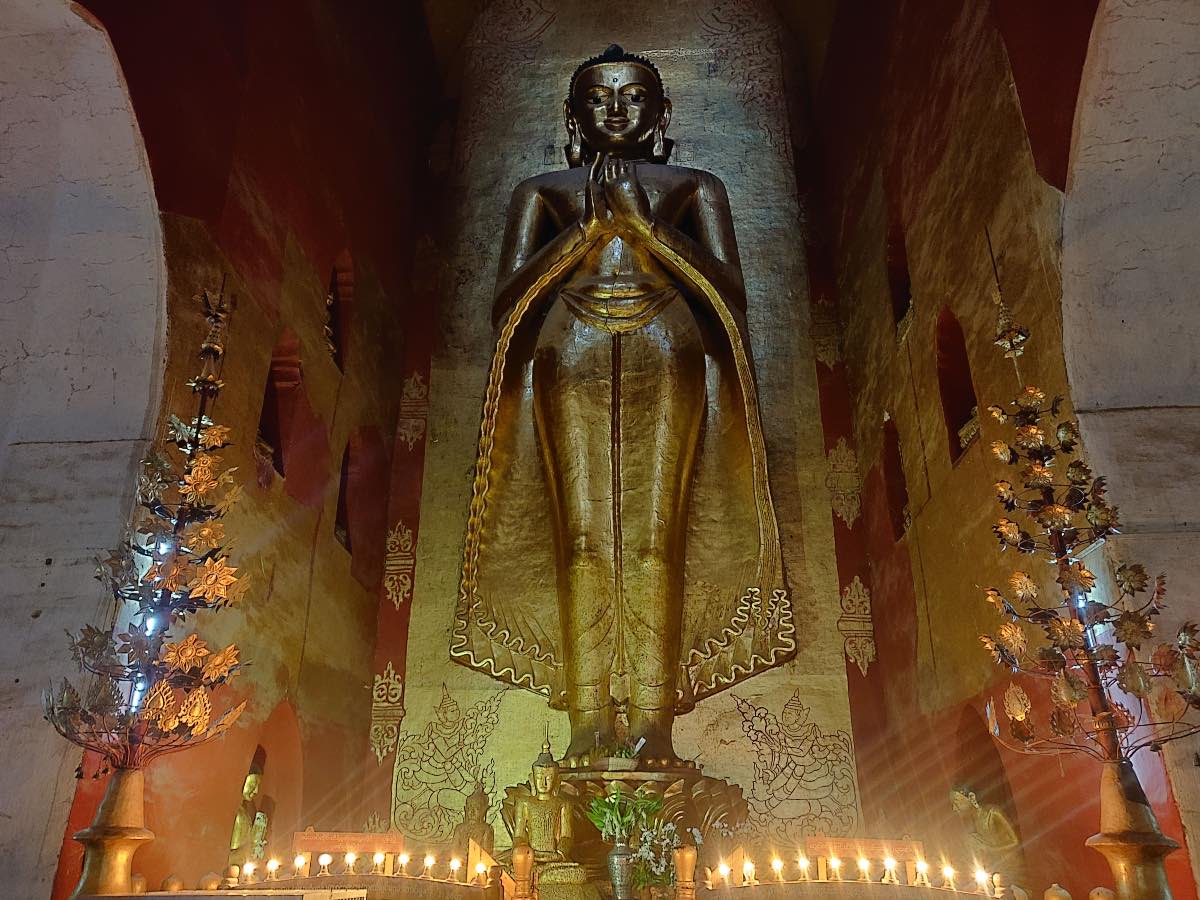 E-bikes – The most popular among the travelers is E-bike. Foreigners are prohibited from riding any motor vehicle in Myanmar.
So you can opt for these E-bikes, which come around 2500 Kyat per day. If you have excellent negotiating skills and buy for 2 or 3 days, you get the best price.
The price of these E-bikes at your hostel or hotel might be slightly higher. It is better to rent from the shops, which are found in plenty in Old Bagan, New Bagan as well as Nyuang U.
Bikes – Getting around Bagan in bikes is fun if you can bear the hot sun. You can rent one for 1500 Kyats or lesser. Perfect for solo travelers on a budget.
Tuk-Tuks – These days, renting these tuk-tuks have become popular bridging the gap between expensive taxis and the bikes.
The advantage is you can escape the hot weather, which will exhaust you quickly. The price depends on the places you want to cover.
The best way is to negotiate and arrange a full-day/half-day tours, which will allow you to cover more attractions at the best prices.
Taxis – The most expensive and the most comfortable way to go around Bagan and costs about 60 to 70 USD. It is worth it if you are in groups, as you can share the cost.
Hot air balloons – Those hot air balloons beat all of these above for sure to get stunning views from the air if you can afford the price. It costs over 300 USD per person
Ox carts/Horse carriages – I am against torturing these poor animals, but if you fancy these rides, they cost between 20,000 to 30,000 Kyat.
Tips for visiting Bagan Pagodas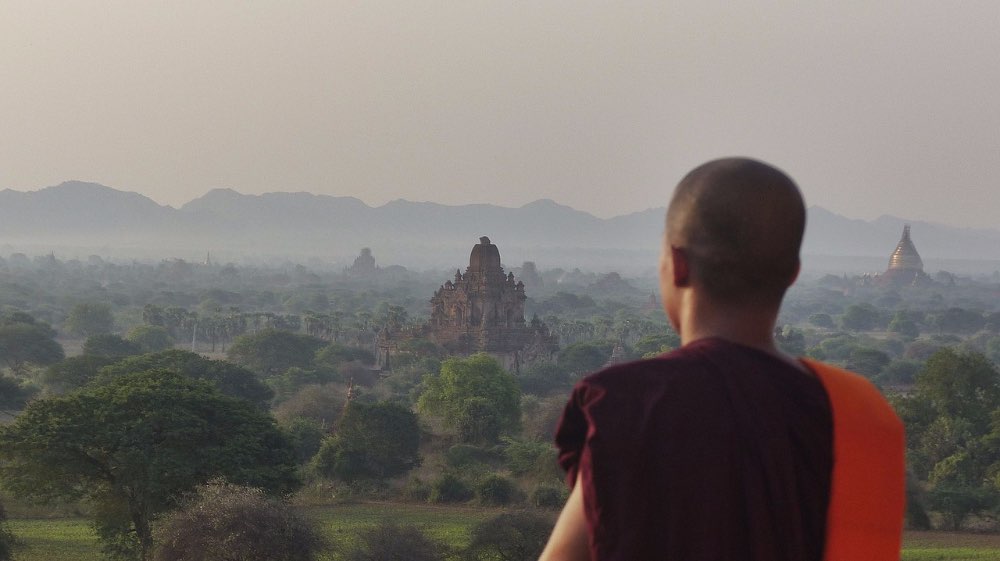 You must take a moment out to plan your temple visit. While some of the Pagodas are located close to each other, some of them are not. The best way is to select the ones that you want to visit from Bagan Pagoda list, mark them on your map. It will give you an idea of the locations of Bagan temples and pagodas, based on which you can plan.
Although the probability of checking may vary, carry your Bagan Archaeological Zone Pass – the one that you got after paying 25,000 Kyat.
Dress respectfully – Needless to say, all of these are Buddhist temples – so you need to cover your back, knees and legs. No spaghetti tops, shorts, tight jeans and any skimpy clothes are allowed. You need to remove shoes and socks before entering the temples. Also, ask permission before clicking any locals.
With the boom of tourism, especially in places like Bagan, where it is one of the main revenues, you are going to encounter aggressive selling – whether it's from kids at temples or shopkeepers. You can politely but firmly decline if you are not interested, but don't be a bad tourist who yells.
Beware of Bagan scams – In general, there are some scams in Myanmar, like in any country. The ones specific to Bagan are those men and sometimes women whom you would encounter. They will try to converse with you harmlessly, and then tell you that they know the best spots for sunsets and sunrise in Bagan.
Don't fall for this – All of the temples are now closed for climbing. You can still get that post-card like views from these places that I have mentioned.
Editor's note: 7 Best Day Trips To Take From Bagan
Also, don't buy tours or tickets from random people or shops that aggressively market. Most of them are overcharging. Look for them at your hotels, hostels and guesthouses. To make sure you get the best price possible, check with those shops where they are not actively trying to sell anything.
Bagan Pagodas History
Fall of Bagan Empire – Over 10,000 temples built, the land available for farming reduced, which unfortunately was one of the causes for its decline. The attacks by Mongol and other neighbouring kingdoms brought an end to the glory of Bagan.
That's it about the best Bagan Pagodas. Let me know if I have missed adding anything to this Bagan travel blog. Have an excellent temple time!
OTHER POSTS FROM MYANMAR TO PLAN YOUR TRIP
Watching Sunrise & Sunset in Bagan – Here is how to do it in 2019
How to get from Yangon to Bagan – A total travel guide with tips
A complete guide to Hpa An, Your Offbeat Myanmar Experience
Crossing Thailand-Myanmar By Land – Here is a complete guide to do it
Pin this post to read later!
Connect with me on Facebook, Twitter, and Instagram for travel stories.