If you are wondering how to get from Yangon to Bagan, I got you covered. On your Myanmar trip, it is very likely that you will visit Yangon, the former capital city. Some just use the city to arrive or depart by flight, which is a shame because this city has so much to offer. But Bagan is on everybody's list.
Its 2000+ temples beckon travelers for its rich history and architecture. In this post, I'll share the details of all the options available travel from Yangon to Bagan, comparing between the cheapest and most comfortable ways of reaching Bagan.
Yangon to Bagan by bus
Traveling from Yangon to Bagan by Bus was not a popular option among many travelers until a few years ago, but this has changed for better. Now, taking Yangon to Bagan bus is the preferred choice because there are well air-conditioned buses( which are rather over-air-conditioned), affordable, and there are night as well as buses during the day time.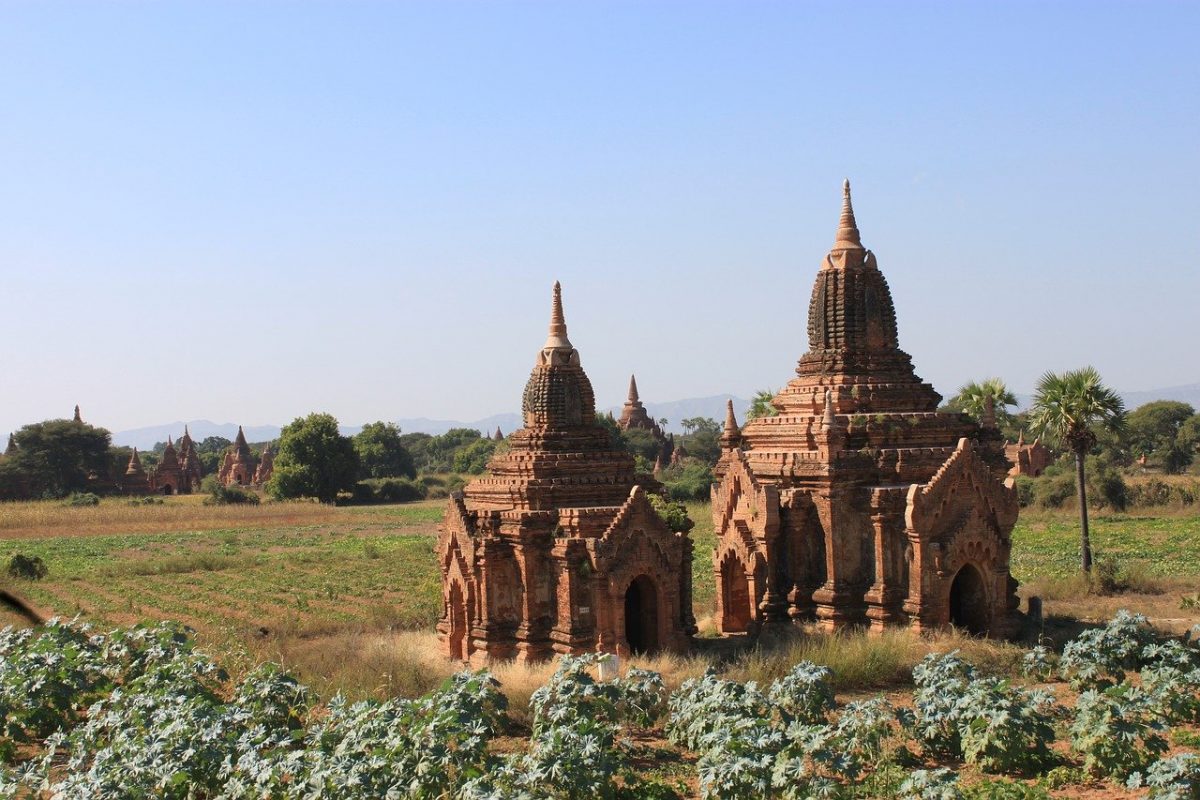 If you are a backpacker on a budget, then you can opt for a night bus to save on accommodation for a night as well as daytime. If you travel during the day by bus from Yangon to Bagan, you can avoid the hot and humid outdoors, enjoy the scenic route and appreciate the countryside.
The downside is travel time, which is around 9 to 10 hours. If long journeys aren't your cup of tea, you might feel uncomfortable. One way of overcoming this is to take the night bus from Yangon to Bagan so that you can try sleeping!
Editor's note: How to travel from Yangon to Mandalay
Where to book a bus from Yangon to Bagan?
There are many bus companies offering services, but the top ones are Min Thar and JJ Express Bus. I used both on different routes and liked JJ Express Bus better as the seats are better, blankets, water and snacks are provided, and they run on time.
There are two kinds of buses, regular and VIP buses. Both are air-conditioned, have reclining seats and are comfortable. The VIP buses have 2+1 layout though, and have extra leg space and are better. The price difference between the two is not much, so I would highly recommend you to book VIP buses while traveling in Myanmar if buses are your choice. The VIP buses of JJ express sell out very soon because of their popularity, especially during the peak season. Hence it is better to book a few days in advance.
Some tips:
You can buy the tickets on Bookaway or Myanmar bus tickets websites. You can compare different rates and timings as well. The cost of the bus depends on timings, the bus company and the type of bus. It ranges from 7 to 25 USD per person.
Reach Aung Mingalar Bus Station at least 30 to 45 minutes before the scheduled departure. The bus station is quite huge and it takes time to find out where your bus would come. Book your bus tickets here.
The traffic jam in Yangon is too bad, and if you take a public bus to reach the bus station, it takes a lot of time. Local cabs reach faster but are expensive. Either way, it is best to leave early to not miss the bus.
The bus station at Bagan is Bagan Shwe Pyi Bus Station. There are many taxis available to get to your hotel, but since it is out of town, they can be expensive if you are alone. Find some people from your bus and try to go in a group to share cab prices.
When you enter the town, you will have to pay 25,000 MKyat as entry fees for foreigners to Bagan. Keep the entry ticket with you at all times when in Bagan. It is valid for 5 days, but there is no strict imposition for renewal if you extend your stay in Bagan.
Editor's note: Best Places to View Sunrise and sunset in Bagan in 2019
By Flight
If budget is not your constraint or time is, taking a flight is the best option to reach Bagan from Yangon. There are many scary stories on the internet about the safety of these local airlines though, and hence might not be an option if you are afraid of flying or don't feel confident about safety.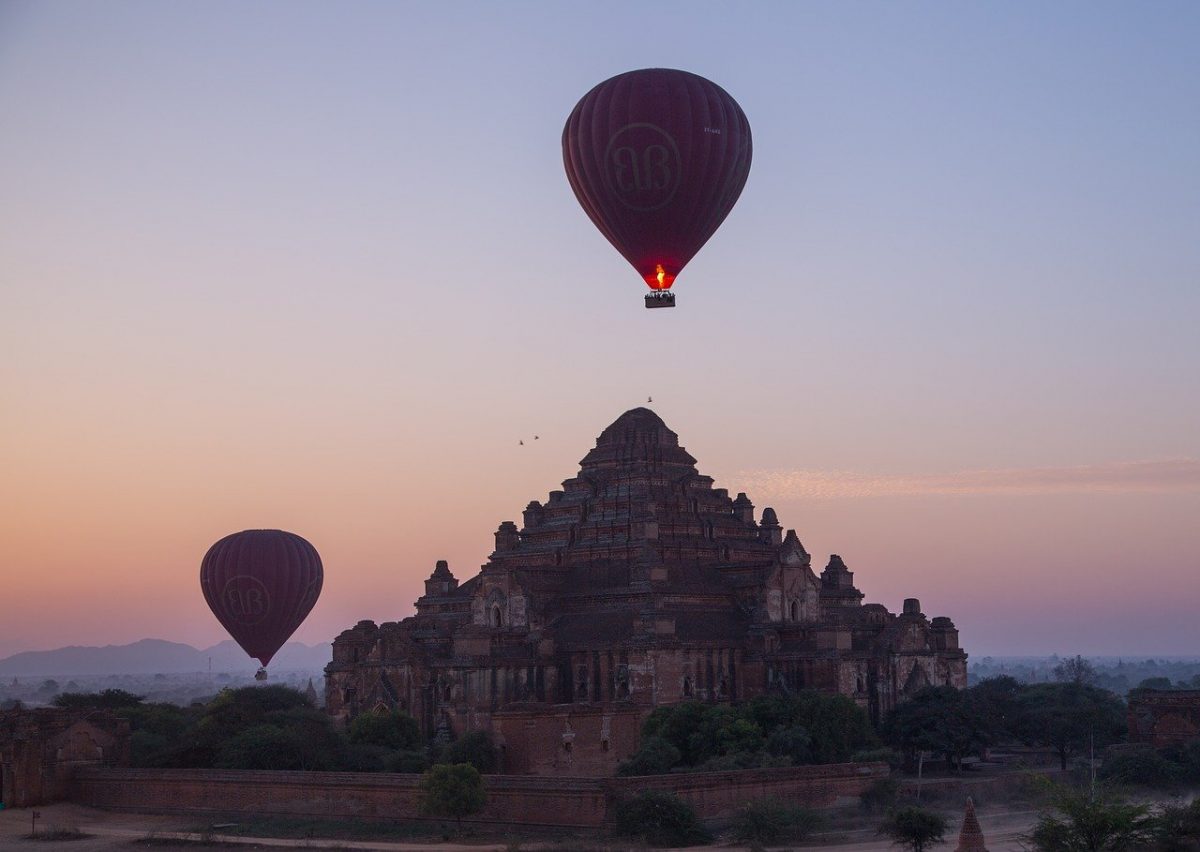 Here are some of the airlines that make a trip from Yangon to Bagan – Myanmar National Airlines, Yangon Airways, Air KBZ and Asian Wings Airways. The flight costs around 120 to 150 USD per person, which is quite expensive. If you book in advance or travel during the off-season, the prices are better.
You will reach Bagan in less than 1.5 hours for the hefty price, and also, you get to see stunning bird views of Bagan temples from the top. So make sure to grab a window seat on your flight.
If you are flying from Yangon to Bagan, make sure to reach Yangon airport early, as it is far away and the traffic in Yangon is bad.
Editor's Note: Check out this travel guide to the Best Temples in Bagan
By Taxi
It is not possible for foreigners to rent a motorbike or a car in Myanmar. So the next possible thing is to hire a taxi with a driver if you wish to travel by car from Yangon to Bagan.
The price is less than flights and higher than buses. It takes about the same time of around 10 hours to reach, which could go longer if you stop for visiting any attractions on the way. If you don't like traveling in a bus or a flight and prefer private, comfortable transport, then this could be your choice.
You can hire a cab through your hotel or guesthouse, or they can be booked online. They quote higher prices and you have to bargain to get the best prices. Expect to pay around 70 to 120 USD for a one way trip per day. You can also negotiate for a deal if you want to use a cab to explore Bagan or to travel further.
Editor's note: How to reach from Yangon to Inle Lake – A total guide
By Train From Yangon to Bagan
Trains are one of the best ways to experience life in SE Asia, no matter what the country is. However, it comes with cons when it comes to Myanmar. The trains in Myanmar are very slow, seats or toilets are not comfortable and are not on time.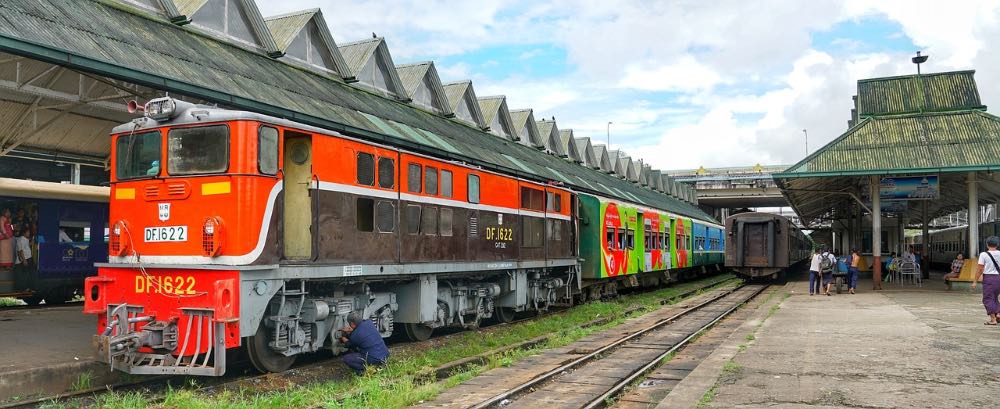 One way to have a comfortable journey is to book first-class section seats which offer the best seats possible, along with manageable toilets and crowd. The train ticket costs around 15 to 25 USD. The train from Yangon to Bagan starts at Yangon central railway station and takes around 17 to 20 hours! Yes, you will have to spend almost a day on the train, and hence it is the least popular mode of reaching Bagan.
If you want to enjoy a train journey nevertheless, book a first-class seat on a night train in advance missing which you will have to sit for the entire duration.
Note that if you are traveling during the low season, there might be no sleeper coaches in the train. So check before you plan to book.
The Bagan Railway Station is about 10km from New Bagan and taxis are available to get into town. As mentioned earlier, try to find some companions to share your cab ride to cut costs.
So now you know what are the available options to travel from Yangon to Bagan and back. In my opinion, buses are the best way to go. Take your pick and have a happy journey. Read other posts below to plan your Bagan and Myanmar trip.
OTHER POSTS FROM MYANMAR TO PLAN YOUR TRIP
Watching Sunrise & Sunset in Bagan – Here is how to do it in 2019
A complete guide to Hpa An, Your Offbeat Myanmar Experience
Crossing Thailand-Myanmar By Land – Here is a complete guide to do it
Pin this post to read later!
Connect with me on Facebook, Twitter, and Instagram for travel stories. 

Latest posts by Reshma Narasing
(see all)