Spending 3 days in Yangon? That's just perfect. Because Yangon, the former capital, is probably one of the most underrated destinations. It is a shame because there are so many awesome things to do in Yangon. And trust me, you'll need at least 3 days in Yangon. Because countless temples, colonial architecture, amazing local markets, and beautiful lakes will keep you easily occupied for days, giving you the best time, if you try to ignore the city's traffic.
I spent over six days in the city and had a chance to experience much of Yangon's culture, people, food and architecture. If you are wondering what to do in Yangon, or how many days, this mammoth post should give you the insight to plan your Yangon itinerary. Check out all the things to do in Yangon and why it is a surprise.
3 Days in Yangon
Day 1 in Yangon – Shwedagon Pagoda, Kandawgyi Lake & Chinatown
On your first day, get a glimpse of Yangon city. Too many attractions might overwhelm you, so take it slow. Yangon feels chaotic, is hot and the traffic is overbearing. So plan this day to include a walk-in Kandawgyi Lake, which is away from the madness of the city. It is best to visit the lake either after sunrise or around the sunset. Take a stroll on the wooden boardwalks that run along the lake.
Anything in between makes it extremely difficult to enjoy as it becomes quite hot. There is a garden as well as the former royal barge, Karaweik Palace, which has many restaurants and cafes too.
You can include one of the pagodas, and the best one for your Day 1 would be the Shwedagon Pagoda. It is massive, and there are four entrances. There are plenty of temples inside, and it feels like a temple park, thanks to so many locals who worship and relax in the prayer halls.
The Shwedagon Pagoda or the Golden Temple is the most sacred site in Myanmar and making it one of the top things to do in Yangon. There are a few English speaking guides available, which is recommended if you like to know the rich history of this centuries-old temple.
Foreigners need to pay 10,000 Kyat. You need to remove your shoes. The dress code is to keep your shoulders, knees covered, which means no shorts, tank-tops or tight-jeans. You can rent a longyi, which is a wrap-around worn by both men and women, at the counter.
Chinatown should be your last stop(unless you want to squeeze more places). It starts from the 19th street and covers a big neighbourhood spanning across several lanes.
There are no signs to mark its boundary, but that's the beauty. Because you can't miss the plenty of stalls on the street with plastic chairs close to them. The smell of the BBQs and the thronging crowds will make it easy for you to recognize. It is quite popular among the locals as well, who come to enjoy drinks and delicious street food after a long day at work.
Editor's note: How to get from Yangon to Bagan – The best possible options
Try seafood if that's your interest, including the prawns, crabs, and fish. You can try various organs of pigs, frogs, crickets and more if you are adventurous. There are plenty of options available for vegetarians as well, which is a relief. Try smoothies, local delicacies like tea salad, Thai food, Chinese and Japanese dishes(yes, who said it only has to be the Burmese food?) and Indian cuisines.
With cheap beers and delicious food, you can end up spending a few hours in Chinatown.
Day 2 in Yangon – Sule Pagoda, Local Markets, Inya Lake, Circular Train
By your second day in Yangon, you would have gotten used to the city, maybe it would have begun to grow on you as well. You would also have realized that 3 Days in Yangon is the minimum!
Again, what better way than starting the day with some fresh air and walking? Take a grab to Inya Lake, and stroll along with it as the locals begin their day. Next, it is time for breakfast, and maybe some tea again.
Next, visit Yangon Central Railway Station. It is the largest station in Myanmar, connecting various cities, and its colonial architecture is beautiful. But don't stop at that. Buy your tickets for the Yangon Circular train. It goes on for over 3 hours, but you can get down wherever you want.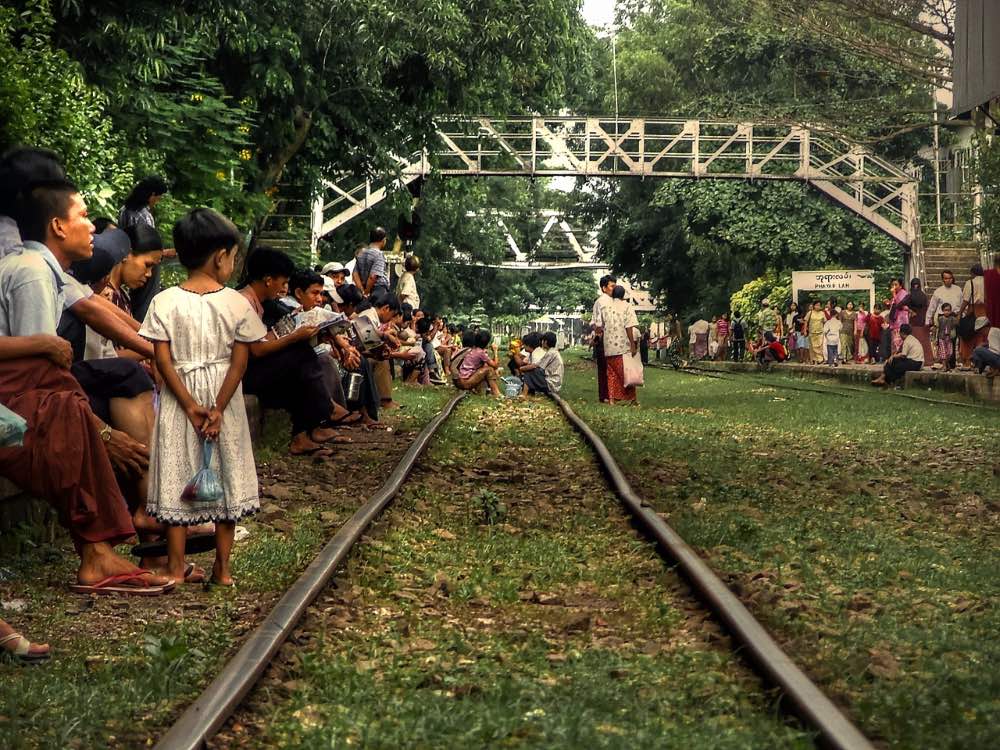 Yangon Circular Train is a local train that brings alive the raw side of Yangon – locals commuting, as usual, carriages in the train, hawkers selling all kinds of unique things including the signature betel-nut. The action happens both inside the train as well as outside, where the chaotic city passes by, and it is a sensory overload for travelers who get to experience.
Read the detailed Circular Train experience, timetable, ticket cost and what to expect in this post.
Have your lunch at one of the local shops. And then, it's time to explore Yangon street markets.
Start with Myaynigone's Market first, which is where all the colorful streets lie. The scents of fresh fruits, vegetables and flowers will welcome you as you watch the vendors and buyers busy in action. Walkthrough Aung Taw Mu Street that takes you back in time with the rustic buildings and to nearby Shan Kone Street for some drinks, smoothies or even beer.
It is now time to visit the largest traditional market, Theingyi, which feels like a never-ending series of streets lined with countless shops. Take in the scenes of how businesses go on and don't forget to smile and capture the local life. The best part about these markets is they are not at all catered to tourists. These are the lifelines of the people of Yangon, it is business as usual for them, but a treat for the travelers to witness the unfiltered Burmese local ways of life.
After a long day, pass through the Sule Pagoda at night which sits at the crossroads, glowing in golden colour. Grab a drink and some Burmese dinner and call it a night.
Editor's note: 17 Best Bagan Pagodas That You Should Visit in Myanmar (among 800+)
Day 3 – Colonial Tour, Sakura Tower, Bogyoke Aung San, Fish Market & Night Bazaar
It is now your last day of 3 days in Yangon, so you can either make it action-packed like the itinerary that you will read next or take it very slowly.
If you want some local action, get up when the locals do(around dawn) and head to San Pya Fish Market close to Kyee Myindaing Road. Here you will witness a market unveiling, which goes from being a deserted line of shops to a full-fledged fish market in minutes.
Every morning, local fishermen arrive with their fresh catch from overnight to lay in open for buyers. You can find men and women quickly sorting the seafood, arranging and dealing with hagglers who come to score morning deals. The only downside is the smell, which might put off some travelers.
Editor's note: Looking for awesome day trips from Yangon – Check this post!
Have breakfast and get ready for some walking today to go back in time by at least 200 years. Start from Yangon City Hall and navigate through the streets, and you will know what I am talking about. Historic British buildings that stand out with their European architecture will transport you back in time.
You can take up a tour at the Minister's building, where you can learn about the history of the assassination of General Aung San. There are exclusive colonial walking tours if you want an organized trip.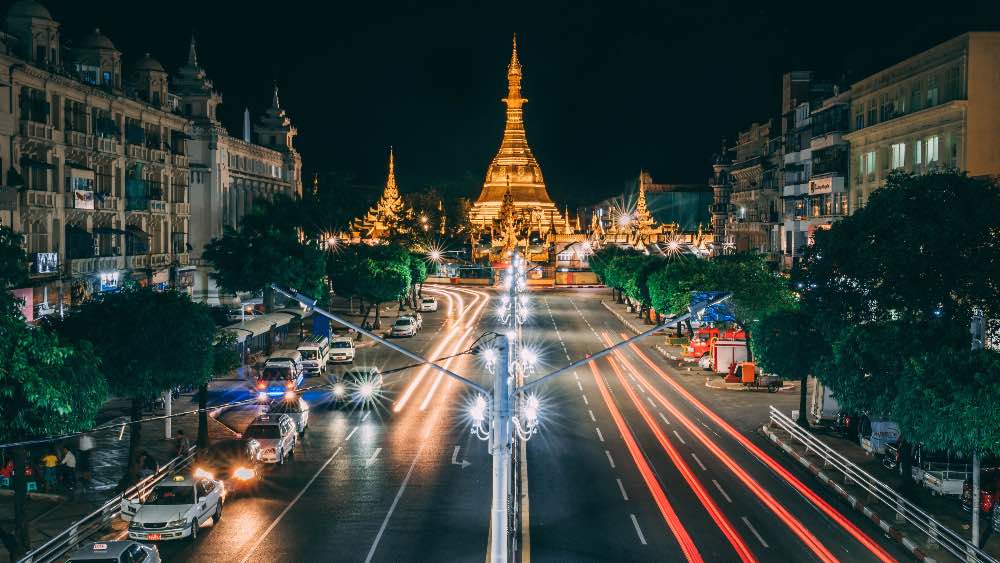 Next, it is time for shopping for some souvenirs before you leave Yangon. So head to Bogyoke Aung San Market, the largest indoor market and a fabulous place for shopping on a budget. You get everything here, from souvenirs to handicrafts to clothes, and even delicious street food too. You can easily spend around 2 to 3 hours or just skim the surface.
When it is around 5 PM, go to Sakura town in downtown Yangon. Go to the 20th floor to head to Sky Bistro Restaurant, from where you can see gorgeous, panoramic views of Yangon from the top, especially the Shwedagon Pagoda, which gets lit up once the sun goes down. This restaurant serves amazing cocktails, and they have happy hours exclusively to treat guests arriving for sunsets.
So grab your favourite drink at a nice spot, and watch the splendid sunset.
Editor's note: 7 Awesome Places From Where You can Witness Bagan Sunrise & Sunsets(without climbing to the top of temples)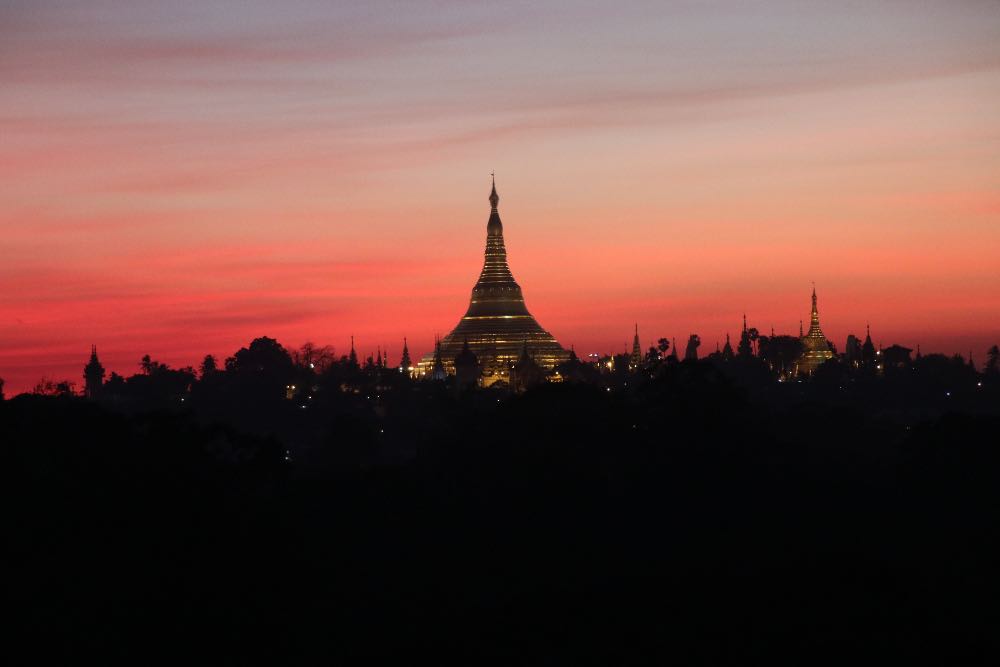 If you are hungry, just hold on because your next stop is the Night Market. Running along the Strand road, a series of streets starts buzzing with people heading for street food. Like Chinatown, you can see plenty of shops serving all kinds of cuisines.
The market is close by, and although it is pure business from 3 PM every day, it turns all about food around 8 PM, becoming a street food heaven. The shops are open until 11 PM, which is a perfect way to make the most of your time and sign off from Yangon.
This is how to have a fantastic 3 days in Yangon. If you are still wondering what to do in Yangon or want alternatives, continue to read to find out some more cool things to do in Yangon. Also, check out below for the detailed Yangon itinerary for 1, 2 and 4 days.
Editor's note: How to reach from Yangon to Mandalay?
More Things for 3 Days In Yangon
Here are some more awesome things to do in Yangon.
Get to know Myanmar at National Museum Yangon
One of the things that you can also include in your 3 days in Yangon is the National Museum, which offers you the country's rich history, culture, communities, and religion. From the Burmese kingdoms to WWII to the days of the Burmese independence and after, the museum has over 50,000 collections spread across five floors.
The entry fee is 3 USD, and the Museum is open between 9:30 AM to 5 PM.It is closed on Mondays.
Pay a tribute to World War Martyrs at Taukkyan War Cemetery
Burma was one of the countries that were affected by both WWI and WWII along with British colonization. Soldiers belonging to many colonized nations gave up their lives in these wars. Consisting of over 6000 gravestones, Taukkyan War Cemetery is a tribute to the warriors of many nations. Memorial pillars and rows of tombs lie amidst a green park, which has plenty of trees. It is not a positive place, but worth checking out to pay respects during your 3 days in Yangon.
You can take a cab to reach the cemetery which is about 25km from the city center. There is no entry fee and is open between 8 AM to 5 PM.
Attend a cooking class to learn the Burmese Cuisine
If you enjoy cooking, there are many cooking tours and schools offering short cooking classes open for tourists. You can learn to make some famous Burmese dishes like tea leaf salad, Mohinga, and different types of noodles.
Here are some of the cooking tours that I would suggest.
Get a glimpse of Myanmar's Arts in Yangon's Galleries
Yangon is a city for budding artists, and hundreds of artists silently have been creating epic pieces of art that express Myanmar brilliantly, whether it is the country's social life, the past, culture, food or people.
If art is your thing, head to these best art galleries in Yangon – Inya art gallery, known for modern art and workshops, The River Gallery, home to contemporary works of the local artists, and New Zero Art Space, Myanmar's first non-profit art space.
Learn Yoga in Yangon
Yoga is quite popular among travelers visiting Myanmar, and what better than getting a hang of it in the city of the largest number of Yoga houses? You can walk in and take morning or evening classes right away. You don't need any prior experience of knowledge. Yangon Yoga House is the most famous one, and there are a few new ones now, including Ashtanga Yoga and Acroyoga.
Editor's note: What is the best way to get to Inle Lake from Yangon?
If You have less than 3 Days in Yangon
1 Day in Yangon
If you have just a day in Yangon, start with taking a walk to Kandawgyi Lake in the early morning, where you will get to see the skyline of Yangon and a glimpse of the locals. Check out the majestic Karaweik Palace and the gardens on the premises of the lake.
Have a quick breakfast and then head to Bogyoke Aung San Market. You can also have your breakfast there if you want to try some local food. Shop for souvenirs or anything you find interesting.
Then take the Yangon circular train to witness the city on wheels. Get down after an hour or so, have your lunch.
After a filling meal, head to the Secretariat or the Minister's building for a tour of colonial architecture, & the history of General Aung San.
The sundown time would be near, which means it's a pleasant time to be outdoors. Around sunset, head to the Shwedagon Pagoda next. Watch the magical sky colors in the backdrop while exploring this huge temple. Wait until the temple lits up to witness the dramatic change in how the temple looks.
Next, walk along the downtown passing through the Sule Pagoda(not worth going in), which towers above the buildings, and head to Chinatown. It is time to savor local street food and drinks. Sit back and take in the sights of Yangon before calling it a day.
2 Days in Yangon
Day 1: Follow the same itinerary for your 1st day as above. A few alternatives would be visiting Botahtaung Harbour for the sunset.
Day 2: Start your 2nd day in Yangon by taking fresh air in Inya Lake. Have your tea and breakfast. And then, if you are interested in visiting another pagoda, head to Chauk Htet Kyi Pagoda, which is worth seeing for the large white statue of reclining Buddha in a golden robe.
If you are feeling templed out, start exploring the British colonial architecture of Yangon, which is colourful, rustic and paints pictures of the 19th-century Rangoon(former name of Yangon). Begin with Yangon City Hall, which is one of the popular tourist attractions in Yangon. Close to it is Maha Bandula Park, which has nice places in the shade to relax. Check out the Independence monument and head to have lunch.
There are many restaurants in the area some specifically catering to tourists(read expensive), so pick one that looks local for authentic Burmese food.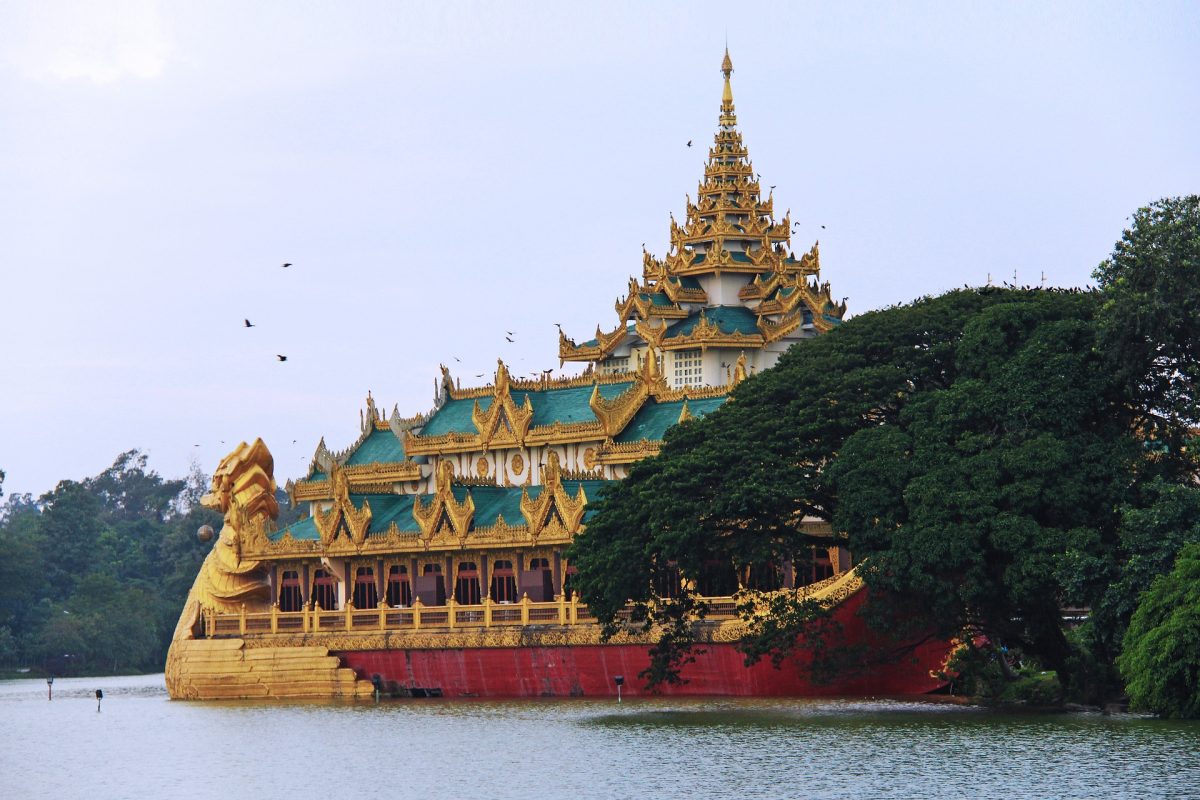 If you want to get a peek of colonial heritage and luxury, head to Belmond Governor's Residence, a hotel which was formerly the home of one of the governors of British Burma.
It is over 100 years old, and made of teak, with sprawling gardens in the front. There are beautiful rooms if you are looking for accommodation here, otherwise, you can enjoy a delicious lunch and cocktails in this mansion.
After a sumptuous meal, walk towards the heritage Pansodan Street, which is at least 600 years old, and is home to the last few colonial buildings like the High Court, Telegraph office, Port building, Strand heritage Hotel, Custom house, and Trade centers.
It would be time for sunset by now, so head to nearby Botahtaung Harbour, which costs about a dollar by cab. You can visit Botahtaung Pagoda close by or walk along the harbour to get a glimpse of people working at sea. Very few tourists visit here, and you can get the place for yourself to capture and witness Yangon unfolding.
4 Days in Yangon
If you have more than three days in Yangon, spend a day taking a day trip to one of the destinations.
Or continue exploring Yangon further by getting to do things in Yangon mentioned above. You can watch the life of the monks by visiting Vicittarama Monastery, which houses monks and provide schooling to them. Dress respectfully while visiting the monks though.
Day Trips From Yangon
If you have a spare day in your Myanmar itinerary, there are quite a few options to plan a day trip from Yangon.
Ideally, if you have like 4 to 5 days, you can plan by spending 3 days in Yangon and using the rest for one or two-day trips from Yangon.
Check this post here to find out about 11 awesome day trips from Yangon, where I have covered all the lovely destinations around the city, with details on how to plan them.
Getting around Yangon
The best way to get around Yangon is by walk, especially if you are based in downtown, where a lot of attractions are nearby. To get to the bus station, airport or to places in the outskirts, Grab comes at cheap prices both for motorbike as well as cabs. But recently, motorbikes got banned in Yangon. You can get tuk-tuk for slightly lower prices than the cab.
The public transport is average – there are buses to commute within the city, but finding the bus stops, getting into the right buses(there are no signs in English) are challenges, along with dealing with huge traffic jams.
Where to stay in Yangon?
Yangon is not short of hotels and guesthouses. There are plenty of Yangon hotels and hostels scattered throughout the city, in all budget ranges. The most popular neighborhood is near Yangon downtown, and areas around the Sule Pagoda and Chinatown. If you have 3 days in Yangon, then it is better if you base yourself in the centre. You can find plenty of hostels, hotels and even guesthouses.
What to Wear in Yangon?
There is a strict dress code for temples, and monasteries – Not just in Yangon, but throughout Myanmar, it is very essential to dress sensibly. More than 90% of the country follows Buddhism, and also unlike other SE Asian countries, the locals are relatively conservative in dressing.
So trade those skimpy shorts and tank tops for loose-fitting colourful cotton trousers and tops, which are perfect for the hot weather and also lovely. Men can also try those cotton trousers and t-shirts that are fancy. The good thing is you can buy these in the markets and are cheaper too. In short, just avoid anything you think looks indecent.
If you are visiting beaches, wear modest swimsuits and avoid bikinis.
3 Days in Yangon – Travel Tips
Here are some Yangon travel tips to enjoy your 3 days in Yangon comfortably.
Carry a bag to put your footwear, including socks which are prohibited inside temple premises.
Although ATMs are available in plenty, most places only accept cash. Even in hostels, I had to pay cash for all transactions. So keep some Kyats handy always. ATMs have the best conversion rates.
The traffic in Yangon is hectic, and you will feel crazy at one point in time. If you don't plan your journeys well-ahead of the scheduled departures, there are high chances of you missing your flight, trains, and buses. So it is essential to plan your day before you venture.
Yangon is safe as the rest of the country. But do act with common sense, and keep an eye on your belongings. Store your valuables in a safe in your hostel or guesthouse
Tourist scams are rampant, so beware while doing any transactions. The common scams are those involving booking of tours, buses, and trains, where travel operators or middlemen charge hefty prices. The same goes for cab drivers, who quote exorbitant prices. Do your homework first by checking prices with your hotel reception and also online.
A majority of the people are warm, kind and friendly to all tourists, but sometimes, you should be careful to not let those beautiful smiles and warmth scam you!
Travel Insurance for Yangon
If you are travelling to Myanmar, you will most likely need insurance that will take care of important things for you. I recommend World Nomads Insurance which has awesome benefits. Check out the quotes below.
3 Days in Yangon – Final Thoughts
I am not a fan of big cities and the chaos of urban life. Most people that I heard skipped Yangon assuming it to be one of those cities. Yes, it is true that it can probably make you feel a bit overwhelming, and the traffic intimidating, but Yangon has the charm to captivate its visitors.
It is not your love at first sight. With its ideal blend of modern, traditional and cultural aspects, Yangon makes it worth giving a shot. Whether you have 3 days in Yangon or 2 or even just a day, go out and experience the city.
OTHER MYANMAR POSTS THAT YOU MAY WANT TO CHECK
Yangon Circular Train – A Guide To Experience the Burmese life
11 Cool Yangon Day Trips You Should Plan
17 Best Places To Visit In Mandalay
17 Best Bagan Pagodas That You Should Visit (Among the 800+temples)
How to get from Yangon to Mandalay– Bus or Train?
Watching Sunrise & Sunset in Bagan – Here is how to do it in 2019
Ways To Reach Bagan From Yangon in Myanmar
Offbeat Myanmar – 21 Awesome Things to Do in Hpa An
How to get from Mandalay to Inle Lake?
Crossing Thailand-Myanmar By Land – Here is a complete guide to do it
Pin this post to read later!
Connect with me on Facebook, Twitter, and Instagram for travel stories.