Looking for things to do in Hpa An? Well, Hpa An, the capital city of Kayin or Karen state, is surprisingly not on Myanmar top destinations although very accessible from Yangon. But there are so many awesome things to do in Hpa An that you could easily spend 5 to 6 days or even a week. I spent almost 5 days and loved the city. It was fantastic to enjoy beautifully composed limestone rocks, mountains and green fields. In this post, I'll tell you about all the things to do in Hpa An.
Things to do in Hpa An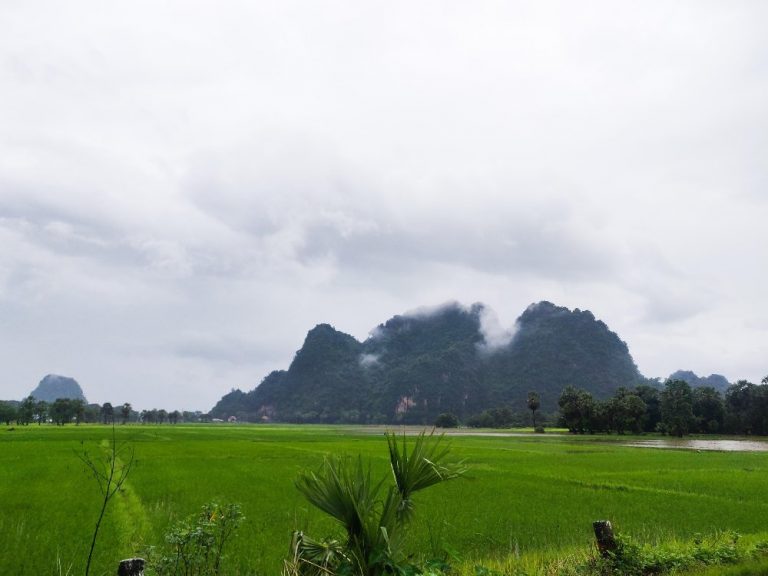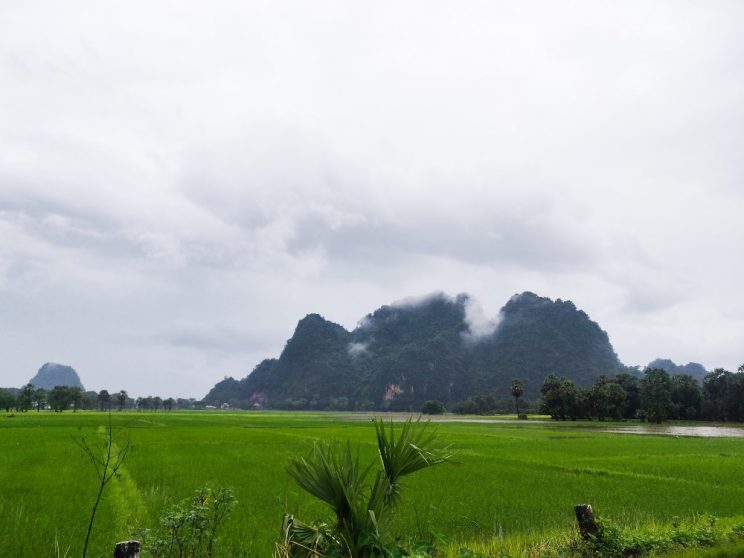 1. Check out Kan Thar Yar Lake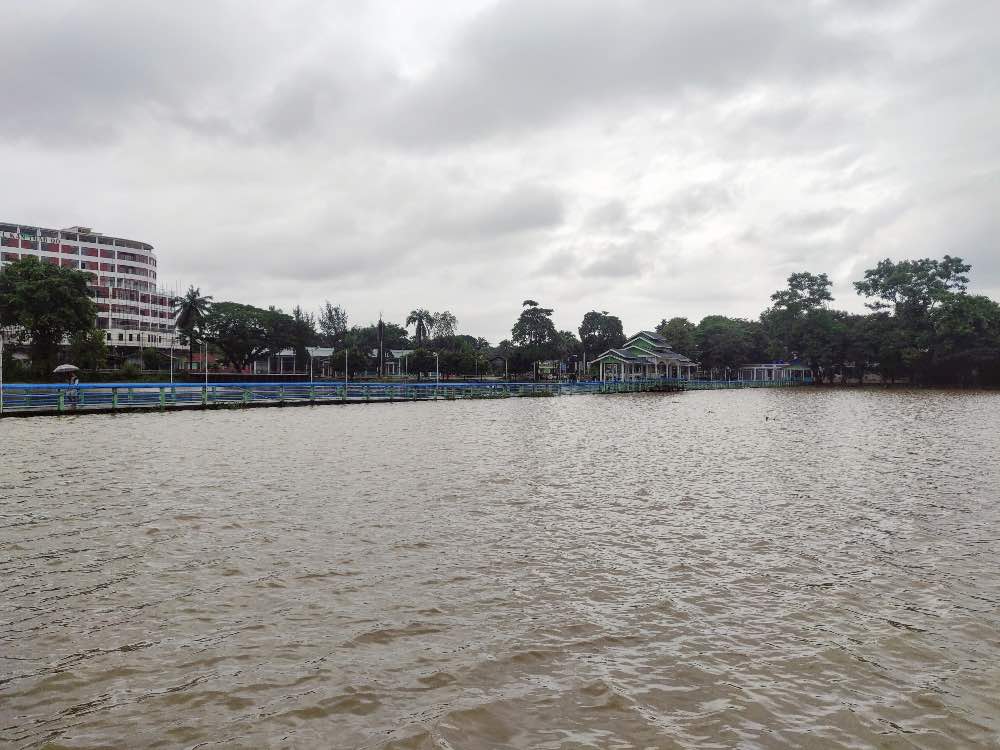 Located in the heart of the town, Kan Thar Yar is a lovely lake and a popular hangout place for the locals. You can get some splendid views of the mountains from here. It is free to enter and an excellent start for Hpa An and one of the many places to witness pretty sunsets.
2. Visit Shwe Yin Mhyaw Pagoda
One of the awesome things to do in Hpa An is to visit Shwe Yin Mhyaw Pagoda, not for the temple itself, but its excellent location. It is situated in the centre of the town on the banks of the river. The Pagoda offers splendid views of sunset against the backdrop of mountains. There is no entry fee.
If you are visiting Bagan, the land of thousands of Buddhist temples, check this post to choose your 17 best Bagan pagodas.
3. Explore the Local Hpa An Morning Market
Markets are where you can witness local life and culture. If you love visiting local markets like me, you'll love Hpa An morning market. Located in the centre of the town, you can witness vendors selling everything fresh from vegetables to seafood to meat o fruits. It's an excellent place for photography and people watching. It is one of the free things to do in Hpa An, of course.
4. Head to Hpa An Clock tower
You can't miss noticing this iconic landmark of the town while passing through. It's nothing special or unique, but as mentioned, it is a symbol of the city and the centre of Hpa An for shops. It is also where your bus would drop you if arriving by bus.
5. Watch locals fishing
One of the benefits of going during the rainy season for me was that I could watch local fishers fishing in the river traditionally with big nets. If you are wondering what to do in Hpa An, fishing is one of the best things is to get a glimpse of local life.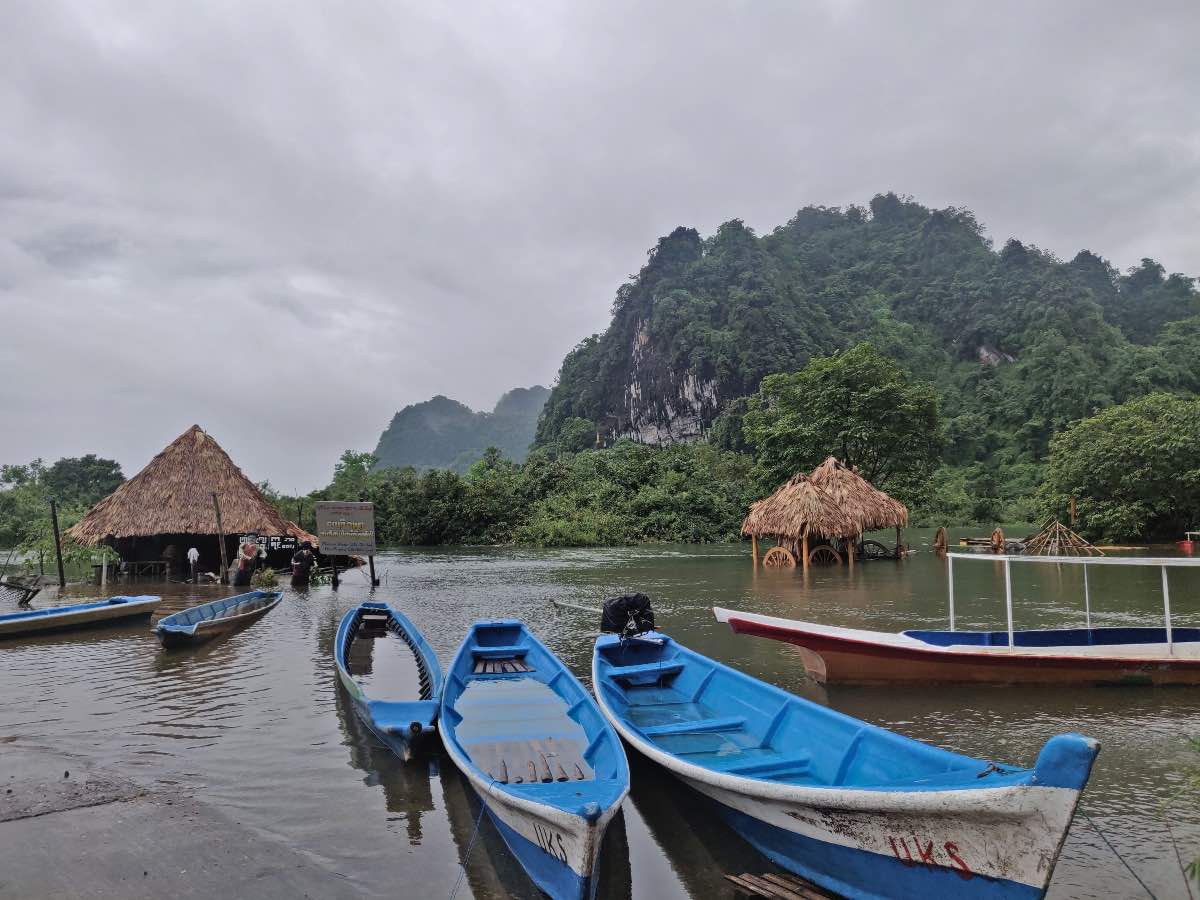 You can find these fishermen at work right at the centre, where they fish in the Thanlyin River. You can stop by in the villages to spot them fishing in the ponds as well.
Things to Do In Hpa An
Above are the things you can do within the city centre in your Hpa An trip. Below are what lies outside the town because that's where all the fun is in Hpa An.
6. Do Biking around Hpa An
To me, this is one of the top things to do in Hpa An. The speciality of Hpa An is its natural beauty. Biking is a top Hpa An attraction, which will take you through the rugged countryside surrounded by limestone hills, rice fields, rivers, monasteries and caves. You'll get a chance to witness raw Myanmar village life secluded away from modern cities.
7. Head to Kyauk Kalat Pagoda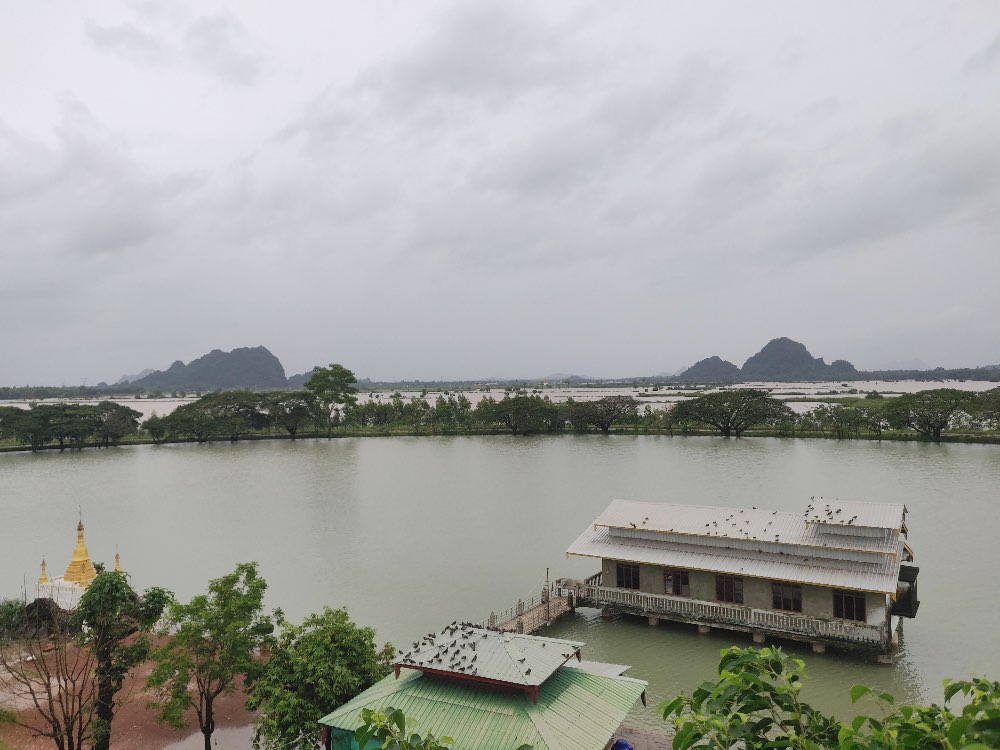 Kyauk Kalat Pagoda is one of the usual things to do in Hpa An. No, it's not another Pagoda in Myanmar, but this one is on the top of a rock and looks perched to the cliff. It is surrounded by lush green rice fields, a small lake and boasts of Mt. Zwegabin as its backdrop.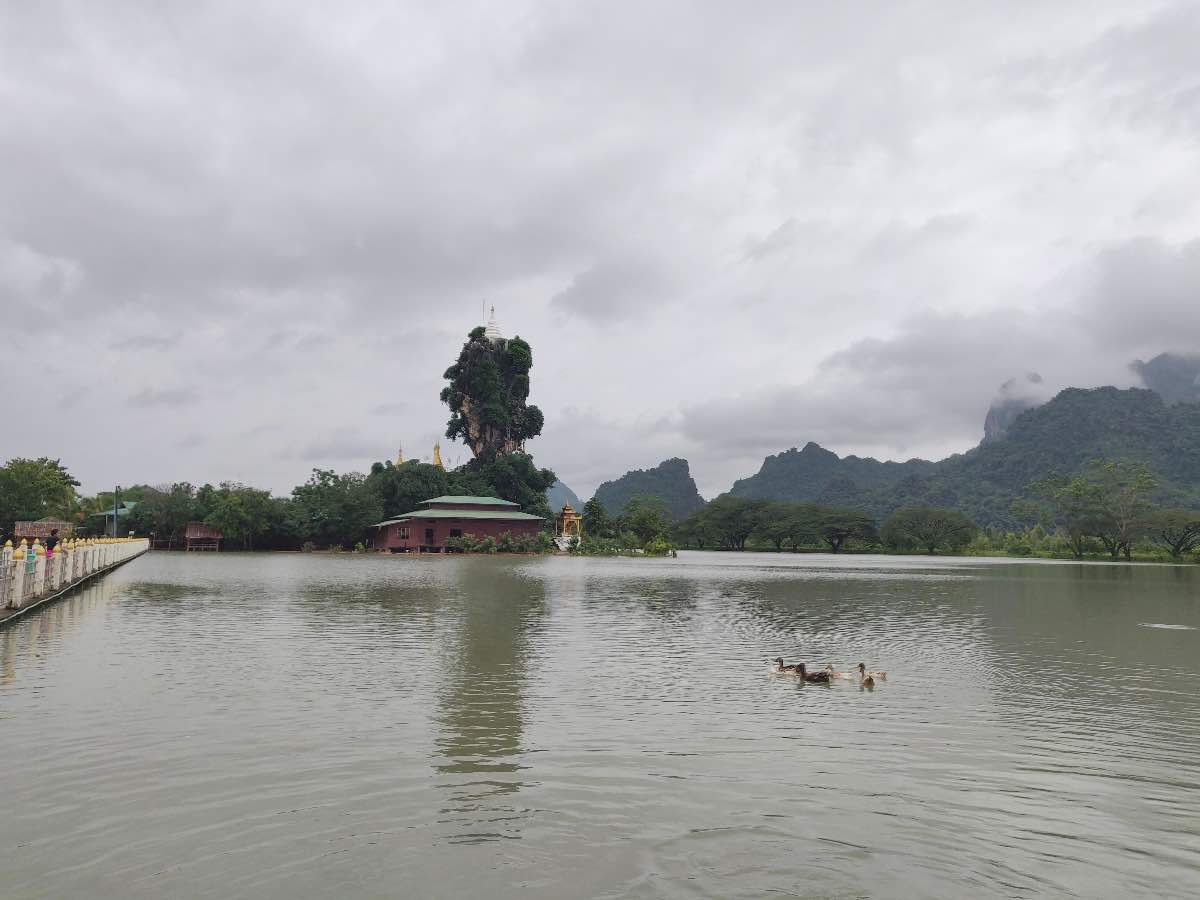 The best part is that there is no entry fee, and the journey to the Pagoda is terrific. Hire a bike and set off on a drive to arrive in an hour or so. It would take about 2 to 3 hours to do this, and worth it.
Here are some hiking destinations in Hpa An.
8. Hike to the top of Mt. Zwegabin
Also known as Mt. Zweka Bin, it is one of the popular Hpa An attractions. Hiking to the top of Mt. Zwegabin is not very easy, but certainly very rewarding. It is known for the sunrise from the tops.
You can start a hike in the early morning, around 4 or 4:30 AM to be at the top for sunrise. It takes between 1 to 3 hours to climb up depending on your fitness and an hour or so to come back. This tiring hike is genuinely worth adding on your Hpa An must-visit attractions for those fantastic views. Keep an eye for monkeys and slippery stairs, though.
Editor's note: 5 Day trips from Hpa An that you can plan
9. Watch a stunning sunset from Taung Wine Pagoda.
If Mt. Zwegabin is for the sunrise, Taung Wine Pagoda is for fabulous sunset views across the Karst mountains. If you can stand the steep, scary stairs leading to the top, you'll feel on top of the world when you get there. There is no entry fee.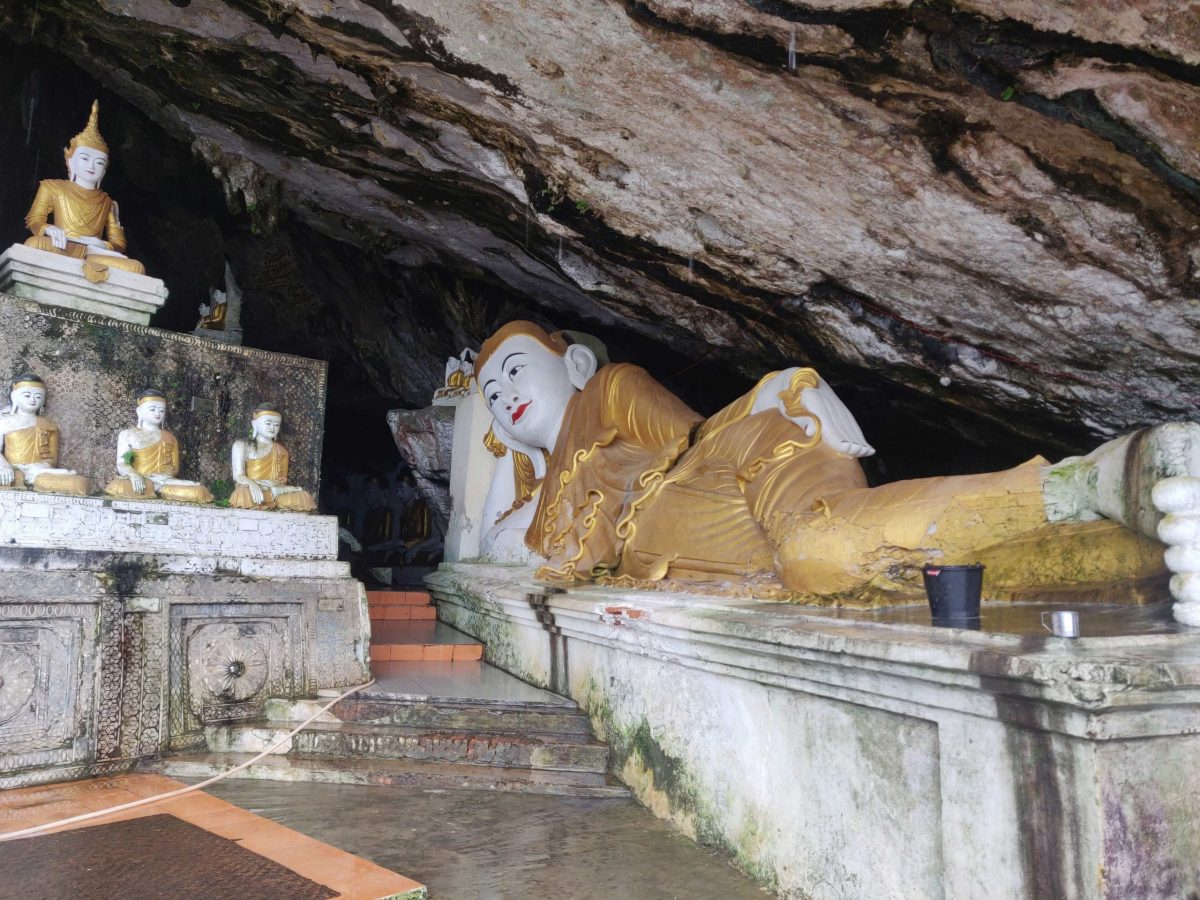 Tips: Try to reach there early to get down before it gets dark. Beware of slippery stairs. Best to climb without footwear or good hiking shoes.
It is closed during the rainy season. There is an entry fee to be paid at the gate costing about 4000 Kyat for foreigners.
Speaking of witnessing gorgeous sunsets in Myanmar, Bagan is the place for stunning sunsets. If you are headed there, check out these 7 best places from where you can watch sunrise & sunset in Bagan(without getting caught or going to jail!)
10. Get to the top of Hpan Pu Mountain
Located on the other side of the Thanlyin River, Hpan Pu is an alternative to get some views of the town. You need to take a boat for about 500 Kyats per person, which will take you to a village. Follow the sign Hpan Pu in English to find stairs leading to the top. It might be a bit confusing to find the foot of the mountain, so check your maps or ask your boat driver or the locals for clarity.
11. Check out 1000 Buddhas at Lumbini Garden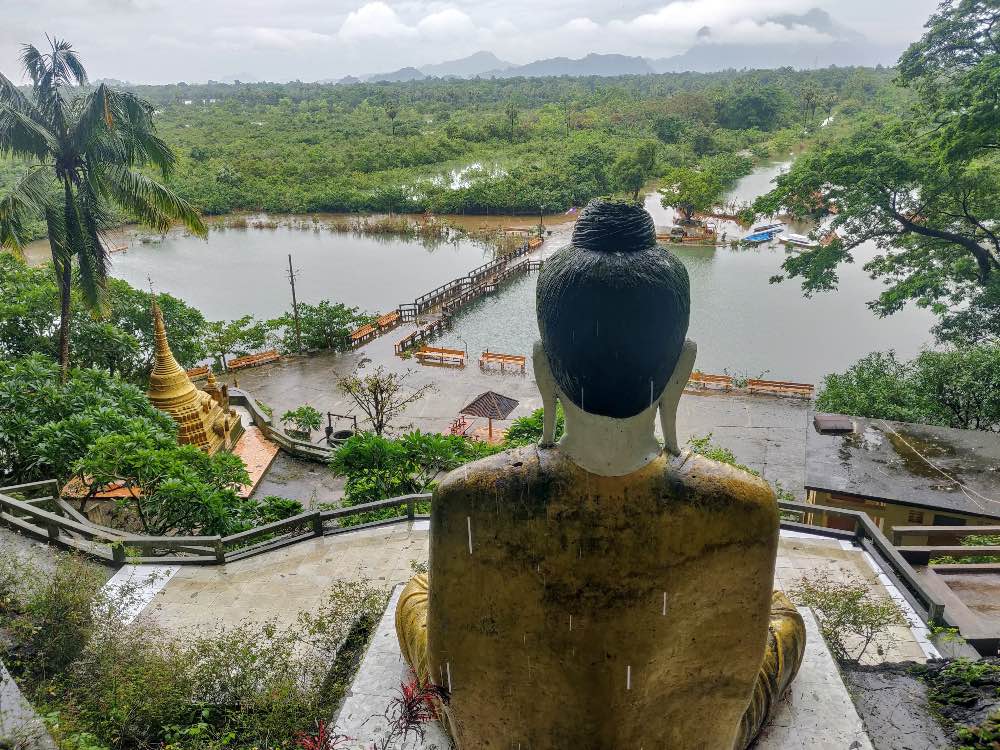 The Lumbini Garden or 1000 Buddhas gallery is your first stop on the way to your hike to Mt. Zwegabin. It's a lovely open park consisting of 1000 brightly painted seated Buddhas. The entry fee is 4000 Kyat for foreigners, which also provides an entry to hike Mt.Zwegabijn at the back of the garden.
Hpa An Caves
Hpa An is all about caves and below are the ones worth visiting.
12. Explore Saddan Caves
Maha Saddar Caves or Saddan is an important place of worship for the locals. This cave temple is among the best places to visit in Hpa An for travelers. Surrounded by rice fields, a walk along a narrow path leads you to the entrance of the cave. Thousands of Buddha statues amidst stalagmite formations are impressive along with paintings on the cave walls.
Once you reach the end, there is a pretty lake that you have to cross by boat to get back to the entrance.
Entry fees: 1000 Kyat or about 0.75 USD
Boat trip: 3000 Kyat per person.
Note that Saddan Cave is closed during the rainy season.
13. Witness the unique monk statues at Kaw Ka Thaung Cave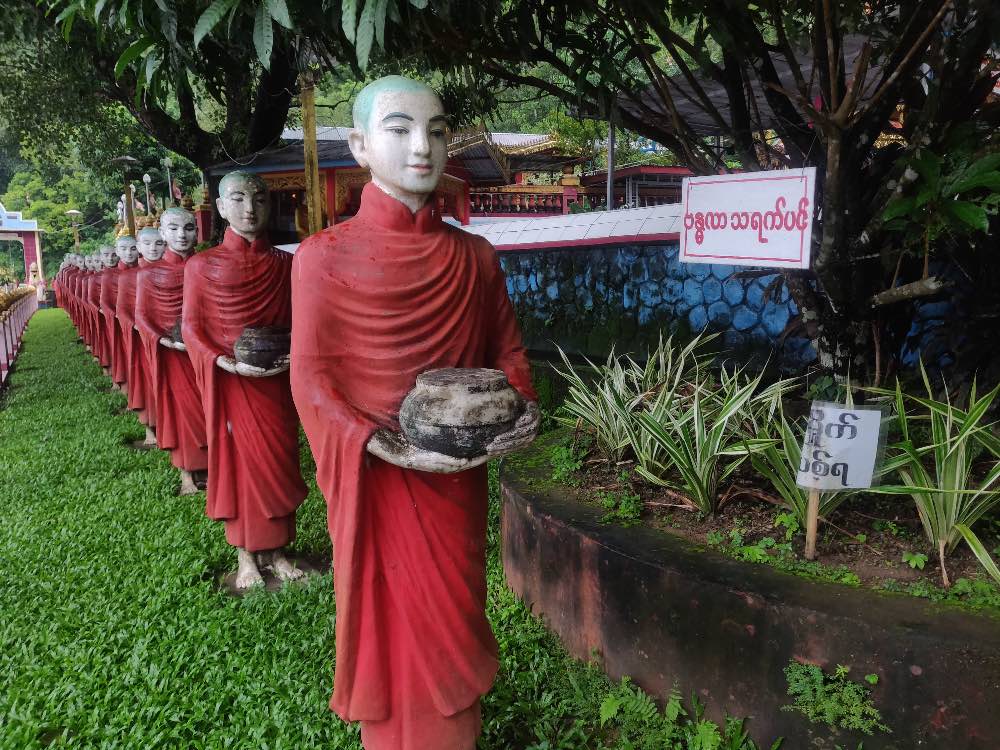 Kaw Ka Thaung looks dull compared to the others but is worth checking out, especially for the series of statues of monks wrapped in red. There is also a small pond in front of the cave. There is no entry fee.
14. Get amazing views of Hpa An from Yathae Pyan Cave.
Located on the top of a mountain, Yathae Pyan Cave looks alluring from a distance and is probably my favourite among the caves in Hpa An. It is one of the best things to do in Hpa An for the views, cave and the fun ride.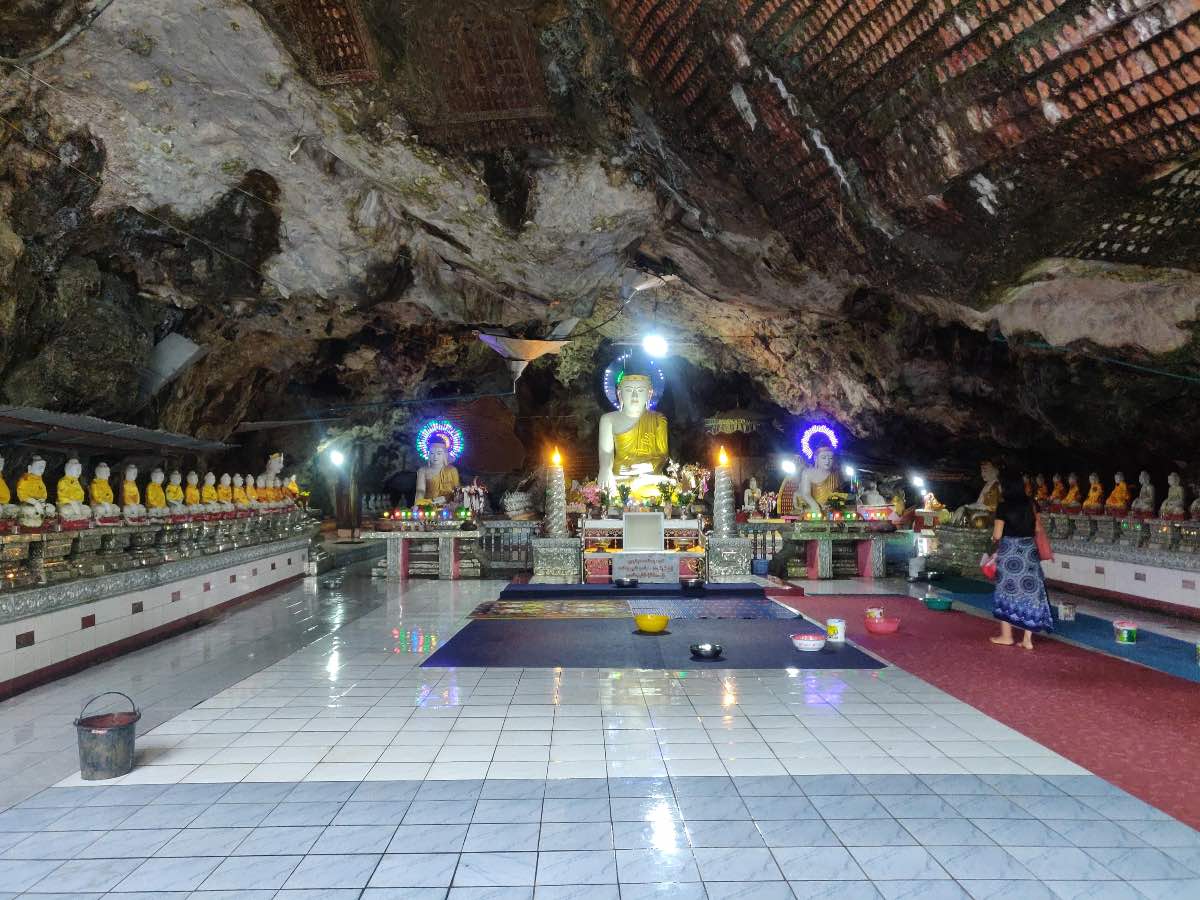 There is a small pond below at the entrance. You need to climb up to witness paintings of Buddha on the cave walls, impressive formations and hundreds of Buddha statues. No entry fees.
15. Watch the bat phenomenon at Linno Gu or Bat Cave.
Linno Gu or Bat Cave is home to hundreds of thousands of bats. At the time of sunset, they come in big groups to hunt in the night. It's a unique, impressive sight to watch thousands of bats at once arriving blackening the sky.
Head there around 5 or 5:30 PM and find a spot to see this natural phenomenon.
Note that this is not possible during the months between July and September when it rains.
More things to do in Hpa An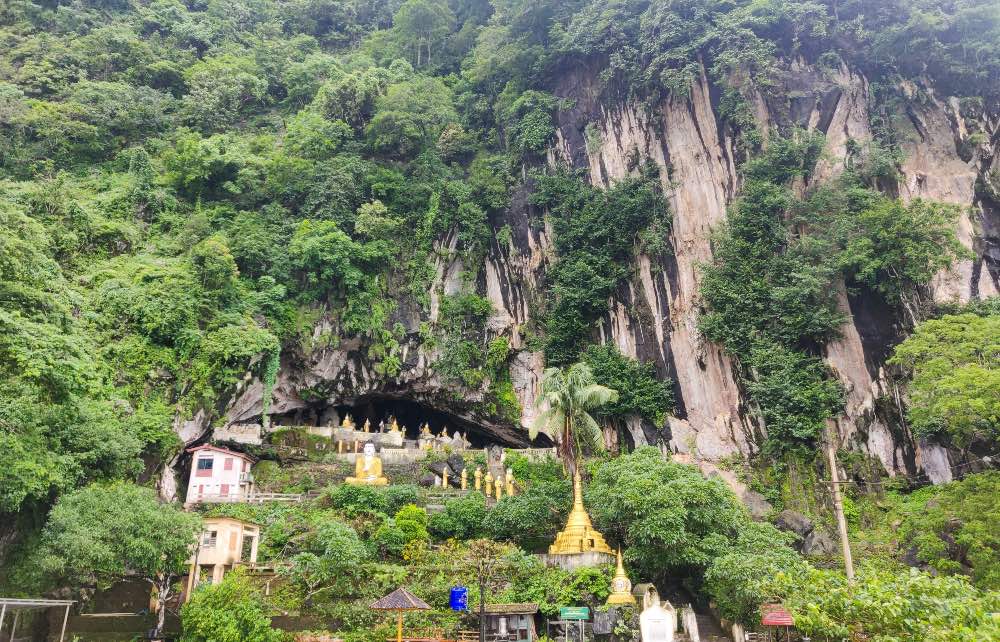 If you are still checking out what to see in Hpa An, here is a list of off the beat bonus attractions.
16. Swim at Loon Nya Blue lake
Loon Nya Blue lake, as the name suggests is a blue pond located outside the town of Hpa An. On a sunny day, it's a popular hangout for local kids to swim and relax. As of now, there is no entry fee for foreigners, so drive for a dip in the lake.
17. Climb Kyar Inn Hill
If you want to climb more mountains in Hpa An, pick Kyar Inn, a small hill with a shrine offering great views of the countryside landscapes.
18. Take a dip in the hot springs at Bayin Nyi Cave.
Bayin Nyi Cave is a large temple with fascinating statues. But what makes it worth visiting are the hot springs, two for both men and women. After all the hiking and driving, it's an excellent place to relax, enjoying some views amidst nature.
19. Admire the 7th-century wall paintings at Kaw Gon Cave
Another cave very to Yathae Pyan is Kaw Gon or Kaw Gun Cave, which requires climbing stairs to get there. At the top, along with thousands of Buddha statues, you can witness the rare wall carvings belonging to the 7th century.
The entry fee is 3000 Kyat, and the camera fee is 500 Kyat.
20. Visit the Kayin State Cultural Museum
Interested in getting to know a bit about Hpa An's history and culture? Then visit the Kayin State Cultural Museum. It is one of the unusual things to do in Hpa An, and you can miss it like me because the sign at the front is not in English, although you can look up on Google maps.
The entry fee is 2000 Kyat per person.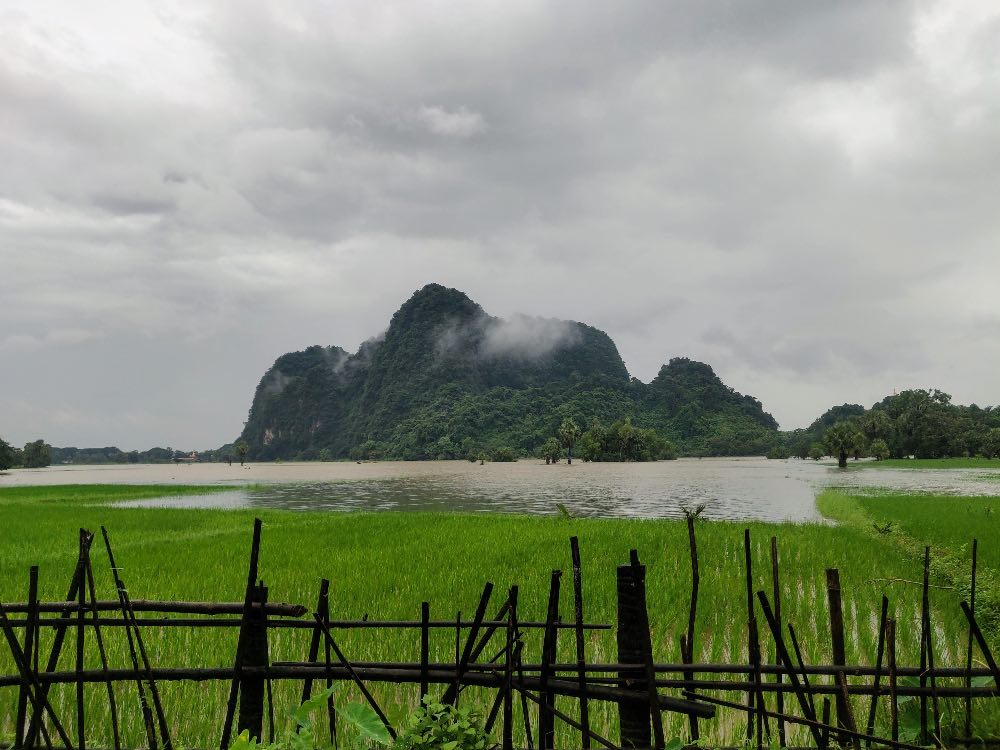 Hpa An Map
Below is a map of Hpa An with all the major attractions that I got from Little Hpa An hostel that I stayed.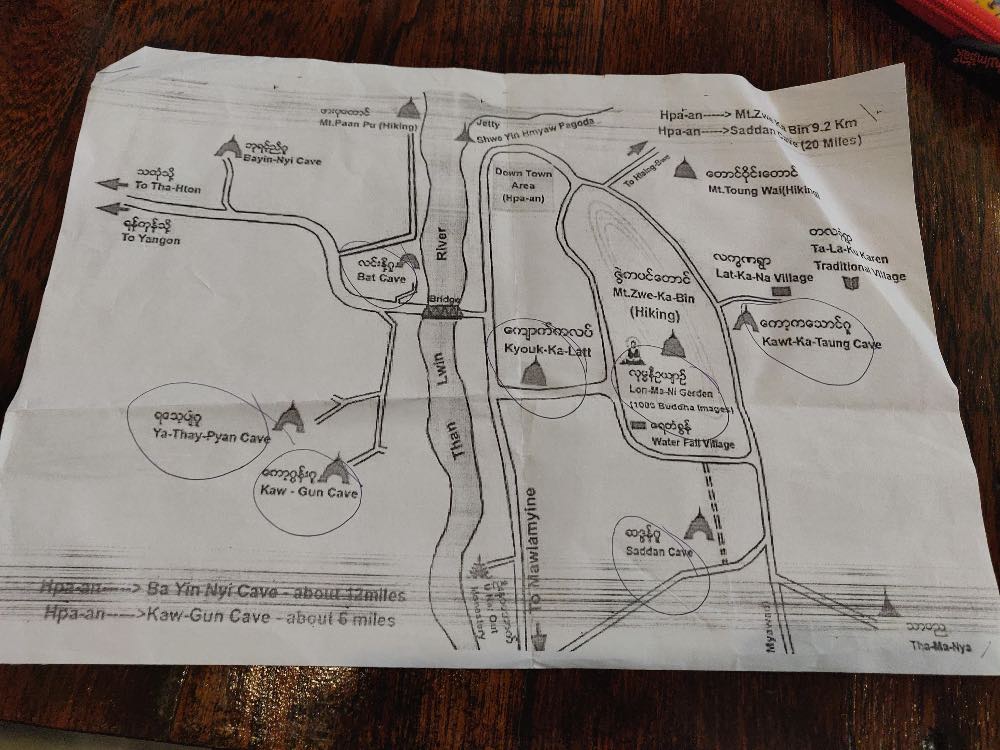 How to reach Hpa An?
From Yangon to Hpa An
The best way to get to Hpa An is by buses. There are buses from Yangon every day, which can be booked online here. You can also book through your guesthouses.
Cost: 6000 to 9000 Kyat (4 to 6 USD)
Duration: 5-8 hours
From Thailand Mae Sot / Myawaddy to Hpa An
If you are crossing the border from Thailand, the best way to reach is taking a shared taxi, which costs about 10,000 Kyat. You can go to the taxi station and negotiate a deal with the driver. You can read this post to find how to cross the land border and enter Myanmar to reach Hpa An.
Cost: 10000 Kyat per person
Duration: 5-8 hours
Getting around Hpa An
Apart from the lake and Pagoda, all the attractions are out of the town and far away, which means you'll need some transport. The best way to get around Hpa An is by renting a motorbike. I paid 6500 Kyat per day, which was after slight bargaining. You can get even better prices if you book for multiple days.
You can share this with someone from your guesthouse or hostel to cut down the cost further if you are traveling solo. Plus you get to make new friends!
You can also take a shared tuk-tuk if you are in a group as it would cost better as well as you can sit back comfortably. Check for these tuk-tuks at your hostel or guesthouse as they would direct you. Some hostels do conduct full-day tours in shared tuk-tuks as well, which is also worth opting for if you can find a group. The whole tuk-tuk cost is about 35,000 Kyat, which gets divided by the number of people sharing.
If you don't mind spending, you can rent a taxi as well or opt for these guided day tours.
Where to stay in Hpa An?
Hpa An might not have as many accommodation options as the other popular cities, but there are Hpa An hotels in all budget ranges. If you are looking for hostels, I would recommend Little Hpa An Boutique, which is a super hostel – cheap, clean, economical, great WiFi and good breakfast included.
Other hostels which are cheap as well as good include:
If you are looking mid-range budget guesthouses and hotels, I would recommend these:
If you would love to indulge in a luxurious stay, Keinnara Hpa-An
That's it from this Hpa An travel blog. Have a great trip to Hpa An. Let me know if I have missed anything or need help in planning your trip.
OTHER POSTS FROM MYANMAR TO PLAN YOUR TRIP
A Total Travel Guide to the Temples of Bagan + Tips & Tricks
7 Best Places to Witness Sunrise & Sunset in Bagan in 2019 (When You Can No longer Climb Temples)
How to travel between Yangon and Bagan – The best transport options with tips & tricks
Crossing Thailand-Myanmar By Land – Here is a complete guide to do it
Pin this post to read later!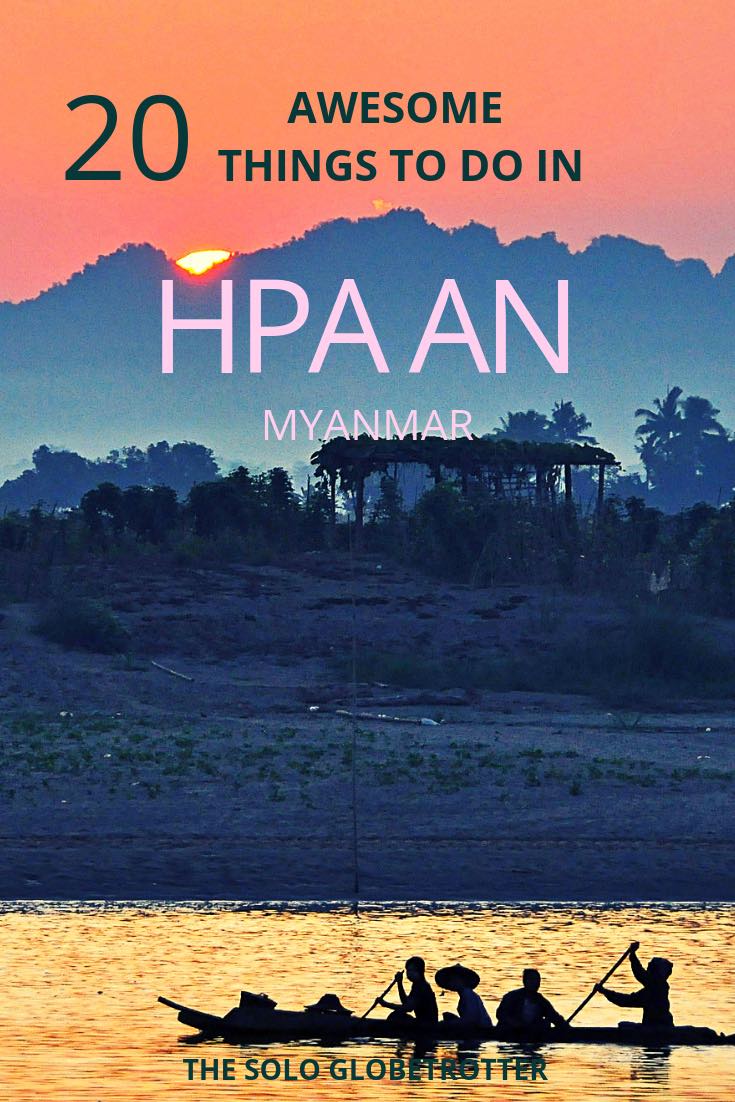 Connect with me on Facebook, Twitter, and Instagram for travel stories. 
Subscribe to My Blog Posts for Travel Inspiration, Tips, Travel Guides & Stories. No Spam!

Latest posts by Reshma Narasing
(see all)