Get ready to crank up your excitement to sky-high levels as you will discover the best spots for Bungee Jumping in California in this post.
Swap solid ground for thrilling heights as you embark on a journey through the most exciting california bungee jumping spots across the sun-soaked landscapes.
Imagine standing on the edge, wind tousling your hair, and a rush of exhilaration building up as you prepare for the ultimate leap of faith. Exciting, isnt it?
From the jaw-dropping bridges that beckon thrill-seekers to take the plunge to the awe-inspiring natural wonders of the Golden State that serve as the perfect backdrop, this is your chance to experience the thrill of a lifetime.
In this post, discover the best bungee jumping ca places, valuable tips and resources for the best bungee jump california experience.
Take the leap, conquer the heights, and make memories that will fuel your stories for years. After all, life is meant for living on the edge!
If you are looking for some of the other famous vacation spots in the US for solo travel or with family, check out these posts:
If you want rental cars in Texas to roam around, check out Discover Cars, one of my favourites due to their pricing and multiple car options. Book here.
Alternatively, you can also check out Rental Cars.
First things first! I recommend you get travel insurance ALWAYS whenever you are on international or domestic travel!
Check out this insurance by Safety Wing, which offers a pretty good cover for you and your family!
They even provide monthly insurance, much required for slow travelers like us! Book here!
TIPS TO FOLLOW BEFORE BUNGEE JUMPING IN CALIFORNIA
1) Safety First: Pay close attention during the safety briefing and follow the instructions of the experienced jump masters as they ensure your jump is a blast and a safe one.
2) Check the Weather: While bungee jumping is an all-weather activity, checking the weather forecast in California ahead of your trip is recommended.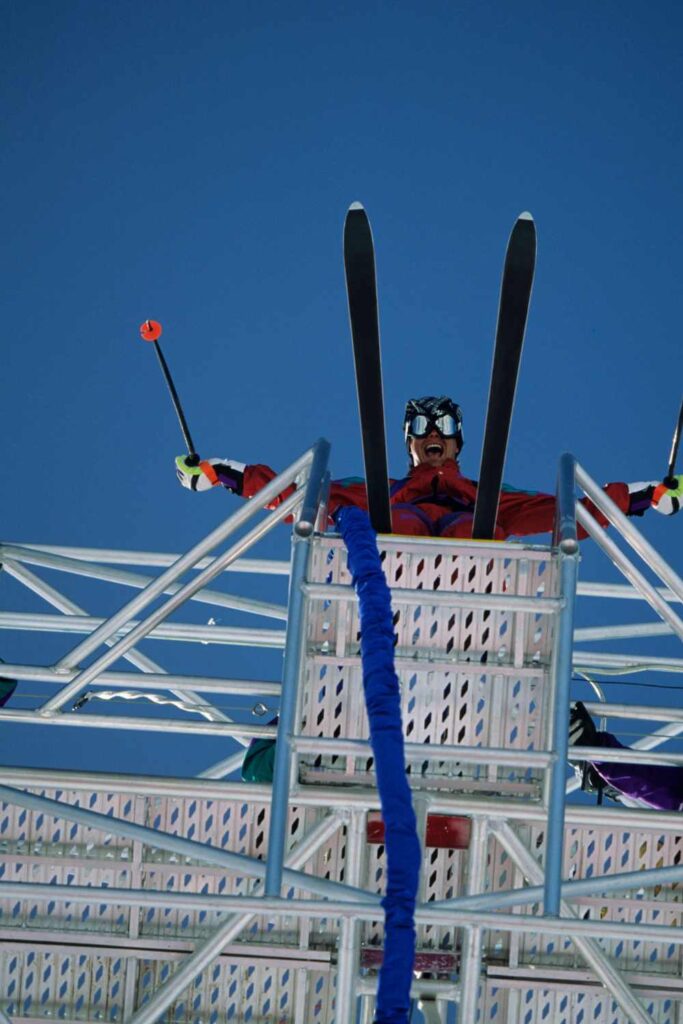 3) Clothing: Wear a comfortable dress that allows for free movement. Opt for closed-toe shoes with secure laces, and avoid wearing jewellery that might get tangled.
4) Stay Hydrated: Bungee Jumping can be an energy-draining activity as much as adrenaline-pumping. So make sure to keep yourself hydrated before and after the jump.
5) Capture the Moment: Many Bungee jumping spots offer video or photo packages. Book one of them to relive the heart-pounding moment again and again.
IS BUNGEE JUMPING IN CALIFORNIA LEGAL?
Bungee jumping in California is not just an adrenaline-pumping adventure; it's a legally approved thrill that lets you experience the rush amidst dramatic landscapes.
The good news is that this heart-pounding activity has been given the green light.
Still, there's a catch – the organizers must adhere to stringent safety measures set by the Division of Occupational Safety & Health (DOSH).
To legally operate bungee jumping activities within the Golden State, organizers must navigate a web of regulations and protocols and obtain a license from DOSH.
Safety is paramount here, as even the slightest miscalculation can have dire consequences.
IS BUNGEE JUMPING IN CALIFORNIA SAFE?
Regarding Safety, modern bungee jumping has come a long way.
Operators meticulously check calculations and equipment to minimize risks.
While injuries and accidents can still occur, commercial operators take every precaution to ensure your Safety.
Check out your bungee operator thoroughly before leaping. Understand these basic harnesses and learn how they work.
It is always recommended to use full-body harnesses to prevent jumpers from becoming detached from the ankle attachment.
Injuries during bungee jumping, despite safety measures, can include upper body intravascular pressure, whiplash, neck and eyesight damage.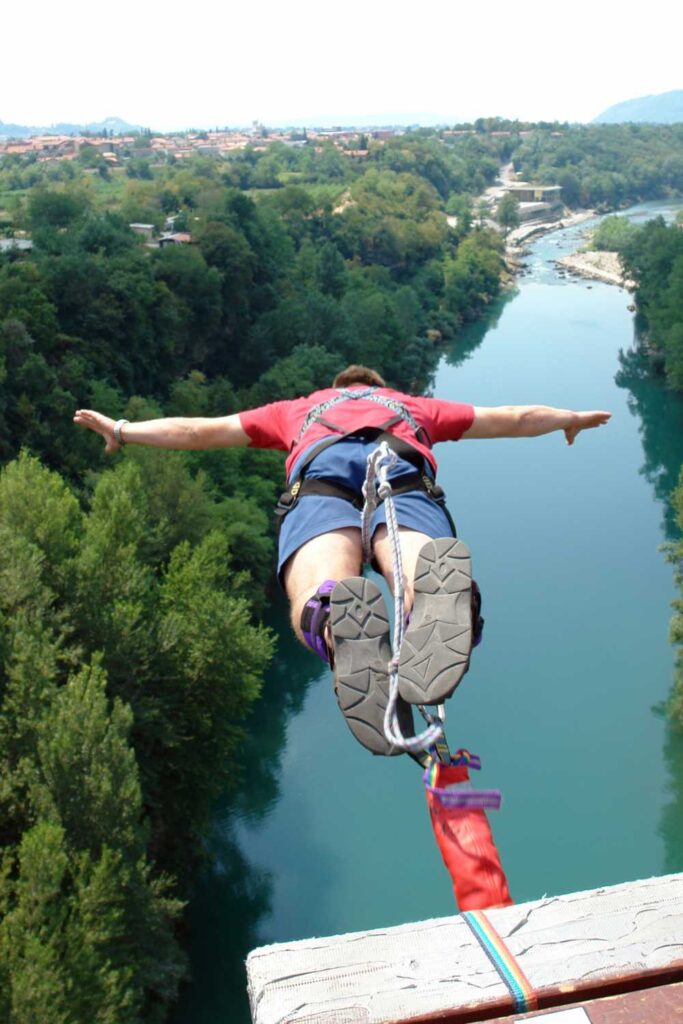 However, it's important to remember that bungee jumping is an adventure sport, and like any sport, there are inherent risks.
When it comes to bungee jumping equipment, it's all about finding the perfect balance between Safety and excitement.
This thrilling sport utilises two primary elastic ropes: braided and unbraided.
Braided Elastic Ropes: They are mostly used by many commercial bungee operators.
Comprising multiple latex strands encased in a sturdy outer cover, these braided shock cords deliver a harder and sharper bounce.
Unbraided Elastic Ropes: These homemade ropes provide a softer and longer bounce, adding an element of unpredictability to your jump.
BEST SPOTS FOR BUNGEE JUMPING IN CALIFORNIA
BRIDGE TO NOWHERE
If you are looking for the best spots for Bungee Jumping in California, check out the Bridge to Nowhere.
This thrilling escapade is orchestrated by one of the oldest bungee pioneers in the USA, Bungee America.
Bridge to Nowhere bungee is your golden ticket for those seeking an adrenaline rush and a heart-pounding adventure in California.
Bridge to Nowhere Bungee jump is from a 10-storey high bridge, approximately 120 feet tall that beckons bungee enthusiasts and thrill-seekers.
But hold on; there's a twist that takes this adventure to a whole new level.
Your journey begins with a spirited five-mile hike through the enchanting Angeles National Forest, tracing the path along the riverside.
It's not just a hike; it's an opportunity to connect with nature, fuel your excitement, and prepare for the heart-pounding leap that awaits.
Safety takes the spotlight before you take that daring leap.
Bungee America ensures you are fully prepped for the adventure with a comprehensive safety course, guaranteeing your electrifying and secure jump.
From classic single jumps to an array of leaps that will leave your heart pounding, the choices at Bridge to Nowhere Bungee Jumping are endless.
Have you ever dreamed of feeling like Superman? Dive into the action with their Superman's front dive and backward plunge.
And why not opt for an overnight extravaganza for an adventure that lingers?
For $275, you can camp on the bridge, savour the thrill of nighttime jumps and create memories that will light up your dreams.
And if bungee jumping isn't quite your thing, don't worry!
You can cheer on fellow thrill-seekers as they take their leaps of faith or opt for a refreshing dip in the nearby river.
Your ticket to this adventure starts at just $99, with additional jumping costing $50.
NORTHERN CALIFORNIA BRIDGES – ICARUS BUNGEE
Prepare to spread your wings and take flight with Icarus Bungee, one of the oldest and top spots for Bungee Jumping in California.
Established in 1990, Icarus Bungee boasts an impeccable safety record with zero injuries or accidents.
Imagine standing on the edge of a bridge in Alameda, Northern California, heart racing and anticipation building.
Well! This isn't just any bridge; it's the launchpad for an adrenaline-charged leap that will leave you grinning from ear to ear.
And here's the kicker – at Icarus Bungee, you are in for a jaw-dropping jump height of 220 feet, the tallest in all of California.
Since Safety is the first priority at Icarus, every expedition comes complete with top-notch training and professional supervision.
The price of $139 per jump might be a tad higher than average, but the memories you will make and the exhilaration you will feel are priceless.
Another draw of Icarus Bungee is that they organize one expedition per month, with jumps set against the backdrop of a stunning sunrise or the magic of an evening.
Drop an email to them to secure your spot. Icarus Bungee isn't hosting jumps, but keep an eye on their website for updates.
PARROTTS FERRY BRIDGE – BUNGEE EXPERIENCE
If you are looking for one of the cool spots for Bungee Jumping in California, get ready to soar to new heights with the Parrotts Ferry Bridge Bungee Experience.
These guys are experts in setting up an adventure that promises to take your adrenaline to the next level.
Perched atop a bridge in Pioneer with anticipation coursing through your veins, I bet you will be pumped with adrenaline.
You will leap from 180 feet above ground level as you defy gravity and embrace the heart-pounding excitement of bungee jumping.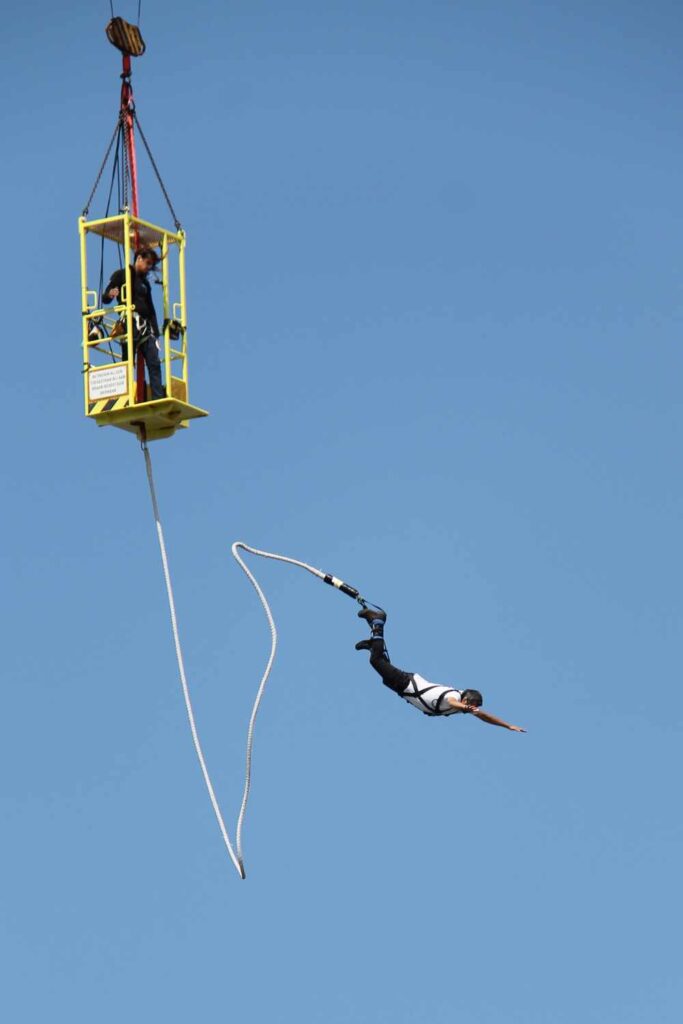 And the best part? For just $75, you can take the plunge and experience the rush of a lifetime.
You won't want to miss this offer compared to the average price tag of $115.
And don't worry, the lowered cost doesn't compromise on Safety. The same stringent safety ratings you would expect are maintained to ensure your experience is both thrilling and secure.
But here's a little secret – the jumping locations on the bridge can vary occasionally. Why? It's all about accessibility and the flow of the bridge's water.
This element of surprise adds an extra layer of excitement to your adventure, keeping you on your toes for what's to come.
REDWOOD FOREST TREES – BUNGEE ADVENTURES
You might be aware of the best redwoods near San Francisco.
But did you know one of them is also one of the best spots for Bungee Jumping in California?
Get ready to take your Bungee jumping San Francisco to new heights – literally – with the Redwood Forest Trees Bungee Adventures.
It is an opportunity to leap off a towering Humboldt tree and embrace an experience as unique as it is exhilarating.
You will climb the tree using a rope walk suspended between two trees.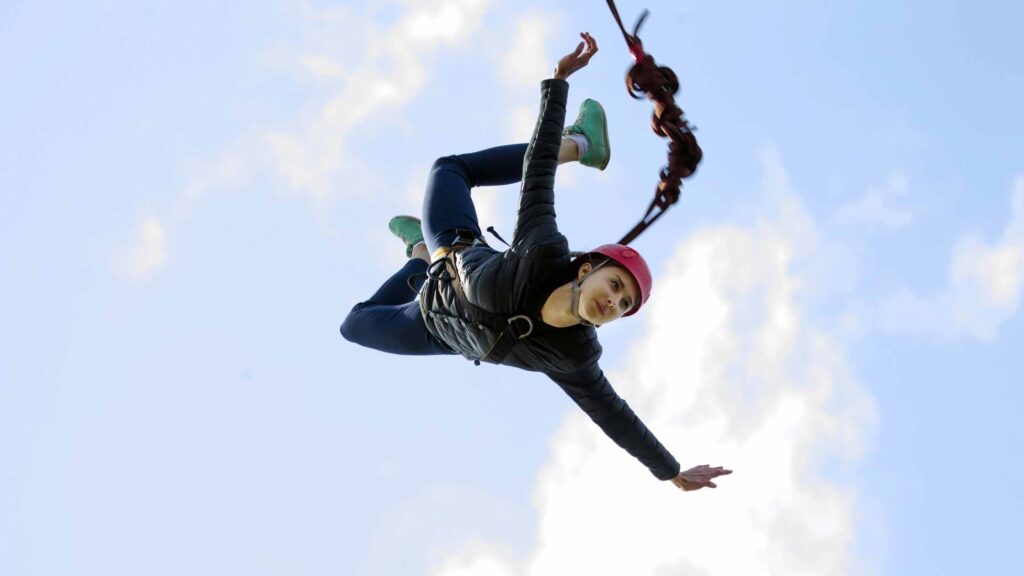 A hand line will perfectly balance as you reach the jumping point.
And then, the moment arrives – the leap that will have your heart in your throat and the wind in your hair. It's an experience that's nothing short of extraordinary.
You will be jumping off from a whopping 150 feet above the ground.
Fun Fact: This is one of the highest tree jumps in the world.
Bungee Jumping Redwood Forest Trees Bungee Adventures will come with a price tag of $149 per person.
And here's the cherry on top: tree climbing instruction is included in the price tag.
SIERRA NEVADA MOUNTAINS – BUNGEE ADVENTURES
The Sierra Nevada Mountains between the Central Valley and Great Basin regions are among the most gorgeous locations for day trips in Northern California.
But also, did you know there is a hot spot in Sacramento, one of the gorgeous locations for Bungee Jumping in California?
Unleash your inner thrill-seeker as you jump from a soaring height of 100 feet with Sacramento's Bridge Bungee Jumping Experience.
There are various bridges to choose from, and you can customize your Bungee jumping Sacramento experience based on your preferences and availability.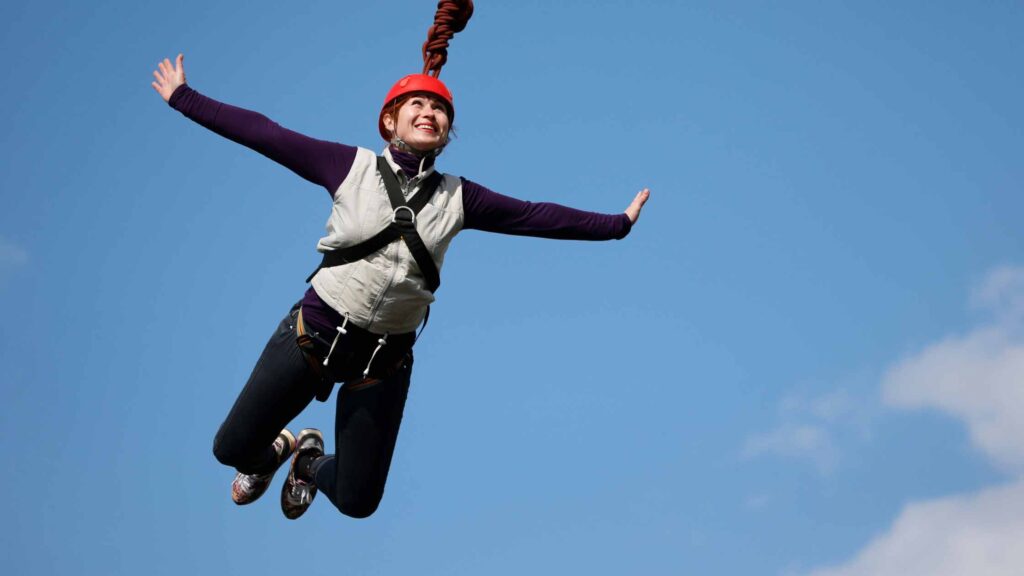 Choose the height of the bungee bridge per your choice or maybe even the location with a beautiful backdrop like lakes and rivers; it is like adding more layers of fun to this exciting experience.
People come from all over to experience the exhilaration of diving from high grounds – bridges, towers, cranes, helicopters; you name it.
The price varies based on the type and height of the high ground you choose to jump from. Jumping 100 feet from a bridge costs around $149, while a 200-foot leap from a tree costs $249.
A jump from a 400-foot rock comes in at $349 for the daredevils eyeing an even bigger thrill.
Visit their website for a complete list of their packages and prepare to experience the thrill of a lifetime.
SIX FLAGS MAGIC MOUNTAIN
If you are looking for one hell of an experience for Bungee Jumping in California, visit Six Flags Magic Mountain, where adventure reaches new heights with the thrilling Dive Devil ride.
This ride is a heart-pounding journey that has earned its nickname "hell's swing" – a title reserved for the most thrilling experiences.
You will be strapped into a steel harness and propelled into an adventure from a towering 152-foot-high.
The adventure begins with a simple free fall from the first 50 feet, setting the stage for the following mind-bending pendulum-like swing.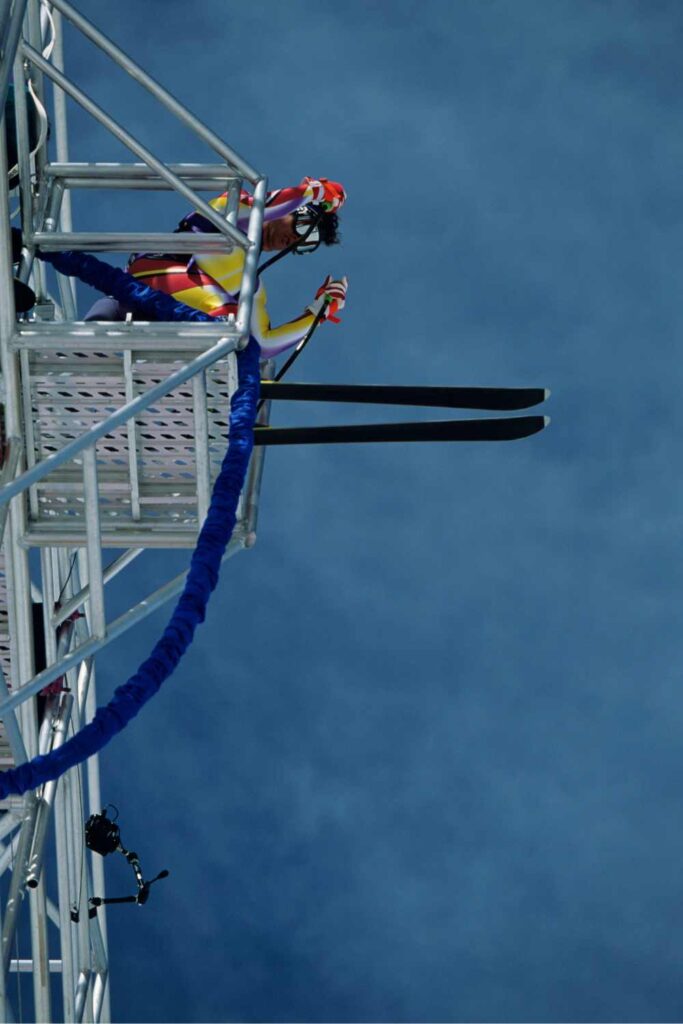 You will be swung back and forth at a dizzying 60 mph. Feel the wind rushing through your hair and notice your heart racing in sync with the motion.
Try to keep your eyes open to witness the gorgeous views of Cyclone Bay.
Next to Dive Devil is the iconic Superman Roller-Coaster.
The entry fee for adults is $89.99, and kids' tickets are $59.99.
You need to buy a separate ticket for Dive Devil Ride.
The thrill of a solo ride is yours for $25, or you can team up with a friend for $20 each.
Are you looking for a shared adrenaline rush? Opt for the set of three people at just $15 per person.
CALIFORNIA BUNGEE
If you want to dive headfirst into the heart-pounding world of extreme sports, visit California Bungee in Los Gatos, a renowned location for the best Bungee Jumping in California.
California Bungee has teamed up with big names like Samsung and various ad agencies to create stunning bungee sequences that showcase the thrill of the sport.
From May to September, the company leases various locations for Bungee jumping near Los Angeles, ensuring you can experience the rush.
Known for their top-notch bungee ropes and harnesses, California Bungee takes your Safety seriously, allowing you to focus on the adventure ahead.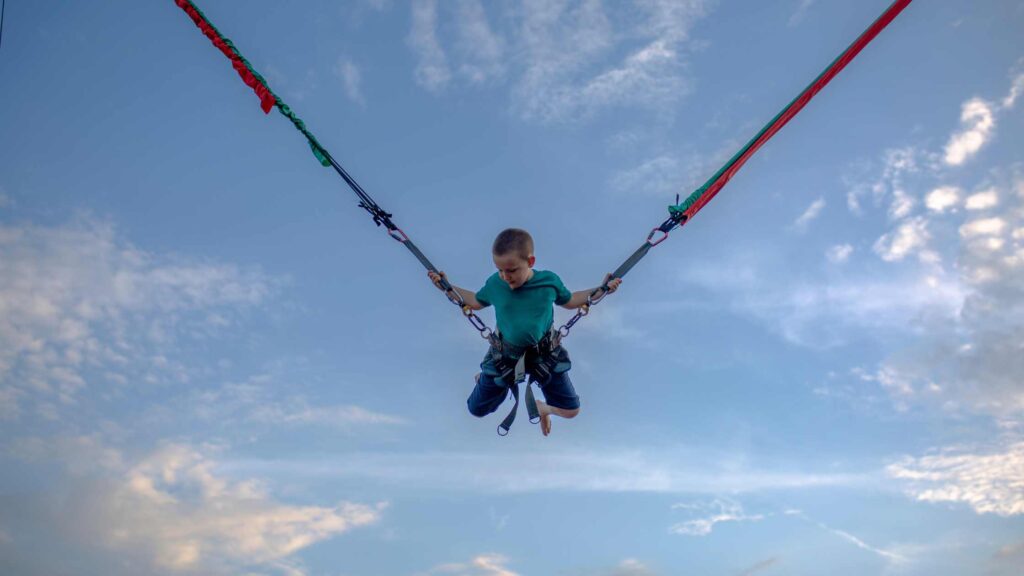 The organizers orchestrate events from various bridges for Bungee Jumping in Los Angeles and across California, each offering an adrenaline-pumping drop ranging from 140 to 180 feet.
The height depends on the water level of the rivers below, making every jump a unique experience.
If you want to leap from taller bridges and towering structures, you must show experience certificates before jumping.
And if you are under 18, parental supervision is necessary for your bungee adventure.
You can do a single jump for $75, while the prospect of double the thrill comes at just $125.
No need for a prior booking – simply show up and get ready to dive into the bliss.
PLACES FOR BUNGEE JUMPING IN CALIFORNIA MAP