California Tide Pools are some of the most awe-inspiring natural wonders that glimpse the ocean's depths, and the beautiful Laguna Beach Tide Pools must be on your itinerary when exploring the beautiful beach town with your kids.
Located along the southern California coastline, Laguna Beach is renowned for its spectacular beaches and stunning tide pool formations, which offer an up-close look at some of the area's most fascinating marine life.
Whether you are looking for a retreat, or an opportunity to explore beaches with tide pools, in this post, I have covered some of the best Laguna Beach Tide pools, tips for visiting tide pools ca and some basic guidelines that you need to follow before visiting them.
Traveling elsewhere in California? Check this guide to the 30 Beautiful Tide Pools In California To Spot The Marine Life.
TIPS FOR VISITING LAGUNA BEACH TIDE POOLS
I recommend you follow these tips to get the best experience with Laguna Beach Tide Pools.
1) Check the Tidal Charts: Tide Pools in Ca are best explored during low tides when the water is at its lowest point. Before you visit, check the tide tables for the time and height of the waves in the area that you will be visiting.
2) Wear Sturdy Beach Footwear: Tide pools are often slippery or with rocky pointed edges. Flip-flops or Sandals aren't recommended for your safety.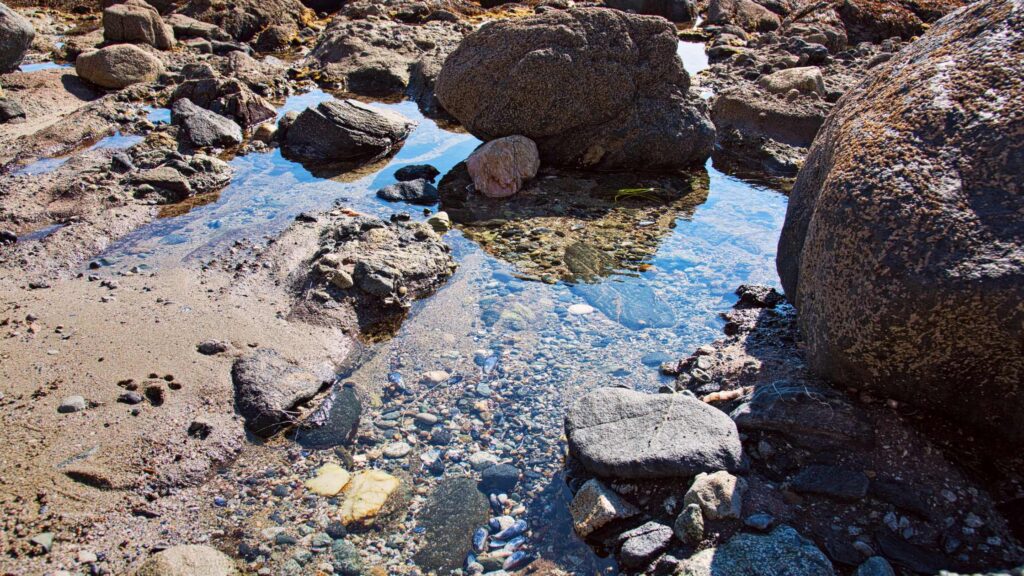 3) Bring a Flashlight: Exploring a tide pool at night can be exciting, but having a flashlight to navigate the area safely is equally essential.
4) Please watch where you step and do not remove any living or non-living items from the tide pools in Laguna Beach.
5) Dress appropriately – Bring hats, wear long sleeves, trousers and carry sunscreen
HOW TO FIND TIDE POOLS ON LAGUNA BEACHES?
Tide pools are shallow areas of rocky shores that are exposed during low tides and submerged during high tides.
Watching the waves crash against the rugged rocks and the sunlight glimmering on the surface of the tide pools can be incredibly calming and inspiring.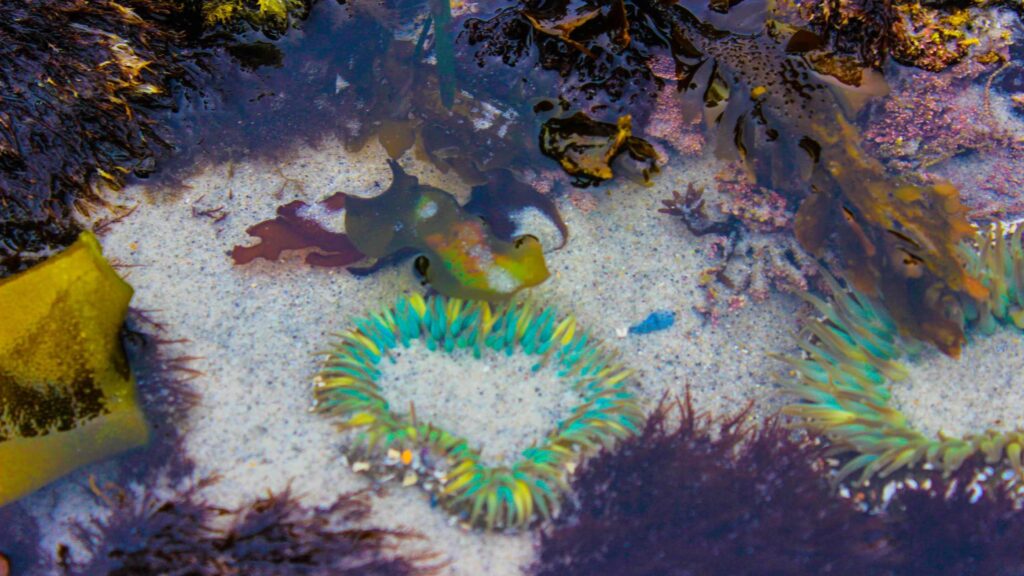 Laguna Beach's tide pools provide the balance of food chains, keep predators in control and most importantly are home to hundreds of small marine life for whom the open ocean is a dangerous habitat.
The easiest way to spot tide pools is by looking for areas of exposed rock revealed due to low tides, where you can see multiple small pockets of shallow water.
Alternatively, join a guided tour where local experts will not only give a fantastic tour of Laguna Tide Pools but also provide extensive information about the local marine life.
WHAT MARINE LIFE CAN YOU SPOT AT TIDE POOLS IN LAGUNA BEACH?
Laguna Beach tide pools are home to fantastic marine life comprising octopuses, snails, sea slugs, barnacles, sea cucumbers, mussels, anemones, urchins, sea stars, hermit crabs, and small fish like blennies, gobies, and sculpins.
You can spot plants like kelp, and seaweed amidst abalone, chiton, lobster, and moray eels.
Tide pools are also habitats for many migrating birds native to California. So you can spot birds like herons and egrets, that feed on the above marine life in tide pools.
WHAT IS THE BEST TIME TO VISIT LAGUNA BEACH TIDE POOLS?
When the tides are low, that is the ideal time to explore Laguna Beach Tide Pools. Low tides are typically in the early morning and the evening.
During the winter months from November to March, the tides are shallow, making them the best months to visit Laguna Beach Tide Pools.
The best way to identify low tide is to use a tide chart or tide schedule which you can find online easily.
BEST LAGUNA BEACH TIDE POOLS
HEISLER PARK
Heisler Park in Orange County north of Laguna Beach is an incredible spot that offers lovely views of the Pacific and is home to beautiful Laguna Beach Tide Pools.
Dotted by rugged cliffs, these tide pools offer spectacular shoreline views and are ideal for a relaxing weekend trip.
The tide pools here are easily accessible; you will reach the Main beach just a stroll away from downtown. Take the stairs and lead down to a small rocky cove beach.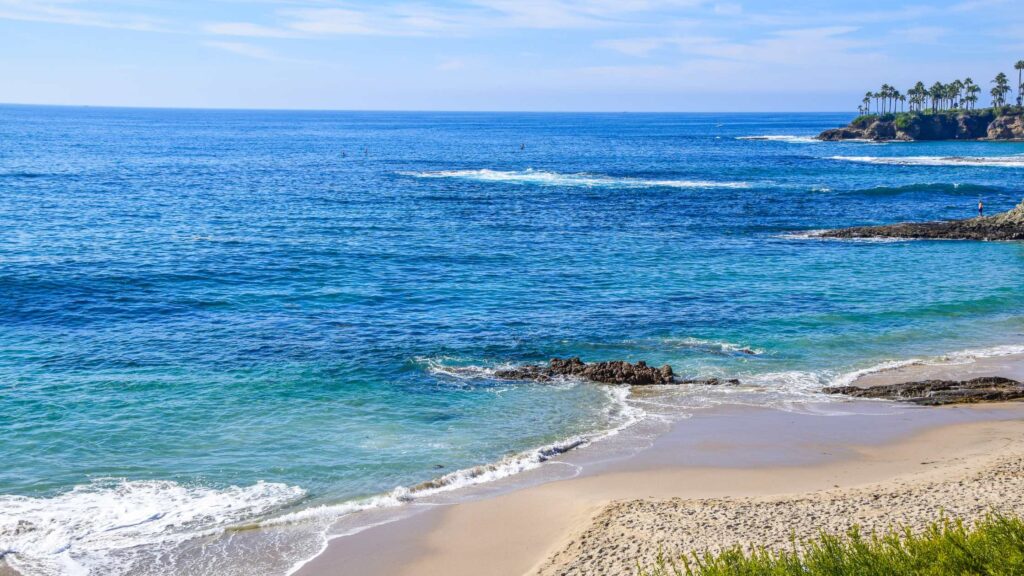 When the tides are low, you can explore these tide pools to see beautiful marine creatures like crabs, anemones, starfish and some unique collections of shells underneath the clear waters.
Unwind on the beach to catch a glimpse of a stunning sunset, or try snorkelling, swimming, or paddle boarding. Go Kayaking to explore the untouched haven of Heisler Park.
Recommended – 35 Prettiest Beaches In Southern California You Should Add To Your Itinerary
Heisler Park is also home to a wide variety of Wildlife. You might spot Dolphins, seagulls, and Whales just off the coast. The park also features a variety of native plants like succulents, cacti and coastal wildflowers.
There is a metered parking at the park above the beach on the cliffs.
VICTORIA BEACH
Victoria Beach, located at the northern end of the beach is home to the best Laguna Beach Tide Pools.
Victoria Beach is one of the hidden gems of Orange County and is known for its fantastic location amidst the rocky cliffs.
Victoria beach is known for its Pirate Tower, a 60-feet high tower perched atop a hill close to the rocky cliffs.
This fairytale tower offers gorgeous sunset views, perfect for romantic evenings.
Also nicknamed "Rapunzel's Castle" after its tower, you will find many beautiful types of marine life thriving in their natural habitat amidst many rock and coral formations.
Find the vintage-styled concrete pool on the beach in front of the tower, home to the tide pools. You can park on the street for free.
The beach water is not ideal for swimming so if you are with young children, it is best to stay on the shore away from the tides to avoid the rough waves.
Recommended – 25 Best Hidden Gems In Southern California For Fun Offbeat Getaways
Besides tide pools, there are many paved and unpaved but easily accessible trails that you can hike, leading to stunning views of the cliffs of the coast and the ocean.
SHAW'S COVE BEACH
Shaw's Cove is a small beach hidden off of the main beach located within the Laguna State Beach Marine Preserve.
It is one of the best-kept secrets and a favourite spot for tide pooling among Laguna Beach residents, and rightly so, because the shores are home to some of the most abundant species of Laguna's marine ecosystems.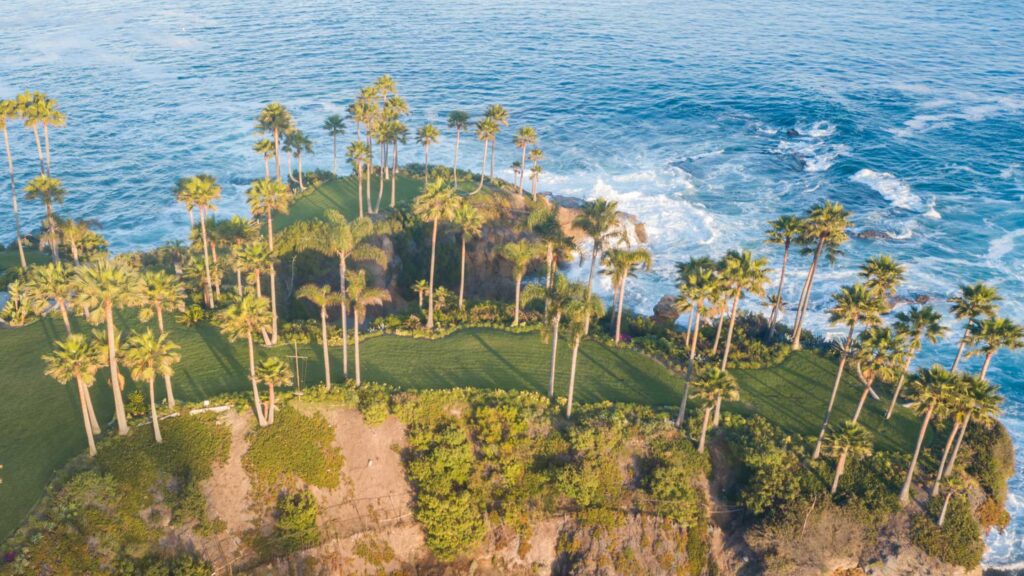 The beach is also a popular getaway for snorkelling and scuba diving which allows you to watch more of the splendid marine life if you wish to venture into the waters, including rays and sharks.
You can spot starfish, crabs, anemones, sea critters and other sea creatures calling the tiny rocky spots their homes.
LAGUNA BEACH(MAIN BEACH)
With abundant verdant woodlands to the east, an ocean playground to the west, and eight miles of coastline, Laguna Beach is one of the most famous beaches in Southern California.
With stunning ocean-view hilltops, turquoise oceans, and white-sand beaches that have inspired artists from all over the globe for over 200 years, it is one of the best beach towns in California.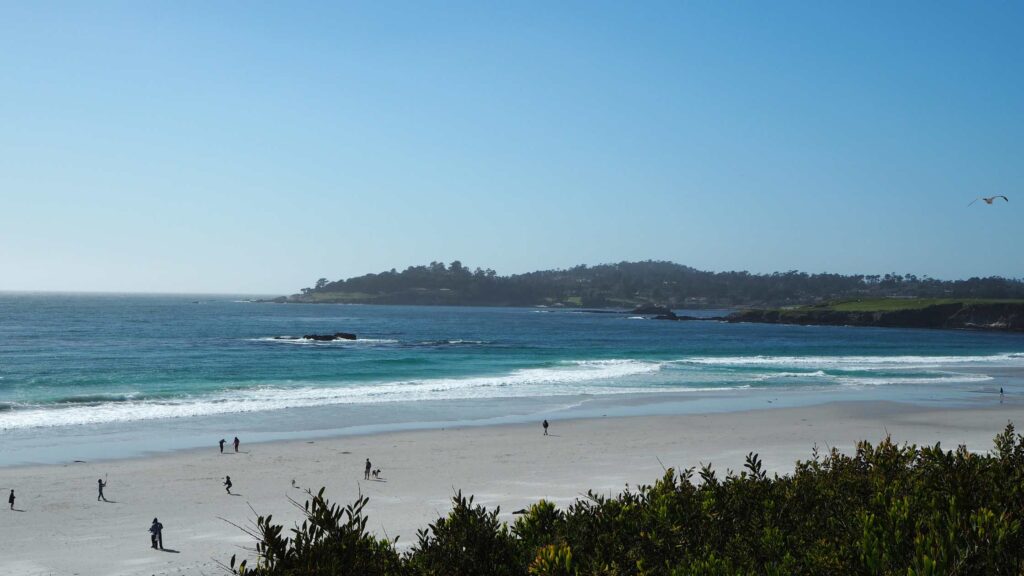 Head to the Main Beach, featuring tide pools and a boardwalk. You can relax on the beach or walk down the alley to Heisler Park, which has hiking and bike trails.
Hikers and bikers may put their skills and stamina to the test on the park's 100 miles of trails.
The Laguna Art Museum, one of California's oldest, is a must-see for art aficionados, with vibrant murals painted.
The Laguna Beach Trolley offers free transportation along the South Coast Highway.
1000 STEPS BEACH
Do not let the name discourage you, for Thousand steps beach is undoubtedly one of the best beaches in southern California, and home to the best Laguna Beach Tide Pools.
It takes only 200+ steps and not a thousand to reach the beach from the Pacific Coast Highway.
Once you finally reach the bottom descending these steep stairs, you will be rewarded with spectacular ocean views, soft sand, and the views of cliffs lining the seven miles shore.
When tides are low, tide pools and caves emerge, so plan to visit when the beach waves are lower.
The tide pools are located at the south end of the beach, with larger pools to explore along with a cave.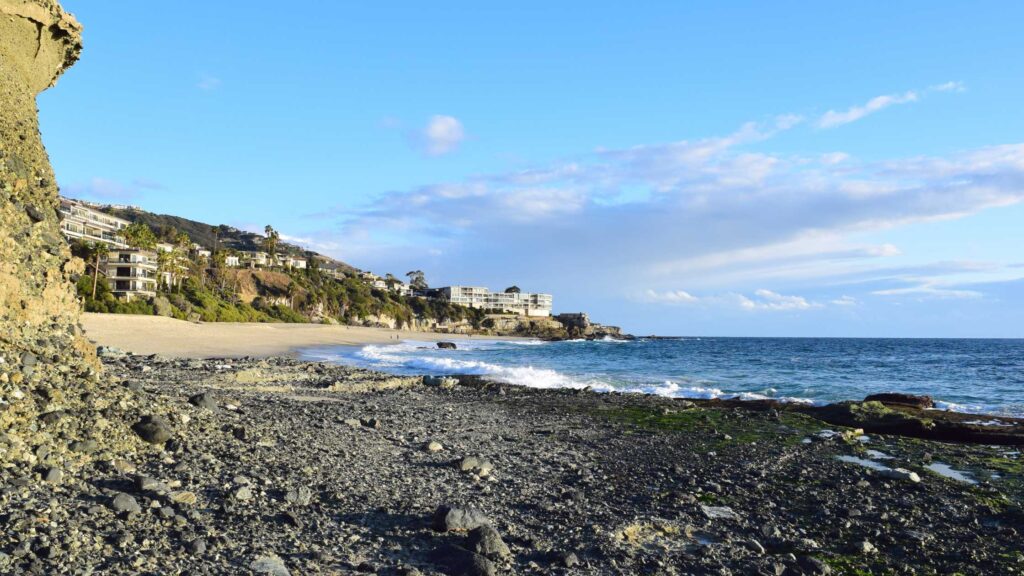 If you head to the south end, you will find a cave, while going north end means you will come across a secret rock tunnel that leads to Totuava Beach, also accessible only during low tides.
Walk along beautiful Main Beach, where Laguna Canyon meets the Pacific Coast Highway.
Go surfing, paddleboarding, kayaking, swimming, sunbathing, diving, volleyball courts, beachfront basketball courts, and snorkelling in this marine-protected area.
When in the north, stroll through Heisler Park, perched atop the bluff north of Main Beach, to admire gorgeous ocean views.
The Pacific Edge Hotel at the cliff edge is one of the excellent stays to enjoy while exploring this beach.
WOODS COVE BEACH
Woods Cove is small and secluded, but one of the wildly popular beaches in the area home to Laguna Beach tide pools.
This turquoise-coloured stunning beach draws lots of families, couples and solo travelers alike looking for a fun beach getaway.
Walk to the north end of the cosy cove to find the deep tide pools of Cactus Point, a distinct rock outcropping home to Orange County's only blow hole.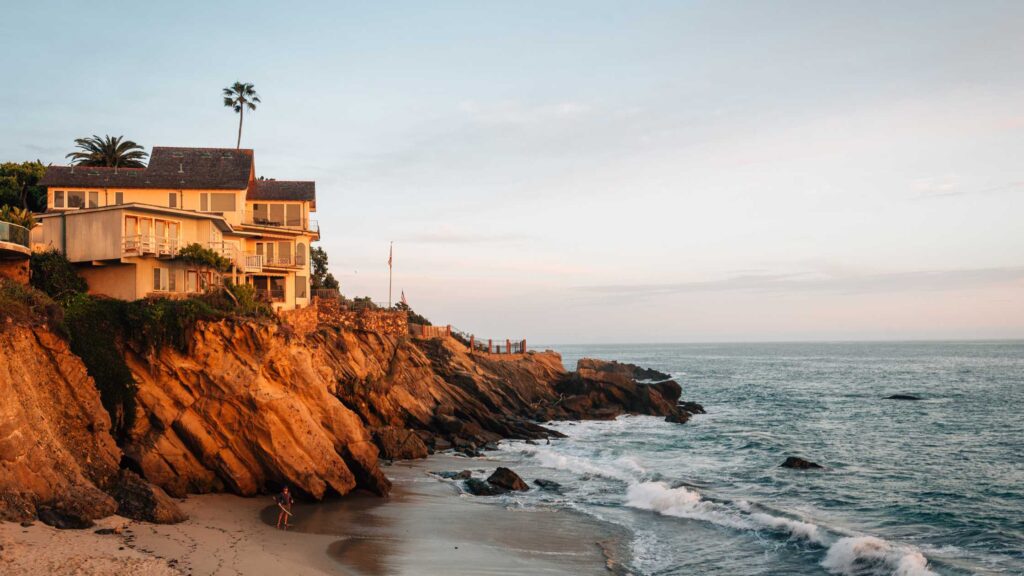 On a summer day, the water is so blue in the cove that you'll feel like you're in the Caribbean.
Woods Cove is one of the beaches in Laguna best explored at low tides as it can sometimes disappear altogether when the tide is high.
Enjoy body surfing, boarding, SUP, kayaking, and swimming in the southern end of Woods Cove after exploring the tide pools.
If you are craving to explore more awesome marine life, rent a scuba or snorkel gear and get in the sea.
This beach is also dog-friendly, so you can walk your pet on a leash.
CRESCENT BAY BEACH
Located on the southernmost tip of the city, Crescent Bay Point Park is home to the best Laguna Beach tide pools.
Crescent Bay Point Park is known for its crystal-clear blue waters and sandy shores, surrounded by rocky towering cliffs at both ends of the beach, and also home to caves.
The views from either end are stunning, overlooking upscale neighbourhoods on one side, and panoramic views of the coastal bluffs leading to the cave on the other.
Body surfing is the top activity on the beach almost throughout the year, attracting beginners and experts alike.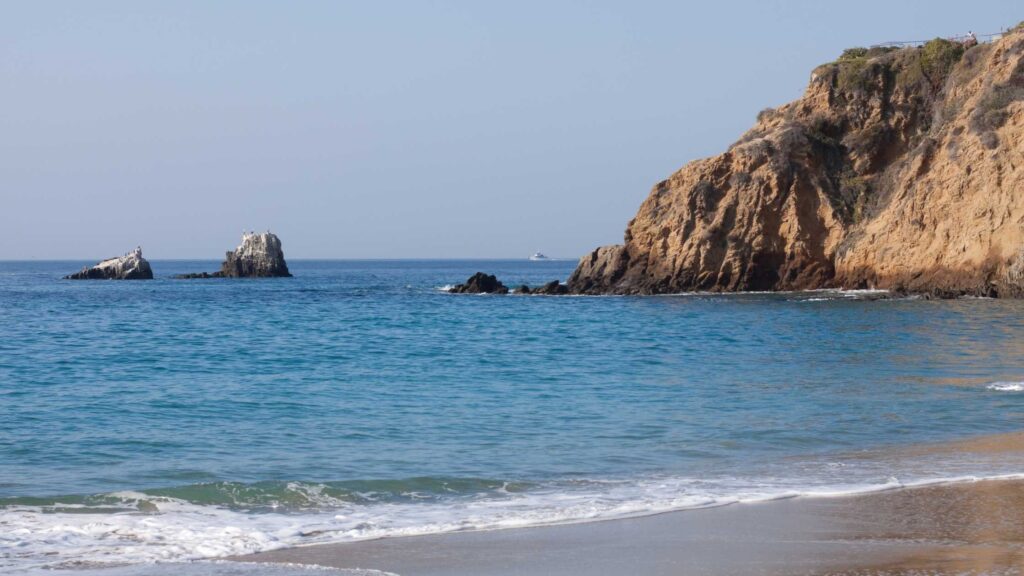 And when the waves are mellow, Crescent Bay is perfect for snorkelling along the rock outcroppings on either side of the shoreline.
Low tides are also the best time to explore the tide pools here via the rock shelf at the south end of the beach. You can observe anemones, starfish and other marine life at that time.
On the north side of the beach, Seal Rock, a large rock about 120 yards offshore is home to plenty of seals and sea lions. You can not access this end when the tides are high as the rocks can be dangerous.
Amenities include washrooms with showers and lifeguards. Apart from body surfing and tide pooling, you can rent kayaks, and try SUP, snorkelling, skimboarding and diving here.
Metered parking is available on Pacific Coast Highway (PCH), a short walk away.
DIVER'S COVE
True to its name, Diver's Cove is the best SCUBA diving beach in Laguna Beach.
But not many know that it is also home to the best Laguna Beach Tide Pools, and is a family-friendly beach perfect for a beach day packed with fun.
Tide Pooling is fun at Diver's Cove as you can see garibaldi, sea stars, purple urchins, lobster, and kelp bass. Occasionally, stingrays and leopard sharks can be spotted gliding across the sea floor.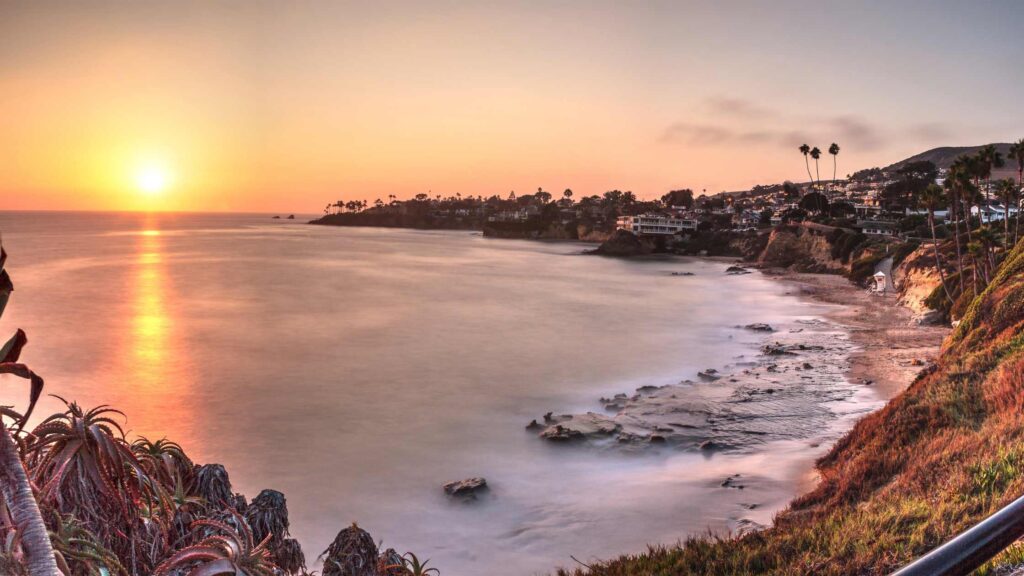 Though Diver's Cove is 300 feet long stretching from the rocky outcropping to the row of rocks separating it from Picnic Beach to the south, it is well-protected from sudden swells. It feels cosier than most beaches nearby attracting visitors with young children.
It is one of the best kid-friendly beaches for snorkelling, swimming and kayaking. Adventure seekers can enjoy body surfing and scuba diving.
Eight metered spots are available on Cliff Drive at the entrance to Diver's Cove. You can find additional metered parking along Cliff Drive adjacent to Heisler Park.
ROCK PILE BEACH
Rockpile Beach as the name suggests, is known for seemingly endless boulders just out of the sand and water.
Thanks to these rocks, Rockpile Beach is one of the best Laguna Beach tide pools as there are dozens of tide pools home to fantastic marine life.
Also, Rock Pile Beach is one of the most popular beaches in California for surfing as the high tides
attract seasoned surfers trying to make their way steading and scampering.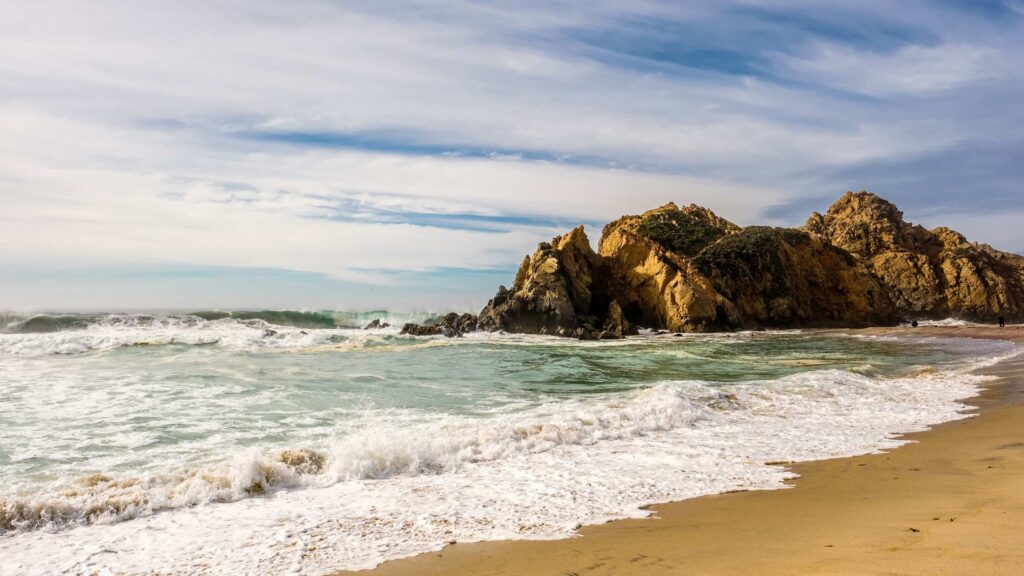 If you are here for tide pooling specifically, it is best to arrive here during low tides. You need to scramble over the rocks at the north end of Main Beach or take a staircase at the south end of Heisler Park to reach Rock Pile Beach.
You will be rewarded with stunning tide pools home to sea creatures amidst the rock formations visible on an ebb tide.
Wear water shoes while visiting the beach, as there are sharp rocks and plenty of purple urchins.
Metered parking is available along Heisler Park on Cliff Drive.
TREASURE ISLAND BEACH
Treasure Island Beach is one of the hidden gems of Orange County, and the main reason for the beach being less crowded is that you need a bit of a hike to get to it.
To get to the beach, follow the sidewalk path along the front of the Montage Resort, past the central hotel's beach.
You will find a stairway leading down to the small tide pool-flanked beach.
If you head to the southern end of Treasure Island Beach Park atop the bluffs, you'll find a ramp that leads down to the sand.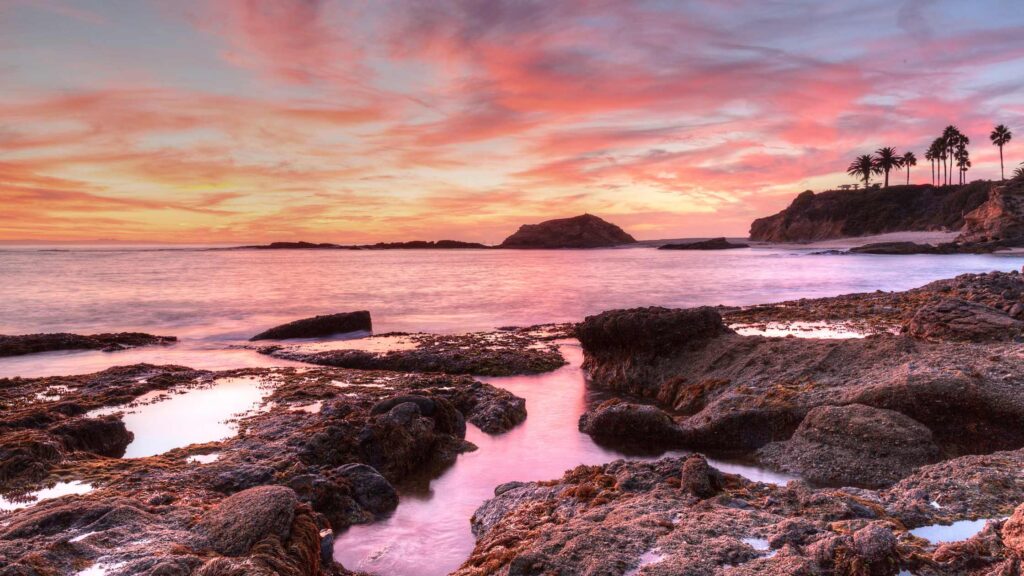 The southern area below is the perfect spot for swimming, while the northern area has large rock outcroppings home to tide pools and is ideal for snorkelling to watch the abundant sea creatures.
Amenities include clean bathrooms, wheelchair ramps, and grassy lawns overlooking the ocean with picnic areas.
You can enjoy snorkelling, swimming, taking a stroll and exploring the various tucked-away coves to the north.
Paid metered parking is available at Lot 8 off Wesley Drive and Lot 7, adjacent to Montage Resort.
LAGUNA BEACH TIDE POOLS MAP