Planning a solo trip to New York? Whether this is your first solo trip or another destination on your bucket list among the best places to travel solo in the USA, you are in the right place.
New York is one colossal city that draws dreamers and hustlers from all around the world – No matter from which part of the world, people come to NYC city with dreams in their eyes.
New York solo travel will be one of the most memorable experiences in your life, definitely, as my fellow travel bloggers also share the same sentiments.
Having explored NYC solo thoroughly(a few of them being residents), travel bloggers quote what to do when traveling solo in New York City.
If you are a traveler wanting to get lost in the glamour of Times Square, Brooklyn Bridge, and swanky Manhattan but also crave more surreal experiences, check this guide to know all the fantastic things to do on your solo trip to New York right away.
LOOKING FOR MORE SOLO TRAVEL INSPIRATION? CHECK THESE SOLO TRAVEL GUIDES?
BEST THINGS TO DO ON YOUR SOLO TRIP TO NEW YORK
TOUR THE STATUE OF LIBERTY
Visiting the Statue of Liberty is – quite simply – one of the highlights of any solo trip to New York, or whether traveling with family and friends.
You will be so enveloped in the history of the place, and the incredible sights, that whatever company you have (or do not have) won't matter much!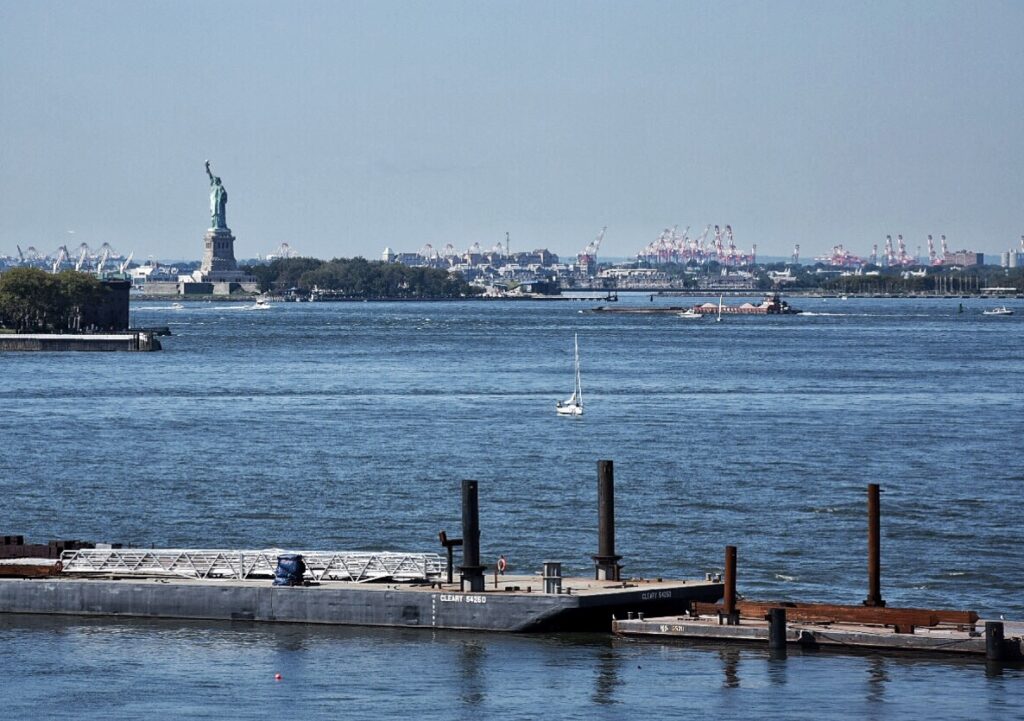 A National Monument since 1924 and UNESCO enlisted since 1984, Lady Liberty, as it is affectionately called, was a present from the government of France to that of the United States, meant to celebrate the 100th anniversary of the Declaration of Independence.
The copper statue (which used to be a copper colour, though exposure to the elements turned it into the green shade we know it for today) was designed by French sculptor Frederic August Barthold.
The Statue of Liberty is actually located in New Jersey state, but it is equally easily accessible from New York.
To get there, you need to take the ferry from Battery Park.
The ride lasts about 30 minutes, and once there you have the option of visiting the Pedestal, where a small museum is located, and even climbing to the Crown.
To visit, you really are better off booking your tickets in advance.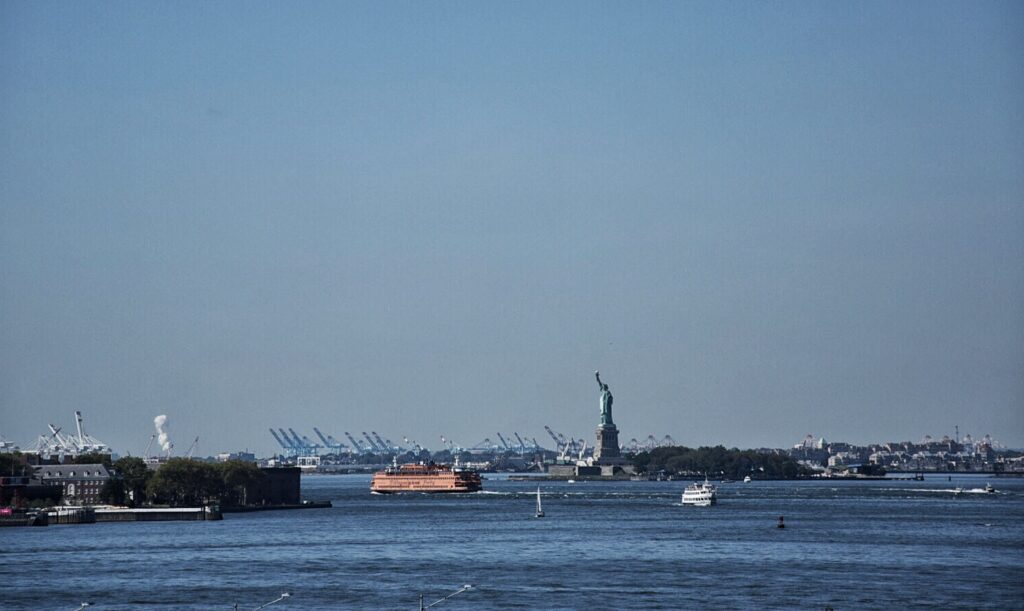 In fact, opt for the first available time slot at 9:00 am and plan to be at Battery Park no later than 8:00 am to board the first ferry at 8:30 am.
You may consider joining an early departure guided tour such as this one that also goes to Ellis Island.
The tour lasts 4 hours and you will have a well-rounded experience.
Claudia Tavani, My Adventures Across The World
SPEND TIME EXPLORING CENTRAL PARK
If you're solo traveling in New York or new to the area, you'll be amazed at the abundance of activities you can participate in.
One place perfect for spending some "'me time" is the iconic Central Park.
Located between the Upper East and Upper West Side, this park is frequented by thousands of people daily, and for good reason!
There are 843 acres of luscious green spaces, areas for a picnic, and plenty of trees to choose from to sit underneath and read a book.
One of my favorite times to visit Central Park is during the fall. The fall foliage in the park is unmatched!
During a visit, make sure to check out Gapstow Bridge, Strawberry Fields, The Ramble, and Bow Bridge.
While at Central Park, you could even take part in a Central Park bike tour for a little bit of exercise or hop on a pedicab guided tour instead and kick back as you learn more about the area from an expert guide.
Central Park is in the heart of Manhattan and can be easily accessed using the subway.
You can also take a taxi or rideshare option like Uber. Depending on where you are staying, you can also walk directly to the park.
Admission to the park is free however, some classes, the Zoo, ice skating, and the tours will require payment.
By Sam Opp, Find Love and Travel
WATCH SHAKESPEARE PLAYS
One of the iconic things for Summer on your solo trip to New York is the two annual Shakespeare in the Park shows.
Held regularly at the Delacorte theater since the early 60s, the show has moved audiences for decades.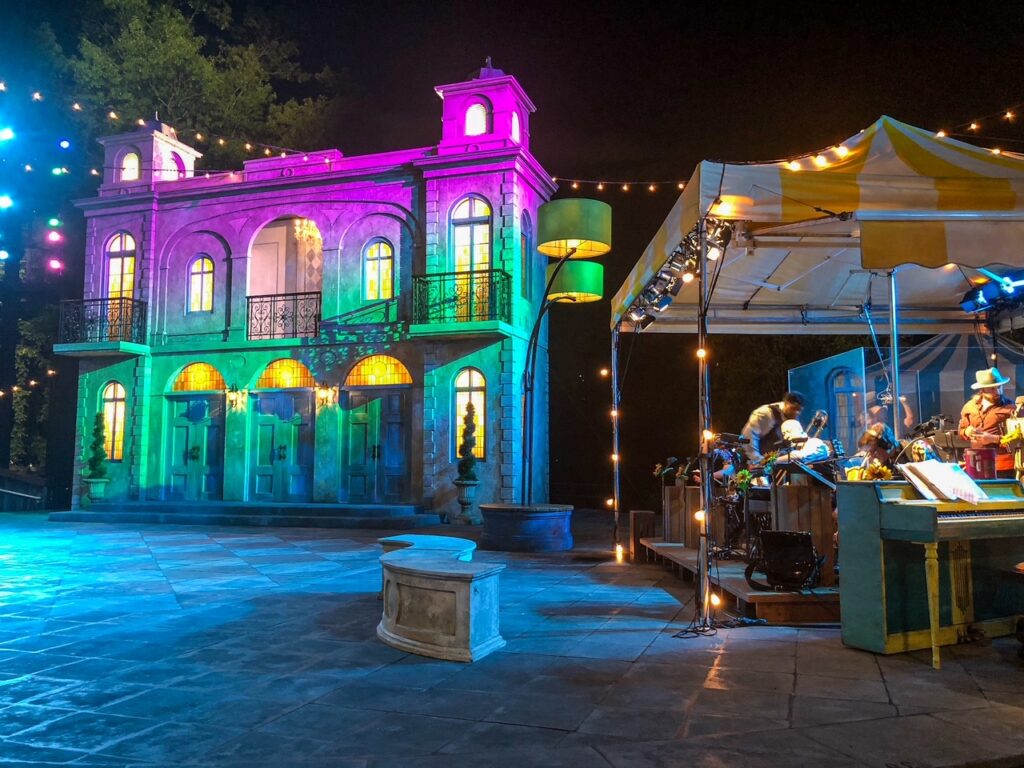 Throughout the years the show has been known for both traditional and modern retellings of Shakespeare classics and it has attracted incredible high-caliber casts to perform.
The performances are one of the hotter tickets in town and free!
Yes, while it is possible to guarantee one with a donation, most folks get into these incredible performances for nothing.
Tickets are distributed in several ways each day from mornings at the Delacorte theater on performance days, to online and in-person lotteries, as well as outer borough distributions.
Each person is afforded the opportunity for up to two tickets.
For those in New York City solo, you have an advantage as each evening before show-time there is a line for standby tickets.
There are quite a few unused tickets that get distributed each day.
There is no guarantee for tickets to be next to one another and single visitors often have an advantage in getting a single ticket in a nice location.
For those in New York City solo, we recommend the standby line for getting Shakespeare in the park tickets. It's the easiest and requires the least time in line.
Performances are held from June – September with the shows running sequentially.
Showtime is at 8 pm and the theater is dark on Mondays. For standby tickets, arriving 90 minutes before curtain time will give you a high chance of securing a ticket.
As an upper-west side resident, I would often get the last-minute standby tickets myself to shows each year to see it without having to deal with crazy lines.
By Anwar, Beyond My Front door
GET ON THE TOP OF THE EMPIRE STATE BUILDING
The Empire State Building is an iconic skyscraper located in the center of Manhattan, and one of the top stops to add on your solo trip to New York City.
As one of the most recognizable landmarks in the world, the Empire State Building has become a symbol of the Big Apple. 
From its observation decks, you can see the Statue of Liberty, Central Park, and the Hudson River.
The closest Metro Station is called 34 St – Herald Sq, the Empire State Building will be right in front of you.
Driving in Manhattan is not advisable so the best way to get to it is by walking or using the subway.
The visitors center is located at 20 W. 34th St., you will have to enter through there as all other entrances are reserved for the tenants of the building.
The Empire State Building has two observation decks, one is on the 86th floor (open-air) which is the deck that all visitors have access to.
The second observation deck is inside and has floor-to-ceiling glass windows and is on the 102nd floor.
It is highly advisable to book the entry tickets ahead of time as well as to choose a skip-the-line ticket as the lines for the elevators can be extremely long.
Traveling solo and waiting in long queues can be frustrating. Therefore, it is recommended to get the skip-the-lines entry ticket before visiting in order to save time.
The Empire State Building is a great attraction to check out on your own as it is easy to find and you can spend as long as you wish taking pictures from the observation decks.
As a solo traveler, taking in the beautiful views of New York City from atop the Empire State Building can be a reflective and awe-inspiring experience that you will always remember.
By V Kay, Travel Addicted Unicorn
SEE A BROADWAY SHOW
If you are solo in NYC and looking for something fun to do at night, head to Broadway to watch a play or a musical.
Once you are inside the theatre, it won't even matter that you are alone.
Broadway shows tend to be full of people, and it isn't the kind of place where you can talk anyways. You will be too busy enjoying the show.
Depending on the show you want to see, you may need to purchase your tickets in advance.
Last-minute tickets can be purchased to many Broadway shows if you have not planned ahead.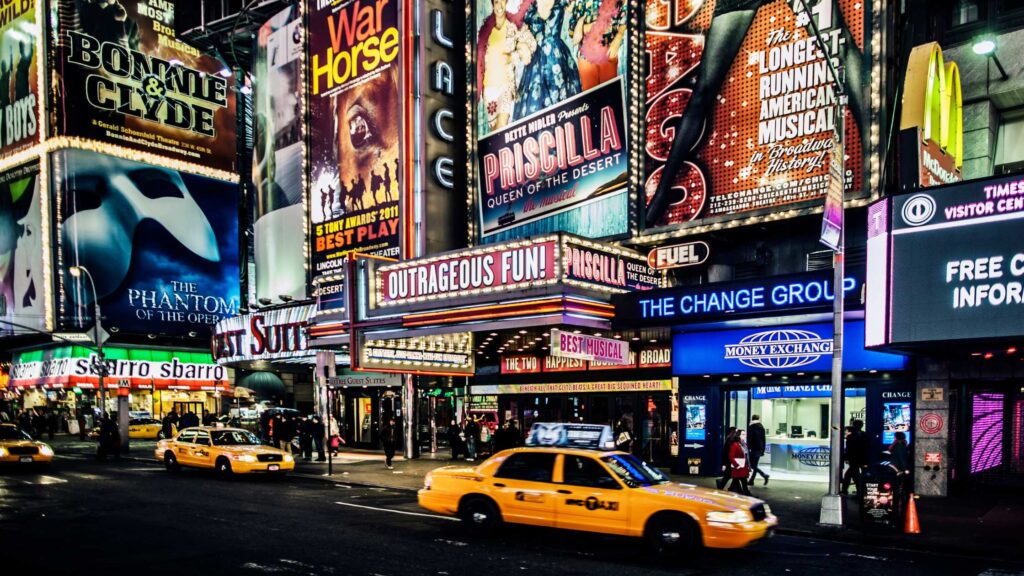 Tickets can be purchased directly from the theater, on the Today Tix app, or at the TKTS booth in Times Square.
Getting to the theatre is easy, as all of the Broadway theatres are located near Times Square.
Depending on your hotel, you can walk to the theatre or take the subway.
Even though your show will end late, the area will be crowded with people, and the subway station will be busy as well.
Taxis are also available at night near the theatres.
For those who want to learn more about the theatre, you can visit the Museum of Broadway, take a behind-the-scenes walking tour of Broadway, or take another off-the-beaten-path tours
By Lanie, Make More Adventures
STROLL THE BOTANICAL GARDENS
One of the best things to do in New York alone is visit the New York Botanical Garden in the Bronx.
The New York Botanical Garden is a stunning hidden gem that locals like me adore.
Since many visitors to New York City stay in Manhattan, they might have some concerns about how to get to the Bronx.
Fortunately, the D train goes from Manhattan to just outside the Botanical Garden, so it is easy to get to this wonderful place.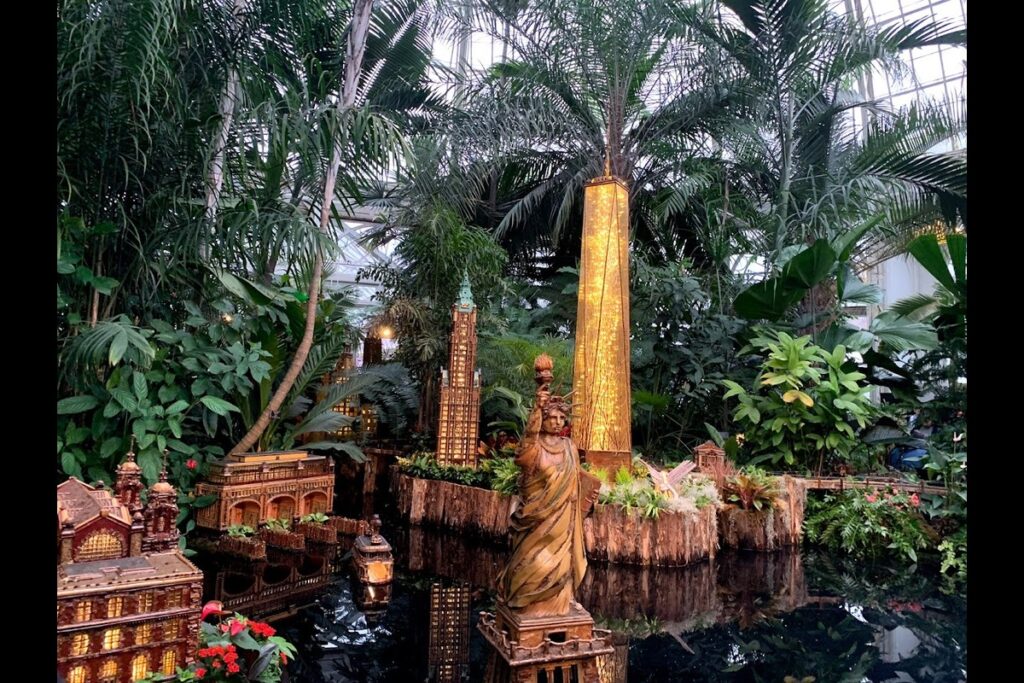 The NYBG is a perfect spot to spend the day solo in New York City, especially if the weather is nice.
Because the Botanical Garden is so large, it is almost never crowded, so you can enjoy some peace and quiet as you wander around the trees and flowers.
Listen to music, bring a book, or just enjoy your own thoughts. You'll be glad you took the time to stop and smell the roses.
If you're looking for some more excitement, the Botanical Garden has many special events throughout the year.
There's the Orchid Show in the spring, the Holiday Train Show in the winter, and even New York State beer, wine, and food tastings.
After the Botanical Garden, you can head over to the Arthur Avenue neighborhood for some authentic Italian food, or you can stop at the Bronx Zoo for even more nature.
Either way, you'll be glad you took the time to come to the Bronx.
By Stella Jane, Around the World in 24 Hours
VISIT THE METROPOLITAN MUSEUM OF ART
If you're looking for one of the best things to do on your solo trip to New York, then you cannot beat a visit to the Metropolitan Museum of Art.
The MET is easily one of my all-time favorite places in NYC. I stop by every time I can and always head straight for the Temple of Dendur.
Locally known as The MET, you could easily spend hours exploring this museum as you enjoy a vast collection of artwork that includes medieval suits of armor and the Temple of Dendur from Egypt, as well as works of art from masters like Van Gogh and Degas.
In fact, you'll feel like you've gone to an entirely different country since some parts of the museum include a full-scale Japanese Garden.
However, if you're worried about getting bored then you can always head uptown and visit the Cloisters branch of the museum.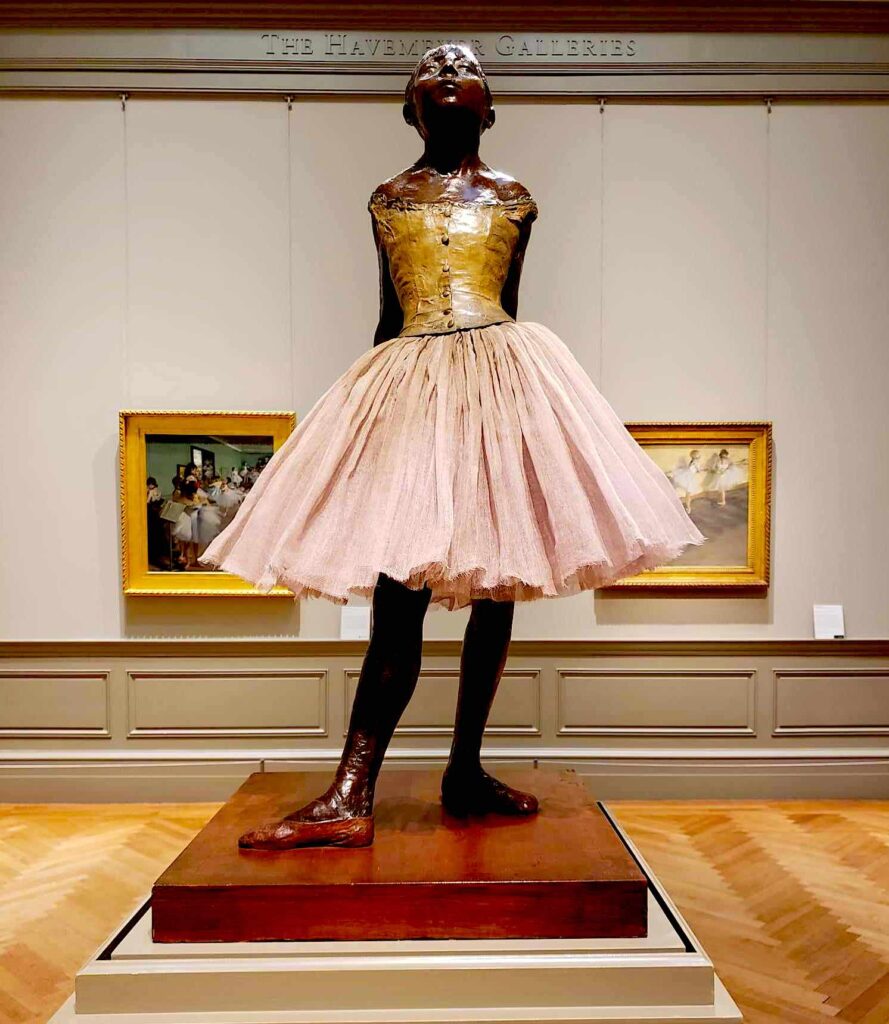 It offers impressive views of the Hudson and sits inside a building with stunning architecture.
And this is a great solo activity since it's a museum and minimal talking takes place once you're inside.
Just be sure to book your skip-the-line tickets in advance since lines can be exceptionally long.
Also, admission is $25.00 per person unless you are a resident of New York, New Jersey, or Connecticut with a valid ID.
Additionally, if you visit in the summer be sure to head to the rooftop bar at the MET, which features incredible views of Central Park.
You could also avoid the hassle of navigating the museum by yourself and book a tour of the MET.
This way you can quickly and easily learn about all of the museum's major highlights with a local guide as you conquer your bucket list.
By Kelly, Travel New York Now
WATCH A COLORFUL PARADE
New York City is constantly changing, but one thing that doesn't is the city's love for a festival, street fair, or parades.
These interactive city experiences are one of the best ways to immerse yourself, on your solo trip to New York, into the heart of NYC's authentic arts and culture.
While bumping into an unexpected parade or festival can be a serendipitous part of travel, if you want to plan to enjoy this activity it's best to do a bit of research before your trip to find out about events during your travel dates (the great thing about New York is that, no matter whn you visit, something fun will be happening!)
The best part about street fairs and parades is that they're budget-friendly- they're one of the best free things to do in every city.
During my last solo trip to New York City, I learned that I'd be visiting during the Easter Bonnet Parade.
During the parade (which has no sponsors, no floats, and little structure other than the celebration of radical self-expression) participants gather along Fifth Avenue around St. Patrick's Cathedral to see and be seen in extravagant hats and bonnets.
These bonnets- which often extend to head-to-toe costumes- are embellished with flowers, feathers, ribbons, and other decorative elements.
I felt creatively inspired and invigorated to celebrate my own weird ideas about art and fashion after being a solo traveler at this NYC cultural event.
By Lynli Roman, Wander Big
EXPLORE DUMBO AND BROOKLYN BRIDGE PARK
There's something special about a solo trip to New York City.
I love so many things about New York City, but walking along the Brooklyn Bridge is definitely one of my favorite activities.
Constructed in the late 1800s, few structures are more iconic in New York City than the Brooklyn Bridge.
Not only is it free, but it's an excellent way to people-watch locals and tourists alike, enjoy the incredible architecture of the bridge, and, of course, take in one of the best skylines on the planet.
It's one of the best ways to take in the views of the city's incredible architecture—if you start on the Manhattan side, you can watch as, with each step you take, its skyscrapers shrink behind you as the stunning Brooklyn skyline gets closer and closer.
Just make sure to stick to the left-hand side of the walkway as you're gazing up at its Gothic architecture and the surrounding skyline—the right-hand side of the path is used by any of the 3,000 cyclists that zoom across the bridge each day.
If you want to snag photos of the iconic bridge without too many other visitors, your best bet will be showing up early (i.e., before 7 AM) to beat rush hour travelers and other tourists.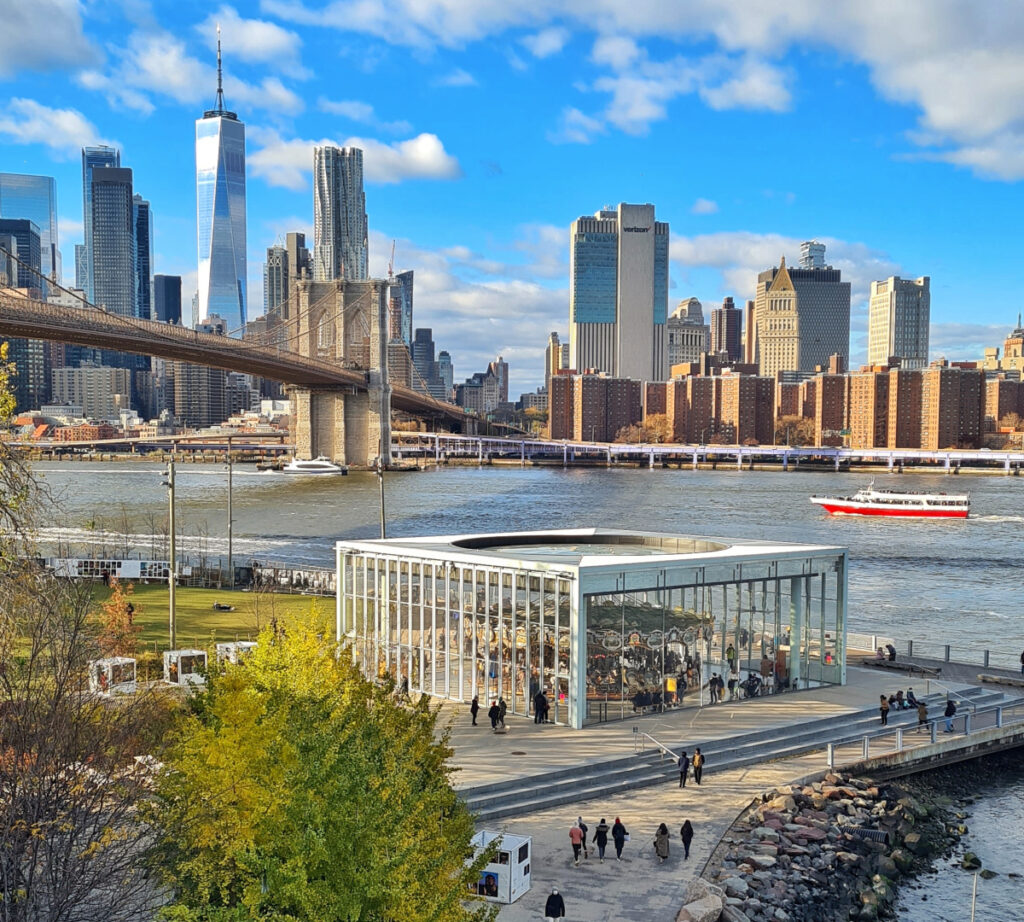 Once you've walked its length, leave some time to explore Brooklyn's hip and bustling neighborhoods, like DUMBO.
Not only is Dumbo home to a unique and vibrant food scene, but its cobblestone streets are filled with plenty of independent stores, galleries, and boutiques.
I loved shopping alone here!
With plenty of attractions nearby, such as the Jane's Carousel and Brooklyn Bridge Beach, it is an ideal spot for those exploring alone in NYC.
Take a book and relax reading with the best views of Manhattan!
And if you're hungry, I recommend grabbing a slice of Juliana's world-renowned pizzas to take away and having the most famous Brooklyn ice cream at the Brooklyn Ice Cream Factory.
After strolling through Dumbo, the best thing to do is to go to Brooklyn Bridge Park, one of the most beautiful parks in New York (it's only a 10-minute walk away).
It's a great place to take sweeping river views and explore acres of green space.
Its location, just under the Brooklyn Bridge, makes it very special because it has one of the best views of New York.
To reach the Brooklyn Bridge from Manhattan, take the J or Z train to Chambers Street or the 4, 5, or 6 train to City Hall / Brooklyn Bridge.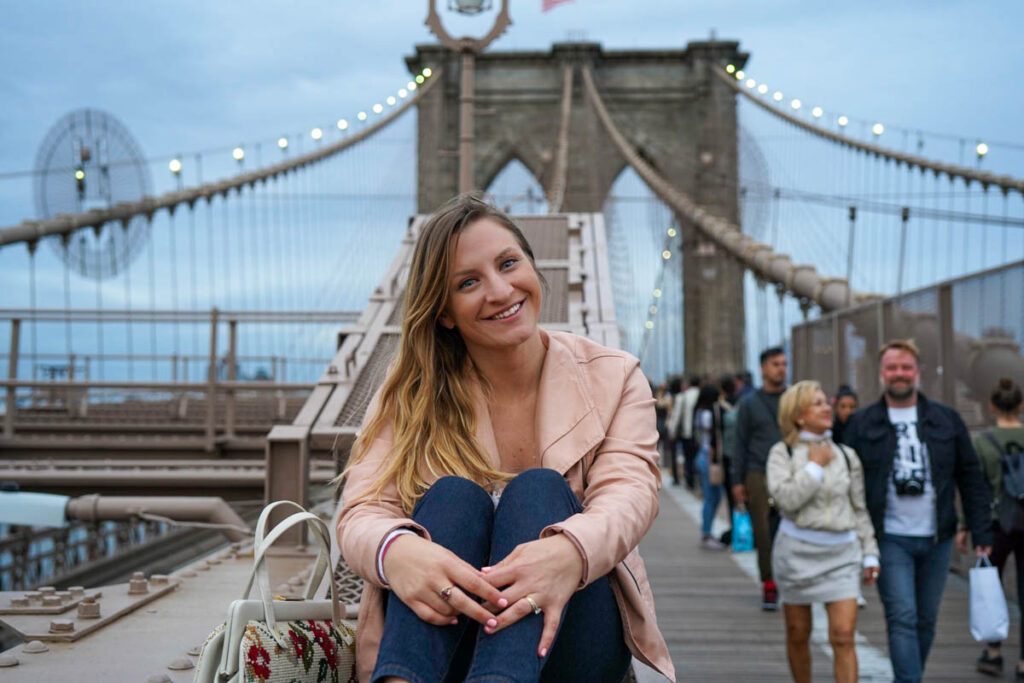 Once you reach the bridge, it's about a mile long and takes approximately half an hour to walk, not accounting for all the times you'll stop to take photos!
If you'd prefer to learn a bit more about the history of the bridge and the culture of the city, there are also some great group tours that you can join, like this Brooklyn Bridge and Dumbo Guided Walking Tour.
By Sara Rodríguez, Mindful Travel and Jessica Schmit, Uprooted Traveler
GO ON HOP-OFF HOP-ON TOURS
With so much to see and do on your solo trip to New York City, it can be hard sometimes to decide how to prioritize your time!
An excellent way to get an overview of the city, especially when travelling alone, is to take a hop-on/hop-off bus tour.
In New York, Big Bus Tours is an excellent hop-on/hop-off bus option.
Tickets are easy to purchase online or at various stops across the city.
A Big Bus ticket includes two different bus routes that take you through both uptown and downtown New York.
The bus stops at all the iconic New York sites, including the Brooklyn Bridge, Central Park, the Metropolitan Museum of Art, Times Square, and the World Trade Center, to name just a few.
The Big Bus gives you the flexibility to spend as much or as little time as you like at each attraction.
As a solo traveller, I particularly enjoyed the 2-hour night tour available with Big Bus Tours.
The night tour starts and ends in Times Square and will take you past the Empire State Building, through various neighbourhoods, and over the Manhattan Bridge.
This is an ideal way to see the city's incredible lights and sights at night from the safety of this open-air bus.
Be warned, though; it can be a little chilly at the top of the bus at night, so be sure to bring a sweater!
Overall, Big Bus Tours is a fantastic choice for
who want to get a quick overview of all the main New York attractions before deciding what to explore in more detail.
So, if you're looking to travel throughout New York City in a fun and safe way, the hop-on/hop-off Big Bus Tour is a great option!
By Julie, Toronto to Anywhere
SHOP AT CHELSEA MARKET
Located in the heart of the Meatpacking District in Manhattan, Chelsea market is one of the best places to visit alone in NYC if you are a foodie.
It's a historical market set in the former factory of the National Biscuit Company.
Chelsea Market was one of my favourite spots in New York City.
You can truly find amazing food and the atmosphere is so unique. I could have easily spent hours and hours there.
Since the 90s, it has been turned into a big food hall and is one of the best spots in the city if you want to eat delicious food.
It's a very safe area and you can easily explore on your own. If one thing, being by yourself will make it easier to navigate when it's crowded.
When you get to the market, you will find a map of all the food stalls.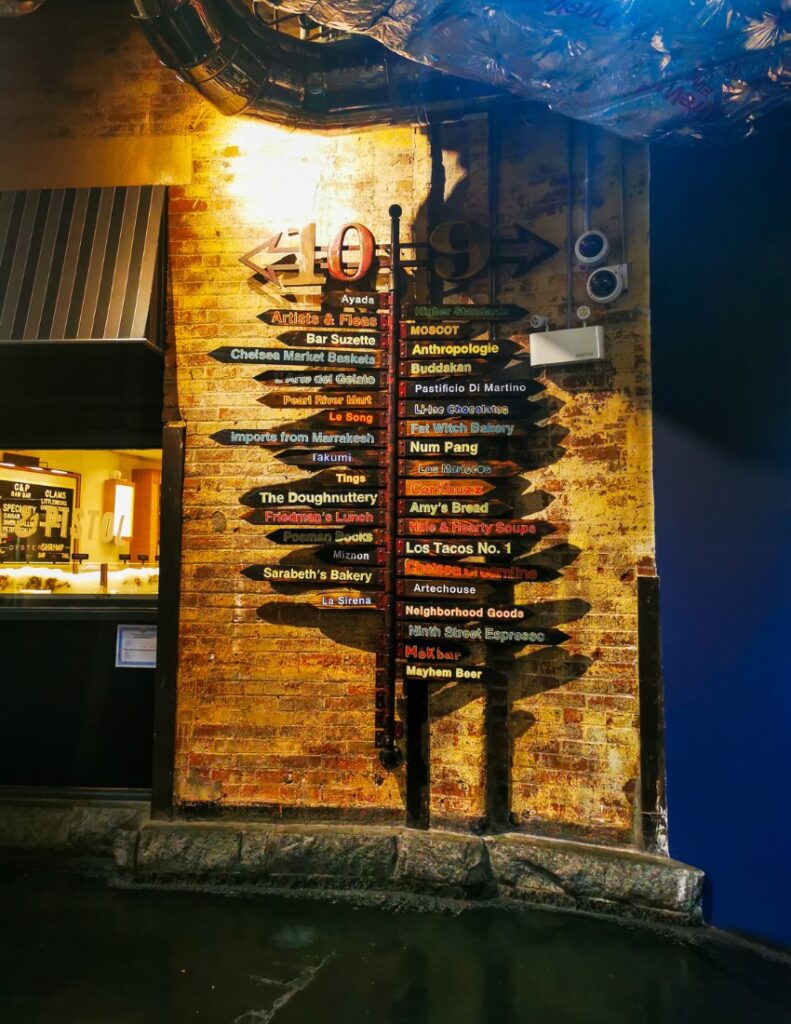 Don't hesitate to use it since it's a rather big place and if you are looking for a specific spot such as Takumi Taco, Lobster Place or Mŏkbar, it will make your life easier.
You will find cuisines from all around the world as well as vegetarian and vegan options.
But if you want to get the best experience, you should consider joining one of the Chelsea Market food tours such as this one.
You will be with a local guide who will take you to the best spots in no time.
This will considerably reduce the time you spend waiting in line for food and you will get to sample more things than if you were to do it by yourself.
Most of these tours also include a visit of the High Line, NYC's most peaceful spot as well as Little Island.
By Pauline, Beeloved City
TAKE A FERRY RIDE TO ROCKAWAY BEACH
If you are looking for a break from the hustle and bustle of NYC then taking the ferry to Rockaway Beach is exactly the perfect idea for your solo trip to New York and a summer bucket list item.
Hop on the NYC Ferry at Wall Street's Pier 11 and embark on a scenic journey to Rockaway Beach.
At just $2.75, the hour-long trip offers breathtaking views of the city's skyline and the Statue of Liberty.
You can pack your own snacks and drinks to enjoy on board and they even have a bar where you can purchase everything from soft drinks to wine on tap.
Once you step off the ferry, you'll be greeted by a completely different vibe.
Rockaway Beach, with its wide, clean sands and laid-back surf culture, is a great place to visit for solo explorers.
You can stroll along the lengthy boardwalk, bask in the sun, or take a refreshing dip in the ocean.
If you're feeling adventurous, take a surf lesson and ride the waves.
When hunger strikes, in the summer there are plenty of places to grab a bite on the boardwalk.
Try the famed fish tacos at Rockaway Beach Surf Club or enjoy a juicy burger from Rippers on the boardwalk.
For craft beer lovers, the Rockaway Brewing Company is a must-visit.
Exploring Rockaway Beach solo is definitely a fun treat. I've made so many friends along the way just while waiting in line to board the ferry.
And the scenic ride back while the sun sets over the Manhattan skyline is breathtaking.
If you require anything additional or any edits please let me know.
By Taima, Poorina In a Private Plane
STOP AT A CAT CAFE
Located in the vibrant borough of Brooklyn, the Brooklyn Cat Cafe is a haven for cat lovers and a fun thing to do on your solo trip to New York.
As the only non-profit cat cafe in New York City, this hidden gem offers an unparalleled opportunity to interact with animals while supporting a local charity.
The cafe's primary mission is to rescue stray animals in Brooklyn, and every penny generated from its operation is dedicated to rescuing strays, running adoption centers and foster programs, and TNR for stray animals in New York.
By visiting the Brooklyn Cat Cafe, you can have a fun afternoon activity while knowing that your patronage directly aids in providing shelter, care, and a chance for a better life for the cats.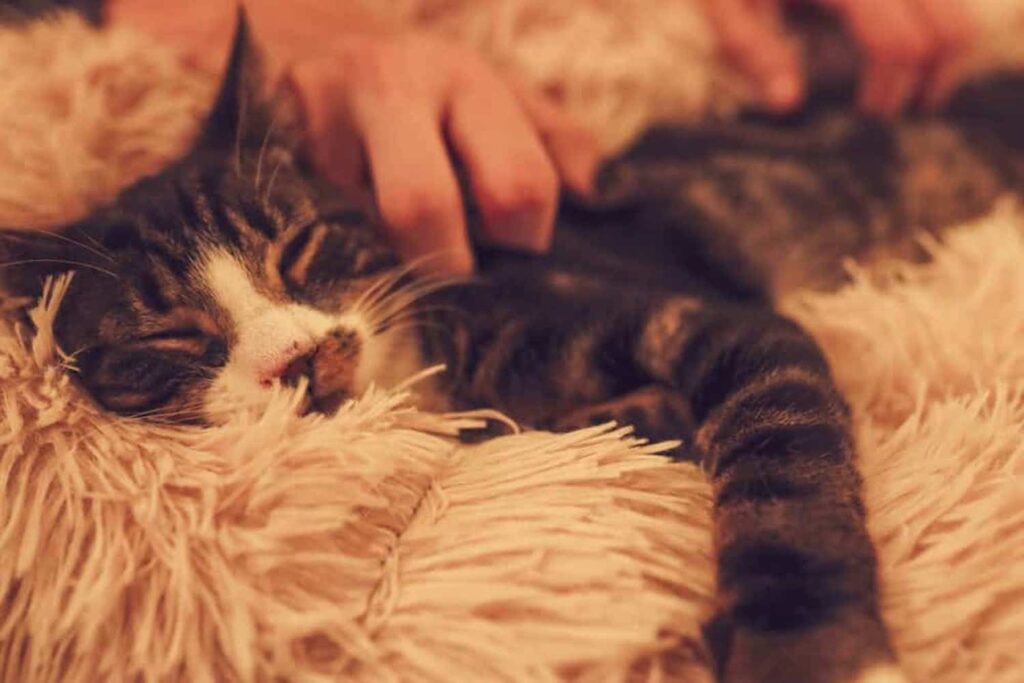 Brooklyn Cat Cafe is also 100% indoors, which makes it a perfect rainy day in New York activity.
You can find the Brooklyn Cat Cafe at 76 Montague Street in Brooklyn, NY 11201.
To travel via public transportation, the cafe is conveniently located near the Clark Street subway station, which is served by the 2 and 3 lines, as well as the Borough Hall subway station, which is served by the 4 and 5 lines.
Additionally, visitors have the option to utilize the city's bike-share program.
Several Citi Bike stations are located within a few blocks of the cafe – If you're coming from Manhattan, the views biking over the Brooklyn Bridge are breathtaking!
By Katie, Katie Caf Travel
WALK THE HIGH LINE
While New York City may be nicknamed the concrete jungle, that doesn't mean that's all there is to it.
In fact, you can find a 'Park in the Sky' right in the middle of the city — at the High Line!
The High Line is a 1.45-mile elevated park that starts in the Meatpacking District (on Gansevoort St.) and goes through Greenwich Village and Chelsea before ending in Hudson Yards (on 34th St.).
The High Line spans 20 blocks, but you can easily access the park at multiple points.
However, it's best to walk the entire length to get the most out of this attraction.
It typically takes 30 minutes to walk from start to finish, but it might take you a while because there's so much to see and do, and certainly worth adding to your itinerary on the solo trip to New York.
The High Line is an especially popular spot for street art, as there are murals, sculptures, and art installations along the park.
Likewise, there are multiple viewpoints and photograph 'terraces' — be sure to visit the 10th Ave Square Overlook, where you can sit with a coffee and watch the cars drive below.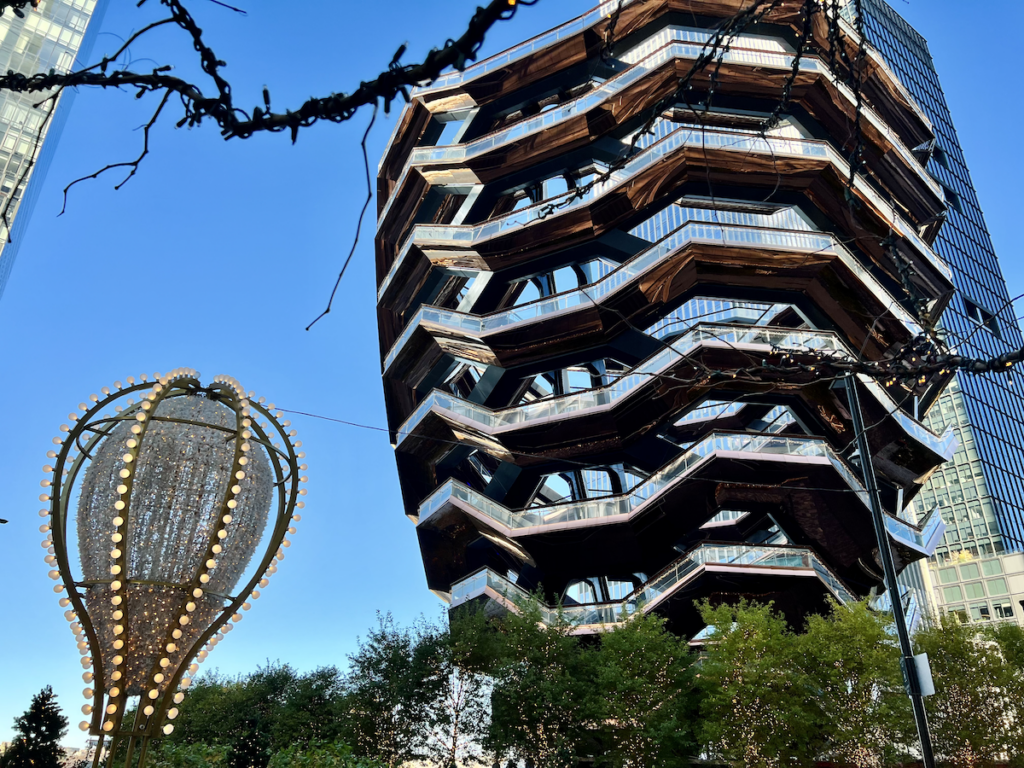 Finally, the High Line also provides a convenient stop-off point to visit the Chelsea Market, The Vessel, and the Whitney Museum of Art (along with dozens of other art galleries).
The High Line is the perfect place to visit solo because it can be done at your own pace and there's no 'right way' to see it.
Sit in one of the parks and enjoy people-watching, stroll along the path and marvel at the architecture around you, or visit one of the public art installations to enrich your visit (and creativity!)
By Luda, Adventures With Luda
VISIT THE OCULUS
One of the best things to do on your solo trip to New York is to visit the Oculus.
Situated in the World Trade Center, the Oculus is one of the busiest transportation hubs in NYC, connecting multiple subway lines and even the PATH from New Jersey.
But Oculus is more than just a transportation hub, it is known for being an architectural masterpiece.
Designed by the renowned architect Santiago Calatrava, this structure is a testament to both modern design and resilience.
When you are alone, you can truly appreciate the grandeur of its white ribbed structure, which stretches towards the sky, symbolizing a bird taking flight from a child's hand.
You don't need to worry about being rushed or being asked to take photos for other people.
The interior is equally impressive, with its high ceilings and pristine marble floors that create a sense of openness, contrasting with the bustle and hustle of NYC.
Getting there is super easy, as there are many subway lines that connect it with the rest of the city, such as the 1, A, C, E, R and W.
It is one of my favorite places to spend time in NYC.
Whether it is just walking around and admiring the architecture, or just sitting down people-watching with a cup of coffee in my hands.
The Oculus is also a shopping haven and foodie paradise. There are numerous boutiques and high-end luxury shops.
Even if you don't plan on buying anything, going window shopping in the Oculus is an experience on its own!
So next time you are in NYC alone, make sure you check out the Oculus!
By Sean, LivingOutLau
PLAN A TRIP TO ELLIS ISLAND
A great activity to do in New York alone is to visit the historic Ellis Island.
Ellis Island was once the busiest border control station in the US.
From 1892 to 1954 almost 12 million immigrants passed through on their way to America.
Today Ellis Island serves as a museum of immigration and a place where numerous people can trace their ancestors back to.
Visiting alone means you yourself decide which parts of the island you see and how much time you spend there.
The great thing about visiting Ellis Island alone is that you can take your time and go at your own pace while exploring all the museum has to offer.
This historical site is growing in exhibits and restored areas for visitors to see.
It's a place where one person could choose to spend an hour and another could choose to spend an entire day.
Ellis Island itself is free to visit; however, there's a cost for the ferry ticket to the island.
It's best to buy your ticket online in advance. Ferries to Ellis Island board from Battery Park.
Note that the ferry makes a stop at the Statue of Liberty before continuing on to Ellis Island.
You're welcome to visit both places with the ferry ticket you purchase.
I hope you enjoy your visit to Ellis Island as much as I did.
By Chelsea, Adventures of Chels
CHECK OUT GUGGENHEIM MUSEUM
If you are looking for something unique to do and experience in New York City, then why not check out some of the iconic museums in the city?
One of the most stunning and beautiful museums in the city to explore is the famous Guggenheim museum on your solo trip to New York.
Located in New York City, the Guggenheim is located in the Upper East site.
It is also a Unesco World Heritage site that invites you to visit and just experience this magnificent space and exhibits.
Filled with modern art, gorgeous permanent collections and revolving shows, the Guggenheim is a fantastic place to explore and enjoy all the wonderful spaces with art, sculpture and multi-media works to experience.
One of the best ways to experience a visit to the Guggenheim is to take an elevator all the way to the top and then work your way down through the spiral staircase into the many galleries.
I would recommend at least two hours to do this experience and check out all the galleries that call to you and find appealing.
Of course, you can definitely spend more time doing this or you can even go on a docent tour highlighting some of the special art, views and exhibits to get an accurate overview of the entire museum.
In any case, you'll enjoy visiting this gorgeous and impressive monument to exciting artwork in New York City.
By Noel, Visit California and Beyond
COOL THINGS TO DO ON YOUR SOLO TRIP TO NEW YORK CITY
JOIN A BOAT TOUR AROUND MANHATTAN
Embarking on a boat tour around Manhattan is an awesome way to experience the views and iconic landmarks on your solo trip to New York City.
As you set sail along the waters of the Hudson, you'll be captivated by the skyline of Manhattan.
It's one of the most peaceful and relaxing ways to sightsee, whether you're exploring all week or only have one night, it's the perfect thing to do in New York alone.
There are plenty of companies that offer these tours, but a great option is the Circle Line Cruises.
You can book just the cruise, or include it as part of the New York CityPass which includes multiple experiences in the city.
Circle Line offers different length cruises from one to two and a half hours with daytime, sunset and evening options as well.
Your boat tour adventure begins at one of the various departure points, such as Pier 83 or Battery Park.
From there, you'll board a boat designed specifically for sightseeing, with panoramic windows and outdoor decks for optimal views of the cityscape.
No matter which tour you select you're bound to pass several of the main sights including the Empire State Building, One World Trade Center and the Brooklyn Bridge.
But most importantly, you'll get up close and personal with Lady Liberty, the Statue of Liberty.
Along the way the tour guide will point out the various sights, explain what you see and give interesting facts and history along the way.
You will learn everything you possibly can about this magical city while getting gorgeous photos of the skyline.
You don't need to have anyone with you, this experience is just as fun alone!
During my weekend in New York, this sightseeing cruise was easily the best thing I did.
I especially loved standing on the back of the boat watching the sun set over the water as we headed back to the bustling city.
By Tori, Tori Pines Travels
WATCH A CONCERT
New York is a giant entertainment mecca and is no surprise when some of the biggest artists stop there to perform a concert, and attending one of them is a fantastic experience on your solo trip to New York.
Madison Square Garden is in midtown and is easily accessible by the New York City Metro or by walking from other sites like Times Square.
Bigger venues are the Yankee Stadium and Citi Field Stadium, both are baseball stadiums but can host concerts too.
Both are also accessible by the New York Metro and are located within the 5 boroughs of New York City.
During baseball season, you can opt to buy tickets to both Yankee Stadium (New York Yankees) and Citi Field (New York Mets) or take a guided stadium tour.
Some Broadway theatres can also host concerts, like Bruce Springsteen on Broadway.
Traveling to watch concerts alone is a great place to enjoy and discover a city as a solo traveler.
I fly all over to watch concerts of my favorite bands, and is truly one of my bucket list items.
Don't let being alone stopped you from watching a show of your favorite band and traveling solo, make it a challenge and a bucket list item to do!
By Ruby Escalona, A Journey We Love
STEP INTO THE WORLD OF CONTEMPORARY ART
There are a lot of iconic art museums in New York City like MoMA, Metropolitan Museum or Art and Solomon R. Guggenheim Museum.
The New Museum of Contemporary Art may not be under common travelers' radar yet it is quite a hidden gem, located in the hip Lower East Side.
If you are an art lover, I highly recommend checking out this fantastic museum on your solo trip to New York.
The name "New" came about literally; it has only a history of about four decades.
The museum is, in fact, one of the few new museums in the world devoted to showcasing contemporary artworks by new or up-and-coming international artists.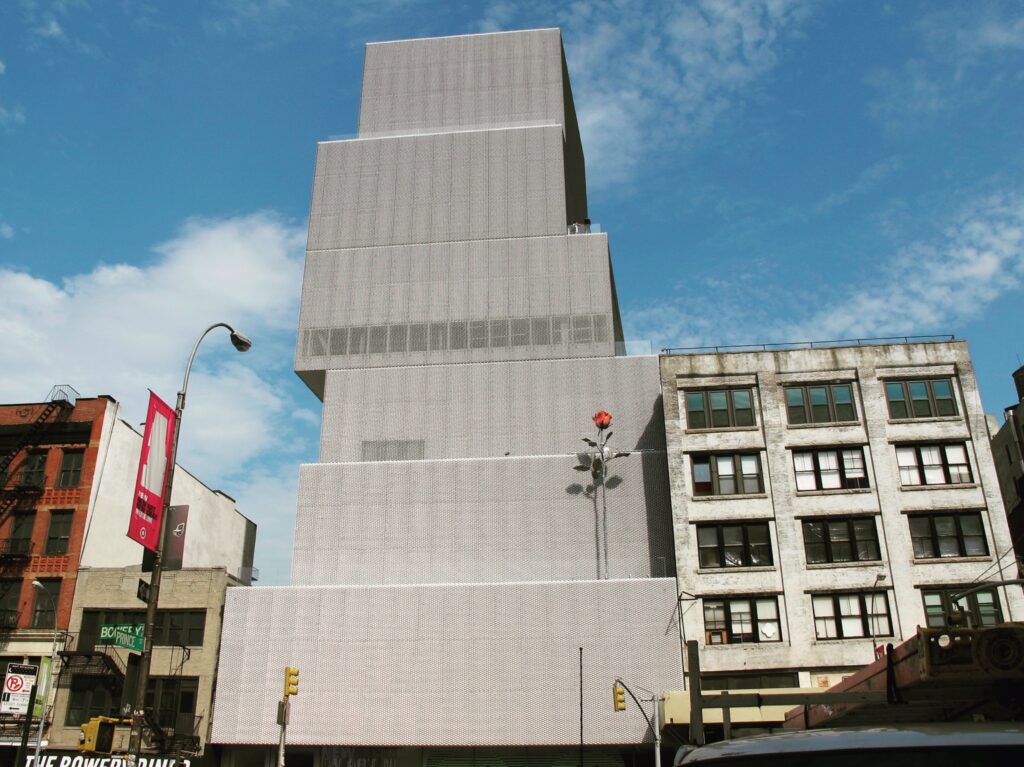 The exhibition rooms do not house a permanent art collection.
Instead, the museum is a stage for new artists to share their messages and ideas via numerous themed temporary exhibitions.
The ticket for New Museum costs US$18, and New York City Pass holders can enjoy assess for free.
Apart from the stimulating art, the Sky Room on the top floor is open to the public (if it is not booked for a private event), and the terrace is a wonderful place to take in the panoramic view of Manhattan's Soho neighborhood and the stunning skyline of the Lower Manhattan.
After the visit to the museum, take a walk in the Low East Side – it's famous for its vibrant nightlife, with trendy bars for drink, dance and live music.
By Kenny, Knycx Journeying
CHECK THE GALLERIES OF MoMA
MoMA, also known as The Museum of Modern Art, is an iconic destination in the heart of the city and a must-do attraction to explore on your solo trip to New York City.
Getting there is easy; you can use the subway. 5th Avenue/53rd Street Station in Midtown Manhattan is the closest to MoMA.
Once you get off the train, it's just a 5-minute walk to the museum.
A massive art collection provides a captivating journey into human creativity.
A permanent collection contains around 200,000 art pieces, among them the famous paintings by Van Gogh ("Starry Night"), Picasso ("Les Demoiselles d'Avignon"), Andy Warhol, Henri Matisse, and many more renowned and emerging artists.
Visiting MoMA is a perfect choice for solo travelers.
When you're alone, you have the incredible opportunity to completely lose yourself in the art and experience it at your own pace.
You can take all the time you need to appreciate each artwork, soaking up its magic and reading the descriptions without any distractions.
Give yourself time to explore the museum.
MoMA is a highly busy place! It's recommended to book timed entry tickets in advance.
You can visit MoMA's official website or book tickets via GetYourGuide.
They offer skip-the-line tickets for MoMA, which can save you time and allow for a smoother entry into the museum.
I really wish I had visited MoMA sooner. It's a special place where art truly comes alive and evokes many emotions.
Let me tell you, this art therapy has left me feeling incredibly inspired.
By Leslie Rivera, Backpackers Thailand
MAP OF THINGS TO DO ON YOUR SOLO TRIP TO NEW YORK