From redwood forests to crystal clear Turquoise lakes and snow-capped peaks, you can choose to explore the rugged beauty on the best hikes in Northern California.
Given these abundant landscapes, it is no wonder Northern California hiking trails are among the most beautiful trails in America.
Whether you're looking for a multiple-day challenging trail leading to fantastic views across the waterfalls and lush forests or a day-long wilderness loop to enjoy with your kids, in this post, I bring to you the best hiking trails in northern California, including my favourite Northern California day hikes you should check out.
If you are looking for some fantastic day trips in northern California, check this guide for quick day trips.
Want to check out everything about NorCal? Check this guide to 35 Epic Northern California bucket list things to do.
Heading to southern California? Check this guide to the 15 Best Southern California Hikes.
THINGS TO KNOW FOR THE BEST HIKES IN NORTHERN CALIFORNIA
Here are some of the things to know while going on any of the best hikes in northern California.
Watch out for poison oak and ticks – Poison Oak is rampant in some countys, especially along all the trails, along with ticks and other insects. Do not touch any plants and it is best to wear long trousers even during the summer to avoid contact with poison oak.
Cell Service is not great everywhere – On some hikes, there is limited or no cell service, so it is best to plan accordingly
Download maps for offline use – Due to limited cell service and inaccurate GPS, it may be difficult to navigate. It is best to carry offline or physical maps wherever possible
Carry cash, and snacks – Some places may not accept credit cards, especially in parking lots. So carry cash. The same goes for snacks and drinks. Carry sufficient snacks like protein bars, fruits and nuts for munching as there are no amenities.
Check for road closures and forest fires – Due to forest fires, some trails get closed. It is best to check online for information about the current status of the hiking trails before you plan your trip. The same goes for roads if you are driving in the area.
Carry layers – It is surprising how many underestimate or do not take into account the chilly evenings in California.
No matter what time of the year, dense forest trails and mountain top areas are cold and windy as the evening sets in. So make sure to carry a warm wind jacket with you.
The best months for hikes in northern California – May through October are the popular months for enjoying hiking near northern California. But if you want fewer crowds, I would suggest the shoulder months of spring and fall.
BEST HIKES IN NORTHERN CALIFORNIA
LOWER YOSEMITE FALLS TRAIL
Distance: 1.2-mile paved loop
Time to Hike: 30 minutes
Hike difficulty: Easy
Yosemite National Park is home to some of the best hikes in northern California.
You can easily spend weeks tackling many splendid trails of all difficulty levels in one of the most beautiful national parks in the USA.
If you are looking for an easy trail though, what is better than one of the easy Yosemite hikes leading you to magnificent views of its tallest waterfall at 2,425 feet?
Witnessing the splendour of the plunging Yosemite Falls is one of the top bucket list things to do on your trip.
The falls cascade down through Upper Yosemite Falls and then Lower Yosemite Falls, two other falls you can access differently.
It is a prominent tourist spot due to its sheer size and beauty, making it a popular location for photographers.
The trail to Lower Yosemite Falls is only a 1.2-mile, family-friendly paved trail, which makes for an easy Yosemite hike. Dogs are allowed on this trail as well on a leash.
Spring to early Summer is the best time to witness the gorgeous beauty as the falls crash in full force, fueled by snowmelt.
So it gushes in spring and starts to dry up in early summer.
So if you want to capture the full vigour of Yosemite Falls, plan your trip between April and June when the water flow is the highest.
You can watch Yosemite Falls throughout Yosemite Valley from viewpoints near Yosemite Village and Yosemite Valley Lodge.
Most visitors choose to view Yosemite Falls from the Lower Yosemite Falls Viewpoint.
HOW TO REACH?
Look for signs at the parking lot to follow them to arrive at two trails, both leading to a viewpoint bridge from where you can admire stunning views, especially from the west.
To capture the shots of the Lower Falls, head along the walkway surrounded by trees that will lead you to the stunning Falls in the middle of the frame beautifully.
Walking through, you will hear the thunderous sound of Lower Yosemite Falls and the sight of Yosemite Creek beside you.
The trail will lead you to Vista Point, where you can see the falls.
If you park at Yosemite Village and walk to the falls instead of starting from the parking area, it will add about a 1-mile round trip.
Recommended: Best Sunset Spots In San Diego California
RAINBOW FALLS, MAMMOTH LAKES
One of the top things to do in Mammoth Lakes is the beautiful Rainbow Falls, one of California's stunning waterfalls.
Rainbow Falls is known for the continuous beautiful rainbows that form through the fall's mist. It is one of my favourite best hikes in Northern California for its beautiful views and the sight of the spectacular waterfalls.
You will love it if you love hiking as you have to walk along a pretty trail to arrive at Rainbow Waterfalls. It is a moderate-level hike but gets very crowded during the peak seasons and holidays.
There are many hiking trails to choose from to reach the waterfalls.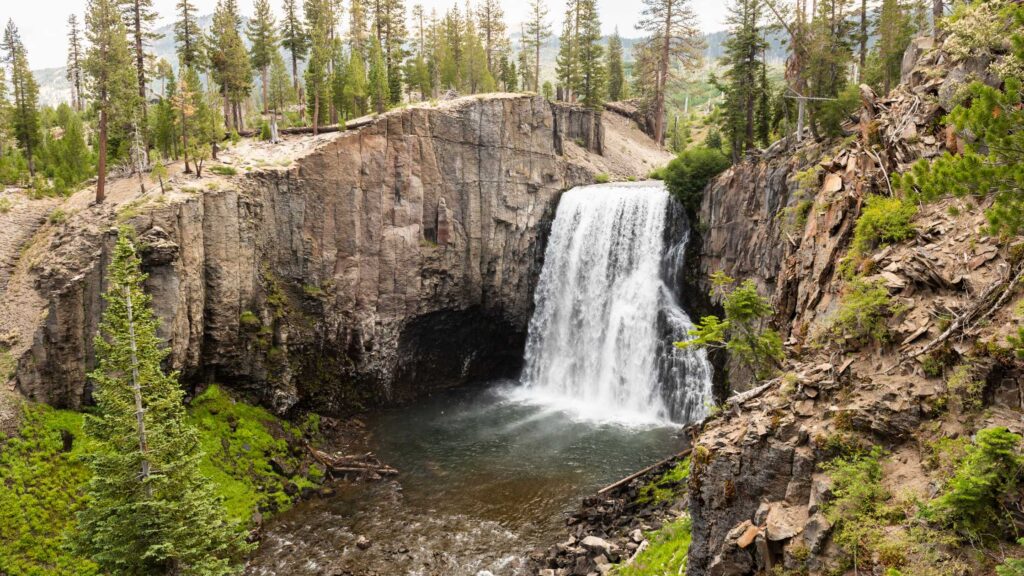 The popular course begins near Ranger's Station, near Devil's Postpile National Monument.
You will pass through the majestic formation of basalt columns of the Devil's Postpile on the way to Rainbow Waterfalls.
You can also take the Rainbow Falls trailhead, the John Muir or the Pacific Crest trails.
This latter 1.7-mile Rainbow Falls Trail intersects with the John Muir Wilderness and Pacific Crest Trails, beginning in John Muir Wilderness territory before entering Devil's Postpile National Monument.
Although the waterfalls are in full flow during the early months of summer, the water plunging from the San Joaquin River only reduces slightly throughout the rest of the year, making it an almost year-round attraction in Mammoth Lakes.
The hike reaches an elevation of over 7,500 feet, so you might want to take it slow if you are used to being close to the sea levels.
It takes about 2 to 3 hours, depending on your pace. You can carry food and water and have it close to the falls.
Following the river beyond Rainbow Falls, you can view the smaller Lower Rainbow Falls.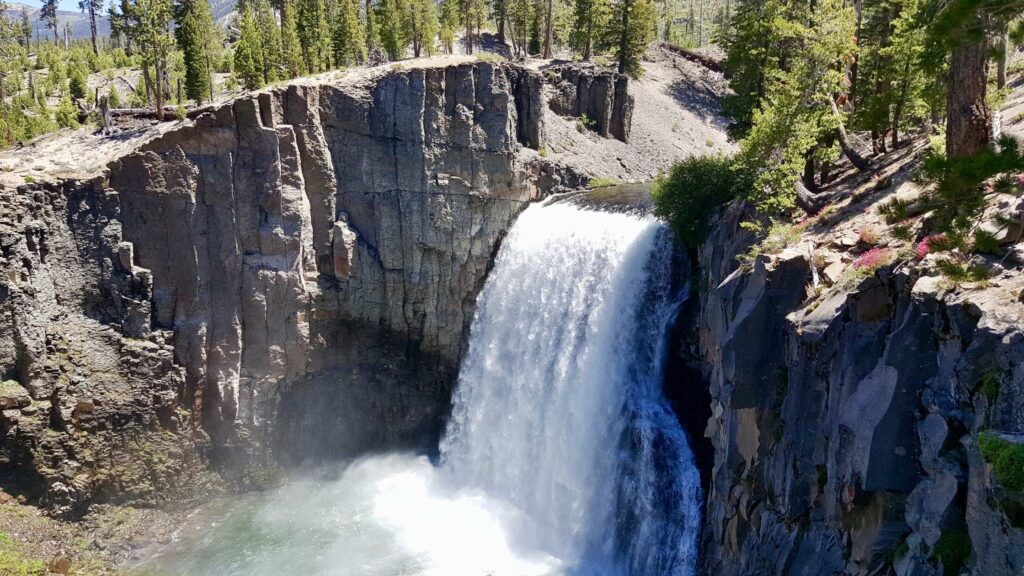 Early morning is the best time to hike to Rainbow Waterfalls if you enjoy the trail with fewer crowds.
You can swim at the foot of the falls with only a few people around, although the water might be too cold for some.
The morning views of the surrounding valleys on the way to the falls are spectacular.
If you want to watch the rainbows over the falls, though, noon is the best time to arrive here.
The water is also warm enough at this time to enjoy a relaxing swim.
If you want to avoid hiking, take the shuttle that leaves from Mammoth Adventure Center and get off at the Rainbow Falls Trailhead bus stop or Reds Meadow Resort bus stop to reach the waterfalls.
SEQUOIA TRAIL, BIG BASIN REDWOODS STATE PARK
Distance – 4.2 miles
Duration – 1.5 hours
Difficulty – Moderate
Type – Loop
The Sequoia Trail is one of the famous hikes in Big Basin Redwoods State Park, a large park known for its expansive old-growth redwood forests.
If you are looking for easy hikes in northern California to witness some of the park's most beautiful redwood forests, I recommend the Sequoia Trail.
As the name indicates, you will witness the beautiful Sequoia trees dominating the landscapes and the gorgeous wildflowers that carpet the land.
The Sequoia Trail, a four-mile loop, starts from the park's Sequoia Campground along the edge of an ancient redwood forest.
Around halfway through your hike, you must make a short descent to reach Sempervirens Waterfall, another 20-foot turquoise waterfall located amidst the dense forests plunging into the grotto.
It is one of the best waterfalls in the Santa Cruz area.
You will also encounter fascinating wildlife, including many colourful birds like woodpeckers, herons, egrets, deer and squirrels.
There is a $10 for parking and entry. Since it is one of the popular hiking trails near Santa Cruz, get here early to start the hike early in the morning to stay ahead of the crowds.
LAND'S END TRAIL, SAN FRANCISCO
Although Lands End is farther away and is the furthest point in western San Francisco, the wilderness makes it a fantastic spot.
This 3.5-mile trail is one of the best hikes in northern California for soaking in some spectacular views of the iconic Golden Gate Bridge and the skyline of San Francisco.
The Land's End area is one of my favourite spots for enjoying the best views in San Francisco because, besides the city skyline, you will be treated to hillsides dotted with wildflowers, wildlife, and the Pacific Ocean.
You will pass through gorgeous wild landscapes adorned with wildflowers, cypress, cliffs, coastal trails, ship decks, and spectacular views of the whole entrance to San Francisco Bay, making it one of the fantastic Golden Gate Bridge viewpoints.
One of the iconic attractions of Land's End is the labyrinth made from many rocks that have been moved around and reassembled by artists to create a fantastic structure.
Land's End, a part of the Golden Gate National Recreation Area, has many trails you can check out.
The Lands End Point Lookout area is where you can witness the views of the Golden Gate Bridge viewpoints.
Take the Lands End Trail from the road up to the Coastal Trail for a short and beautiful walk.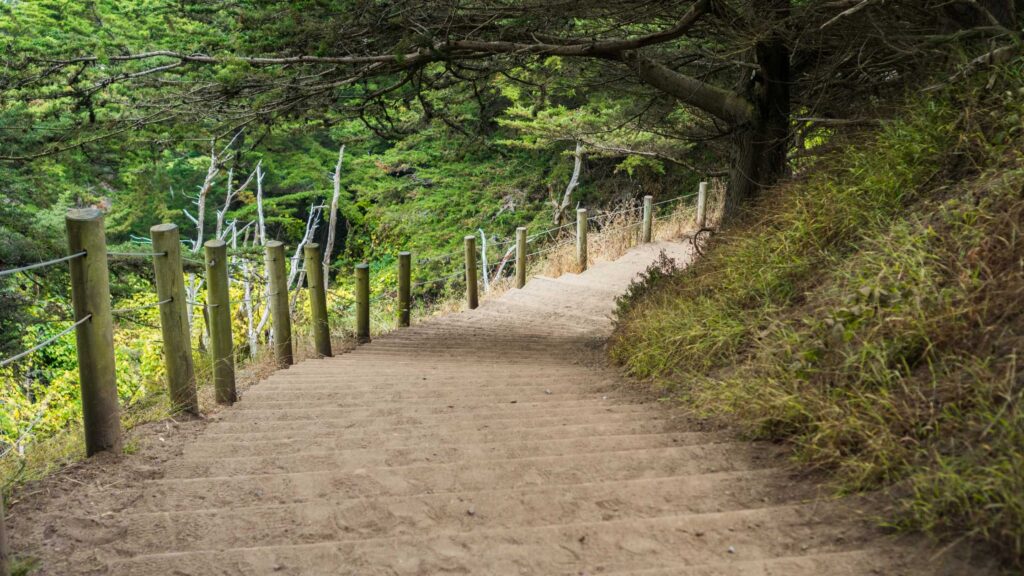 It will take an hour from the Cliff House. You will take some steps down, reaching the Lands End lookout on the cliff's edge. Also, stop at the Sutro Baths at the end of the trail.
Another trail to witness the Golden Gate Bridge views is the Eagle's Point trailhead near Lincoln Park.
Located close to the famous Legion of Honour, you can along a sidewalk passing through the Lincoln Park Municipal Golf Course.
Parking – Parking is available at Camino Del Mar.
How to get there – From the parking lot at El Camino Del Mar, take the Lands End Trail down the steps and out to the lookout.
SUNSET SKYLINE SHORT TRAIL, BIG BASINS REDWOOD FOREST
Distance – 2.9 miles
Difficulty – Easy
Duration – 2 hours
Type – Loop
If you want to see the magnificent redwoods in California, one of the more accessible trails in Big Basins Redwood Forest is the Sunset Skyline Short Loop.
It is one of the easy and pretty hikes in northern California. This three-mile hike is well-maintained and flat, ideal for people traveling with kids as it can be completed in just over two hours.
The Sunset Skyline Short Loop is also suitable for you if you do not want to spend a lot of time hiking but need to get the highlights of Big Basin Redwoods State Park.
The trail starts by crossing the footbridge at Opal Creek. It passes through the lowland redwood forest before making the ascent up Middle Ridge.
Once you reach the summit, follow the trail descending back down to the other side of the ridge, which will lead you to the Sunset Trail.
As the name suggests, this hike offers some gorgeous views of the sun setting over the Santa Cruz Mountains.
SLACKERS HILL TRAIL, SAN FRANCISCO
Located at the top of the Marin Headlands is one of the top places to enjoy the best views in San Francisco at night.
It is one of the best short hikes in northern California you can easily plan with your kids for stunning views.
Slackers Hill offers fabulous 360-degree views looking down on the bridge and across to the city skyline from the Marin side.
You need to do a one-mile out-and-back hike up to Slackers Hill, beginning at the trailhead next to the parking lot at the intersection of Conzelman Road and McCullough Road, which is short but steep.
There's no shade on this trail, so be prepared for lots of wind and sun.
At the top, you'll see pretty beaches, the Marin Headlands, the ocean, and San Francisco city, apart from the bridge.
Sunsets are fantastic from this hilltop, and I recommend watching them if you have time. Do plan to arrive early, though, if you want to stay back for sunset to include the time for hiking to the top.
If you are up for more adventure, you can also do the more strenuous, 1.6 miles(one-way) hike from the North Tower parking lot near the bridge up the SEA Trail to Slacker Hill.
Parking – Free parking at Conzelman Road Parking Lot
How to get there – After you cross the bridge, take the Alexander Ave exit, then left onto Bunker Rd, and right on McCullough.
SYMBOL BRIDGE TRAIL, LAVA BEDS NATIONAL MONUMENT
If you are looking for marvellous caves in Northern California, visit Lava Beds, a 46,000-acre national monument located in the extreme North East of the Golden State, at a one-hour driving distance from Klamath Falls, Oregon.
Lava Beds National Monument is a collection of vast, rugged landscapes of Lava flows, cider cones and tubes formed by volcanic activity millions of years ago.
It is home to one of North America's most extensive lava tube systems, which narrates the story of Native American inhabitants and Modoc people.
One of the best hikes in northern California with kids you can enjoy is this short and easy trail that will transport you back in time.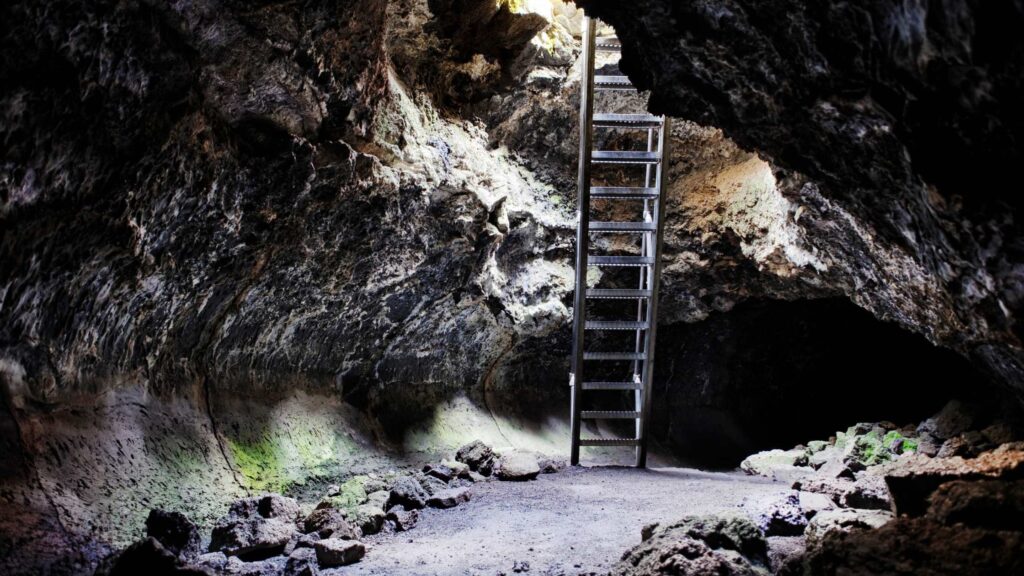 There are 700 caves in this region, but 25 have guided trails and are open to the public for exploration.
The caves are protected sites for maternal bat colonies in the summer and hibernating bats in the winter.
Don't miss exploring the Petroglyph Point, one of the most extensive representations of Native American rock art in the United States.
Symbol Bridge trail is a short easy trail winding through sagebrush and juniper trees that leads you to the Big Painted Cave.
This uphill hike from the parking lot takes you to the steep metal ladder leading to the lava tube.
HUMBOLDT REDWOODS STATE PARK
Entrance fee: Free
Parking fee: $8
Humboldt Redwoods State Park is home to old-growth coastal redwoods that cover 1/3 of the park's 55,000 acres and are among the best redwoods near San Francisco.
You'll discover some of the state's densest redwood forests and some of the most significant redwood-lined roadways, thanks to ongoing conservation efforts dating back to the early 1900s.
Avenue of the Giants is a famous 32-mile driving stretch to spot redwoods, and you can go through the Shrine Drive Through Tree.
TRAILS TO FIND THE REDWOODS IN HUMBOLDT REDWOODS STATE PARK
There are over 100 hiking trails in the Humboldt Redwoods State Park.
Founders Grove is a 0.5-mile hike which is an easily accessible trail.
The famed Avenue of Giants cuts through the grove at the centre of this easy, half-mile-long loop that's well-marked and well-maintained, perfect for families and beginner hikers.
Bull Creek Loop is a bit of a challenging hike, about 15 miles.
Don't miss the 0.6-mile Rockefeller Loop trail, which leads to the world's most extensive contiguous old-growth redwood forest.
The 1.7-mile Drury-Chaney Loop, 2.2-mile Johnson Prairie Trail, and 10.5-mile Johnson Camp Trail are among the most popular treks in Humboldt Redwoods State Park.
Include Founder's Grove, the fallen Dyerville Giant, Williams Grove, Flatiron Tree, and Gould Grove on your drive to spot gigantic redwoods.
Take a refreshing plunge in the beautiful Eel River, running beside the redwoods.
HOW TO REACH HUMBOLDT REDWOODS STATE PARK
You may drive along US Highway 101, passing through San Rafael, Petaluma, Santa Rosa, and several other charming cities.
Otherwise, you may travel along California Highway 1 for 7-8 hours, which is worthwhile if you have the time.
MOUNT SHASTA
Mount Shasta, a winter wonderland, is four hours north of San Francisco and rises 14,000 feet above Northern California's pine forests.
Mount Shasta is a hot spot for mountaineers and is one of the best things to do in northern California for outdoor lovers.
You should add Mount Shasta to your itinerary if you are planning a day trip from Redding or Sacramento to enjoy the snow in California, especially if you are going between November and April.
Mount Shasta is one of the most challenging hikes in northern California, but if you are a seasoned hiker, this strenuous trail should be on your bucket list.
If you are looking for more accessible trails or hiking during snow, consider the 2.8 miles of Castle Dome snowshoeing trail nearby Castle Crags State Park, a relatively easy course.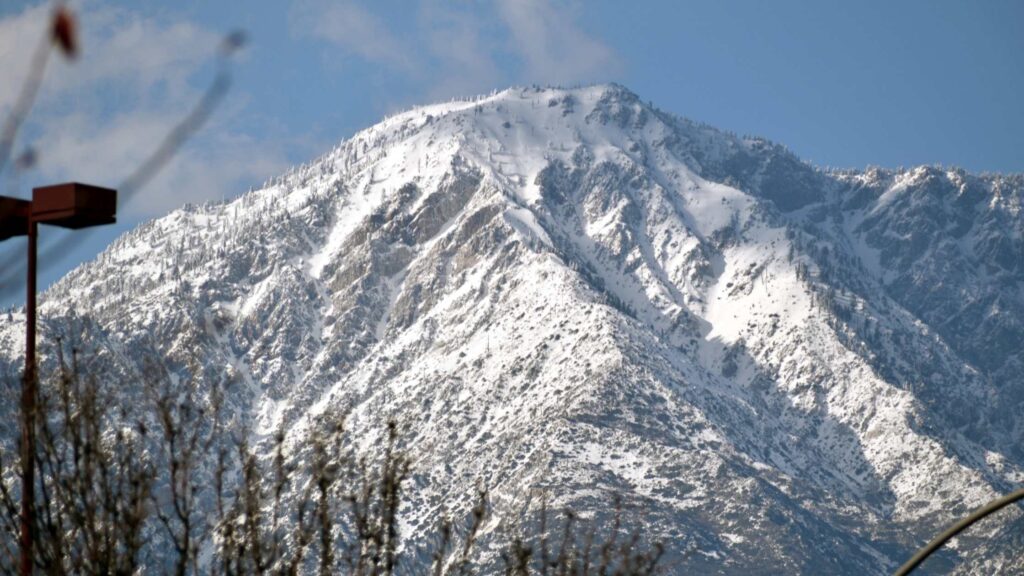 On this 5.5 miles Castle Crags Trail to Castle Dome trail, you will be rewarded with gorgeous views of Mount Shasta, Black Butte, the far-off Sierra Nevada, and the rest of the crags as you navigate the steep and rocky terrain.
For more experienced snowshoers preferring a winter hike, I recommend the Bunny Flat trail, a 6.5-mile less-travelled trail with plenty of adventure.
You can go ice fishing and enjoy the stunning mountain views in Castle Lake a mile from the parking lot.
Take up dog sledge rides and snowboarding if you want more adventures in the snow.
KINGS CANYON NATIONAL PARK
I recommend visiting Sequoia and Kings Canyon National Parks if you love exploring deep canyons and giant sequoias. Kings Canyon is the deepest canyon in the United States, with a massive 8,200 feet depth.
Visit the Giant Forest Museum at Sequoia National Park to witness the world's most giant sequoia, General Sherman Tree, estimated to be around 2,200 to 2,700 years old.
Explore the General Grant Grove, a 2-mile walk to see the 1,700-year-old and 266-foot-high General Grant Tree, the second-largest sequoia in the world.
Hiking enthusiasts can explore many trails that run amidst massive giant sequoias.
Check out the 1.5 miles of Big Trees Trail and 1.8 miles of Cresent Meadow Trail if you are a beginner hiker.
Experienced hikers can go for the 3 miles of Congress Trail or the 4 miles of Tokopah Falls Trail. Check out the Moro Rock Trail for an inclination; you will be rewarded with panoramic views at the summit.
Book a 45-minute guided tour to explore the Crystal Caves if you visit the park from spring to fall.
Explore the Mineral King area, a hiker's and backpacker's paradise known for its historic cabin communities and is listed on the National Register of Historic Places. There are two campgrounds available in the area if you plan to camp.
While heading to the Giant Forest along Crescent Meadow Road, drive through the Tunnel Log, a carving made from a fallen sequoia, estimated to be 2,000 years old. The tunnel is around 17- feet wide and 8- feet high.
RUSSIAN GULCH STATE PARK
If you are looking for more beautiful coastal trails, head to Russian Gulch State Park, home to some of the best hiking trails in northern California.
Many trails are well-paved and suitable for beginners, making the park family-friendly and crowded during popular months.
The most popular trail is the Waterfall loop trail leading to a beautiful waterfall, which can be accessed in many ways.
If you are looking for an easier way, take the 3-mile trail, which is the most straightforward and popular one. It takes you to the waterfall and comprehensive trails and up close to giant redwoods.
Do the Fern Canyon north and south trail loop, about 11 miles or more if you want a more challenging trail, where you pass through sea caves and a Devil's Punchbowl.
REINHARDT REDWOOD REGIONAL PARK
Entrance fee: Free
Parking fee: $5 per vehicle; $4 per trailered vehicle; $25 per bus
In the heart of Oakland is Reinhardt Redwood Regional Park, offering some of the best hiking trails in northern California.
The park is home to the giant remaining coast redwoods in the East Bay Regional Parks District.
The site was a centre for logging activities in the 1880s but now is home to beautiful second-growth, 100-year-old coastal redwoods spread across 1830 acres.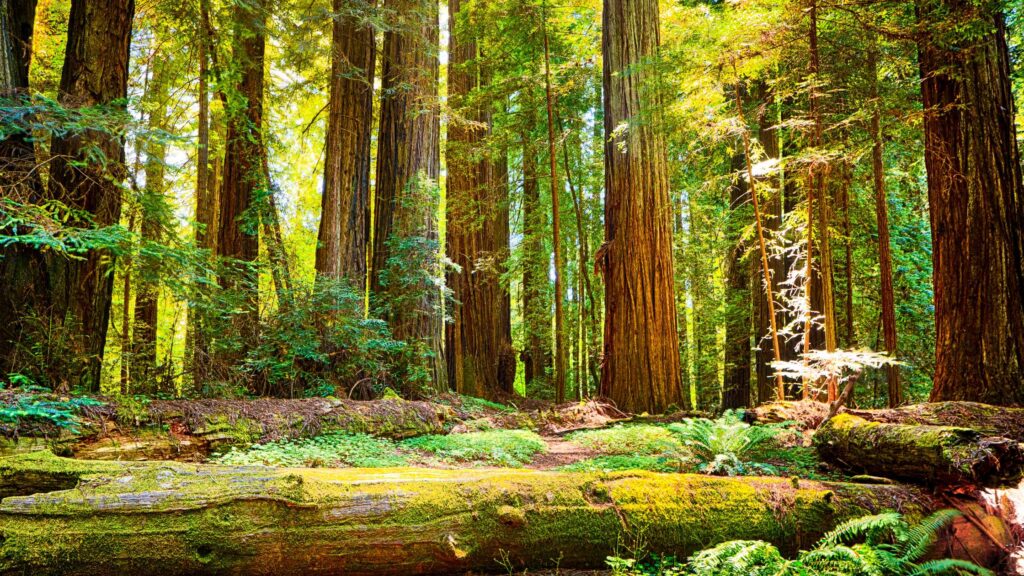 TRAILS TO FIND THE REDWOODS IN REINHARDT REDWOOD REGIONAL PARK
Within this park, you will get many trails (see them all here). You can create a perfect mix based on your interests and adrenaline.
You may even see empty trails if you plan to go early in the day.
Tres Sendas Trail is a 3.2-mile loop hike that is lovely and calmer than most of the trails.
If you want an immersive experience of ancient coastal redwoods, visit The French Trail Loop, a 6-mile loop hike.
Camping Options: Anthony Chabot, Del Valle, and Dumbarton are the best spots for camping which you need to reserve online between 12 weeks and 48 hours ahead of your arrival time.
SONOMA COAST STATE PARK
One of the free things to do in Bodega Bay is to visit the 17-mile-long, sprawling Sonoma Coast State Park in Sonoma County.
From Jenner in the North to the Bodega head in the South, this beautiful park is renowned for its spectacular landscapes overlooking the turquoise blue oceans, the stunning rocky coves, and the well-known arched rock.
Unwind on the beaches near the park and enjoy the views of harbour seals lazing along the shore with the fantastic sunset backdrop.
This state park boasts one of the best hikes in northern California for families.
Sonoma Coast Overlook Vista Trail, an easy 0.9-mile trail, offers beautiful ocean views of the Pacific Coast and you can admire the Bodega Head, Goat Rock, Russian River, Arched Rock and more. You can even spot Point Reyes National Seashore if you are here on a clear day.
You can even go hiking on the nearby Bodega Head Trail, the Bodega Dunes, the Vista Trail and the Kortum Trail to enjoy the views of colourful migratory birds and whales.
REDWOODS NATIONAL AND STATE PARKS
Entrance fee: Free
Parking fee: $10
Camping: Available, $35 per night, can be checked and reserved here
If you're looking for a weekend trip from San Francisco, head to Redwoods National and State Parks, which run 40 miles along the California coast just south of the Oregon border and feature Northern California's tallest redwood trees.
The parks are a paradise for outdoor lovers with plenty of the best hikes in northern California you can choose from.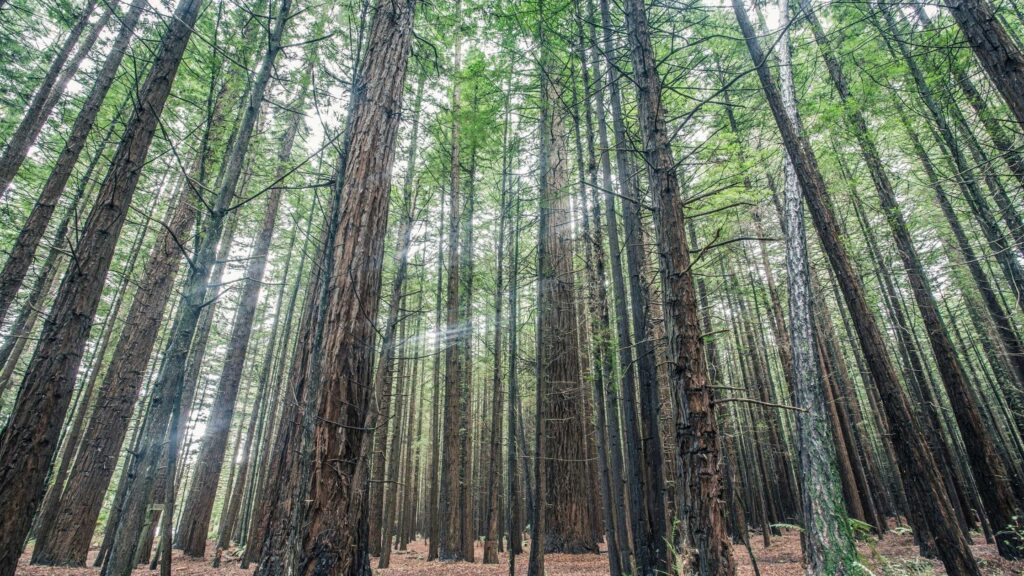 Jedediah Smith Redwoods State Park, Del Norte Coast Redwoods State Park, and Prairie Creek Redwoods State Park are among these parks managed together by the National Parks Service and the California State Parks Service.
Prairie Creek Redwoods State Park is blessed with old-growth forest and the Roosevelt elk in the prairies between the redwoods.
The largest (but not tallest) Coastal Redwood tree may be seen in Jedediah Smith Redwoods State Park.
TRAILS TO FIND THE REDWOODS IN REDWOODS NATIONAL AND STATE PARKS
Start with the 0.5-mile Trillium Falls Trail, which is considerably easy.
Lady Bird Johnson Grove Loop Trail is a 1.5-miles trail
taking you through an old-growth incredible redwood forest with many downed logs
The Simpson-Reed Trail, 1 mile, can be completed in a half-day.
The 2.5-mile Prairie Creek Foothill Trail Loop might take a bit of a day since you will be astonished to see a mix of Roosevelt elk and the gorge redwoods.
Fern Canyon Loop Trail is a 1-mile hike in Prairie Creek Redwoods State Park that guides visitors through a dense forest of redwood trees before descending into a lush canyon full of ferns, some more than 30 feet tall.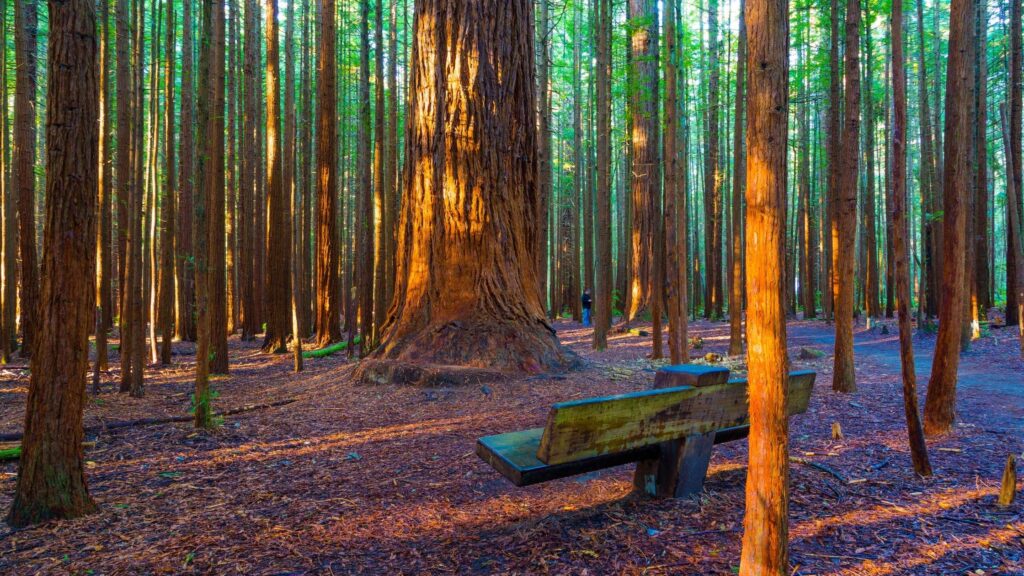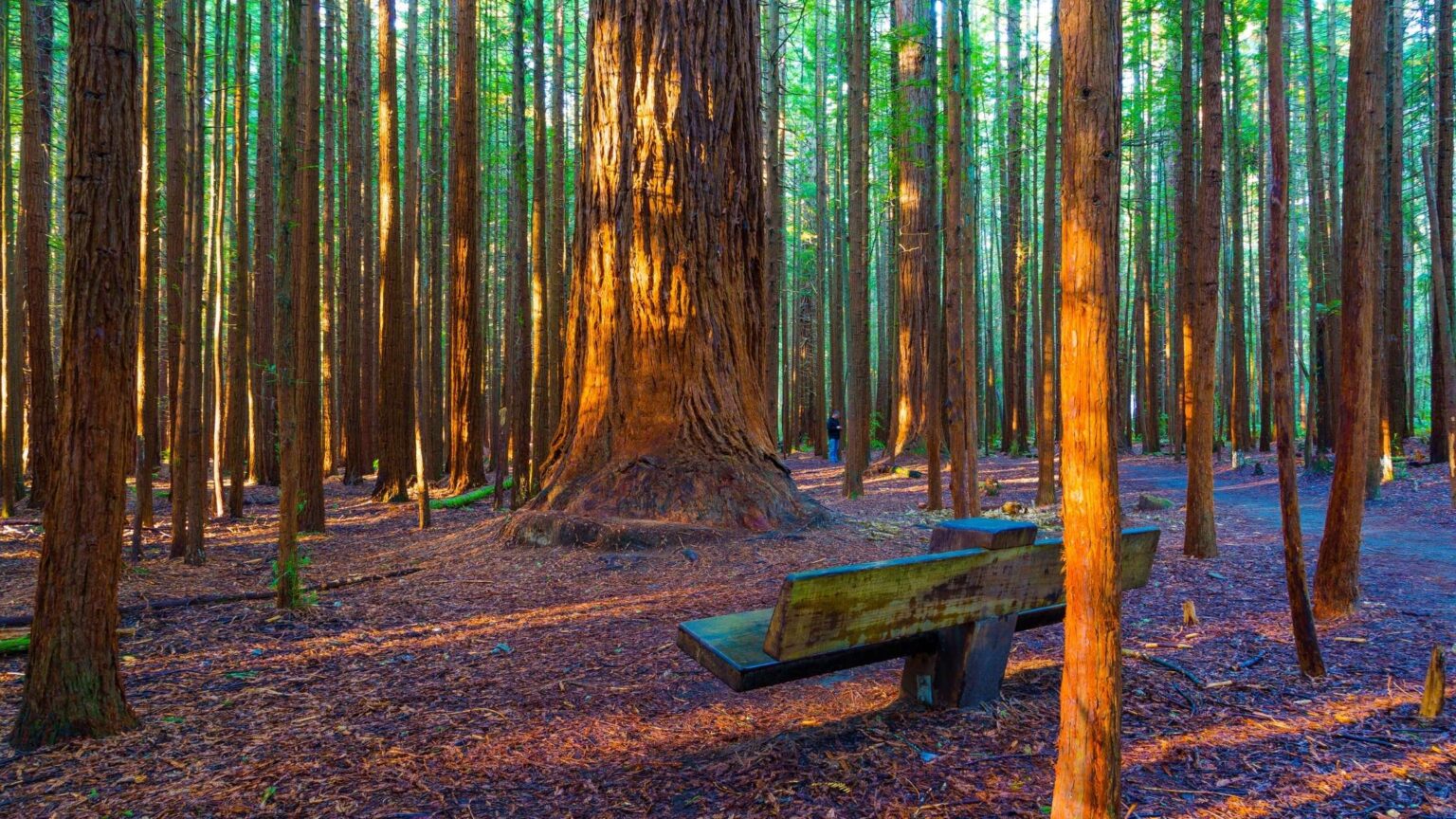 You need a free Gold Bluffs Beach/Fern Canyon parking permit if you plan to visit from May through September.
Since it gets flooded with water there are wooden footbridges installed in Fern Canyon to help hikers get partway up Home Creek without getting too wet between June and September.
Did you know? A few scenes from Jurassic Park: The Lost World were shot here.
If you are up for a longer trail, check out the 8.6 miles long Prairie Creek Trail, a family-friendly easy and almost flat trail that takes you under giant California redwood trees.
JULIA PFEIFFER BURNS STATE PARK
One of the best hikes in northern California that you can plan alongside a road trip along Big Sur is visiting the stunning coastal park of Julia Pfeiffer State Park.
This beautiful park is named after Julia Pfeiffer Burns, one of the pioneer women in this part of California who moved to Big Sur in 1869 and spent her life there as a rancher.
Julia Pfeiffer Burns State Park is packed with many hiking trails offering views of its rich landscapes, including redwood and oak trees, steep canyons, rocky cliffs, and beautiful flora.
The most famous attraction is the plunging McWay Falls into the Pacific Ocean, which can be witnessed on a hike along the McWay Falls Trail for 0.65 miles.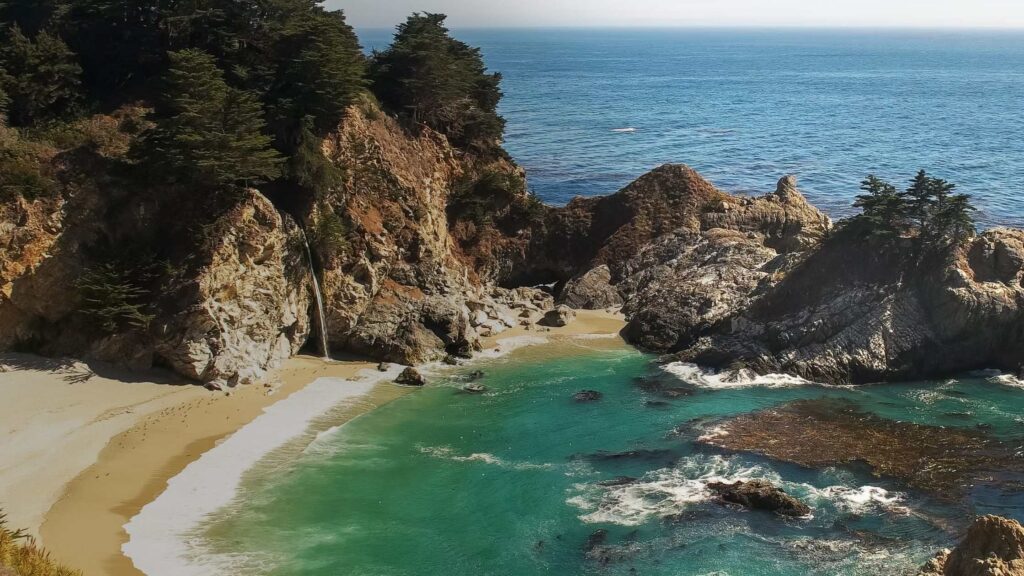 You can also admire McWay Canyon, formed by the meandering McWay Creek cutting the rocks.
Take the 5.8-mile Ewoldsen loop trail to the south end of the park to pass through the stunning redwood trees in the garden.
Another beautiful trail is Partington Cove Trail which is the best hike to enjoy the gorgeous views of the ocean and the rocky cliffs.
Although you can climb down to the beach, swimming here is not recommended as the tides are dangerous.
You can also camp at Pfeiffer Campground, located along the Big Sur River in the park's heart. But you need to reserve your spot in advance because the camps get booked.
BEST HIKES IN NORTHERN CALIFORNIA(LONGER TRAILS)
ALAMERE FALLS
Distance – 13 miles out and back
Elevation – 1,811 feet
Difficulty – hard
Alamere Falls is located in the Phillip Burton Wilderness, about an hour north of San Francisco near Point Reyes and Bodega Bay.
Among the beautiful waterfalls in Point Reyes is Alamere Falls.
One of the best hikes in Northern California is hiking to this gorgeous waterfall for all waterfall lovers and nature admirers.
What's unique about Alamere Falls is that it is one of only two waterfalls along the California coast that are also tidefalls.
If you wish to do the hike, arrive prepared as it is challenging and lengthy, taking many hours depending on your pace and fitness levels.
If you are here during low tides, you can see Alamere Falls tumbling 40 feet, joining Wildcat Beach.
At moderate to high tide, it falls right into the Pacific Ocean. When you plan your hike, Alamere Falls makes for dramatic sights.
Reaching Alamere Falls requires a round-trip hike of 13 miles or more with an elevation gain of 1600 feet and can be done in many ways.
You will find trailheads for Alamere Falls at Bear Valley, Palomarin, and Five Brooks.
Recommended – 25 Best Hikes In Point Reyes You Should Check Out
The Palomarin Trailhead – The most popular starting point is the Palomarin Trailhead, which offers the shortest route.
On this trail, you will pass through the pretty Eucalyptus groves, the stunning Bass Lake, where you can swim on a hot day. Continue your hike along the beautiful beach to reach the base of Alamere Falls.
Note that if you are taking the Palomarin Trailhead, parking is limited, and also, the final stretch of the access road to the trailhead is moderately challenging.
For this trail route, ensure to time your hike for low tide, as you will have to walk along the beach before being rewarded with spectacular views of Alamere Falls flowing directly into the Pacific Ocean.
Hiking to Wildcat Campground – Hiking to Wildcat Campground is the best and safest way to reach Alamere Falls. You can walk south along Wildcat Beach to the falls at low tide from here.
There are a few picnic tables at Wildcat Campground. You can stop by for a quick picnic on the way or rest here for some time.
If you want to start your trek early to gain time, avoid crowds, and enjoy the views, staying at the campground will allow you to reach Alamere Falls earlier in the day.
If you plan the Alamere Falls hike in the winter and the spring, check the tide conditions before starting. Note that permits are required to camp at Wildcat Campground, which you can make here.
Recommended – 25 Fantastic Things To Do In Bodega Bay In California
The water levels of the falls can vary depending on when you plan to visit.
No matter what route you choose, the length of the trail and the last mile are where you will have to hike on a rocky and sandy stretch.
Since the Alamere Falls hike is very popular, it is best to start early in the morning to secure space in the parking lot and avoid the following hot weather. Bring enough water and snacks as there are amenities.
TOMALES POINT TRAIL
Distance – 10 miles out and back
Elevation – 1,177
Difficulty – Moderate
Among the many trails, the Tomales Point Trails is one of the most popular hikes in Point Reyes National Seashore. Tomales Point area is also a hotspot for horseback riding and trail running.
Tomales Point Trail is packed with splendid views that will lead you to a coastal bluff leading to Tomales Point, one of the most beautiful spots in Point Reyes.
It is one of the best hikes in northern California where you will be rewarded with spectacular coastal views.
Tomales Point Trail is about 10 miles round trip and is a popular hike among locals and tourists.
Although the entire Tomales Point hike is a 10-mile round trip hike, you could hike as far as you want, make picnic stops in between and turn back.
Whether you will hike to the end or some distance, the journey throughout is fabulous, offering you miles of unobstructed, gorgeous views of the Pacific Ocean, Tomales Bay and Bodega Bay.
Also, enjoy the glimpses of beautiful sandy beaches below and pretty wildflowers, including purple iris, poppies, and goldfields on the flower fields in spring and summer.
If you are in the afternoon, time your hike to witness the fantastic sunset views against the Pacific Ocean. You may also see rare local habitats like birds and whales on your walk.
Since this area of Point Reyes is home to a Tule Elk reserve, watch out for the majestic tule elks grazing on the grasslands.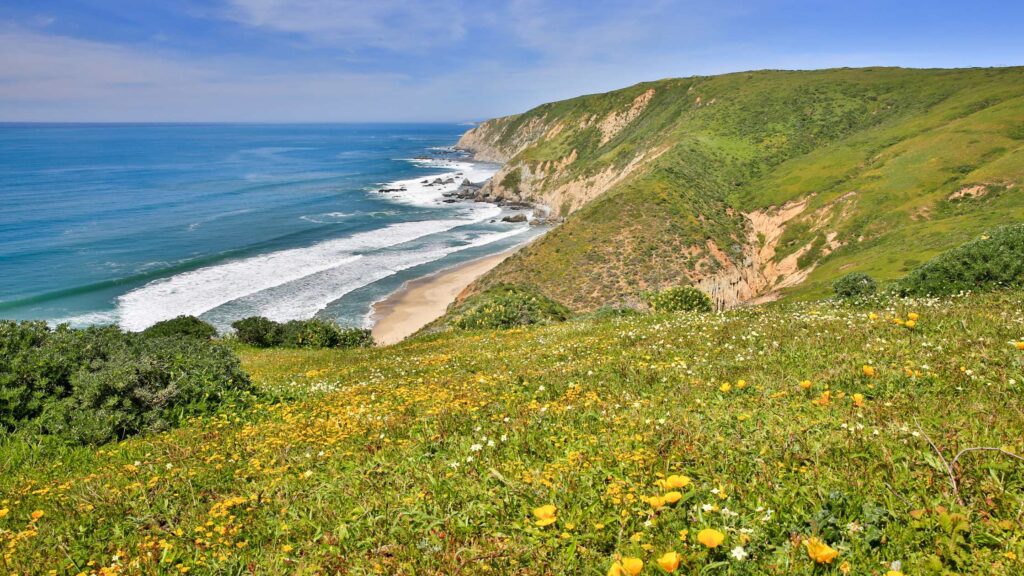 The Tomales Point trailhead is located at the historic Pierce Point Ranch.
The trail begins next to the gorgeous coast for about 3 miles. Since the cliff's edges can be fragile and crumble, staying away from the edges while hiking is best.
The parking lot at Pierce Point Ranch gets filled up quickly during the weekends and holidays.
So I recommend you arrive early in the morning for parking and get ahead of the crowds on the trail.
Ensure enough water, snacks, and other items as no amenities exist. Since you will be hiking out in the open sun, use sunscreen and a cap.
It is best to wear good hiking trousers as you will pass through plants and other vegetation on the parts of the trail that are not maintained.
Recommended: The Best Big Sur Road Trip Itinerary You Need To Check
RUBICON TRAIL, LAKE TAHOE
Distance: 9 miles
Difficulty level: Moderate
Duration: 3 to 8 hours
Type: Out and back
Lake Tahoe, considered one of the most beautiful lakes in California, is one of the best places to visit in northern California for families and outdoor adventures.
Lake Tahoe, the largest alpine lake in North America, located high in the basin of the Sierra Nevada Mountains, is a year-round destination, and home to some of the best hikes in northern California.
Spring and summer attract thousands of families, couples, and solo travelers seeking a weekend amidst stunning landscapes.
If you visit the lake area during summer, check out the high-altitude beaches for sunbathing. There are many trails on the south side of the lake.
Beginner hikers can try the 2-mile Eagle Falls & Eagle Lake Trail or the 1.4-mile Cascade Falls Trail.
If you are an experienced hiker, I recommend the Rubicon trail, which takes about 5 to 6 hours. This well-marked trail offers spectacular views of the lake and the lush forests surrounded by the mountains far away.
You can also try the 10-mile Mount Rose Trail for stunning views of Emerald Bay in Lake Tahoe.
LAKE ALMANOR TRAIL, LAKE ALMANOR
Difficulty: Easy
Distance: 19.6 miles
Nestled in the beautiful Sierra Nevada mountain range in Plumas County, Lake Almanor is a hidden gem and a top spot for Northern California day trips.
Lake Almanor has become a popular destination for Norcal day trips with its clear waters and 28 square miles of stunning coastal line filled with endless recreational activities.
The main draw of Lake Almanor is its excellent fishing opportunities. The Lake has several fish species, including bass, trout, rainbow and catfish.
One of the best hikes in northern California that lets you experience the best of the lake is the Lake Almanor Recreational Trail, a multi-use, paved trail along the southern shore of Lake Almanor.
This trail can be accessed from many points and is popular among hikers, bikers, and joggers.
You will be treated to fantastic views of Mount Lassen, Dyer Mountain, and the lake surrounded with meadows, and cedar forests.
If you are an angler, you can cast your line from the shore or rent a boat and explore the bay's many coves.
Lake's calm waters make it ideal for swimming, water skiing, and paddle boarding. Launch your Kayak or boat from any boat launches available around the Lake and explore this beautiful Californian hidden gem.
SKYLINE-TO-THE-SEA TRAIL, BIG BASIN REDWOODS STATE PARK
Distance – 30 miles
Duration – 2 to 3 days
Difficulty – Easy-moderate
Type – Point to Point
If you are looking for the best hikes in the Santa Cruz area that are longer, then the skyline-to-the-sea trail in Big Basin Redwoods State Park is the one for you.
Although you can complete this trek in a day, it would be hectic and tiring unless you are a frequent and experienced hiker.
One of the best hikes in northern California, this is a popular route for hikers, campers, and mountain bikers as it offers some of the most beautiful views of the Santa Cruz Mountains and the Pacific Ocean.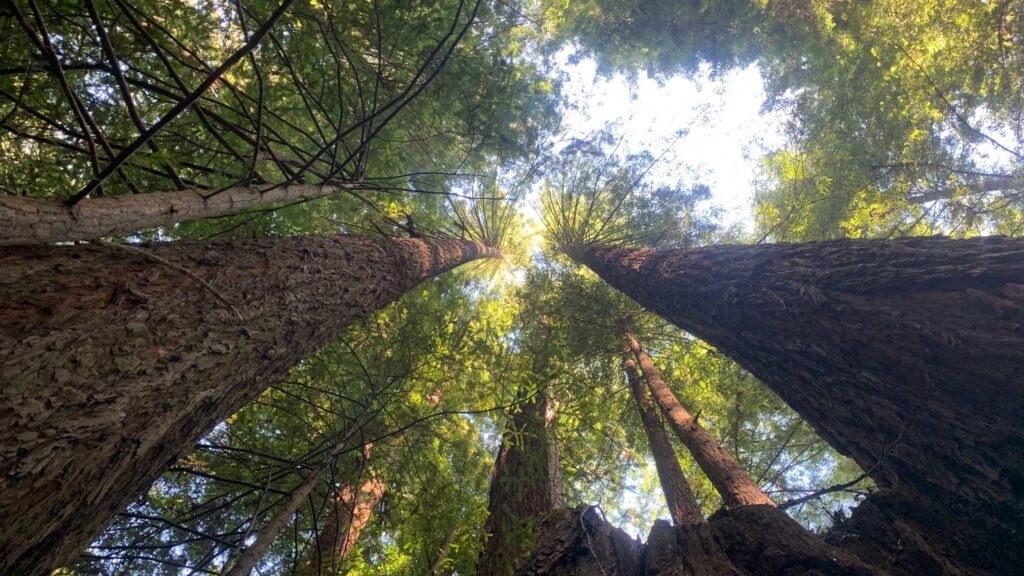 The Skyline-to-the-Sea Trail starts at the ridge of the Castle Rock State Park and ends at Waddell Beach, on the shores of the Pacific Ocean.
Unlike the other trails, the skyline-to-the-sea hike does not go too deep into the forests.
You will be closer to the road but pass through some stunning landscapes on your hike, including the redwood and oak forests, meadows with coastal scrubs, mushrooms, Berry Creek Waterfall, creek crossings, and ponds, and finally, the gorgeous views of the Pacific Ocean.
It is best to spread the hike along this well-marked and maintained trail over two days with overnight camping for the best experience and splendid views on a weekend trip.
If you do not want to do the entire stretch, you can also do the shorter versions of this hike, thus making the skyline-to-the-sea trail ideal for people of all fitness levels.
You will want to arrange a ride or park a vehicle at both trailheads if in a group of two or more.
If camping overnight, you must book your spot at campsites months before, including securing the necessary permits.
Also, check before embarking on this hike for road and trail closures due to rains and forest fires, frequent during the summer months.
LASSEN PEAK TRAIL, LASSEN VOLCANIC NATIONAL PARK
Distance: 5 miles
Difficulty level: Difficult
Approx. time: 3-5 hours
Type: Out and back
Lassen Peak is the heart of Lassen Volcanic National Park and is the largest lava dome on Earth. It's the second tallest peak in the Cascades Range at 10,457 feet above sea level.
If you dare stand atop an active volcano, you will be rewarded with spectacular views of Lassen Volcanic National Park, many mountain lakes, and Mount Shasta following a short but strenuous trail.
Lassen Peak is one of the best weekend trips from San Francisco since it is only a 4-hour drive.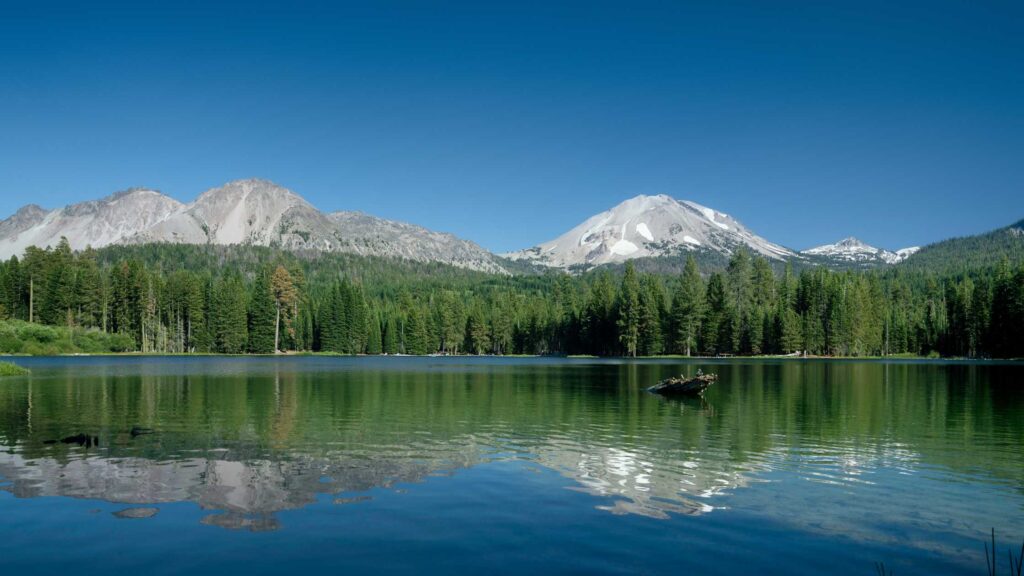 Although the trail is 2.5 miles, a steep gain and loose falling rocks with no shade make it a moderate to difficult level challenging.
Bring sunglasses, a hat, and lots of water and snacks. The last part of the stretch involves a slight scramble, so it is best to wear good hiking shoes.
You'll see steaming fumaroles, and smell the hydrogen sulfide, thanks to the volcanic activity bubbling beneath the surface.
WHAT TO PACK FOR NORTHERN CALIFORNIA HIKES
For a hassle-free experience of hiking in southern California, it's important to pack properly.
Depending on the time of year and type of trail you choose – whether you are heading to the beaches or waterfalls or deserts, modify below items accordingly.
If you're visiting in the winter, rain is very common, and so is fog during the California mist season. Here's a list of things you will need.
GENERAL ITEMS
CLOTHING
The temperatures can be foggy during the day and they drop at night as the breeze increases.
As with camping anywhere, you need to be prepared for the unpredictability by going with many layers. Here's what you need:
CAMPING ESSENTIALS
Here are some of the camping essentials you will need:
Camping essentials for preparing food:
The best one I'd recommend is this Outdoor Master Cook Portable Folding Camp Kitchen along with this Light Weight Cook Ware and Backpacking Gas Stove Burner.
OTHER ESSENTIALS
Even if you aren't into photography, you may want to bring a camera with a good lens.
I own a Panasonic LUMIX DC-ZS70S that I carry while camping since I prefer lightweight gear instead of my Nikon D850 which I use regularly.
MAP OF THE BEST HIKES IN NORTHERN CALIFORNIA