It's time to throw caution to the wind and plunge as you explore the best spots for Bungee Jumping in Texas.
This Lone Star State isn't just big hats and BBQ; it's a playground for those who yearn for the extraordinary.
Imagine standing on the edge, wind tousling your hair, and a rush of exhilaration building up as you prepare for the ultimate leap of faith.
Bridges become launching pads, and free-falling becomes your new favourite pastime in Texas.
From the tallest bridges to urban landscapes that will leave you breathless, in this post, you will uncover the most jaw-dropping, hair-raising bungee experiences this state has to offer.
Take the leap, conquer the heights, and make memories that will fuel your stories for years. After all, life is meant for living on the edge!
TIPS TO FOLLOW BEFORE BUNGEE JUMPING IN TEXAS
1) Safety First: Pay close attention during the safety briefing and follow the instructions of the experienced jump masters as they ensure your jump is a blast and a safe one.
2) Check the Weather: While bungee jumping is an all-weather activity, checking the weather forecast in Texas ahead of your trip is recommended.
3) Clothing: Wear a comfortable dress that allows for free movement. Opt for closed-toe shoes with secure laces, and avoid wearing jewellery that might get tangled.
4) Stay Hydrated: Bungee Jumping can be an energy-draining activity as much as adrenaline-pumping. So make sure to keep yourself hydrated before and after the jump.
5) Capture the Moment: Many Bungee jumping spots offer video or photo packages. Book one of them to relive the heart-pounding moment again and again.
If you are looking for some of the other famous vacation spots in the US for solo travel or with family, check out these posts:
If you want rental cars in Texas to roam around, check out Discover Cars, one of my favourites due to their pricing and multiple car options. Book here.
Alternatively, you can also check out Rental Cars.
First things first! I recommend you get travel insurance ALWAYS whenever you are on international or domestic travel!
Check out this insurance by Safety Wing, which offers a pretty good cover for you and your family!
They even provide monthly insurance, much required for slow travelers like us! Book here!
BEST LOCATIONS FOR BUNGEE JUMPING IN TEXAS
AIR BOINGO TOWER
Prepare for an adrenaline-packed escapade at Air Boingo Tower, a renowned location for Bungee Jumping in Texas.
Located at Zero Gravity Theme Park, right in the heart of the bustling Metroplex, the Air Boingo Tower isn't just any bungee jumping spot – it's the epitome of safety and excitement.
I am sometimes scared of heights. But looking at this tower's top-notch triple safety system, I gathered all my courage and jumped off the 7-storey platform.
The high-quality nylon safety straps and bungee cords guarantee a controlled and secure descent.
Get ready to pull your ripcord and fall from an astounding 70-foot drop that will test your mettle and reward you with awe-inspiring city vistas.
And don't worry about the landing – they have strategically placed a stuntman airbag below, ensuring you touch down softly after your daring feat.
But wait, the fun doesn't stop there! Zero Gravity Thrill Park has so much more to offer.
While the park's other thrilling rides are currently closed, the Air Boingo Tower is your ticket to an unforgettable adventure.
Do you know what is even better? You don't have to break the bank for this adrenaline rush – it's only $30 per jump!
If you have spare time, stroll along the gorgeous Mandalay Canal Walk at Las Colinas.
Visit nearby places like Bird's Fort Trail Park, Farmers Branch Historical Park or The Mustangs of Las Colinas Sculptures and Museum and Visitors Center.
GRAVITY ADVENTURE PARK
If you are an adventure junkie yearning for heart-pounding Bungee Jumping in Texas, visit Gravity Adventure Park on South Padre Island.
Established in 1993 across Louie's Backyard, this park has been providing the ultimate adrenaline fix.
Gravity Adventure Park features The Rocket, the World's Tallest Reverse Bungee structure.
The Rocket resembles a futuristic hexagonal cage which launches brave souls 150 feet into the air using four sturdy bungee cords.
Defy gravity on The Rocket and keep your eyes open to take in spectacular views of South Padre Island from the top.
Gravity Adventure Park isn't just for the fearless; it is where even beginners can taste the thrill.
For the younger adventurers, there's Bungee Chico World's Smallest Bungee, a 35-foot descent that will leave them grinning from ear to ear.
Among the park's gems is the Skycoaster – a 110-foot-high experience that lets you soar at 60 miles per hour, getting as close as you can to the sensation of bungee jumping.
Also, check out the 60-foot Ferris wheel or the Trampoline to bounce around.
When fully charged with adrenaline, don't forget to fuel yourself with the best spicy Mexican cuisine from the quaint shops on the site. For more fun, try mini-golfing and karting.
Entry is affordable and is priced between $25 and $60. Please note that the Gravity Adventure Park is closed during the winter season.
BUNGY OVER TEXAS
One of the Best spots for Bungee Jumping in Texas was the Bungy Over Texas.
Yes, you read it right. It "was". This thrilling spot, unfortunately, bid adieu to the scene a few years back, leaving behind only whispers of its exhilarating past.
Back in the day, this bungee haven stirred up quite a sensation in the New Braunfels region.
Locals still recall the stir it caused as the attraction drew crowds like moths to a flame.
People would wait in long queues that could sometimes go beyond 100. Guess what? That number in the queue would double on weekends!
The heart-stopping plunge from a daring height of 55 feet was an all-time attraction. Like a trusty friend, the bungee cord would sweep jumpers back into the sky.
New Braunfels experienced a jolt of energy as this bungee hotspot brought a surge of thrill-seekers to its streets. The buzz was infectious, the atmosphere electrifying.
However, as with any remarkable tale, there were a few bumps along the way. Neighbours raised concerns about the noise levels and the sudden influx of traffic.
While technically within the bounds of the law, the undeniable commotion left some a tad displeased.
Though the exact reasons for its closure remain a mystery, one thing is sure: "Bungy Over Texas" knew how to deliver fun in spades.
While time may have faded its presence, the memory of Bungy Over Texas still reverberates.
Recommended: 15 Most Romantic Getaways in Texas You Should Check Out
BEST PLACES FOR BUNGEE JUMPING NEAR TEXAS
RIO GRANDE BRIDGE
Hold onto your hats because a pitstop to Santa Fe could lead you to an adrenaline-pumping revelation – the legendary Rio Grande Bridge, one of the highest Bungee Jumping spots in the US.
Sharing its border with New Mexico and Texas, Rio Grande Bridge, also known as Gorge Bridge by the locals, has become one of the must-visit spots for Bungee Jumping in Texas.
For over a quarter of a century, the Bungee Expedition company has been perfecting the art of turning free-fall dreams into reality.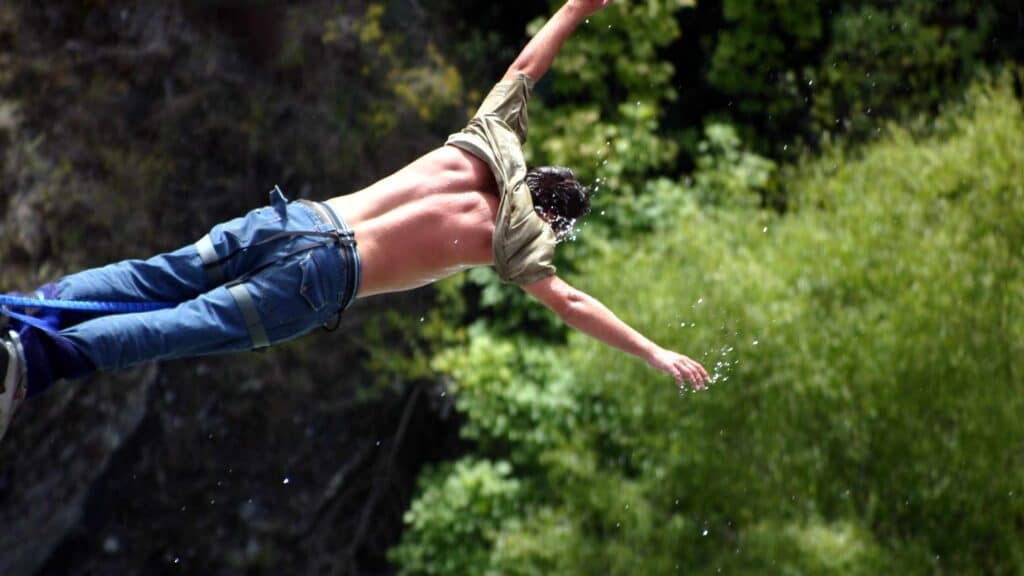 Elevating your experience a whopping 565 feet above the river, the Rio Grande Bridge stands tall as a testament to human ingenuity and natural wonder.
Dive into the abyss, surrounded by spectacular landscapes that beg to be captured in photos and etched into memories forever.
SKY JUMP
Fancy a sky-high adventure-packed Bungee Jumping in Texas but not finding the right time on your trip to Vegas?
Don't worry; Vegas is not all about the slot machines. It is also home to one of the best spots for Bungee Jumping.
Visit Sky Jump, perched atop the iconic STRAT tower at the Stratosphere Hotel and Casino.
This bungee jump promises heart-pounding thrills and some of the most striking views of the city's dazzling lights.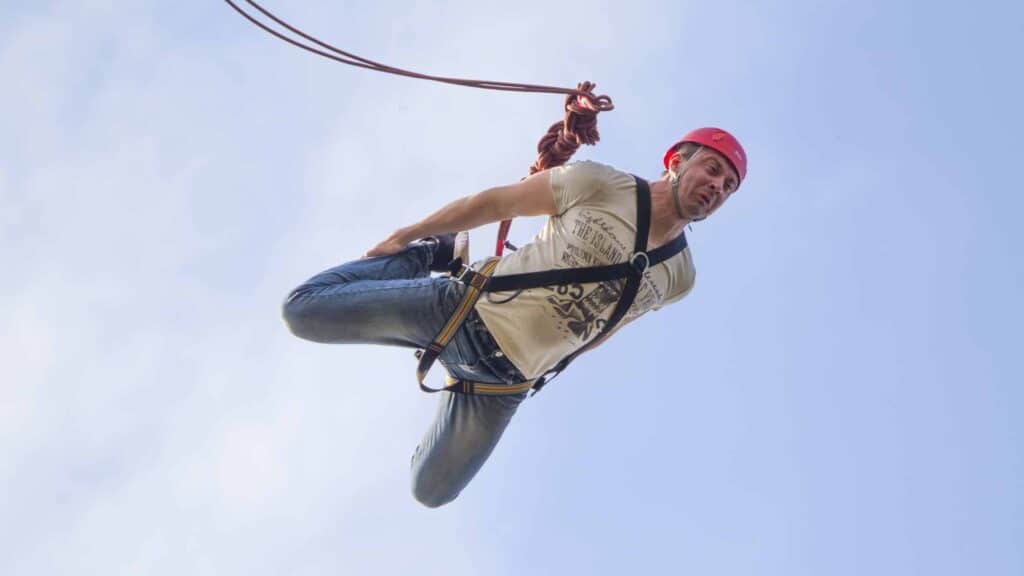 Prepare to elevate your excitement as you stand on an 829-foot platform, ready to take the leap of a lifetime.
The free-fall that follows is a rush like no other, propelling you towards the landing pad at an exciting speed of approximately 40 miles per hour.
Whether you are a night owl or a daytime enthusiast, the SkyJump has got you covered. STRAT will be open until 11:30 PM on Sundays.
So, Book your ticket here for an exciting weekend in Vegas.
THE BRIDGE TO NOWHERE
Suppose you are in California, looking to experience the best spots for Bungee Jumping like the ones in Texas; check out the Bridge to Nowhere.
This thrilling escapade is orchestrated by one of the oldest bungee pioneers in the USA, Bungee America.
This is your golden ticket for those seeking an adrenaline rush and a heart-pounding adventure in California.
Bridge to Nowhere is a 10-storey high bridge that beckons bungee enthusiasts and thrill-seekers with an invitation for a free fall.
You might be surprised to know that the adventure doesn't begin at the bridge's edge.
It starts with a five-mile hike through the mesmerizing Angeles National Forest, tracing the path along the river.
Don't worry; the hike isn't too demanding. It might take around two hours both ways.
Consider it as an opportunity to connect with nature and take your time on the way to prepare yourself for the impending adventure.
You will be given a safety course before the plunge. If you aren't doing Bungee Jumping, watch fellow thrill seekers take a fall or dip in the nearby river for a refreshing swim.
BUNGEE IN CANCUN
On your trip to Mexico, if you are missing the fun of Bungee Jumping in Texas, head to Cancun.
Be prepared to perch atop an 82-foot tower to dive headfirst into the unknown and defy gravity.
It's not just a leap but an upside-down, heart-racing rendezvous with Mexico that will leave your senses tingling.
What sets this bungee jump apart is its exclusivity – it's the only one of its kind in the area.
The adventure is all yours, and you even have the flexibility to reschedule your jump at no extra cost anytime you desire.
Come rain or shine, this experience is up for grabs, operating in all conditions except for the most intense storms or downpours.
BUNGEE JUMPING IN TEXAS MAP