Got to know about things to do in Luang Prabang? Well, you are in the right place. I spent about 2 weeks in this gorgeous little town, and I have put a detailed list of all that you need to know about Luang Prabang. Luang Prabang was my first stop in the laid-back country of Laos, as arrived after my almost a month-long trip in Vietnam. If you are wondering what to do in Luang Prabang, you will find everything, including all the unusual, fun and free things to do in Luang Prabang.
Laos is a unique country, which has been quietly welcoming tourists for decades now. A little bit about the city before moving on to its attractions. Luang Prabang has its French colonial past even to this day, with the streets adorned with traditional French style buildings. The entire city of Luang Prabang itself is listed among the UNESCO heritage sites owing to its unique Buddhist temples, homes and landscape since 1995.
Why you should visit Luang Prabang?
Excellent weather, awesome food, affordable accommodation and beautiful attractions make Luang Prabang the most visited city of Laos. Whether you have just one to two days or wish to spend weeks in this serene town, you have plenty of things to do in Luang Prabang.
Top Things To Do in Luang Prabang
So first let's dive into the top Luang Prabang things to do!
Climb Mount Phousi for a Birdview of Luang Prabang
Located right in the heart of the city, Mount Phousi is the favorite among the tourists and the locals for its stunning views of the city, sunset and sunrise.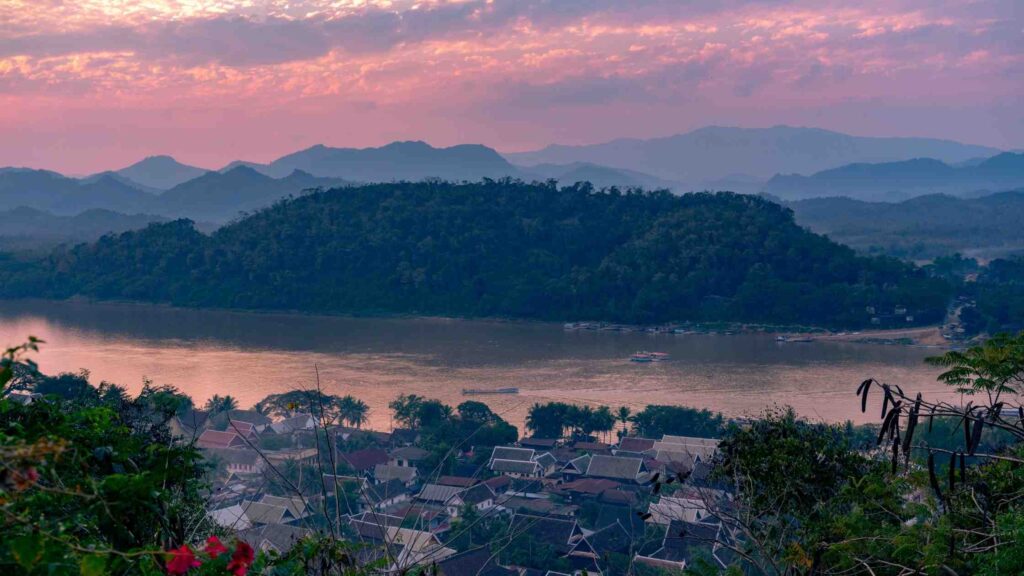 A small climb of about 300 steps leads you to the top, where there are a temple and viewpoints. You can get a 360-degree view of the picturesque town from there.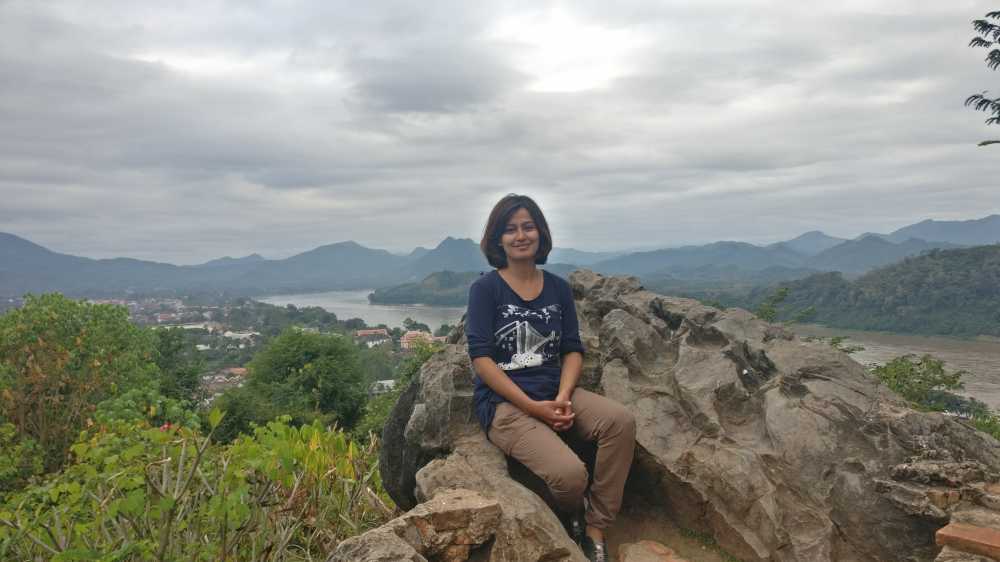 Explore the Buddhist Temples
Luang Prabang is home to some of the most beautiful Buddhist temples in Laos. There are more than 30 temples, and a few in the old town are quite popular.
Wat Xieng Thong
The most well known and the elegant temple is Wat Xieng Thong, which is also a part of the UNESCO sites in Luang Prabang. Built in 1560, it is one of the oldest and prominent temples in Luang Prabang.
With a marvellous architecture comprising of murals, wooden carvings and many Buddhist idols, this temple was an important place for the royal family, to pray and worship. Even today, prominent festivals are held in this temple. Wat Xieng Thong entry fee: 5, 000 Kip
Wat Mai
Located beside the Royal Palace, Wat Mai is another temple known for its architecture, paintings and wall designs.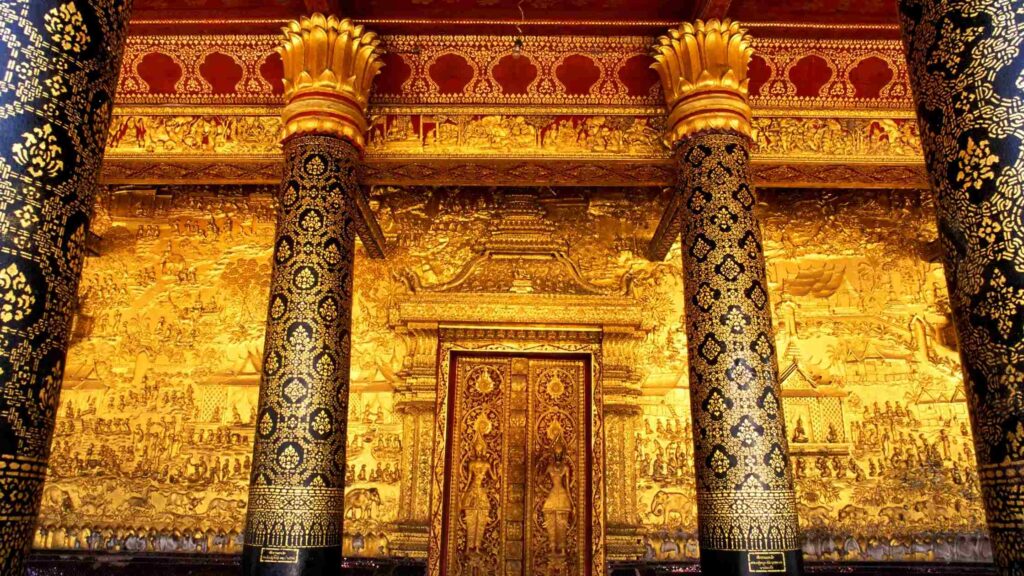 It was the place where Pra Bhang, meaning the Golden Buddha after which the city acquired its name was present. Although the statue is now relocated, it is occasionally brought to Wat Mai during the traditional New Year or festivities.
Walk along the Bamboo Bridge
If you are not traveling in Laos during the monsoons, you can find a long Bamboo bridge built across the Nam river to connect two sides of the city, with the other side connecting you to the centre, which is the footpath from Kingkitsarath Road across the river.
The locals build it every year for their commute, and as a tourist, you can enjoy the beautiful views of the town and the mountains walking across the bridge. You can also explore the other side by crossing over.
Check out the Majestic Royal Palace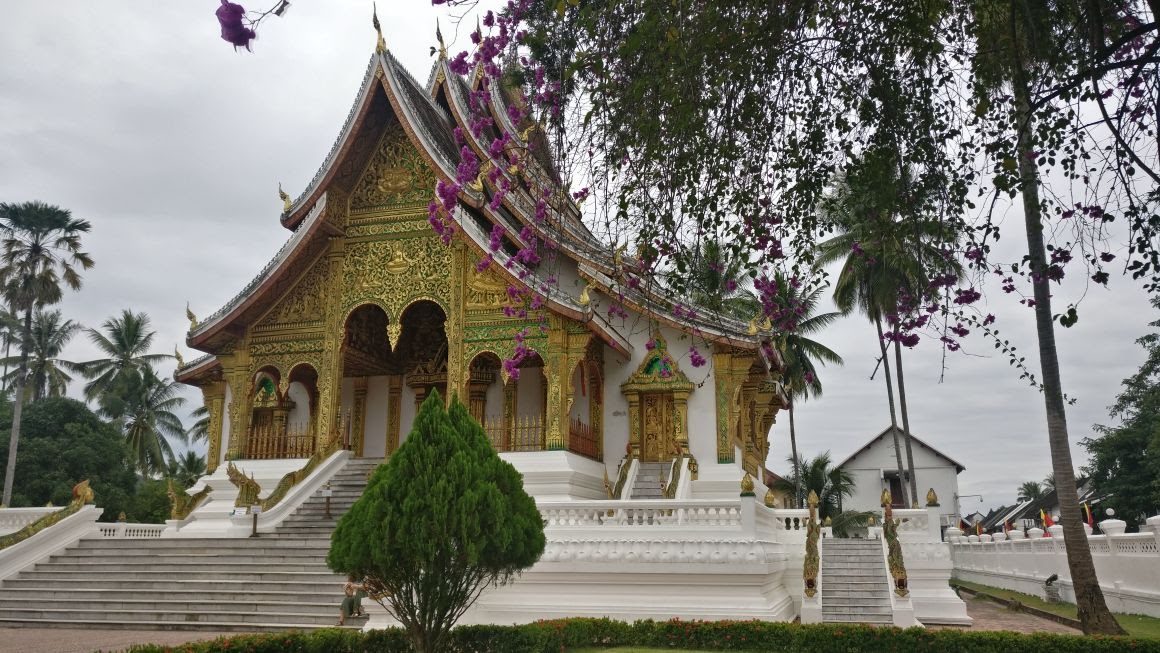 The Royal Palace located opposite Mount Phousi is the most remarkable of all the monuments in Luang Prabang. The complex comprises of a fabulous temple and a beautiful garden in the front.
The residence is currently known as Royal Palace Museum and official buildings.
Witness Tak Bat Ritual
Tak Bat is a unique ritual carried out by the Buddhist monks in Laos, where every morning just before the sunrise, they walk on the roads near temples seeking alms from people. People offer flowers, food or anything to be used by the monks.
It is popular among tourists who gather on the streets to watch this ritual and capture the moments. If you want to witness this too, then make sure to rise early, around 5 AM and arrive at any of the temples.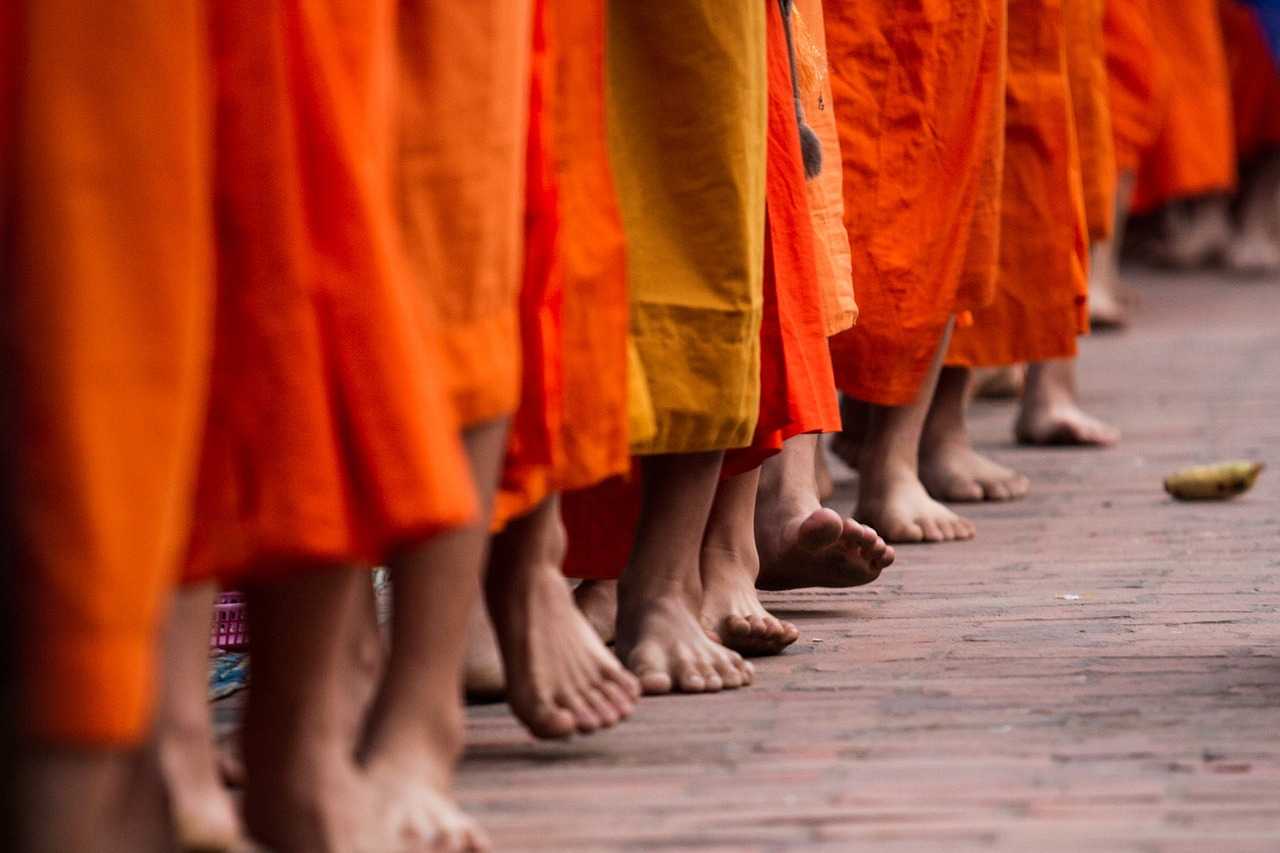 Since this is a sacred event for the locals and the monks, wear decent clothes, avoiding shorts or skimpy attire. Also, make sure you are not causing discomfort to the monks or people and please avoid shoving cameras in their faces! (It may surprise you, but I heard many of the locals expressing their annoyance regarding the tourists during Tak Bat)
Visit the Museums
Getting to know a place is more interesting through museums. Luang Prabang has the Royal Museum located in the premises of Royal Palace Quarters, which walks us through the town's history, culture and the country's past along with shedding light on the royalty.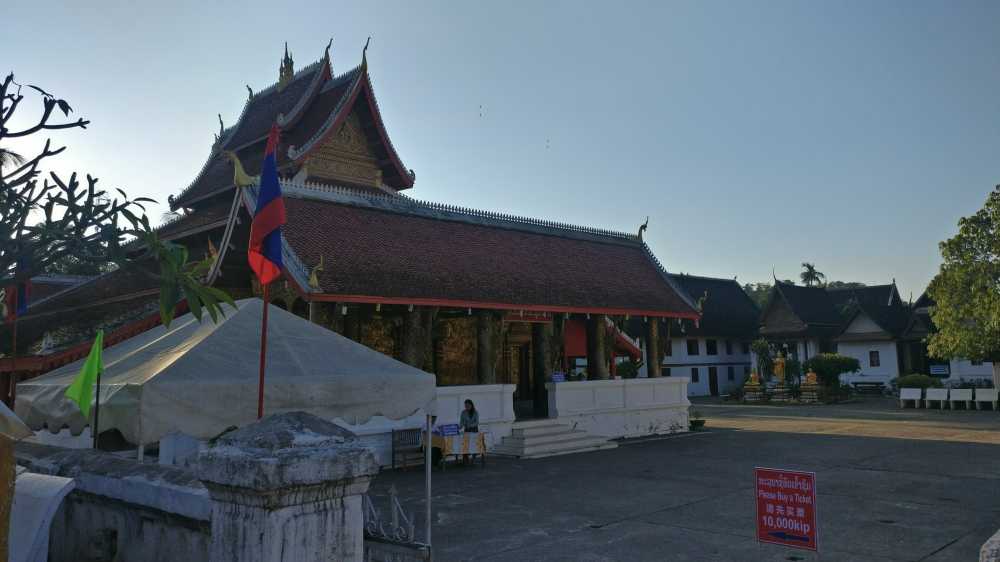 A former residence to the royalty of Laos, today it is a treasure house of history.
Royal Museum timings: 8 AM to 11:30 AM and 1:30 PM to 4 PM. Closed on Tuesdays.
Visit Traditional Arts & Ethnology Centre
Traditional Arts & Ethnology Centre, which is located in the town is the place to visit to check out the rich culture of Laos, where artefacts, clothing and unique things that constituted an important part of the local's lives have been displayed.
Traditional Arts & Ethnology Centre timings: Tuesday to Sunday from 9 AM to 6 PM
Fun Things to Do In Luang Prabang Laos
Here are some of the fun things to enjoy in Luang Prabang to get to know the city up close.
Shop to your Heart's Content at The Night Market
One of the things that I loved the most about Luang Prabang was the vibrant night market. As the sun sets, the shopkeepers start setting up shops on the road, and in no time, the main street bustles with shops selling arts, paintings, souvenirs, local whiskey, traditional clothes, food and more.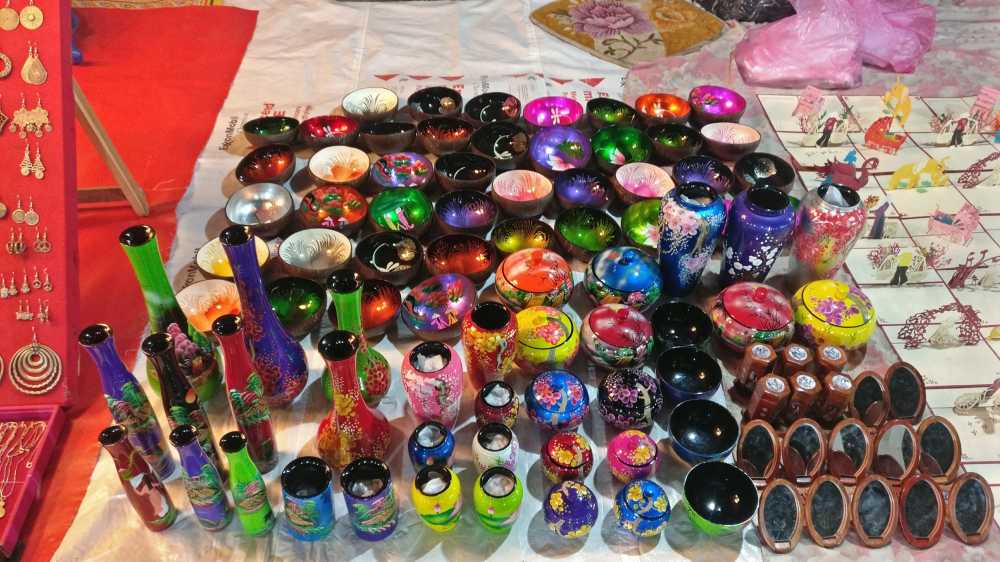 I just love exploring the markets in SE Asia, and this one is wonderful too. Plus, it's one of the free things to do in Luang Prabang unless you shop!
Savour The Local Delicacy at the Food Street
There is a small lane adjacent to the local market, which is the mecca of local food in Luang Prabang. Savouring the local cuisine is one of the top things to do in Luang Prabang, and this is THE place to head to try them.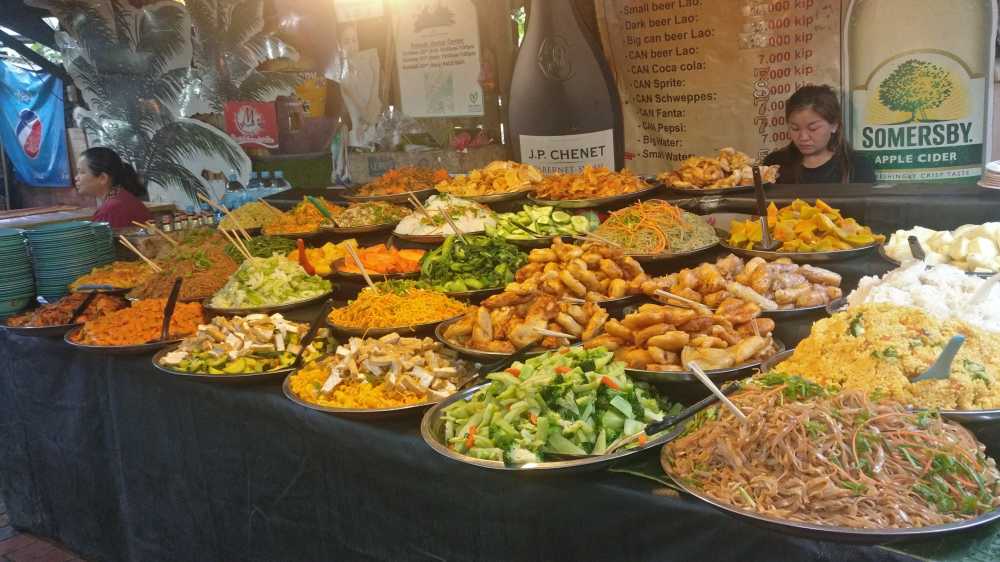 There are buffets, where you can buy unlimited food(one serving) for a very cheap price. If this is too much, you can try the BBQ. Or you can get your own noodle soup in a pot which is prepared based on the ingredients that you can choose.
Recommended for you: 25 Gorgeous Things to do in Vang Vieng, A Beautiful Town In Laos
And if you have a sweet tooth, check out homemade cakes, pastries and smoothies in all flavours, colours, size and price! Whatever it is, don't forget to visit this lane while in Luang Prabang.
Taste Lao's national beer – Beer Lao
Your trip to Laos is incomplete if you don't try Beer Lao. Tasting the national drink of Laos is one of the must things to do in Luang Prabang. The best way to enjoy one is to combine it with the delicious BBQ found on the food street.
If Chang Beer is for Thailand,  Angkor beer is for Cambodia, Myanmar beer is for Burma, then Beer Lao is for Laos! Thanks to the incredibly low Beer costs in Laos, you might want to keep a count of your drinks as it is easy to lose yourself.
Try the Awesome Fruit Smoothies
One thing that you can't miss in Laos is the awesome smoothies sold in small shops across the streets. In Luang Prabang, I really loved these smoothies which I found to better than the ones that in Vietnam or Thailand. Fresh fruits with milk, sweetener (If you don't mind the calories) and ice is the perfect way to beat the exhaustion from walking around in the hot sun!
Taste the unique Lao Coffee
The coffee in Laos is awesome just like the ones you get in neighbouring Vietnam. So all the coffee lovers can treat themselves to the various types of coffee – from the natural hot one to ice cold ones to egg coffee. This is your place to try all the unique coffee specialities!
Get a Hammock by the riverside for a lazy day
Given the vast area on the banks of the river in Luang Prabang, you can find places to relax in hammocks where you can spend days doing nothing amidst gorgeous landscapes. Utopia is one of the most popular cafes among the tourists to do just this. So head there for a relaxing day if you have plenty of time
Learn about Lao's dark history at UXO Luang Prabang Centre
Not many know about the dark past of Laos, where wars ravaged most parts of the country during the 1960s and 1970s. About 250 million active UXO were placed all over the country, which killed millions, making Laos the most bombed country in the world. The dangerous part is that decades later, plenty of these are still active, hidden amidst the forests surrounding villages and in many remote places.
There is an organisation that's been exclusively working on identifying and deactivating them, but there is still a lot of work to be done. UXO Centre is one of the must places to visit in Luang Prabang to get to know the history of the war and the destructive effects of aftermaths. It is located behind the monument of Anouvong, and will take an hour or so to explore.
Opening hours: 8 AM to 12 PM' & 1 PM to 4 PM; Entry fees: Free
More Awesome Things to do in Luang Prabang
Pamper yourself with Lao Massage
If you thought it is only recommended to get a massage in Thailand, it is not true. Thailand may be popular, but Laos Massage is equally relaxing, soothes your mind, eases your muscles and relieves any pain. Called oil massage, it focuses on putting systematic pressure on the points in your body.
It can be a bit painful initially if you are new to this type of massage but wait for it, and you will feel the benefits of this therapy. Getting a massage is undoubtedly one of the recommended things to do in Luang Prabang.
There are plenty of places to get a massage in Luang Prabang. Most are around the old town, near the market. Watch out for scams or lake of hygiene, which is prevalent in some massage parlours in Luang Prabang. Check with your hotel or guesthouse for recommendations for Spa in Luang Prabang to get an awesome experience.
One hour massage in Luang Prabang costs around 80,000 kips or a little less. You can also opt for 30-minutes sessions, but I'd recommend you to spend at least an hour to pamper yourself!
Drive to Kuang Si Waterfall Waterfalls
Luang Prabang is home to gorgeous waterfalls and given its lush mountainous landscape, it's no surprise. Exploring the waterfalls is one of the many fun things to do in Luang Prabang. You can explore the many waterfalls if you are a water baby looking to swim and chill.
If there is only one waterfall that you want to visit in Luang Prabang, then it has to be Kuang Si Waterfall. I just loved how lovely the journey to the waterfall itself was, passing through the mountains locked roads. It is amidst a thick canopy of forests, and you'll notice that it is almost always crowded.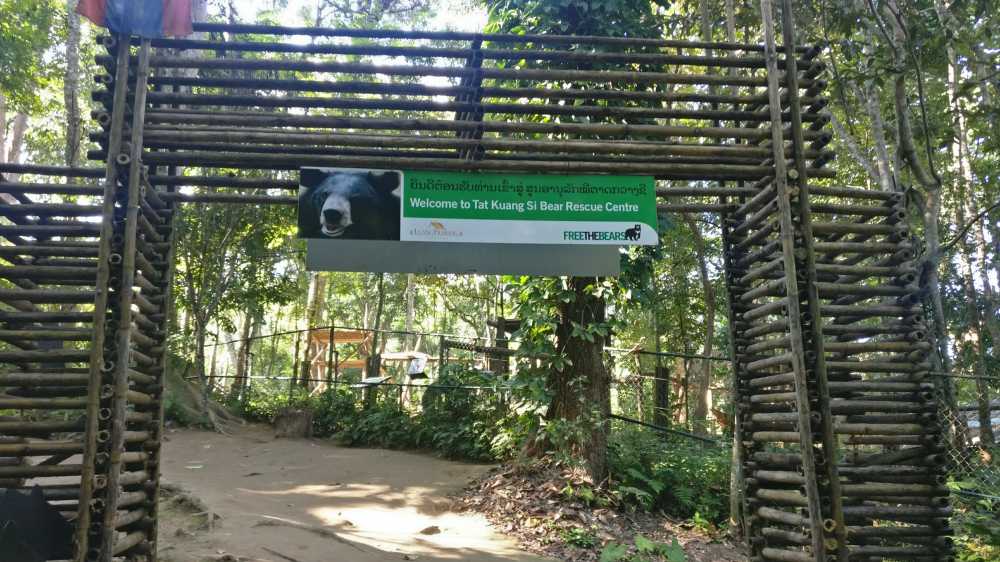 As you pass ahead, you'll see the foot of the waterfalls, a portion of which is available for swimming for tourists. Don't get carried away by the turquoise waterfalls yet, as it's just the beginning! What fascinated me was the final leg of Kuansi Waterfalls, that looked huge and full. It was an awesome view to behold for sure.
You are given about 1 to 2 hours to spend if you go on a guided tour like me. I guess I would have enjoyed more had I opted for a bike trip, like the way I did while backpacking Vietnam though. Anyway, keep aside half a day or more for this wonderful waterfall. Bring your swimwear if you want to dive into the waters along with some sunscreen if you are here during summer.
Kuang Si Water Falls Entry Fees: 20,000 Kep, Timings: 08:30-17:30 every day
How To Reach Kuang Si Waterfalls: Kuang Si Waterfalls is located about 23km from the town and takes approximately 45 minutes away from Luang Prabang town centre. You can opt for a half day tour, a private or a group tour or you could rent a bike to go on your own.
The price for a group tour in vans ranges between 50,000 to 80,000 Kep (I paid 50,000 Kep), whereas a motorbike would cost almost double that depending on how you bargain.
Note that there isn't much difference in prices no matter where you book – but it's best to book your tour once reaching Luang Prabang. Look for other combinational tours as well. Most people also opt for a boat ride to Kuang Si Waterfalls, which is one of the best things to do in Luang Prabang. A slow boat ride in the river takes you through the countryside flanked by dense forests to finally arrive at Kuang Si Waterfalls.
Enjoy a Swim at Tad Sae Waterfall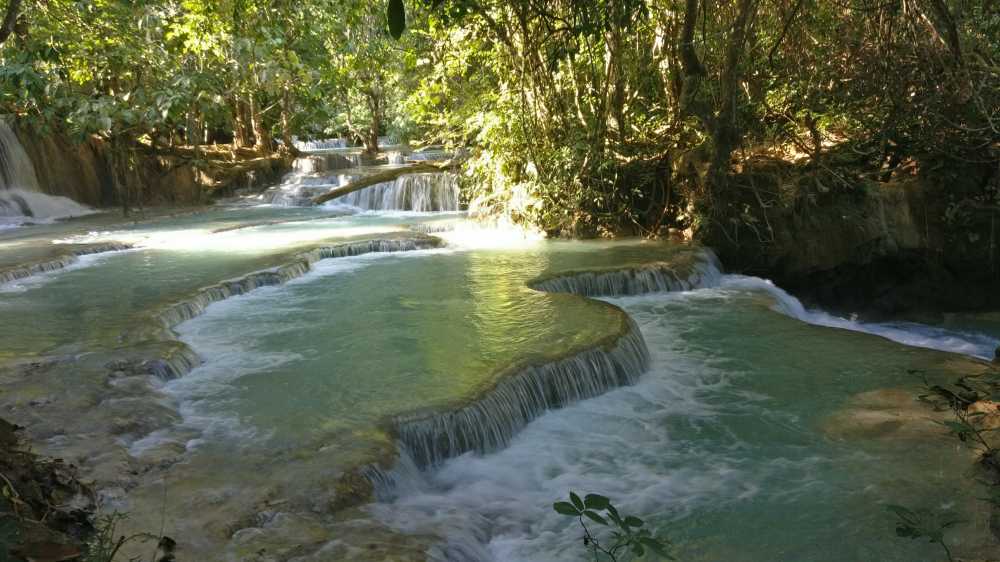 The other waterfall that is recommended is Tad Sae, which is quite popular among the locals specifically. Located 16km from the city centre, it is a popular picnic spot for families and couples as well looking for a swim. Like Kuang Si, Tad Sae is also surrounded by lush green forests and has many turquoise lagoons where you can swim and relax. You can book a group tour in a van or ride a motorbike to go on your own.
Tad Sae Water Falls Entry Fees: 10,000 Kep, Timings: 08:30-17:30 every day
How to reach Tad Sae Waterfall: Being very close to the town centre, you can pretty much rent a motorbike to reach Tad Sae. Unless you are looking to combine this with other attractions, taking a tour isn't worth.
Take a Slow Boat Ride To Witness The Sunset
The Mekong, South East Asia's largest river that flows through multiple countries is an attraction in itself. And one of the best way to experience the beauty of this river is to take the slow boat ride in Laos.
Do you know? There is a Golden Triangle Cruise for 11 days which takes you to the Golden Triangle bordering 3 countries from Luang Prabang. This is an incredible cruise, but not everyone can do/want to do.
So the next best option is to opt for the half-day, full-day or the many boat ride options available in Luang Prabang. Note that the locals use these slow boats as their way of traveling from point A to point B.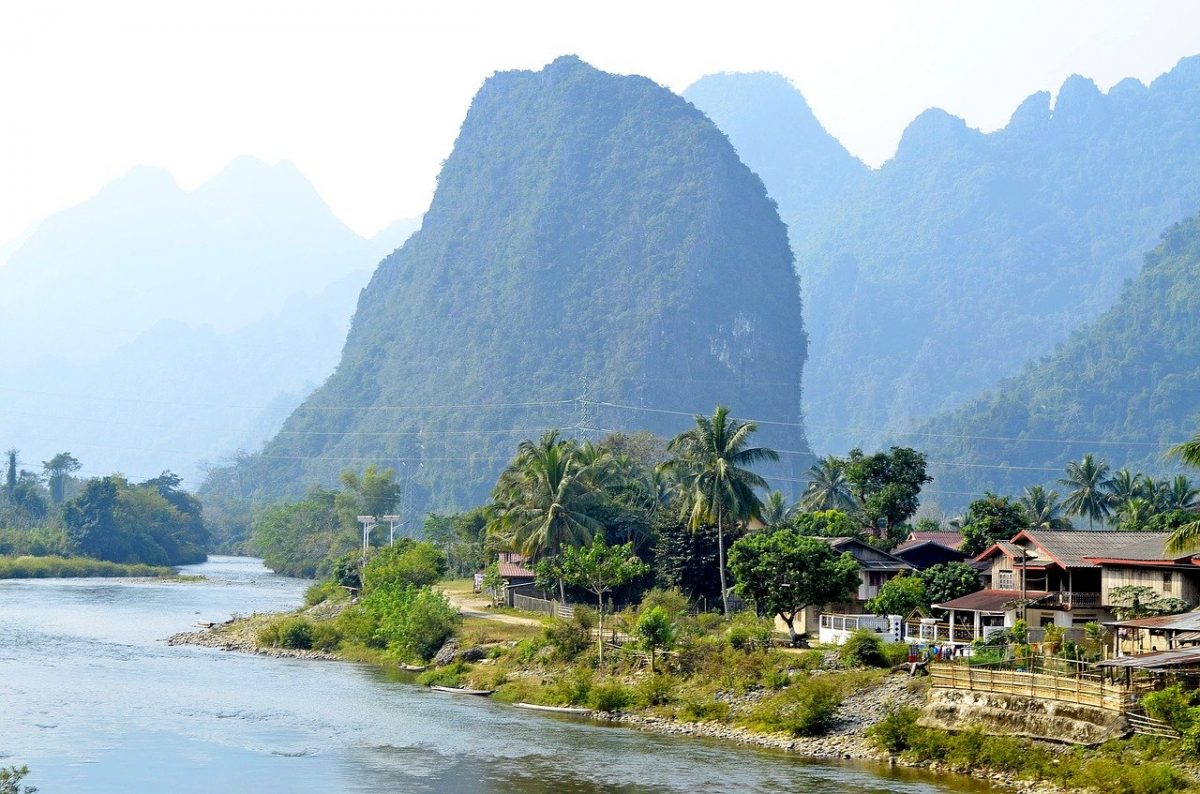 So you can hop on to any of these as well. Whatever the tour is, the bottom line is don't miss going on a boat. Witnessing the sunrise and sunset on a cruise which is nothing luxurious is one of the must things to do in Luang Prabang!
Take a Half-Day Trip To Pak Ou Caves
The caves aren't extraordinary or anything special honestly, but the journey by boat to this cave is what makes it worth in my opinion is the boat ride on the river to the caves. I was surprised that the place has some extremely good reviews but in reality, I didn't find it anything special.
Upon reaching the cave, you'll find a few Buddhist statues today, and earlier, this place is believed to be a spiritual place for monks. The view of the Mekong looks beautiful from the cave, which I felt is the highlight, rather than the cave itself. If you start early, you can combine with this any other tour like the waterfalls or the village visit (read below).
Traditional Tai Lue weaving village of Ban Phanom
Ban Phanom is a small village at a short distance from Luang Prabang known for its traditional weaving centres. If textiles/garments interests you, this village tour provides a close-up opportunity to witness how the weaving works, which is the prime source of livelihood for the locals practising them.
Take a Tour to The Whiskey Village
I did not go on this tour as I could not stand the animal cruelty. but tourists check out the local Whiskeys produced at home in Luang Prabang.
The taste varies and the flavours include snake's and scorpion's specials, which can be seen in the market too. In recent years, there is a ban imposed on this whiskey attraction owing to killing of rare snakes and scorpions. So don't be surprised if they stop this altogether.
Ride a Motorbike
Well, this is not a day trip option per se, but if you enjoy driving, Laos may be a hit with you. Navigating your motorbikes through roads flanked by dense forests, streams and greenery is soothing.
The roads are not in the best conditions, and extra care and caution need to be taken, but the joy of riding amidst spectacular sceneries and no traffic and chaos makes it worth to ride a motorbike. The price is slightly expensive when compared to Vietnam, and you can get a bike for a day for 1,00,000 Kip usually.
Learn How To Cook Lao Style!
Cooking is something that I don't like at all and hence doesn't list on my agenda. However, I am always up to try new cuisines! According to me, eating is always fun than cooking!
On a serious note, all those who love Laon food and want to know how to make on their own, sign up for the cooking classes where locals teach you their best dishes.
Bowl The Late Night Away!
All things have exceptions, and for Luang Prabang, the exception is a nightlife. All the pubs, restaurants and eateries begin closing down at 11 PM and by 11:30, it is mandatory to end the night for everyone. This means that the parties end before they even begin, when in Luang Prabang. But wait, there is an exception to this too.
You can head a little further away from the town to a bowling centre, which remains open late night, making it the hangout spot for people! I only came to know one night when I asked all my roommates who came in really late.
I was curious where they were partying when everything closes, and this is what I got to know! So unlike me, you know where to have fun at night in Luang Prabang.
How To Reach Luang Prabang
Luang Prabang would either be your first our your last destination based on whether you are traveling from the north or the south in Laos. Depending on the destination that you arrive, there are multiple ways to arrive at Luang Prabang.
Flights: Luang Prabang has an international airport, and there are direct flights from most of the major cities in SE Asia to Luang Prabang like Kuala Lumpur, Bangkok, Phon Peh, Chiang Mai and others. Surprisingly, flying is the most expensive option to reach Luang Prabang may be due to the limited flights.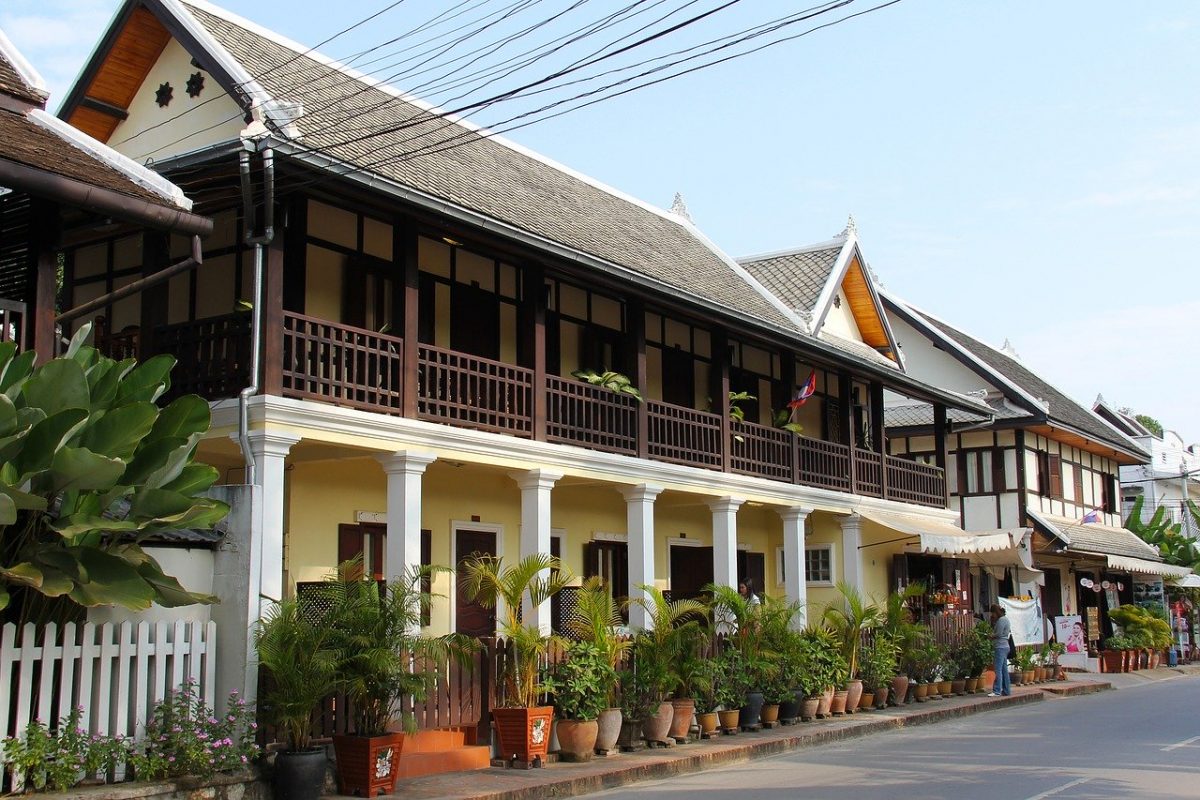 Domestically, you can travel from the capital Vientiane to Luang Prabang by flights. Actually, the nearest and a convenient way to reach Luang Prabang is from anywhere in Thailand. So most backpackers opt for this route.
Buses/Trains: You can reach from cities like Bangkok, Chiang Rai, Chiang Mai to Luang Prabang in many ways. There is no direct bus from Chiang Mai to Luang Prabang. You can take a bus from Huay Xai, which normally takes 12 to 15 hours depending on the bus stops and the conditions. It is not a comfortable option if traveling by public transport in these regions is new to you.
There is only one Air Con bus in the afternoon, while there are two more regular buses every day. Similarly, you can travel from Bangkok to Luang Prabang by bus too, although the journey is at least 18 hours, but the cheapest too! Locally, there are regular buses between other towns in Laos including between Luang Prabang to Van Chieng and Luang Prabang to Vientiane and vice versa.
Boats – Luxury Cruise/Slow Boat/Speed Boat
So, if you are daring for an adventure that involves the reward of getting views of the awesome landscapes along the Mekong, you could opt for a boat ride from cities in Thailand. In the north of Thailand, you have to reach the border town Chiang Khong, and cross the Thailand-Lao friendship bridge to then getting your visa, before hopping on to the boats to Luang Prabang.
There are complete packages to do this option from Chiang Mai that even covers a day tour, provides overnight accommodation along with food in Chiang Khong before getting on board to the boats of your choice. Depending on your budget, time and preference, you can either go for a slow boat which takes plenty of time to reach or a speedboat or a luxury cruise with better amenities.
Where To Stay in Luang Prabang
The best area to stay in Luang Prabang is in and around the old town. Most of the attractions within the town are nearby, and you have plenty of options for shopping and food! There are many kinds of hotels in Luang Prabang – from budget hostels to homestays to traditional guest houses to luxurious hotels sprinkled around the main town area and beyond.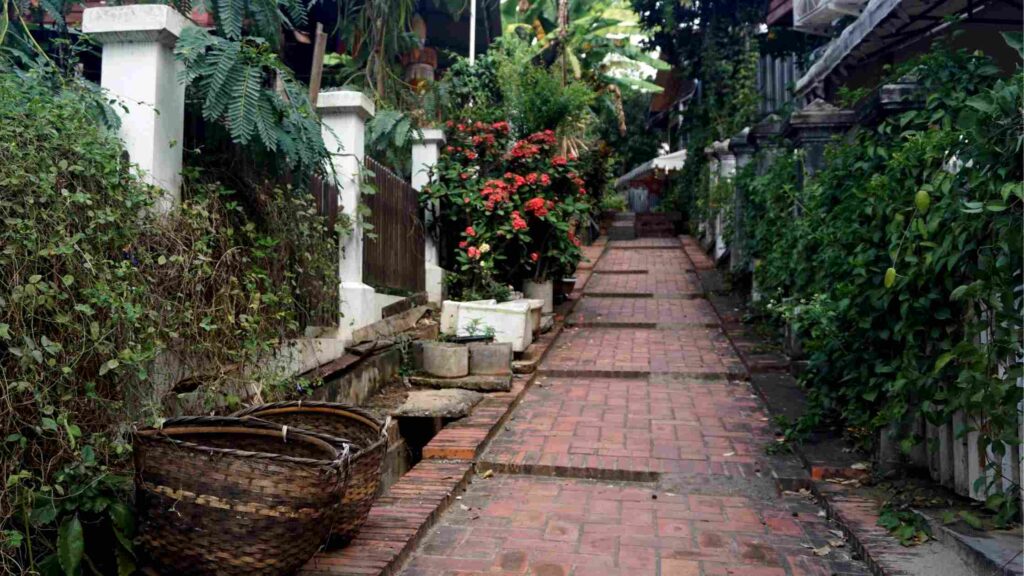 The hotels usually have the map of Luang Prabang, along with the other facilities like booking buses, visa, tours and more.
Here are the various accommodation options in Luang Prabang:
Best Guest Houses – Villa Oasis Chitlatda Central Bila House, Villa Suan Maak Villay , Vanh Place House Mano Guesthouse, Frangipani Guesthouse
Best Medium Budget/Luxury Homes/Hotels – The Grand Luang Prabang Kiridara Luang Prabang Satri House Secret Retreats , Royal Peacock Boutique Hotel, Maison Dalabua, The Apsara river Droite, Thip Villa Mekong Riverside
Best Hostels – Aham's Backpacker's Hostel; Tony Central Hostel; Downtown Backpackers Hostel ; Chill Riverside Hostel & Cafe Y Not Laos Hostel
For more options on hotels, prices and the areas, check out the map below which also gives you the latest prices and availability details.
Map of Things to do In Luang Prabang Laos
That's all that you need to know about all the things to do in Luang Prabang. If you want to know more about one of its neighbour Vietnam, here are some posts to begin with.
Connect with me on Facebook, Twitter, and Instagram for travel stories.
Pin Things to do in Luang Prabang For Later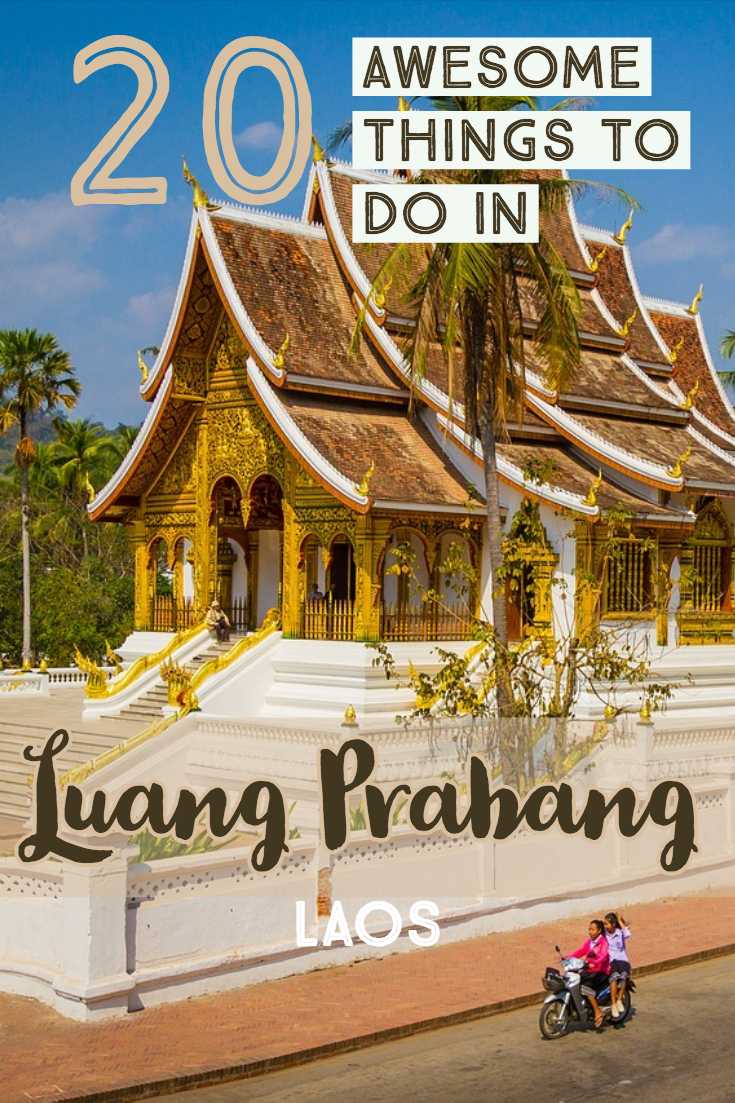 Subscribe to my posts by email for travel inspiration, destination guides, tips & stories. No spam!