Kampot is a sleepy town, relatively free of tourists. Located a few hours away from Phnom Penh, there are plenty of awesome things to do in Kampot. It was once an occupied French colony, and so the essence of French is still seen. If you are wondering what to do in Kampot, it is a place to do nothing.
I mean, it is one of those few places where you can wander, either on the cheap bikes or walk around with a chill beer (an excellent way to beat the heat). But there are plenty of places to visit in Kampot surprisingly, making it one of the best things to do in Cambodia. In this Kampot travel guide, you will find the details about all the things to do in Kampot, a town that I enjoyed.
Things To Do in Kampot
Go on a sunset cruise & FireFly tour in the river
It is one of the best things to do in Kampot, hands down. Some people call it the Kampot beach, but it isn't one. Anyway, it is famous as a river town, which means you have plenty to plan in and around the river.
There are many types of boat tours, like the large party types organized by guesthouses like Naga House and Mad Monkey or serene group tours with dinner or private tours. Based on your preferences, you can book these tours through these places or travel agents. These boat tours cost between 5 to 10 USD with one free beer.
The boat tours take you along the river, where you can witness the Cambodian fleets, fishing settlements and the locals. Around sunset, you are led to the perfect spot and also, depending on the season; you can watch fireflies.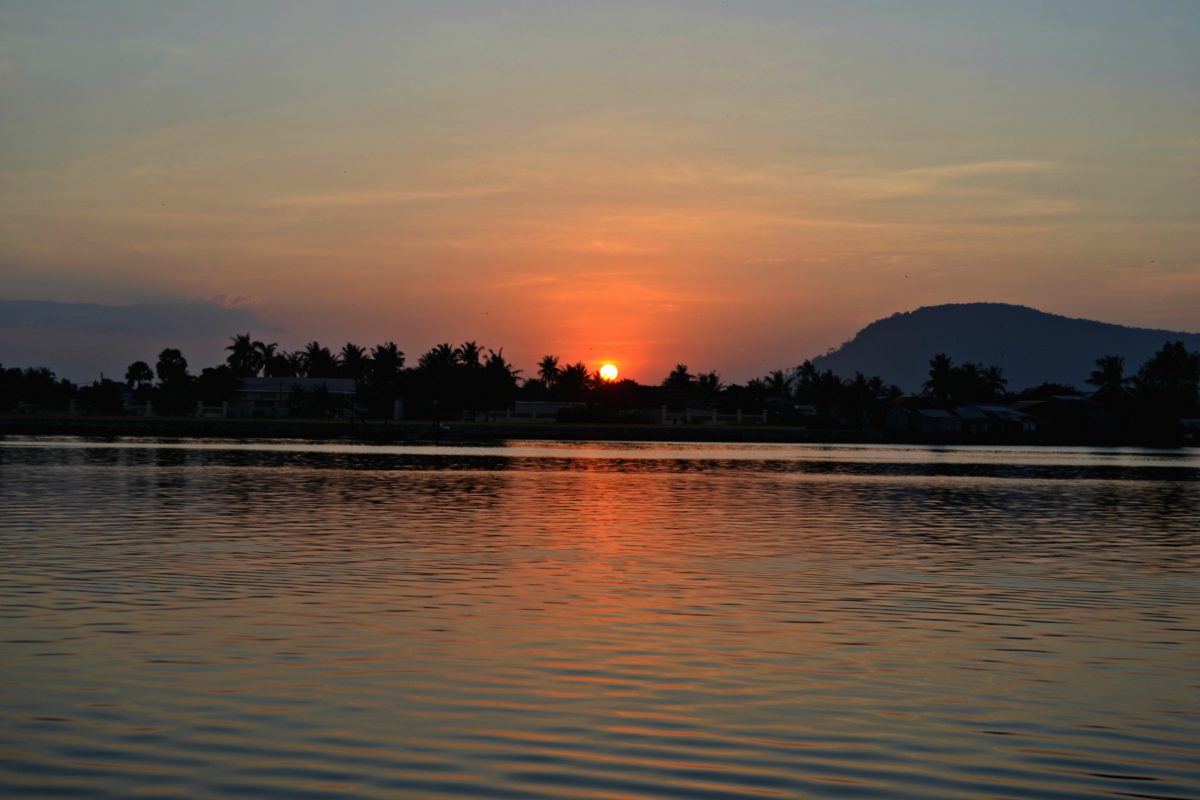 Go Kayaking
If you want to try some water sports, there are plenty of options to do so in the river. The most popular activity is Kayaking. Almost all the hotels and guesthouses in Kampot provide the equipment at discounted prices. You can also rent them from nearby shops.
You can also go on fishing tours, go wakeboarding, water skiing, or even do stand-up paddleboarding. If you want to pamper yourself, you can go on luxury cruises if you don't fancy any of these, dive and swim in the river.
Take a stroll at night along the bridges
One of the fun things to do in Kampot at night is to take a walk across the street. There are two bridges built on the Kampot river, the older bridge which was once used extensively for transportation and trade, and the other, much more prominent and prettier bridge which is currently in use. Both are lit in the night, close to which Kampot night market also lie.
Enjoy Dinner By The River
Sitting on the street watching the river is a great way to unwind in Kampot. Even better is dining in one of the restaurants along the riverside. Kampot nightlife is best along the streets next to the river on both sides.
Lined with many chic pubs, restaurants serving different cuisines, you have excellent options to dine. You can enjoy drinks as well during the happy hours that last until nine every day. The best part is eating is not very expensive, even by backpacking budget standards.
Cycle around the Downtown
Being a small town, it is fun to explore by cycling. You can rent bicycles from the many shops along the river, priced between 1 to 2 USD per hour. Wander through the fish market, the Lotus Pond, the old market and the ancient French-style buildings. Go past the city centre to venture further through green paddy fields.
Check out The Secret Lake
I don't know why it is named so, because it can't be a secret since the lake is one of the top Kampot attractions. Anyway, Secret Lake is a beautiful quiet getaway from the city, where you can swim or walk around. It is on the way to one of the pepper plantations. So you can combine these two Kampot activities.
Check out Kampot Salt Flats
The salt flats are among the awesome things to do in Kampot. Seawater is brought to the fields, which is left to dry for sometime after which the salt is retrieved and converted to be edible. It is an exciting activity to include in your Kampot travel to see how the locals produce their salt.
Take a Pepper Plantation Farm Tour
If you are travelling in Cambodia, you can't miss Kampot pepper farms. The town's terrain makes it ideal for pepper to grow, which has been a vital source of livelihood for farmers here.
You can take a tour to one of these farms to know all about growing various types of pepper. You also get to taste Cambodian food in lunch offered on the trip. Take a group or private tours, or you can do it by yourself renting a motorbike or going by tuk-tuk.
Relax at Teuk Chhou Waterfall
Technically Teuk Chhou is not a waterfall, but a small water body, a famous picnic spot among the locals. Popularly known as Kampot waterfall, it takes 30 minutes by tuk-tuk or your motorbike to reach Teuk Chhou. You can either swim or use the hammocks and chill, costing about 1 USD.
Head to Rabbit Island
It is recommended to go to Rabbit Island via Kep, but dedicated boats leave from Kampot to Rabbit Island. You can swim, relax by the shore or do nothing on this tiny island.
Visit Bokor National Park
One of the top things to do in Kampot is visiting the Bokor National Park, which is about approximately 30 km from the city centre. It has few places to stop by including an abandoned casino hotel and a chapel in ruins – both built during the French period.
A pristine lake occupies the foot of the hill on one side. It takes more than half a day so that you can plan a day trip. Read more about this in the post here.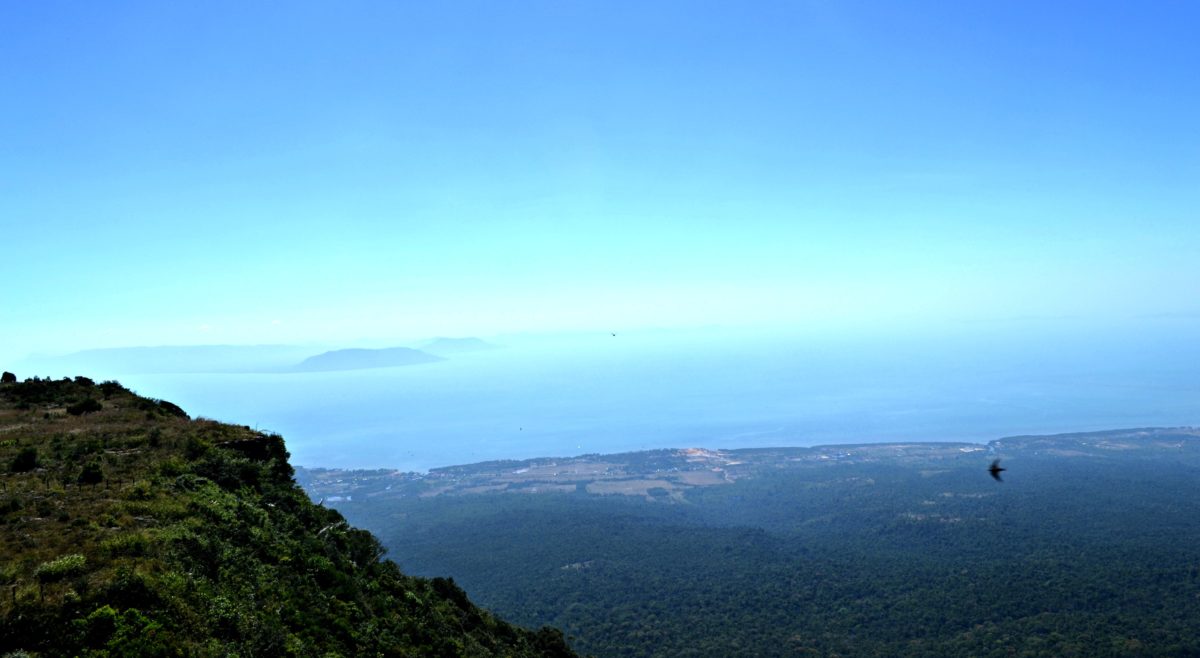 Take a day trip to Kep
Kep Kampot? Many people are in a dilemma about choosing between the two. If you want to do just one, then Kampot it is. As for Kep, it is recommended to spend at least two days, but if you don't have time, plan a day trip Kampot to Kep. It takes about 45 minutes away in a Tuk Tuk, or you can go on a motorbike for about 10 to 12 USD.
If you want to take a boat ride, you can opt for the Crab shuttle, which leaves around 9 AM from Kampot every day. The return trip is before the sunset so that you can be back for the fantastic evening.
Visit the Kep beach, explore the Crab market and try one if seafood is your thing. Kep is a small town, so wander around the downtown checking out village life in Cambodia.
Head to Art Gallery
If you are looking for free things to do in Kampot, one of them is Kampot Art Gallery. Different works of art by artists from all over Cambodia is exhibited here, along with temporary exhibitions held from time to time. It is also a great way to escape the heat.
Explore the cave temple of Phnom Chhnork
A cave temple dedicated to Hindu God Shiva, Phnom Chhnork is an unusual attraction. The journey to reach the temple is adventurous and fun, especially if you ride a motorbike. The roads are not, and if you don't have prior riding experience driving on streets in Asia, be cautious.
Recommended read: Bayon Temple – Exploring the Smiling God in Siem Reap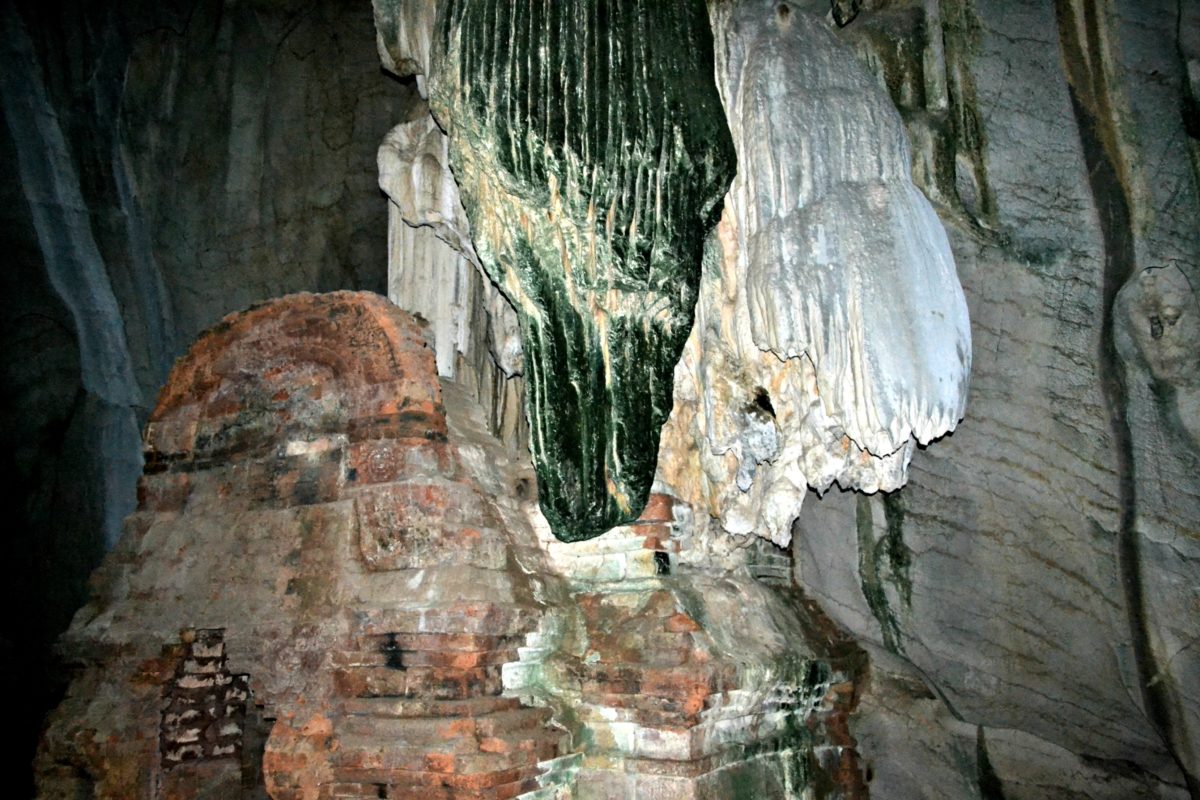 How to get to Kampot?
Kep to Kampot
As mentioned earlier, getting between Kampot and Kep is easy. It takes about 45 minutes away in a Tuk Tuk, or you can go on a motorbike for about 10 to 12 USD. The most scenic option to travel between Kampot and Kep, however, is the Crab Shuttle.
Phnom Penh to Kampot
Buses – You can take the minibus from Phnom Penh to Kampot in 3-5 hours. The larger buses go via Kep, making the journey longer so better to take the minibus. Giant Ibis service is the cheapest and the best option for these buses, coming at 9 USD. You can book online or through any of the guesthouses or travel agents. Buses depart at 8 and 2:45 PM from Phnom Penh every day.
Trains – You can also travel by train from Phnom Penh to Kampot. Cheaper than bus at 6 USD. You can directly buy your tickets at the station.
Cabs – The most expensive option, taxis from Phnom Penh to Kampot costs about 50 USD one way.
Sihanoukville to Kampot
If you are travelling from Sihanoukville to Kampot, you can opt for minibuses.
Flights – The nearest airport is Sihanoukville International Airport. You can fly from Siem Reap or Phnom Penh.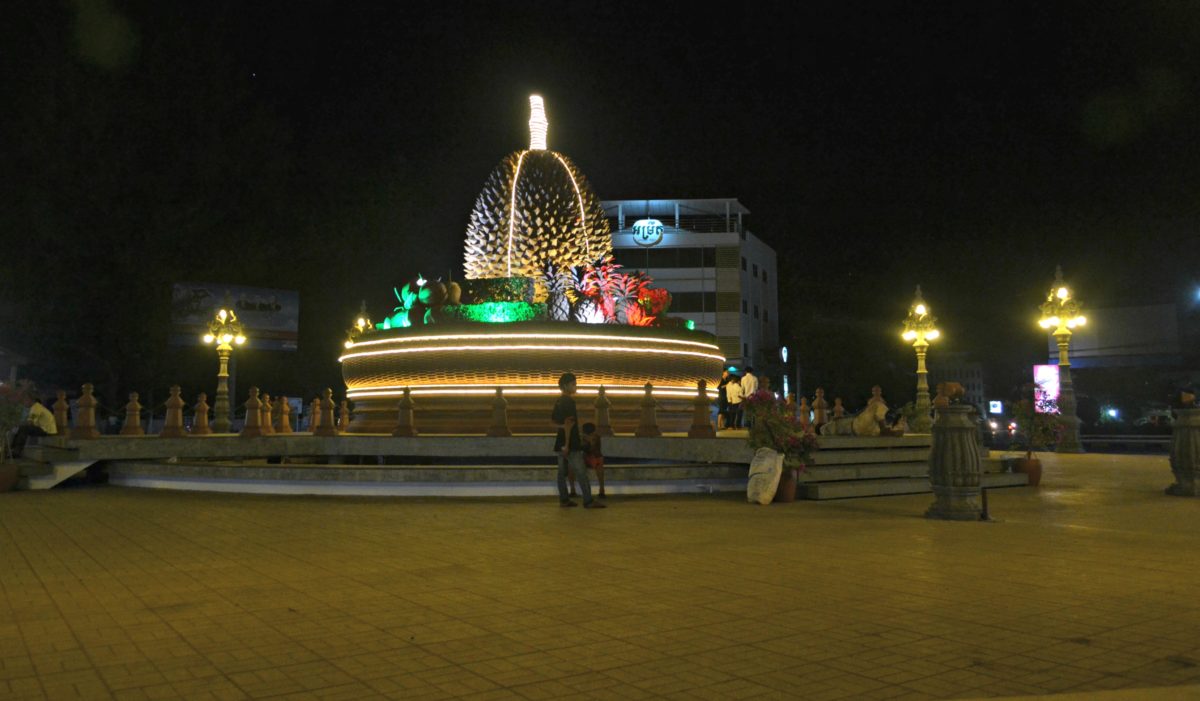 How to get around Kampot?
As I said, rented bikes are the best option for getting around the town. Tuk- Tuk could be tried for short distances, but needs a bit of haggling. Another option is motor drive, where you can ride around on a 2-wheeler with a driver – works best if you don't want to drive and travelling alone.
Where to stay in Kampot?
Kampot Guesthouses – Kampot accommodation is not very expensive, and in recent years, there are plenty of hotels in Kampot city. Many guesthouses and luxury villas are located right along the river, which is the best place to stay in Kampot. Also, the streets adjoining the river are home to lots of budget guesthouses and hostels.
Check the map below to find a hotel of your choice at the best prices.
I hope with this Kampot travel guide, I have answered your what to see in Kampot question convincingly. Have a great trip.
Share the Love. Pin this post!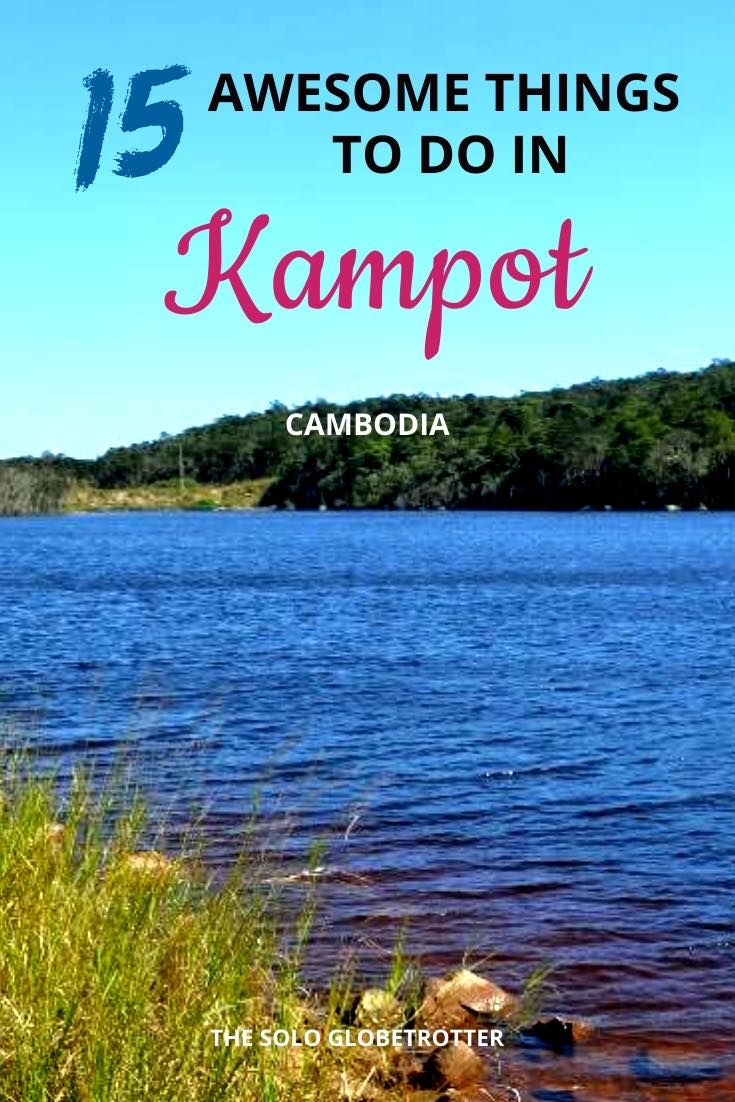 Connect with me on Facebook, Twitter, and Instagram for travel stories.
Subscribe to My Blog Posts for Travel Inspiration, Tips, Travel Guides & Stories. No Spam!