Vietnam – The most visited country in SE Asia after Thailand probably. Every backpacker's haven, foodie's delight and a nature lover's paradise. Once you visit Vietnam, you'll realise that these adjectives that describe Vietnam's essence are absolutely true. In this post, I'll let you know what to do in Vietnam – It includes all the things to do in Vietnam. In this post, I have highlighted the summary of all the towns, which in turn will give you an idea of what to do in Vietnam. This includes all the fun, adventurous, awesome, fun and cool things to do in Vietnam!
I traveled from the south to the north, starting in Saigon and ending in Hanoi. So I have put in the order that you can trace on the map for the places to visit in Vietnam. With much ado, let me take you through the best things to do in Vietnam!
What To Do in Vietnam – Amazing Things to do in Vietnam
What to do in Saigon
One of the top things to do in Vietnam is to visit Ho Chi Minh. Ho Chi Minh or Saigon as it is fondly called by the Vietnamese was my first stop. Depending on what you like, you can base in this city that has great accommodation and food options at very cheap prices. My plan was to stay here only for a few days, but I ended up staying for more than a week!
Here are the things to do in Ho Chi Minh
1. Explore the old and crowded Ben Thanh market for souvenirs, food, artwork and for its architecture
2. Visit Buu Dien, the heritage post office of Saigon rich in French architecture, which has free Wifi and seating to browse!
3. Party all night at Bui Vien Walking street. It's also where you can awesome smoothies, local food, and BBQ.
4. Take a tour of the Cu Chi tunnels that were used in the Vietnam war. You can actually come out of one of them!
5. Listen to the gory tales of the wars that Vietnam witnessed at the War Remnant's Museum
6. Get to know the past of Saigon at Reunification Palace, formerly known as the Independence Palace
7. Visit the unique temple of Cao Dai, dedicated to Cao Dai, a rare religion that resembles Buddhism
8. Explore the 18th century's Notre Dame Cathedral, one of the attractions in Dong Khoi.
9. Check out the Jade Emperor Pagoda, which is one of the worth visiting temples in Ho Chi Minh
10. Get an aerial view of Ho Chi Minh from the Skydeck at Bitexco Financial Tower.
11. Familiarise yourself with Vietnam's past at the Museum of Vietnam History
12. Visit the floating market at Can Tho
13. Take an island tour to Phu Quoc or make it into a day trip to enjoy the beauty of the Mekong Delta
14. Trace the Mekong river to explore Ho Chi Minh alongside, which passes through the old town & the modern Saigon
What to do in Mui Ne
Mui Ne is one of the nearest beach towns that you can escape to in South Vietnam. Some people didn't like Mui Ne, where they said it was too expensive and commercialised. Well, if you ask me, I'd say it is true to some extent. But I stayed in one of the cheapest & best hostels. Plus I saved on food and did my own trips around the town, traveling cheap. So you can do the same too!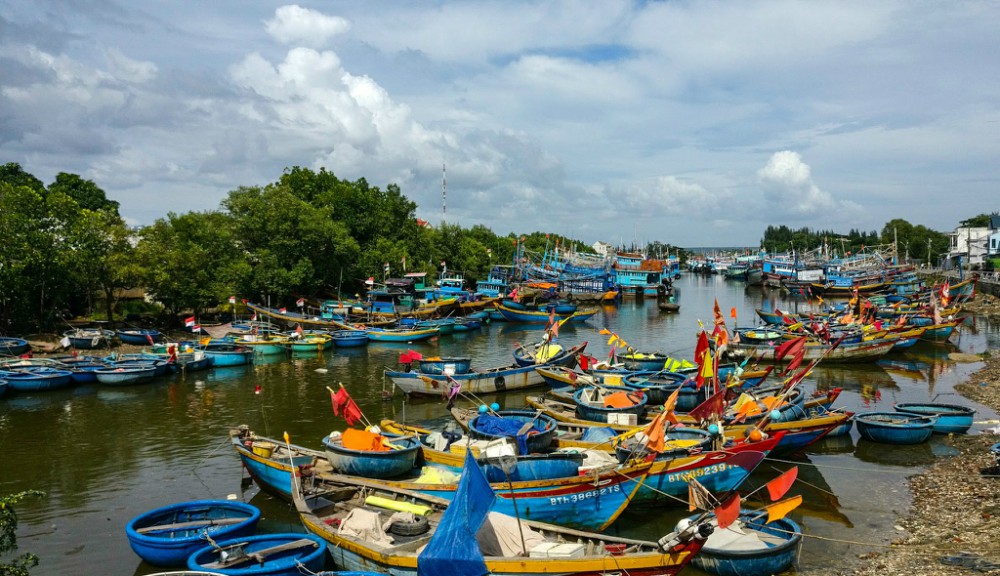 Here are the things to do in Mui Ne:
15. Walk on The Red Fairy Stream barefoot
16. Take the Hell Ride ATV in White Sand Dunes – Scary but fun!
17. Enjoy the sunset in Red sand dunes
18. Watch How fishing is done in the Fishing Village
19. Go for a ride on Ostrich  (It's simply torture to the Ostriches and I don't understand the need to trouble them IMO)
20. Visit the ruins of The Po Shanu Cham Towers
21. Click pictures at the Phan Thiet Harbour
22. Get up early in the morning to visit the local Fish Market on the seashore
[box type="shadow"] Related Post: Mui Ne – Why This Is Not Another Beach Town of Vietnam[/box]
What to do in Dalat
One of the unique things to do in Vietnam would be to explore Dalat, which is an absolutely delightful place. Dalat became my favourite hill station in Vietnam. Whether it is the cool climate or the chic & upscale neighbourhoods or the vibrant flower gardens everywhere, I just can't say what all made me fall in love with this city. You'll certainly feel the weather welcoming whether you arrive in Dalat from the north or the south. As much as the city that's lovely, there are a lot of things to do in and around Dalat. Also, a great place to pick up a bike and drive around!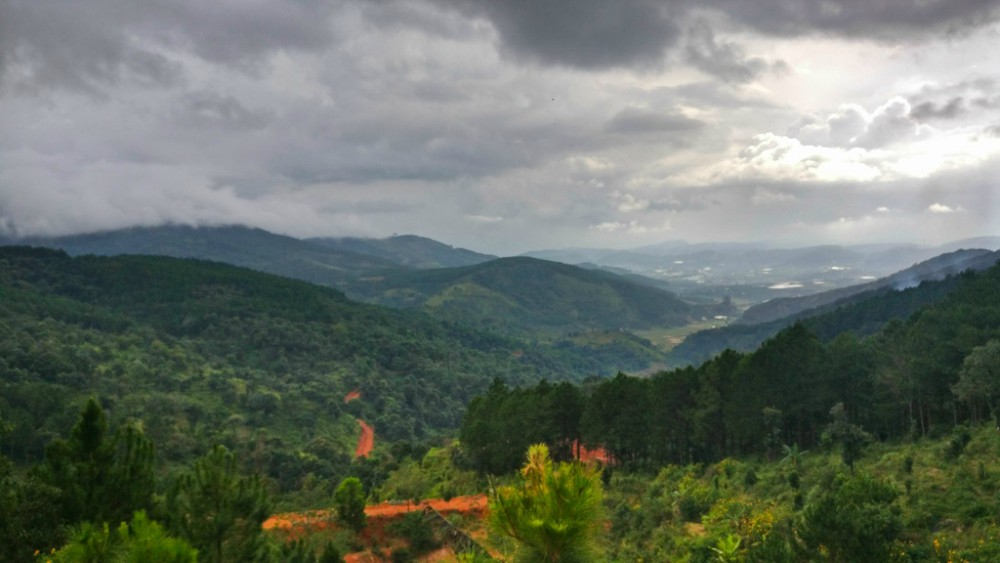 Here are the things to do in Dalat:
23. Do Your Own Waterfalls Tour. Check out the list of waterfalls and decide the ones you want to visit (not all are worth visiting – some are overhyped with expensive entry fees) Read the details of all the waterfalls here in my post for you to decide.
24. Whether you visit other waterfalls or not, don't skip the mighty and majestic Elephant waterfalls.
25. As I said earlier, driving is an enjoyable experience in Dalat, given the mountains and the lush countryside – So go for it!
26. Stroll around Xuan Huong Lake in the city centre in the evening soaking in the breeze and the colours
27. Try out the Vietnamese Pizza, smoothies, BBQ and everything else as a part of your local food hunt in the market
28. Explore Choi Moi Market, a large local market where you can see some quirky, interesting and surprising things up for sale
29. Do your lake tour. There are at least 4 to 5 lakes that are away from the city centre and a few are worthing checking out.
30. If adventure beckons you, head to Bidoup Nui Ba National Park – From half-day treks to multiple days treks including camping, you can choose whatever you want along with a guide at the park depending on your time.
31. For a good view of the countryside, visit Lang Bian Mountain. Take a safari or opt for small hikes to reach the summits of a few mountain ranges.
32. Visit the largest sleeping Buddha in Vietnam at Robin Hill at Truc Lam mountain.
33. Visit this sleeping Buddha on a cable car, a 10-min one-way ride which gives a 360-degree view of the lovely landscape
34. Feel crazy at the Crazy House, home to bizarre structures
[box] Related Read: Dalat – Exploring The Chic Hill Station Of Vietnam[/box]
What to do in Hoi An
Hoi An is the gateway to ancient Vietnam's culture, heritage and architecture. The old town is unlike any other experience you have in Vietnam, which no wonder turns out to be the favorite town for people, including me. This is also a good town to choose if you want to spend a few extra days to travel slow. Because it is not chaotic, beaches are nearby, and food & bed are cheap & good!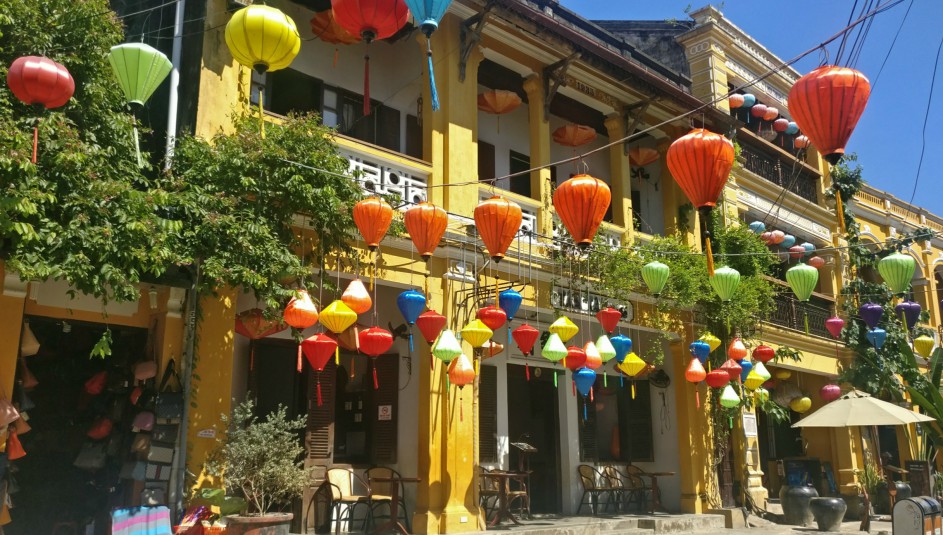 Here are the things to do in Hoi An
35. Take a ride on the decorated tricycle within Hoi An's ancient town and listen to the local cyclists' tales of the town.
36. Visit the ancient assembly halls and the sacred temples in the old town
37. Admire the small yet significant Japanese Bridge at the end of the street
38. Check into the food market and treat your taste buds with the local food. Don't forget the omnipresent Pho & smoothies perfect for a hot afternoon
39. Want a beach day? Hit the An Bang Beach which is just a few minutes away from the town.
40. Hire a bicycle & explore the lanes of the old town. Don't worry if you get lost. You'll never know what you discover on your way back!
41. If you love photography – whether as a subject or behind the lens, Hoi An has just the right picture-perfect locations. The rustic cafes dotted with vibrant lanterns or the bright yellow & crimson walls – all of them are ideal for your pictures.
42. Rent a bike and check out the ruins of Myson, one of the oldest Hindu temples in Vietnam. The ride is long, amidst the countryside and picturesque, which makes for a great journey!
43. Hop on to the small boats and float the little lanterns on the river at night. You'll go on a slow boat ride where you can admire the view of the all-lit-up town of Hoi An
44. Take the ultimate bike ride challenge – A drive to Hai Van Pass – You can do this either from Hue or Danang (which is less fun)
45. Take a day trip to the Marble mountains (I didn't like it a bit, though! – The ride is fun)
46. If you are short on time, you can go on a day trip to Danang, which is just 25km away.
47. Don't come back without buying those quintessential lanterns! (If you are crazy like me, you'll buy a backpack full of lanterns. But otherwise, you can at least buy a few small ones. Because according to me, that's one of the best souvenirs that you can get from Vietnam!) Plus, I feel buying them is a way to respect the art and tradition of Hoi An.
[box] Related Read: Hoi An In Photos – 30 Awesome Pictures of Hoi An That'll Make You Want To Go There![/box]
What to do in Hue
Do you love history? Or Chinese kingdoms, dragons and red bright walls like the ones that you find in Kung Fu Panda? If your answer is yes, well, you'll totally love Hue! Whether you are here for a day or want to extensively tour around the town, Hue will not bore you at all.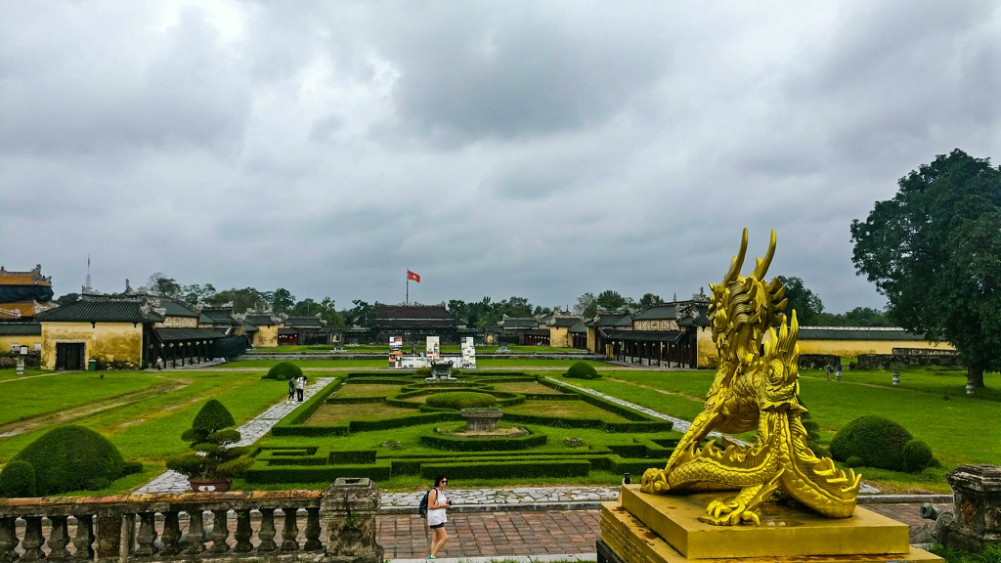 Here are the things to do in Hue
48. Get a glimpse of the town – the modern & the ancient by the banks of Perfume river
49. Check off Vietnam's highest number of UNESCO heritage sites in Hue
50. First, walk into the former capital city, popularly known as the forbidden city. Make the travel back in time as you explore the monuments in the imperial kingdom.
51. Rent a bike and go on a royal tombs tour. Visit the popular 4 tombs – Khai Dinh, Tu Duc, Minh Mang and Gia Long.
52. If you feel like visiting a pagoda here, head to Thien Mu Pagoda, a 16th-century monument worth checking out.
53. If the history & architecture didn't satiate your brain cells enough, plan your own little Museum tour. You have the Ho Chi Minh Museum, a War Museum, a Museum of Royal Fine Arts and the Museum of Antiquities, all of which will take easily a day to explore.
[box] Related Read: Hue – Discovering a slice of China in Vietnam[/box]
What to do in Danang
Danang is that convenient city in Vietnam which gives you the luxury and comforts of a city, hills AND beaches. And the best part is all of them are closely located, meaning which you can plan as you wish! With an airport, Danang is also the popular stop-over place in south-central Vietnam for many travelers. The town is also well connected by road as well as trains, making it a breeze to be here.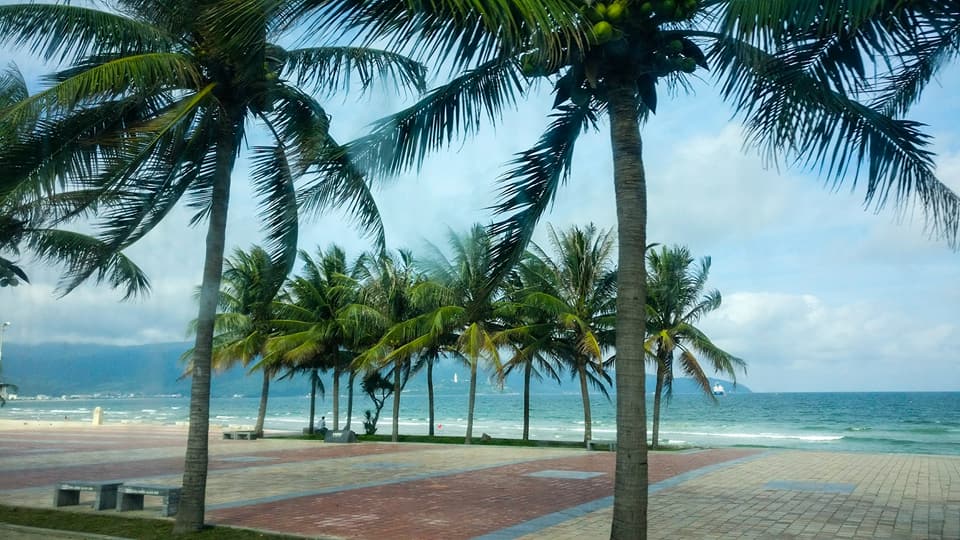 54. Be a beach bum – The entire coastal stretch is at your disposal, spoiling you with beaches! The nearest one is My Khe beach.
55. Danang's is home for the bike adventures – Do them all if you have time!
56. The easiest is the Monkey Pass, more popularly known as Son Tra peninsula.
57. Danang is the place to take up the Hai Van Pass challenge if biking is your thing!
58. Visit the Lady Buddha or Linh Ung Pagoda on your way up the hills before you make it to Monkey Pass
59. Danang is home to three wonderful bridges, which look brilliant during the day & at night when lit up! The Dragon Bridge can't be missed while you are in the city centre.
60. Go on a ride to the marble mountains (If you haven't already been there)
[box] Related Read: Motorbike Diaries – A Drive to Hai Van Pass, Monkey Pass & Danang [/box]
What to do in Phong Nha
All the unusual things to do in Vietnam could be done in Phong Nha hands down! If you don't know already, Vietnam's is home to the world's largest cave, So Doong. It is so big that it can fit at least 40 to 50 cities like New York or London and has rivers, forests and many more things yet to be discovered by Humans. Sounds fascinating, isn't it? Well, Phong Nha in north central Vietnam is the place to head for all the caves. This is also the town to look for your 'adventurous things to do' in Vietnam!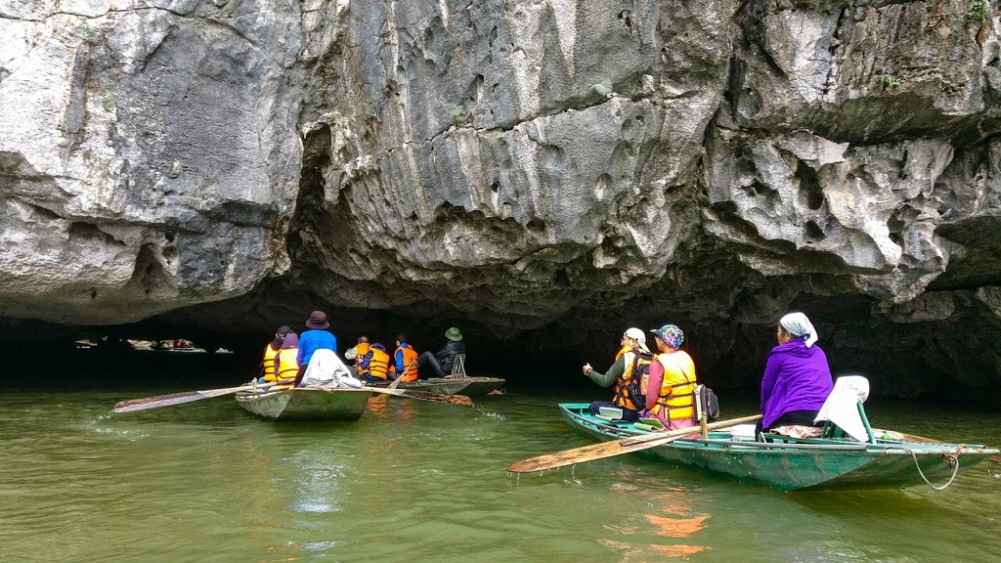 Here are the things to do in Phong Nha
61. Caves, Caves & Caves! Paradise Cave is the easiest (the first part) and worth exploring if you have little time
62. Check out Phong Nha cave, which involves a boat tour as well.
63. Looking for more adventure? Well, how about Dark Cave? You'll go on a zip line or swim to reach the mouth of the cave. Then, you'll do rappelling, make your way in mud in pitch dark, and kayak or swim your way out. Exciting enough?
64. Doesn't mind spending money? Then with a little bit of planning, you can visit So Doong, the world's largest cave. Book the tour which lasts from 4 to 6 days of adventure!
65. Drive around Phong Nha National Park on a bike. The countryside is unspoilt, the greenery is resplendent, and traffic is nill.
66. There are other caves, Hang En and Tu Lan, which requires 4 to 6 days of time. You can do 2/3 days tours too. These tours are fun because you'll get to camp near or in the caves.
67. If you want something other than the caves, head to the eco-trail which will show you some rare animals in the region
68. Check out my post below to find out how you can independently plan your trip to the caves. I have also added various itineraries for 1 to 4 days so that you plan according to the time you have!
[box] Related Read: Things To Do in Phong Nha – A Guide To The Best Caves of Vietnam[/box]
What to do in Ninh Binh
Tam Coc or Ninh Binh is the closest place from Hanoi to experience Vietnam's rich rural essence. The dramatic hills that continue for so long and the rivers that make their way amidst them, and the caves sandwiched in between – Tam Coc is everything that you can imagine in a countryside that's flourishing.
Here are the things to do in Tam Coc Ninh Binh
69. If Phong Nha is for caves, Tam Coc is for boat rides. These are not your regular boat rides. It lasts between 2 to 3 hours, where on a small boat you'll get up close to the landscape of Ninh Binh. Take either the Trang An or Tam Coc ride.
70. Climb the Hang Mua to be besotted by the gorgeous views of Tam Coc
71. Ninh Binh has some really good temples worth visiting. Head out to Bai Dinh & Bich Dong Pagoda
72. Explore the ancient citadel of Hoa Lu set amidst stunning scenic hills and green paddy fields.
73. How about some bird watching in the rugged wild? Drive to Thung Nam passing through the quiet village
74. Get off the beaten track and head out to look for the grottoes in Lon Vang reserve.
75. If you want to try hiking, plan a trip to the Cuc Phuong National Park, where you can also visit the primates rescue centre.
76. Tam Coc is also a great place for cycling. So if you missed cycling earlier in Vietnam, you should try here!
[box] Related Read: Want to Experience Rural Vietnam? Here Is Your Guide To Tam Coc Ninh Binh![/box]
What to do in Hanoi
Hanoi is a resilient city that has grown quietly to become one of the coolest cities in Vietnam. I noticed how the capital city is so much different from any big cities like Ho Chi Minh or Danang. The heritage and the culture of Vietnam coexist with the skyscrapers and well-maintained parks. While the old charm of the city draws you, you can't help admiring how progressive Hanoi looks.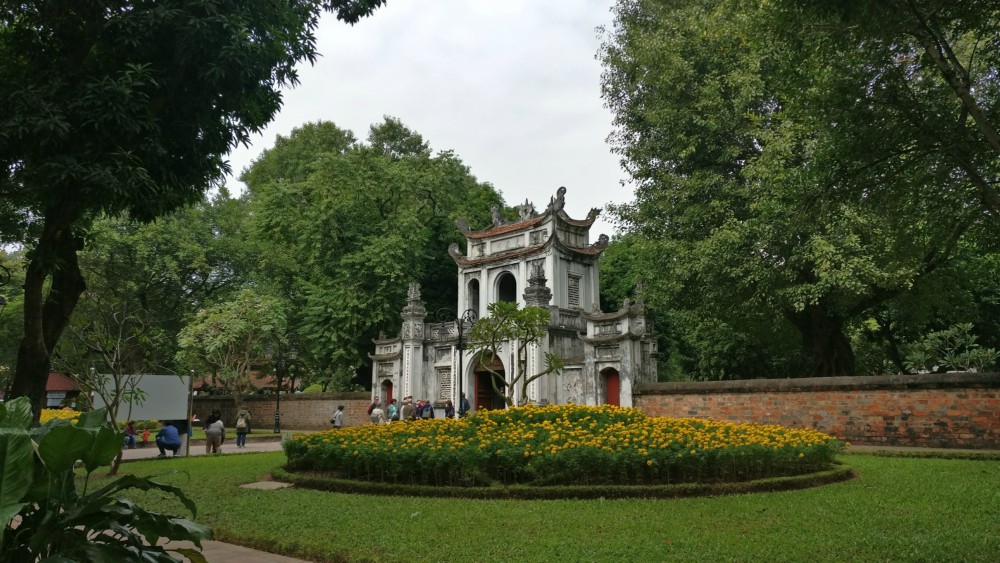 Here are the things to do in Hanoi
77. Visit the oldest university of Vietnam, the temple of literature, and walk through the halls where once philosopher Confucious thought the students of Vietnam
78. Pay your tribute to Uncle Ho at the Ho Chi Minh Mausoleum, where his remains are laid to rest.
79. Witness the grandeur of the public buildings depicting French architecture including the Presenditial Palace
80. The imperial dynasty was here too. Check out the Thang Long citadel
81. Explore Hanoi's old quarters on foot. It's the best way to capture the chaotic and bustling part of Hanoi
82. Check out Don Xuang market for good souvenirs, clothes and artworks
83. Don't forget to check out the rustic railway track that's flanked closely by homes. There is also a cafe, so you can have coffee on tracks!
84. Go back in time to know why wars must never be fought at the Vietnam Military Museum
85. Walk on one of the oldest railway tracks built on the Long Bien Bridge across the red river close to the old town.
86. Hanoi is a great city for evening walks around the lakes – Hoan Kiem, West Lake & Truc Bac.
87. Ever heard of a puppet show in the water? Book your tickets to the Water Puppet Show & enjoy the folklores of Vietnam
88. Go on a trip to the wonderful Bai Vi National Park, home to the sacred Tan Vien peak
89. Take the day trips to Halong Bay, especially to Cat Ba for a quick island getaway.
[box] Related Read: 48 Hours in Hanoi – How To Explore Vietnam's Capital If You Have Limited Time[/box]
Apart from these exhaustive things to try & explore in Vietnam, below are the ones that you should try on your trip, wherever you are!
90. Bia Hoi – Try this unique craft beer of Vietnam. You'll get in almost all the local eateries, and is very cheap. Bia Hoi is a culture, and not just beer in Vietnam
91. Pho – Whether you'll learn how to pronounce the name of this food or not, make sure you try it in every town. No, Pho doesn't taste the same in Ho Chi Minh & Hanoi! If you eat meat, even better, because you should try all the types.
92. Coffee – Based on the countries where I have tasted coffee, I have categorised types of coffee into two. Coffee elsewhere and Vietnam's coffee. Yes, that flavor which melts in your mouth must only be savoured to know what I mean. So go grab the cuppa – both, steaming hot and with ice!
93. Visit the local markets, buy the Vietnamese hat, vibrant lanterns & explore the country renting a bike/ or as a pillion rider at least in one town!
Finally, things that I didn't do, but you can try:
94. Sapa in northern Vietnam is a great place to trek amidst the rice terrace fields, spend the night in a homestay with the locals and enjoy the rewarding views – Beware of the tour groups & also the season (Winter was severe when I visited and hence I had to skip)
95. Buses are cheaper and a great way to travel, but I have heard that traveling in trains is a great experience, one of those unique things to do in Vietnam. I couldn't go on a train somehow. But you can have a look at the schedule to see how you can do train travel in Vietnam. Check the website here.
So I hope you now know what to do in Vietnam! Of course, there are plenty of other things that I am yet to try. So will you do me a favour? Tell me what I need to know for my next trip to Vietnam in the comments below 🙂
Connect with me on Facebook, Twitter, and Instagram for travel stories.
Share the Love. Pin this Post!