Thailand is synonymous with Thai spa or Thai massage, which is what the country is famous for many travelers. I always wanted to get a Thai spa during my visits to Thailand. I was not aware of Thai massage or how these massage services worked. As a solo traveler, I was worried to enjoy a massage and it took me a few visits to the country to finally begin getting a Thai spa. If you are wondering what to expect from your first Thai spa or a Thai massage in Thailand, here are all the things that you need to know.
Combined with sex tourism in Thailand, which is rampant, Thai spa has attained several dimensions in the country. But I'll come to that later, now let's look at what a Thai massage is.
History of Thai Spa
Thai massage therapy has a history of over 2500 years and is linked to Buddhism. It originated in India and propagated to Thailand along with the religion. The Buddhist monks were the earliest people to practice Thai spa. It has gone through various changes over time gaining influence by other spas, but it still adheres to Ayurvedic practices, which were the primary source for a Thai spa.
Traditional Thai Spa or Thai Massage – How is it different?
A traditional Thai body massage is not what you see in pictures or the ads where a beautiful lady with a flower is seen relaxing and smiling, closing her eyes. As with everyone, I had the same expectations hoping to feel pampered royally. But a traditional Thai spa works differently.
It involves a mechanism of working on your muscles from head to your foot, and massage therapists use their different body parts to work on your body. They apply gentle pressure to knead your muscles. They push, pull and flex your muscles sometimes even walking on your body.
It may sound scary, but it is not. Read the last section of this post for my tips. A typical Thai spa is called a 'Lazy Man's Yoga'. It is because, in a traditional Thai massage, you lie down and rest, while the therapist will make Yoga's Asanas or postures, bending your knees or hands or back.
The therapists will work on every inch of your body, but never touching your genitals. They apply pressure and simultaneously attend to all muscles, rubbing and kneading with their hands and feet. If there are any unknown or known muscle knots, inform the therapists so that they'll work on them to make it alright.
Thai Massage Benefits – How does a Thai spa work on your body?
A Thai massage may feel intense in the beginning, but your body will thank you for it. Thai spa helps in increasing flexibility of muscles, improves circulation to all parts of the body, and relieves stress. The purpose of a Thai spa is to open and increase energy channels and its movement throughout your body. It is different from the Swedish massage, which is less intense and focuses on specific styles and areas, although the end goal is the same.
Thai massage with Happy endings
You might have heard about the happy ending massages a lot or less in Thailand. These are massage parlours offering sex services to customers. Prostitution is illegal in Thailand but is active and even popular among tourists. It is a criminal offence to provide sex in traditional Thai massage parlours, and the government has been trying to prevent that by licencing massage and raid down spa parlours masquerading as traditional Thai massage centres. Sex tourism is one of the top attraction, and despite all the regulations, it is still prevalent.
It is also known by the phrase Thai massage bonus by the masseuse who use it to indirectly hint at any requirement for 'extra' services after a regular massage. There is soapy massage as well, which is the most popular sex service among tourists as well as locals, with exclusive soapy massage parlours in major cities. These shops are big names and it's easy to find and filter them out.
As travelers wanting a traditional Thai massage, the best way to avoid stumbling on one of these shady massage service centres is to not opt for any parlours in the red light district and entertainment centres. Also, the areas with many go-go bars and party pubs have many of these legitimate-looking massage centres offering adult stuff.
Thai Spa – To wear clothes or not?
A traditional Thai massage is done entirely clothed. So you don't have to worry about taking off your clothes. It is better to wear something loose and comfortable so that you can enjoy the massage better. In some upscale massage parlours, they provide you with a clean set of free clothes to wear.
How to prepare for your first Thai Massage – Tips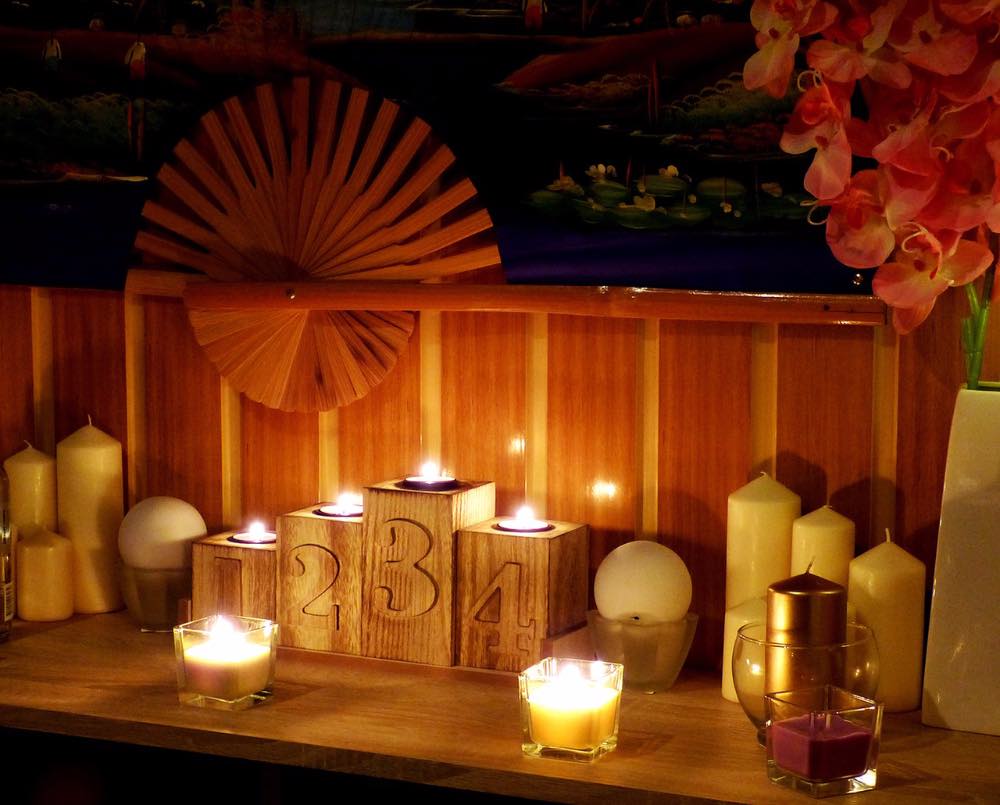 Here are the things to know before your first Thai spa.
Be prepared to expect some intense pulling, pushing around and kneading of your body. The masseuses know precisely the pressure levels to apply based on your body. But for someone not used to any massages, the pressure levels can be high. I have had other types of massages before, and a Thai spa had more pressure compared to others. If it hurts or feels unpleasant, you can politely tell the therapist, and they will change accordingly.
At first, you may feel overwhelmed, but eventually, your body and will respond to it. After a Thai spa, you would feel very light, and your muscles to be more flexible and calm. You might also feel exhausted at first, but it's going to get better after a few minutes.
The best way to enjoy a traditional Thai spa is to free your mind and body and leave the job for the therapist. He/She knows best, and you can feel rejuvenated only when you lie down without worrying.
Most of the Thai massage centres have females doing Thai spa for women and men for men. In some shops, men masseuse can attend female clients. If you are not comfortable, you can inform, and they'll understand.
There is no reason to be scared to enjoy a Thai spa because of shady parlours offering happing endings. There are regular spa houses as well as adult Thai massage centres. You can identify by checking reviews online. If not, head to the ones where there are customers already present and choose the Thai spa centres with open curtains and along the main streets.
There are no oils used in a traditional Thai massage. So if you are opposed to the use of oils, you'll not have to worry. Oil massage is usually done as a prelude to sex services, so it comes under adult stuff most of the time. There are basically these types of Thai massages you can see in shops – Traditional Thai spa, foot massage, oil massage, Neck and head massage and body scrub.
Where to get your first Thai Spa
If you are traveling solo in Thailand, you might be unsure of choosing a massage place. There are Thai massage service parlours like mushrooms in Bangkok, at least one in every street and also in all popular tourist destinations including Chiang Mai, Pattaya, Phuket and other islands. So how would you choose? Choosing a Thai spa parlour depends on your budget & time.
If you are traveling on a budget, you can opt for simple-looking shops with large glass doors along the streets which are highly recommended. They charge between 220 to 300 THB for a 60-minutes Thai massage typically. There are many other variations including foot massage and other Thai spas for specific body parts at different prices, but I would recommend going for a full body Thai massage for best benefits. Also, one hour is the minimum time that you should try out to see the impact. The massages are available for 2 or 3 hours as well.
To feel safe and also get a Thai massage for a low price, head to the temples. Yes, the Buddhist wats have massage services for half the price, and they are as good as any other Thai massage parlours. It costs about 100 to 120 THB for a 60-minute massage.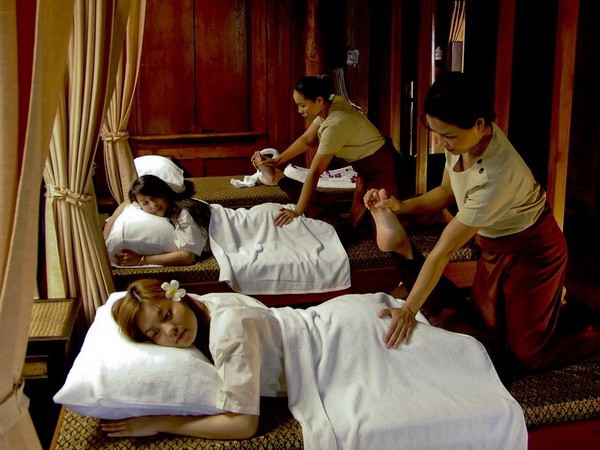 If you don't mind spending, you can head to boutique Thai spa parlours and superior Thai massage services, where there are private airconditioned rooms. The price varies between 15 to 20 USD for a 60-minute massage. You may get a complimentary drink, and they would sometimes give you the clothing to change. These massage centres are not hard to find, and many exist next to simple massage shops, in hotels and guesthouses.
There are traditional Thai massage services that come to your doorstep as well. You can book via phone or inform the reception at your hotel and get pampered in the comfort of your room for higher prices.
So that's my guide to enjoy an amazing Thai spa while traveling in Thailand. Have a relaxing time!
OTHER THAILAND POSTS YOU MIGHT LIKE
Chanthaburi – Exploring the river town
Things To Do in Pattaya With Kids – A Travel Guide
Chiang Mai Walking Street – A photo story of the vibrant Market
Chiang Rai – A Day trip from Chiang Mai
Share the Love. Pin this post!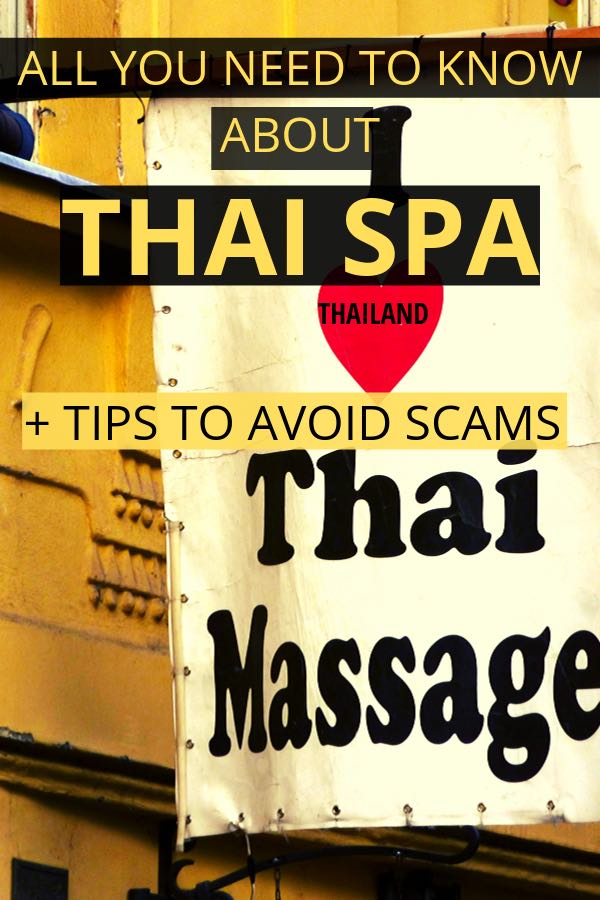 Connect with me on Facebook, Twitter, and Instagram for travel stories.
Subscribe to My Blog Posts for Travel Inspiration, Tips, Travel Guides & Stories. No Spam!