I had been to Pattaya during my trip to Thailand before and had checked off the things to do in Pattaya, but this time, it was a different experience with TAT Mumbai. I was surprised to find out so many places to visit in Pattaya that make it a perfect holiday getaway for families. I discovered the things to do in Pattaya with family, especially with kids in the age group of 5 to 14. In this post, I am presenting you this side of Pattaya for families! Here is how you can enjoy Pattaya with kids. Read ahead for a super fun Pattaya family holiday!
Things to do in Pattaya With Family
Ramayana Water Park
Ramayana Water Park is one of the biggest water theme parks in SE Asia. And the moment I read about it, I figured that it is one of the best things do in Pattaya with family. Located about 15 km from the town of Pattaya in the Chonburi Province, it was a surprise to me as our bus entered the huge park area surrounded by mountains, with no sign of city life. Its beautiful location is probably what catches the attention of the visitors first. Next to the water park is the Silver Lake and the Big Buddha carved on a huge wall, both of which you'll pass by. It is a 1.5-hour ride from Bangkok, making it one of the popular choices for a day trip from the capital.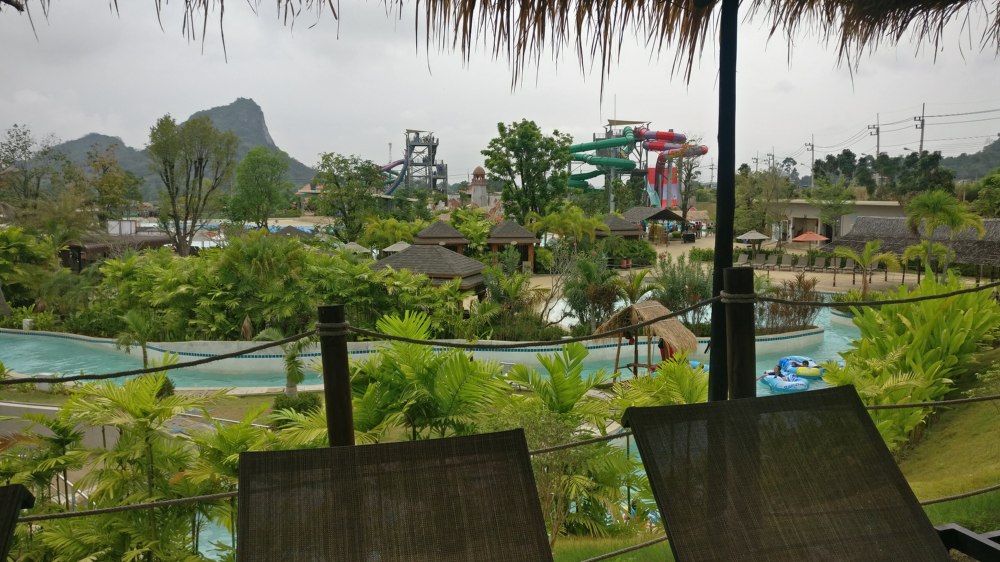 The weather was great, with no sign of the hot sun. But the threat of rains was lurking close as we got down at Ramayana Water Park. Luckily, it didn't rain, and we proceeded to keep our belongings in the locker before exploring the water park. I wasn't in the mood for any rides, so chose to walk around the park instead.
There are 21 water slides coming in different colours, size, shape and amusement, which itself is going to occupy much of your time. Whether you want to relax and float around the lazy river or get your adrenaline boost by opting for the snake rides, Python, Serpentine and Aquaconda. You can just float your way around the lazy river for more than half a kilometre that would take you around a hill.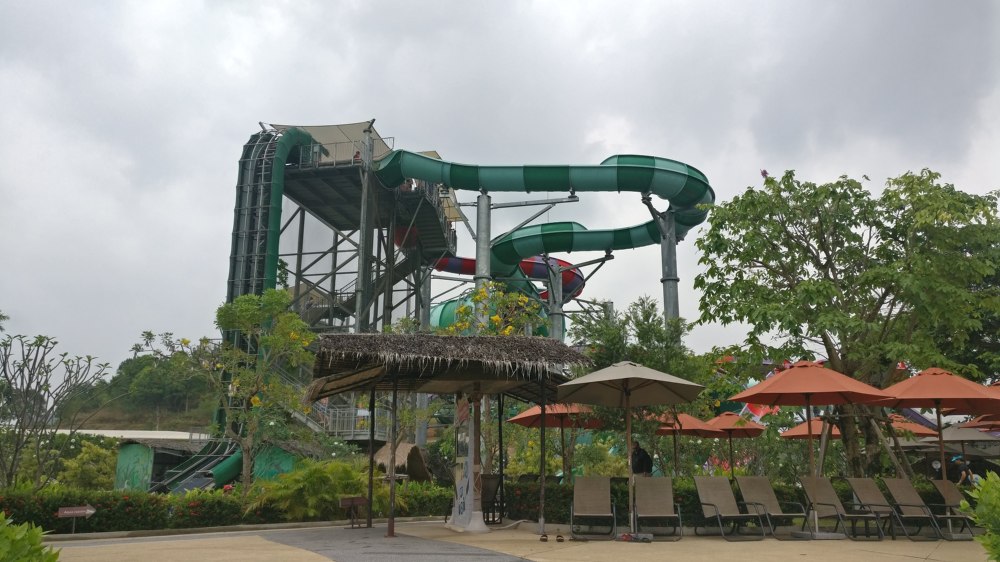 What I loved the most about Ramayana Water Park is its dedicated areas for kids, whether in the water park or the restaurant or the pools. You can let your kids enjoy the spray attractions or make them play in the climbing area leading to small slides. There is a huge restaurant serving Thai and other cuisines to keep you energised.
Ramayana Water Park timings: 10 AM to 6 PM every day. Entry fees: 1190 TBH for adults & kids above 122 cm; 890 TBH for kids. You can buy other combos that include Buffet (unlimited) and transfers, which are only available online. Check the details on their website here.
Ramayana Water Park tips
Don't forget to get your swimsuits, sunscreen, extra towels and anything you think you need in the water park. If all you want is to enjoy the rides, it is better not to take cameras or any expensive equipment. Although you can keep them in the locker if unavoidable, you can save your time and money if you decide these things ahead. It gets usually crowded during the weekends. The best time to visit would be during the first half if you don't like crowds. Also this way, you can wind up the day visiting the lake or clicking the Big Buddha after the water park.
Pattaya Underwater world
One of the coolest Pattaya's attractions must be this. I didn't know of any underwater world in Pattaya before this trip to Thailand. If you think only the kids can enjoy this underwater world, be prepared to be surprised. It is for the kid in all of us! ( true, although cheesy). The one in Bangkok is way bigger and can keep you occupied for hours, but if you are in Pattaya with kids, this is of the places that you shouldn't miss visiting.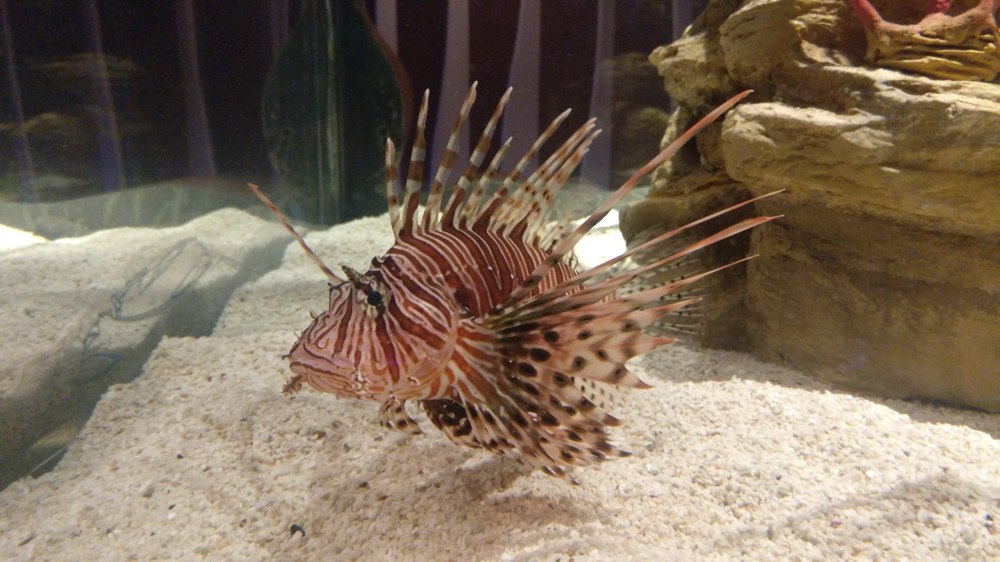 From giant whales with sharp teeth to huge stingrays, you'll be introduced to the sea world around you. Walking in the water park with all the sea creatures going around you and above you too is a fun experience not reserved just for the kids!
Pattaya Waterworld timings: 9 AM to 6 PM every day. Entry fee: Adult 500 THB; Child 300 THB
Art in Paradise 3D Museum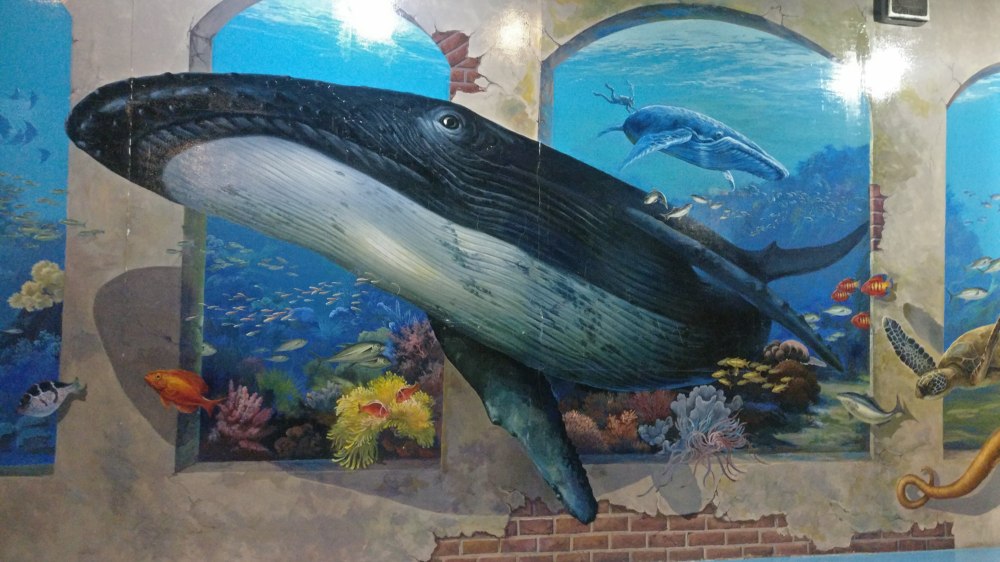 I love visiting Museums. So I was looking forward to the Art in Paradise Museum in Pattaya too, but what surprised me was this turned to be one of the most fun experiences that I had in Pattaya! Whether it is a giant kitty or the wildlife or the ruins of Cambodia or the elegant European folks, it is a fun to get yourself clicked with the 3D wall art that looks so vibrant and lively. You can be done with the museum within an hour or spend half a day enjoying each of the art at your own pace. But whatever it is, don't miss this fabulous museum.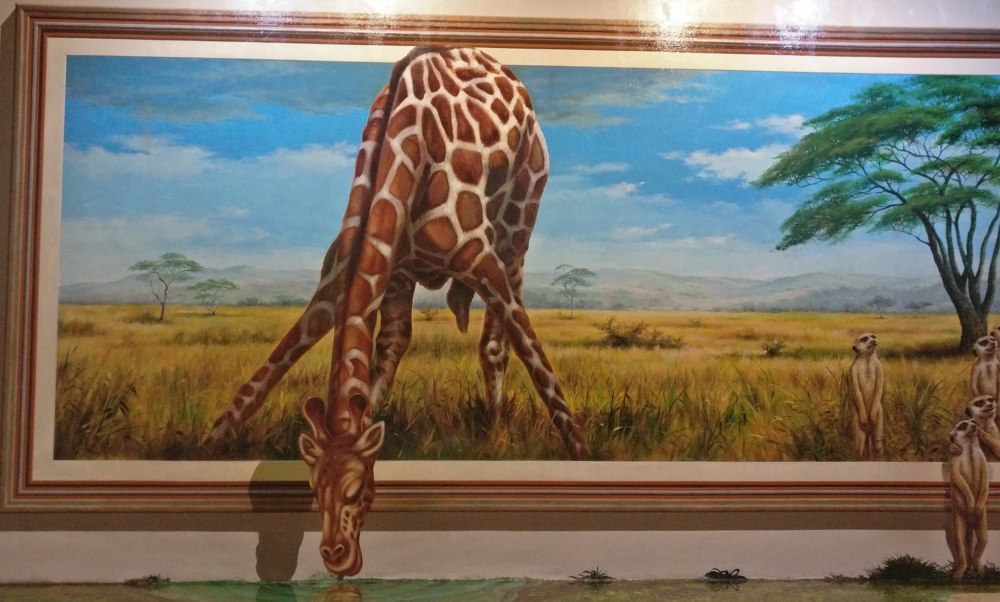 Art in Paradise 3D Museum timings: 9 AM to 9 PM every day. Entry fee: 500 THB for Adults, 300 THB for Children
Things To Do In Pattaya With Family – KAAN Show
This is among the top recommended things to do in Pattaya with family to me. KAAN show was one of the most spectacular events that I have witnessed in SE Asia. I have watched the Siyam Niramat and other cultural shows in Thailand, but this one beats them all, although I hate to compare. It is definitely curated for kids, but hey, who said the grown-ups can't have fun!
Over a period of 1.5 hours, you are taken through brilliantly choreographed play which has adopted the latest technology excellently to keep the show entertaining. I am not revealing the plot here as I don't want to be a spoilsport. Whether it's the sound of the giant waves or huge creatures include dinosaurs or the nail-biting finishes, the show keeps you hooked throughout. It is worth both your money and time, and the credits go obviously to the team responsible for the show. It is one of the newest shows in Thailand. So head there while in Pattaya for a spell-bounding, colourful show.
KAAN show timings: Tuesday to Sunday at 7:30 PM. Entry fee: 1750 THB for sky zone, 2100 THB for the cloud, 2800 THB for star zone. There are different prices for a snack and/or stay. Check the details here.
Things To Do in Pattaya with Family – Pattaya Floating Market
First things first. If you have never seen a floating market in SE Asia before, you'll love this place. Otherwise, you'll realise that this is a prototype of an actual floating market, which is commercialised to cater to tourists. So to me, it was the latter that I felt as I checked around the market that was bustling with local vendors on parked boats selling local food, souvenirs and more.
It is a visually appealing market, and great for photographs. And kids would enjoy walking around the wooden market decorated with colourful souvenirs, stuffed toys, flowers and more. In either way, you are going to feel pleased when in Pattaya floating market. There are many shows that also happen in the market, including Thai Music band parade, bowl rowing race, and traditional and sea boxing tournaments.
Pattaya Floating Market timings: 9 AM to 8 PM every day. Entry fees: 200 THB
A few more things to do in Pattaya with family: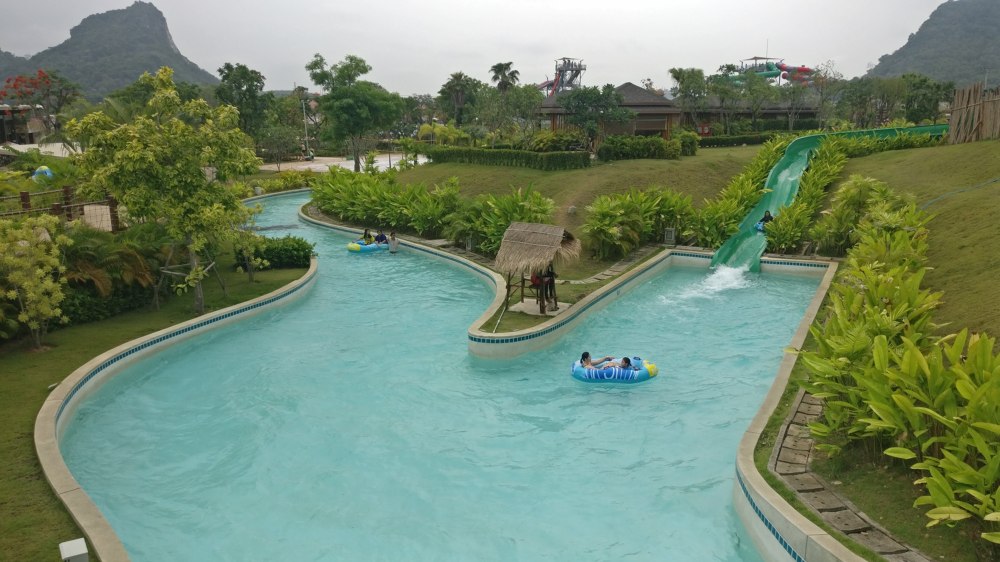 Cartoon Network Amazone Waterpark
Which kid doesn't love cartoon network? I know, right? So without saying, it goes that this is one of the fun things to do in Pattaya with family. We didn't get to visit this park, but our other group of bloggers did and loved it. So thought of mentioning since it would be something the kids would enjoy. Nestled in the seaside town of Bangsaray, which is about a 20-minute drive from Pattaya City, Cartoon Network Amazone Waterpark has more than 10 Cartoon-Themed Entertainment zones and over 25 crazy, exhilarating rides for kids and adults that would entertain you for a whole day. It would be a Cartoon Network for real for the kids & an adventure packed day for the adults that love playing water games!
Cartoon Network Amazone Waterpark: 10 AM to 7 PM every day. Check the prices and more on the theme park on their website.
Nong Nooch Tropical Garden
Another place that I am yet to visit in the Nong Nooch Tropical Garden, which stretches for more than 24 sq.km, built wonderfully to be a place for relaxation and fun. The gardens are neatly manicured, and designed into separate themes that include European gardens and dinosaur's valley as well. Located about 30 minutes away from Pattaya, it is a good place for photography and a playground for kids.
Nong Nooch Tropical Garden timings: 9 AM to 5 PM every day.
Stone Park & Crocodile Farm
The Million Years Stone Park & Pattaya Crocodile Farm is located about 15-minutes drive from the city centre and is another attraction worth visiting in Pattaya with family. This park & farm is for all nature lovers, where you can find a well-maintained garden. It consists of museums for plant and animals and also several shows are conducted with crocodiles, which are fun and feels dangerous to watch! I visited this park on one of my previous trips to Pattaya, and I got to interact with a cobra, which was exciting as well as scary!
The Sanctuary of Truth
The Sanctuary of Truth is a magnificently built Buddhist temple, and one of the most visited places in Pattaya. This architecturally brilliant temple consists of intricately carved pillars and is a beautiful place to photograph, pray and unwind. Don't miss visiting this lovely place.
The Sanctuary of Truth timings: 8 AM to 6 PM
Now, let's look at the other things to do in Pattaya if you are traveling as a solo traveler or couples (just without kids!)
Walking Street
There are many things to do in Pattaya at night. Pattaya is known for its nightlife and is the unofficial sex capital of Thailand, so the walking street, which is the red light area in Pattaya is one of the most visited areas by the traveler, which also consists of all the gogo bars in Pattaya. It is more than that actually, with lots of pubs, and crowd that stroll here, sometimes families too! Whatever your way of nightlife or partying is, it is worth checking out the Walking street for its activities. Things only begin in the evening with shops opening for tourists, and the street remains awake until the wee hours of the morning. There are cabs lined up throughout the night and hence traveling from the street to your accommodation is not a problem.
Things To Do in Pattaya With Family –The Beaches
Pattaya has some beaches of course, but it really isn't the place to go just for the beaches. I mean there are other regions to travel to Thailand if beaches are what you are looking for. But while you are there do check out the ones if you have time! Some of the beaches in Pattaya are Jomtien beach in the centre, Pattaya Beach, Wong Amat Beach, Koh Larn Beach, Bang Saen Beach and Naklua Beach.
How to Reach Pattaya?
Most people arrive from Bangkok to Pattaya, and Bangkok to Pattaya distance is 150 km. It takes about 1 hour or sometimes about 45 minutes to travel from Bangkok to Pattaya by bus. You can reach Pattaya from Bangkok by cabs as well, although it could be a bit expensive. Pattaya also has an airport, and you can fly directly to the city, where you can also get the Visa on arrival. It is also a great option as the flights to Pattaya are cheap.
Bangkok to Pattaya by train: You can travel from Bangkok to Pattaya by trains as well. But the trains are slow, and they run from Pattaya to Bangkok on weekdays. Although the Thailand train website has pricing for 1st and 2nd class, you should only expect the 3rd class without AC or pre-booking options.
Things to do in Pattaya with Family – Where to stay in Pattaya?
Pattaya has all sorts of options for hotels. So accommodation in Pattaya shouldn't worry you at all. There are plenty of budget hotels, hotels for families and 5 star hotels in Pattaya, located in the centre as well as away from the main town if you are looking for a cosy retreat. We stayed at Zign Hotel, and apart from the lovely room with a neat decor, I loved the view of Pattaya from my room!
If you thought Pattaya was just for bachelors, couples or solo travelers, now you know what it offers for families and why it is an ideal destination to travel in Pattaya with family! So what are you waiting for? Now that you know the things to do at Pattaya, Plan your Pattaya trip right away. Let me know if you have any queries and I'll try my best to help. Have a great a holiday to Pattaya!
Connect with me on Facebook, Twitter, and Instagram for travel stories.
PS: This post is a part of a collaboration with Tourism Authority of Thailand, Mumbai. However, all the opinions and thoughts are my own.
Share the Love. Pin this post!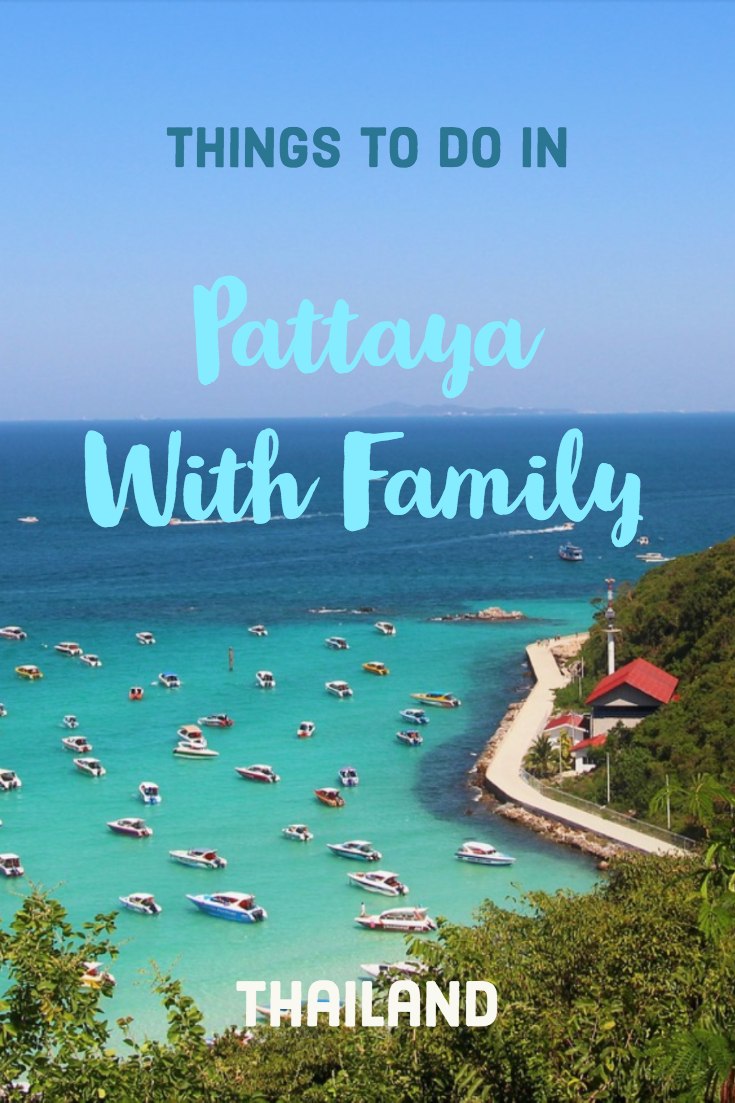 Subscribe to my posts by email for travel inspiration, destination guides, tips & stories. No spam!
* indicates required