December is a great time to travel in India. It is the time of winters, and the weather is pleasant no matter which part of India you want to explore. It is one of the most popular time for traveling, mostly people with families and couples who go on yearly holiday. In this post, I have covered the best places to visit in India in December, where you can choose from mountains, snow clad holiday, beaches and cultural destination. Check this post right away to pick an awesome destination for your trip in India in December.
Places To Visit In India In December
1. Witness the Kutch Festival at the Rann of Kutch
The Kutch festival is the most popular carnival in the state of Gujarat in India. It is a 65-days long festival that attracts thousands of local and international travelers, starting from the end of November until February every year.
The weather is perfect in December, where it gets chilly at night and pleasant during the day time. Camping in Kutch overlooking the white desert is sure to make anyone romantic and poetic. Book a tent at Dhordo village in the desert during the full moon, when you can view the splendid moon rising in the starlit sky over Rann of Kutch desert.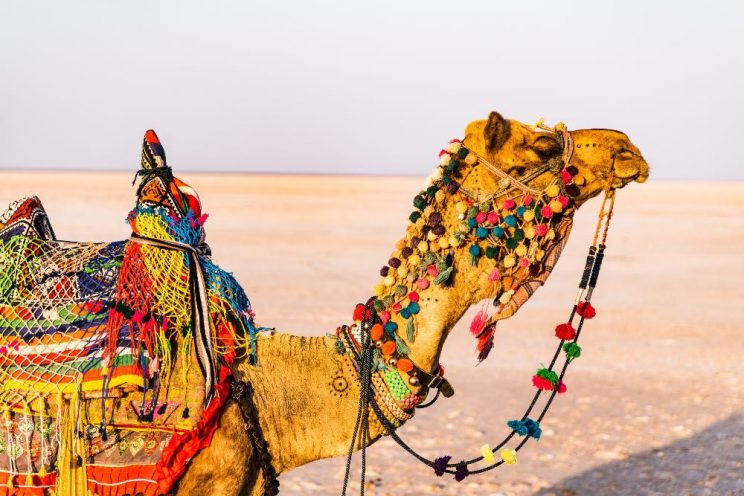 Folk music, mud house painting, traditional dance performances and excellent local food will entertain you and treat your taste buds. You can pamper yourself with exquisite spa and meditation therapies.
You have plenty of activities as well that you will love, especially if adventure is your thing. You can sign up for ATV rides, rappelling, rock climbing, BasketBall, camel riding and Shooting. If you are spending a few days extra, check out other nearby attractions at Mandvi, Bhuj and around for temples and beaches.
Overall, one of the top places to visit in India in December for a unique holiday experience.
How to Reach Kutch?
The nearest airport to reach Kutch is Bhuj, about 70 km. There are direct domestic flights from Mumbai and Delhi. If flying from elsewhere, you can reach Ahmedabad and take another flight to Bhuj.
By train – Bhuj railway station has connectivity to nearby cities. Although finding a direct train is hard if you are coming from faraway cities, it is possible to reach Kutch by train by taking multiple journeys with breaks.
By Bus – There are plenty of buses from all major cities in Gujarat to Bhuj. You can take a bus from Ahmedabad after arriving there by flight.
2. Enjoy a beach holiday at Lakshadweep
One of the best places to visit in December in India for honeymoon is Lakshadweep. It is totally secluded, small enough to wander without getting exhausted and big enough for beach days. There are many luxurious resorts with infinity pool, exotic spas and private beaches for a grand and romantic honeymoon.
Not just honeymooners, Lakshadweep Islands are one of the best places to visit in India in December with family. Although there are only a few of the archipelago of islands open to the public, the ones open for tourists almost always have few visitors, even during the peak seasons like December.
Sandy beaches lined with tropical jungles and islands sprinkled with sprawling resorts, delectable seafood and plenty of turquoise waters everywhere will soothe your senses.
The best thing about being here in winter is the temperature is really great. It is perfect to bathe in the sun without getting roasted.
You will arrive at Agatti island, so spend a day or two there, and then head to Kavaratti, Kadamat and Minicoy for beaches, lighthouse, corals and boat tours. You can enjoy snorkelling, diving or just have fun at the beaches doing nothing.
You need permits to visit the islands of Lakshadweep, which can be easily obtained online.
How to Reach Lakshadweep?
There are flights from all major cities to Agatti Airport at Lakshadweep Island. You can also reach by ship or ferries from Kochi.
3. Go Camping at the Thar Desert in Rajasthan
If Kutch is for the white salt desert, Thar is the biggest desert of India, which attracts hundreds of thousands during December. Jaisalmer city, which is the nearest town itself is full of attractions ranging from delicious street food to Royal Palaces to massive forts.
You can easily spend 3 to 4 days in Jaisalmer enjoying these places. Jaisalmer is also one of the awesome places for travelling alone.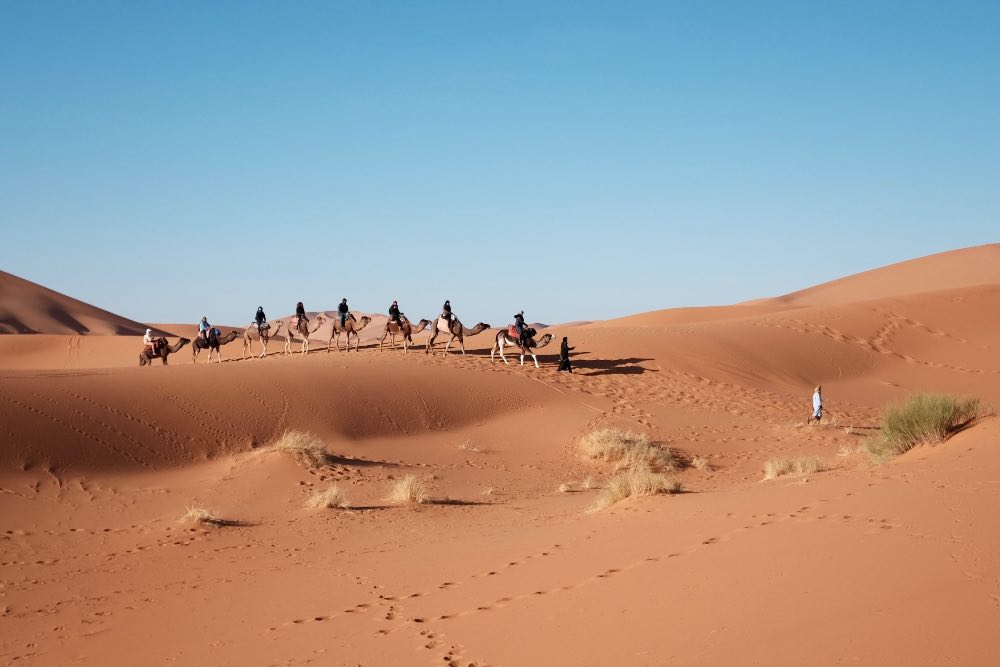 Book a safari tour for camel ride that includes camping in the Thar desert. You will get a chance to spend in the chilly desert, where you sit by the bonfire and gaze at the night sky studded with stars. It is one of the awesome places to visit in India in December with friends and family.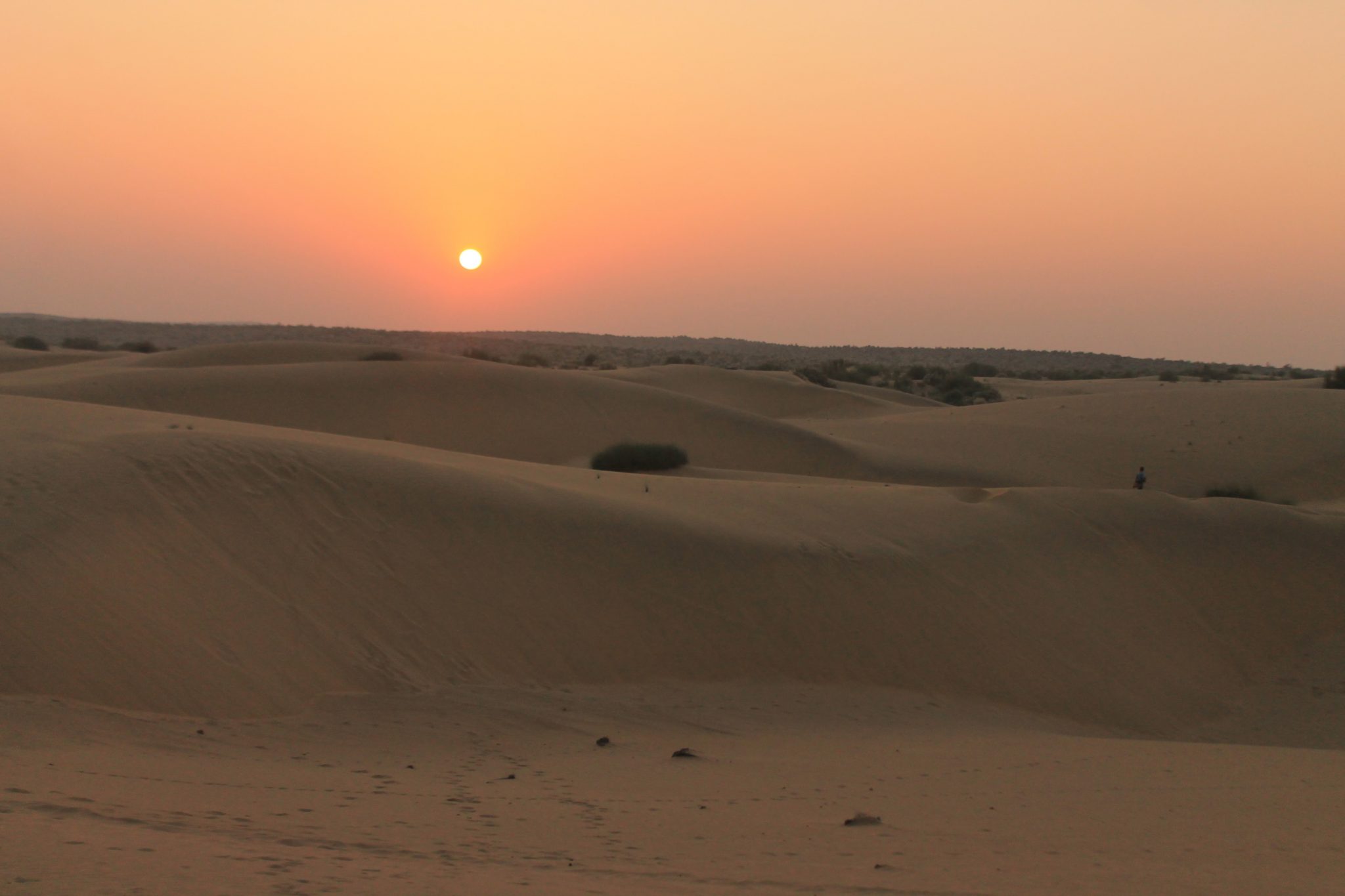 How to get to Jaisalmer?
There are direct trains from Delhi and other major cities, some of which travel overnight as well. You can also take a flight to Jaipur from any of the cities in India and travel by road or by train.
4. Go Skiing at Auli, Uttarakhand
How about a skiing holiday in the Himalayas? If you want to experience snow and everything beautiful that comes with it, pack your bags to the small town of Auli. One of the best places to visit in December in India, Auli is a total package for luxury, fewer tourist crowds, and skiing. If the Valley of flowers is for the monsoon, Auli is for the winter.
Auli in Uttarakhand is one of the few places in India to enjoy a winter holiday. Pack a lot of winter wear for the super cold weather in December. Book your accommodation well in advance as they get booked soon.
Skiing is the reason why Auli is worth visiting, but there is more. You can take cable car rides, go hiking around the mountains through Nanda Devi National Park. If you enjoy walking, you can take a stroll through the Gorson Reserve Forest. You can also visit Rudraprayag and Joshimath for a few ancient temples.
How to Reach Auli?
You need to reach Dehradun, the nearest biggest city with the airport to get to Auli. There are direct flights from Delhi, Mumbai and other cities to Jolly Grant Airport in Dehradun, which is 149 km away.
You can also take buses, shared cabs and private cars from Dehradun to Joshimath. From there, take a fantastic cable car ride to Auli from Joshimath, which is a fitting way to start your winter holiday.
5. Revel at SunBurn & Enjoy a Christmas Carnival at Goa
One of the top places to visit in India in December is Goa. Well, Goa is the most visited destination in India during any time of the year, but things get really spicy in December. One reason is that it is the time of Christmas, and the whole state turns into a carnival with festivities, carols, and music everywhere.
It is the time for parties for both locals as well as tourists who join the celebrations. The shacks are full, the lovely beaches are busy catering travelers, and there are tons of things to do in Goa, no matter how many days you are here for. The parties run all night, and you can basically be anywhere. There are many casinos and gambling units spread across the river, where you can have fun.
If music is your addiction, it is a bonus because December is the month for the Sunburn music festival, which attracts the young crowds from across the country. Tickets sell out quickly and so do the hotels.
So if Goa is on your mind in December, get planning early for best prices and places. Even if you plan well ahead, expect the prices to be on the higher end compared to other destinations in India, thanks to Goa's incredible popularity.
How to Reach Goa?
There are direct flights from major cities to Dabolim Airport, which is about 45 km away from Panaji and Central Goa. You can also travel by bus or trains if you are arriving by some of the cities.
More Places To Visit In India In December
6. Explore the Islands of Andaman & Nicobar
Another place to visit in India in December for couples or honeymoon is Andaman & Nicobar Islands. Just like Lakshadweep, these islands offer everything you need to have a beach holiday, catering to all budget types. While Lakshadweep has fewer options for budget-conscious travelers, Andaman has plenty, and also more resorts to choose from.
Head to Neil Island, Ross Island, Baratang Island, Havelock and other islands for all sorts of water activities, from snorkelling to deep-sea diving to kayaking. Long and Neil Islands are ideal for scuba diving, and you can enjoy joining a class if you are interested.
The coral reefs are pretty, and the white sand beaches lined with palm trees offer the perfect getaway. All of these islands are unique and beautiful, and perfect for a few days after spending a day in Port Blair, which would be your city of arrival.
How to Reach Andaman?
There are many direct flights from major cities in India toVeer Savarkar Airport at Port Blair. You can also arrive by ships from Kolkata, Chennai and Visakhapatnam.
7. Witness the Hornbill Festival at Nagaland
If you love going offbeat destinations in India for a unique experience, then you should attend the Hornbill Festival in Nagaland state. It is the largest cultural festival celebrated by Naga tribes, and thousands of locals gather for rituals, celebrations and parties. You can witness the traditional dance performances, folk songs, local games and rock concerts.
There is a night market where you can buy local handicrafts, try local food and beer. There are a lot of fun games as well, open to tourists.
It is unlike any place in India, and it happens only in December every year. But you need to plan ahead for this trip if you want to experience a different holiday. The accommodation options are limited and get sold almost a year ahead. Various tour companies organize customised festival tours as well if you want to travel hassle-free.
How to reach Nagaland?
The nearest place to the Hornbill festival ground is Kohima, which can be reached from Guwahati, the nearest city with an airport. You can fly to Guwahati from most of the big Indian cities. You can also reach Guwahati by train, although it would be a long journey.
8. Enjoy the Ganga Aarti at Varanasi
If temple hopping and a spiritual journey is your idea of a holiday, then one of the best places to visit in India in December is Varanasi. The chaotic streets of Banaras come alive with tourists and locals who come here for various rituals and ceremonies during this month.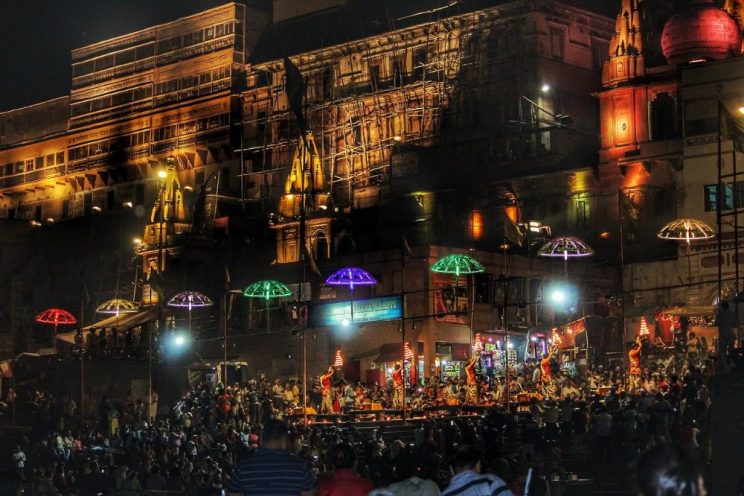 After monsoons, the ghats are cleaned and boating becomes possible. Take a boat trip to witness the beauty of Varanasi ghats from Ganga river. Book a spot for witnessing the mesmerising Ganga Aarti around sunset, which is a crowd-puller. You need to get hours before( around late afternoon) to secure the best spots to visit the Aarti.
Saviour the delicious local street food of Varanasi and explore the old streets. There are many attractions to visit in and around Varanasi, including Saranath.
How to reach Varanasi?
There are direct flights to Varanasi from most of the cities in India. You can also reach by train from Delhi, Kolkata, Guwahati and other cities. Buses are available from many cities but are not frequent or comfortable.
9. Enjoy the Backwaters of Kerala
'God's own country' is ideal to visit almost throughout the year, but winters in Kerala is the best time to enjoy. The humidity is manageable and the weather is pleasant, especially at night, when it is cool.
Kerala is one of the best places to visit in December in India because of the plenty of choices available for travelers. You can opt for a retreat taking up rejuvenating Ayurvedic massage spa in Kovalam or Varkala, or stay in a lovely resort overlooking the backwaters in Alleppey.
You can also stay in houseboats in Alleppey, and enjoy the beauty of the countryside. Kumarakom and Kozhikode are the other towns famous for backwaters experience in Kerala. If you prefer mountains, you can head to Munnar or Wayanad. Depending on your destination, you can spend between 3 days to a week easily in Kerala.
How to Reach?
Depending on where you want to go, you can choose to arrive at Kochi, Trivandrum or Calicut, all three cities that have airport connection. From there you can plan to book a bus or a cab to your destined city.