Want to do the Valley of Flowers Trek? Then you have come to the right place. I did the Valley of Flowers & Hemkund Sahib independently traveling solo for 6 days. There are many Valley of Flowers package tours, especially in recent years, which offer group tours with guide. But is it required? Because I managed to complete the Valley of Flowers trip in 4000 INR, traveling totally on a budget from Bangalore. Don't believe it? Just read my Valley of Flowers Trek travel guide to find out how you can do it.
Valley of Flowers Trek & Hemkund Sahib – How To Plan Your Trip
Before we move to the detailed itinerary to do Valley of Flowers Trek & Hemkund Sahib on your own, let me answer the questions on time, route and weather.
How To Reach Valley of Flowers?
Valley of Flowers Trek from Delhi – Assuming that you are arriving at the trip to Valley of Flowers from Delhi, You'll first have to travel to Rishikesh which is the starting point for the trek. The total distance from Delhi to Valley of Flowers is 513km and takes a minimum of 3 to 6 days in total to complete the trip depending on your preference, weather and the fitness.
By Bus: You can take the direct bus from Delhi to Rishikesh, which takes about 7 to 8 hours. There are both private as well as public buses. You can buy the tickets to Rishikesh at Maharana Pratap Inter State Bus Terminus or ISBT.
By Train: There is no direct train to Rishikesh from Delhi. You can get down at Haridwar railway station, which is just 30 mins away from Rishikesh. There are plenty of shared cabs that take you for a very less price.
By Flight: The nearest airport is at Dehradun, and there are a few flights from Delhi to Dehradun every day. The distance from Dehradun to the Valley of Flowers is over 300 km. From Dehradun, you have the option of taking the shared cab (cheapest), private cab (expensive), buses (cheaper).
What is the best time to visit Valley of Flowers?
The Valley of Flowers' best time is when the park is open! On a serious note, the Valley of Flowers National Park opens between late June and Mid September every year. The exact dates are announced a few months before. Apart from these months, the valley remains closed for the rest of the year.
Did you know? The Valley of Flowers National Park is a UNESCO world heritage site.
Again, which is the best time to visit Valley of Flowers? The Himalayan flowers start blooming in July and sometimes it might get late and begin in August as well. I went at the end of July, and it was fine with me. But the locals suggested that the best time is mid August when the full bloo happens. So considering the expert advice, August would be a good pick to witness the rare flowers of Himalaya!
But there is a catch. It will surely rain since it is the monsoon season, but if it's heavy then it becomes impossible to trek. So if possible, allow yourself up to 7 to 8 days so that you can keep a day or two as a buffer in case rain interrupts.
Valley of Flowers Trek Difficulty: What To Know Before Your Valley of Flowers Trek Trip
The valley of Flowers altitude is between 3,352 – 3,658 meters or between 11,000 to 12,000 feet, which is in the beginning scale of the high altitude range. This attitude can cause acute mountain sickness to most of us. If you have prior high-altitude trek experience, then this wouldn't be a difficult trek assuming you have a decent fitness level. Every person's body reacts differently to the mountains, so I can't speak for any individual though.
But follow the general trek guidelines for the Valley of Flowers trek as well. If you have never trekked before, it is better that you indulge in some kind of moderate physical activity every day for 2 to 3 hours at least 15 days before the trek. This would be the best case, but not a very hard rule. If you are fit enough, you can easily pull this off.
Valley of Flowers Trek Cost
If you opt for a Valley of Flowers tour with any travel companies, the trek cost from either Rishikesh or Joshimath and back ranges approximately between 8000 INR to 13000 INR. Most do a trek for 5 to 6 days. I traveled from Bangalore to Valley of Flowers and also did Hemkunk Sahib trek and including everything, it cost me around 4000 INR. Check my detailed break-up of expenses at the end of this post.
So now let me share you the itinerary that you can follow your own Valley of Flowers Uttarakhand's trek!
Day 1| Rishikesh to Joshimath, Joshimath to Govind Ghat
The actual trip starts from Joshimath (the itinerary that you find in Valley of Flowers tour packages) although it's still a long day of travel. It takes 8 to 10 hours depending on the mode of transport. Rishikesh to Joshimath is about 250 km, but the distance from Joshimath to Valley of Flowers is about 20 km only, most of which should be hiked.
How to reach Joshimath from Rishikesh: The buses begin at 4 AM and there are 2 or 3 direct buses per day. Public buses are limited and the last bus leaves around 5:15 AM. The cost is under 300 INR (even lesser, I don't remember)
Make sure to reach early, maybe by 4 AM itself. I reached the bus stand at 5:30 AM and missed the last bus. So I had to spend some extra money for the shared jeep.
Shared Jeep: The TATA sumo or taxis/jeeps are another option to reach Joshimath. I paid 400 INR post bargaining. The driver initially quoted 600 INR, and that's what he charged the foreigners. Of course, the locals paid lesser than me.
Where to board the bus/jeep: The bus station at Rishikesh is away from the center of the town and since it would too early in the morning to reach the bus stand (you can still board from the station, but you'll end up paying more for the taxi to reach there!), you can wait near Tapovan, just after Lakshman Jhula.
The views are a treat throughout the journey from Rishikesh! There is a small police chowk after Lakshman Jhula. Both the buses and jeeps pick up from there. There is no signboard, but you can check with the locals for the bus stop – everyone knows the place.
Joshimath to Govind Ghat: Govind Ghat is a small village located ahead of Joshimath, which is also the place to start the trek for those heading to Hemkund Sahib. Once you reach Joshimath, take a shared jeep to Govind Ghat. It should not take you more than 150 INR. It takes about half an hour to 40 minutes to reach Govind Ghat.
Ideally, you should be reaching Govind Ghat latest by say 8 PM. If you take a jeep to Joshimath, they usually drop to Govind Ghat as well, so discuss it along. They might quote an extra sum, but haggle to include it under 400 INR.
Tip: Ensure that you start your day early, preferably by 4 AM to make it to Govind Ghat by evening. The weather is totally unpredictable in the mountains, and roadblocks are common. I started my day at 5:30 AM and made to Govind Ghat at 7 PM with two roadblocks in the villages that took away about 1.5 hours.
Where to Stay: Govind Ghat has many budget and small hotels, and the price varies from 300 INR to 500 INR for a night. There are many places for food, and finding a restaurant isn't a problem.
I stayed in the Gurudwara at Govind Ghat as I wanted to get a glimpse of the culture, which was a great experience. Plus, I had enforced a strict treks-on-a-tight-budget rule for this trip!
Joshimath: In case you can't make it to Govind Ghat, don't sweat. It is an hour away and it means you have to cover that one hour by starting early the next day. There are many budget stays and modern hotels in Joshimath, which is a relatively bigger town.
The government-run GMNV guest houses are pretty cheap, with dorm beds at 100 to 150 INR. They are hygienic and well-maintained. There are 2 GMNV houses – one at the centre, and the other in upper Joshimath. You can call them on the same day or a day before and block your stay. Check this website for complete details.
Also Read: Govind Ghat Gurudwara – Spending A Night in The Quaint Hamlet
Day 2 | Govind Ghat to Ghangaria
The actual trek starts here. Start your day at 6 AM to Ghangaria village, which is the base camp for the two treks. The total distance from Govind Ghat to Ghangaria is about 12 km. There are shared cabs that go to 4 km.
There is a bridge in Govind Ghat, which also has a check post. Here you are mandatorily required to submit your details to register first. Shared cabs are parked right to next to it. It takes about 20 minutes to cover 4 km.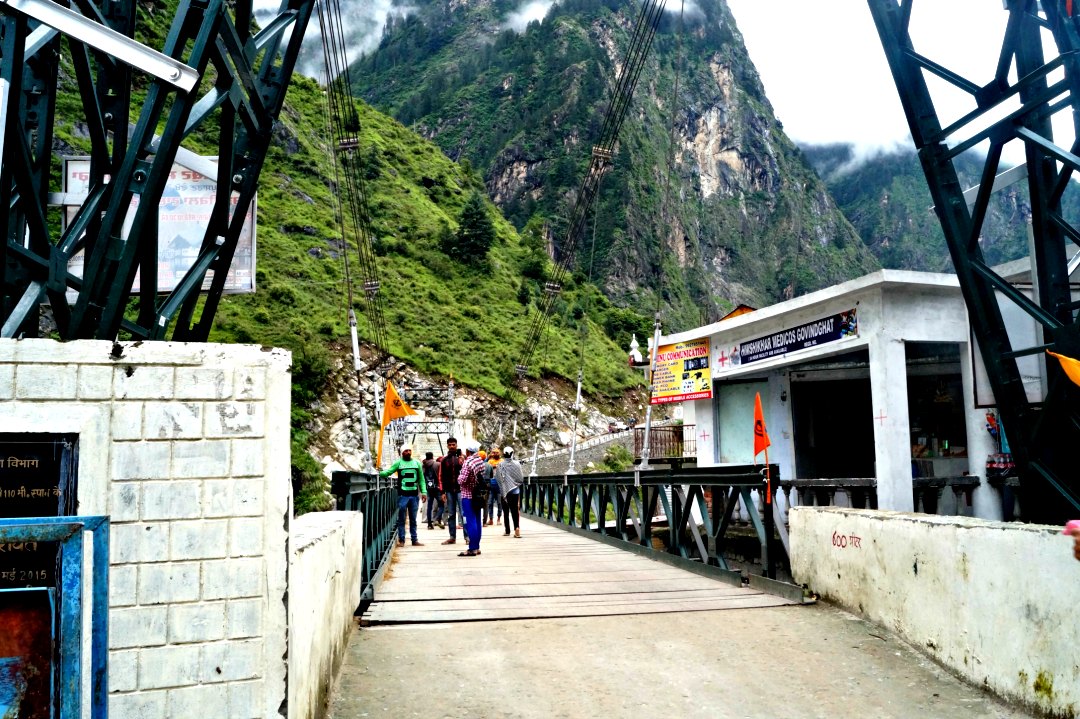 The trek to Ghangaria is strenuous, even tougher than the trek to the valley of flowers itself. The trek distance one way is 8 km, but 90% of the distance is uphill, some parts of it being steep as well. You can hire porters to carry your luggage or alternatively, rent a ride on the mule if you find it tough.
What to carry for Valley of Flowers Trek?
Tips: Carry as minimum luggage as possible – just the essentials should be perfect. It must include a poncho, 3 to 4 layers for cold, a wind jacket, waterproof trekking shoes, water bottles and a trekking pole. Also, don't forget to carry some basic first aid kit.
I repeat, the trail is tough – carry as less as you can! I had put on some extra clothes and it was very stressful to trek with a heavy bag.
Drink enough water to stay hydrated. There is a change in the altitude as you trek, and you trek from an elevation of 1800 meters to 3100 meters in a few hours. Take it slow, and you should be ideally reaching Ghangaria between 4 to 5 PM in the evening. Ensure you make it before it gets dark anyway.
Where to stay: From tents to modern hotels, Ghangaria has many options for stay. You can get a room from 200 INR onwards. There is a Gurudwara in Ghangaria as well, and you can stay there too for free.
Day 3 | Ghangaria to the Valley of Flowers
Below is the Valley of Flowers Trek Map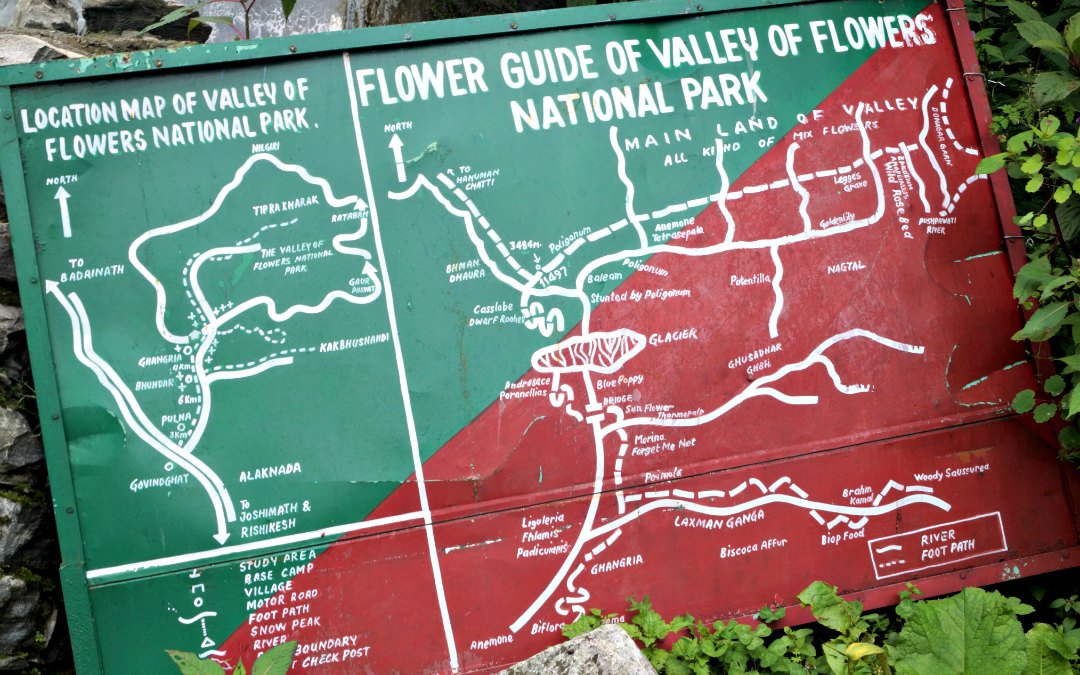 The 6km trek to the valley of flowers from Ghangaria takes about 4 to 5 hours depending on how much you intend to spend in the national park and your trekking pace. Luckily, there are just about 200 meters gain in altitude and the trail is a mix, but most easily. All you nature lovers will totally enjoy the trek.
Once you get out of Ghangaria, there is a signboard for the valley of flowers, following which you'll reach the checkpoint. You have to make your entry there and get the tickets. The entry ticket for Indians is 150 INR.
Check this picture below for full details.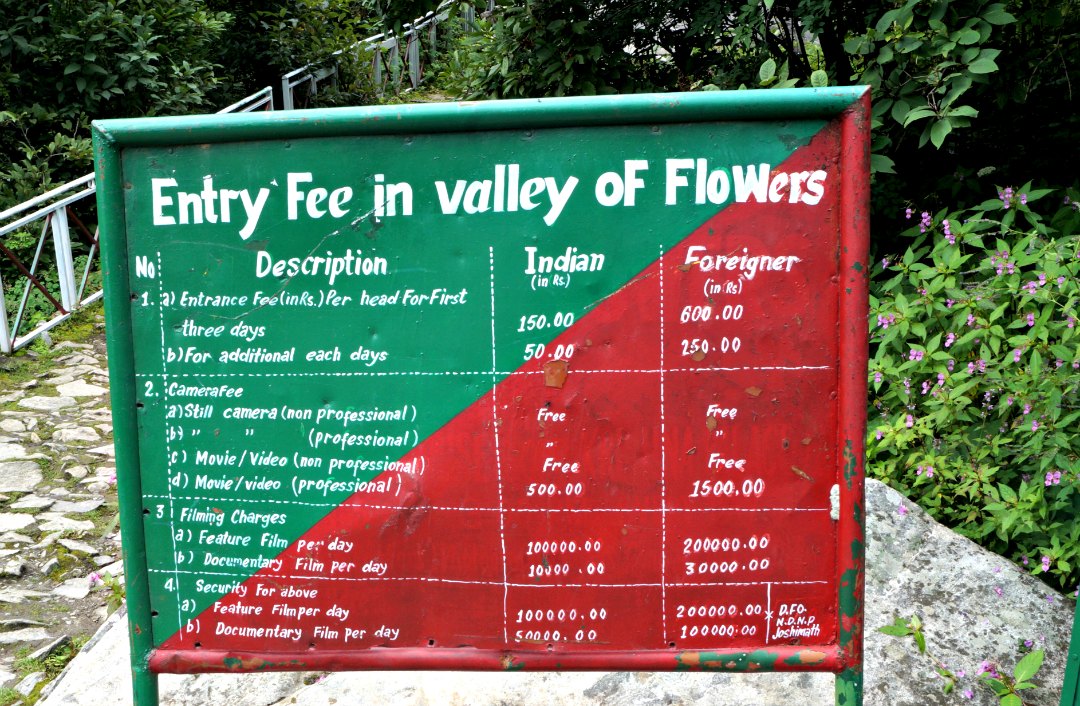 This is your day to finally make into the flowers of Valley consisting of gorgeous wildflowers including the rare and precious blue poppy, hundreds of kinds of tiny flowering plants all surrouned by surreal landscapes.
Tip: Start the trek as early as possible, within 7 AM. The weather usually gets worse as the day progresses and noon is when heavy downpours occur. Also, starting early ensures that you get to spend more time strolling in the valley. It takes some time to soak in the beauty and treat yourself to the views, after all this hiking!
Where to stay: Ghangaria
Read my trek experiences & check the gorgeous photos here: A Trek to the Paradise of Flowers
Day 4 | Ghangaria to Hemkund Sahib
The trek distance from Ghangaria to Hemkund is 5 km, but the terrain is tougher compared to the valley of flowers. Also, there is an altitude gain of about 1100 to 1200 meters. It's a difficult trek, but definitely do-able! You should be back to Ghangaria by 5 PM.
Begin the trek before 6 AM. Just make sure to carry the essentials – water bottle, glucose (if needed), light food, poncho, trekking pole and camera gears.
Where to stay: Ghangaria
Also read: Hemkund Sahib – A Trek to the Lake of Snow
Day 5 | Ghangaria to Govind Ghat/ Joshimath
The trek back to Govind Ghat from Ghangaria would feel easier, but it still needs 4 to 5 hours to make your way back. It's better to stay in Joshimath as that's where you'll have to head to board bus/jeep to Rishikesh.
Some people start really early and even walk back within 3 hours so that they reach Rishikesh the same day by jeeps.
Where to stay: Joshimath/Govind Ghat
Day 6 | Joshimath to Rishikesh
Board an early morning bus or shared jeeps from Joshimath and reach Rishikesh in the evening.
Where to stay: Rishikesh
Hemkund Sahib Trek or Valley of Flowers – Which one to do first from Ghangaria?
Well, the order to follow is as you wish. But technically, there are two approaches to this. If you feel that you need to acclimatise and warm up first – then go for the valley of flowers, also because this trek is more beautiful. On the other hand, if you feel the urge to be done with the toughest first (like me), then Hemkund should be your first choice.
Total Cost
This is what I spent, travelling from Bangalore:
Bangalore to Delhi & back, train – 1600 INR; Delhi to Dehradun & back, train – 290 INR; Cab (Delhi) – 150 INR; Jeeps – 1100 INR (travel from Dehradun to Rishikesh + Rishikesh to Joshimath & back); Stay – 200 (1 day hotel cost in Ghangaria, rest for free in Gurudwaras); Entry fees for VOF – 150 INR; Food – 500 INR (I ate food as well at Gurudwara in between)
Total: 3990 INR
So if you are travelling to Dehradun anywhere from the North like Delhi, then the cost would come down close to 3000 INR.
I think that's a great budget for a week's trip, what do you say?
Also, read my Valley of Flowers Trek Blog to find out my experience in the paradise of flowers!
Have you been there? If not, plan your budget trip right away now that you know how to do it 😉
Share the Love. Pin this Post!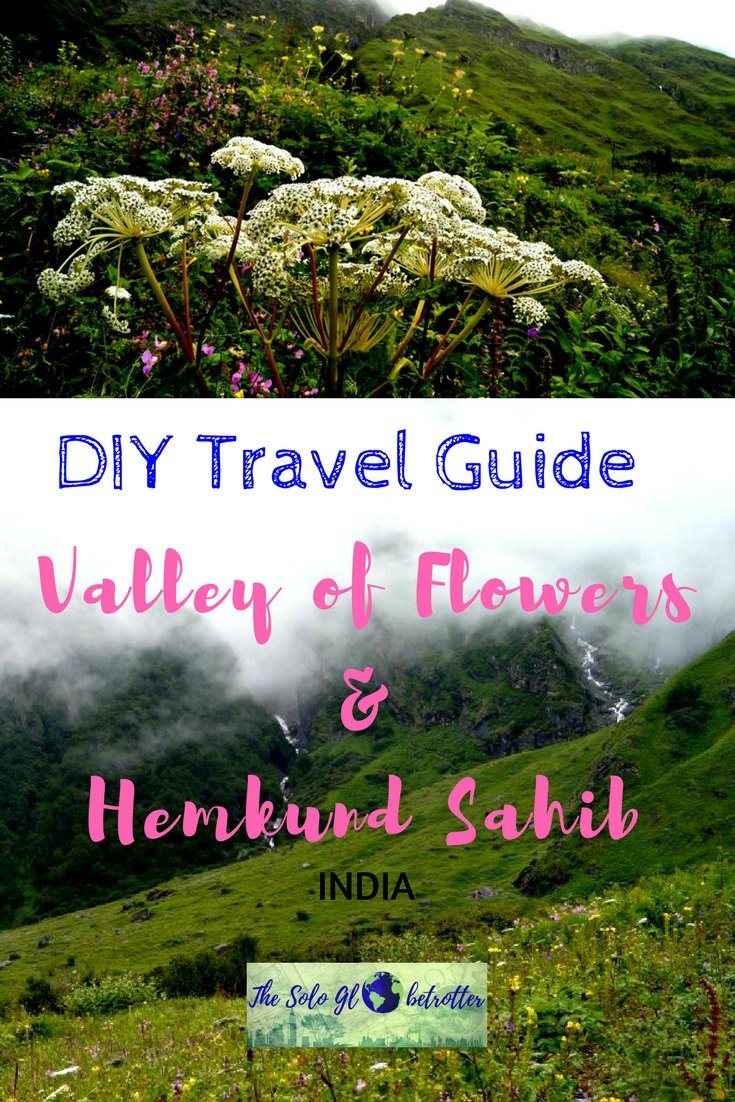 Connect with me on Facebook, Twitter, and Instagram for travel stories.
Subscribe to My Blog Posts for Travel Inspiration, Tips, Travel Guides & Stories. No Spam!
* indicates required