After making it to the base camp, i.e. Ghangaria, I had to decide on which hike to do first – the Valley of Flowers or Hemkund Sahib. I asked many locals about what's the best order, and most of them suggested me to do the toughest first, which was Hemkund Sahib trek.
So I went ahead and did it. And believe me, it was an amazing & exhausting experience! It was more challenging than the trek to Valley of Flowers. Before you read my journey, let me share some practical information first.
History of Sri Hemkunt Sahib
Hemkund Sahib History – Hemkund in the Sanskrit language means a Lake or a bowl of Snow, a name attributed to the glacial lake. Hemkund Sahib Yatra is a sacred pilgrimage experience for the Sikhs.
Hemkund Gurudwara or Sri Hemkunt Sahib is dedicated to its 10th leader, Guru Gobind Singh. It's the highest Gurudwara in the world at over 15,000 ft or 4640 meters. Also, after the Golden Temple in Amritsar, Hemkund is the second most visited Gurudwara in India.
The Valley of Flowers, which you'll find on the way when you to trek to Hemkund Sahib is believed to be a floral shower from heaven when Guru Gobind Singh came to this earth.
The pilgrims take a bath by immersing in the ice cold glacier lake (at -10 degree C temperature!) before attending the prayers in the Gurudwara. The flash floods of 2013 that wreaked havoc in Uttarakhand deeply impacted this place too. The entire cobbled path was washed away and has been rebuilt. (That must have been so tough!)
Editor's note – Love Mountains? Check these 201 Inspiring Hiking Quotes!
How to Reach Hemkund Sahib?
Assuming that you are arriving at Hemkund Sahib from Delhi, You'll first have to travel to Rishikesh which is the starting point for the trek. The distance from Delhi to Hemkund Sahib is 238 km.
By Bus: You can take the direct bus from Delhi to Rishikesh, which takes about 7 to 8 hours. There are both private as well as public buses. You can buy the tickets to Rishikesh at Maharana Pratap Inter State Bus Terminus or ISBT.
By Train: There is no direct train to Rishikesh from Delhi. You can get down at Haridwar, which is just 30 mins away from Rishikesh. There are plenty of shared cabs that take you for a very less price.
By Flight: The nearest airport is at Dehradun, and there are a few flights from Delhi to Dehradun every day. The distance from Dehradun to Hemkund Sahib is 253 km. From Dehradun, you have the option of taking the shared cab (cheapest), private cab (expensive), buses (cheaper).
Hemkund Sahib by helicopter: For those who cannot trek, there is a helicopter service that flies you to the Gurudwara and back for about 3000 INR. This service is not regular and is heavily dependent on the weather. You need to book at Govind Ghat in advance if you want to avail copters.
Hemkund Sahib weather – What is the best time to visit Hemkund Sahib?
Hemkund Sahib Gurudwara opens in May every year and closes just before the onset of Winter, around October. People visiting the temple on a pilgrimage go throughout this season. Hemkund Sahib's weather changes during these months, from snow to monsoon.
As a trekker, the best time to do Hemkund Sahib trek is around July/August. The monsoon would have started making it cool. And you have the chance to do the spectacular Valley of Flowers trek as well.
Trek Difficulty – The Challenge
Apart from being uphill, Hemkund Sahib trek is tough because it gains a rapid altitude of about 1300 meters or over 4200 feet within a few hours. A sudden rise in altitude can affect us in different ways.
I heard from people at Govind Ghat that over 50% of the people trekking to Hemkund Sahib are prone to Acute Mountain Sickness (AMS). This worried me honestly more than the difficult trail. I had been unable to acclimatise during my winter trek to Kuari Pass. Also, I was trekking by myself without any group this time, and this bothered me more.
Anyway, I HAD to trek now that I was here. I chose to tackle the tougher beast first.
I started the trek early, at 6 AM on a morning that seemed clear (little did I know that it would be temporary!). It was a little accomplishment to me already – Hey, I woke up at 4:30 AM. (Yes, I'm TOTALLY NOT a morning person) and was out of Ghangaria in a few minutes.
The chilling morning and the wind already looked intimidating. The ascent began quicker than I had expected, and within a few minutes, I was on a cobbled path that curved upwards.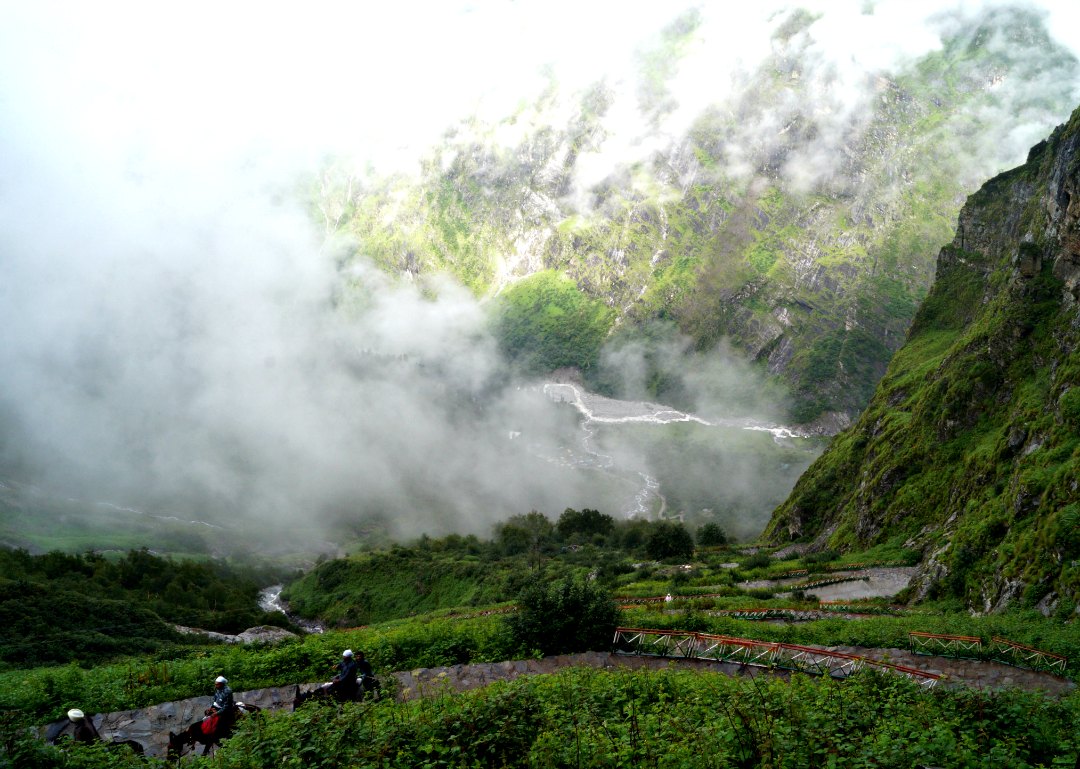 Heavy mist surrounded above. I could see many streams and the lush canopy of the mountains soaked with the raindrops. A family from Amritsar was ahead of me. Many people were making the journey on horses. I could feel the exhaustion already.
I made promises that I would start exercising, eat healthy food, do Yoga regularly (You know, all those thoughts that never materialises, of course, 😀 )
I pulled out the raincoat and wrapped my camera. Rain posed a new challenge – first of all, it made the weather super cold as it brought strong winds with it. Then the existing fog thickened, totally blurring the trail. Plus we were gaining altitude at every turn.
Well, when the going gets tough, you should just stick around! Also, having no shelter to escape rains kind of propelled us to keep moving forward.
The only thing that looked positive and gave me a purpose of moving was the majestic landscape that grew more dramatic as the altitude gained. I was also one of those lucky people to see Brahma Kamal, a rare wildflower that blossoms once in 12 years.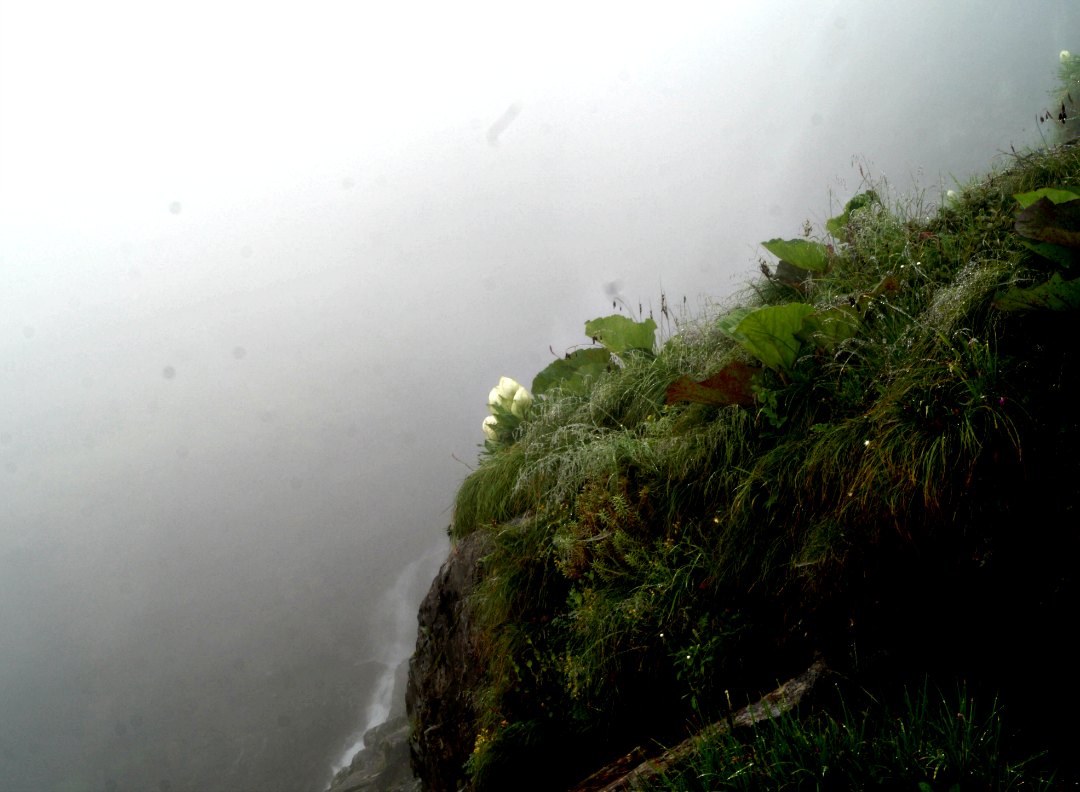 I made way taking small steps and people around me kept encouraging me. An old man (one of the priests) passed through and blessed me.
The last leg remaining for about half an hour was the toughest of all. I realised I was among the clouds when I looked below to see the path that I had just trod disappear! The altitude had caught me then, despite my efforts to resist.
After trekking for about 5 hours covering a distance of 7 km, I reached the summit. The partial view from above was stunning. I was thrilled.
I felt dizzy and my head throbbed with pain. I thought I would pass out anytime. I quickly found a bench and sat. Pilgrims were taking a dip in the frozen waters of the lake. I fought to stay awake and was successful. After the dizziness subsided, I took a walk around.
I went inside the Gurudwara and luckily, I got to witness the entire ceremony, which was something new and was very serene. The old priest that I had met looked at me and smiled. I got to savour hot tea and lunch – a fitting reward for an exhausting trek.
After spending a few hours, I made my way back totally drenched in the heavy rain which didn't stop at all until reaching the base camp. It was evening, I was shivering and could not feel my legs by the time I was back in the hotel.
But I couldn't be happier. I had cleared the tougher of the two, which turned to be the right decision – because the valley of flowers truly felt like a cake walk after Hemkund Sahib!
Where to stay?
Stay options at Hemkund Sahib are not available. You can find some hotels in Ghangaria, which you can book directly. Or you can find a lot of hotels in Joshimath or Govind Ghat.
Have you been to Hemkund Sahib? If not, you must go – It might be tough, but if I made it alone, You could do it too!
Check my DIY travel guide to the Valley of Flowers to plan your trip. I did both under 2500 INR. I'm not kidding!
Recommended reading
Trek to the base camp Ghangaria
Hemkund Sahib 2020 Update: Hemkund Sahib opens for travellers in May 2020.
Connect with me on Facebook, Twitter, and Instagram for travel stories.
Subscribe to My Blog Posts for Travel Inspiration, Tips, Travel Guides & Stories. No Spam!