It was a serendipitous coincidence that made me come across Khalsen homestay. I was on a quest to find a secluded getaway that fit these criteria when thinking of my trip to Uttarakhand – lots of views of the Himalayan mountains around me(better if they are snow-capped), very few people, kind and friendly hosts, a quiet and clean space to get some work done, and above all, to watch as many stunning Himalayan sunsets as possible!
I stumbled upon Khalsen Homestay and did a quick scan of their Instagram page, and it looked like this place was going to be it. So I decided to stay there for more than a week and left with lots of fabulous memories, unique experiences, new friends, and more admiration and awe of Uttarakhand and the majestic Himalayas.
Since the culture of work from anywhere has taken its wings, you may be researching to find a cosy place to work from the mountains. As a digital nomad on the road for extended periods, this is something I have enjoyed in all my years of traveling.
And since more and more are discovering the joy of working and exploring a bit of the place you choose, it is only perfect that I share all about Khalsen homestay with you. So grab your tea and get started to know all about this lovely stay.
WHERE IS KHALSEN HOMESTAY?
Khalsen Homestay is a family-run stay located in a small village of the same name, close to Srinagar town in Garhwal in Uttarakhand. It takes about an hour to arrive at Khalsen Homestay from Srinagar town.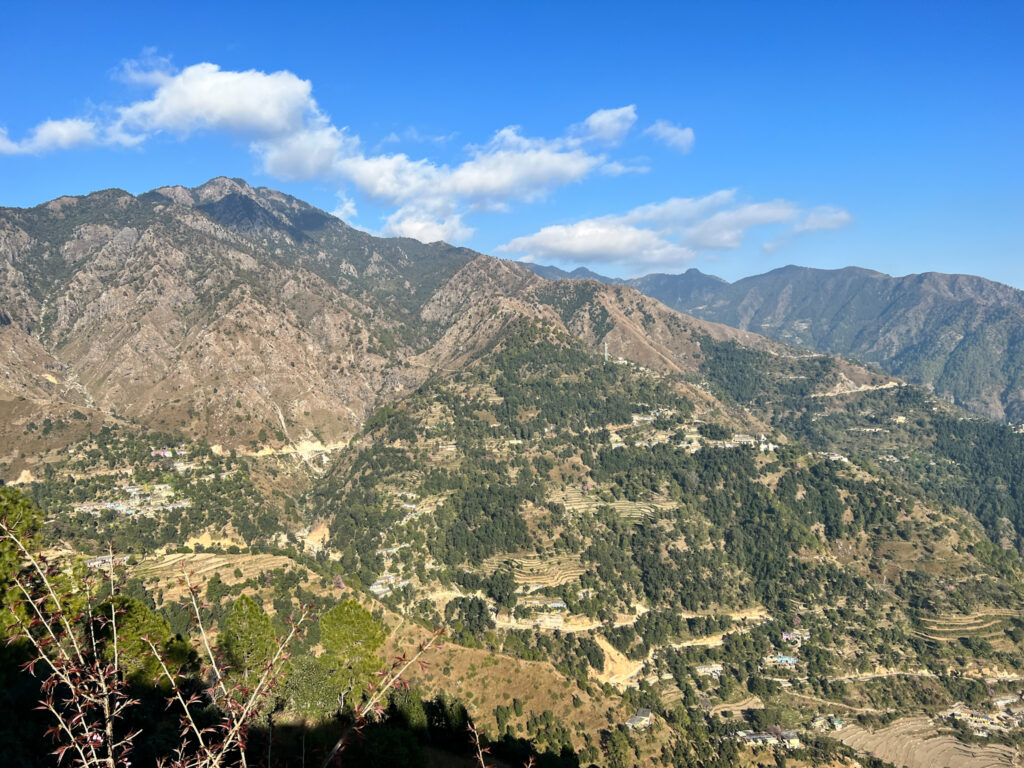 Whether you want to spend some days, weeks or months basing yourself here for work and exploring the beautiful Garhwal, or you want to take a short trip after you visit Rishikesh, Khalsen Homestay is an ideal choice.
From Rishikesh in Uttarakhand, it takes about 6 hours to reach Khalsen Homestay. If you are traveling from Delhi by car, it takes approximately 10 to 11 hours.
Recommended: The Best Delhi Itinerary For All Seasons
WHY SHOULD YOU CHOOSE KHALSEN HOMESTAY?
Staying at Khalsen Homestay allows you to slow down and even pause, ponder, and live a little in the lap of the might Himalayan mountains. It is not every day that we experience village life in the remote mountains, and a trip here is unique in many ways.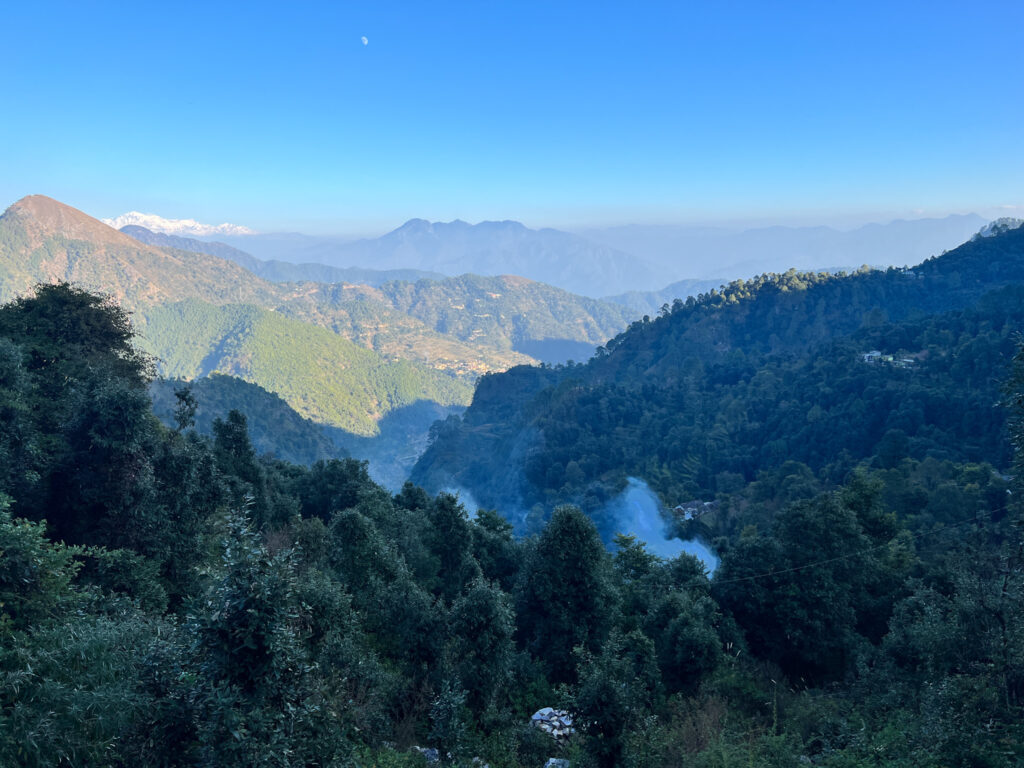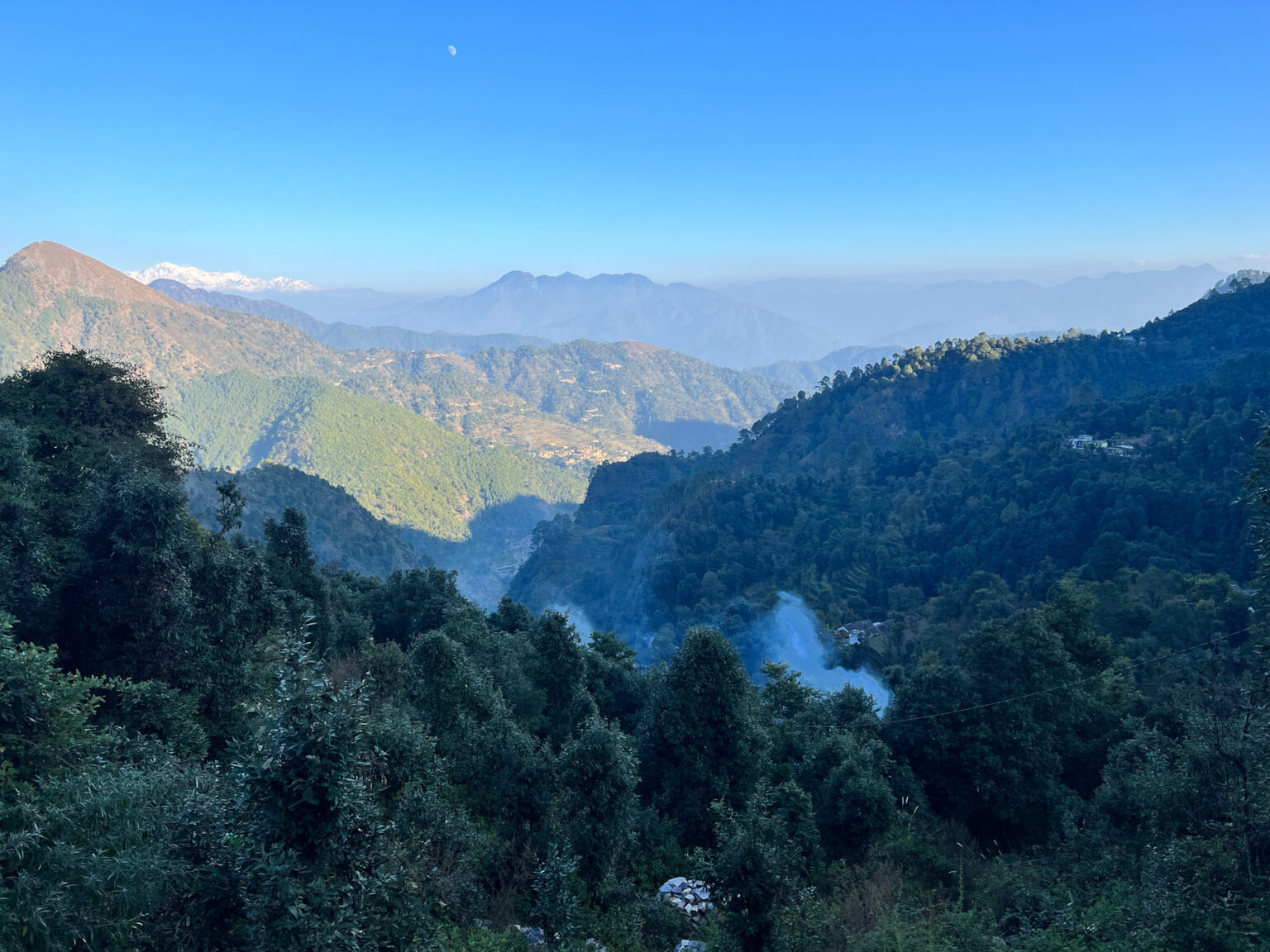 If you are here with kids, they get the perfect gift of nature, fresh air, peace, homemade food, the song of the birds, the mountains forming their playground to experience nature first hand.
If you are a solo traveler or traveling with friends, you get to enjoy the solitude amidst the mountains apart from having fun wandering amidst the hills filled with stories, beauty and adventure.
SOME AMAZING THINGS TO DO ON YOUR STAY
If you plan to move here for some days to work from the mountains, these activities below are perfect during your free time. You get to spend quality time with your loved ones, which allows you to be physically active, breathe in the fresh air and be rewarded with beauty and peace outdoors.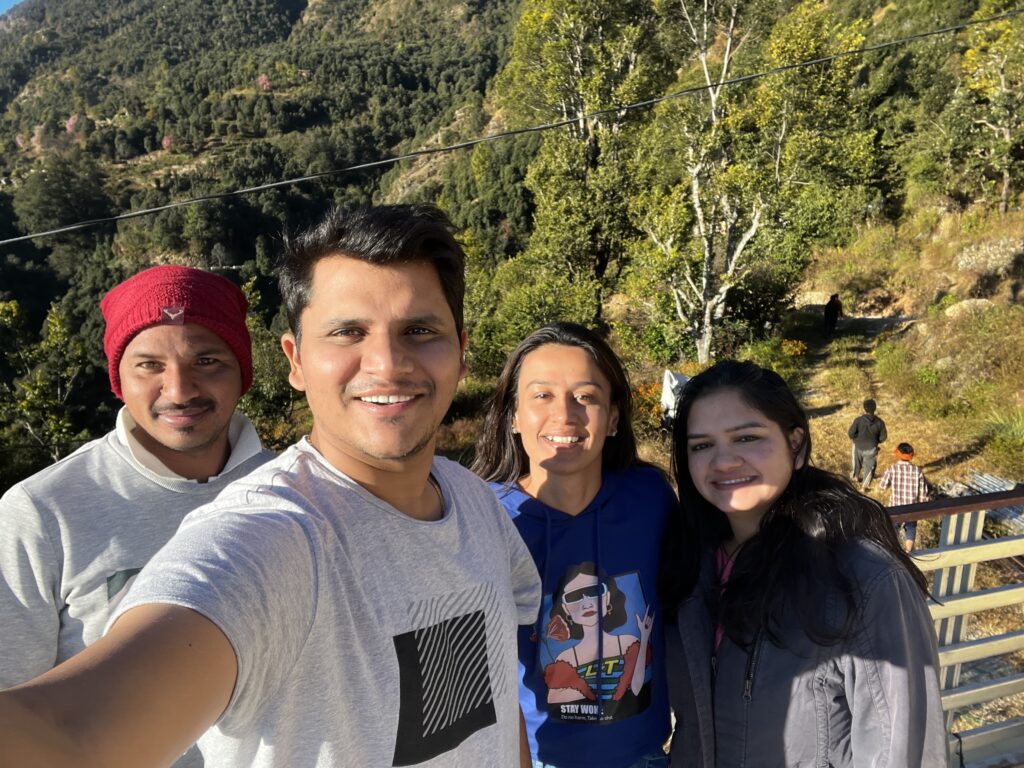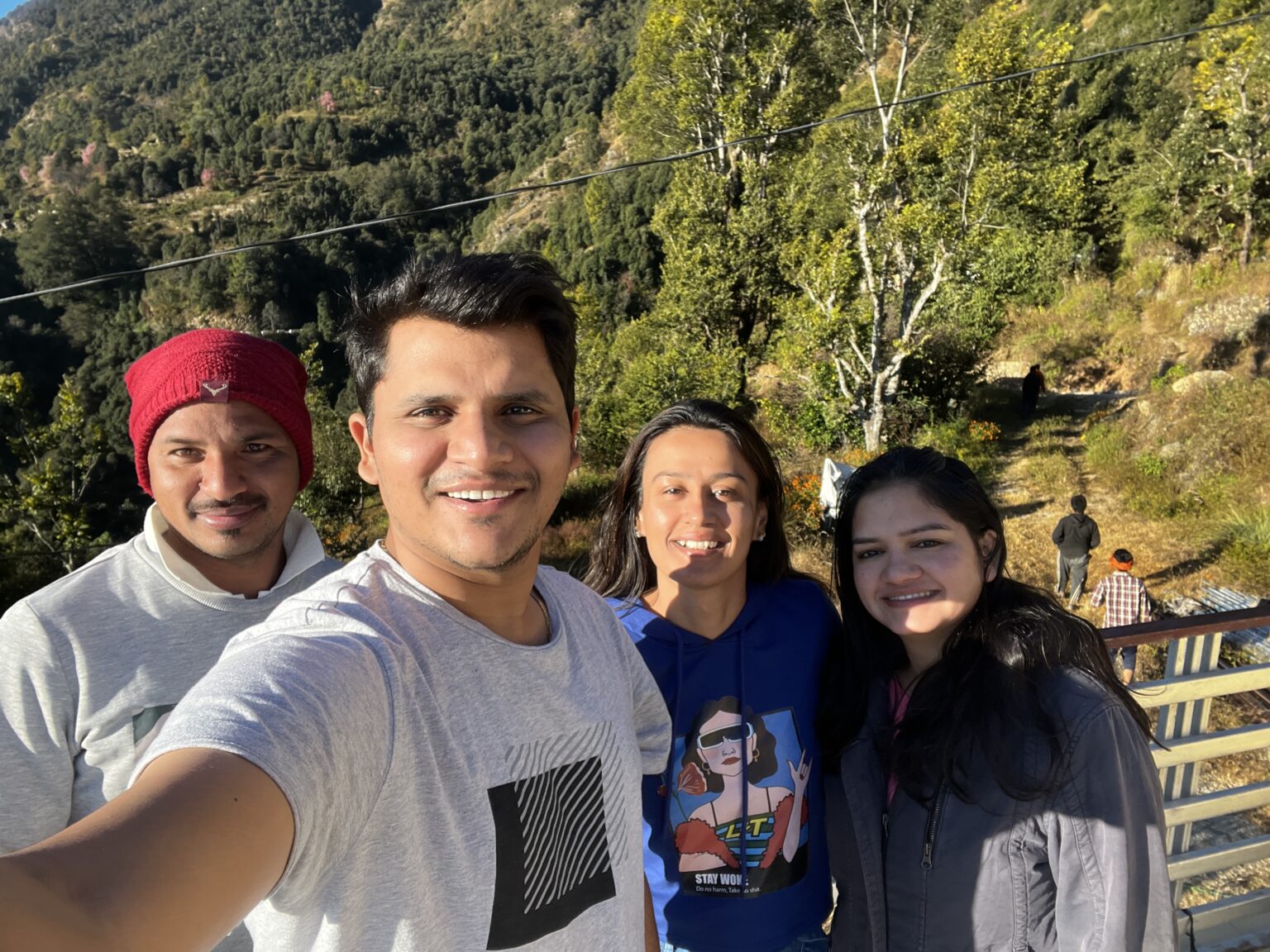 During my stay here, I enjoyed doing these things at Khalsen.
Enjoy the Serene Sunrise from the Balcony
Bliss and joy on your holiday are waking up to the chirping of the cute birds, sipping tea, and soaking in the beautiful views opened up by the rising sun on the horizon.
Khalsen Homestay is excellently located to deliver watching the sunrise right from your balcony. For better views and photography, head to the rooftop.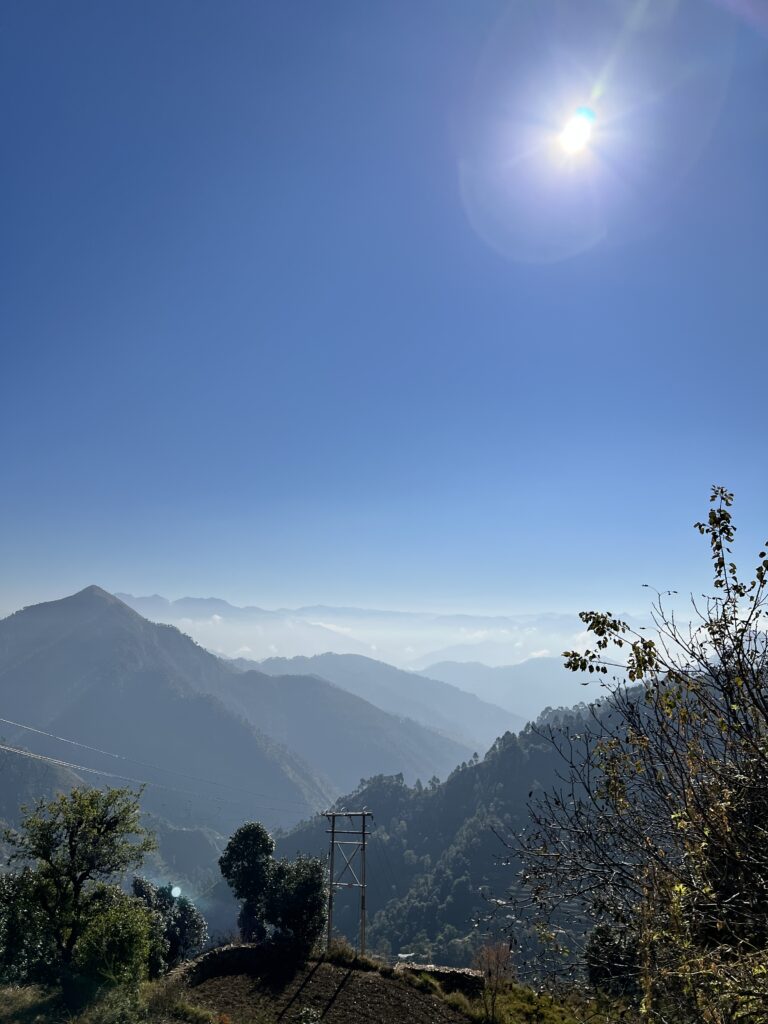 There is no better way to welcome positivity and start the day feeling fresh than witnessing the sunrise at Khalsen homestay.
Watch Beautiful Sunsets
One of my favourite things about staying in Khalsen Homestay was the hikes to watch the stunning sunsets.
It is where you can notice the serenity as you hear the breeze and the melody of the birds while taking in the dance of the sun rays in the sky, creating a colourful canvas as the sun sets in slowly.
You get to witness the far-across horizon dotted with the winding roads, scattered small villages packed with tiny-looking traditional houses, river streams, dense jungle canopy in the valleys with the backdrop of the majestic snow-capped peaks completing the surreal panoramas.
You can ask the hosts to guide you in getting to the viewpoints. After all, they are the best guides that are happy to help.
Hike to the Nearby Villages
If you love hiking, you can spend your time heading to nearby villages that will give you glimpses of the local lives.
You will be treated to a unique culture of the warm, kind and friendly Gharwali people that will proudly show you their homes, share their stories, and bowl you over with their hospitality.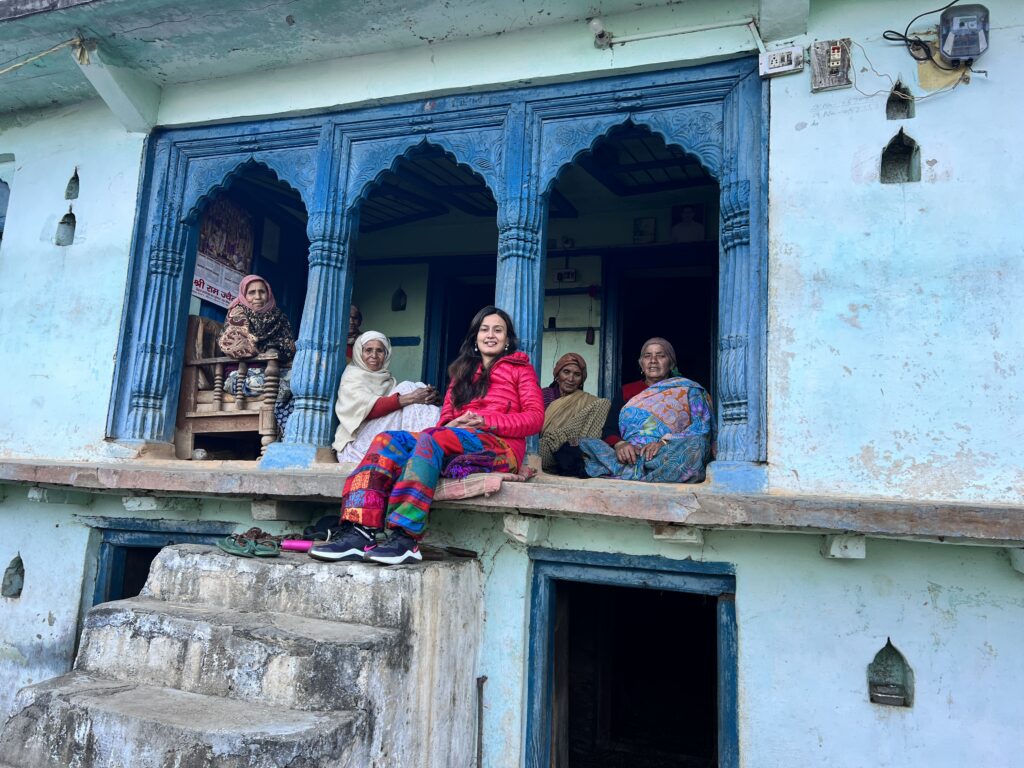 I went on treks to Fatdu and Jhandi, two trek points with uncle and Mani, where I had the fortune to meet a loving family apart from being treated to stunning views of the sunsets from above.
You can experience bits of the village life in the Himalayan mountains on your stay at Khalsen – whether through the stories of the locals, their lives here, through the food, ways of living, and course, through your experiences of wandering around without any checklist of tourist places or crowds of travelers.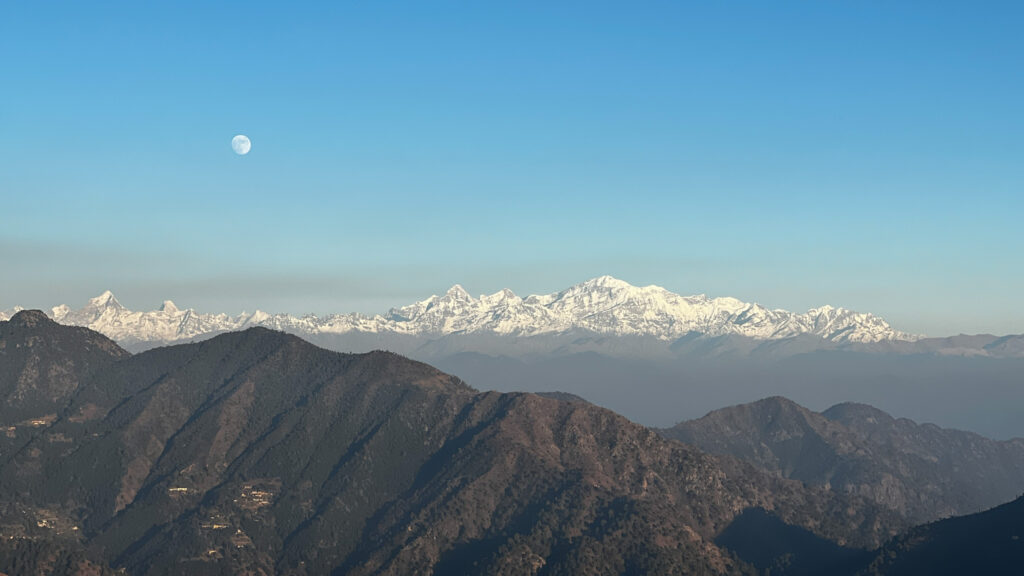 Treks combined with meeting local people to enjoy their hospitality and warmth along with the rewards of splendid sunsets never gets old. If you have not tried it, you should, as words do not do justice to these connections that we make in the remote Himalayan hamlets.
Check out Ghandiyaldhar Temple
About 6km from Khalsen homestay is the temple dedicated to the local deity Ghandiyaldhar, a worshipper of Lord Shiva. It is regarded as one of the seven Dhaams or Hindu pilgrim sites in Uttarakhand.
This simple yet beautiful temple home to the deity worshipped by the surrounding villages is worth stopping by as you get to enjoy some fantastic views as well as getting to know bits of the local culture.
Enjoy Local Food
One of the reasons why I choose homestays over regular rental homes while looking for more extended stays is the opportunity to taste the local food, homemade with love that makes it special.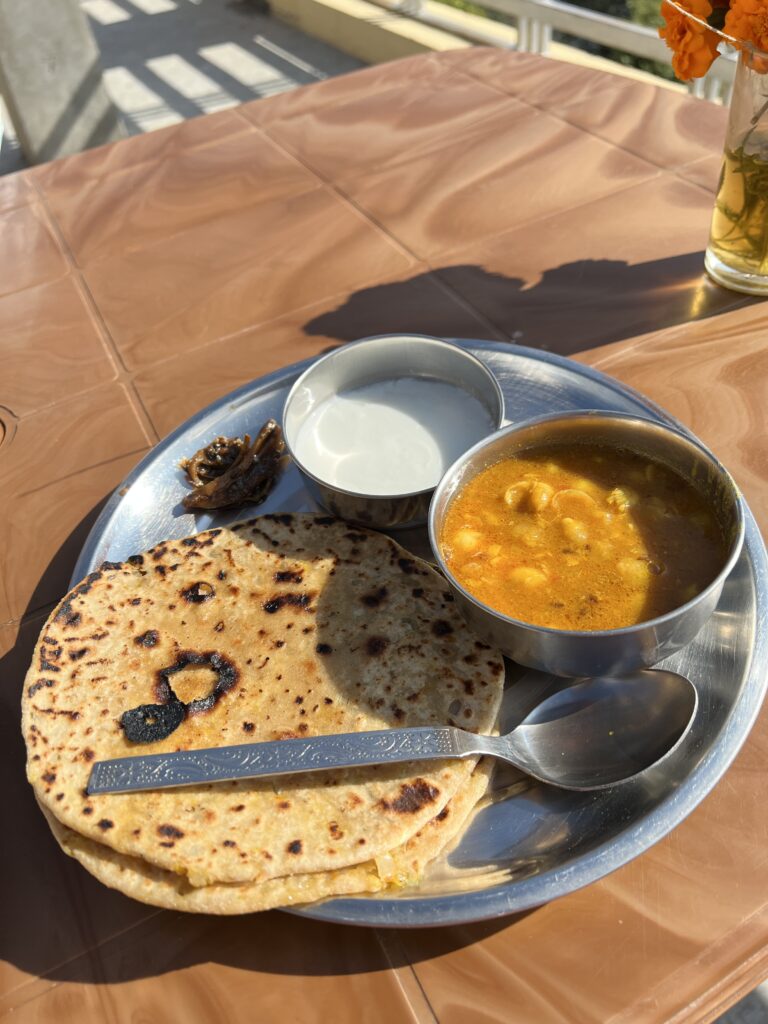 At Khalsen Homestay, I had the privilege of tasting Chef Manny's tasty local dishes. I enjoyed tasting many dishes made using organic vegetables and pulses, from Ram Karela Subzi to Spring Onion Cheela(Choliya Roti) to Millet Kheer.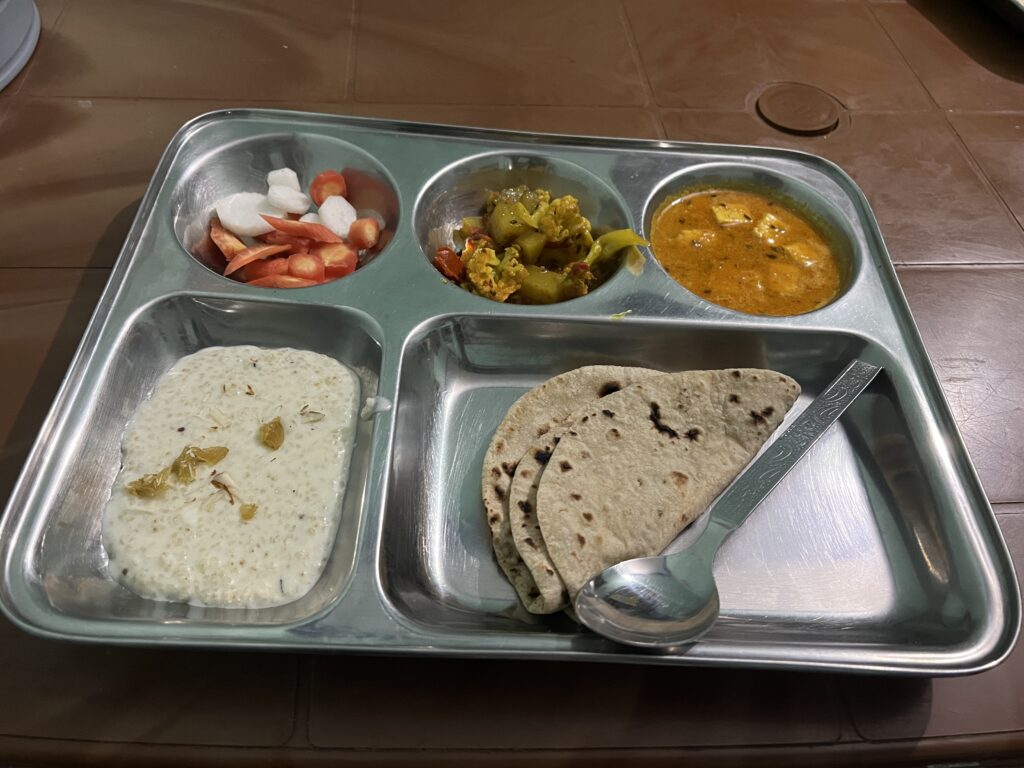 Pulses are a significant part of the diet in the mountains, and I had the chance to enjoy the tasty, unadulterated Rajma and other pulses during my stay.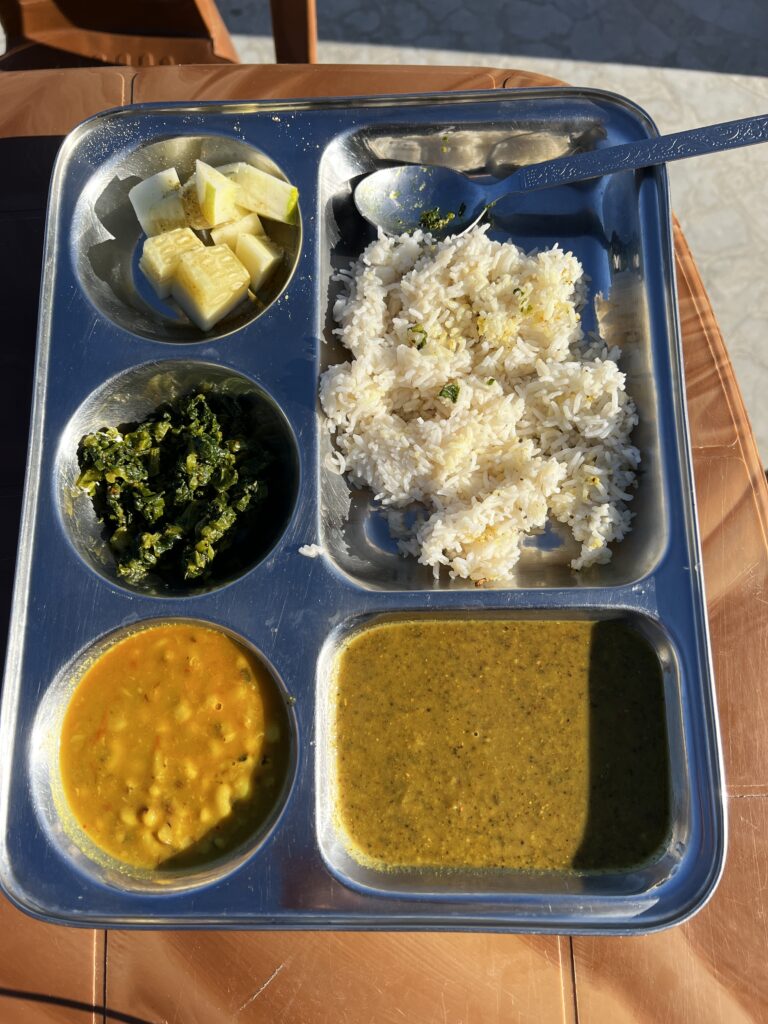 Visit the Heritage Village
One of the main attractions that you should check out is Paanav, a heritage village home to beautiful traditional Garwahli-style homes that sit amidst fruit orchards.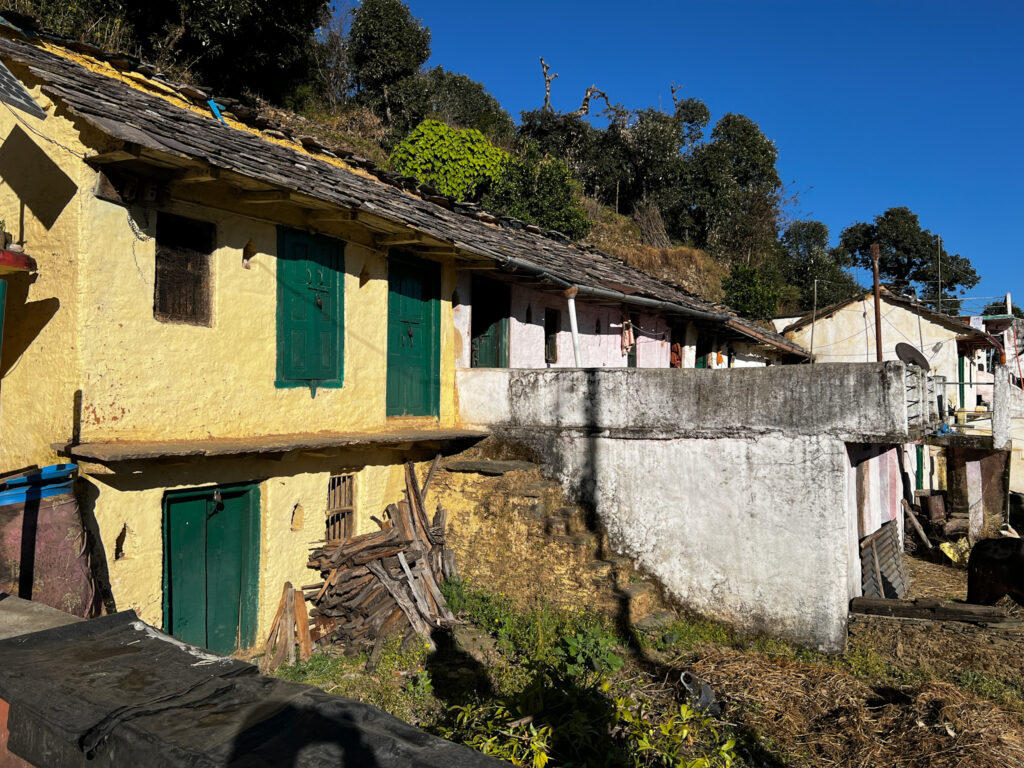 These unique homes made of a combination of mud, clay, wood and mortar are not only colourful and adorable but stand out due to their distinct layout and architecture.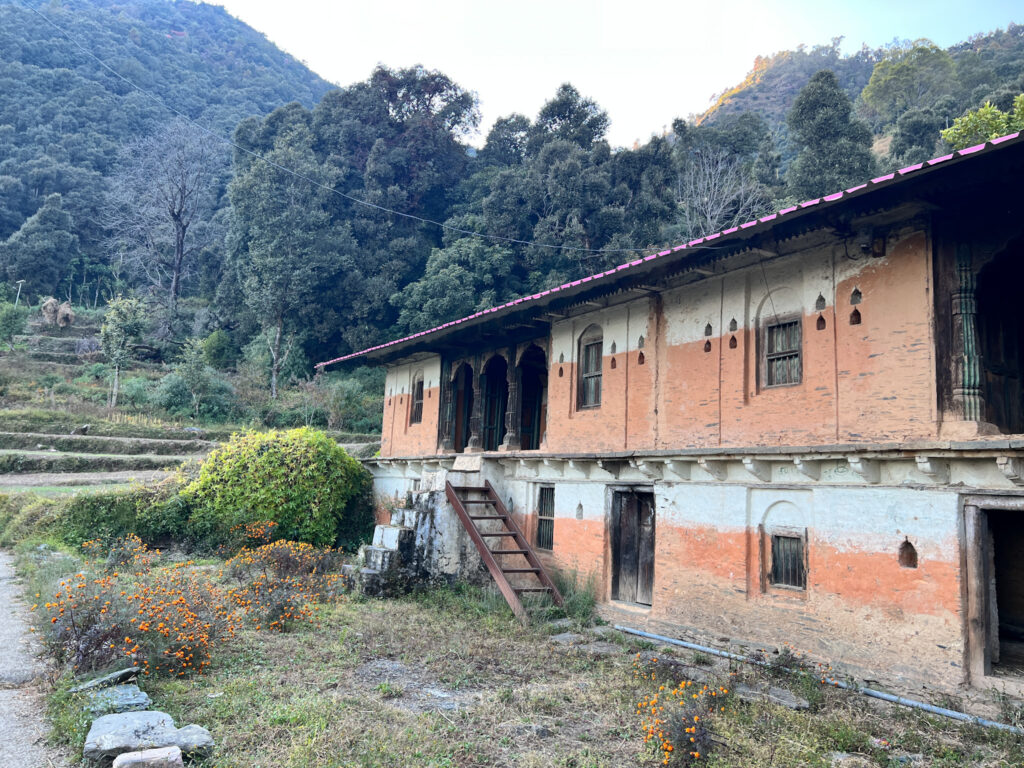 Walk around to see these up close, and you may also get a chance to be invited into one of these if locals spot you to treat you in their homes.
Relax and Chit Chat By the Bonfire
As the evening sets in, the atmosphere becomes chilly in winter. It is the time for tea, snacks and a bonfire officially! You can get to know about fellow travelers or chit-chat away the evening as the cold winds set the ambience.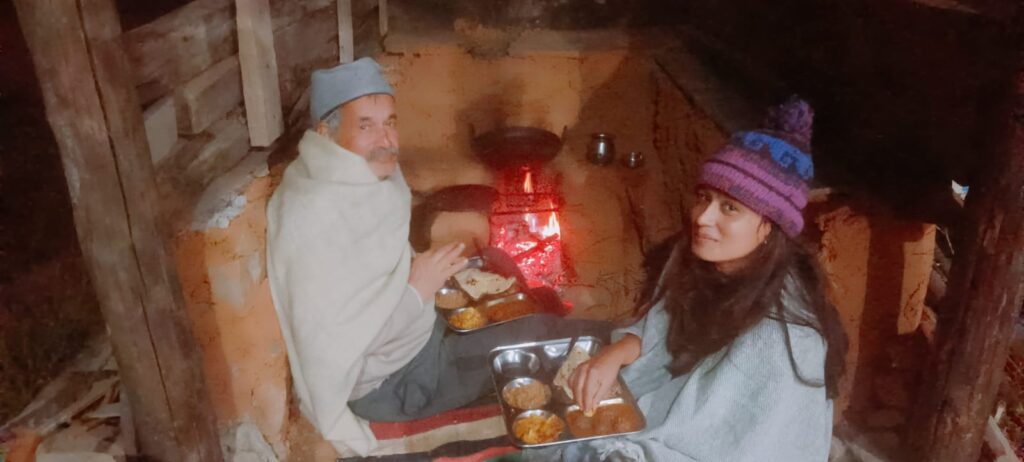 Add some music and the relaxation mode is on your holiday.
Stargazing is the Best Here
If you are into photography, incredibly open sky night photography, Khalsen Homestay provides a great base to dabble with your lenses.
You can get your cosy blankets and watch the trillions of stars decorating the sky, a perfect way to end the day.
SOME THINGS TO KNOW BEFORE YOU VISIT
One of the main things about staying at homestays is being able to experience the local ways of life. Here are some of the things you need to keep in mind before planning a trip to Khalsen Homestay: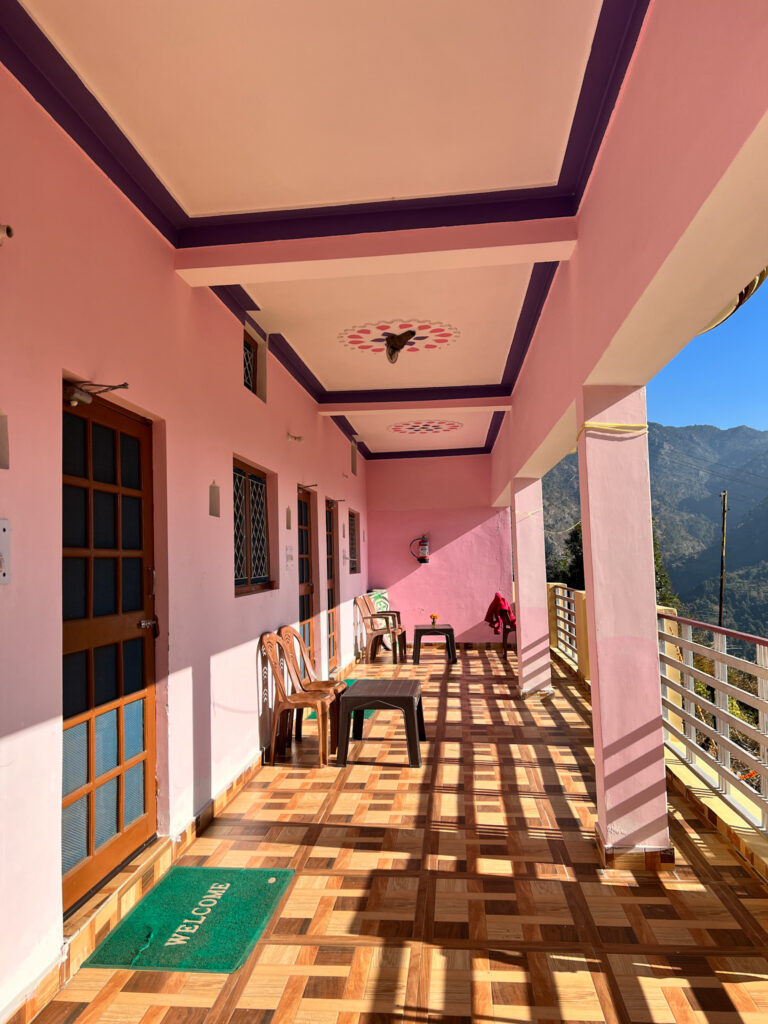 Unmarried couples are allowed.
Only cats are allowed, but no dogs and other pets are allowed.
It is a homestay where the owners stay on the premises but separately.
Due to its remote location, there may be some food or stay limitations.
Do not expect an extensive menu for food and drinks as you would in a hotel. Simple and delicious is the theme that you can expect.
Although it goes without saying, respect the hosts and their house rules. 
There are no shops around the homestay, so ensure to get what you need.
There are no transport options readily available, but you can ask the host to help you book cabs.
If you are on a budget, you can take the shared sumo that arrives every morning that you can avail to travel to Srinagar, the closest bigger town, from where you can take public transport or rent a cab to explore the other towns and villages.
Due to its amazing location amidst the hills with pleasant weather, Khalsen Homestay is a year-round place worth visiting, and there is something unique each season.
If you want to enjoy the views of the beautiful lush green mountainous landscapes and magical-looking clouds, plan a trip to Khalsen around the monsoon months from late July to September. 
The spring months are excellent to enjoy the blooms of the Himalayan spring wildflowers, including the beautiful Rhododendrons.
If you are here during winter, carry winter wear and bring layers.
HOW TO BOOK YOUR STAY AT KHALSEN?
The amenities at Khalsen Homestay include housekeeping by the caretaker, free parking, ironing, newspaper, Luggage Storage, and indoor games.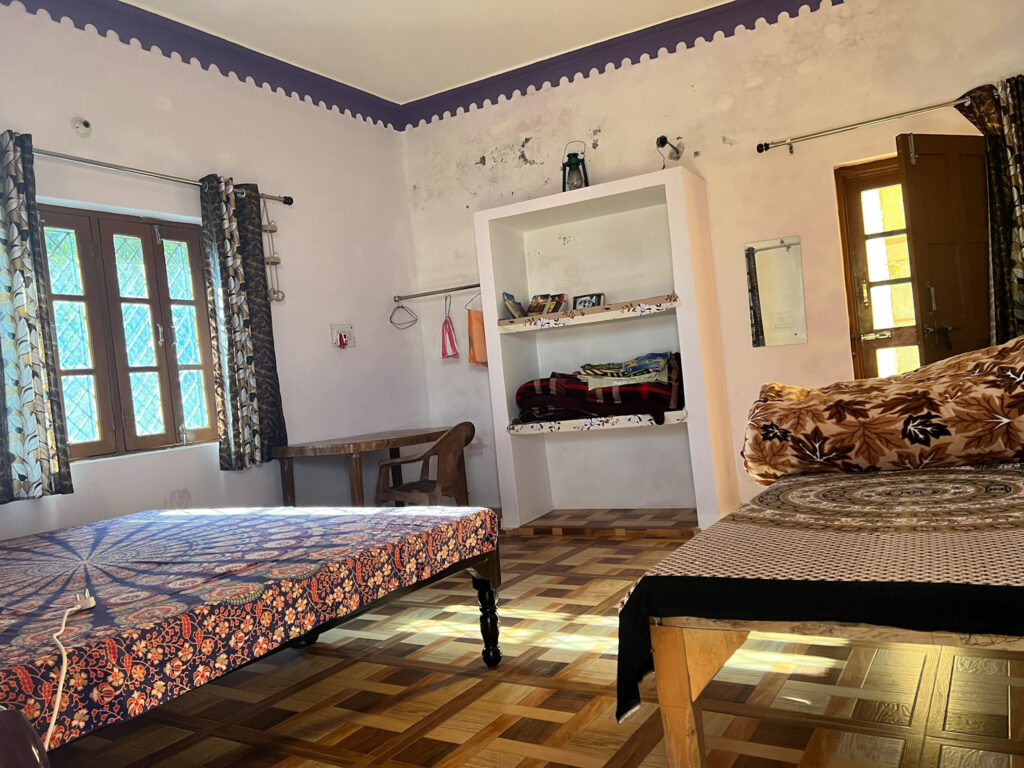 There are room options without a kitchen and a kitchen comprising a basic set-up where you can cook yourself. You will have to get the groceries and vegetables/meat yourself. The living room, balcony/terrace and lawn are the common areas.
The check-in and check out is from 12 PM to 12 PM. If you are going to opt for longer stays, you get better prices that are economical too.
You can contact them on their Facebook Page or on Instagram to book your stay at Khalsen.
Address – Khalsen Homestay
Mr R.S.Khandari
Khongcha-Pandav Motor marg, Kirtinagar, Uttarakhand 249161
Ph: +91 7340694884
I had a peaceful and happy time at Khalsen Homestay, experiencing the simple things and joys of travelling.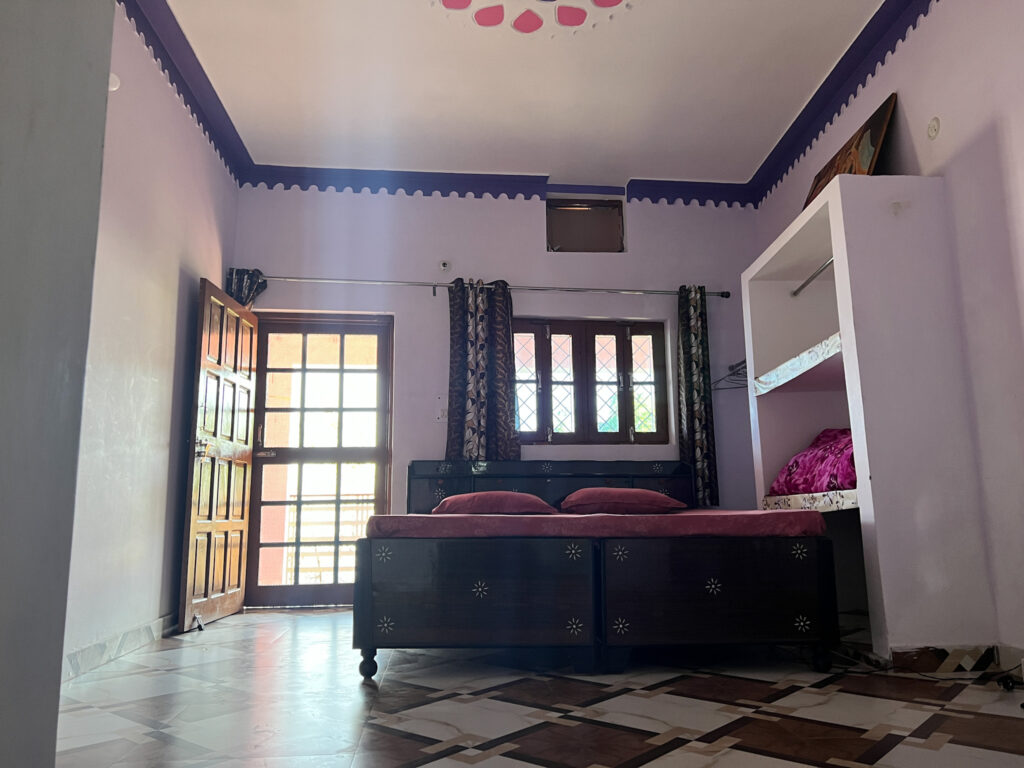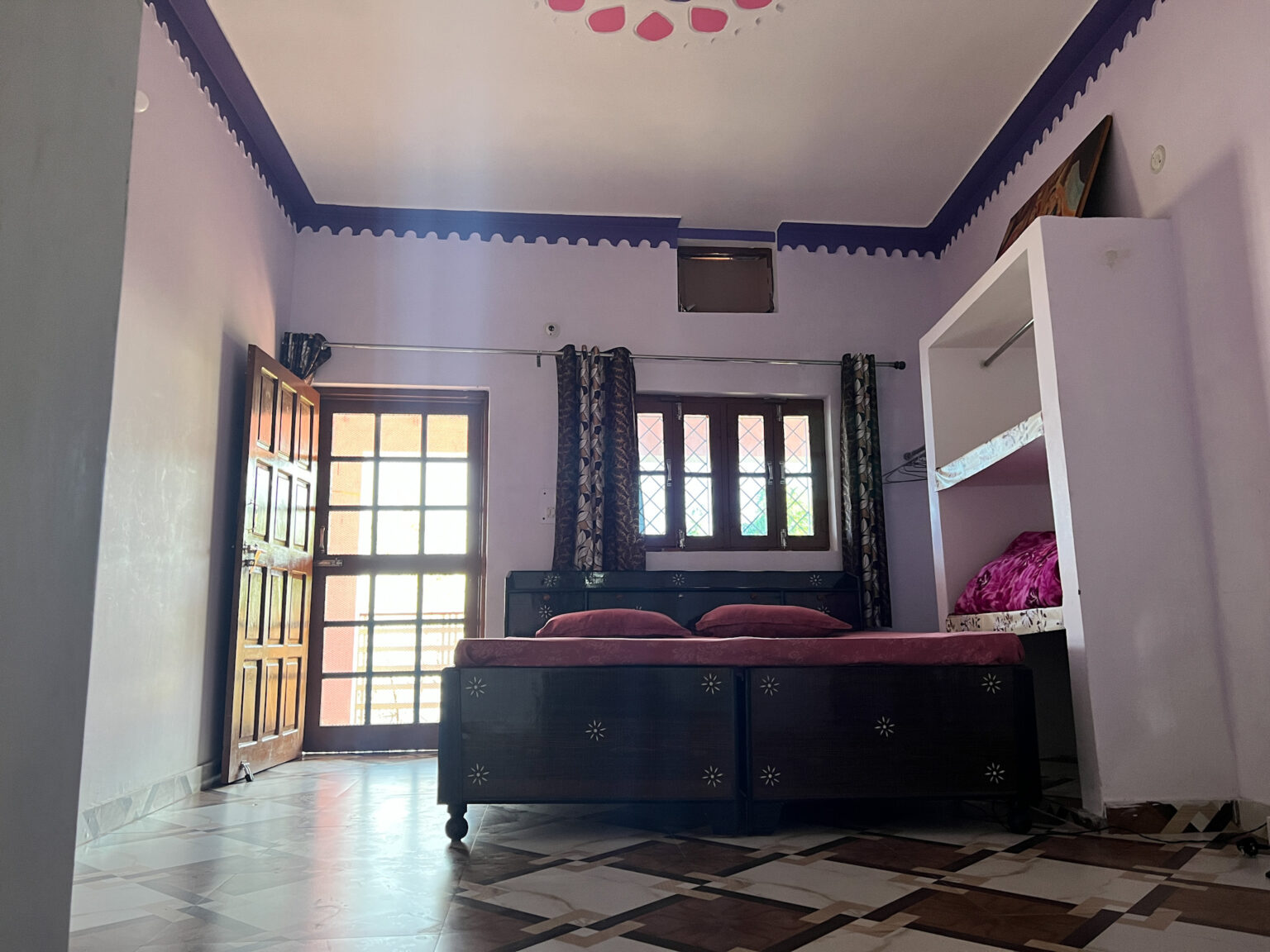 From enjoying delicious meals to dining next to the traditional furnace cum kitchen outdoors to meeting lovely locals to receiving the nuggets of the places and its people from the warm and lovely hosts – Anamika, her dad, and Manny, it felt home away from home – something that nomads like me cherish on the road.
If you are thinking of a quiet getaway in Uttarakhand because the mountains are calling, do not think twice. Head straight to Khalsen Homestay to have a memorable staycation/holiday in the Himalayas.
If you have any questions or need help with the bookings, write to me in the comments below.