If you are looking for a New Delhi itinerary, you are in the right place. Whether you are planning to visit Delhi in 3 days or thinking of spending a week in Delhi, you will fall in love with the enchanting capital of India.
New Delhi is a city of many wonders where the old meets the new, whether it is the ancient culture, traditions, history, or gastronomy.
It would be best if you spent at least a weekend in Delhi, given the tons of things the city offers – from splendid tombs, gardens, temples, mosques, architectural monuments, street food, shopping bazaars, and more.
Although one day in Delhi sounds impossible, not many know that you can explore many highlights and attractions during your 24 hours in New Delhi.
The capital of India is enormous, no doubt. Still, thanks to the excellent connectivity, and clever planning, you can cover many awesome things to do in Delhi in one day or two days. 
In this post, I'll share exactly how to plan your Delhi itinerary, making the most of your time to see the many splendid wonders the city offers.
Whether you are a solo traveler or traveling with friends or family, New Delhi offers something to everyone. Check out further to plan the Delhi trip, covering all the best places to visit in Delhi in 3 to 4 days or more.
DELHI ITINERARY IN DETAIL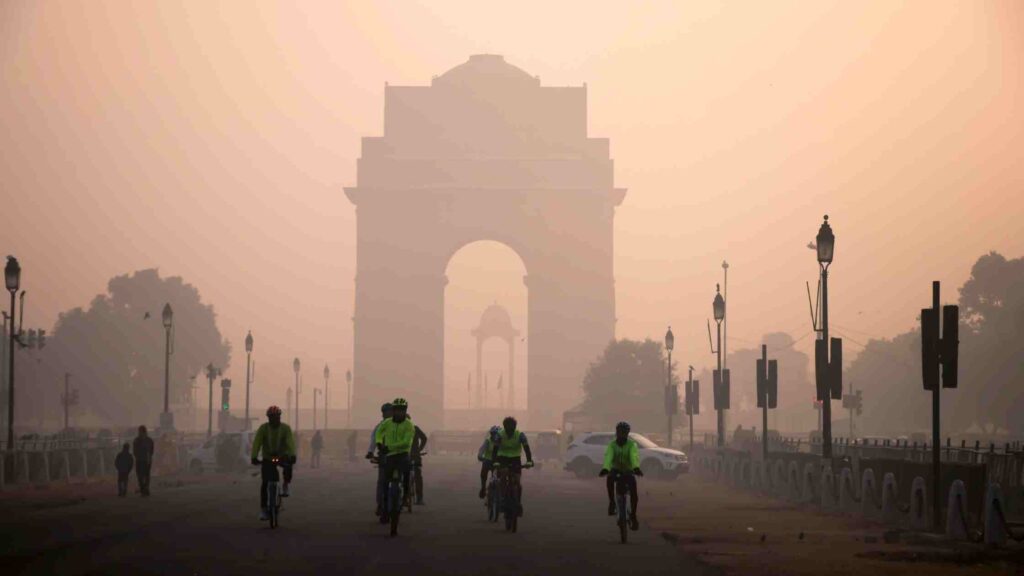 Let us dive into the detailed Delhi itinerary for 3 to 4 days. You can mix up places and itineraries as you prefer, including or excluding certain attractions. But make sure you follow the navigation path not to spend more time on the commute between places.
DAY 1 IN 3 DAYS DELHI ITINERARY
EXPLORE THE SPLENDOUR OF OLD DELHI
If you wonder what to do in Delhi, the old part of the city is something you should not skip. You will find exploring your day 1 in Delhi itinerary taking in the splendid architectural, historical, cultural, and gastronomical wonders, the things that form the center of centuries-old Delhi, which is the opposite of the urban side of the capital.
You will feel overwhelmed by the sights, sounds, and smells, so do not be surprised; relax and go with the flow. Also, stop and enjoy the delicious street food in Delhi, one of the best ways to explore the city like a local.
Begin your day after hotel at your breakfast, or sign up for a delicious food tour, which will introduce you to all Delhi delights as suggested by a local expert.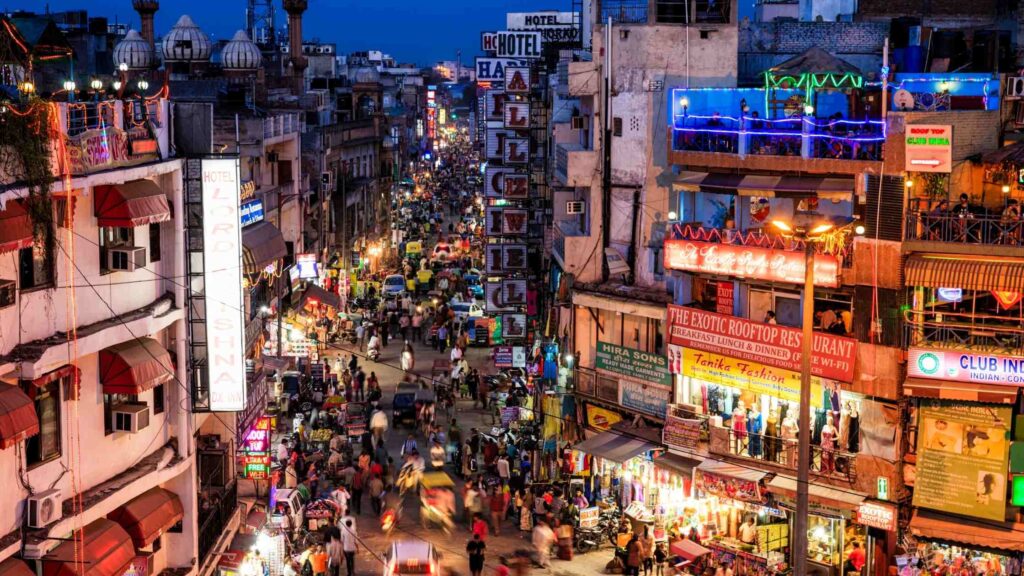 Stroll through the meandering streets of the Old Delhi Bazar, lined with shops of all sizes. It is also home to the largest spice market in Asia, Khari Baoli.
You will get transported back in time to witness India's rich spices, metals, and other collections as the smells of delicious cuisines prepared on the streets will keep tempting you.
Shop, eat, soak in the atmosphere – this is your first of the many glimpses of the different sides of the capital city. You can spend a few hours or an entire day in these 15th-century markets. Note that it is closed on Sundays and other days from 10 AM to 8 PM.
Next, head to check out some fantastic monuments in Old Delhi. The walled city of Old Delhi, constructed during the mid-17th-century, is one of the best things to do in Delhi, whether you are looking to spend two days in Delhi or a week in New Delhi.
Formerly known as Shahjahanabad, Old Delhi was the prosperous capital of the kingdoms, home to exquisite mansions, palaces, temples, and more.
Your first stop is at the beautiful 17th-century Red Fort, the stunning red sandstone landmark located at the end of Chandni Chowk in Old Delhi.
A former residence of Mughal rulers for over 200 years, this fort is home to stunning rooms, corridors, gardens, a war museum, and a hidden step well. Except for Mondays, the Red Fort is open to visitors from sunrise to 7 PM.
There are plenty of small shops in Chandini Chowk if you want to try delicious Indian street food, which you should try on the way to the fort.
Next, head to the largest Mosque in India, Jama Masjid. Do not miss climbing the narrow staircase of one of its minaret towers for beautiful panoramic views of the city, which costs INR 300, although the mosque is free to enter.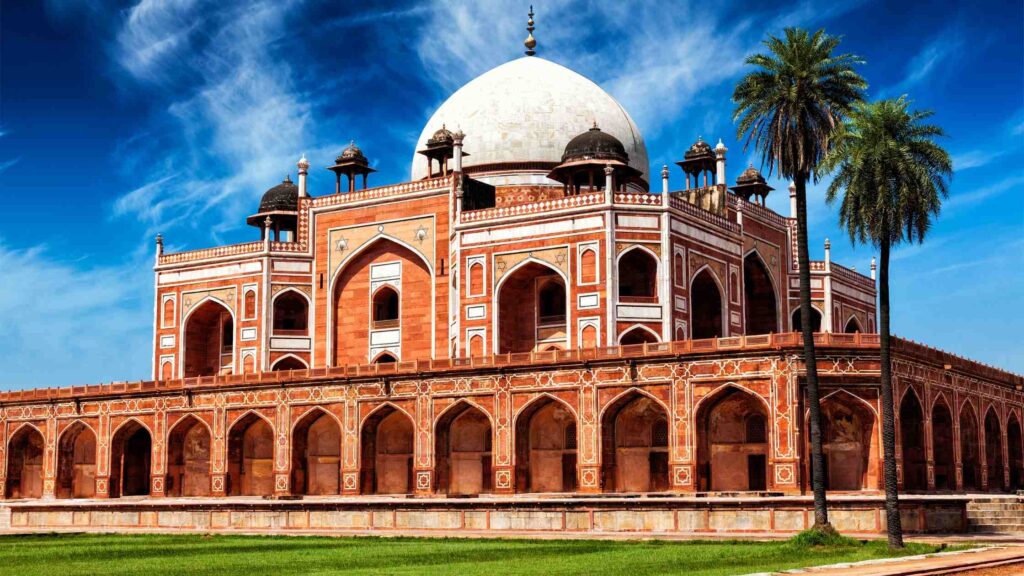 While you are here in Old Delhi, Visit the Tomb of Safdarjung next on your Delhi itinerary Day 1. Surrounded by spacious pavilions and massive royal gardens, the tomb, housing the remains of the Mughal King, is set amidst a rich landscape, which is best explored by taking a walk.
The monument is said to have been the inspiration behind the construction of the iconic landmark of India, the Taj Mahal.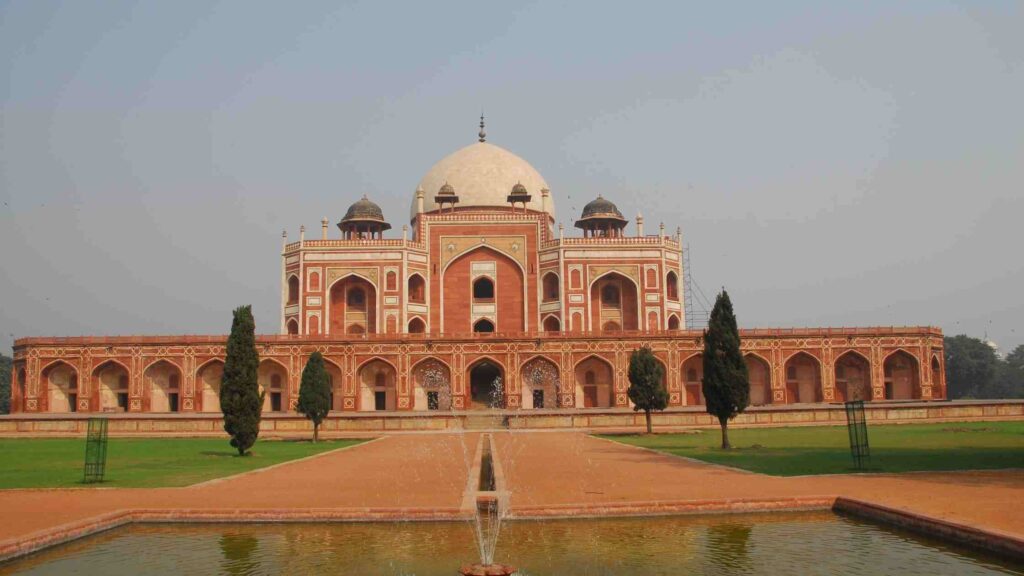 Stop next at Humayun's Tomb, another prominent Mughal emperor, located 10 minutes away from Safdarjung. This 16th-century tomb is a UNESCO World Heritage Site.
It is the first garden tomb in India, which inspired the construction of dozens of similar structures throughout the country, thanks to its unique architecture and cultural symbolism.
DELHI ITINERARY DAY 2
CHECK OUT THE TOP DELHI LANDMARKS
Start your second day of Delhi itinerary by exploring another UNESCO World heritage center site and one of the fantastic landmarks in India, the Qutub Minar.
This unique 13th-century tower over 70 meters high is known for its distinct angular architecture, gradually tapering at the top, and adorned with intricate carvings.
Nestling between two ancient mosques, Qutub Minar is no wonder one of the top Instagram-worthy places in Delhi you should check out.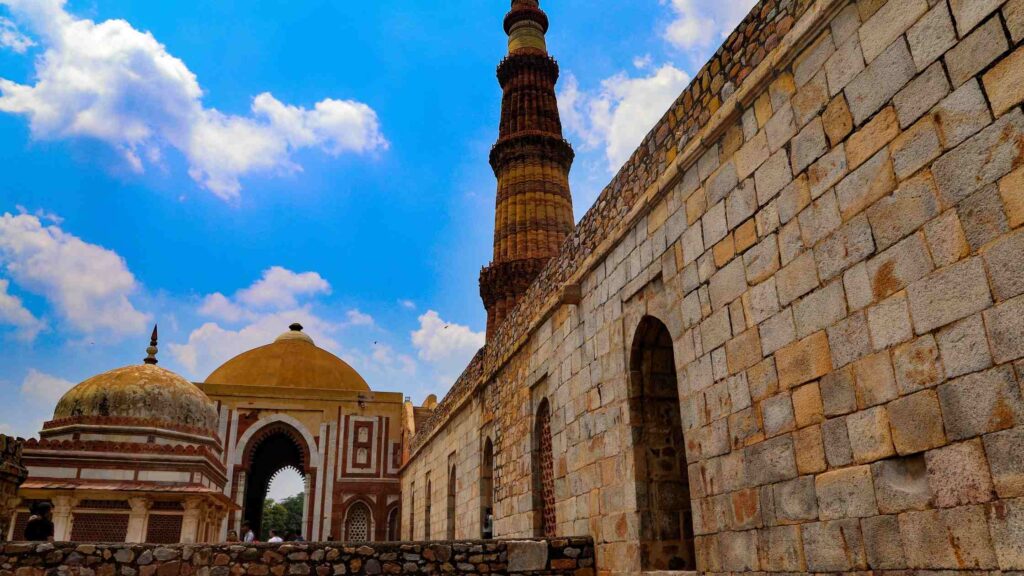 Next to Qutab Minar, check out one of the lovely hidden gems in Delhi, the Mehrauli Archaeological Park. The site, spanning 200 acres, is home to hundreds of ancient ruins showcasing the rich architectural and cultural pasts.
Do not miss the notable landmarks in the park, the beautiful ancient stepwell Rajon Ki Baoli, and the 16th-century Jamali Kamali Mosque and Tomb.
While you are here in the neighborhood, have lunch at Dilli Haat, located opposite INA Metro Station in South Delhi.
This place is unique because you get to try Delhi's cuisines and the many tasty delicacies from different states in India. You can also shop for souvenirs from the local artisans here.
After lunch, check out the magnificent Baha'i Lotus Temple, 20 minutes away from Dilli Haat. This gorgeous white marble temple, constructed in 1986, is shaped like a lotus flower, set amidst beautiful gardens, which is worth exploring on your Delhi itinerary.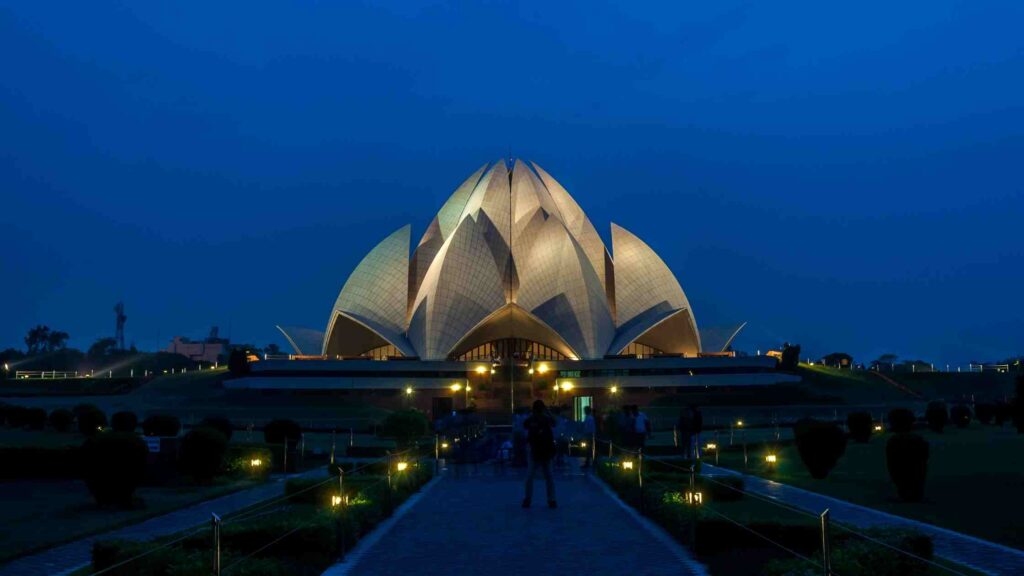 It is time for another market today, which is your last stop for the day. Head next to the Hauz Khas Complex, a stunning 13th-century medieval village and mosque, which gives insights into India's history during the medieval period.
The town comprises narrow streets dotted with art galleries, boutique shops, cafes, and souvenir shops.
Among the noteworthy architectural landmarks here, check out the remains of the 14th-century Madrasa and the tomb of Firuz Shah, another emperor of ancient India.
DAY 3 OF DELHI ITINERARY
VISIT THE ANCIENT DELHI TEMPLES AND BEYOND
You will have to start day 3 of the Delhi itinerary earlier than the two days before, as you will spend a bit of time commuting between places today.
Start your day after breakfast with a visit to one of the gorgeous temples in India, Swaminarayan Akshardham, located on the banks of the beautiful Yamuna River.
This massive Hindu temple complex is an architectural marvel and is known for its fantastic thematic gardens filled with many attractions.
You will need at least half a day or more to cover the tons of things here, including sound and light shows in the evening, the temple premises, meditation halls, and more.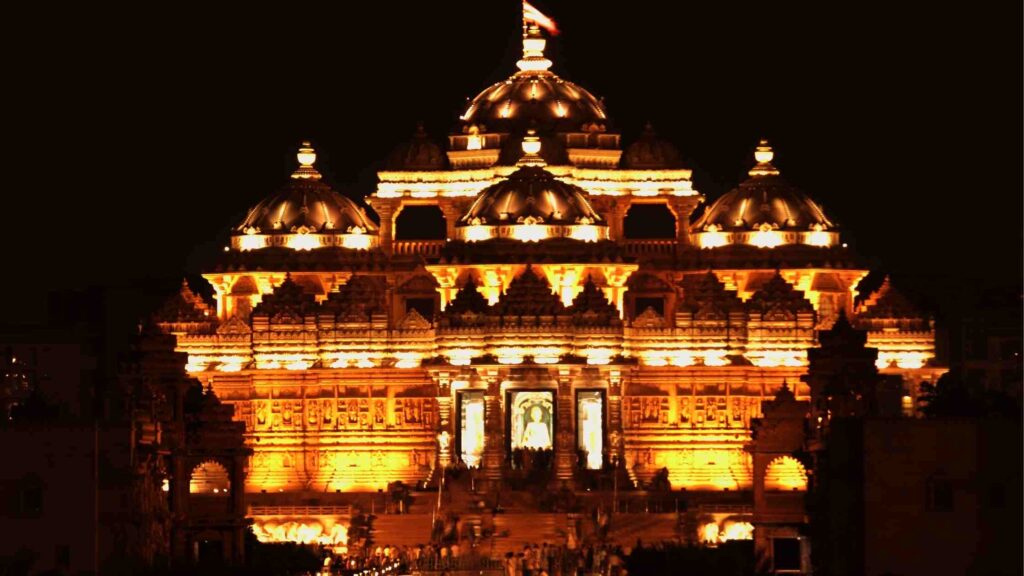 Note that you cannot carry any electronic devices, umbrellas, luggage, toys, and food inside. You can leave them in the cloakroom outside the temple, although you will have to wait in the queue. I'd suggest carrying minimum luggage while planning a trip to Akshardham.
Travel back in the noon to check out the beautiful Lodhi Gardens, a sprawling 90-acre city park home to many historical monuments, including tombs and gardens.
You can spend a few hours relaxing in the gardens or visit Lodhi in the early morning around sunrise, which is a great time to be here.
DAY 4 IN NEW DELHI
On your last day in New Delhi, you will explore Modern Delhi's prominent administrators and historical monuments, which are the heart of the country's administration. 
If you are here between mid-November to mid-March, attend the weekly military Changing of Guard Ceremony held in the forecourt of Rashtrapati Bhavan, the home of India's President.
The ceremony, free to attend, starts at 8 AM from mid-March to mid-August and at 9 AM from mid-August to mid-November. To get there, you should enter through Gate 2, Rajpath, near the Prime Minister's Office.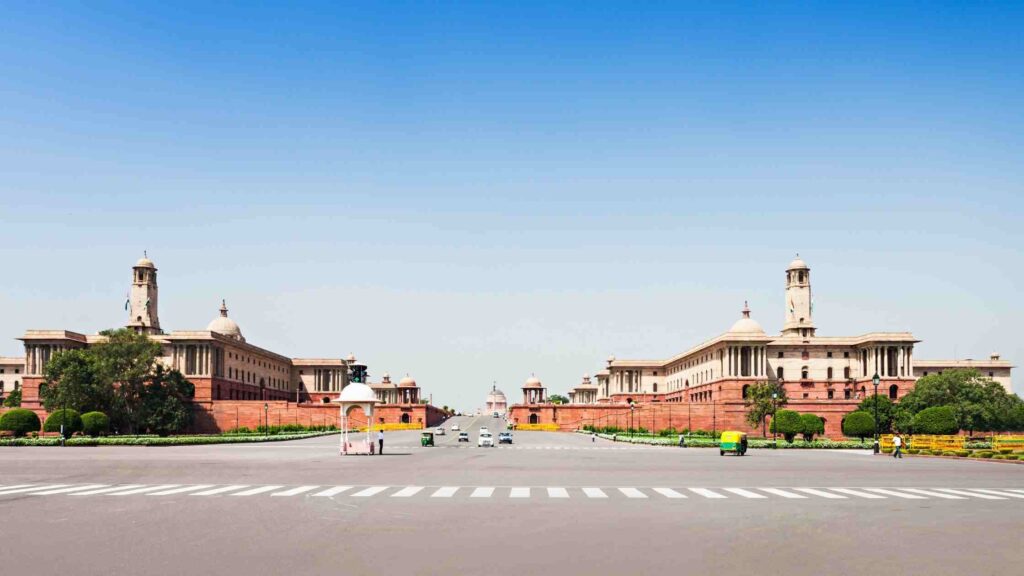 Next, check out India's only underground museum, the new Rashtrapati Bhavan Museum (closed on Mondays). The artefacts showcase the journey of presidents of India, the traditions, and the many cultural exhibits belonging to modern India.
Stop by following at the Parliament House located on Sansad Marg, near Rashtrapati Bhavan. This majestic circular-shaped building houses the parliament currently. Although it is not possible to enter to regular visitors, you can still admire the exteriors.
Head next to Purana Qila or the Old Fort, one of the offbeat places to visit in Delhi, located on the banks of the river.
This 16th-century fort built by Mughal emperor Humanyun has many halls, gardens, and a library worth checking out.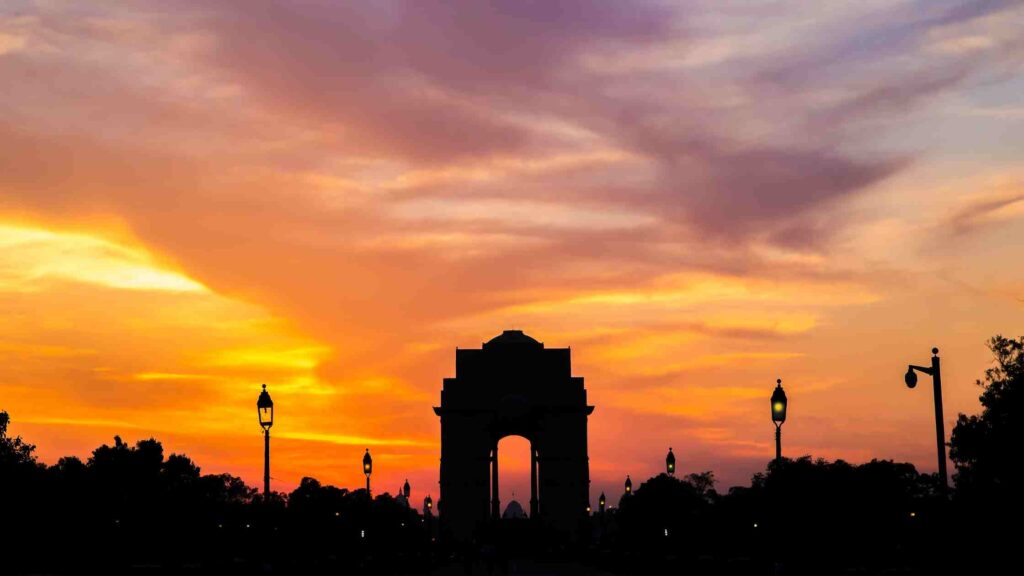 Around sunset, head to India Gate in Rajpath, a prominent arch-shaped war memorial built to honour the Indian soldiers who lost their lives in World War I. If you have time, head to Purana Quila again before 7:30 PM for a magnificent sound and light show.
In this 3D laser show in English lasting for an hour, you are introduced to the exciting history of Delhi, dating from the 11th-century to the present day, which runs every day except for Friday.
MORE THAN 4 DAYS IN DELHI ITINERARY
If you have more than 4 days in Delhi, you can add these attractions to your Delhi itinerary or plan day trips.
Check out the National Crafts Museum in Pragati Maidan. Suppose you are interested in shopping for traditional Indian textiles, garments, souvenirs, and artwork.
In that case, you will love loads of shops selling all types of Indian heritage products selling more than 30,000 products. You can witness local artisans demonstrating embroidery, handicrafts, weaving, carving, and pottery. 
Visit The National Gallery of Modern Art in Jaipur House on Sher Shah at the end of Rajpath, home to one of the world's largest modern art museums. From the 10th-century works to the late 19th century, this museum houses art galleries and more than 20,000 paintings, photographs, and statues collections.
DELHI ITINERARY- KNOW BEFORE YOU GO
Here are some Delhi travel tips you should check out and things to know before planning your Delhi itinerary that will come in handy.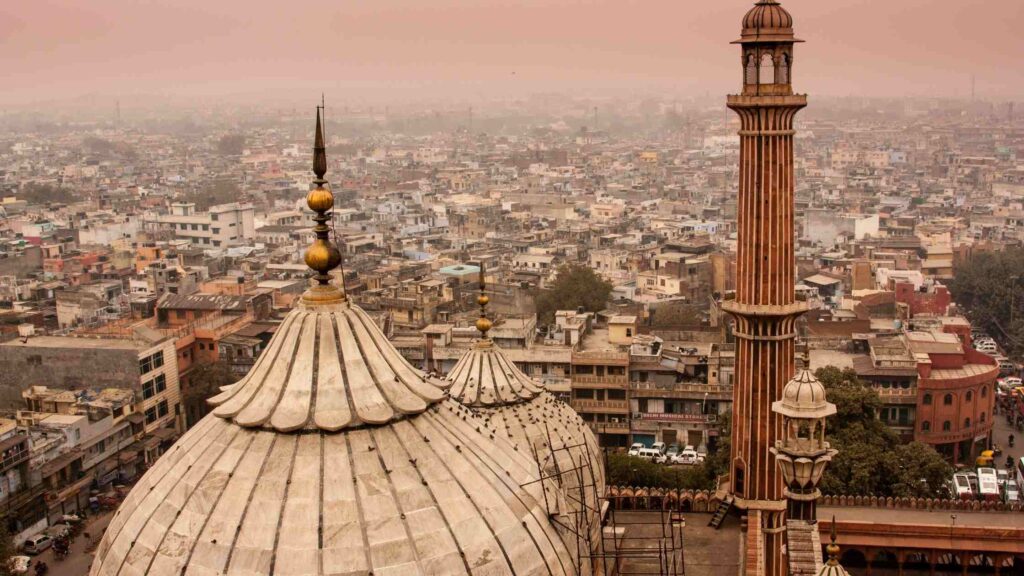 Cash is King – Although most places in Delhi use cards( credit or debit), it is best to ensure you carry enough cash, tiny currencies which will come in handy during your transactions with small shop owners and street vendors, who usually only make cash transactions.
Use prepaid cabs over private taxis – It is best to install Uber or Ola, the car renting apps on your smartphone, to book prepaid cabs if you want to commute around the city by cabs. This way, you can avoid the hassle of choosing and talking to cab drivers.
Negotiate prices beforehand if you take private taxis – However, for any reason, if you want to go for private taxis, ensure you talk out and agree on a price before starting your journey. You may be overcharged if you do not do this.
The language will not be a barrier – Most Indians understand and speak English, so although Hindi is the spoken language in Delhi, you will not have a problem communicating if you speak English. Nevertheless, learning a few easy Hindi words will help you to mingle and feel more welcomed.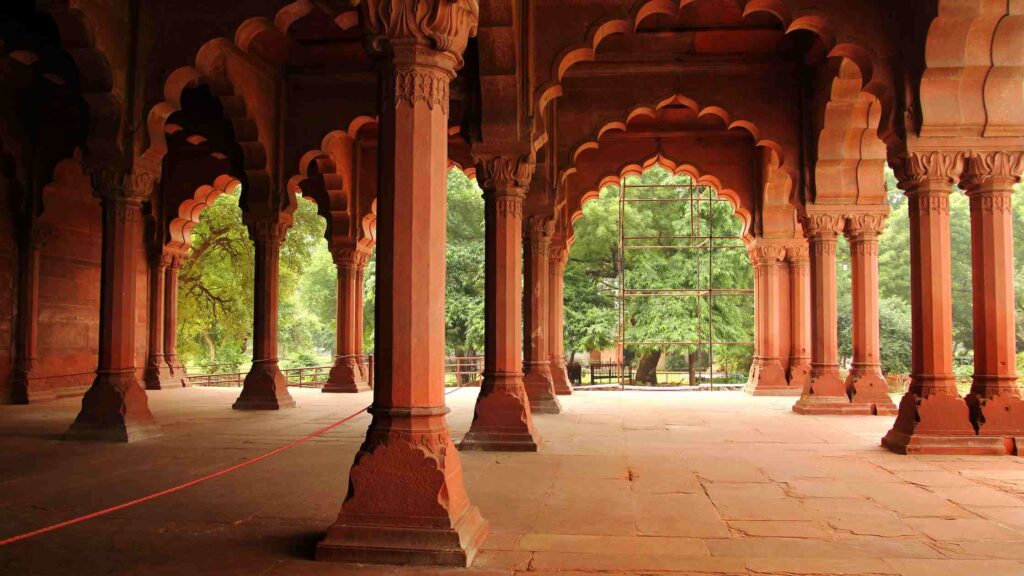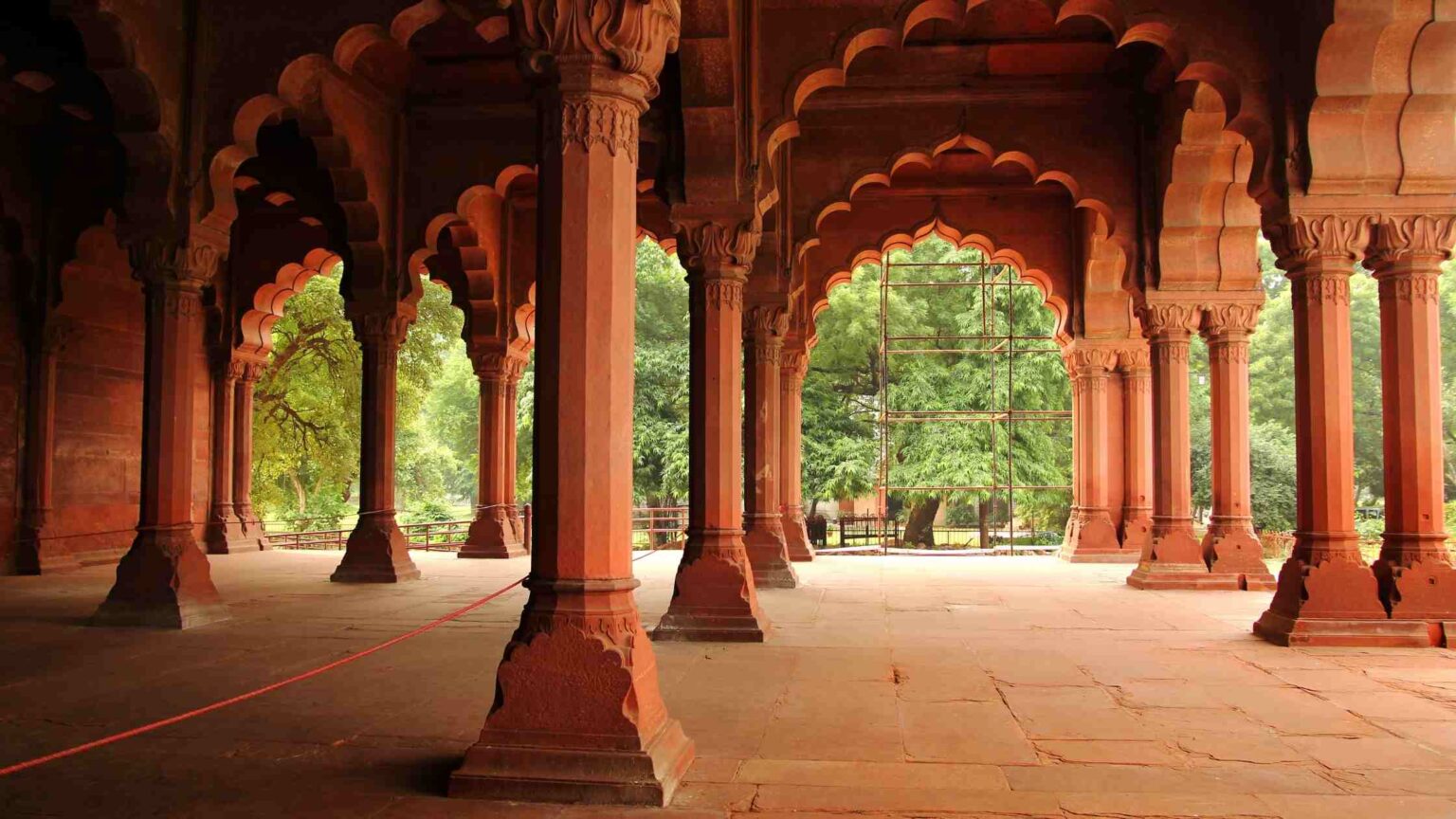 Do not drink tap water – Tap water is not for consumption anywhere in India. So only drink bottled water or water you have purified yourself. Ensure you buy a sealed and freshwater bottle if you buy new ones, or better, carry a bottle with you and refill where you can.
Keep your belongings safe – Just like the bigger cities of New York, Rome, or Paris, some areas of New Delhi are infamous for their petty thefts.
So keep your belongings close to you, especially if you are using public transport. It is best to keep valuables like passports and other electronic devices in your hotel locker so that you can carry what is required in a small day pack.
A Power bank will help – Since most places do not have facilities to charge your phone, it is best to carry a portable power bank to keep your phone charged.
HOW TO REACH DELHI?
New Delhi is connected to all the cities via flights if you are arriving here outside India. You can get the best prices if you plan your Delhi itinerary.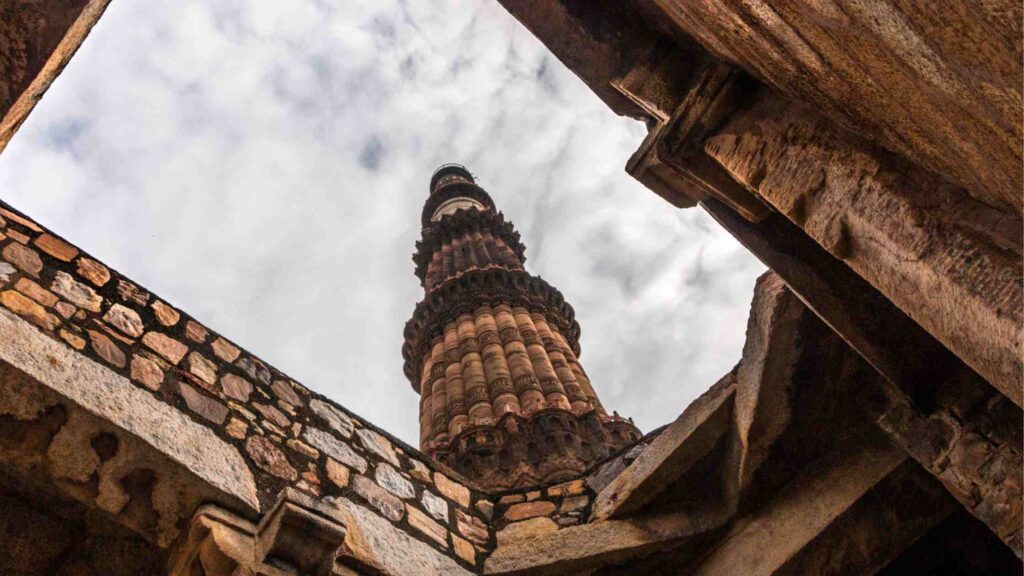 By Flights from other cities – You can plan Bengaluru, Kolkata, Mumbai, and Pune to Delhi flight booking in advance while planning your Delhi itinerary as it will cost you less along with getting deals. Flying between the popular cities in India is an excellent option. 
Delhi is connected by flights to most of India's more prominent and smaller cities, as New Delhi has two airports – a domestic airport and Indira Gandhi International Airport.
Book as early as possible if you plan to travel from the bigger cities, Mumbai, Bengaluru, or Pune to Delhi flight booking as they also tend to get blocked fast, especially during festival weeks and holiday weekends.
By trains – The second best way to reach Delhi is by arriving by train. Many trains are connecting New Delhi to many Indian cities, available in different budget ranges. You can book your tickets online for an AC sleeper berth, which is comfortable and cheaper.
By bus and cabs – Although you can arrive at Delhi by bus from nearby neighboring cities, this is not the recommended option if you are not used to cramped spaces, long journey hours, and carrying a lot of luggage with you.
Cabs are comfortable for shorter distances to arrive in Delhi, but it is not preferred if you are more than 5 to 6 hours away from New Delhi.
HOW TO GET AROUND DELHI?
The best way to get around New Delhi is with the Delhi Metro. It is not only the most convenient way to commute but also cheaper.
If you are a solo female traveler in Delhi, the metro is a safe way to travel around the city as the first coach of every train is reserved for women.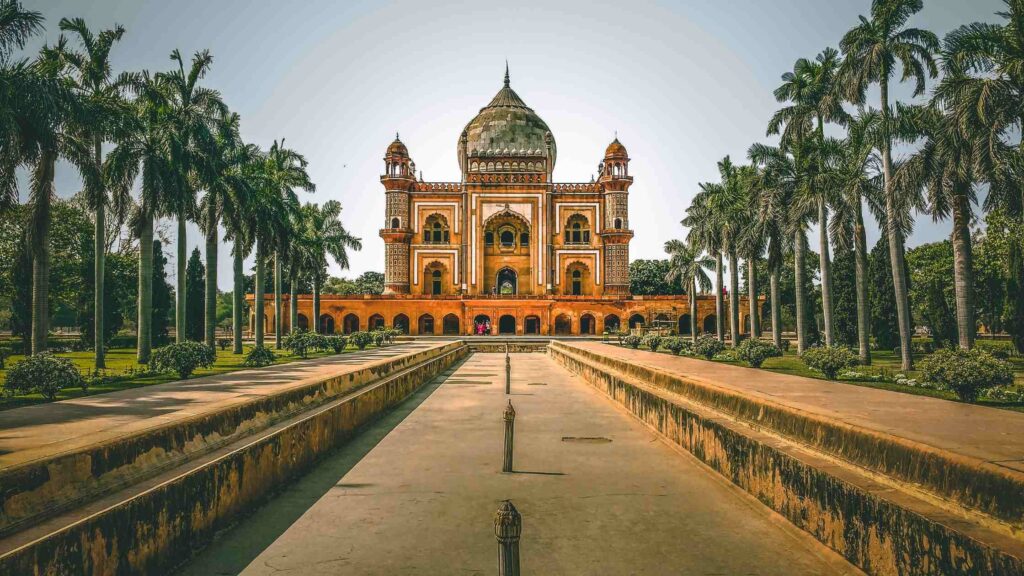 Trains run 24/7 but expect very high crowds during peak hours, during which you can find it hard to find seats. The metro gets crowded during the early morning and evening hours, although it varies.
If you want to move around comfortably, you can book cabs. However, the best way to get around Old Delhi and the neighborhoods around the top attractions is by foot.
Exploring the labyrinth of streets on foot is an adventure you cannot predict in your Delhi itinerary. 
Apart from the cultural shock, the vibrant colors, sounds, and various smells that change at every corner will introduce you to the heart of New Delhi's culture, history, and thousands of years of ancient heritage.
Another unique way to explore Delhi is to get on a rickshaw, one of India's many colorful modes of transport, which you can hop on if you feel tired of walking.
THE BEST TIME TO VISIT DELHI
Like the rest of India, New Delhi can get crowded during the peak months and festival seasons, two periods that you should avoid, especially if you are visiting India for the first time.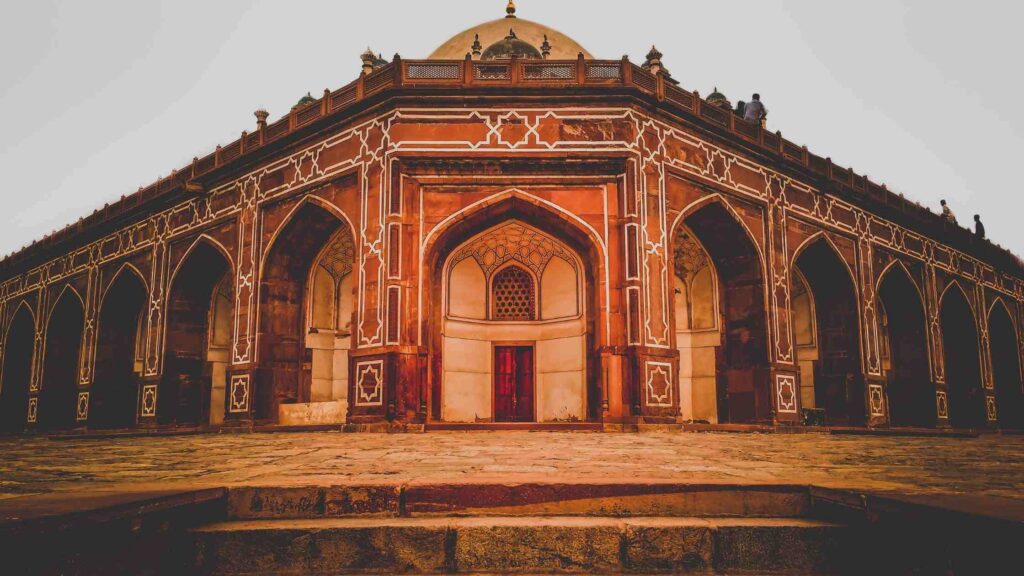 The best time to visit Delhi in the fall, spring, and early winter months. The weather throughout the months varies wildly – from sweltering and humid summer to flooding and foggy days lasting for weeks.
Thanks to the excellent weather, the fall months between September and late November are the most popular. 
Suppose you are here in October or November. In that case, you can also witness India's most prosperous festival Diwali, which transforms the city into a colorful paradise. The entire Delhi gears up to the festivities raising the fun levels to a maximum.
December and January months receive few visitors as the cold winter brings misty days during these months.
It is not cold if you are from North America or Europe, although you should bring layered clothing. If you do not mind the fog or the chill breeze, you will love exploring New Delhi at this time.
Spring months of late February, March, and early April are the next best months, during which you can enjoy the pleasant weather, flower blooms, and delicious delicacies.
If you are here in March, do not miss partaking in the Holi festival celebrations, the fest of colors.
WHERE TO STAY IN DELHI?
Depending on your budget and preferences, you can choose from a list of thousands of accommodation options to decide where to stay in Delhi.
The best places to stay in Delhi are scattered around the city, so it is hard to pin down one or two neighborhoods.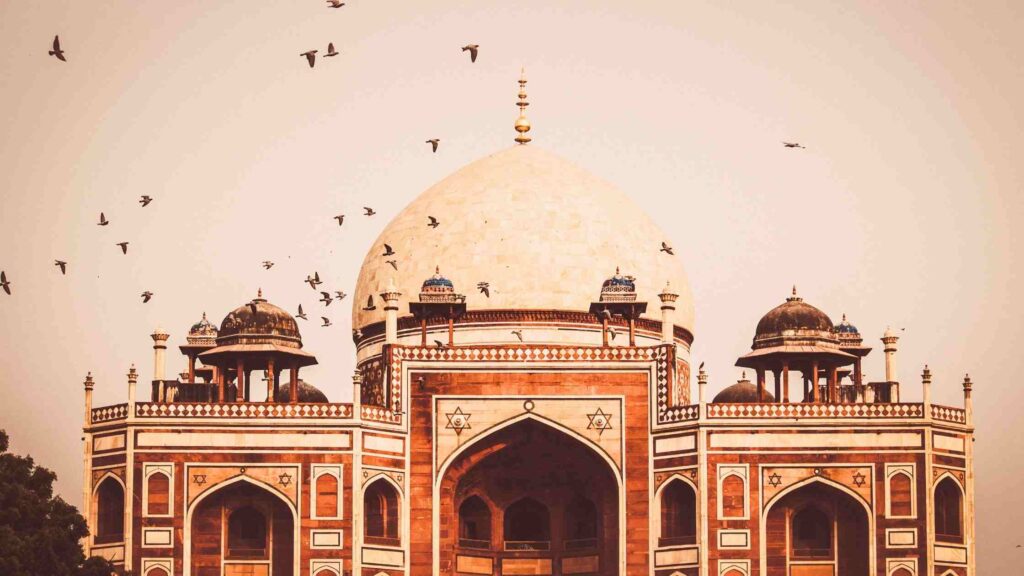 Pick the areas closer to Delhi Railway Station if you are looking for an easy commute, a choice of hotels in Delhi, and many restaurants and eateries.
You can get around via rickshaws or metro to check out the best places to visit in Delhi if you stay here.
If you do not mind the crowd and the slightly higher prices, there are many excellent hotels, guest houses, and apartments in New Delhi around Old Delhi.
No matter where you choose, it is easy to find accommodation in the city in all budget ranges suitable for solo travelers, women travelers, and families. 
That's a wrap for the Delhi itinerary ideas for one to four days. If you have any questions or need any help planning the Delhi trip, do let me know in the comments below.