Step into the fascinating world of Santa Cruz Tide Pools, some of the most awe-inspiring natural wonders where hidden treasures await your discovery.
Exploring Tide Pools in Santa Cruz, one of the best beach towns in Northern California is like a journey into the heart of the ocean's mysteries.
It is a chance to unveil the underwater world, magnified by the power of King Tides, which offers an even more mesmerizing glimpse into the ocean's ebb and flow.
Each tide pool is a universe of its own, teeming with curious critters, delicate anemones, and intriguing marine flora.
Every ripple becomes an invitation, and every wave a story waiting to be told.
Whether you want a retreat or an opportunity to explore beaches with tide pools, I have covered some of the best Santa Cruz Tide pools in this post.
Uncover the magic of these miniature tidal ecosystems, teeming with life and untold stories.
Check out some valuable tips for visiting tide pools in Santa Cruz and the basic guidelines you must follow before visiting them.
Check out the best hikes in Santa Cruz CA, if you want to go hiking after exploring all the beautiful tide pools.
If you are looking for tide pools or ideal beach locations for a perfect vacation in popular US cities, check out these posts:
If you are looking for rental cars in the US to roam around, check out Discover Cars, one of my favourites due to their pricing and multiple car options.
First things first! I recommend you get travel insurance ALWAYS whenever you are on international or domestic travel!
Check out this insurance by Safety Wing, which offers a pretty good cover for you and your family!
They even provide monthly insurance, much required for slow travelers like us! Book here!
TIPS FOR VISITING SANTA CRUZ TIDE POOLS
1) Safety First: Always heed warning signs, beach conditions, and lifeguard instructions.
Be cautious of sharp rocks and potentially strong waves during high tide.
2) Check the Tidal Charts: Santa Cruz Tide Pools are best explored during low tides when the water is at its lowest point.
Before you visit, check the tide tables for the time and height of the waves in the area that you will be visiting.
3) Wear Sturdy Beach Footwear: Tide pools are often slippery or have rocky pointed edges. Flip-flops or Sandals aren't recommended for your safety.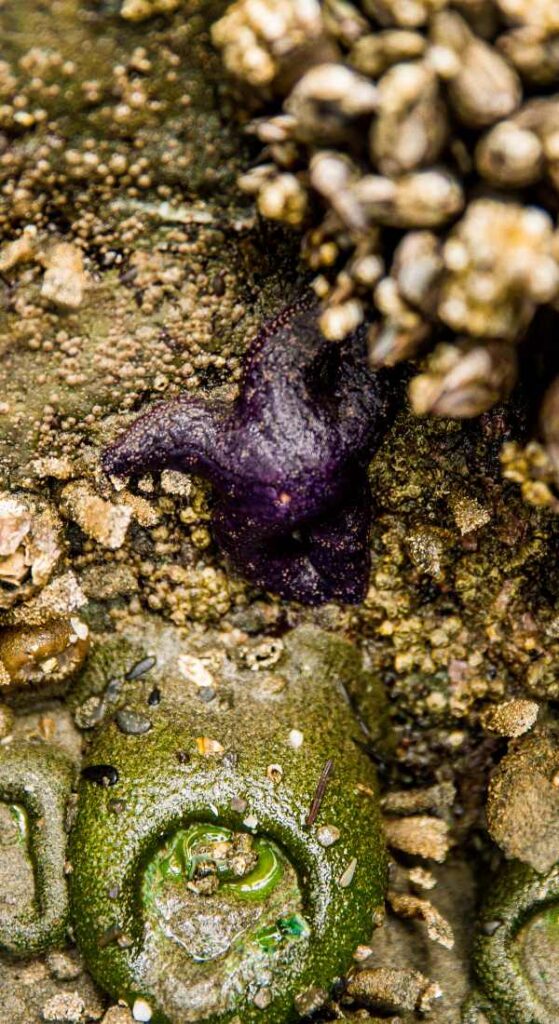 4) Bring a Flashlight: Exploring a tide pool at night can be exciting, but having a flashlight to navigate the area safely is equally essential.
5) Stay Hydrated: Day trips to tide pools can be intense under the Santa Cruz Sun. Ensure you carry enough water to stay hydrated. Check out the hydration pack that I use.
5) Be Respectful: Remember that tide pools are fragile ecosystems. Avoid stepping on or touching marine beings; never remove any creatures or shells from the pools.
Dive in and explore the best Santa Cruz Tide Pools.
BEST SANTA CRUZ TIDE POOLS
NATURAL BRIDGES STATE BEACH
Imagine strolling along the iconic West Cliff Drive, the salty breeze in your hair, and the promise of tide pool adventures just around the corner.
Sounds fascinating? That is Natural Bridges State Beach, located South of Davenport and features one of the best Santa Cruz Tidepools.
A mere 3-mile drive West of Santa Cruz, you will land on 65 acres of sheer beauty between the iconic West Cliff Drive and Swanton Blvd.
Natural Bridges State Beach is a haven of hiking trails and vibrant tide pools filled with teeming underwater life.
Named after the nearby historic rock arch bridge, this state park and its tide pools are a treat waiting to be discovered. 
Swing by the visitor centre to learn about guided tide pool tours that unfold throughout the year.
The main draw of Natural Bridges State Beach is that many small, deep, and expansive tide pools serve as a natural habitat for a teeming underwater life.
Set your sights on the second half of the day for a tide pool extravaganza.
Sea anemones, urchins, snails, shore crabs, and starfishes – it's like stepping into a living aquarium.
During the fall and winter, watch for migrating monarch butterflies, transforming the landscape into a fluttering symphony of colour.
Gaze upon the grandeur of the large rock bench and the tranquil Moore Creek that meanders through the park, all against the backdrop of rugged cliffs painted by the setting sun.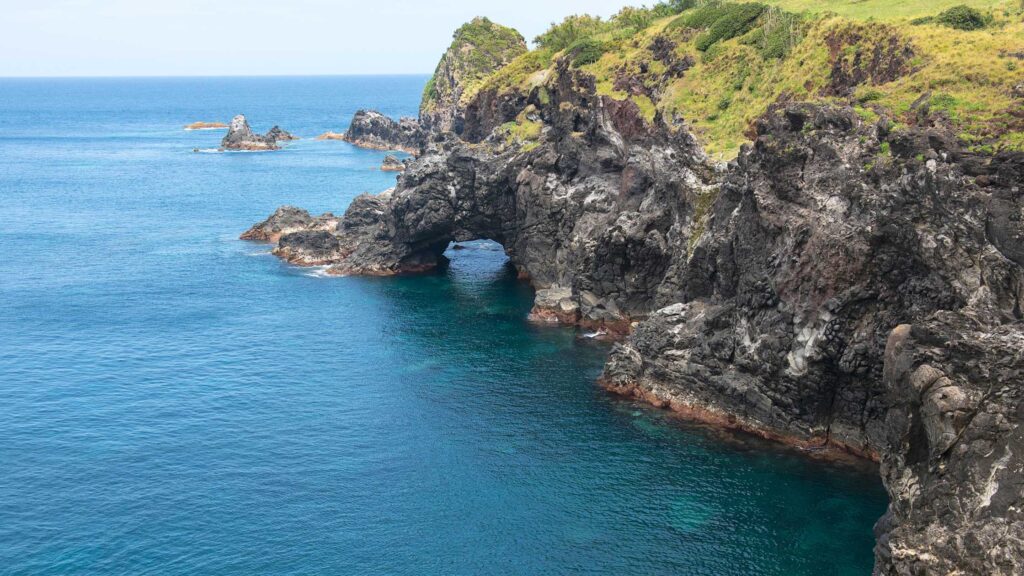 Let your toes meet the sandy shore, and watch as seals and otters playfully dance on the beach.
And if you are lucky, you might even catch a glimpse of whales breaching on the distant horizon.
Don't forget to carry a camera and a pair of binoculars to get a close-up look at these beautiful creatures.
The beach offers ideal swimming conditions, but keep an eye on the tides and the occasional rip currents. Lifeguards will be on duty.
Another attraction of Natural State Beach Park is that there is an exclusive wheelchair and stroller-accessible boardwalk for everyone's convenience.
Enjoy spending time on the Picnic benches fitted with grills; a perfect spot for a beachside feast.
Check out the cute gift shop and convenience store – because who can resist a souvenir or a beachy snack? 
EV plugs are available, and you will get 20 minutes of free parking, after which you need to purchase a $10 day pass.
Well-maintained public restrooms and changing areas are available. Pets are not allowed in this area.
Access the beach via Swift Street from Highway 1. Drive North along West Cliff Drive, and voila – you are there!
You will find these gorgeous tide pools on the right side of the beach during low tides.
PLEASURE POINT COUNTY PARK
Pleasure Point County Park, which sits North of Monterey Bay, is a coastal haven that promises thrills for all ages and is home to one of the gorgeous Santa Cruz Tide Pools.
Get down to the beach by taking the stairways along East Cliff Drive, 36th or 38th Avenue, maybe like the one next to the giant tiki statue.
You will land on this mini paradise, a vast flat beach with vibrant underwater life in its belly waiting to explore.
Be cautious since the stairways can be slippery. Ensure to wear sturdy beach shoes.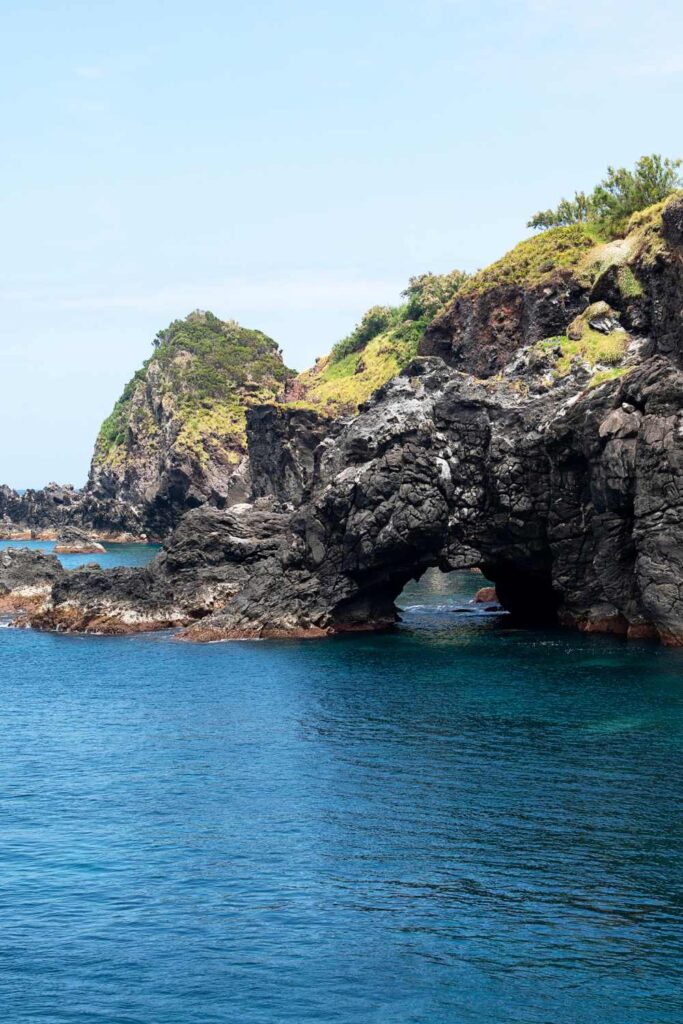 Alternatively, venture to the area starting at 32nd Street, and a mesmerizing expanse of tide pools will be unveiled when the tides are low.
You will witness a treasure trove of marine friends like sea anemones, kelp crabs, and starfish.
Pleasure Point County Beach is a popular Surfing destination.
Stroll along the sandy shores, watch surfers ride the waves, enjoy the distant views of whales swaying to the tunes of waves and admire the tranquil in one of the best sunsets on this lovely beach.
The magic doesn't end there – Pleasure Point County Park is one of the prime spots to spot the elusive nudibranch, a dazzling sea slug that dances with colours, resembling a mini sea dragon.
If you are with kids, this place is absolutely a haven for them to explore since the terrain is mostly flat, and there are no steep drop-offs.
The panoramic cliffs overlooking Monterey Bay paint a spectacular backdrop, especially when the sun sets is a sight to behold.
Kayak rentals are available if you want to explore the uncharted territory of this wonderland at your own pace.
Check out the bike rentals near the beach if you want to vroom with style.
The park is equipped with neat restrooms and showers. Get your furry friends on a leash.
Parking will be available between East Cliff Drive and 41st Avenue. However, it tends to fill up fast, especially during the weekends. I recommend visiting during the early hours.
If you have spare time and want to explore the nearby area, don't miss to satisfy your cravings with the famous burrito from Point Market.
Savour local delicacies, and stay in cosy beach cottages for an ultimate beach experience in Santa Cruz.
CAPITOLA BEACH/ NEW BRIGHTON STATE PARK
Capitola Beach has one of the unique Santa Cruz Tide Pools, located at a 10-minute driving distance from the city on Monterey Bay.
The unique draw of this beach is the ancient fossils of shells embedded in the clay-like cliffs, which are visible during low tide.
You can walk from the Capitola Esplanade to New Brighton State Park when the water level recedes.
With a bit of rock scrambling, you will witness the magnificent intertidal ecosystem filled with numerous marine beings.
Wear sturdy beach shoes and carry enough beverages and other necessities.
SUNNY COVES
If you are looking for hidden Santa Cruz Tide pools, check out Sunny Coves, nestled beneath the protective embrace of bluffs.
Sunny Cove boasts calm waters ideal for a refreshing swim, a perfect haven for your weekend getaway.
Access the beach and its stunning tide pool area via the carved-out stairs.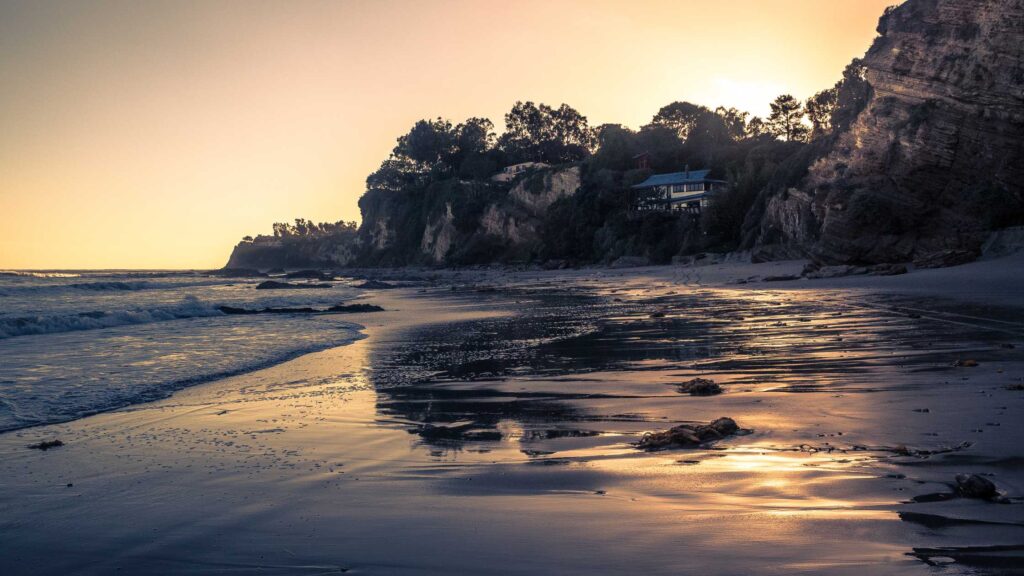 Though steep and adorned with rocks, the journey is manageable and promises a rewarding coastal experience. Wear sturdy beach shoes.
Enjoy a day of sun-soaked relaxation, the sounds of gentle waves crashing the shoreline and the thrill of discovering vibrant marine life within protected tide pools.
Keep your eyes peeled – lucky sightings of sunbathing seals are known to grace this gorgeous scene.
If you are in for an adventure, try body surfing and boogie boarding.
And heed when lounging atop the cliff; those giant waves can sweep you away underwater.
Dogs on a leash are welcome. Well-maintained Porta-potties are fitted on this beach. 
Parking space is limited. So visit during early hours. There is no running water on the premises.
Grab a snack from the nearby shops and restaurants.
Sunny Coves can be reached via Johans Beach Drive, Sunny Cove Drive, or 16th Avenue through East Cliff Drive.
If you have spare time, explore neighbouring beaches for more coastal wonders.
LIGHTHOUSE FIELD STATE BEACH
If you are looking for unique Santa Cruz Tide Pools, visit Lighthouse Field State Beach, a coastal sanctuary where stunning rock formations meet crashing waves and the allure of tide-pooling beckons.
The name is a nod to the charming lighthouse that graces the shoreline, serving as both an emblem of maritime history and a small surfer museum. 
Lighthouse Field State Beach is a playground for exploration, surfing, and countless seaside delights.
Access the beach via West Cliff Drive and take the stairs. Be wary since the stairs can be slippery. Sturdy beachwear is recommended.
Stroll, soak in the museum's insights, and dive into tide-pooling adventures.
With a spotless beach free of seaweed and intriguing rock formations, watching these tide pools during low tides is a visual treat.
Witness colourful marine friends like sea anemones, Urchins, Starfish and hermit crabs.
Watch for pelicans soaring overhead and seals basking in the sun. If you time your visit right, you might spot migrating monarch butterflies.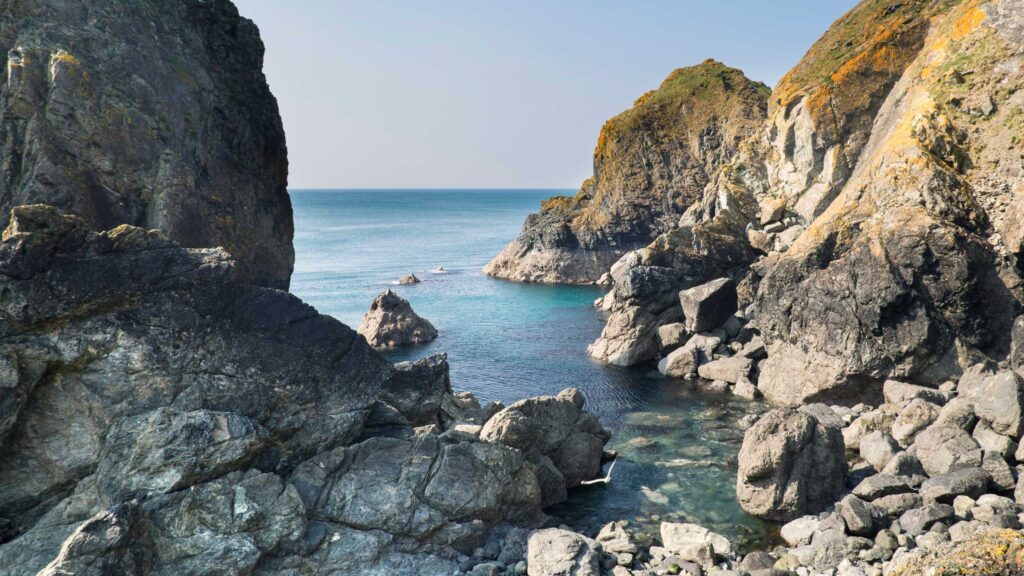 Lighthouse Field is also a haven for your furry friends. They can be let off the leash to have fun and frolic.
Parking is free. Well-maintained public restrooms and outdoor showers are available.
Picnic tables set the scene for seaside feasting. E-bike rentals are available near the beach.
Stop by the gift shop and coffee shop near the beach, which has cute souvenirs.
DAVENPORT LANDING BEACH
If you are looking for an ideal haven to showcase your photography skills, visit Davenport Landing Beach, South of Ano Nuevo, approximately one mile North of Davenport town.
This beach is home to one of the most beautiful Santa Cruz Tide Pools and promises a canvas of natural wonders waiting to be immortalized through your lens.
Witness the intricate marine life in rugged rock formations and capture the allure of untouched tide pools against the backdrop of the Santa Cruz coastline.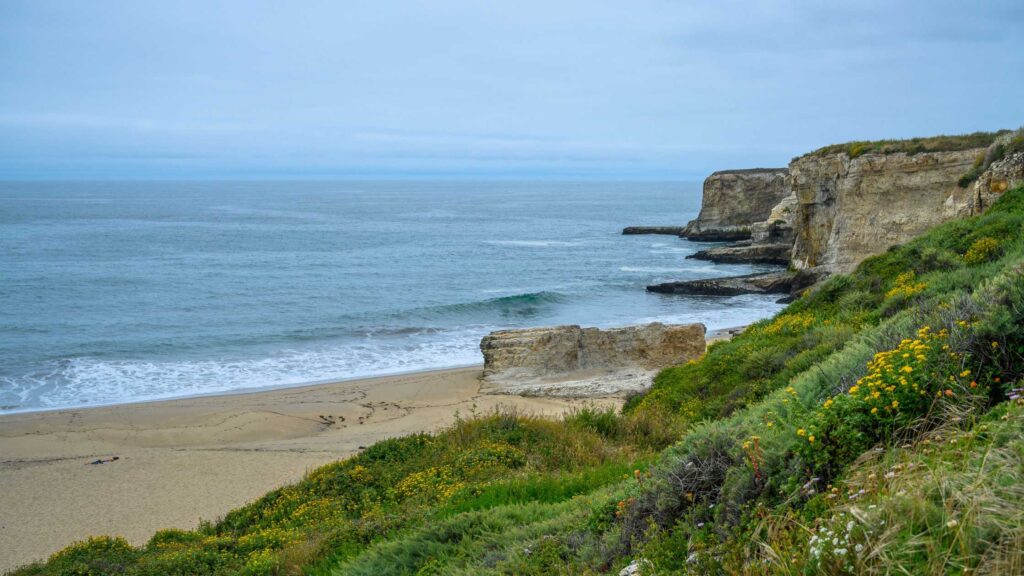 Admire the colourful crabs, sea urchins, beautiful corals, sea anemones and many other vibrant marine life when the tide recedes.
Parking is limited and is free. So, I recommend arriving early to ensure a seamless start to your photographic adventure.
For those seeking the gleam of sea glass, Davenport Beach is the prime location to embark on your treasure hunt.
THE HOOK
One of the beautiful hidden gems on the list of Santa Cruz is the Hook, located in Hook County Park.
Accessing this tide pool is quite tricky but not impossible.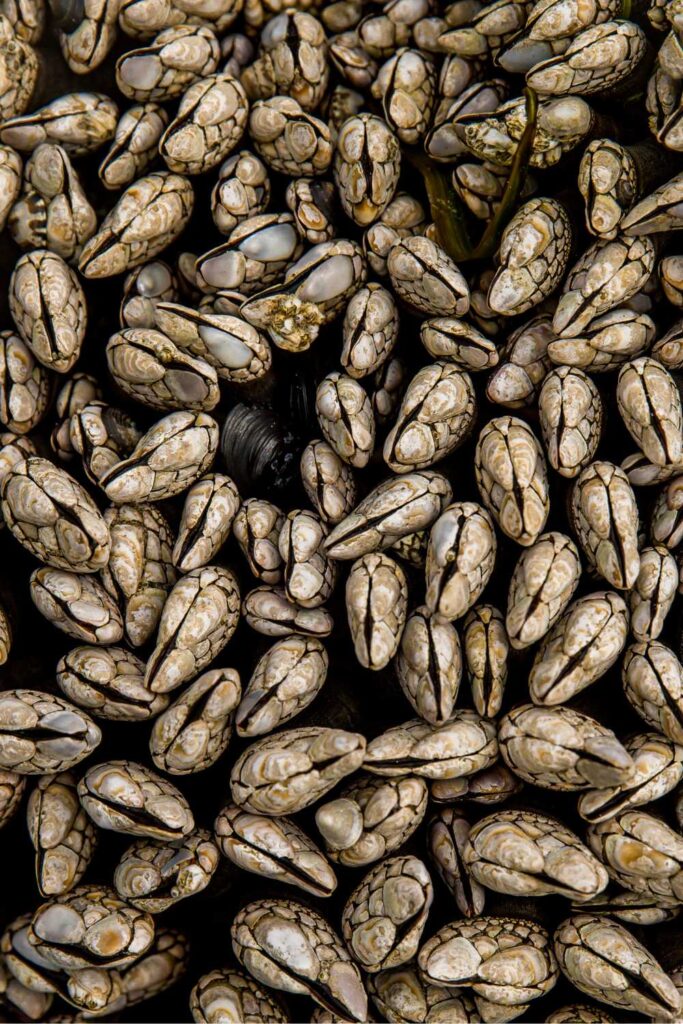 You must find the stairs across the street at the end of 41st Avenue, which will lead you to this hidden paradise.
During low tides, you will see unique rock formations protecting these tide pools, green algae-covered rocks, seagrass and marine life like hermit crabs and snails.
SCOTT CREEK BEACH
About 20 20-minute drive to the North of Santa Cruz on Highway 1 will take you to Scott Creek Beach, home to another gorgeous set of Santa Cruz tide pools.
Scott Creek Beach is on a stunning stretch of rocky coastline surrounded by towering cliffs and is six minutes from Davenport Landing Beach.
This makes it an ideal location to spot Dolphins, Sea lions and many other local wildlife species.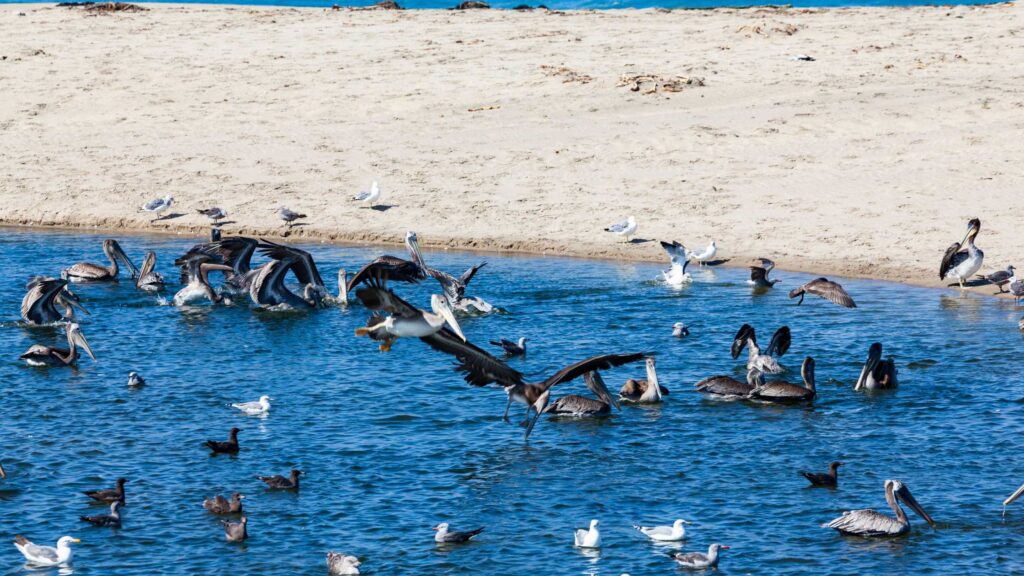 You can spot sea urchins, stars, and octopuses during low tides. Also, witness and learn about peanut worms, Cladophora (mossy algae) and hydroid Eudendrium.
The beach is relatively shallow, an apt location for swimming and fishing.
Check out the exciting shipwrecks around the area, a unique backdrop for your candids.
MAP OF SANTA CRUZ TIDE POOLS