It is time to dive deep into the captivating world of Tide Pools in Florida, some of the most awe-inspiring natural wonders that glimpse the ocean's depths.
Tide pools are shallow areas of rocky shores that are exposed during low tides and submerged during high tides.
From the tranquil shores of the Atlantic to the Gulf's gentle embrace, Florida's coastline offers tons of hidden gems waiting to be explored.
Watching the waves crash against the rugged rocks and the sunlight glimmering on the surface of the tide pools can be incredibly calming and inspiring.
You will be amazed to learn how marine animals and plants have adapted to the drastically changing conditions of the tide pools, which can vary from deep to shallow and cold to warm.
Whether you want a retreat or an opportunity to explore beaches with tide pools, I have covered some of the best Florida Tide pools in this post.
Uncover the magic of these miniature tidal ecosystems, teeming with life and untold stories.
Check out some of the valuable tips for visiting tide pools in Florida and the basic guidelines you must follow before visiting them.
If you are looking for tide pools or ideal beach locations for a perfect vacation in popular US cities, check out these posts:
If you are looking for rental cars in the US to roam around, check out Discover Cars, one of my favourites due to their pricing and multiple car options.
First things first! I recommend you get travel insurance ALWAYS whenever you are on international or domestic travel!
Check out this insurance by Safety Wing, which offers a pretty good cover for you and your family! They even provide monthly insurance, much required for slow travelers like us! Book here!
TIPS FOR VISITING TIDE POOLS IN FLORIDA
1) Safety First: Always heed warning signs, beach conditions, and lifeguard instructions.
Be cautious of sharp rocks and potentially strong waves during high tide.
2) Check the Tidal Charts: Tide Pools in Florida are best explored during low tides when the water is at its lowest point.
Before you visit, check the tide tables for the time and height of the waves in the area that you will be visiting.
3) Wear Sturdy Beach Footwear: Tide pools are often slippery or have rocky pointed edges. Flip-flops or Sandals aren't recommended for your safety.
4) Bring a Flashlight: Exploring a tide pool at night can be exciting, but having a flashlight to navigate the area safely is equally essential.
5) Stay Hydrated: The Florida sun can be intense. Ensure you carry enough water to stay hydrated, especially under the sun.
Check out the hydration pack that I use.
5) Be Respectful: Remember that tide pools are fragile ecosystems.
Avoid stepping on or touching marine beings; never remove any creatures or shells from the pools.
Dive in and let them explore the best Florida Tide Pools.
BEST TIDE POOLS IN FLORIDA
LOWDERMILK BEACH
If you are looking for one of the vibrant tide pools in Florida, check out Lowdermilk Beach, a true Floridian treasure tucked away near Naples.
The powdery cloud-like sands invite you to unwind and soak up the sun.
Take advantage of your sun hats because Lowdermilk Beach stretches over 1,000 feet of beachfront playground.
Lowdermilk Beach is like a giant sandbox of happiness for the whole family!
The beach features two playgrounds equipped with swings that defy gravity, slides that make you scream and climbing structures that bring out your inner child.
Hang by the chill pond where our webbed duck friends do their waddle dance.
It's a total chill zone that's as relaxing as a bubble bath and as lively as a dance party. Kids, adults, and ducks – everyone is welcome!
Lowdermilk Beach isn't just about lazing around; it's about spiking the volleyball with all your might!
Make new pals as you dive more into the sandy battlefield of fun.
If you feel like it is time to yoga-fy your day, Naples Beach Yoga brings the zen to the sand and won't even cost you a pirate's treasure.
For a mere $15 to $20, you are invited to twist, stretch, and unwind with the waves as your backdrop.
And guess what? No need to book ahead – pop up on the beach and strike an aasana.
Grab your flip-flops and join the party – Lowdermilk style!
NORRIEGO POINT
Prepare for a splashing good time at one of the finest Tide Pools in Florida, Norriego Point, a spectacular peninsula between Destin Harbour and the Eastern Pass and an ultimate family-friendly Gulf of Mexico hotspot.
Swing by Holiday Isle hit up Gulf Shore Drive, and follow the trail until you hit the dead end. You will reach this mini paradise.
The calm waves at Norriego Point are a breeze. Enjoy playing in these epic tide pools and discover the colourful underwater world of fish, hermit crabs, and endless gorgeous wonders.
And guess what? You've got front-row seats to a fantastic boat show as vessels glide in and out of the harbour.
Hold onto your snorkels because the fun keeps rolling; Snap underwater selfies along with the fantastic fishy and crabby crew.
Stroll and soak in the Gulf of Mexico vistas while catching some distant Harborwalk action.
Fishing boats, jet skis, and paddle boards are available for rent on the beach in the nearby kiosks, making Norriego Poin a non-stop parade of maritime marvels.
BOCA CHITA KEY
Boca Chita Key is calling, and it's your ticket to an adventure that's off the charts since it is one of Florida's stunning hidden tide pools.
Boca Chita Tide pool is in the Biscayne National Park, an impressive 270 square miles stretching from Miami's vibrant heart to the alluring Florida Keys.
The main draw of Boca Chita is that you can hop on a boat from the park and reach the tidepool with style.
As you cruise along the coastline, get ready to be mesmerized by the stunning mangrove tapestry dotting the shores.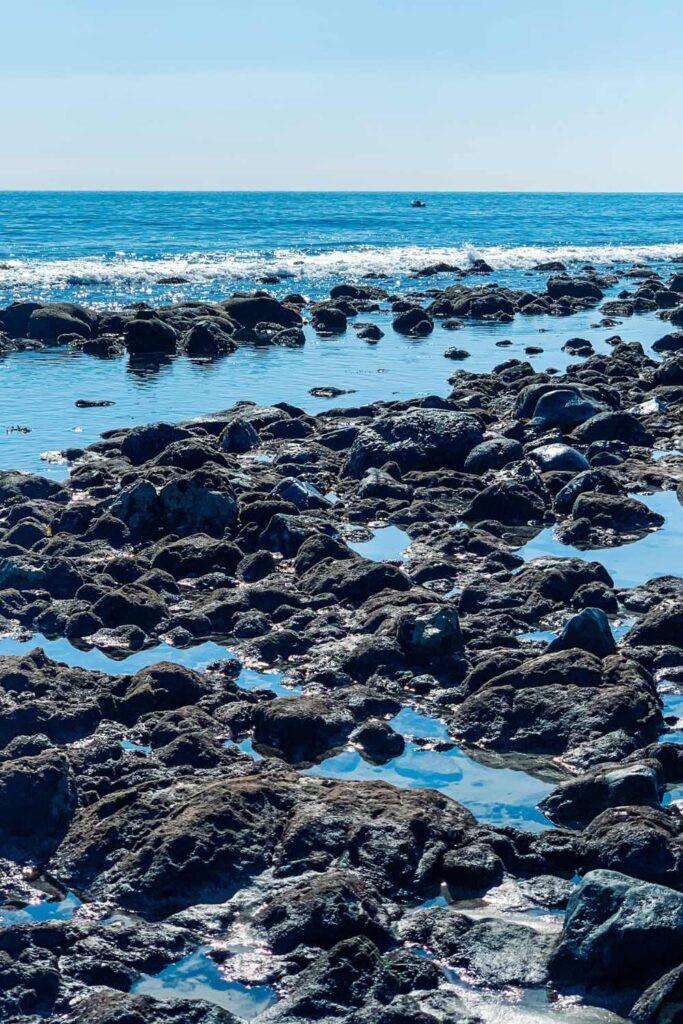 Admire the undeveloped islands surrounding the tide pool, a perfect backdrop for your adventure.
Catch glimpses of colourful shorebirds soaring above while elegant wading creatures gracefully navigate the shallow waters.
This place is a wildlife wonderland, from cormorants to pelicans, seagulls to sea urchins, and even adorable small octopuses and a whole bunch of charming wild fishes.
When the evening paints the sky with its hues, Boca Chita Key becomes a scene of pure delight.
Don't miss the chance to snap a shot of the magnificent Pinnacle rocks formed by fossilized coral reefs over time. It's like capturing a piece of Earth's history in a single click.
RED REEF PARK
If you are looking for a natural treasure trove, visit Red Reef Park in Boca Raton, one of the best Tide Pools in Florida.
From BBQ hangouts to tranquil walks, this place has it all, topped with a dramatic beach that's simply a dreamy escape.
Red Reef Beach is your dream come true destination if you are a snorkeling enthusiast.
The underwater wonderland is filled with diverse marine characters, including sneaky eels to flashy fish like damselfish, spot tail pinfish, and even barracudas.
You will also witness the beautiful coral gardens and vibrant underwater sea plants.
If you are with kids, they can have a blast swimming and discovering the hidden gems of the tide pools right by the beach entrance.
Take them to the Northern end of the boardwalk for an enlightening marine adventure at the Gumbo Limbo Nature Center.
For all birdwatchers and photography buffs – bring your gear to spot the kaleidoscope of birds hiding in the park's lush foliage.
Red Reef Park is about easy-breezy access. With multiple boardwalks leading to different points, getting around is a walk in the park.
If you are a Boca Raton resident, you are in luck – you can snag a yearly pass and make this your second home.
Just a heads up, though – keep an eye on those waves; they can get pretty wild sometimes. So, always double-check the beach conditions before you dive in.
BLUFFS AND SEA CAVES
Explore the enchanting world of bluffs and sea caves along Hutchinson Island, which features one of Florida's most beautiful tide pools.
Head to Gilbert's Bar, nestled on Hutchinson Island, where you will be welcomed by the House of Refuge Museum.
In 1876, this historic gem was a haven for shipwreck survivors. Today, it is transformed into a maritime museum that offers a window into the past.
From its vantage point, you will be treated to sweeping views that will steal your heart.
Witness a natural spectacle as waves crash and spray high into the sky over a unique rock called the Anastasia Limestone.
This rock ridge gives birth to dramatic bluffs, some reaching heights of up to 15 feet, stretching from Stuart down to Jupiter.
Windy and stormy days bring a special treat – fountain-like bursts of water shoot through erosion holes in the limestone at the mesmerizing Blowing Rocks Preserve, protected by The Nature Conservancy.
And when the tide is low, these rocks transform into a marine playground of exploration.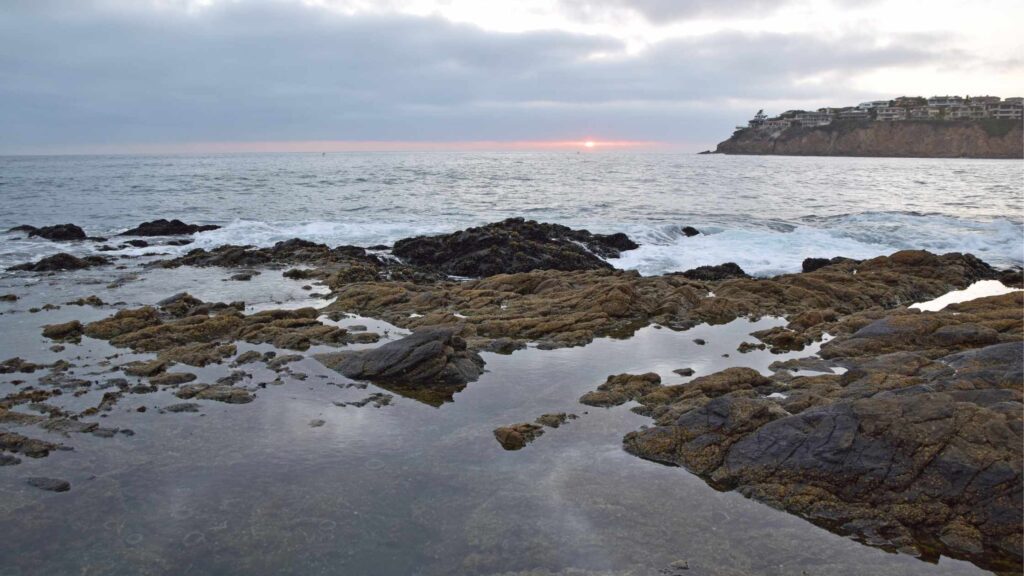 You will be astonished by this magical landscape, where every crevice holds a secret waiting to be discovered.
But that's not all – just next door, Coral Cove offers a paradise of jumbled, eroded rocks that seem to flirt with the sea.
They cascade into the water, creating a captivating sight not too far from the iconic Jupiter Inlet Lighthouse and Museum.
With history, spectacular views, and a touch of magic, Hutchinson Island's bluffs and sea caves are your ticket to a cherishable experience in Florida.
CORAL COVE PARK
If you are looking for one of Florida's fantastic hidden tide pools, check out Coral Cove Park.
Tucked away on the Northern side of Palm Beach County, this natural beauty is just a short 5-minute jaunt from Jupiter Inlet Colony.
Imagine a beach that whispers serenity, where the sun kisses the sands, and the waves invite you to dive in. That is Coral Cove Park for you!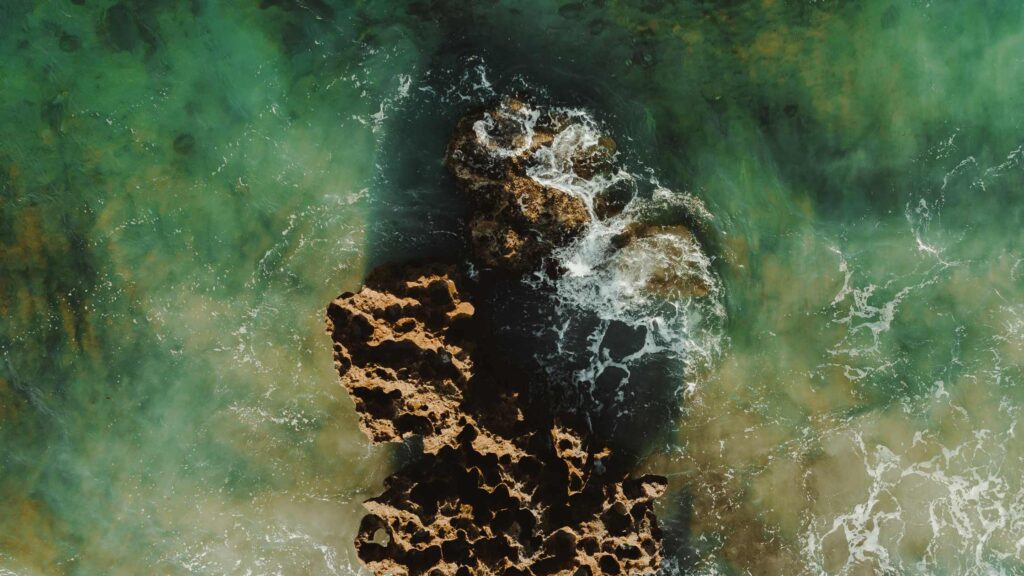 Coral Cove Park's coastline is like a canvas painted with dramatic rocks, creating mini waterfalls and inviting tide pools that are a playground for both young and old.
When the tide retreats, the coral outcroppings come to life, bustling with marine critters in their natural habitat.
The beach experience gets an exciting twist with paddleboarding and snorkeling.
Sink your toes into the vibrant, golden sand and let the waves serenade you with their soothing melody. It's the perfect spot to unwind and rejuvenate.
Feast your eyes on the stunning vistas of dramatic rocks, an integral part of the Anastasia Limestone of the Atlantic Coastal Ridge.
Look closer; you will discover living worm reefs created by marine creatures.
Embark on a sunrise or sunset adventure along the natural bridge trail – a sea arch that stands against the waves like a timeless masterpiece.
And if you are a shell enthusiast, consider Coral Cove Park your personal treasure trove.
Walk North to Blowing Rocks or South to Jupiter Inlet, and you will find some of the best shells around.
Let's talk about those access points – they are like a treasure hunt waiting for you to discover.
Free parking and quaint paths – it's like a beach adventure. And don't forget your swimming shoes, especially with little ones.
Some rocks have an edge; don't let your sore feet spoil the fun.
WASHINGTON OAKS GARDENS STATE PARK
If you are looking for one of the unique tide pools in Florida, visit Washington Oaks Garden State Park, a slice of paradise between the Matanzas River and the Atlantic Ocean near St. Augustine.
Spread across 425 acres along State Road A1A in Palm Coast, Washington Oaks Garden State Park is a haven waiting to be explored.
Witness lush gardens that meet stunning Coquina rock formations on the Atlantic beach.
Coquina rock formations are like nature's own sculptures, shaped by the elements into enchanting bowls and circular holes.
The best part? They double as tide pools for both humans and marine critters to enjoy.
The beach shines its brightest during low tide when the waters are warm and crystal clear.
Follow the trail from the park's entrance, and you will be on this lovely beach.
While swimming might be a tad tricky due to rock-filled shores and rip currents, fear not! Just don a pair of trusty swimming shoes, and you are good to explore.
Photography enthusiasts should not miss visiting Washington Oaks Garden State Park.
You will witness the ancient spreading oak tree, a testament to time.
I recommend hiking along the Bella Vista trails for avid hikers, spanning a serene 1.7 miles.
The panoramic Jungle Road and bike trail will take you on a nostalgic journey through nature's masterpiece.
If you have spare time, take a drive for about an hour to kayak with some rather larger-than-tide-pool animals: alligators, manatees and even sea otters!
BAHIA HONDA STATE PARK
Are you looking for the best tide pools in Florida? Prepare for a Floridian paradise as Bahia Honda State Park beckons you.
Located at the gateway of the Florida Keys, this gorgeous gem will sweep you off your feet with its shimmering shores and sun-kissed vibes.
Bahia Honda State Park sits at mile marker 37 in the Florida Keys and is easy to locate.
Don't let its compact appearance deceive you. The park has a 500-acre playground of fun, adventure, and nature's wonders.
And its ease of access makes it a perfect spot for anyone looking to soak up the Key West magic.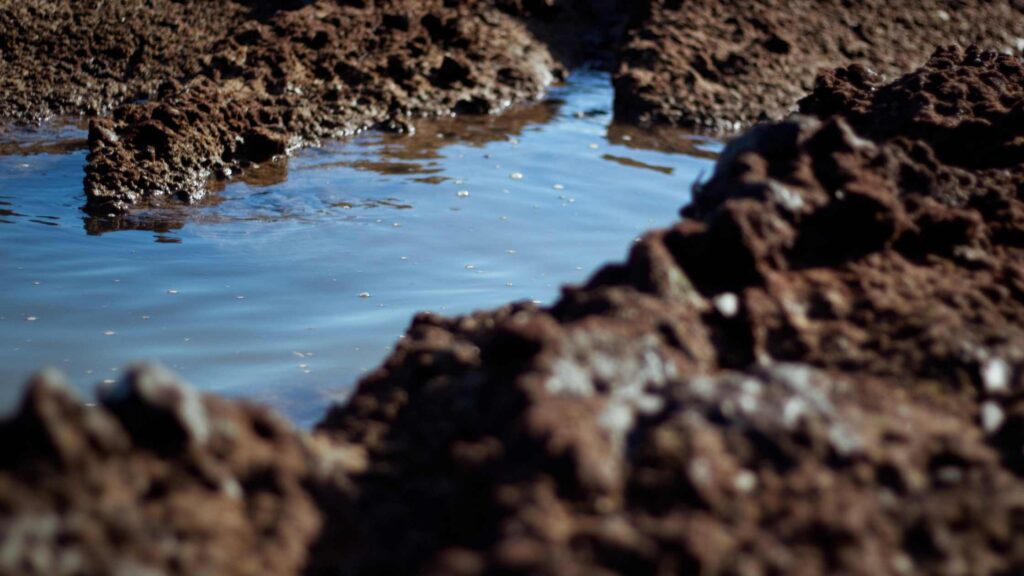 With teal waters, calm waves, swinging palms, and powdery sands, Bahia Honda is a haven for shoreline explorers, sun-seekers and beachcombers.
It's like stepping into a postcard-worthy dream.
Dive into the crystal-clear waters for some snorkeling or kayaking action. Expect conch, sea urchins, octopi and more marine marvels in these vibrant pools.
The beach's concession service stand is your hub for these thrilling activities.
Bahia Honda State Park is a hotspot for birding, offering some of the finest feathered wonders in Florida.
Set up camp and let the natural symphony of Bahia Honda lull you to sleep.
And remember to pop into the beach gift shop for unique Florida Keys souvenirs.
BATHTUB REEF BEACH
If you are looking for a day of beach bliss, head to Bath Tub Reef, which sits on the East Coast in Stuart and is home to one of the gorgeous tide pools in Florida.
With its soft white sands and sparkling crystal-clear waters, this beach is a beloved hotspot for locals and tourists alike.
Sink your toes into the velvety softness of the white sand, and let the gentle waves tickle your feet.
Bath Tub Reef is a haven for swimmers, snorkelers, and even scuba divers – all seeking to explore the underwater wonders that lie just beneath the surface.
Strap on your snorkel gear and dive into a world of marine magic.
The clear waters here unveil a bustling underwater city, home to hundreds of marine creatures, including the majestic endangered sea turtles.
It's like stepping into a living aquarium!
When the tides are low, a natural wonder comes to life – the reef forms a protective barrier, creating a shallow tide pool perfect for the ones who love to take a casual dip.
But a little heads-up from the lifeguards – keep an eye out for signs and be mindful of their directions.
And, of course, if you spot a red flag area, it's best to steer clear for safety's sake.
ROCKY REEFS
The Rocky Reefs invite you to explore a world of underwater adventure and the best tide pools in Florida that adorn the shoreline.
Between the vibrant towns of Jupiter and Fort Lauderdale, divers have over 30 captivating sites to explore, each offering a unique glimpse into the aquatic world below.
Just a hop away from the House of Refuge, these reefs are a magnet for divers and beachcombers.
Descend into the depths where the limestone ridge plunges beneath the sea, giving birth to rocky reefs that teem with marine life.
Witness the bristle worms construct clusters of tube-like homes atop the limestone.
It's like entering an underwater wonderland where every nook and cranny holds a secret waiting to be discovered.
If you have spare time, dive into the shallows of John D. MacArthur Beach State Park in North Palm Beach, a snorkeler's paradise, especially during the summer months.
Watching Parrotfish put on a show as they skip over the dribbled rocks is a delight, creating a mesmerizing dancing effect.
When the tides are low, you will see some rocky outcroppings of these vibrant reefs, along with marine friends like sea anemones, urchins and seaweeds.
MAP OF TIDE POOLS IN FLORIDA