If you're looking for the best things to do in Twin Falls, Idaho, you're in the right place. Did you know? This part of Southern Idaho is famous for gorgeous waterfalls, majestic geological formations, and abundant natural beauty, offering a perfect weekend getaway for outdoor fun.
Twin Falls is also an excellent destination to add to your Idaho road trip itinerary, no matter which route you take, where you can spend a weekend or more exploring the tons of attractions with something for every kind of traveler.
Many people stop at Twin Falls on their road trip to the popular Yellowstone park, a famous route in southern Idaho.
The city of Twin Falls boasts of a beautiful location, nestling atop the southern rim of the mighty Snake River Canyon in Southern Idaho in the United States.
Twin Falls is nicknamed the "Gateway to Snake River Canyon", with Twin Falls drawing hundreds of thousands of visitors for its magnificent Shoshone Falls and Snake River Canyon.
But the seventh-largest city in Idaho with a population of under 50000 is home to many other attractions, from zipline to base jumping to hiking trails.
Or how about green parks, historical museums, delicious restaurants, and cafes? No matter what you pick, you are sure to have a fantastic holiday in Twin Falls.
Get ready to plan your weekend trip to this fantastic city with this list of fabulous things to do in Twin Falls, Idaho.
TOP THINGS TO DO IN TWIN FALLS IDAHO
If you are wondering what to do in Twin Falls Idaho on a weekend, below is the list of the top places to visit in Twin Falls. You can start from downtown covering each of these attractions.
Visit The Herrett Center for Arts and Science
One of the top things to do in Twin falls is visiting the Herrett Center.
Located on the College of Southern Idaho campus in the heart of Twin Falls, this world-class museum has an exquisite collection of artifacts of natural history, astronomy, art, and anthropology, especially from the prehistoric era of the old American continents.
From getting to know about the Native Americans of Idaho to geological artifacts to collections from rare periods of Peru culture, you will witness some excellent exhibits here.
Also, don't miss checking out the Faulkner Planetarium, the largest in Idaho, with a massive 50 ft dome.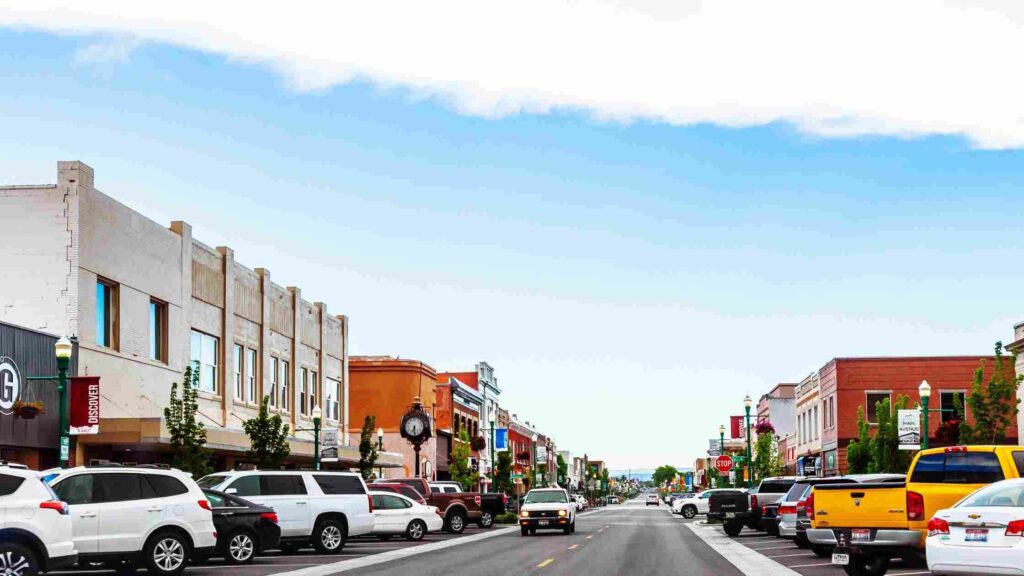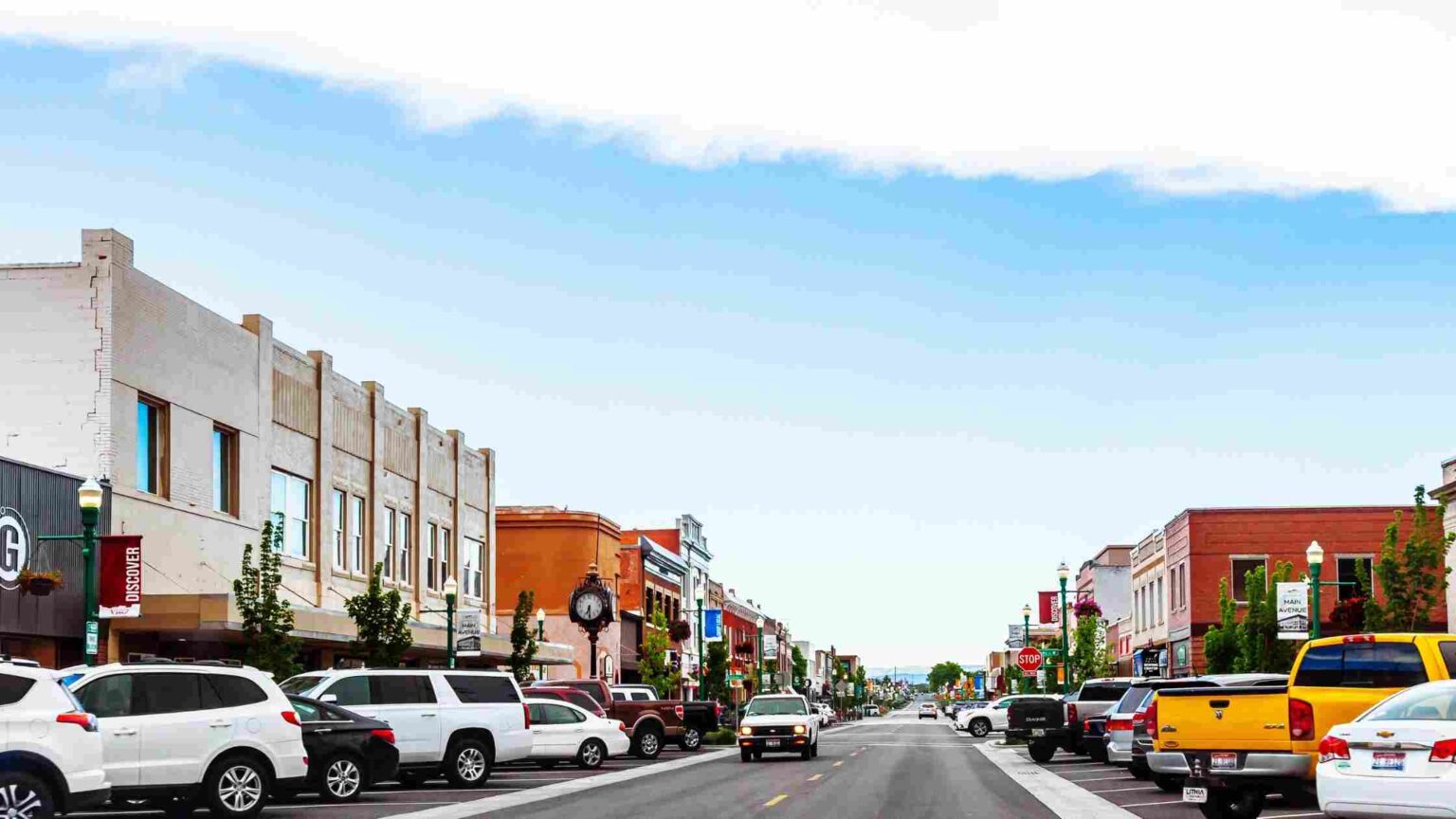 The planetarium houses one of the world's largest public telescopes in the Centennial Observatory, a beautiful gallery with stunning images.
Among these fantastic things is that the museum is also free to enter, with only a small fee for getting into the planetarium.
Opening hours of Herrett Center – From 9:30 AM and 9 PM on Tuesdays and Fridays; From 9:30 AM until 4:30 PM on Wednesdays and Thursdays, and on Saturdays, from 1 PM until 9 PM.
Admire the gorgeous views of Perrine Bridge
The iconic landmark Perrine Bridge is one of the top things to do in Twin Falls Idaho. One of the most visited tourist attractions in Idaho state,
Perrine Bridge built 500 feet above the Snake River Canyon, spanning a whopping 1,500 feet long also has pedestrian walkways.
The Perrine Memorial Bridge is the biggest in Idaho and the eighth tallest arch bridge in the country, which was built to replace an older cantilever bridge constructed in the 1920s.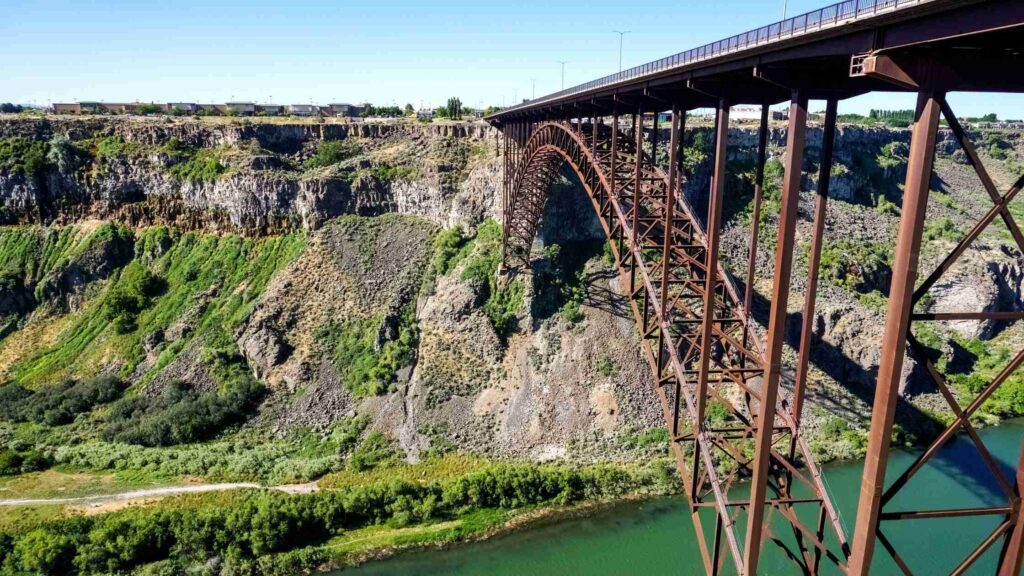 What makes Perrine Bridge special is that it offers dazzling views of the Snake River and the waterfalls. You can capture the splendid views of the Canyon, falls, and lakes from many spots around the Bridge. Walk across the Bridge, admiring the views of the valley and its height.
Watch Base Jumping from Perrine Bridge
While you are at Perrine Bridge, you have the chance to passively witness the adventure, which is one of the exciting things to do in Twin Falls Idaho.
Perrine Bridge is a famous spot for Base Jumping, attracting thousands of adventurous souls that come to dare the jump-off this Bridge with parachutes attached, making a graceful glide towards the ground creating a hot spot for adventure enthusiasts.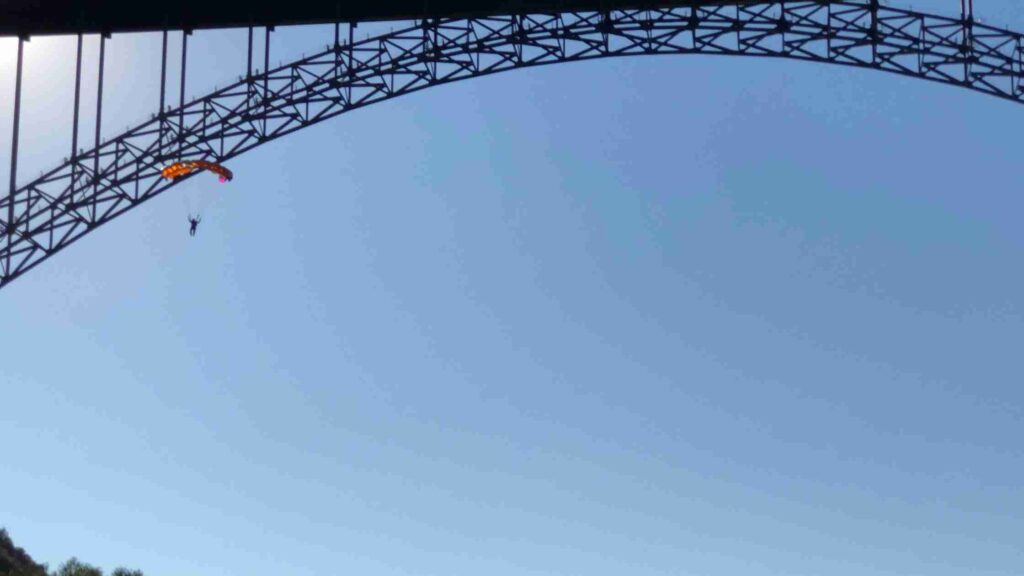 There are many places to watch jumpers from the safety from either side of the Bridge, the most famous end being the eastern side of the Bridge.
If you follow the Canyon Rim Trail path further, you can pick from the many viewpoints to watch the adventure.
You can try tandem Base jumping if you are daring enough by signing up with Snake River Base Academy and Twin Falls Base companies.
You do not need a prior permit to try Base jumping off Perrine bridge, which means you can try it out if you feel the mood for an adrenaline surge.
Stop By The Twin Falls Visitor Center
At the end of Perrine bridge is the Twin Falls Visitor Center, which is one of the first places you should stop by to get information about all the things about the city and the surrounding areas.
Stop by not just for the information but also to enjoy dramatic views of the Canyon and the Bridge, thanks to its stunning location above the Snake River Canyon.
This glass building depicting the contemporary stylish architecture is surrounded by well-maintained lawns, and also houses many antique collections of artifacts rich in local history, like the historic Perrine Stagecoach.
Familiarize yourself with the history of Twin Falls and Southern Idaho at the center. You can also shop for souvenirs at the shop here.
Opening Hours – 8 AM to 5 PM every day. Free entry.
Walkthrough Downtown Twin Falls
One of the top things to do in Twin Falls is getting to know about the city's past.
Downtown Twin Falls is the city's historic district, listed on the National Register of Historic Places.
It is the best place to familiarize yourself before getting into the other outdoor activities in and around the city.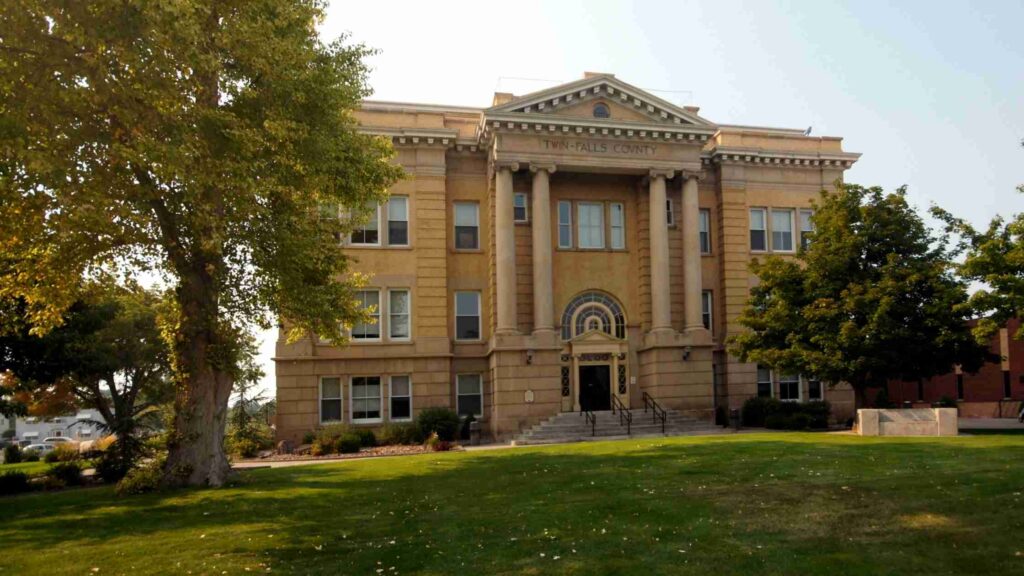 The downtown, spanning over 20 acres, is home to over 40 historic buildings, some of which house cafes, bars, and restaurants.
In addition, there are a few vintage shops and breweries worth checking out, including some top eateries in Twin Falls located here.
Enjoy the Splendid Panoramas of the Snake River Canyon
Among the many incredible things do in Twin Falls, when you are at the Twin Falls Visitor Center, head to the backside to the viewing platform, from where you can witness the sweeping views of the rugged Snake River Canyon home to waterfalls, creek, and springs that runs for over 50 miles.
Formed by the Snake River creating a border between Twin Falls county and Jerome county in Idaho, the Canyon is among the top Twin Falls attractions.
Recommended Read: 50 Stunning Hidden Gems In the USA For Offbeat Adventure
The Canyon offers many things for outdoor lovers – from hiking to biking to fishing to even playing Golf(check all about these next).
But if you are not up for any outdoor adventure for whatever reasons, don't miss spending time enjoying the different panorama views of the gorgeous landscapes formed around the Snake River Canyon.
Check out Evel Knievel Jump Site
If you follow adventure sports or enjoy adventure shows, you will know about Evel Knievel, the best-known daredevil.
Twin Falls is home to one of his most famous stunt attempts, one of the top Twin Falls attractions today.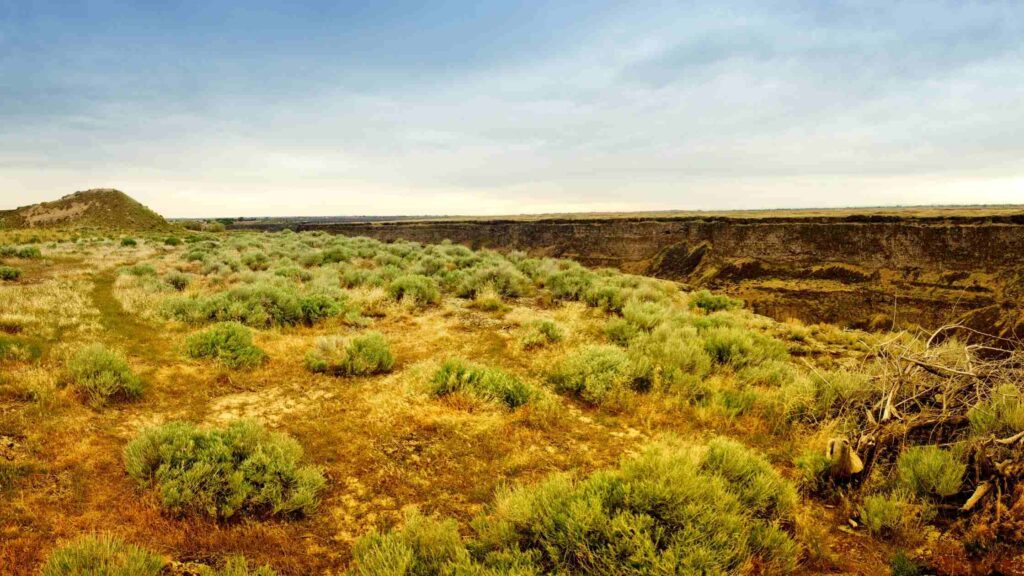 Evel Knievel Jump Site, a dirt ramp on the Snake River Canyon wall, about 1.6 miles east of the Perrine Bridge along the south rim of the Canyon, is where Evel Knievel attempted to jump across the Canyon on his motorcycle in September 1974.
Knievel's parachute opened earlier, saving his life but unable to complete his jump, leaving him with a broken nose.
You can see the dirt ramp from the bridge and other vantage points along the Canyon Trail, although it is private property.
Watch a Movie at the Orpheum Theater
If it's all outdoors and adventure on your trip to Twin Falls, you can take a break and head to the Orpheum Theater.
This heritage structure, built in 1921, is one of the best places to visit in Twin Falls to get to know about the past culture and history, along with being a top entertainment center for the locals and tourists.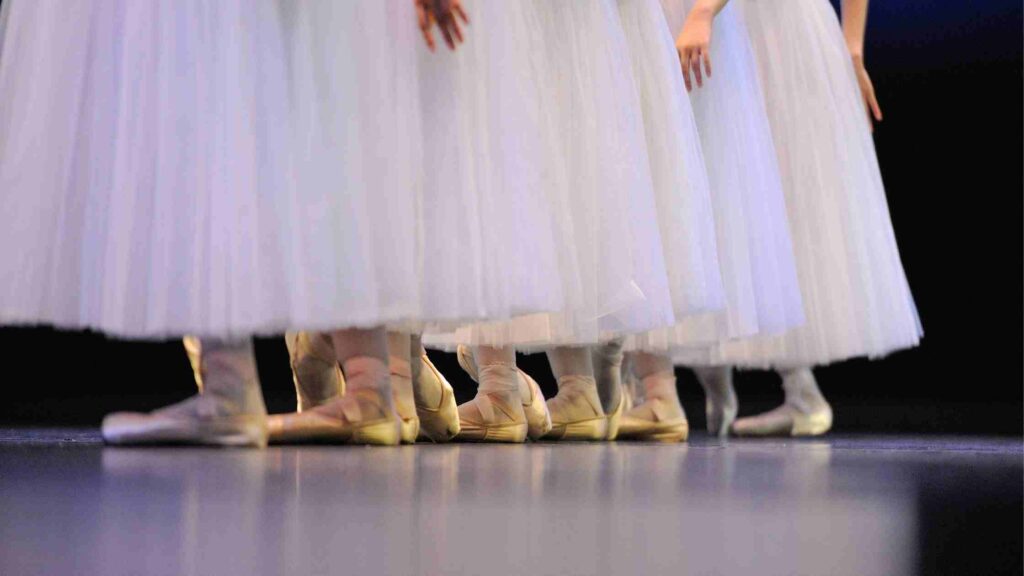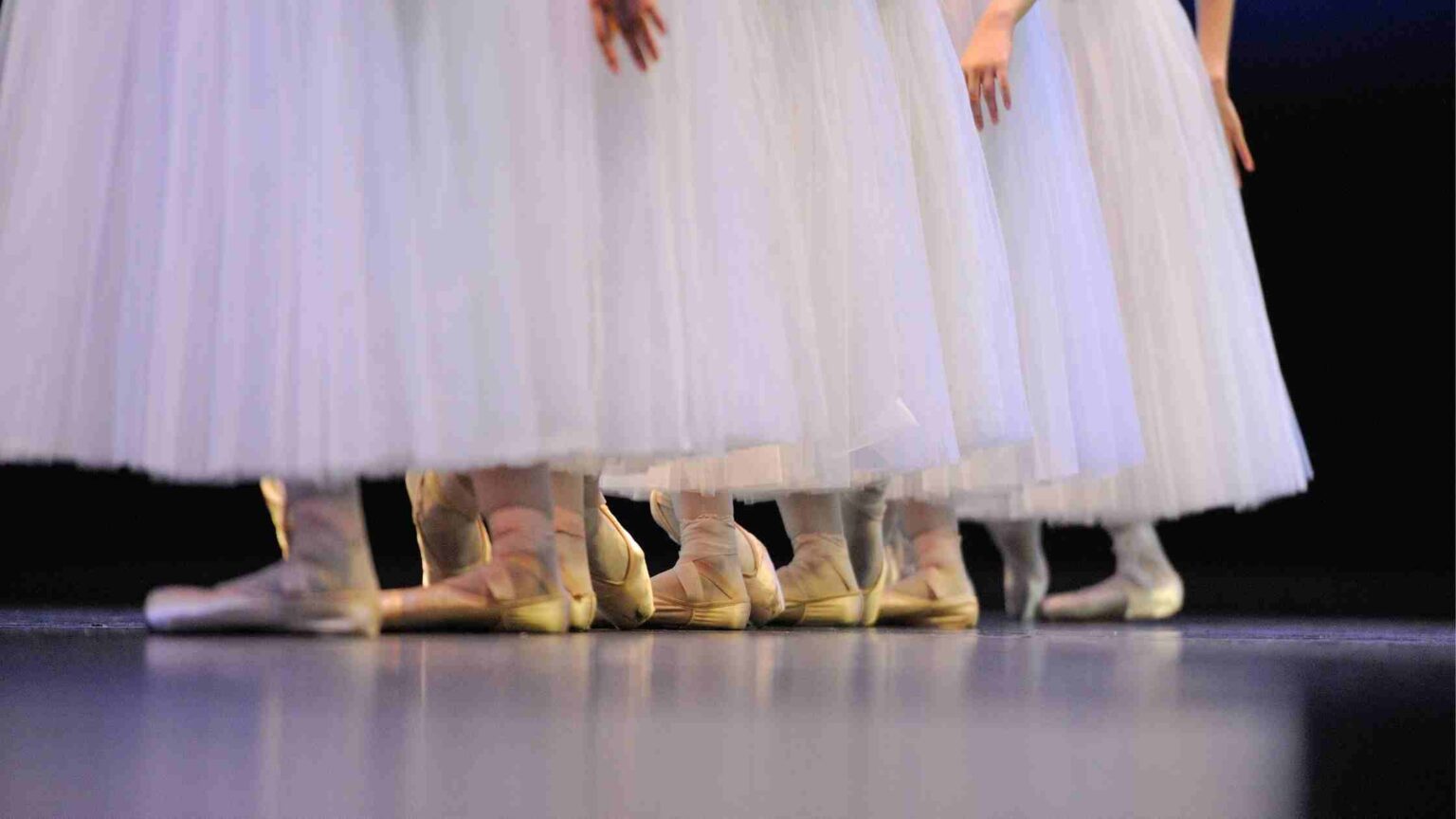 The Orpheum Theatre still bears the architectural aesthetics of the 20th century, although you can notice the renovated areas.
The theatre hosts many musical performances, festivals, and stand-up comedy shows in its live theatre.
You have to watch old classic movies at this theatre to truly be transported in time when you are here in Twin Falls.
Visit Historical Society Museum
Located a short drive away from down is one of the few indoor things to do in Twin Falls Idaho.
So if you want to beat the heat or you are like me, a history buff, you will find these excuses perfect for hopping into the Twin Falls County Historical Society Museum.
Located on the old Union School premises, the museum has exquisite artifacts relating to the history of the Twin Falls region.
The museum and the surrounding buildings give us a sneak into how agriculture once dominated the Twin Falls area before shape-shifting into what it is today.
Check out the old farm equipment, old fire engines, and ice wagons, among the many exhibits from the early 20th century.
There is no fee to visit the Twin Falls County Historical Society Museum, and given all the things it offers, it is one of the best free Twin Falls things to do.
Museum opening hours – 12 PM to 5 PM from Tuesday to Saturday.
Have a Romantic Dinner Overlooking the Canyon
Although there are plenty of places to spend an evening while you are in Twin Falls, some venues stand out for their fantastic location.
Located on the south rim of the Canyon is Elevation 486, a traditional American pub serving delicious cuisines and beer.
But it is not the food or the drink that draws the visitors. Its excellent location overlooking the Snake River Canyon makes it a perfect romantic evening date venue.
You can watch the golden hues of sunset, the mountain peaks of Pioneer, Pomerelle, and Soldier on the horizon as you enjoy delicious bites choosing from a wide range of menu options.
The restaurant is open for lunch and dinner, but as you guessed, the best time to be there is for gorgeous sunsets.
They have the Happy hours from 2:30 PM until 6:00 PM and then 9:00 PM till Closing, making the most of it by indulging in one of the romantic things to do in Twin Falls Idaho.
Note that the restaurant remains closed on Sundays.
It is best to make a reservation as the outdoor terrace seating is booked quickly. Indoor seating also offers beautiful views of the mountainous valley through the large glass windows.
Taste the Local Brew Specials at Kota Brewing
Trying out the local brewery is a must thing to do if you love beers as I do.
Located in the heart of Twin Falls is the famed Kota Brewing Co, alongside a few others serving exquisite brews of various flavors for many decades.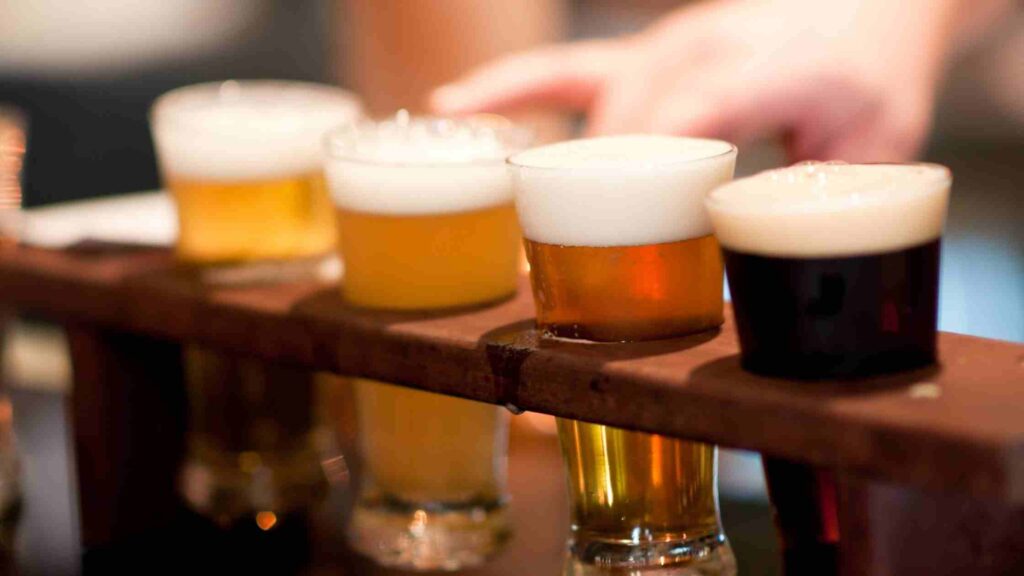 Some popular brews you should not miss are West Coast, 80 Grit, and Table Base IPA.
Top the beer with excellent snacks and other dishes, including pork chops, nachos, and wings for a splendid evening. Other popular breweries close to Kota also worth checking out are Milner's Gate and O'Dunkens.
BEST THINGS TO DO IN TWIN FALLS IDAHO
Plan a Trip To Shoshone Waterfalls
One of the top things to do in Twin Falls Idaho, is witnessing the magnificent Shoshone Waterfalls.
Located in Shoshone National Forest, about 15 minutes away from downtown Twin Falls, Shoshone Falls is created by the rapids of the Snake River dropping at 200 feet height over a horseshoe-shaped rhyolite cliff, creating stunning vistas.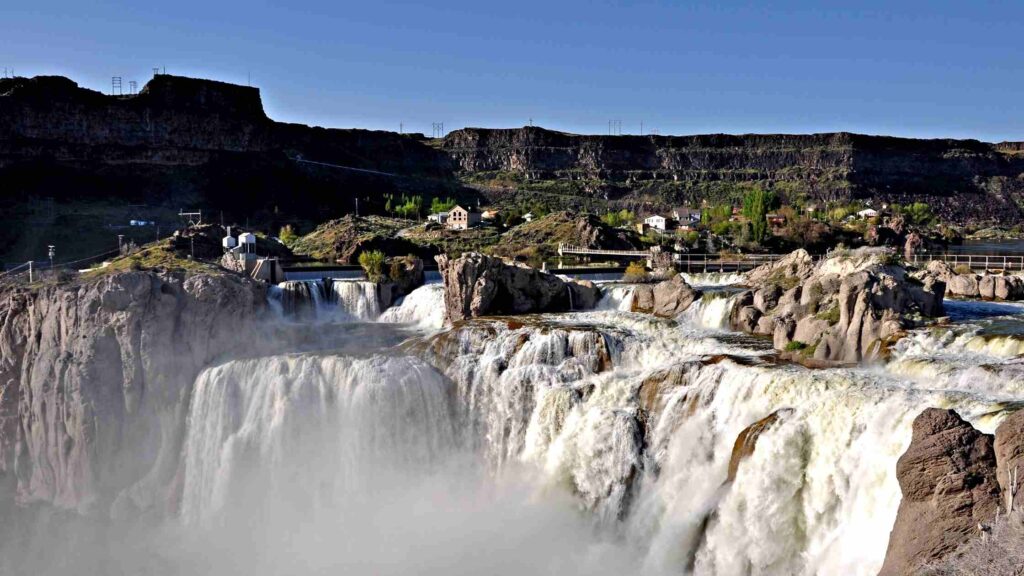 Nicknamed the "the Niagara of the West," this gorgeous fall is higher than Niagara Falls, spanning more than 900 meters in width, offering dramatic views, which is why unsurprisingly, it is the pride of southern Idaho.
There are plenty of attractions to combine with the waterfalls, including hiking trails, biking, boat ramp, swimming, and fishing in the park.
There are many spots suitable for picnics as well. If you are here during the peak seasons, expect many visitors, especially during the weekends and holidays.
Recommended For You – How to Plan An Adventurous Trip To Shoshone Falls
It plunges with full vigor during the spring and early summer from March to May after the snow melts, but it's a spectacular sight at any time.
It attracts hundreds of thousands of visitors, including hikers, water adventure seekers, and outdoor photographers who capture the iconic landmark of Idaho.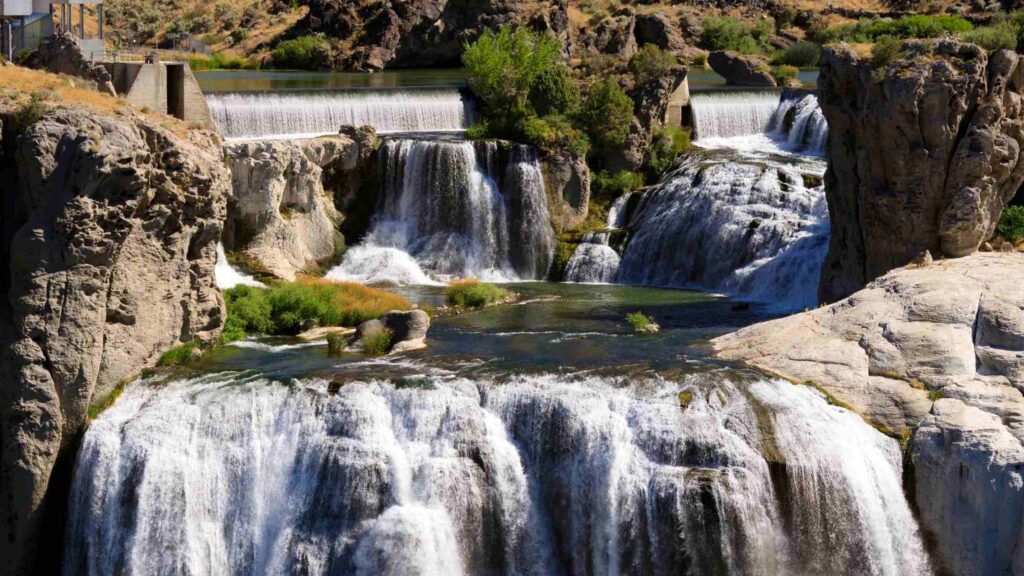 You can also reach the waterfalls by kayak or paddleboard, which is a top adventure activity during the peak seasons of spring when the waterfalls are at their best.
There are many viewing platforms to enjoy the stunning waterfall if you want to do it without adventure.
During the peak season, there is a small entry fee of $5, and it is free during all other months.
Have Fun at Centennial Waterfront Park
Located north of downtown Twin Falls, one of the best places to visit in Twin Falls for water adventure is planning a few hours at Centennial Waterfront Park.
You can combine a visit to the park with attractions thanks to its excellent location.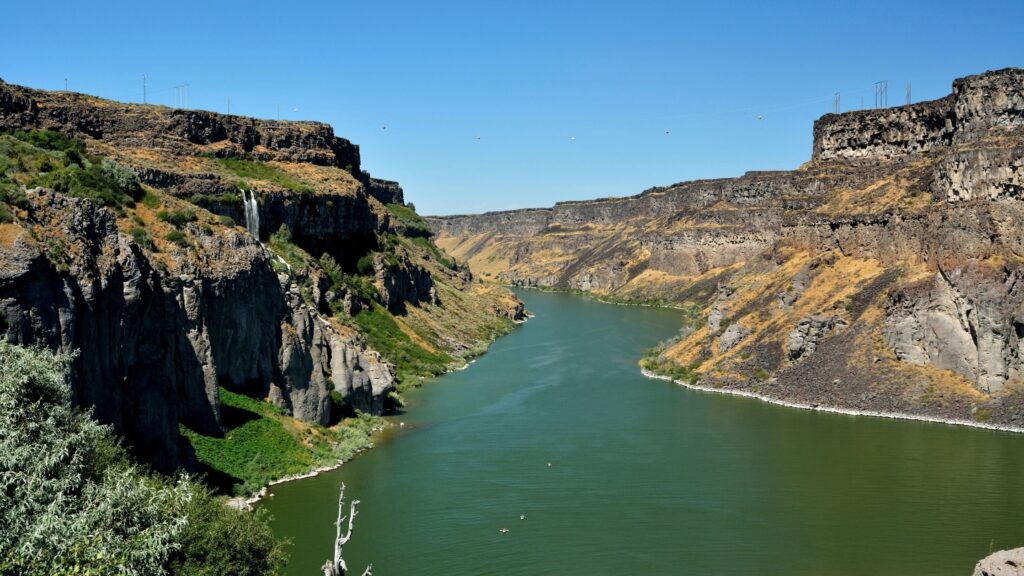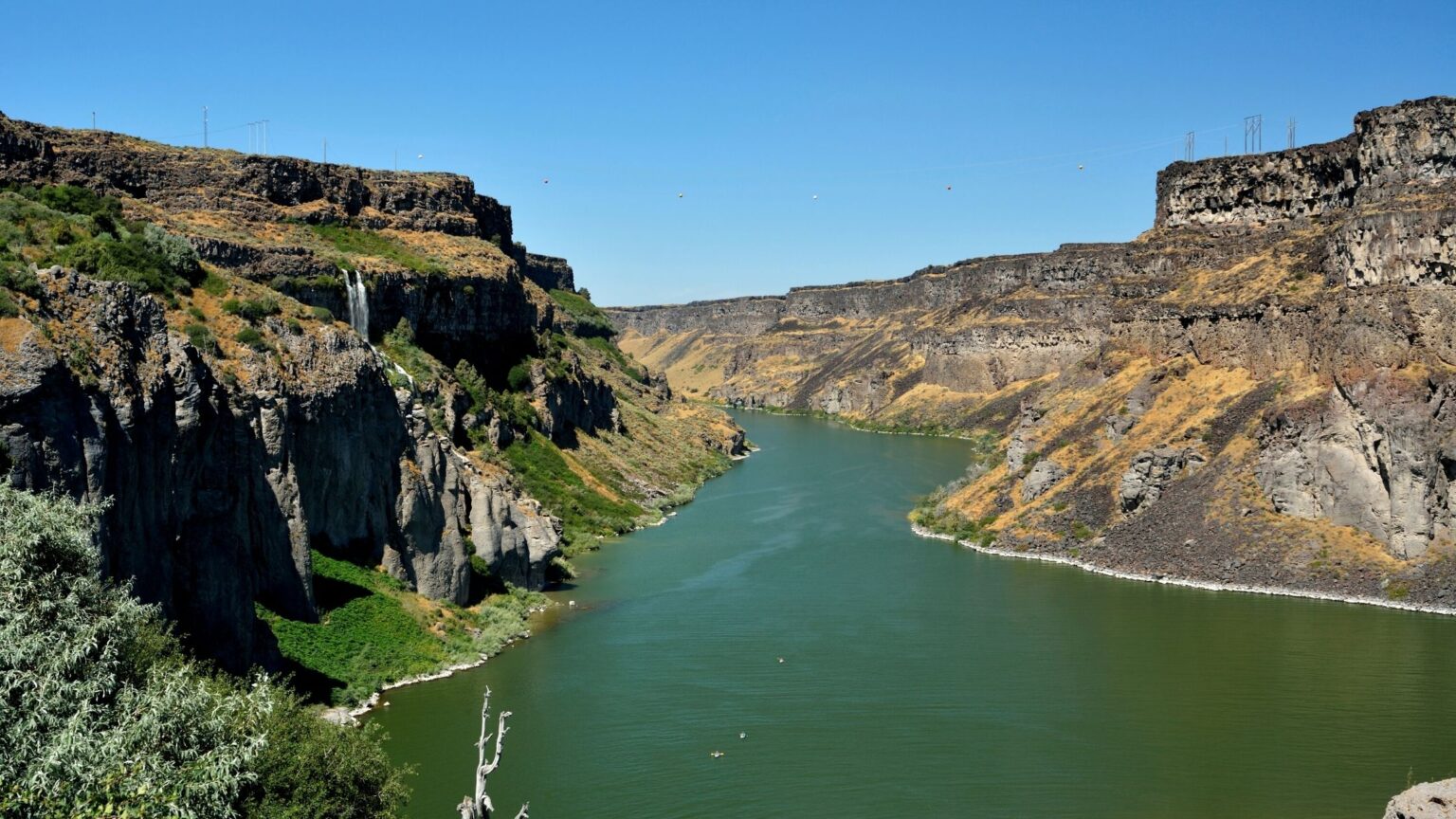 From a relaxing picnic to rock climbing, there is a wide range of activities, especially perfect if you are looking for things to do in Twin Falls Idaho with kids.
There are some beautiful trails for hiking and biking. You can plan boat trips, rent kayaks, and try fishing.
Many people enjoy canoeing and paddle-boarding all the way in the canyon to other points of interest too.
If you want a relaxed outing, get on the riverside to admire the sweeping views of the canyon and Perrine Bridge.
If you are joining kayak and paddleboarding tours, you will likely start at Centennial Waterfront Park.
Explore Dierkes Lake Park
One of the best outdoor things to do in Twin Falls Idaho is planning a trip to Dierkes Lake Park, close to the famous Shoshone Falls Park.
Dierkes Lake Park is set on 191 acres and surrounded by abundant natural beauty, a renowned spot for picnics, swimming, and sunbathing. 
The park is named after John Dierke, a German immigrant who tried growing plants near the Canyon's creek in the 1900s, but the water levels rose to terminate his plans forming a lake and remained private property until a few decades later.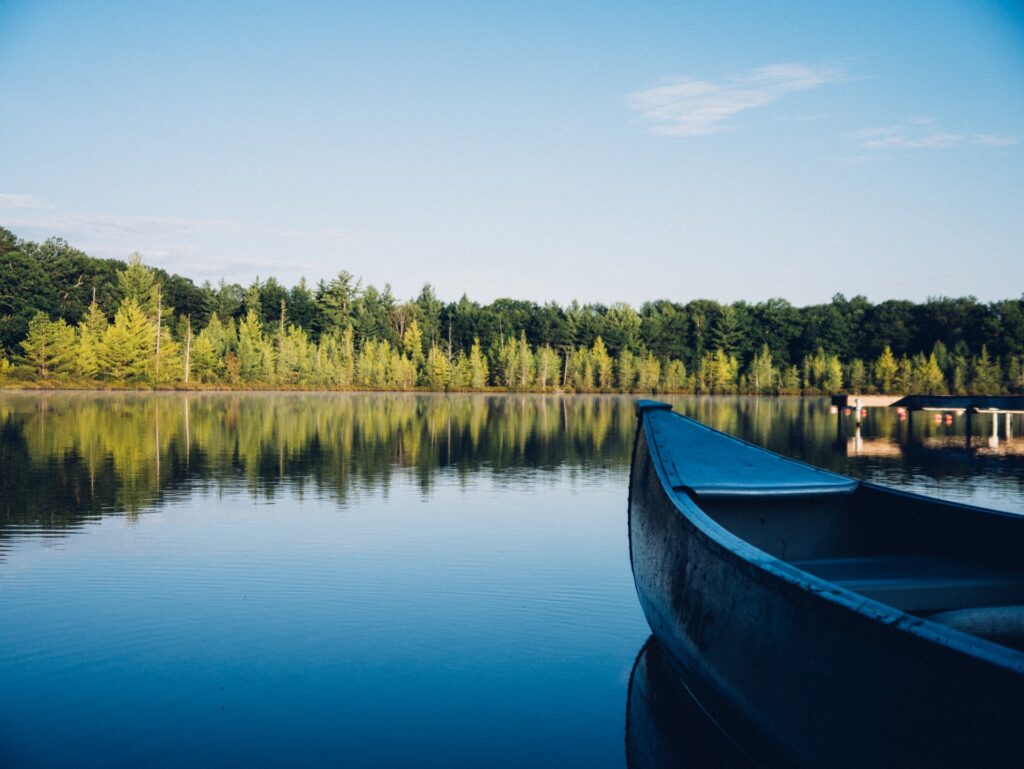 In summer, swimming, fishing, and boat trips are popular activities. Lifeguards are on duty during the summer.
The fishing hole is great for landing bluegill, bass, and trout. You can try rock climbing here, scaling the cliff sides close to the Canyon.
The park offers a children's playground, picnic tables, facilities to have a BBQ, and the concession stands are open in summer. Enjoy strolling along with a 1.7-mile trail around the park.
If you are a scuba diver, you will love diving in the lake, as you check out the diving park under housing sunken rowboats, a swimming triangle, a metal shark cutout, and even a hidden treasure chest.
If you want to try boating, note that only non-motorized boats, kayaks, and canoes are allowed in the park.
If you are visiting the Lakes in Twin Falls from March through September, you have to pay $5 for parking, which is the common area for Shoshone Park as well. Entry is free the rest of the year.
Go Waterfalls Hopping In Twin Falls
Shoshone Falls may be one of the top things to do in Twin Falls Idaho, but did you know that the city is home to plenty of other gorgeous waterfalls?
Thanks to the rugged forested mountains and deep canyons, Twin Falls is blessed with beautiful waterfalls that can be accessed via hikes, biking, and road.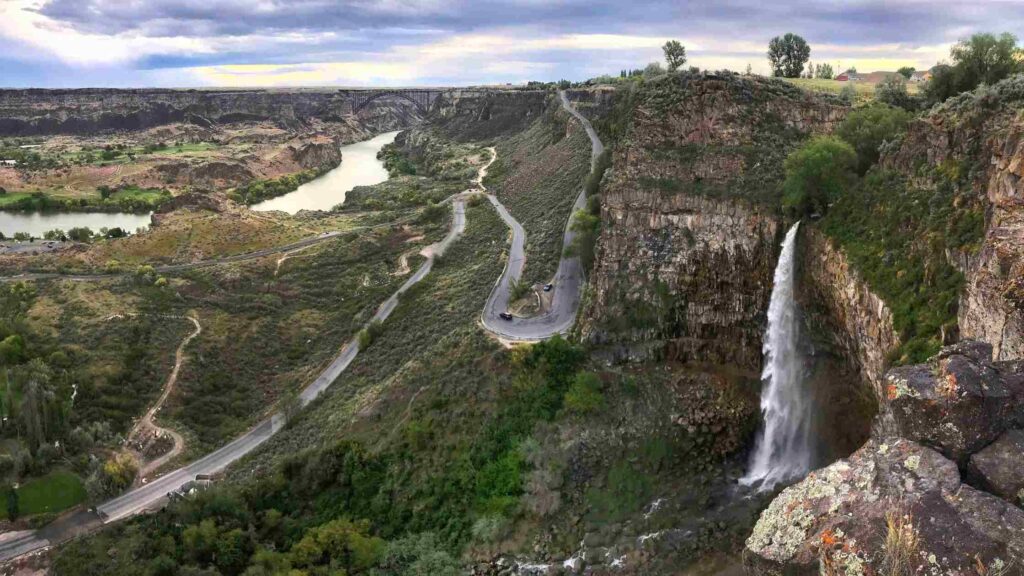 From the famous Auger Falls to walking behind Perrine Waterfalls, you can chase the adventure while exploring them when in Twin Falls. Check this post to plan a trip to the best Twin Falls Waterfalls.
Recommended For You – 15 Gorgeous Waterfalls You Should Check Out In Twin Falls
Have Some Golf Time at Canyon Springs Golf Course
How about a tee time in Twin Falls?
If golf is your thing, you will love the Canyon Springs Golf Course, an 18-hole stunning public golf course located at the southern base of Snake River Canyon, next to Centennial Waterfront Park, offering splendid views of the horizon.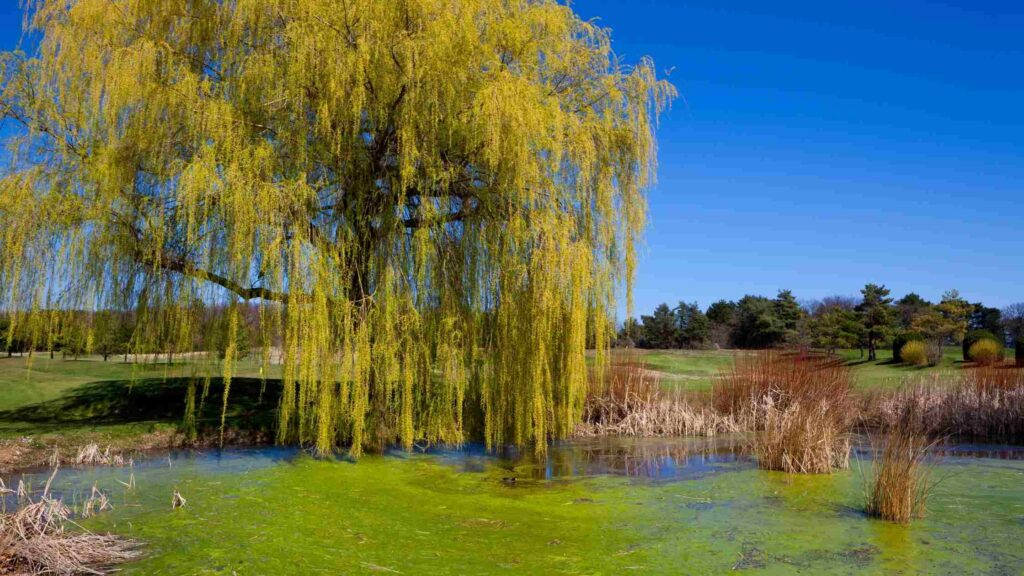 Considering its beautiful location, featuring a winding river, rock cliffs, and waterfalls, no wonder it is one of the best-looking golf courses in the whole of Idaho.
A formerly privately owned and currently a local favorite for over 40 years, you can book your tee time online in advance to enjoy golf admiring the beautiful views.
Opening hours – 7:30 AM to 8:30 PM all days.
Enjoy American-Style Breakfast at the Buffalo Cafe
One of the best things to do in Twin Falls Idaho is enjoying a traditional Idaho Breakfast. And the go-to cafe in the city for the American-style food to kick start your day is The Buffalo Cafe.
They have an extensive menu featuring many delicious foods to choose from, perfect portion sizes, satisfactory service, and lower prices, apart from the cuisine being very tasty.
What more can you ask for?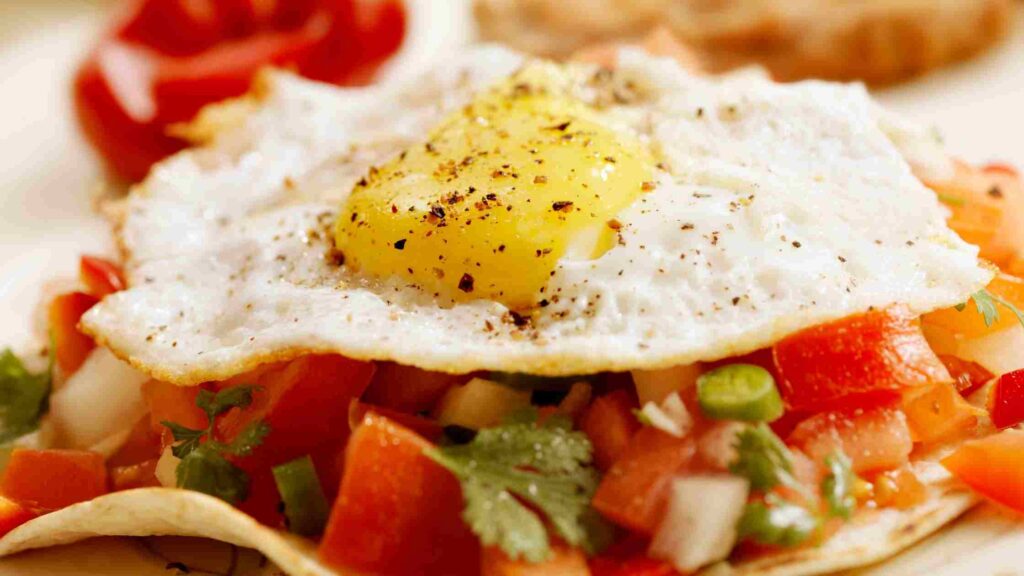 The must-try items include pancakes, huevos rancheros, chicken fried steak and eggs, chicken fingers, and buffalo chips.
The cafe also offers vegetarian-friendly options, along with some homemade cookies and jams. Thanks to its immense popularity, expect waiting time if you are here during peak hours.
Play Games at Harmon Park
One of the oldest landmarks in Twin Falls and a beautiful spot for enjoying the outdoors is Harmon Park, developed in 1926.
It is one of the best fun things to do in Twin Falls Idaho with kids, thanks to many gaming courts spanning 24 acres.
Did you know? Harmon Park housed the first swimming pool in Twin Falls and was the training center of the local baseball team in the 1940 and 50s.
Today Harmon Park is perhaps best known for its skate park, the only one in the city, a basketball court outdoor, six tennis courts, and two baseball fields.
If you don't want to play sports, don't worry, there is more. The park also features a children's playground, picnic tables, shelters, and open grass pavilions for leisure, a BBQ picnic, and relaxation.
Opening hours – 5 AM to 10 PM on all days.
Stroll Through The Orton Botanical Garden
One of the best ways to get to know about the flora and vegetation in this part of southern Idaho is by visiting the pretty Orton Botanical Garden.
Located on the south side of town, close to Rock Creek Park, this garden spreading for over 5 acres has stunning collections of plants.
If you love gardening or plants, you will be fascinated by the distinct vegetation found in this region – the different unique varieties make up the ecosystem.
You can stroll through the exhibit of plants, including particular types of native succulents and drought-tolerant plants.
Learn about arid landscaping for better water conservation, or buy a few saplings if you fancy.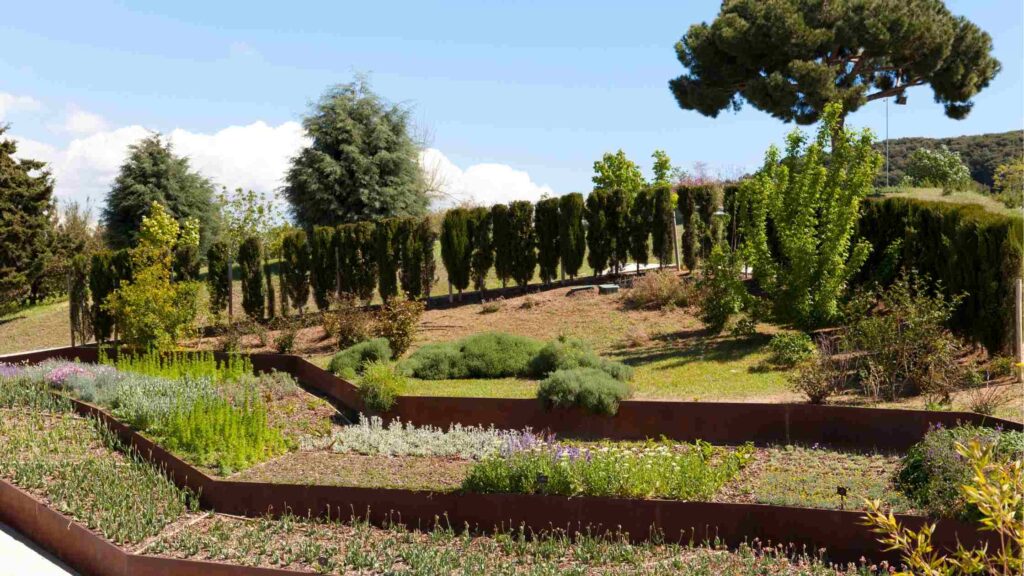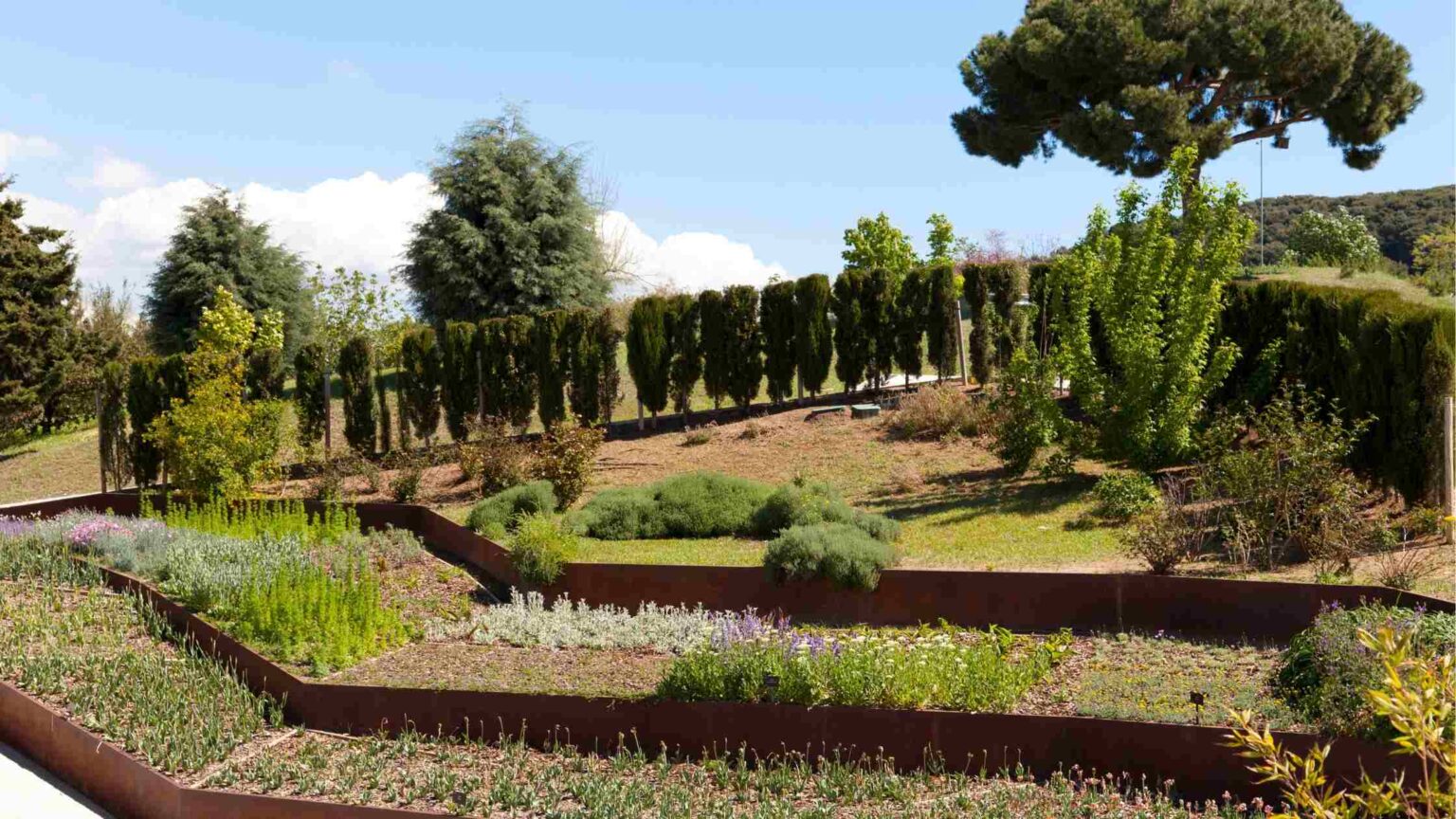 Depending on when you visit, you will see different classes of bloom and a wide variety of events.
During the spring and early summer months, you can see unique types of colorful cacti blooms, along with few native species of butterflies drawn to them.
If you are here during winter, the plants may be devoid of colors, but that's compensated by thousands of multicolored lights that lit up around as Christmas draws closer.
Try Hands-on Pottery and Arts In Twin Falls
Among the fun things to do in Twin Falls is visiting the Hands on Pottery Studio, a paint-your-own-pottery studio located in downtown Twin Falls.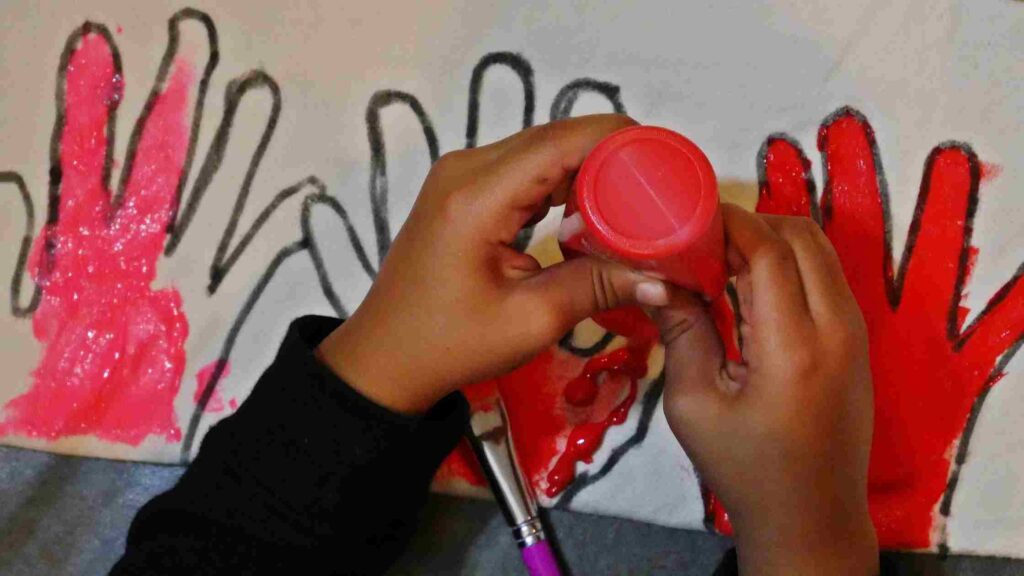 It is educative as well as an enjoyable experience for both kids and adults as you learn various crafts styles such as ceramic handprints and footprints.
You can sign up for craft classes as well, or take your kids for Storytime Pottery. The studio is free to enter, and you can directly enroll in the classes through spot payments.
Opening hours – 10 AM to 2 PM on all days.
Enjoy Fine Dining at Canyon Crest
Among the fantastic restaurants to dine in Twin Falls Idaho is Canyon Crest, located on the stunning Snake River Canyon.
This steakhouse serves delicious cuisines and cocktails, but it is the fantastic location of the restaurant that takes the credit.
If you are looking for the best restaurants in Twin Falls with views of the parks, golf course, and the Canyon, walk into this one.
Although they specialize in steak, they serve vegetarian and gluten-free options as well.
Play at Rock Creek Park
Established in the 1970s, Rock Creek is a vast park spreading across 12 across the southwestern end of Twin Falls.
From being one of the city's largest junkyards, Rock Creek is the go-to spot for locals and tourists for sports, outdoor fun, or relaxation.
It traces the Snake River Canyon, comprising of many trails beautiful for hiking, overlooking gorgeous valleys. You can hike from downtown through this park if you follow the Old Towne Parkway Trail.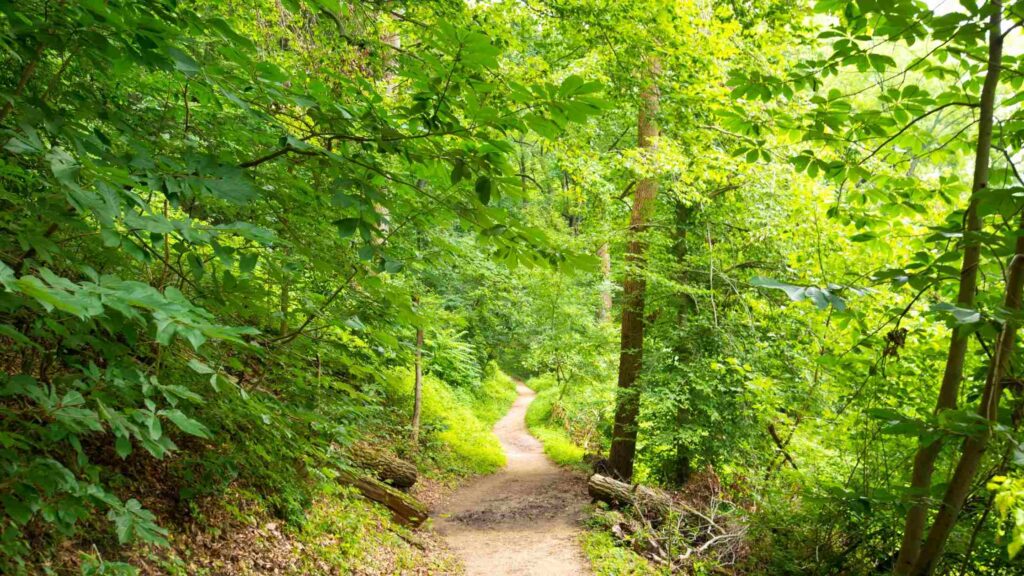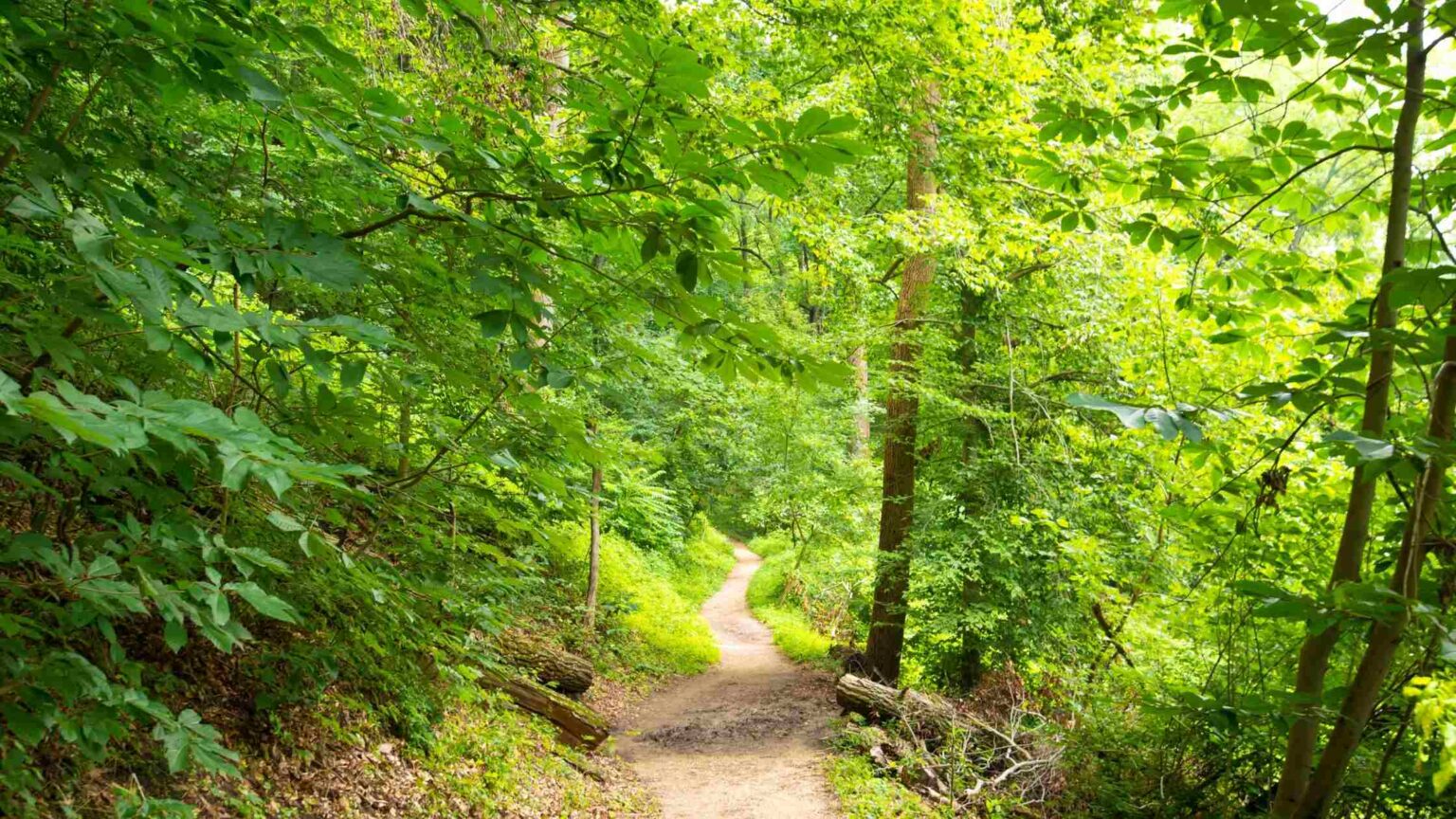 For those who love golf, you should check out the professional 18-hole disc golf course, including tee-boxes with elevated vantage points of the surroundings.
Rock Creek Park also houses a 25-berth RV park. There are many picnic pavilions, playgrounds for kids, campfires, and volleyball courts.
You will enjoy all the fishing here if you are one of those anglers, thanks to various types of trout. Whether you want to spend a few hours or a full day, you will love your time at Rock Creek Park.
Plan Day Trips to Many Other Nearby Attractions
Twin Falls is located close to historical monuments, volcanic craters, hot springs, and national parks – some beautiful natural wonders worth checking out on multiple day trips from Twin Falls.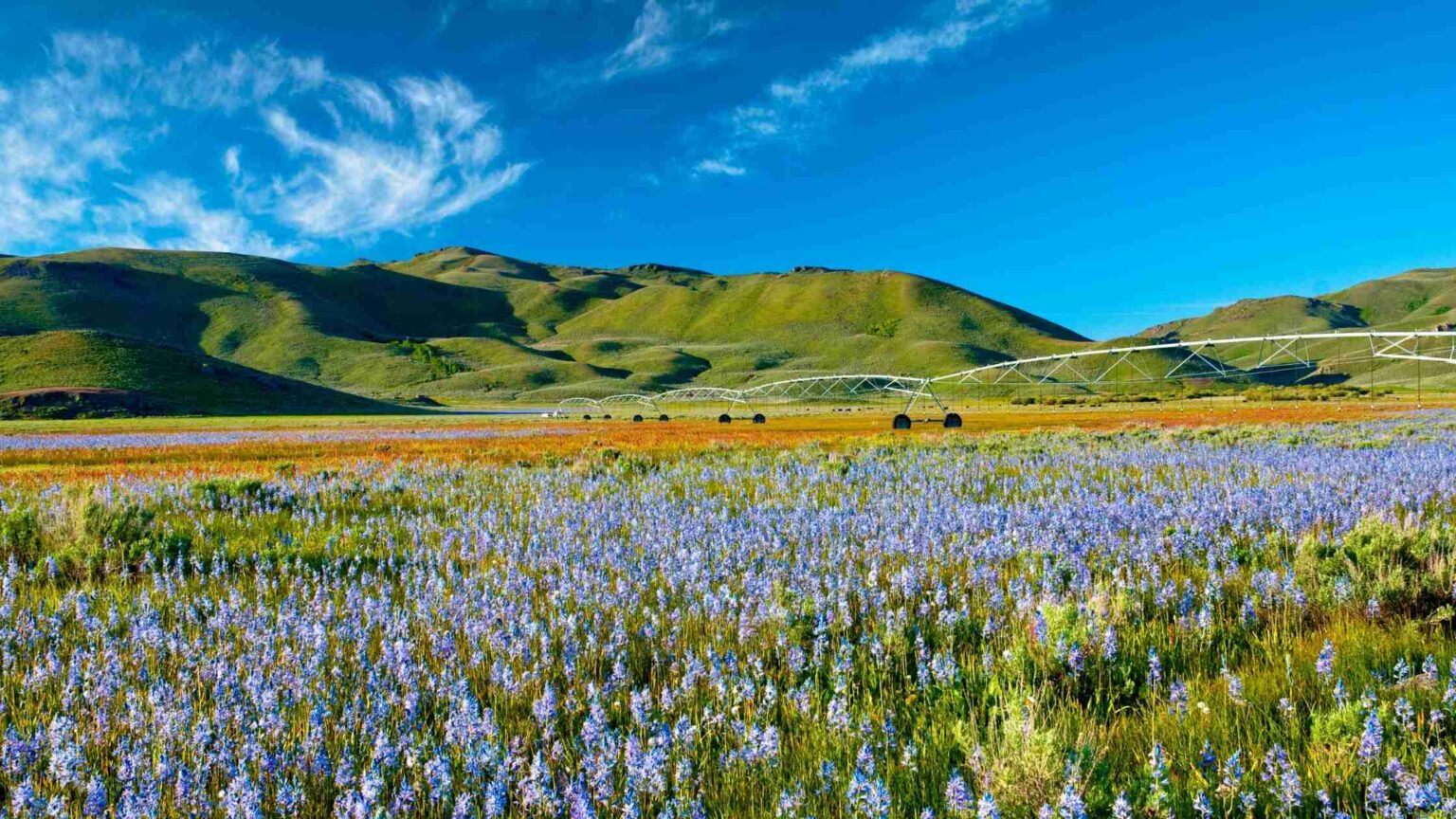 Although you can cover all the attractions in Twin Falls over a weekend, I'd highly recommend keeping a few extra days to plan these things to do near Twin Falls Idaho.
This post has a list of beautiful day trips from Twin Falls you can prepare. Read that guide before finalizing your trip; it will be worth it.
ADVENTUROUS THINGS TO DO IN TWIN FALLS IDAHO
If you love outdoor adventures, you are in for a treat when you visit Twin Falls, as the city sits perfectly close to many excellent outdoor activities for everyone, depending upon the level of daring adventures you want to try.
Hike the Snake River Canyon Rim Trail
One of the easy and cool outdoor things to do in Twin Falls Idaho is hiking the Snake River Canyon Rim.
You can choose between hiking or cycling as two paths running for 10 miles take you through some of the deep forests along the south rim of the Canyon.
There are many places to access the trail, depending on how you plan to cover the sights and how long you want to hike.
These pet-friendly trails are not very easy, but indeed not tricky if you are physically active.
If you want a short hike for a few hours, it is better to start your walk at the Twin Falls Visitor Center and pick the Perrine Coulee path.
You will witness the beautiful Perrine Coulee Falls on this trail, one of the many beautiful waterfalls in Twin Falls.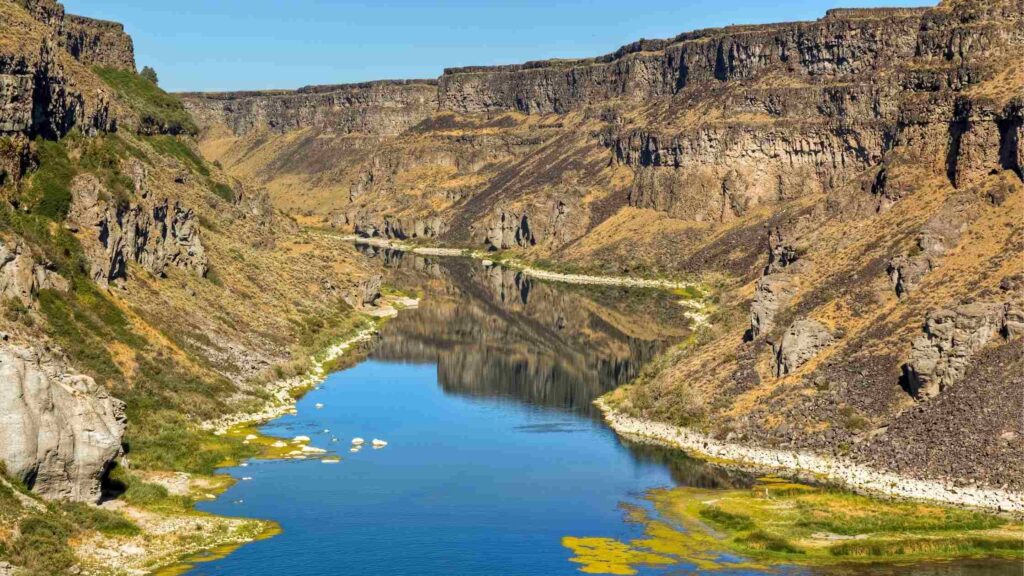 You can take an even shorter, one-mile-long trail that passes under the iconic Perrine Bridge, ending along Pole Line Road.
There is also a trail from the visitor center that leads to the famed Shoshone falls, which is slightly longer, but beautiful.
If you choose any of these routes, you can park close to the Visitor Center or at the junction of Federation and Washington North roads.
If you want the longer trail, hike the Snake River Canyon Rim trail beginning at the Shoshone Falls State Park, a loop trail ending back where you started.
This route will give you access to parking in the park for a fee, best to explore Shoshone Falls and cover the hike. You can also access the Snake River Canyon Rim Trail via Dierkes Lake Park.
Zipline Across the Snake River
One of the most adventurous and fun things to do in Twin Falls Idaho is zipline across the Snake River.
Located along the Snake River Canyon area, you can sign up for a zipline through AWOL Adventure Sports at River Canyon at Centennial Park on Canyon Springs Road.
During a zip tour, you'll ride four lines through the Canyon while learning about the history, geology, and wildlife in the Snake River Plain.
It's an excellent option for kids, family reunions, team-building exercises, and other groups — and a great adventure to cross off your bucket list.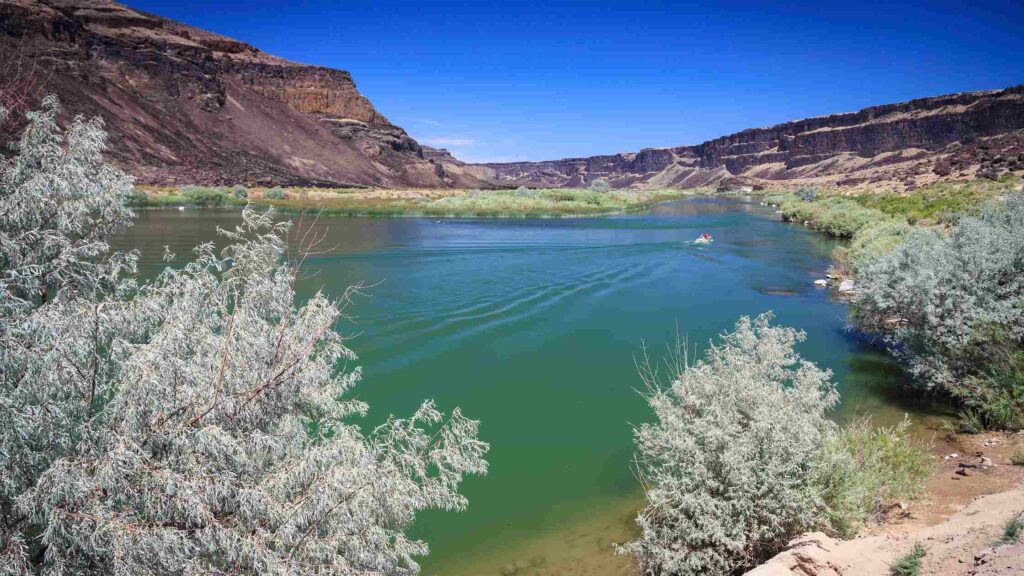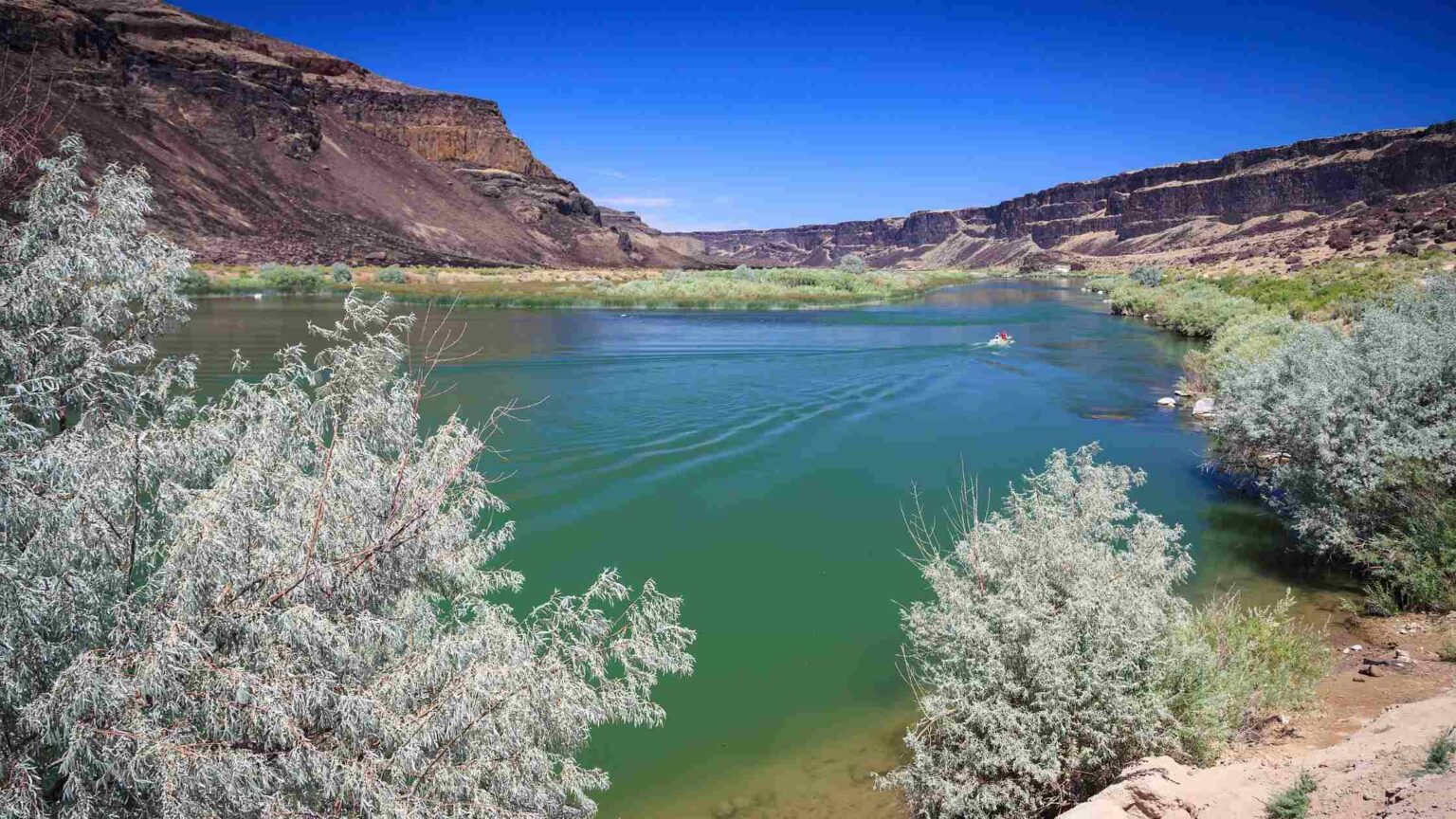 AWOL Adventure Sports offers four zip lines. You can zip across the Perrine Bridge, flying along the Snake River Canyon, or pass below.
No matter what you choose, it is a fantastic adventure as you feel the full-fledged rush of adrenaline as you zoom up to 45 mph along the 1,750-foot zipline.
You have to do a short walk to get started on the zip line. You will be accompanied by a guide to tell you about local geology, history, and wildlife.
The entire activity will take at least 2 hours. The Zipline trips are available year-round, but you need reservations, especially if you are here during the peak seasons.
Zipline prices – USD 48 per adult (ages 13+). USD 38 per 12 and under child.
Try Rock Climbing In Twin Falls
If you are an avid Rock Climber or you have been thinking of trying out this adventure, there is no better place than daring this adventure on your trip to Twin Falls Idaho.
If you are a pro, you have plenty of places to try rock climbing in the Snake River Canyon – from the Dierkes Lakes to Shoshone Park, which includes some routes like Over the Falls, Ziplock, Evil C, and Wasn't Built In a Day.
But if that's too much for you, you can still learn rock climbing indoors at Gemstone Climbing Center to help you get acquainted with being vertical.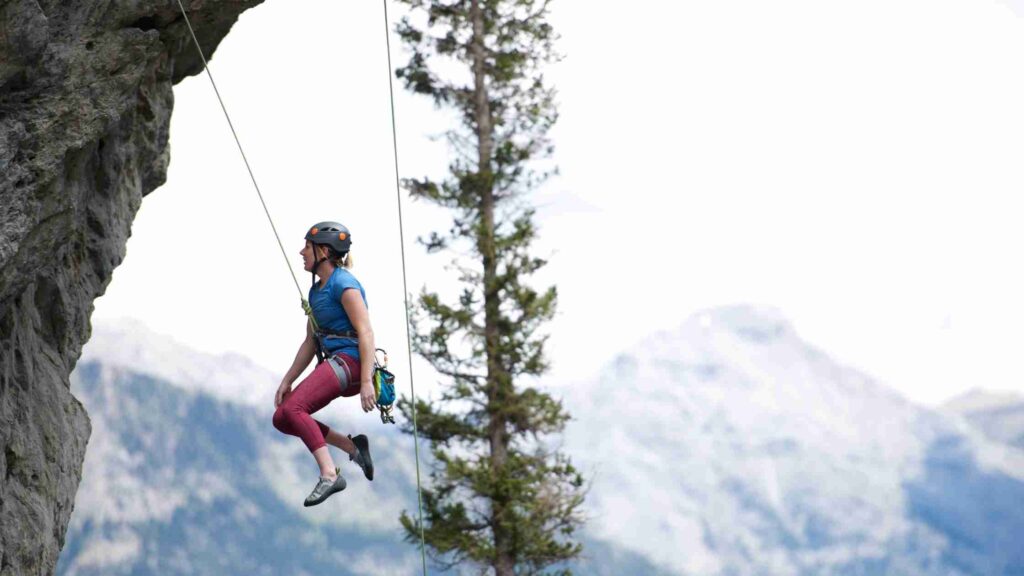 It may sound scary if you have never done this before but believe me; it is one of the fun things to do in Twin Falls.
They have climbing opportunities for all ages and abilities. They are thorough professionals, so do not hesitate at all.
Gemstone is even the first ADA-accessible climbing gym in the world, offering different sessions and training for all, including in-house Yoga.
If you are with kids, try signing them up for their obstacle course for kids.
The center is free to enter for the public, and you can also try once for free of cost.
Depending on how you like, you can buy day passes at USD 15 per adult, USD 10 for children ages 7-12, USD 12 for students, seniors, and military personnel. Kids under age six can climb for free. For outdoor rock climbing, you can rent gear here.
Opening hours – 10 AM to 9 PM Monday through Saturday; Sunday 12 PM-8 PM.
Kayak Below the Waterfalls
One of the best adventurous things to do in Twin Falls Idaho is canoeing in the Snake River Canyon.
You can paddle your way around the river, close enough to reach the foot of the many waterfalls, including all the way to the Shoshone waterfalls, passing through the iconic Perrine Bridge, Knievel's jump site, and the many Base Jumpers gliding down off the bridge.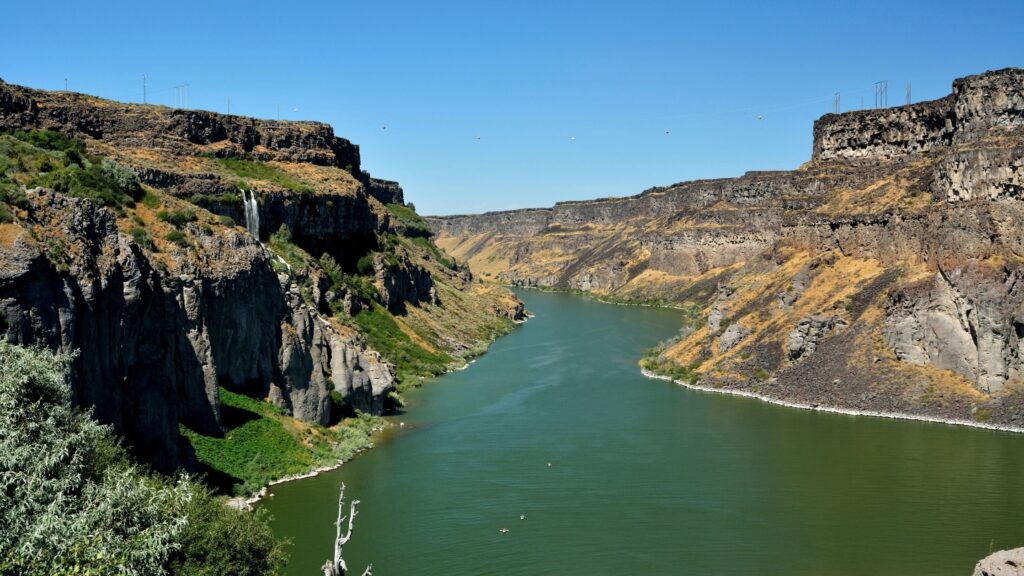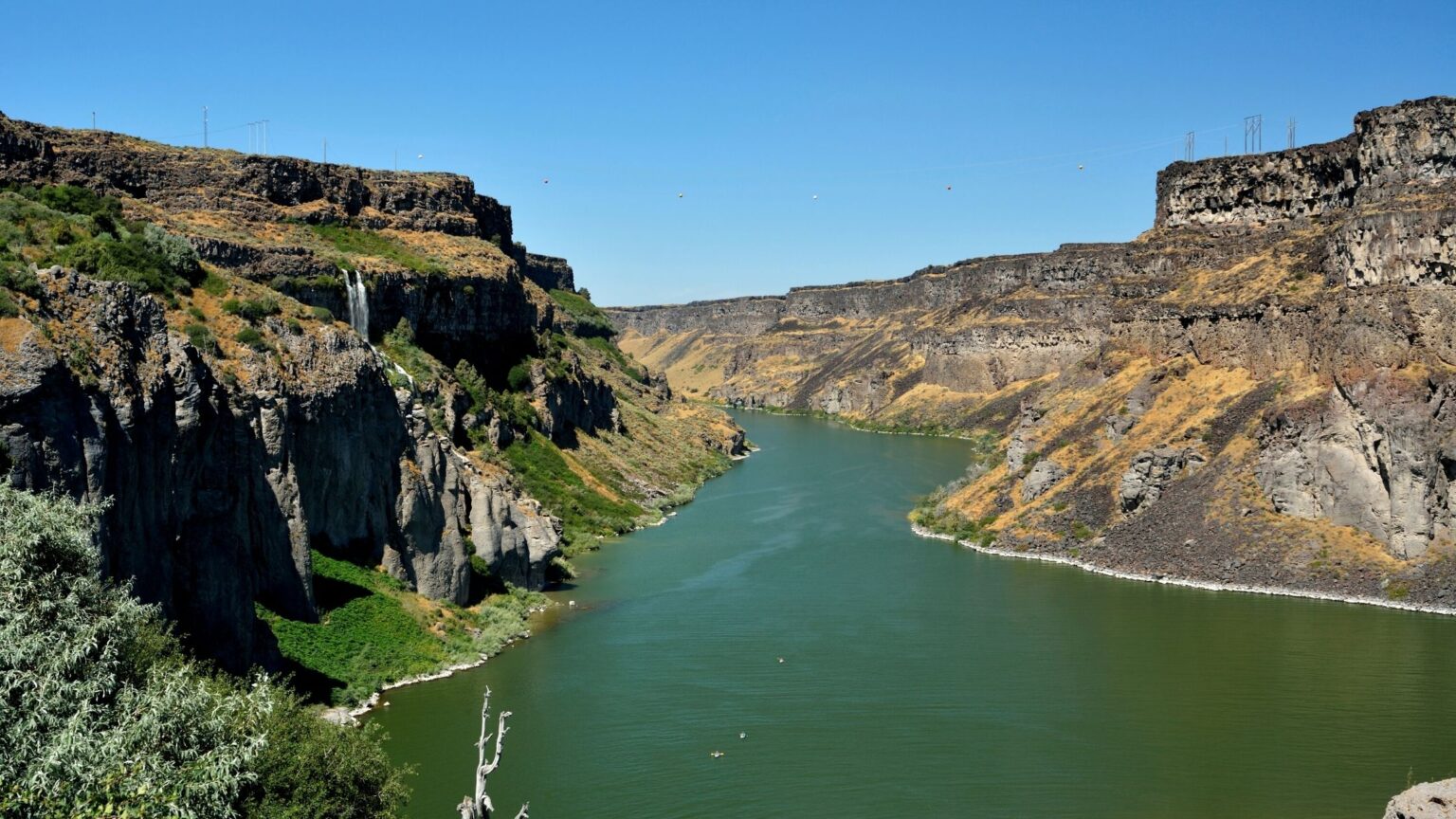 You can rent the kayak from many companies in downtown Twin Falls.
This kayak route to Shoshone begins at Centennial Waterfront Park, and it is a downflow path with smooth water, taking a few hours, which is one of the most fun experiences in the city.
Have Fun at Jump Time Trampoline Park
One of the most excellent Twin Falls attractions for families or those looking for fun things to do in Twin Falls ID is heading to Jump Time Trampoline Park.
They offer tons of fun through giant trampolines, an airbag, inflatables, and trampoline walls. But there is more. You should try Aeroball for next-level fun, as it is volleyball and basketball packed into one.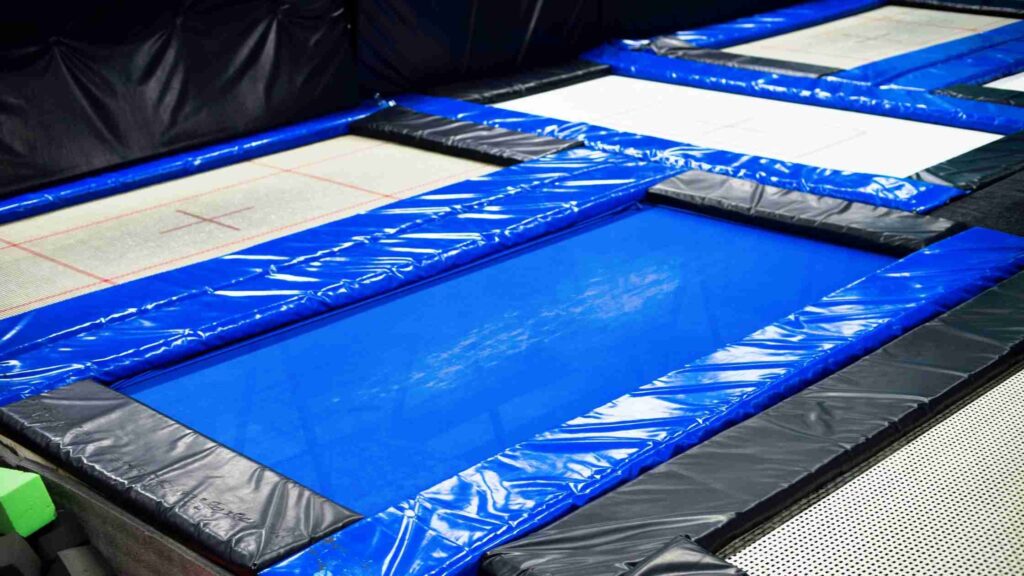 Or, how about some extreme Dodgeball? Or enjoy Virtual Reality.
Whether you are with extra-energetic kids looking for games, or you are looking for adrenaline rush and laughter, heading to Jump Time will be loads of fun for sure.
You can book tickets in advance online, which is recommended as some slots only allow prior booking. The price varies between USD 10 for an hour person to USD 20 per hour per person, depending on the day and time.
Opening hours – 4 PM to 8 PM Monday through Wednesday; 11 AM to 8 PM Thursday-Sunday
Attend Twin Falls County Fair
If you are planning a trip to Twin Falls in September, try to match the dates with Twin Falls County Fair, the leading fair of Southern Idaho, held in the suburbs outside the city.
The first edition of this fair was held in the 1910s, and even to this day, it remains one of the fantastic events and pride of the locals. It is a traditional American fair highlighting the agricultural roots of the community.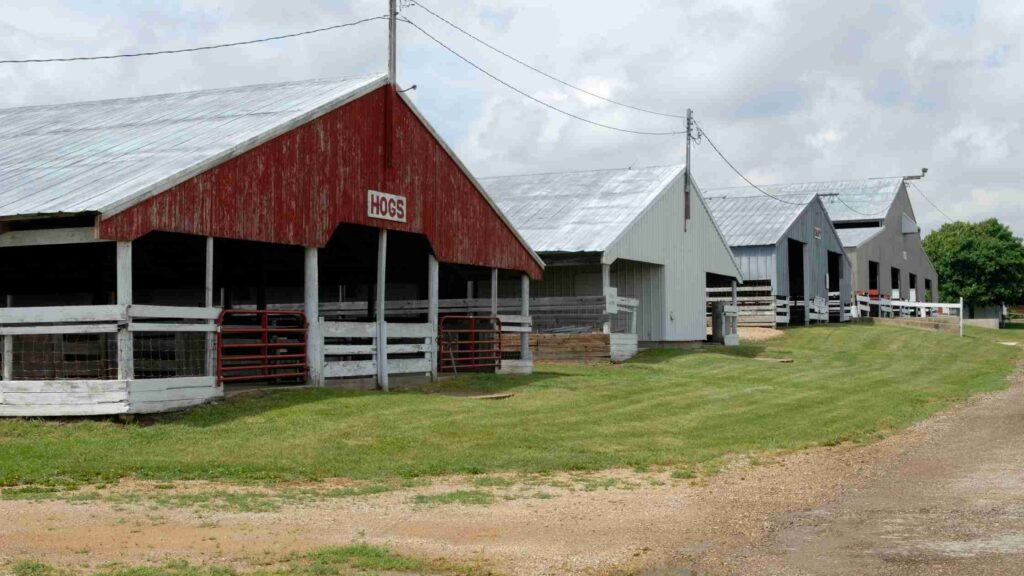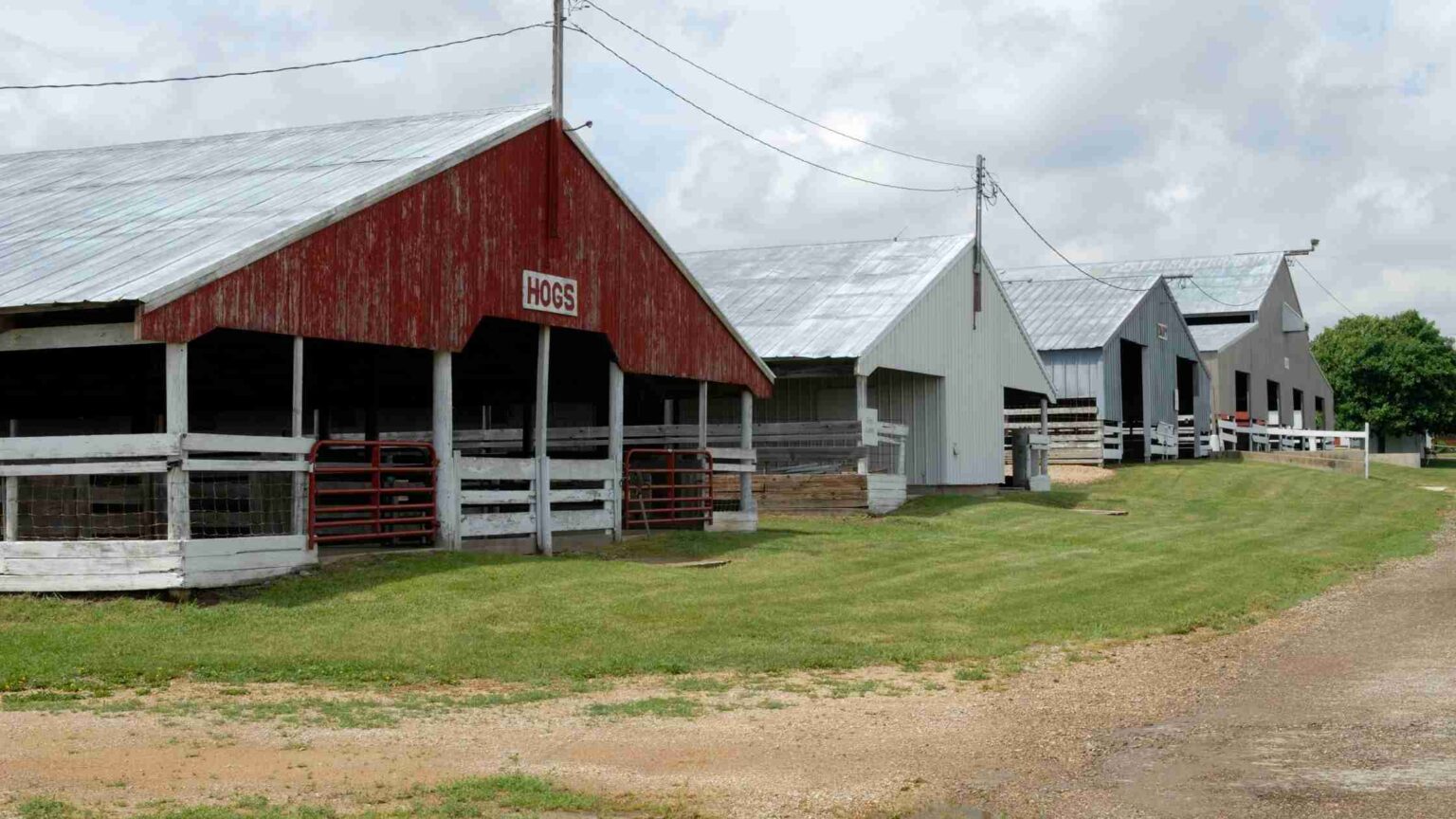 Enjoy lovely musical concerts focusing on country songs performed by the locals for free at the fair.
Or relish the delicious fair food, including kettle corn, meats on skewers, and hotdogs.
Take part in the carnival rides, attend many fun contests, check out the exhibits by the local farmers, buy souvenirs from local vendors, including gems.
If you have more time, enjoy the Magic Valley Stampede PRCA Rodeo, one of the top 60 PRCA rodeos in the United States, coinciding with this County Fair.
MAP OF THINGS TO DO IN TWIN FALLS IDAHO
BEST TIME TO VISIT TWIN FALLS IDAHO
If you are wondering what is the best time to visit Twin Falls, it is a year-round destination – from sunny days to chilly winters.
The most popular seasons however are spring and summer because Twin Falls is loaded with many outdoor things and activities, and these seasons have the optimal temperatures to be out for longer durations.
Also, thanks for being home to many splendid waterfalls, Twin Falls is a popular spring destination.
This is when the snow melts filling the gorgeous falls, along with the wildflowers blooming carpeting the valleys and canyons, transforming the landscapes around Twin Falls to colorful gorges.
Spring is the best time for hikes and adventure activities in Twin Falls.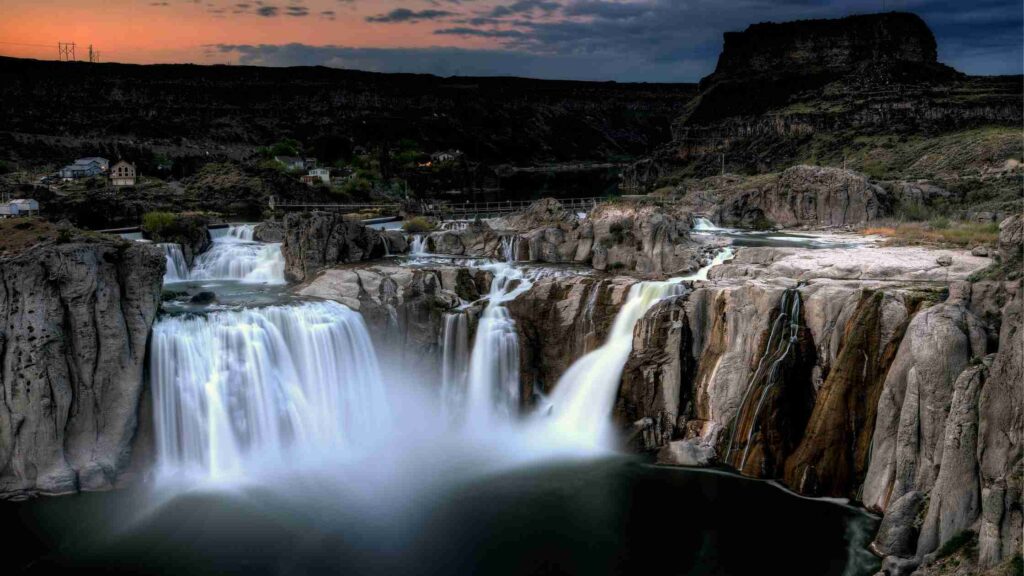 Summer months from June through August are the hottest months with tourists packing the main attractions. Expectedly, prices are higher during summer along with the increased crowds.
The shoulder seasons are ideal if you are looking for base jumping, zipline, or hiking, but the waterfalls may not be at their best.
The weather becomes colder right after fall, ensuring quiet winter months. If you love winter and come prepared packed in layers, you can still enjoy a lot of things to do in Twin Falls Idaho in winter.
HOW TO GET TO TWIN FALLS IDAHO
Twin Falls is located at the intersection of Interstate 84 and Highway 93 in southern Idaho.
From the capital Boise, you can easily reach within 2 hours by road via 1-80. It's an easy 2-hour drive from Pocatello and Sun Valley cities too.
You can reach Twin Falls in a little over 3 hours from Salt Lake City by road.
The nearest airport to Twin Falls is the Magic Valley Regional Airport, and there are regular flights on Delta, American Airlines, and United from most cities in the United States.
Getting Around Twin Falls Idaho
The best way to get around Twin Falls is by renting a car.
The famous attractions are scattered around the city center, but there are some beautiful places that need driving to get there, being on the outskirts of the city.
If you like to cut your time behind the wheels, there are plenty of hiking trails that cover many spots, a few also leading you to hidden gems.
WHERE TO STAY IN TWIN FALLS IDAHO?
There are plenty of amazing hotels in Twin Falls in all budget range, catering to solo travelers, couples, and families.
Here are my recommendations of the best pick of hotels, and vacation rentals.
If you are looking for excellent hotels with amazing location, amenities and spacious rooms, choose Hilton Garden Inn Twin Falls ideal for couples
TownePlace Suites by Marriott Twin Falls is located centrally and has kitchen in each room. They have another closely located on Washington Street North – Fairfield Inn & Suites by Marriott Twin Falls
La Quinta by Wyndham Twin Falls is preferred by couples, and they offer the best breakfast, apart from the central location.
If you are travelling with kids, go for Holiday Inn Express Hotel Twin Falls, they have spacious rooms ideal for 3 or more people, along with an amazing location close to the main street.
If you prefer vacation rentals, you will love The Fillmore Inn BnB, which has a fully equipped kitchen in each room, has garden views and access to a barbecue and a sun terrace.
If you want a slightly cheaper hotel with excellent reviews and amenities, My Place Hotel Twin Falls ID is your best pick.
So that's a wrap for the best things to do in Twin Falls on a weekend with your family, friends, or alone.
If you have more suggestions or need help with any details, do not hesitate to drop your thoughts in the comments below.
PIN THINGS TO DO IN TWIN FALLS FOR LATER