You can plan many amazing day trips from Boise after spending a few days exploring the largest city and the capital of Idaho. Boise, one of the beautiful places in Idaho, is a year-round destination – whether it is the spring wildflowers bloom or vibrant fall colors or the tons of activities to enjoy in summer and winter – it is a beautiful family-friendly destination.
Boise, or the City of Trees as it is called, also is centrally located or closely near plenty of fantastic small towns, historic villages, vineyards, lakes, national parks, archaeological wonders, rugged mountains, ancient gorges, and rivers, making it an excellent base to plan the best day trips from Boise. Some of these are also ideal destinations for long weekend trips from Boise – whether you are looking to spend time in nature or want adventurous outdoor fun or relaxing picnics with kids – everything is possible.
In this post, I share 29 fabulous day trips from Boise you can plan, some of them also being fantastic weekend getaways from Boise. No matter what you prefer, you will likely be picking up a few from this list for sure. Go ahead and check this comprehensive list for Boise weekend trip ideas.
BEST DAY TRIPS FROM BOISE IDAHO
This list of the best day trips from Boise is ideal for planning if you want to explore the places to visit near Boise without driving too far or spending a lot of time commuting.
Bruneau Dunes State Park
Distance from Boise – 60 miles; Time – 1 hour
Located 64 miles South of Boise is the pretty Bruneau Dunes State Park, the go-to destination for skiing in dunes in Idaho state. It is also the largest and the tallest freestanding dune in North America, reaching over 470 feet high, creating one of the best adventurous day trips from Boise you can plan.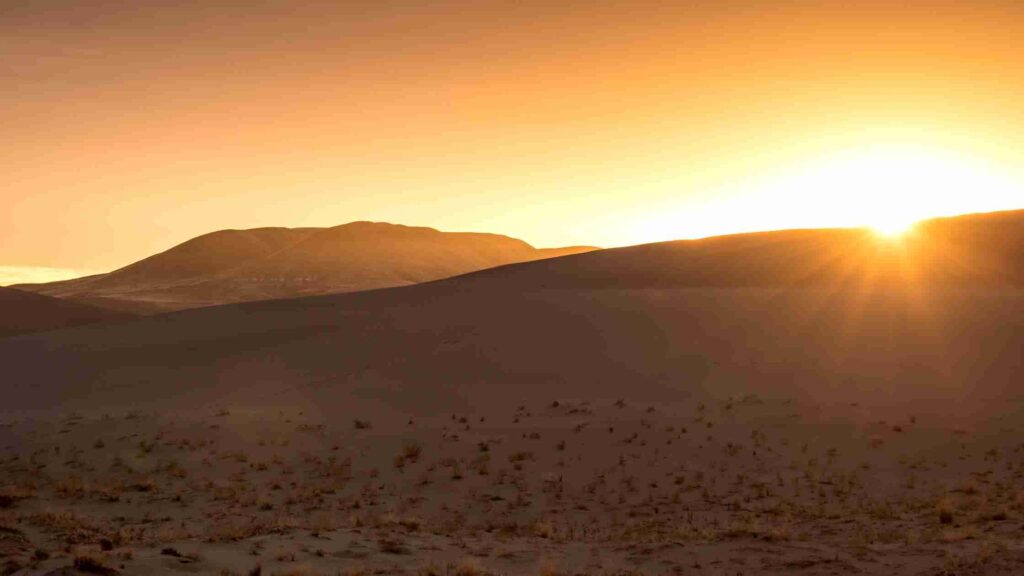 This perfect desert oasis, located around two small lakes, is home to hot mountains of sand, providing some of the hottest spots in the US for sandboarding. Bruneau Sand Dunes is an easy drive from Boise, and it has something to offer for everyone, making it an excellent destination for fun.
Apart from skiing on the dunes and sand sledding, this sweeping high-desert terrain park is a hotbed for loads of activities, from camping to hiking, wildlife watching, and fishing.
You can find out information on the geology, wildlife, and fossils at the visitors center. The Visitors Center also offers sand boards to rent, or you can get one. Hikers will love going on the 5-miles long trail, one of the top hiking trails filled with unique geological formations, including the wildlife and the views.
You can swim in the lakes depending on the season you visit. The lake is a hotspot for wild birds, especially during migration seasons, and you can spot some lovely bluegills and largemouth bass.
Bruneau Dunes State Park is home to one of the beautiful campgrounds open throughout the year, perfect to plan a trip any time. You can reserve online as well, along with the permits. Check out the Bruneau Dunes Observatory Complex, one of two public observatories in Idaho, which offers stunning star gazing through its giant 25″ telescope.
Nampa
Distance from Boise – 20 miles; Time: 30 minutes
After Boise, Nampa, Idaho's second-largest city, is twenty miles away and an easy option if you are looking for things to do near Boise in a day. Nampa is one of the most populous cities in the state and a cultural and heritage center with lots of green spaces, founded as a railroad when the east-west tracks were laid across the country, now boasts of splendid 19th-century architecture and a haven of artists.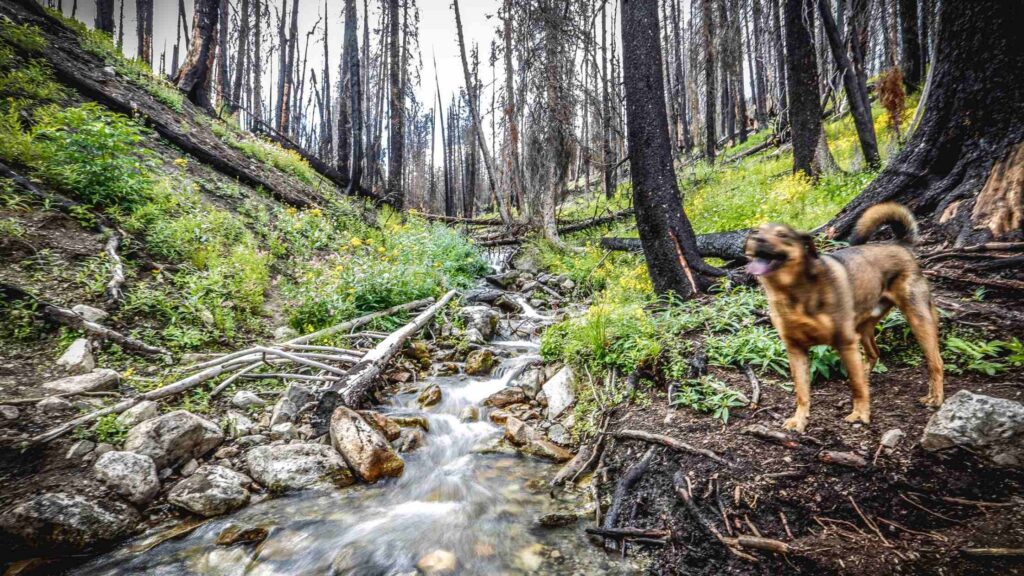 Explore the historic old town filled with historical buildings, and antique shops, the best places to shop for ancient souvenirs in Nampa. Do not miss checking out Nampa's ornate train depot dating to 1903, the star attraction at the Nampa Train Depot Museum, a reminder of the city's humble beginnings.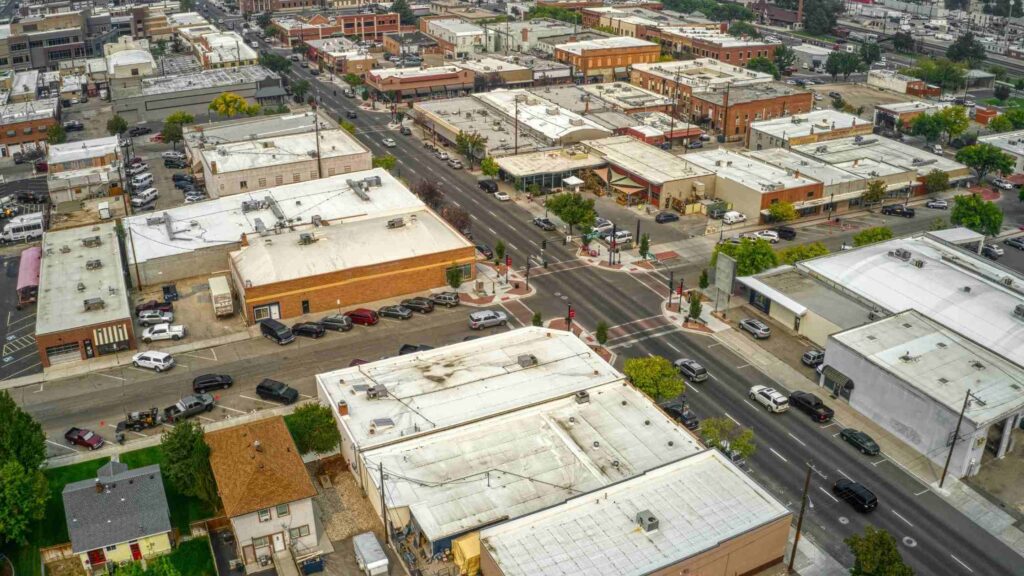 Learn about the history of American veterans' at the C. Visit the historical society to know a bit about the growth of Nampa into a bustling metropolis. The village square is home to many cute cafes, hip breweries serving local specials, and many lovely restaurants offering delicious delicacies from snacks to lunch and desserts. If you love arts and music, summer is the best time to plan a trip to the city, as plenty of festivals are held during this time, including the annual rodeo.
Bogus Basin
Distance from Boise – 16 miles; Time – 45 minutes
If you plan a trip to Boise during the winters, Bogus Basin, located in southwestern Idaho, should be on your itinerary for sure, especially if you are into skiing. Located just 45 minutes away from the city, Bogus Basin is one of the best day trips from Boise you can plan for a fantastic winter holiday.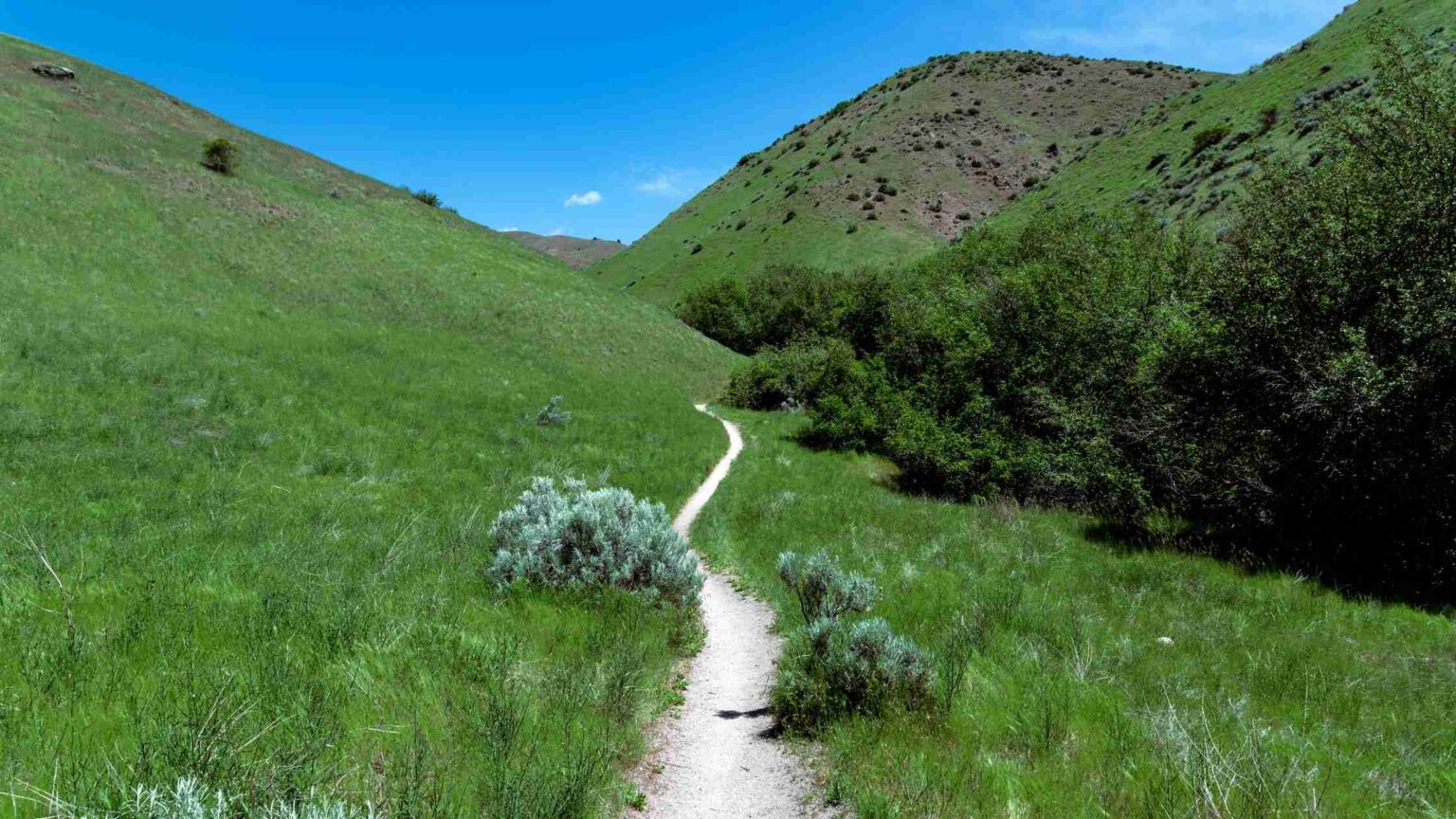 The Bogus Basin Mountain Recreation Area, which attracted winter lovers primarily, has grown famous as a perfect family travel destination during summer and spring. You will instantly fall in love with the spectacular panoramic views of the mountainous valley, Sawtooth National Forest, and Boise, no matter when you arrive. You should witness by taking a car chair ride, operational during both winter and summer.
Did you know? In Bogus Basin lies the only rollercoaster atop a mountain in Idaho, the Glade Runner Mountain Coaster, so make sure to get this off your bucket list when you are here, especially if you arrive with kids. They will have lots to play and have fun with, including trampolines, rock climbing, and other fun rides.
In summer, you can enjoy many local music concerts held at various places, including the theater. Summer is also the best time to get on the trails, a few running up to 20 miles. Mountain biking is a very popular activity during this season. The Shafer Butte trail system trails run for over 30 miles, open from June through October, offering you the ultimate experience for its stunning views and the trail challenge.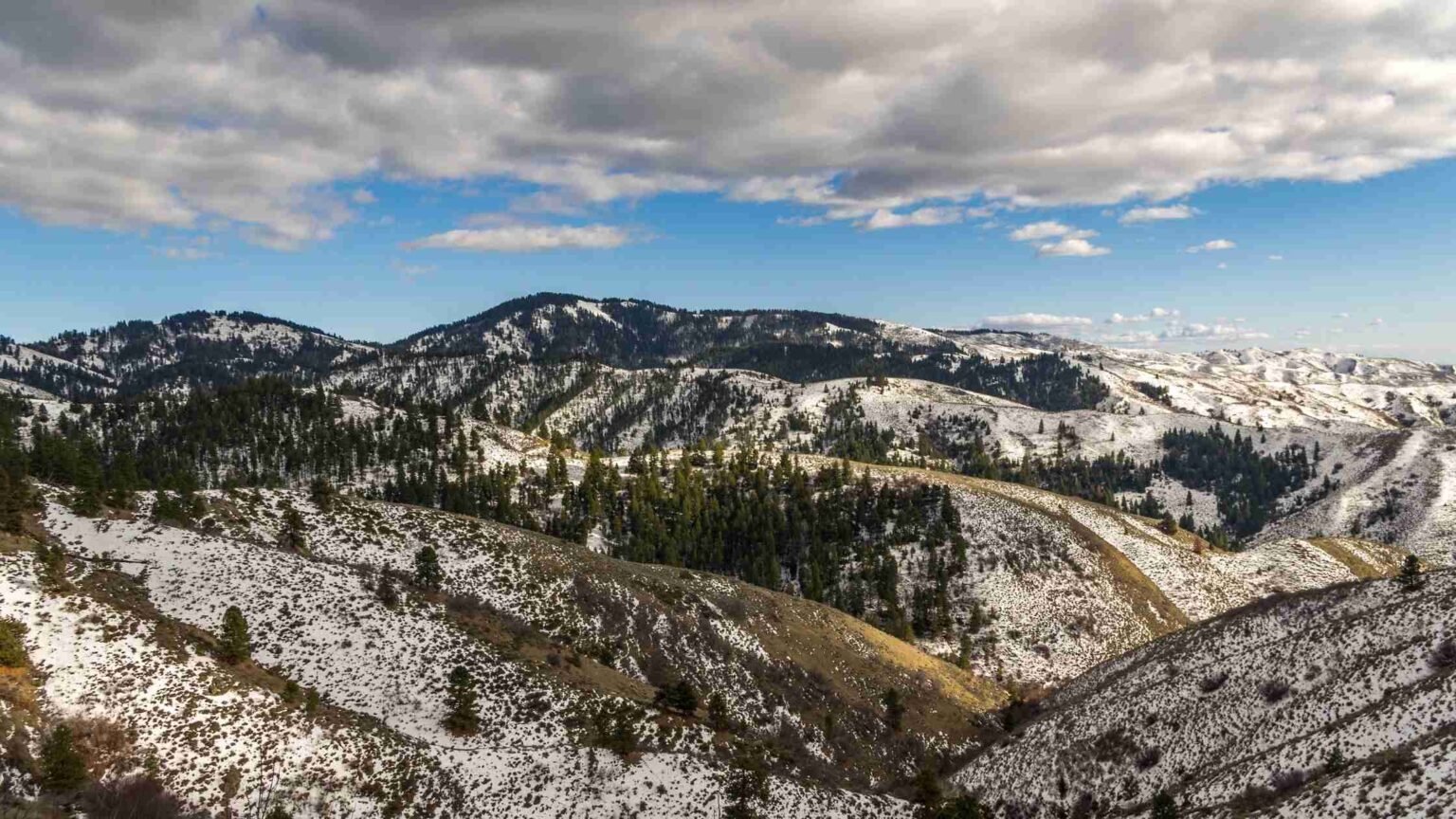 In winter, Bogus Basin transforms into a winter wonderland, as the ski resort beckons all types of travelers. There are plenty of other things to enjoy, from snowshoeing, tubing, alpine skiing, and snowboarding at surprisingly affordable rates. You have to head to the Tubing Hill, an 800-foot downhill and the center for all these fun winter sports.
Meridian
Distance from Boise – 10 miles; Time – 15 minutes
One of the best places to visit near Boise is the village of Meridian. This lovely small town can be easily reached within 20 minutes, but that is not the only reason it is worth visiting. Meridian is an excellent Boise day trip idea if you are traveling with your kids and a foodie.
Start by taking a walking tour of downtown, which boasts old-style buildings and restaurants serving delicious delicacies and beer. Based on your choice between water and land parks, plan your next stop.
Roaring Springs water park is where you should take your kids for water fun and adventure. This largest waterpark in Southwest Idaho has plenty of fantastic waterslides, pools, and lazy rivers not only for kids but many fun activities for adults as well.
If you want other parks, check out Linder Farms, Meridian Speedway, or Wahooz Family Golf Park. Head to the village to experience a slice of a European town charm, replete with cobbled streets adorned with medieval-style buildings, shops, and even cafes and restaurants. In summer, you should not miss the local festival and concerts.
Idaho City
Distance from Boise – 40 miles; Time – 1 hour
The former capital of the state, Idaho city, is located about an hour away from Boise, making it one of the best options for weekend getaways from Boise. Idaho is known for its mining history, wild west vibes, and beckons the explorers set off to get into the wilderness in the Sawtooth Mountains.
It was the central point and the largest city in the Pacific Northwest during the gold rush in the 1800s. Being a bustling metropolis, Idaho was home to around 10000 residents, hundreds of business centers, theaters, the state's first Catholic Church, and a county jail that imprisoned the most infamous criminals in the Old West.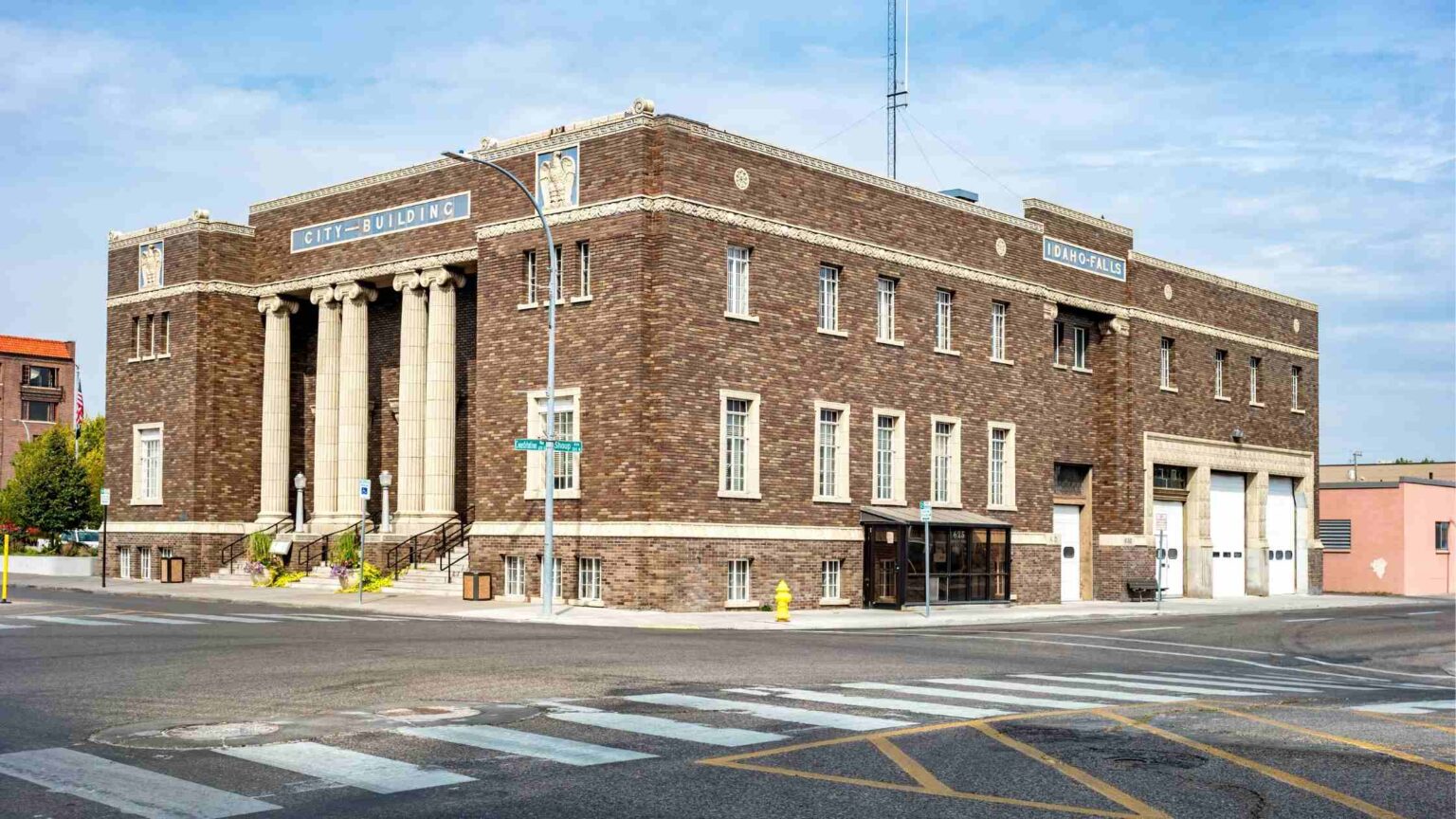 As the gold dried, the settlers left, but the legacy lives on. Today, this mountainous western town, also famous for its logging history, is home to just over 1000 residents. Visiting Idaho city will be an immersion into this glorious past, a part of the Wild West you will come to love.
Start your trip in this former mining town with a stroll along the lovely and rustic downtown area that bears the Wild West charm that you cannot miss at all, as everywhere you look. Suppose you want to be transported back in time. In that case, you will be, as you will stroll on traditional wooden sidewalks past ancient buildings, a wide variety of antique shops, restaurants, including the famous homemade root beer – an old sarsaparilla shop.
Enjoy the dozens of saloons, and other artisan shops, all treasure houses of history and culture. Here you will love shopping for all things antique, from jewelry to furniture to artworks.
Do not miss exploring artifacts in the Boise Basin Museum, dedicated to the region's cultural, historical, and cultural exhibits. Also, while you are here, relax at any of the beautiful hot springs in Idaho, which is a popular getaway for tourists.
Kuna Caves
Distance from Boise – 25 miles; Time – 30 minutes
One of the easiest things to do near Boise is checking out the distinct caves formed thousands of years ago by volcanic eruptions in the region. Kun Caves, a series of lava tubes in southern Idaho, is one of the many such mysterious cave formations resulting in many volcanic activities.
You need to climb down a caged ladder leading down into the cave that runs about 50 feet deep, spanning over 1000 feet wide. You can walk almost a mile once you are in the cave, which gets narrower and darker as you walk away from the entrance. Walk the path carefully as some places can be slippery and muddy to reach the other end as it opens up to a tall bed of rocks. Kuna Caves is worth the quick stop for a few hours while exploring Boise.
Eagle
Distance from Boise -10 miles; Time – 20 minutes
Located on the Boise River is Eagle City in Idaho, an overlooked city by travelers. Although Eagle is mainly known for its upscale, sophisticated neighborhoods, not many know about all the outdoor activities that can be planned accessible by a quick drive.
Stroll in the lovely Merrill Park, pick one of its trails passing through wetlands, sign up for outdoor sports, or go swimming in the Boise River. You can enjoy hiking and fishing in the foothills or dirt biking in summer.
Stroll the streets of downtown to experience the local history, food, and some shopping. History buffs will love the Eagle Historical Museum and the Eagle Performing Arts Center.
Caldwell
Distance from Boise – 28 miles; Time – 30 minutes
If you are looking to explore at least a few lovely small towns in Idaho, you can add Caldwell as a day trip from Boise, as you can easily reach within 30 minutes. A quaint village in the Boise Metropolitan area, Caldwell, with a small population of fewer than 50,000 residents and great things to do, you get to experience a bit of Idaho country life without many tourists, a perfect offbeat getaway.
Many people stop over in Caldwell while exploring the surrounding hiking and biking trails. Also, it is on the famous Oregon Trail, known for the Pioneers crossing the Boise River near Silver Bridge on Plymouth Street. Stroll through the downtown neighborhood to check out the many exciting museums, cafes, and restaurants.
You can also visit the nearby wineries, golf courses, and museums outside Caldwell, including Orma J. Smith Museum of Natural History, Whittenberger Planetarium, the Glen L. and Ruth Evans Gem, and Mineral Collection.
Hagerman Fossil Beds National Monument
Distance from Boise: 100 miles; Time: 1.5 hours
Hagerman Fossil Beds National Monument, located 100 miles southeast of Boise, is one of the day trips you will love if you are interested in archaeology, fossils, and unusual terrains.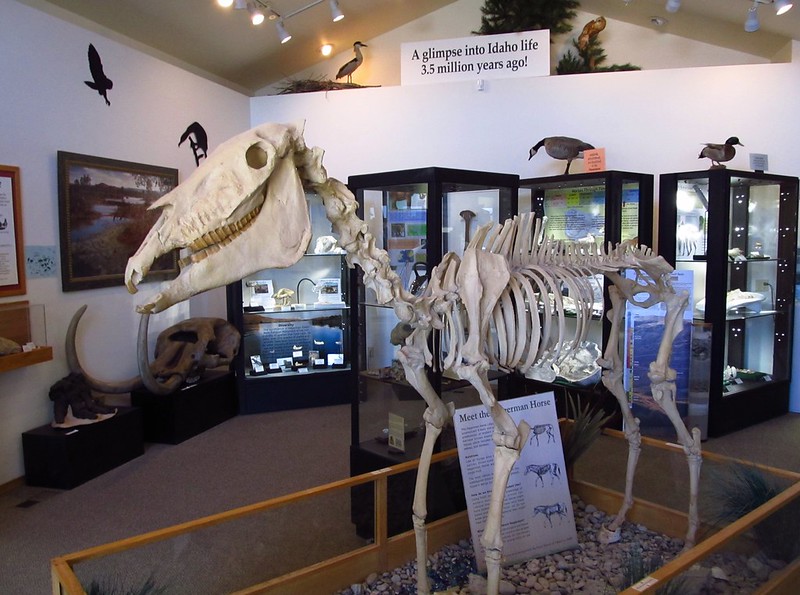 This bed is known for its extensive collection of Hagerman Horse fossils, found in the northern portion of the site, the Hagerman Horse Quarry. Hagerman Horse was an ice Age mammal that lived more than 10,000 years ago in the grasslands of North America. Along with this, the bed is home to some of the richest known fossil deposits in the world, from the late Pliocene age, 3.5 million years ago, before the Ice Age.
The bed is home to fossils of other animals like Camelops – an extinct North American camel, mastodons, saber-toothed cats, fish, frogs, ground sloth, giant otter, rodents, swans, and beaver, among others. You can combine your visit by stopping at the Lower Salmon Falls, one of the beautiful waterfalls in southern Idaho, for enjoying hikes, boating, and fishing.
Three Island Crossing State Park
Distance from Boise – 72 miles; Time – 1 hour
Three Island Crossing State Park, located in Elmore County in Idaho, is an easy day trip from Boise, just over an hour southeast of the city that you can plan to experience a bit of nature and outdoors. But not many know that it is a historical landmark, the site of a ford of the Snake River on the Oregon Trail. This area was used as a river crossing until Gus Glenn built a ferry across in 1869.
You can take self-guided tours on the site on your visit to trace a part of this past, learning a bit about the Oregon Trail, exploring original wagon ruts and replicas of Conestoga. There is a museum dedicated to the extensive collections of artifacts relating to the Native Americans of Idaho and the history leading to the building of the river crossing.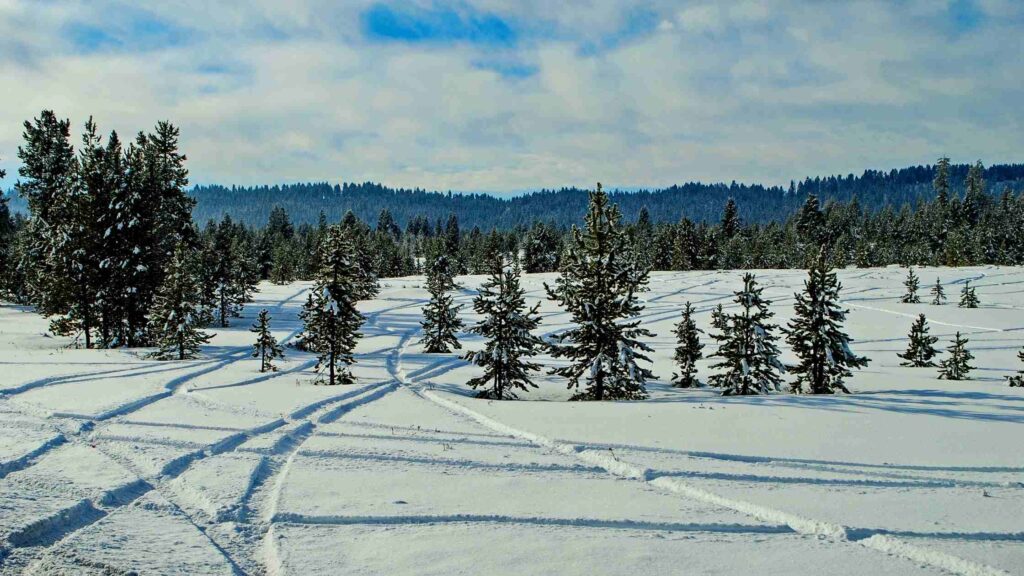 If you want to skip the history, head outdoors for disc golf, rent a cabin, or better, spend overnight camping on the grounds nearby.
Sunnyslope Wine Trail
Distance from Boise – 35 miles; Time – 30 minutes
Thanks to the fantastic geographical conditions – the volcanic soil and a temperate climate, make the region excellent for wine grapes in this part of Idaho. The areas around Boise are a part of Idaho Wine Country, a lush region home to at least 65 vineyards comprising sprawling hills lined with grape and olive groves, nestling amidst green landscapes, making you feel as if you have been transported to Italy's wine regions.
The Sunny Slope wine district, nestling in the fertile Snake River Valley, is a part of this and one of the popular day trips from Boise you will love if you are a wine enthusiast. It takes about 30 minutes to drive from the city, and you will choose from exploring over 13 different wineries in the Sunnyslope Wine Trail, offering splendid vineyards adorning the rolling hills, creating beautiful panoramas.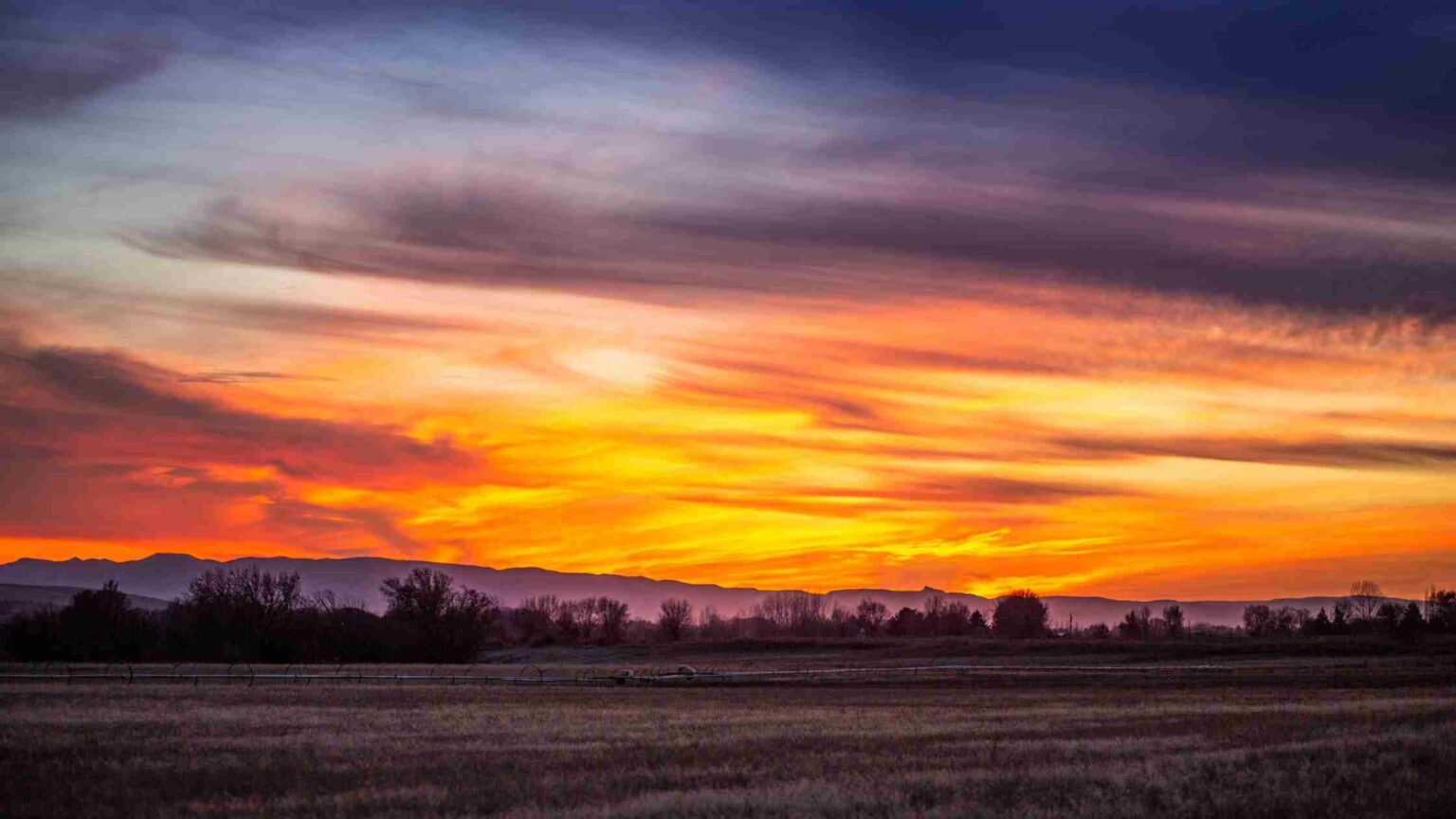 Most of the wineries are open year-round and offer free tastings, apart from their gorgeous locations and restaurants with stunning views. Start your day at the Sunnyslope Wine Trail visitors center, located in historic downtown Caldwell, to collect maps and the latest information.
Check out the tours to book them, or you can plan and book your tours on their website in advance. From Koening to Sawtooth Winery to St. Chappelles, you will end up loving the local wines of these family-owned wineries and the fabulous views of the valleys on your trip.
Mountain Home
Distance from Boise – 35 miles; Time – 1 hour
Mountain Home is the largest city in Elmore County, a rural town with just a few thousand residents inhabiting the place. The unique village has a mix of the big-city charm and the rich culture and traditions of a typical Idaho small town. It beckons travelers and artists at heart through its vibrant music, art, and cultural festivals held throughout the year.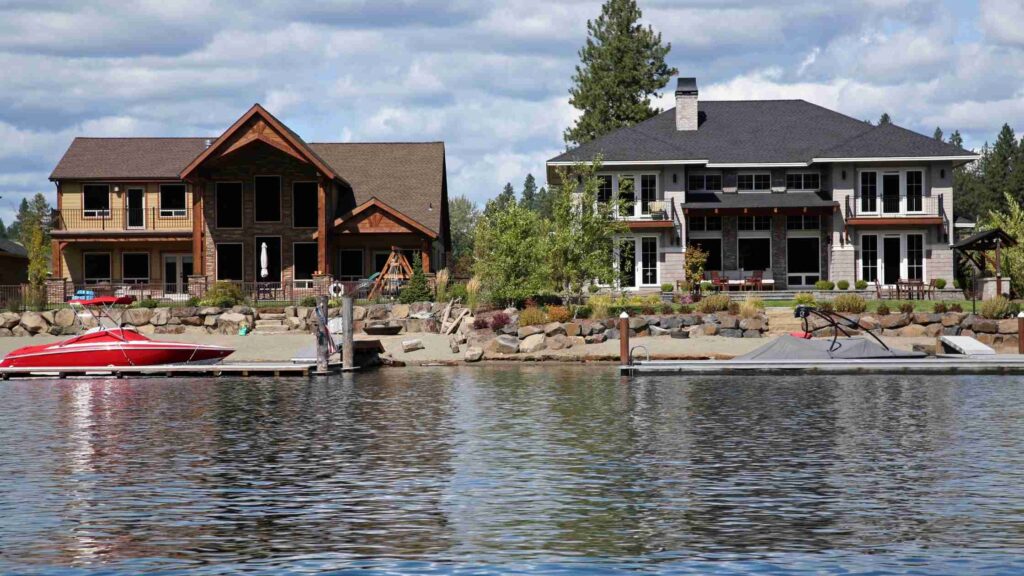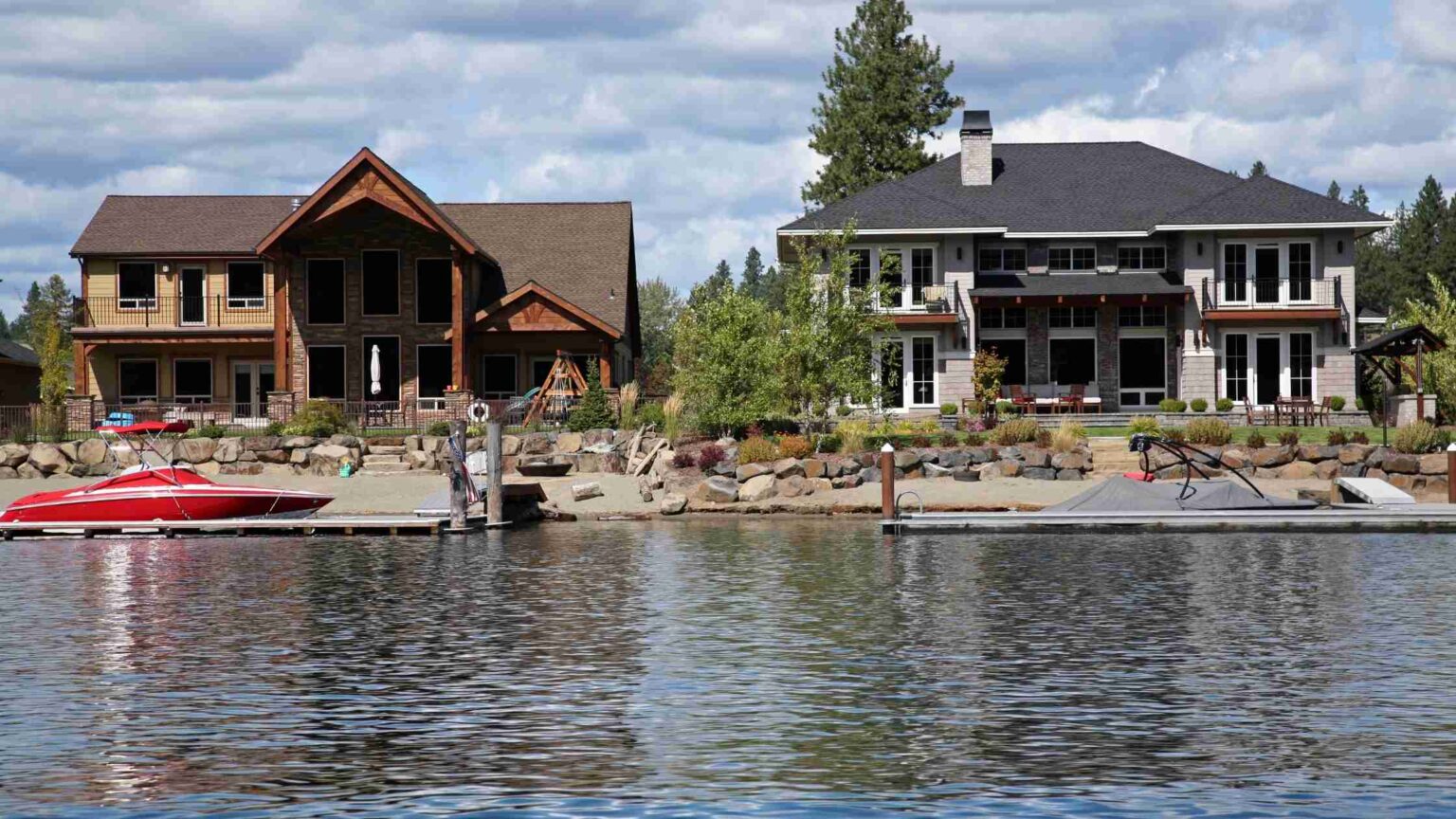 Stop first by the Desert Mountain Visitors Center to check the current events and festivals as you enter. You can also try off-roading, mountain biking, fishing, boating, and swimming in the lakes in summer and spring. If you are in Boise during summer, do not miss planning a day trip to Mountain Home to attend the Mountain Home Country Music Festival and the Summer Festival of Beer.
Also, thanks to the fertile area, the Mountain Home area is renowned for its potatoes, sugar beets, barley, wheat, dairy farms, and family-owned ranches. Do not miss taking a tour of family farms, many of which arrange tours for their visitors.
Morley Nelson Snake River Birds of Prey
Distance from Boise – 35 miles; Time – 1 hour
Located an hour's drive away from Boise, spanning 80 miles across the Snake River, is The Morley Nelson Snake River Birds of Prey National Conservation Area in Idaho, one of the lovely Boise day trips you will love if you enjoy birdwatching and spotting wildlife. Since BLM manages the area, you can camp in the available places for free, and you can extend your trip by a few days as there are many outdoor activities for all.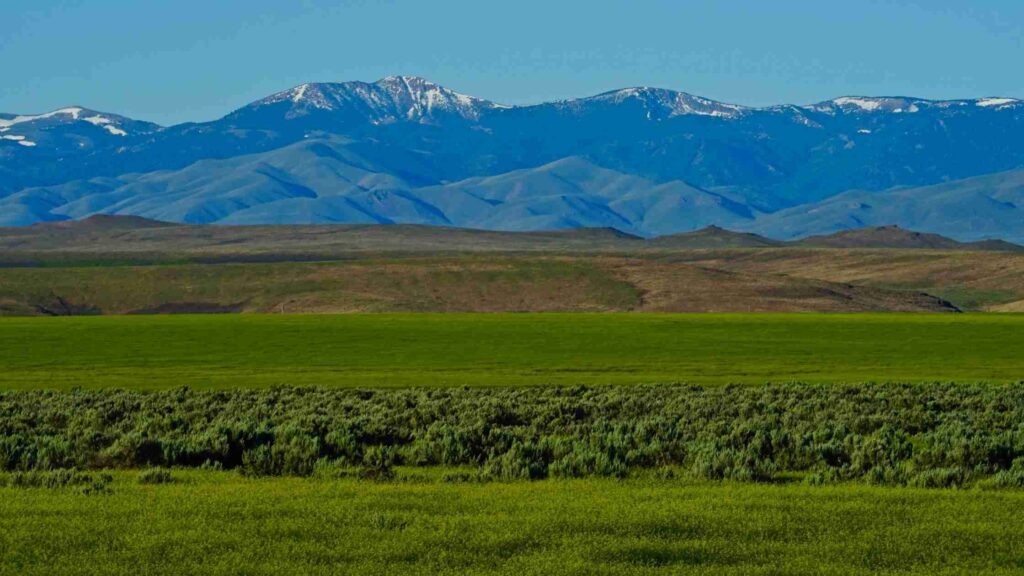 The Conservation Area has one of the densest populations of nesting raptors and features the most nesting birds of prey in North America. You can spot hundreds of species of wild birds, with more than 800 pairs of hawks, falcons, ospreys, eagles, seagulls, and owls, among other birds and wildlife.
The best time to watch wildlife are the hours around sunrise and sunset when the flock of birds gathers around the marsh, gorges, and surrounding wetlands close to the cliffs. There are designated birdwatching spots that you can find on the map that you can collect at the entry, which will give you the best chance of spotting these winged beauties in the wilderness.
Thousand Springs State Park
Distance from Boise – 100 miles; Time – 1.5 hours
If a drive to the Sawtooth or Boise Forest areas is too much for you, you can still enjoy the natural wonders in another gem of Idaho, the Thousands Springs State Park, one of the most beautiful day trips from Boise you will love.
Nestled in the magnificent Magic Valley, the park has a wide variety of things to do and activities to enjoy, thanks to the sprawling landscape loaded with fantastic views of the mountains, natural springs, waterfalls, mystic Canyons, and lakes spread across seven units, including Malad Gorge, Kelton Trail, Earl M. Hardy Box Canyon Springs Nature Preserve, Billingsley Creek, Ritter Island, Crystal Springs, and Niagara Springs.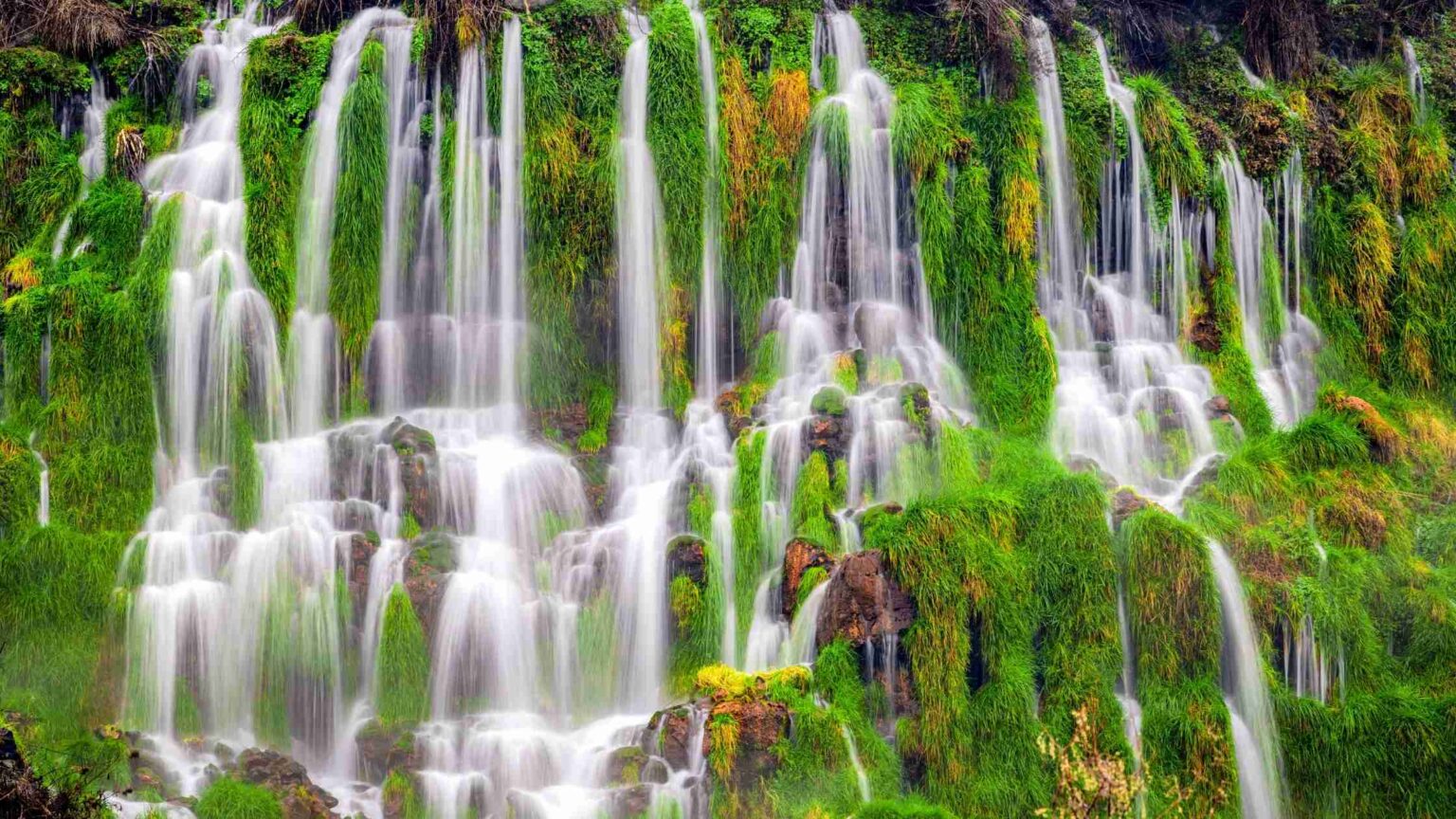 You can plan a weekend getaway from Boise to Thousand Springs Park as there are enough attractions to explore for a few days in the recreational area alone, from fishing to hiking to swimming in the springs. You can spend a day exploring the stunning Malad Gorge, home to a few trails, waterfalls, and Canyon. Head there for the blissful views of the Gorge and hiking.
If you are here in summer and want to fish, head to Ritter Island and Crystal Springs, famous locations for trout fishing. If you're going to enjoy stunning springs, you will love visiting Box Canyon or Niagara Springs State Park, both home to equally beautiful springs, cascades, and ponds with ample green space for picnics overlooking the Snake River that carves a Canyon throughout the stretch.
Jump Creek Falls
Distance from Boise – 45 miles; Time – 1 hour
One of the stunning waterfalls in Idaho is one hour away from Boise, nestling amidst the rugged Canyon formed by the Snake River just to the southwest of Marsing. Jump Creek Falls trail is one of the popular hiking paths and a picnic spot for people looking for water adventure and a beautiful setting amidst nature.
This easy to moderate half-mile out-and-back hike leads you to a gorgeous 60-foot waterfall that goes to become a dipping pool about five feet deep further. The area at the bottom of the waterfalls is not as wide as you would expect it to be, so it gets pretty crowded during peak seasons.
So if you wish to enjoy your time with only a few people, make sure to visit the falls early during the day. If you do not plan to get to the bottom of the falls, a trail starts from the lower parking slot going upwards, which offers a full view of the falls from above.
Celebration Park
Distance from Boise – 40 miles; Time – 50 minutes
Not many know about Idaho's first Archeological Park, which is a surprise, considering all other landmarks in the state receiving continuous attention from visitors throughout the year. About 50 minutes drive from Boise lies the Celebration Parl built across the Snake River Canyon, home to some of the wealthiest geological sites in the United States. The reserve area is home to thousands of beds of lava rocks, tubes, and other formations created by some of the high-intensity volcanic eruptions dating back to thousands of years.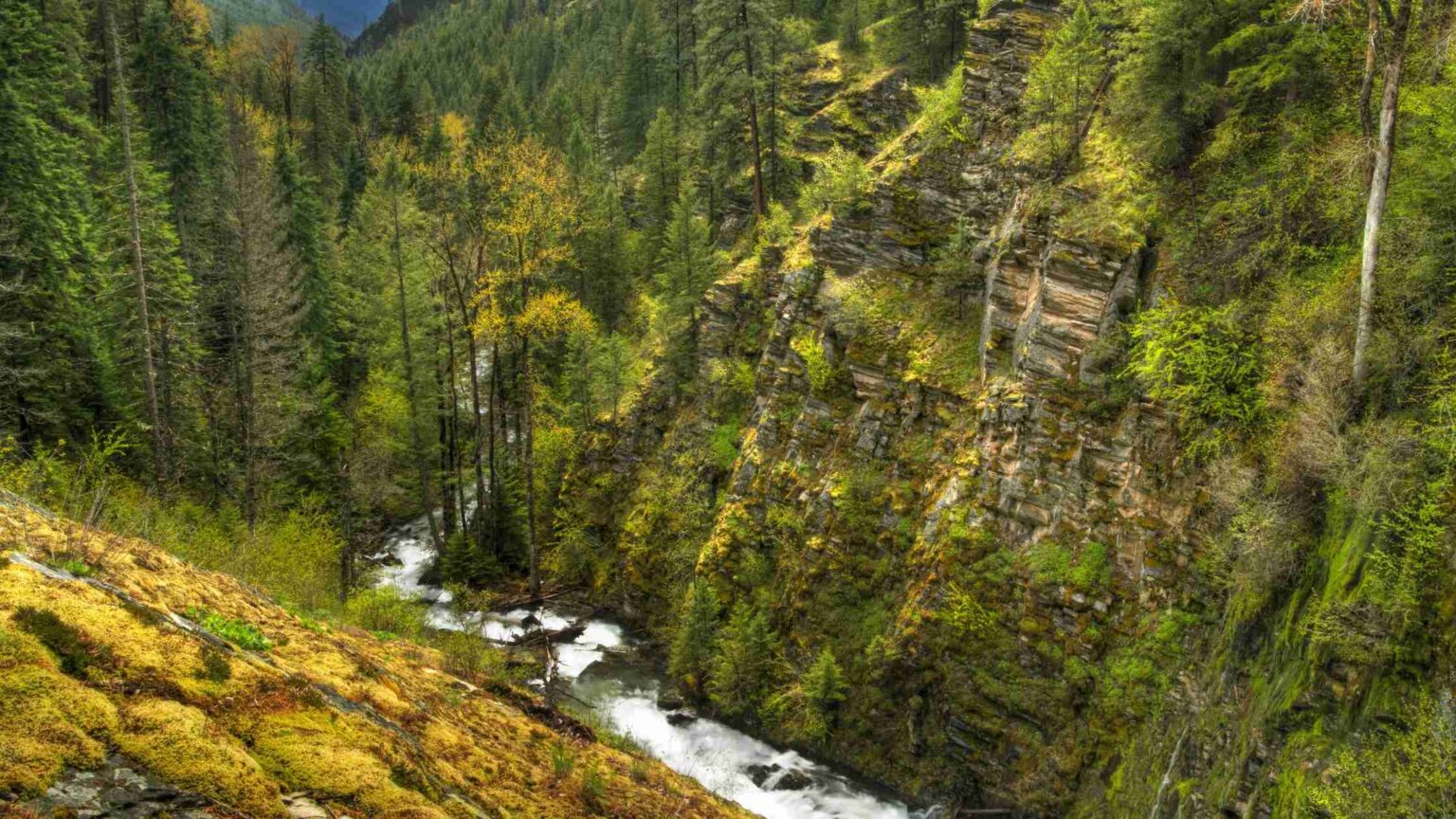 You can get close glimpses of this natural wonder by taking a stroll amidst them and finding the petroglyphs in the rocks. There are some hiking trails along the Canyon, a landmark bridge of the mining era – the Guffey Railroad Bridge, the state's most significant historic artifact where you can only cross by foot as no vehicles are permitted. Do not miss enjoying the spectacular views of the Canyon, especially during the sunset when the golden colors transform the landscape into a magnificent panorama.
BEST DAY TRIPS FROM BOISE (2 – 3 HOURS)
Idaho is one of the most underrated states as the abundant natural beauty is still unrecognized compared to the neighboring states with more famous landmarks. In the below list, you will find some of the stunning natural attractions you can find in Idaho that can be explored via day trips from Boise.
Note that these places require 2 to 3 hours of driving one way, so if you plan to come back to Boise the same day, you will have to start your day early. These are also fabulous destinations for spending a few days in each of them, so I would suggest planning some more days around these places if that is possible for you.
Twin Falls
Distance from Boise – 125 miles; Time – 2 hours
Twin Falls is one of the fantastic day trips from Boise you can plan, thanks to the popular attractions and the adventure it offers. Drive to Twin Falls to witness the iconic Perrine Bridge, the eighth highest bridge in the United States across the mighty Snake River Canyon.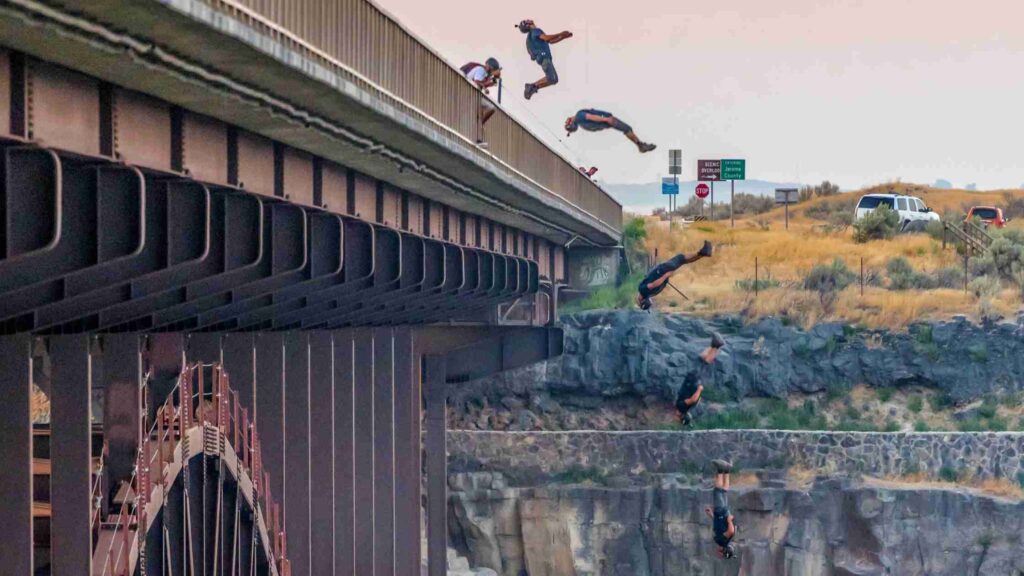 You can sign up for base jumping, a thrilling adventure not for the faint of the heart for sure, as you jump off the bridge before gliding through the Canyon with a parachute.
Among its most famous attractions is Shoshone Falls, one of the largest waterfalls in the United States, higher than Niagara Falls at a whopping 212 feet. Centennial Waterfront Park offers plenty of hiking and biking trails, leading to gorgeous views of the Canyon. Other adventure activities you can enjoy in Twin Falls are rock climbing, zipline, and Trampoline jump.
There are so many amazing things to do in Twin Falls that you can easily spend a weekend basing there, but if not possible, indeed, a day trip from Boise will at least let you cover a part of the highlights.
Shoshone Falls
Distance from Boise – 130 miles; Time – 2 hours
Shoshone Falls, located northeast of Twin Falls city in Shoshone Falls Park, is the largest waterfall in Idaho. Nicknamed the Niagara of the West, this spectacular waterfall plunges at about 212 feet into a 900 feet wide rim rocky Snake River Canyon, creating magnificent views, including rainbows, similar to the Niagara Falls, although Shoshone is higher. An easy 2-hour drive makes it one of the beautiful day trips from Boise you will love absolutely. 
Apart from admiring the stunning waterfalls from the viewpoints, you can also go hiking, biking, and Kayaking to the bottom of the falls. In the neighboring Dierkes Lakes, you can also dive, go boating, and swimming. Shoshone Falls Park has a pretty green area for picnics, with picnic tables and a BBQ area, perfect for relaxing.
McCall
Distance from Boise – 110 miles; Time – 2.5 hours
While Nampa is for culture and heritage lovers, McCall, another city near Boise, located on the scenic shores of Payette Lake, is the best place to head to relax and unwind in the many lovely natural springs. If you want a pampering getaway after all the outdoor activities, McCall is one of the best day trips from Boise you can plan to lay back and enjoy.
Given the two hours+ drive from Boise and tons of things to do in McCall, you can consider a weekend trip from Boise to McCall instead of a day visit if you have more time to spare.
This small mountain resort town with fewer than 4,000 residents has its center at Payette Lake, where all the water fun happens during the warmer months, from boating to swimming to fishing. If you want a romantic evening, join the sunset cruises on the lake during summer. There are some lovely trails and guided walkways for hiking and biking in the forest around the lake.
You will find the best restaurants, cafes, and bars around the lake, some of which serve excellent dishes. The most popular springs famous in Idaho are Gold Fork Hot Springs, about 30 miles south of McCall, home to 6 mineral pools. Burgdorf Hot Springs is also a popular stop for relaxing when you are in McCall.
In summer, do not miss stopping by North Beach, a popular spot for water skiing. Hikers and mountain biking enthusiasts(or if you love nature) should visit Ponderosa State Park on a 1,000-acre peninsula extending out into the lake, which has many lovely trails and walks. Head to Osprey Point here for splendid 360-degree views of the lake.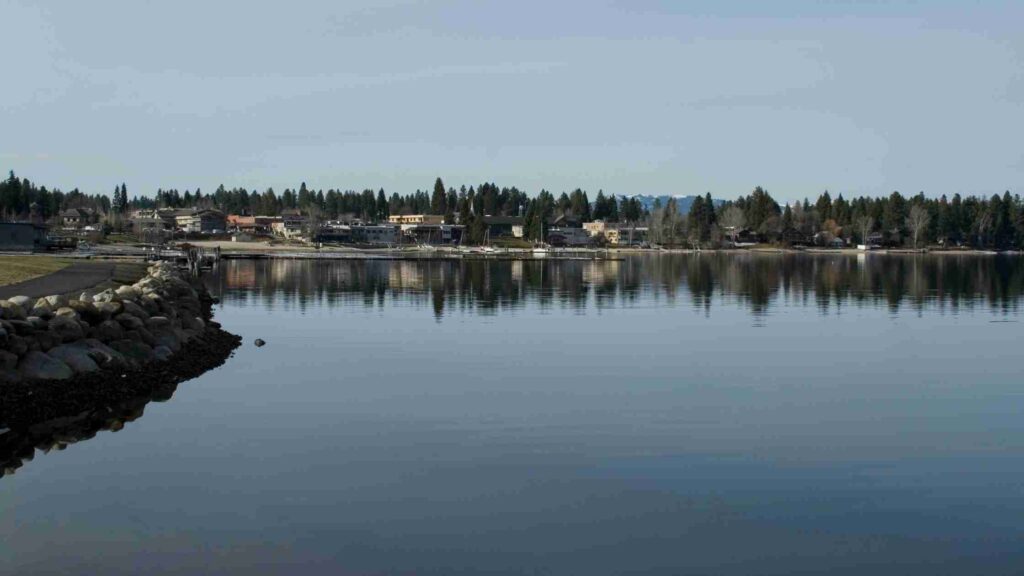 Winter is also a popular time to visit McCall, whether as a day trip or a weekend getaway, thanks to the many winter activities in the ski resorts – Brundage Mountain Idaho Ski Resort northwest of McCall, and Tamarack Resort, both home to ski slopes, offering perfect spots for snowshoeing, snowboarding, and downhill Alpine, Nordic, and backcountry skiing in winter.
In the winter, make sure to attend the unique McCall Winter Festival, which is the best winter experience you can come across in Idaho, held between the last weekend in January and the first weekend in February. Hundreds of ice artists create stunning snow sculptures around the town. You can also witness music performances, stand-up shows, and art exhibits, along with admiring the decorations.
Silver City
Distance from Boise – 70 miles; Time – 2 hours
Another town in Idaho known for its rich mining past is Silver City, located in the backcountry of the Owyhee Mountains, which takes you into the past for glimpses of the rich wild west mining history. If you can endure the two hours+ drive in the southwest, it is one of the best day trips from Boise to experience history.
Now listed on the National Register of Historic Places, this ghost town was home to thousands of inhabitants during the gold and silver rush, with hundreds of businesses in the late 1880s.
Check out about a hundred 19th-century historical monuments, including old tin roofs, renovated and well-preserved buildings scattered around the city and brought back to life thanks to the part-time third and fourth-generation descendants of the original miners. Walking through the streets lined up with these buildings will transport you back in time to the prosperous era once Silver City boasted.
If you are here during special events such as the annual open house over Labor Day weekend, you can take special tours of these streets that allow getting in. Also, check out the unique souvenir and book shops to shop for some antique souvenirs to take back home.
One of the adventures you will experience is probably reaching Silver City, especially if you plan a winter trip. Regular roads are accessible only during the summer months, and as the snow sets in the winter, the road gets shut down, with the only option to reach being by snowmobile.
You will also find mine shafts throughout the rugged terrain. If you want to make your visit to this ghost town further for something quirky, stop by the four old cemeteries home to unique headstones.
Another way to experience the past is by spending overnight in the star attraction among hotels in Silver City; the Idaho Hotel was restored in the 1970s and opened to tourists.
Hailey
Distance from Boise – 145 miles; Time – 2.5 hours
Located in the Wood River Valley area of Sun Valley and the Central Idaho Rocky Mountain in Blaine County is Hailey, a beautiful small town. Thanks to its stunning location at the Challis National Forest entrance and close to the Sawtooth National Forest, Hailey is the gateway to tons of outdoor adventure activities for those looking for a day trip from Boise. 
You can plan many backpacking across the Rocky Mountains in summer and spring, exploring the many gorgeous trails around Carbonate, Red Devil Peak, and Della mountains. You can go fishing, whitewater rafting, kayaking, rock climbing, and mountain biking, along with camping in the sites around Hailey, in the many campgrounds in the recreational areas.
Winter is the famous period for snow sports and ski holidays in Hailey. Rotarun Ski Area is a popular sport where you can enjoy snowboarding, BMX riding, skateboarding, and downhill skiing.
Sun Valley
Distance from Boise – 155 miles; Time – 2. 45 hours
Sun Valley is one of the famous ski resorts and popular winter getaways for families and couples traveling in Idaho. Located about 3 hours away from Boise in south-central Idaho, not many know that Sun Valley offers plenty of other things for its visitor during the different seasons.
Although you can make it to Sun Valley in less than three hours, that may be too much for a day trip if you look for a destination with a shorter driving distance. It is an excellent destination for a weekend trip as well. Did you know? Sun Valley was an inspirational place and home to Ernest Hemingway in the mid-1900s. You can visit his resting site at the Ketchum Cemetery.
In summer, you can attend the themed Wagon Festivals that will take you back in time to the Old West. You can hike some of the trails that crisscross the area leading to the Baldy Mountain area, where you can also do mountain biking. Summer is also a fabulous time for fishing in the Sun Valley.
Walk around the cute villages surrounding the Sun Valley Resort lined with beautiful architectural buildings and housing cafes, restaurants, and bars.
BOISE DAY TRIPS (MORE THAN 3 HOURS)
If you are looking for weekend trips from Boise, you can check out the below destinations. Whether you want to spend overnight or not, you can still consider these places as Boise day trips ideas as you can cover the attractions if you begin your drive early. If almost 6 hours of driving on the same day is exhausting to you, you can extend the trip to a weekend.
Boise National Forest
Distance from Boise – 85 miles; Time – 2.5 hours
The Boise National Forest spans more than 2.5 million acres northeast of Boise in Idaho, offering thousands of square miles of wilderness, a perfect destination for adventure seekers, outdoor lovers, and admirers of natural beauty and stunning landscapes. Technically, exploring Boise Forest will take you months if you wish, and it is certainly worth spending at least a few weeks. But if you have a day to spare, you can still manage to scratch the surface of this stunning reserve on a day trip from Boise.
A mix of forest and grassland, among the many natural wonders it features, the magnificent ones include the North Fork Payette River Canyon and 10,000 feet high Trinity Mountain Peak. Boise National Forest is blessed with vast acres of surreal mountains, rivers, cascades, ponds, and forests, an excellent destination for every season of the year, and also road tripping with your family and friends.
It is one of the most popular destinations for camping in Idaho receiving at least 1.5 billion visitors every year, thanks to the vast terrain and the possibilities of dispersed primitive campsites as well as accessing campgrounds with excellent amenities, and rustic cabins for rent nestling amidst lush jungles.
There are over 250 lakes and reservoirs, and at least 500 well-paved trails in the forest offering loads of places for picnics, camping, and activities like hiking, fishing, swimming, mountain biking, birdwatching, and boating – all hot activities during the spring and summer months. Kayaking and Rafting on the rapids of the Payette River are what you should sign up for if you want some adventure and fun.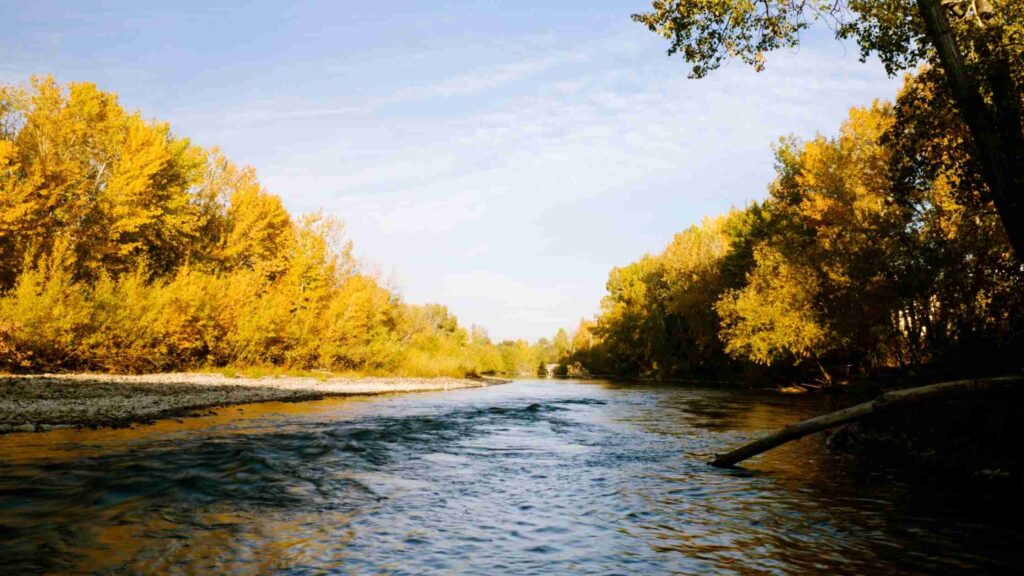 If you want to try hiking, check out the popular trails Blue Lake and Stack Lock. The Stack Rock Trail is a 10.9-mile, moderate difficulty, heavily trafficked out-and-back trail close to Boise, which is a must-do if you love hiking and outdoors, especially if you are here during spring and until fall when the route is filled with gorgeous wildflowers.
A hike to Stolle Meadows or Blue Lake Trail scattered around the forested hills also offers beautiful panoramas, and you can also spend overnight here in the cabins.
Sawtooth National Forest
Distance from Boise – 150 miles; Time – 3.5 hours
The Sawtooth National Forest, located in central Idaho nearly Stanley, spanning over 2 million acres of land like the Boise National Forest, is one of the beautiful Boise Day trips you should plan no matter what time of the year you are here.
The Sawtooth National Forest is one of the most beautiful places in Idaho, covering several towns and cities. With more than 3 hours of driving one way, the Sawtooth National Forest is a challenging day trip to plan from Boise. But if you are not going to explore other regions in Idaho, it is worth spending a day in this beautiful recreational park, dotted with hundreds of natural attractions.
It is a magnificent weekend trip from Boise for everyone offering tons of opportunities to explore. The Sawtooth National Recreation Area comprises hundreds of thousands of acres of forests, rugged wilderness, glacier valleys, and impeccable views featuring more than 700 miles of hiking trails, medium and high-altitude fantastic alpine lakes at least 40 surreal 10,000 feet high mountain peaks.
The Sawtooth Scenic Byway running for 115.7 miles from Shoshone to Stanley is a famous stretch if you plan to travel further to Twin Falls or Shoshone.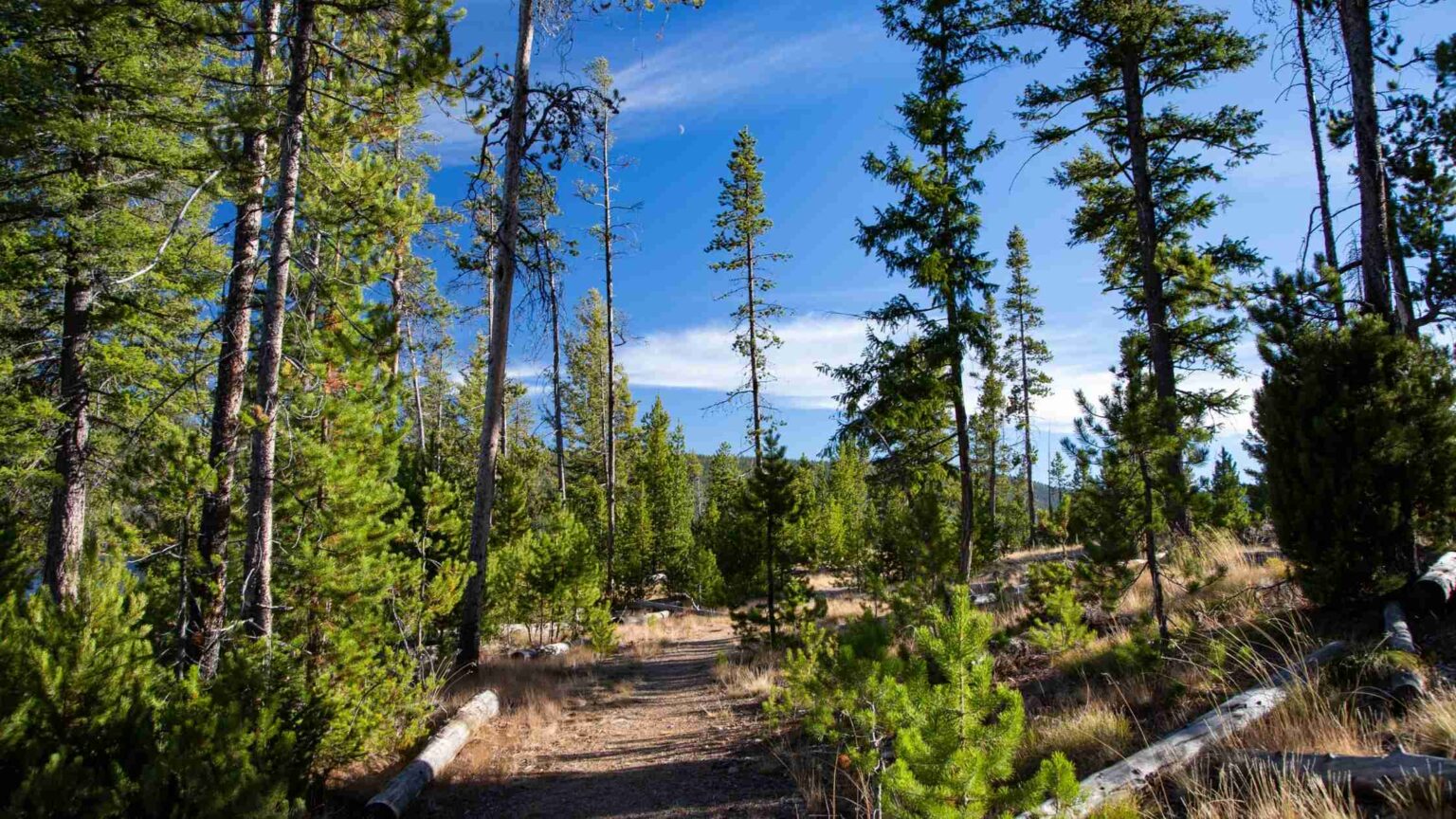 In spring, summer, and also fall months, you can enjoy wildlife spotting, mountain biking, canoeing, boating, swimming, backpacking, fishing, rafting, and camping, apart from hiking. Campers can choose between primitive camping, cabins, and dozens of campgrounds spread throughout the many trails and lakes. If you are here in July and August, Alpine wildflowers and fresh snowmelt leading to filled turquoise lakes, pools, and rugged peaks are the highlights of the wilderness you will experience while hiking and camping.
Deep snow carpet the grounds of the Sawtooth National Forest in winter, transforming into a snow wonderland, attracting winter outdoor enthusiasts as you can enjoy downhill skiing, snowboarding, snowshoeing, and snowmobiling. 
Craters of the Moon National Monument
Distance from Boise: 170 miles; Time – 3 hours
Three hours drive East of Boise takes you to the Craters of the Moon National Monument. The distance needed to cover may seem like a stretch for considering it as one of the day trips from Boise, but it is worth your stop. If it feels too much, you can spend overnight in this beautiful reserve area. 
What's so special about the Craters of the Moon? Well, for starters, these are ancient geological formations created due to Volcanic eruptions during eight significant eruptive periods between 15,000 and 20,000 years ago, creating a massive lava field spanning 618 square miles. This gigantic ocean of black lava flows with cinder cones and sagebrush scattered about offers one of the few places on earth where you can walk over former lava formations and explore an underground lava tube crafted by molten rock.
You can hike, try caving or drive alongside these fantastic lava formations and lava caves on the crusty terrain tracing the fissures across the Snake River Plain called the Great Rift. Dispersed camping is possible here, which will allow you to stargaze at night, thanks to the clear skies and surreal rock formations below forming a perfect ambiance. In winter, you can enjoy snowshoeing and also cross-country skiing.
Spring is the best time to visit the Craters of the Moon. The weather is gentler, and the landscape turns magical as the wildflowers carpet the whole area. Depending on how long you wish to stay here, you can explore the natural attractions in the monument. Go road-tripping on the 7-mile loop road, a favorite thing to do here, which covers plenty of attractions, beginning near the Robert Limbert Visitor Center, passing through caves and volcanic rock formations. If you wish to see more cinder cones and lava tubes, you should hike the beautiful Inferno Cone trail.
City of Rocks National Reserve
Distance from Boise: 210 miles; Time – 3.5 hours
The City of Rocks, located in Southern Idaho is just two and a half hours from Boise and is one of the best destinations to enjoy backcountry adventuring when you are in Idaho. If you are looking for camping oriented spot, you should consider a visit to this reserve as one of the day trips from Boise or an overnight camping trip. Also, since the reserve is open throughout the year, you can try different activities no matter when you are here.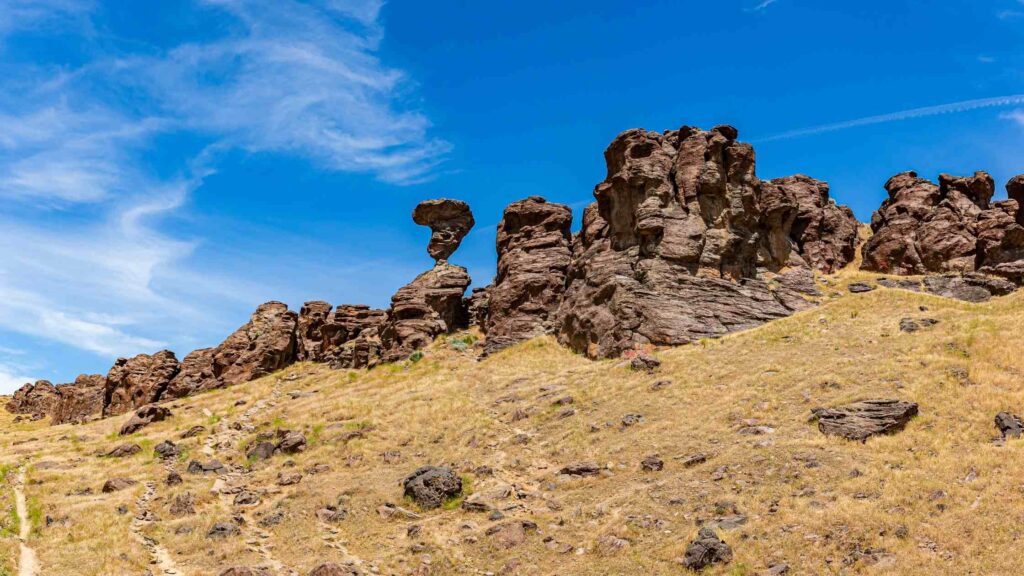 The City of Rocks National Reserve, nestling at the foot of the Albion Mountains, spans over 14000 acres into the backcountry, offering tons of opportunities for many outdoor activities, including camping, hiking, mountain biking, rock climbing, and off-roading.
You will start your visit by heading to the lovely Almo historic village, a ranch town established as part of the old west in 1878, which has some well-preserved areas that you can explore. There is a visitor center in Almo where you can get your camping details, hiking trails, and all other information you need to visit the City Of Rocks. If you have time, you can also drive to another nearby attraction, Castle Rocks State Park.
Hells Canyon
Distance from Boise – 150 miles; Time – 3 hours
Located along the eastern Oregon border, Hells Canyon is one of the best weekend trips from Boise you can plan. It takes about 3.5 hours to reach one of nature's most spectacular creations. Hells Canyon, which spans three states, Idaho, Oregon, and Washington, to the east, the Seven Devils Mountain Range, is known as the deepest river gorge in North America, surpassing the ever-popular Grand Canyon in Arizona.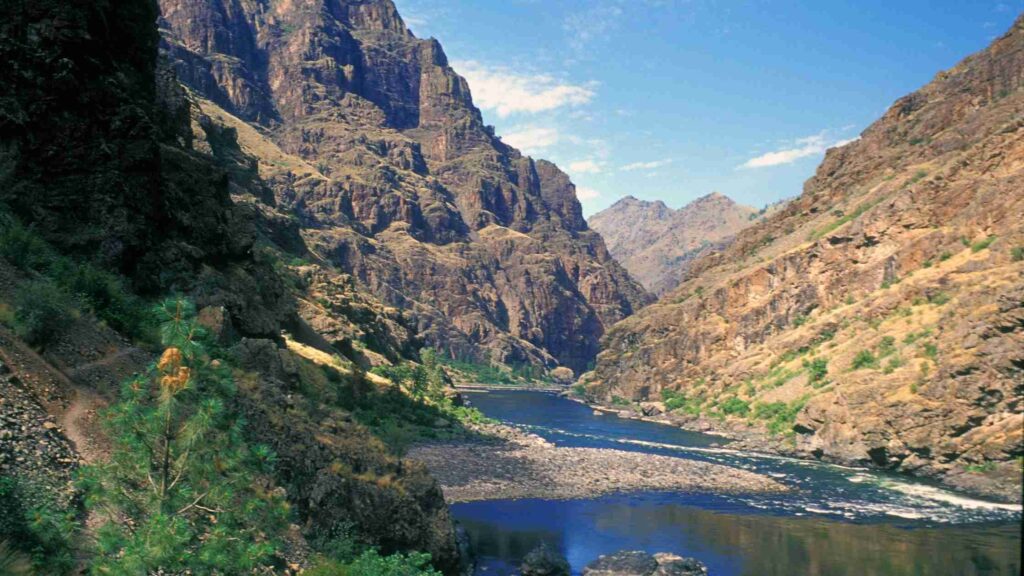 The Snake River flows through this Canyon, which began carving the Canyon around six million years ago, running for thousands of miles, cutting deeper in the valleys, and is a rich source of wildlife, and abundant natural beauty, and of course, the tons of opportunities for outdoor adventure.
Most of the rugged wilderness is raw and untouchable, but thanks to the dedicated recreation areas in some parts of the states, you can enjoy the blissful abundance of the Canyon year-round. In summer, you will love indulging in some of the best whitewater rafting in the Northwest, fishing, backpacking, jet boat tours, and hiking in the many trails scattered around the Canyon leading through jungles.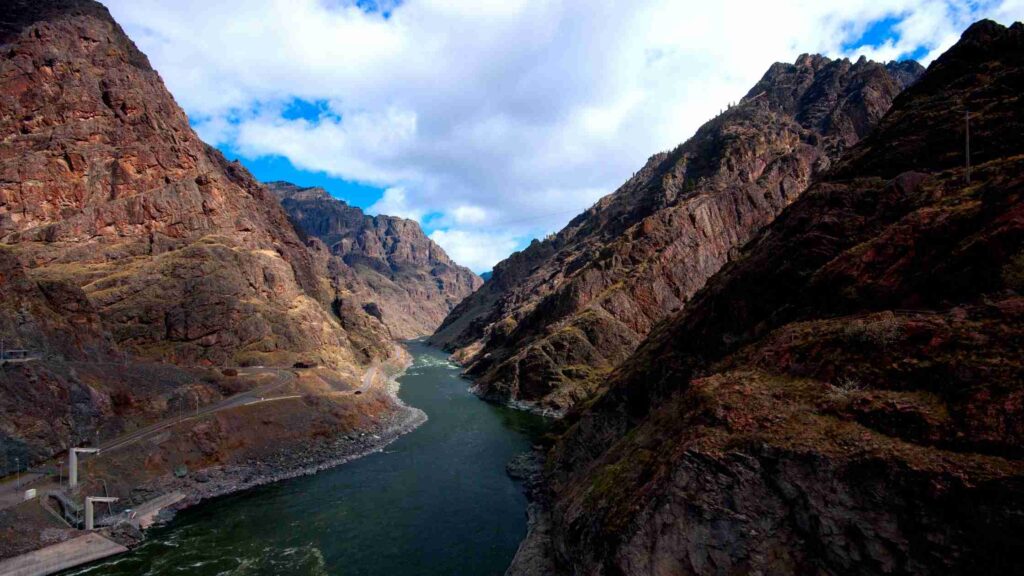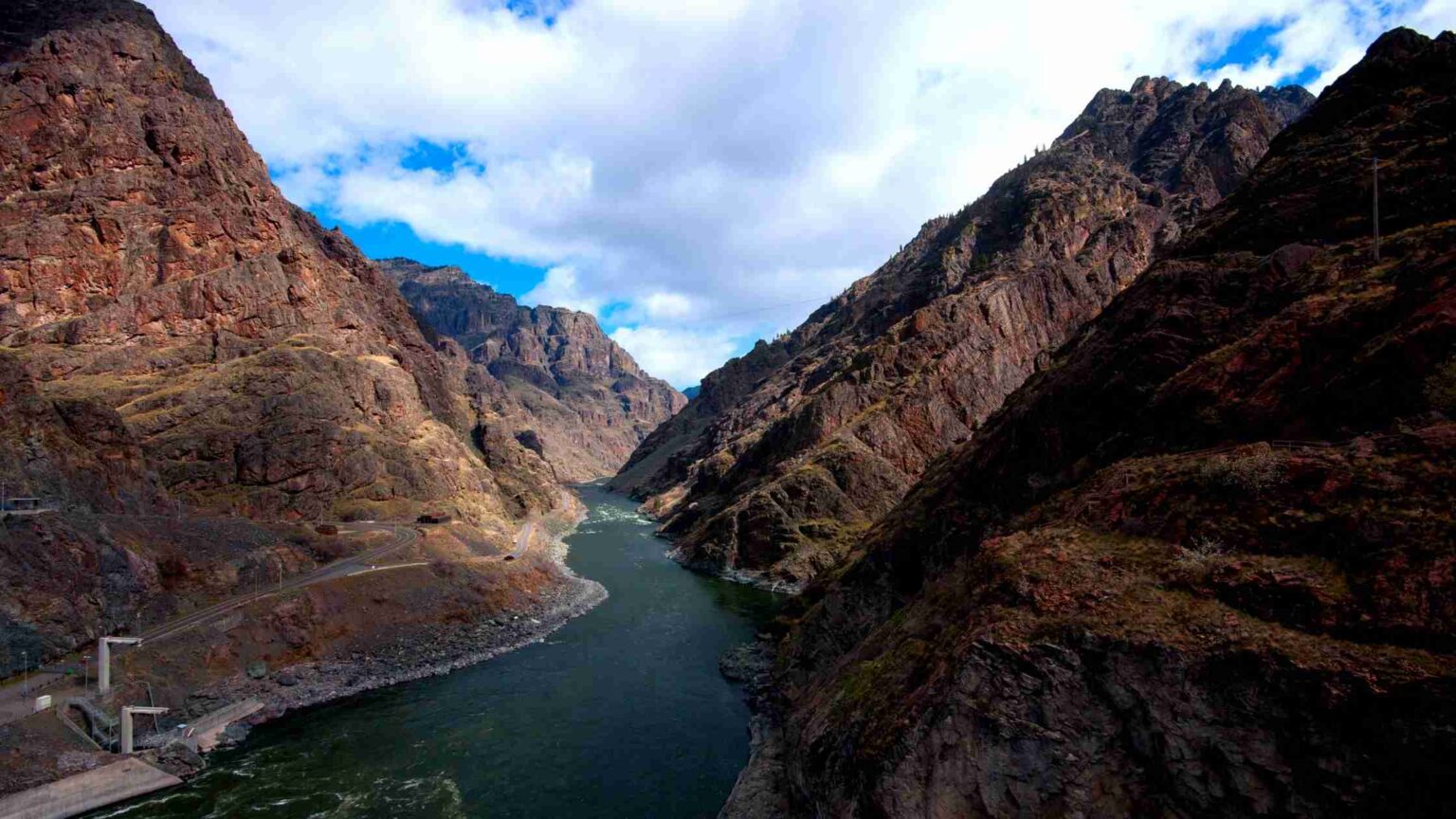 If you want to enjoy bird views of the Canyon, sign up for helicopter tours in the region that will take you to witness the impressive landscapes. You can also stop by Hells Canyon Dam on your visit.
St Anthony Sand Dunes
Distance from Boise – 325 miles; Time – 4.5 hours
If you are up for a road trip from Boise, you can plan a visit to the St. Anthony Sand Dunes, located 325 miles away. The massive dunes cover more than 10,600 acres comprising white quartz dunes up to 400 feet high, making them the largest in Idaho. The earliest known formations date back to thousands of years ago when the Earth transitioned to a warmer place after the ice age.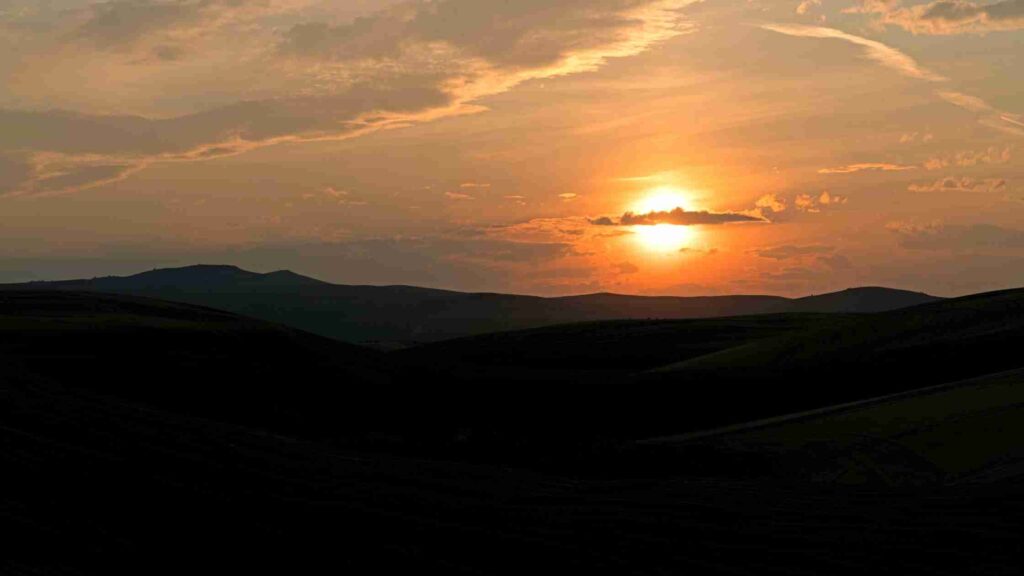 Whether you want to admire the formation of these dunes sprawling on the horizon or want to indulge in all the adventures is up to you. If you wish to do some activity on dunes, you should try off-roading, sandboarding, hiking, and camping.
You can choose the campsites with better amenities at Elgin Lakes that have electric hookups. This area is a popular spot for fishing, hiking, and ATV biking. There are also dump stations, picnic tables, camping for RVs, and water stations available on the site.
Coeur D'Alene
Distance from Boise – 460 miles; Time – 6.5 hours
One of the best long weekend trips from Boise popular among visitors is Coeur d'Alene, located in northwest Idaho. With just over 50,000 population and its excellent location surrounded by natural parks, dense forests, lakes, and museums making it a fantastic destination offering something for everyone.
In summer, you can enjoy many outdoor activities, including water sports on Lake Coeur d'Alene, from fishing to boating to canoeing and swimming. Or you can enjoy picnics by the lakeside, while your kids can have fun on the playgrounds. Hikers, mountain bikers, and campers have plenty of trails to choose from in the Canfield Mountain Natural Area and Coeur d'Alene National Forest or Cougar Bay.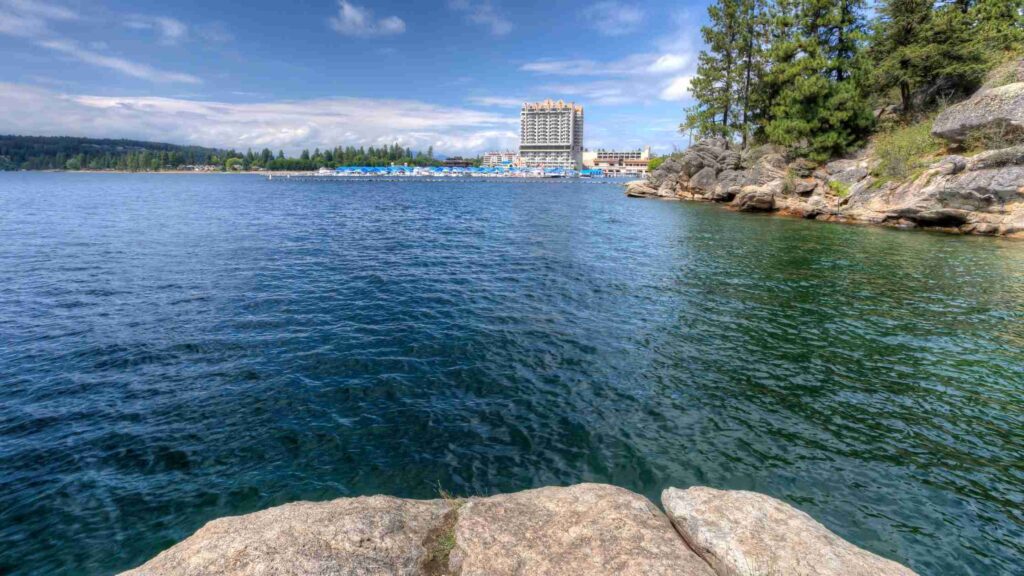 These reserve areas are home to many gorgeous viewing points offering 360-degree views of the valleys, like Independence Point, a popular spot. Explore the downtown, home to historical buildings, and visit the Museum of North Idaho that exhibits the local history and the city's rich past of the timber industry.
MAP OF THE DAY TRIPS FROM BOISE IDAHO
That's a wrap of the best day trips from Boise you can plan. If you have any suggestions for the best Boise day trips or Boise weekend getaways, share your ideas in the comments below.
PIN DAY TRIPS FROM BOISE FOR LATER
Please note: This post contains affiliate links, meaning I may earn a commission if you make a purchase by clicking a link (at no extra cost to you). Learn more.