Shoshone Falls is the star attraction in Southern Idaho, hands-down. No matter what time of the year you are here, you cannot miss adding this spectacular waterfall to your Idaho road trip itinerary. Whether you have just a few hours to spare or have a few days, you can easily visit Shoshone Falls. In this post, find out how to plan a trip to the waterfalls, all the adventurous activities you can enjoy, how to get there, and more.
Shoshone Falls is nicknamed the Niagara of the West, and rightly so. It plummets the deep, rocky, horseshoe-shaped canyons carved by the Snake River at 212 feet high and almost 900 feet wide, creating a wonderous spectacle that will sweep you off your feet. It is not only one of the incredible falls known for its beauty, but also among the giant natural U.S. waterfalls.
The roaring waterfall is among the most visited destinations in Idaho. A visit to Shoshone is not about admiring the majestic giant alone. Whether you want to kayak, hike, enjoy a picnic, cycle, or go boating, you can do all of these activities on this trip. You will also love visiting here if you want to capture the magnificent falls roaring against rocky cliffs, along with the rainbows that adorn the landscape.
Thanks to the tourist-friendly parks, excellent connectivity, and plenty of other nearby attractions and activities, you can combine your visit with other destinations in southern Idaho.
Or, a short hike/kayak followed by a relaxing picnic in the green space is a perfect day trip plan, especially in the spring and summer, when the Shoshone Waterfall is at its best. Go ahead and find out how to plan a memorable trip to these fantastic waterfalls.
SHOSHONE FALLS OVERVIEW
Where is Shoshone Falls?
If you are wondering what city is Shoshone falls in, you may not be alone. The names of the waterfalls and the cities can be confusing if you are just getting to know things. Shoshone Falls is located in Twin Falls city. And no, Shoshone Falls and Twin Falls are all different waterfalls.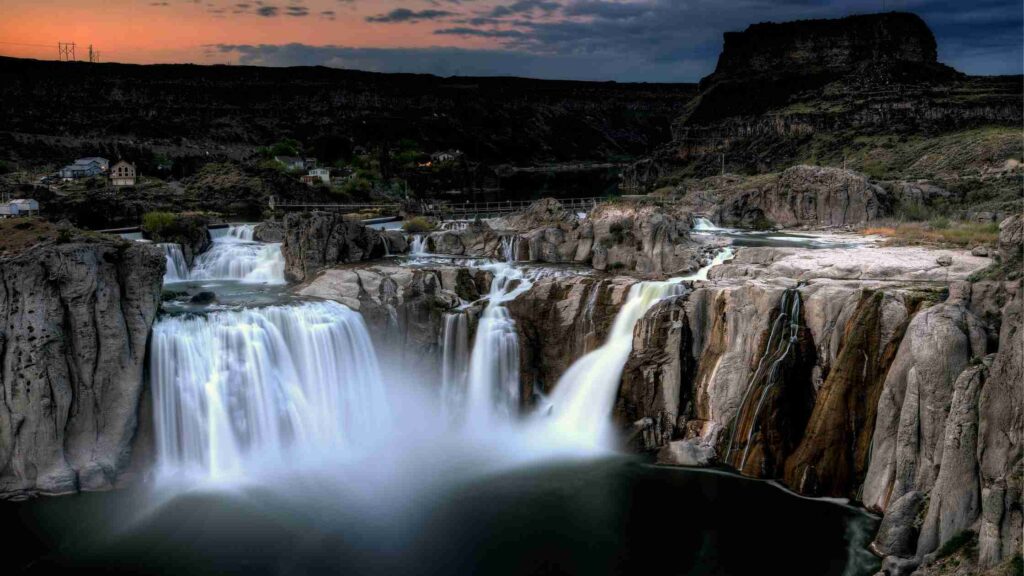 To be precise, Shoshone Falls is located 7 miles outside of Twin Falls, a small city of 50,000 people in the southern part of Idaho. 
FUN SHOSHONE FALLS FACTS
If you are one of the regular readers here, you will know how I love collecting surprising facts about destinations from around the world. I did some digging around the waterfalls and the town, and I stumbled upon a few unique things.
So here are some interesting facts about Shoshone Falls not many knows.
The waterfalls get its name from Lemhi Shoshone, the Native Americans who inhabited the region for hundreds of years. Because the falls are the upstream limit of salmon migration in the Snake River, they served as a central food source and trading center for the native peoples, giving them the nickname Agaidika or Salmon eaters, as they depended on the Snake River's immense salmon runs.
The region was an important fishing and trading place for Native Americans, apart from the magnificent Snake River being the resource for life and livelihood. Although the waterfalls bear the name in their honor, there are no precise records to indicate when the waterfalls got this name.
The catastrophic outbreak Bonneville Flood created the waterfalls during the Pleistocene ice age about 14,500–17,000 years ago, when Lake Bonneville, an enormous freshwater lake that covered much of the Great Basin, overflowed through Red Rock Pass into the Snake River. The immensely massive flow of water carved the Snake River Canyon in a matter of several weeks and sculpting falls such as Shoshone Falls and other beautiful falls, cascades, natural springs, and ponds.
Also, Shoshone Falls flows over a 6-million-year-old rhyolite or trachyte lava flow in the surrounding Snake River Plain, considered among the oldest geological areas in the world.
Did you know? It is not a star attraction that became popular in the last few decades, but it has been a prominent place for quite some time. The falls were documented by Europeans as early as the 1840s. And despite the isolated location and the primitive transport, it became a tourist attraction at the beginning of the 1860s.
At the beginning of the 20th century, part of the Snake River was diverted for irrigation of the Magic Valley. The industrial era saw the construction of many dams across the River in the area, thereby putting an end to the uncontrolled natural flow of the waterfalls depending on the seasons.
Today, Milner Dam, 20 miles upstream from Shoshone Falls, regulates the waterfalls' flow throughout the year. The United States Bureau of Reclamation maintains the Idaho dam and controls the water levels in the Snake River Basin. A large amount of water is diverted for irrigation, which is the primary use of the River, with only the leftovers plummeting as waterfalls.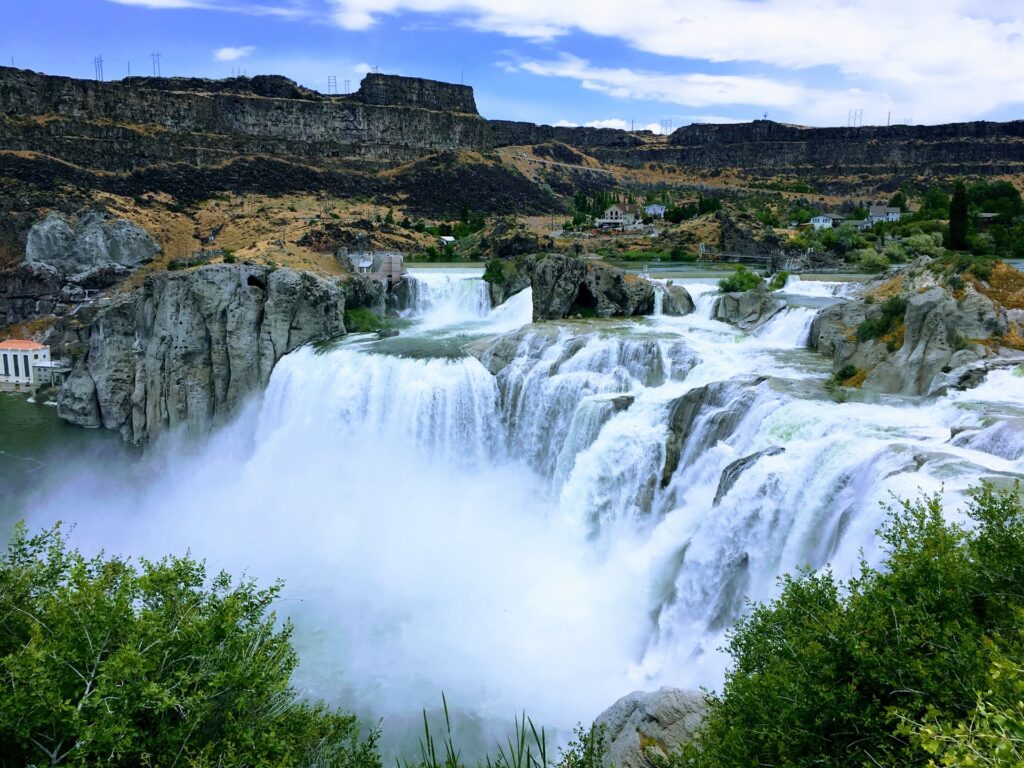 One way to figure if you will witness a full-fledged spectacle of this gentle giant is by observing the water levels of Milner Dam. If it is complete, then there is a very high chance that the waterfall flow will be increased.
If you want to plan a trip depending on the water levels of the falls, there is a way to figure that. Go to the Shoshone Falls website, where you can check the current CFS or cubic feet per second score for the falls on the Shoshone Falls webcam, which is updated every day, and you have the option of watching it live or the playbacks of the falls.
WHEN IS THE BEST TIME TO VISIT SHOSHONE FALLS?
The waterfalls can be explored throughout the year, especially if you are looking for various other outdoor experiences near the waterfalls in Shoshone Falls State Park. Along with the activities, easy access also makes it a year-round destination. But similar to different waterfalls, the water levels vary throughout the year.
If you want to witness the waterfalls in full vigor, late Spring is the best time to visit. The snow in the upper northern Rockies begins its journey melting in early March, gradually increasing water flow in the Snake River before heading to the Columbia River in Oregon and finally out into the Pacific Ocean. The best months to visit the Shoshone is April through June.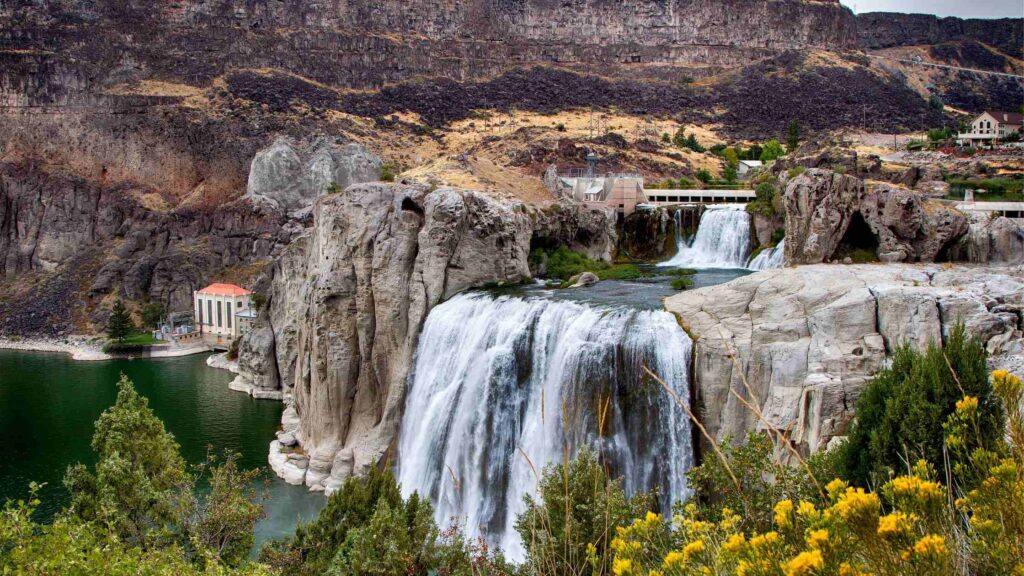 Come summer and the Idaho Hydroelectric Power Company, the organization that regulates the flow, diverts the Snake River for irrigation in the surrounding neighborhood. As such, the water levels in the Falls area fall almost half what you can see during Spring. Nevertheless, the views are splendid still, making summer the second most popular time to be here.
During the late summer and fall months, the water levels are low or even dry if the rains are not plenty. Winter is the perfect time to be if you love solitude like me. While the views of Shoshone may not be like the ones you will see during Spring, you will love the frozen falls, which you may get to see if you are here in December sometimes.
WHERE TO GET THE BEST VIEWS OF THE FALLS?
Shoshone Falls sits about 5 miles east of the Perrine Bridge. If you are arriving from the Twin Falls side, it is best to first stop at the Twin Falls Visitor Center, located right off HWY 93 on the south side of the bridge, where you can pick up maps if it is your first stop there.
There are two observation decks for admiring the views of the waterfalls. The first viewpoint is at the entrance to the park, which is the most visited spot. You will have to stroll down a set of stairs to reach the remark deck, 75 feet from the parking zone is a mile away from the falls. Shoshone Falls is about a mile from here, and you can enjoy the bird views, which you may not love much if you intend to see up close.
Visit the second viewpoint, which is further ahead, to get wider-angle views and closer panoramas of the waterfalls. If you are open to some outdoor fun, the other options, which are also better ways of viewing the Shoshone Falls, are taking the hiking trails or Kayaking to the bottom of the Falls. Continue to read further to find out how to do either of these.
SHOSHONE FALLS AFTER DARK
If you are here in May, there is a bonus thing that you will be treated. Like in Niagara, there is a show of sounds and lights running for about 2.5 hours, beginning from 9 PM to 11:30 PM. The dazzling lights create a magical experience, which is a unique sight to behold.
Thanks to its popularity, expect lots of crowds, and possible packed spaces for parking. It is best to get your timed vehicle passes in advance if you plan to enjoy the vibrant show.
GETTING TO SHOSHONE FALLS
Twin Falls is the nearest town, located about 7 miles from Shoshone Falls in Southern Idaho. The waterfalls are close to the borders of Utah, Nevada, and Oregon.
By road – The best way to visit the Falls is by driving here. From Boise in Idaho, you can reach Shoshone Falls within two hours. It can be reached in a three-hour drive from Salt Lake City.
From Twin Falls City – From Twin Falls City, you have to get on Champlin Road, which you can arrive at by following Falls Avenue eastward, or Addison Avenue East. After a while, Champlin Road will change into Shoshone Falls Grade, a steep, winding highway into the canyon. If you drive approximately a mile down the grade, you will reach the entrance of Shoshone Falls State Park.
For parking your car, continue passing through the entrance onto a second winding highway to the primary parking zone. This one gets packed during the peak season, so you might have to go back to the previous road to find another spot on your left, up the hill.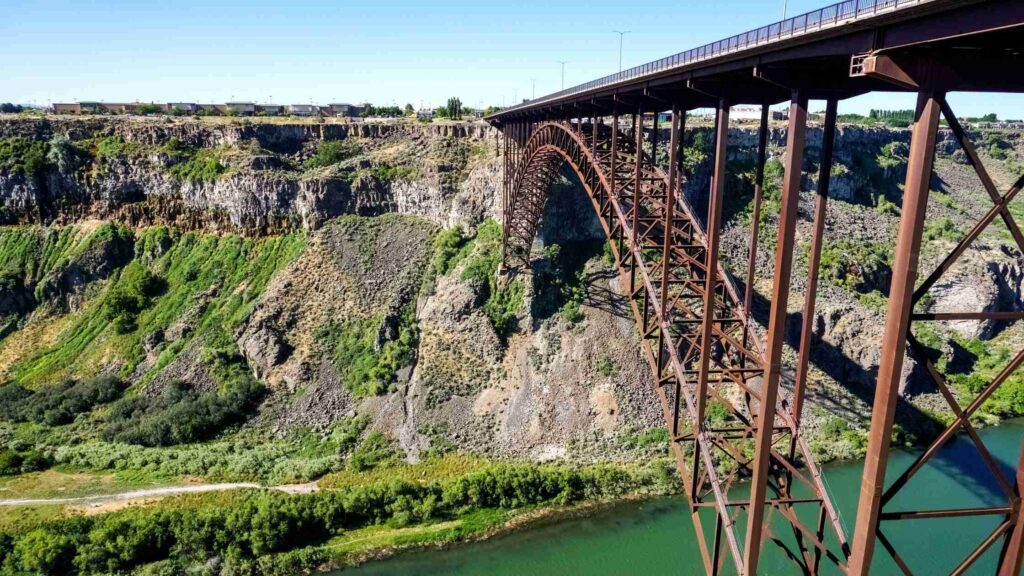 If you are flying to Idaho
If you plan a trip to Idaho, then Shoshone Falls should be a must-visit in your itinerary. Whether you are arriving from Boise or Twin Falls, you can fly to the nearest airport and rent a car to explore the places.
These are the airports to which you can fly to arrive in Idaho.
Magic Valley Regional Airport – The nearest airport arrives at Magic Valley, located in Twin Falls. But note that the flights are limited to Twin Falls, so it may not be feasible price or flying options wise despite its close location.
Boise Airport – Boise Airport is an international airport, so that you will have many options from different cities outside of the US. From Boise, it takes about 2 hours to reach Twin Falls.
Salt Lake City International Airport – Similar to Boise, this is an international airport offering many flights throughout the week. You can arrive from Salt Lake City, Utah, to Twin Falls, which takes around 3.5 hours.
BEST THINGS TO DO NEAR BY
Apart from visiting the waterfalls, there are plenty of activities for everyone when you plan a trip.
Go Hiking
If you do not have time or have other plans and Shoshone Falls is just a day trip, you can still explore some attractions and activities. To witness splendid views of the Falls and the Snake River Canyon, head out on any of the trails originating from the nearby Dierkes Lake Park, or the Centennial Parks.
The Canyon Rim Trail, a 12-mile trail extending from the western side of Twin Falls to the Shoshone Falls, is a popular trail that will give you glimpses of the town as well. The course starts outside the Twin Falls Visitor Center and runs in both directions. To visit Shoshone Falls, hike to the West of the Center, where it passes through a residential neighborhood, before continuing in Shoshone Falls Park.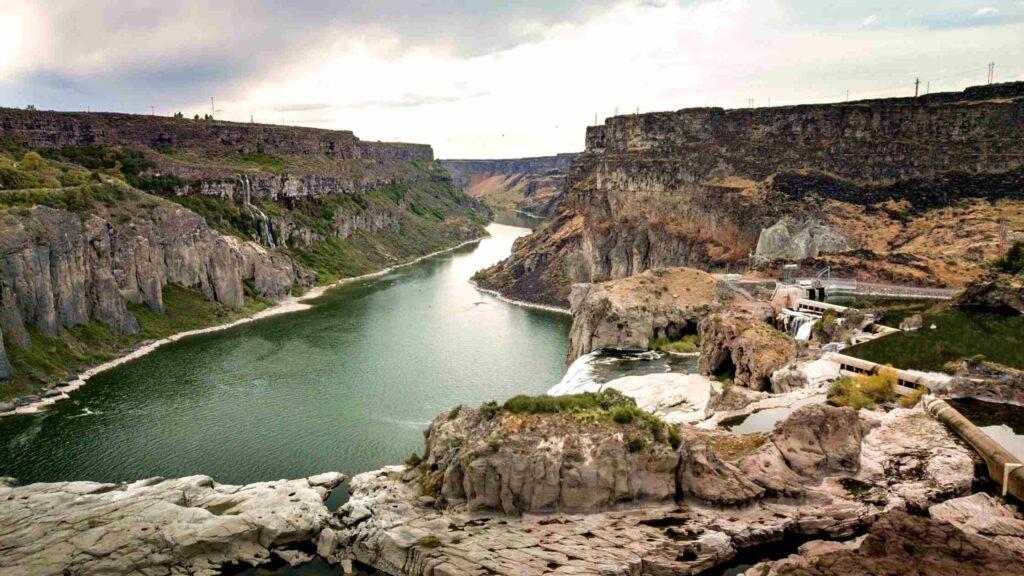 Shoshone Falls Observation Deck Trail is the easiest and the most popular, but you can check out the Dierkes Lake Trail.
These are easy or moderate trails requiring a few hours for the loop. But note that the path is steep, rocky, and damp as water levels rise during the high season. So ensure you wear good walking shoes and watch your steps. These trails are dog-friendly too, but keep it on a leash.
Try Kayaking
Unlike other waterfalls, you may not be able to swim in Shoshone, but it gets better. You can take up a daring adventure of kayaking to the bottom of Shoshone Falls, which is a 2 to 3 hours journey on the Snake River, depending on how far you would like to go.
Kayak rental can be arranged by AWOL Adventure Sports located in Centennial Waterfront Park. On your way, you can stop by Pillar Falls, get under the Perrine bridge, watch the base jumpers, and admire the stunning Canyon before arriving at Shoshone Falls. Kayaking depends on water levels and the weather, so make sure you check in advance if you plan to kayak to the falls.
Visit Dierkes Lake
One mile away from the waterfalls is the beautiful Dierkes Lake, which is more popular among the locals as most skip the park, despite sharing the entrance with Shoshone Falls Park.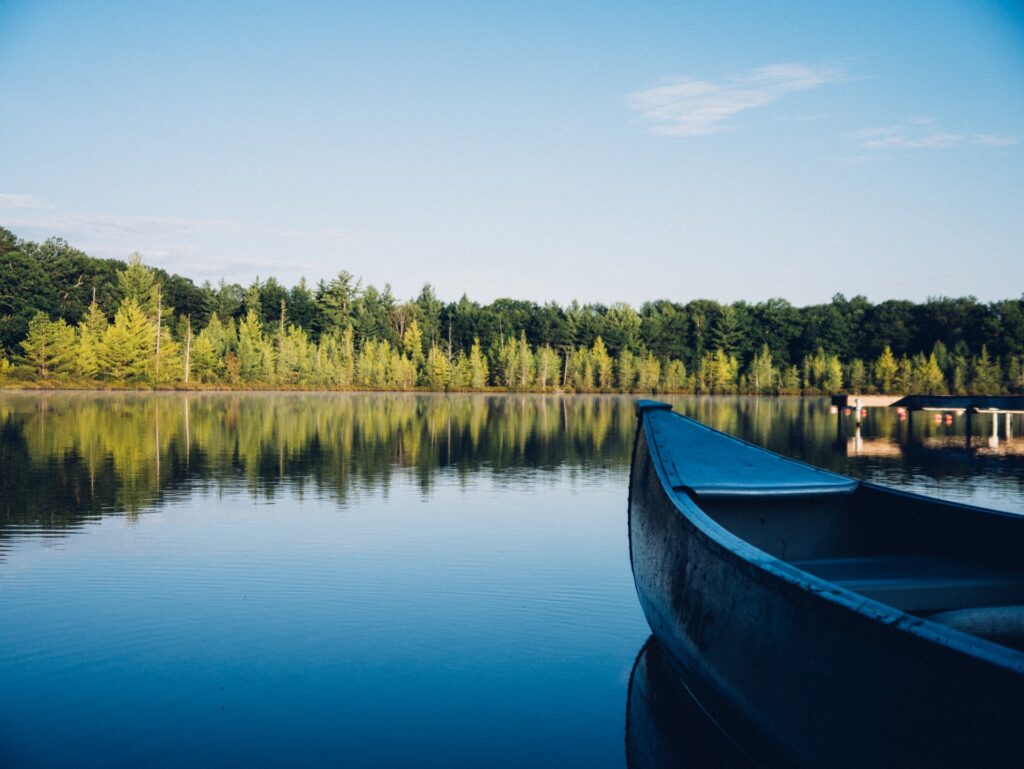 This vast area with acres of green space is famous for swimming, fishing, and hiking. In summer, you can enjoy boating as well. Did your know? You can dive in Dierkes Lake to reach the bottom, which is full of sunken treasures.
Enjoy Relaxing Picnics
There is plenty of green landscapes with excellent amenities for a picnic, like picnic benches that can be reserved, a BBQ area, areas in the shade, and relaxed seating to enjoy a picnic with your family or friends. After admiring the falls, you can rest in Shoshone Falls Park or Dierkes Lake Park.
Chase Other Waterfalls
If you are a fan of waterfalls like me, you are in for a treat. The magnificent Snake River and the upper Rockies have created many other waterfalls secluded amidst deep Canyons and rocky cliffs, many of them accessible through hikes, offering beautiful views.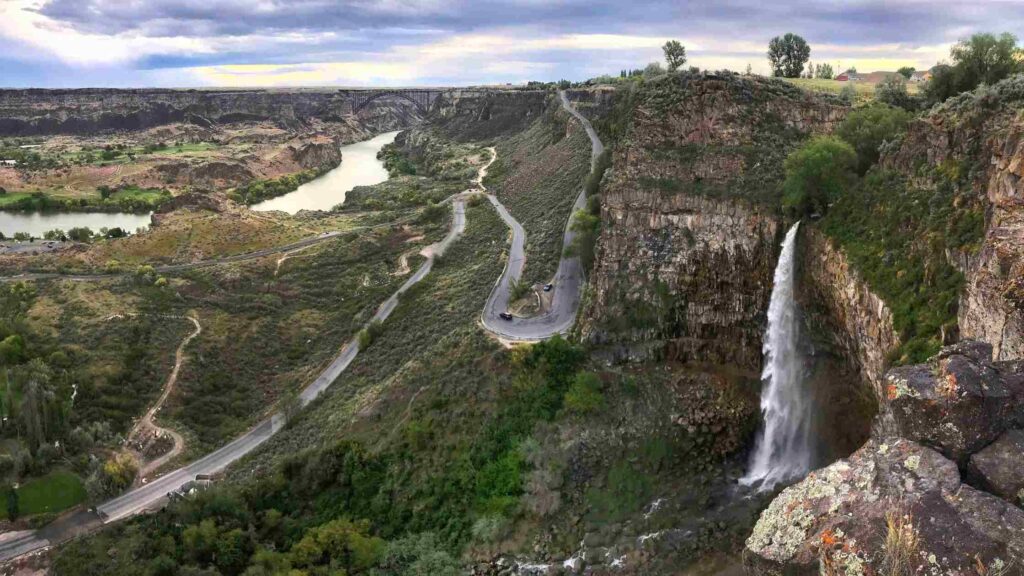 Check this post to find out about the top 15 waterfalls in Southern Idaho close to Twin Falls, many of them that you can add easily to your itinerary.
Explore Twin Falls
If you have more time and want to explore more natural attractions, you can base yourself in Twin Falls, which has plenty of awesome things to do. From visiting ancient museums to trying new brews to fishing and camping, you can spend at least three to four days enjoying loads of activities, something available for everyone.
Check here for 29 awesome things to do in Twin Falls, which is the detailed guide to plan your trip.
Plan Day Trips
Apart from exploring attractions in Twin Falls, the city is excellent for its central location to many other destinations easily reachable by short drives within 2 hours. The ideal plan would be to have a 4 to 5 days Twin Falls itinerary, where you can divide a day or two for nearby attractions and the rest for camping, fishing, and hiking activities.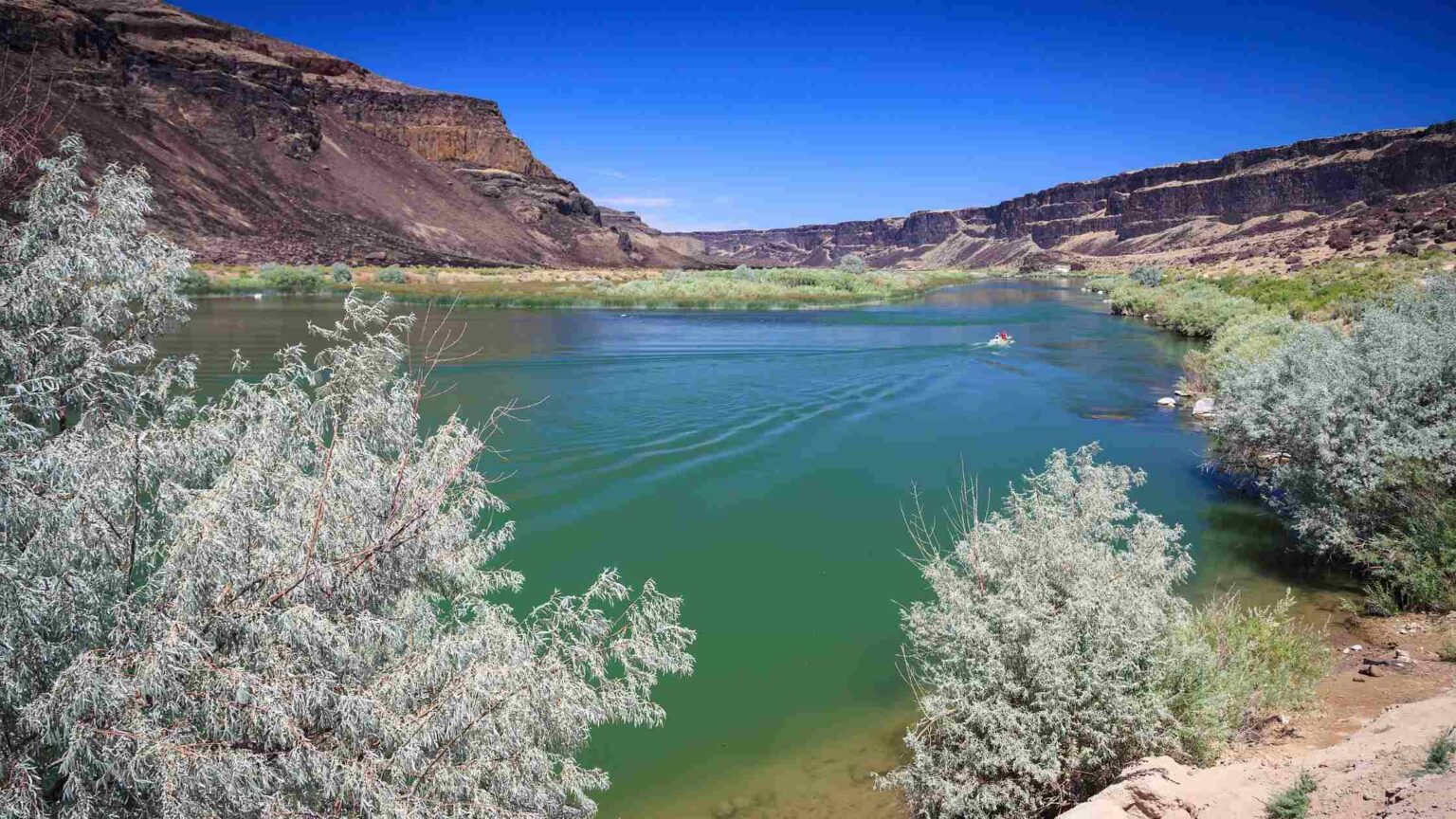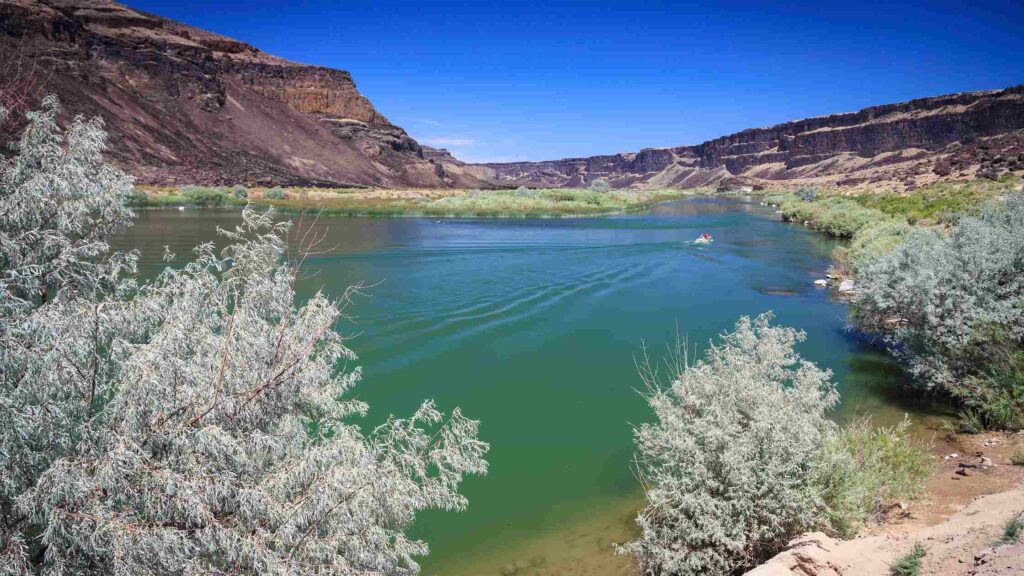 In this post, you will find 25 fabulous day trips you can plan from Twin Falls.
SHOSHONE FALLS CAMPING
You cannot go camping anywhere near the Shoshone Falls, but there are plenty of opportunities around, which will allow you to cover many beautiful attractions.
If you are looking for a family-friendly campground with excellent amenities like WiFi, showers, RV, and a close location, check out Oregon Trail Campground, located just outside Twin Falls. It is the perfect starting point for exploring Snake River and the Falls.
One of the closest is Lake Cleveland Campground in Sawtooth National Forest in Twin Falls, a popular destination for day-trippers and campers. If you want stunning views and access to Lakes, check out Independence Lakes Campground. 
FREQUENTLY ASKED QUESTIONS ABOUT SHOSHONE FALLS
Is Shoshone Falls worth seeing?
Shoshone Falls is one of the top attractions in Idaho and worth adding to your bucket list. It is regarded as the Niagara of the West. Shoshone is a spectacular waterfall definitely worth visiting, either on a day trip or a short stop on your road trip through Southern Idaho.
Is Shoshone falls dog-friendly?
If you wonder can dogs go to Shoshone falls, yes. All the nearby parks and attractions around Twin Falls are dog-friendly. But make sure you keep them on a leash and follow leave no trace principles cleaning up after.
Is Shoshone falls taller than Niagara?
At about 212 feet high, Shoshone Falls, nicknamed the Niagara of the West, is technically taller than the actual Niagara Falls.
Can you swim in Shoshone Falls?
No, you cannot swim next to the falls or up close anywhere. Dierkie's Lake nearby has a nice swimming area.
Can you paddleboard at Shoshone fall?
Yes, Paddle boarding is one of the top activities in Shoshone Falls for adventure enthusiasts. You can bring your paddleboard or rent them at Centennial Park, from where you begin paddle boarding to the waterfalls. But note that when the waterfalls are full and vigorous during the peak months, you may not be allowed to paddleboard up to the base of the falls. Instead, you can try in Dierkes Lake.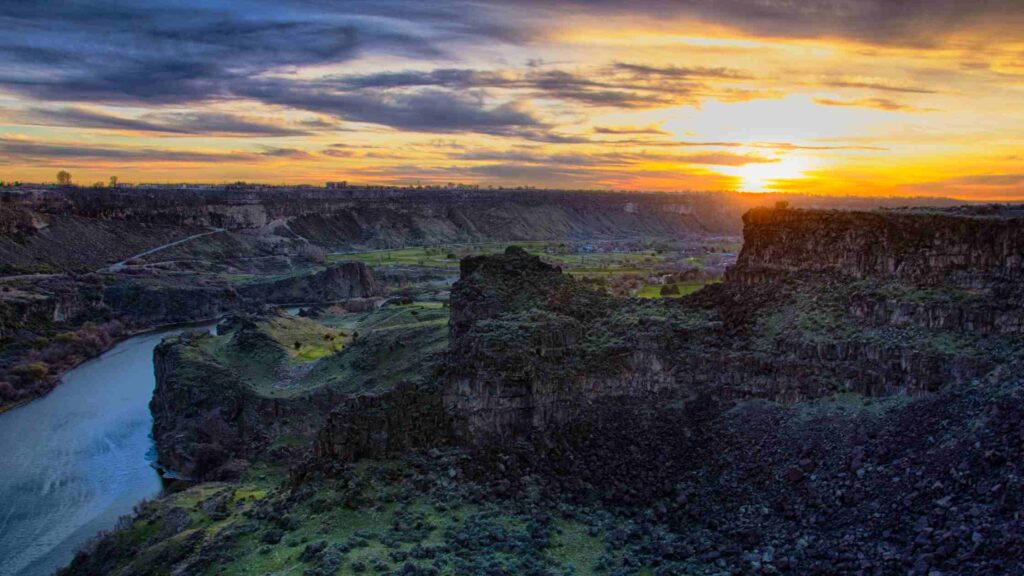 Is Shoshone falls the same as Twin Falls?
Many people wonder, are Shoshone falls and twin falls the same? No, they are not. Shoshone Falls is located in the city of Twin Falls. However, Twin falls are different waterfalls located two miles upstream of Shoshone Falls Park, off Falls Avenue, a part of Twin Falls Park. It is a day-use, 10-acre park with a picnic shelter. You can visit Twin Falls Waterfalls for free from 8 AM to dark every day.
How long is the Shoshone Falls hike?
The most famous trail that gets you close to the waterfalls is the Canyon Rim Trail, which is a paved 20.3 8 miles trail located near Twin Falls, extending from Shoshone Falls to the west along the Snake River Canyon. This moderate trail is ideal for walking and road biking, accessible year-round. You can take your pets there on a leash.
Can you drive an RV to Shoshone Falls?
You can drive an RV to reach the falls, but you cannot go down to the Canyon. There are two parking spaces near the waterfalls entry for parking RVs and trailers.
Is Shoshone falls open in the winter?
Yes, the waterfalls are open in the winter for visitors. However, depending on the time of the winter you visit, you will see either very little water flow or a frozen waterfall.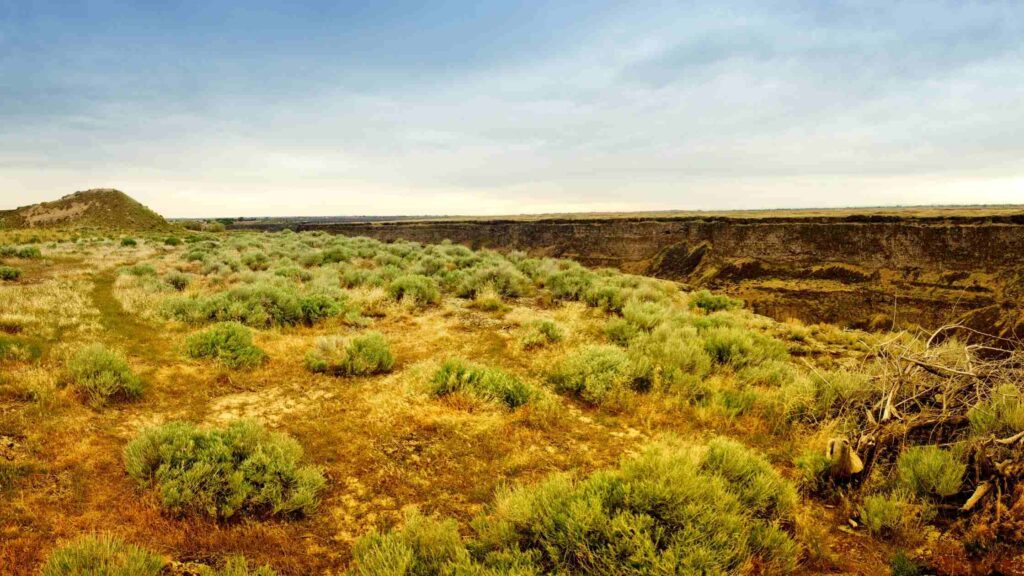 Does it cost to go to Shoshone Falls?
There is no entry fee for visiting the parks, hiking, or viewing the waterfalls. But between March 1st and September 30th, there is a parking fee of $5 per vehicle at Shoshone Falls Park and Dierkes Lake. You can also buy season passes at the Parks and Recreation office and at the ticket booth, which costs USD 25 per person.
Are there bathrooms at Shoshone Falls?
Yes, Shoshone Falls Park has picnic areas, viewing platforms, and public restroom facilities for its visitors. The Dierkes Lake Complex also has public restrooms.
How far is Shoshone Falls from Yellowstone?
From Yellowstone National Park, Shoshone Falls is about 300 miles if you want to travel by road.
How far is Craters of the Moon from Shoshone Falls?
The Shoshone Falls Park to Craters of the Moon National Monument & Preserve distance is about 100 Miles.
TOP TRAVEL TIPS & RESOURCES
Below is the list of the travel resources you can use to organize your travel – from flights to insurance and everything. These are the resources I use myself, which is why I recommend you for a hassle-free travel planning experience and fantastic trips.
Booking Flights
: To score flight deals, search on
Jet Radar
, Kiwi,
or
12go.Asia
(for Asia planning). Book and fly mid-week, taking red-eyes flights or those in the early mornings for better deals and lower prices. Avoid check-in bags on a budget airline.
Booking Trains:
The best websites for booking trains anywhere in Europe are
Rail Europe
and
TrainLine
. Both are easy to manage online and track your journeys.
Booking Cars:
For the best prices and easy handling of renting a car for road trips and day trips, I'd recommend
Discover Cars
or
Rental Cars,
available throughout the world.
Accommodations:
I typically use
HotelsCombined
or
Booking.com
to book hotels. There are special getaway deals with amazing discounts(over 50%!) for this year on Booking.com, and you can find them
here
.
I use
Hostelworld
and
Agoda
to book hostels as the deposit is low, easy change/cancellation is available and reviews are excellent on both. Depending on the destination, I love staying in
VRBOs/homestays
.
Travel Insurance:
No matter whether it is a short trip or longer trips abroad, I strongly recommend buying travel insurance for international trips. I recommend either
World Nomads
or
SafetyWing
for international travel insurance.
Tours:
Being a solo traveler, one of the best ways to optimize my time, budget, and super importantly, meet amazing people from all over the world is by joining tours, especially food tours, walking tours, day trips, culture, and history tours.
You will get a local's perspective, the best opportunities to experience places and people closely. I book using
GetYourGuide
,
Klook
,
Viator,
and
Voyagin.