There are plenty of incredible day trips from Twin Falls Idaho you can plan if you have covered all the amazing things to do in Twin Falls. This part of Southern Idaho is blessed with splendid terrain comprising high desert, gorgeous canyons, beautiful waterfalls, hot springs, many pretty lakes, distinct rock formations, lava tube caves, and fantastic national parks home to rich wildlife and flora. So spare a few days to pick some of these amazing attractions that you can explore basing in Twin Falls for a few days.
In this post, you will find a comprehensive collection of the best day trips from Twin Falls, including all of the above. Read further to shortlist what you like to add to your itinerary.
BEST DAY TRIPS FROM TWIN FALLS IDAHO – NATIONAL RESERVES
Hagerman Fossil Beds National Monument
Among the popular day trips from Twin Falls Idaho, tourists plan a visit to Hagerman Fossil Beds National Monument. Visiting this center lets us know how this region filled with stunning waterfalls and beautiful rivers was once a flourishing home to many wild animals.
Located about 40 miles away from Twin Falls, the visitor center is a treasure trove of unique fossils of prehistoric animals unearthed from the Hagerman Fossils Bed, including sabretooth cats and bears mastodons, ground sloths, and even camels, all dating back to at least three million years. The bed continues to surprise biologists and geologists even today, as more than 3,000 new fossil fragments are found each year.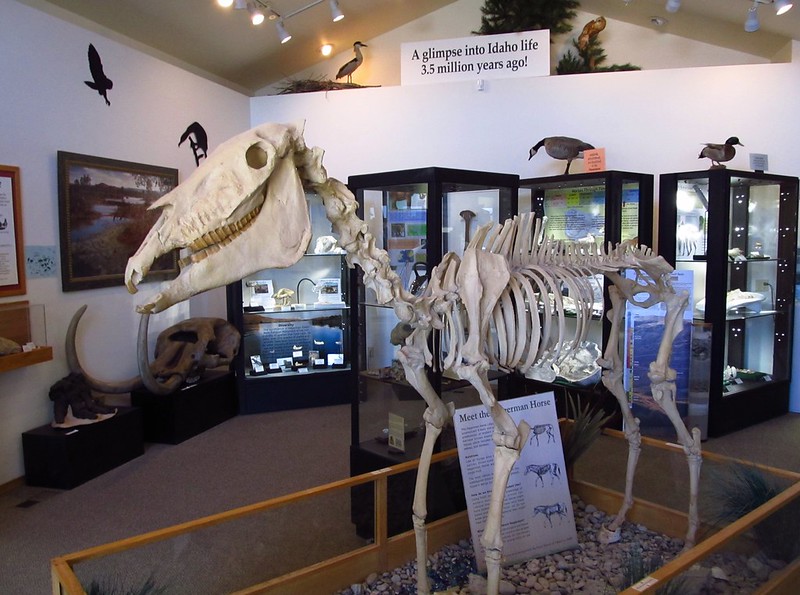 This well-curated museum is a must if you enjoy the history and evolution of life. Among the most precious collections is the full-cast replica of the fossilized horse, Hagerman Horse or Equus simplicidens, considered a link between prehistoric equines and modern horses. This horse fossil, which was like a zebra due to stripes, is regarded as the state fossil of Idaho.
The famous Oregon National Historic Trail runs through the monument, a part of which can still be explored. You can explore the museum free of cost, beginning at the Visitor Center, so make sure to include this monument in the list of things to do near Twin Falls.
Opening hours – Fridays, Saturdays, and Sundays from 10 AM to 4:30 PM
Craters of the Moon National Monument
About 100 miles to the northeast of Twin Falls, lies Craters of the Moon National Monument, one of the fantastic day trips from Twin Falls Idaho you should check out.
You cannot miss feeling the otherworldly experience as you glance at a volcanic-strewn environment, appearing like a sea of lava flows as if being on the moon. This alien terrain featuring lava tubes and rugged, unparalleled wilderness was created by eight volcanic flows between 15,000 and 20,000 years ago, resulting in some of the most distinctive geological formations in the world.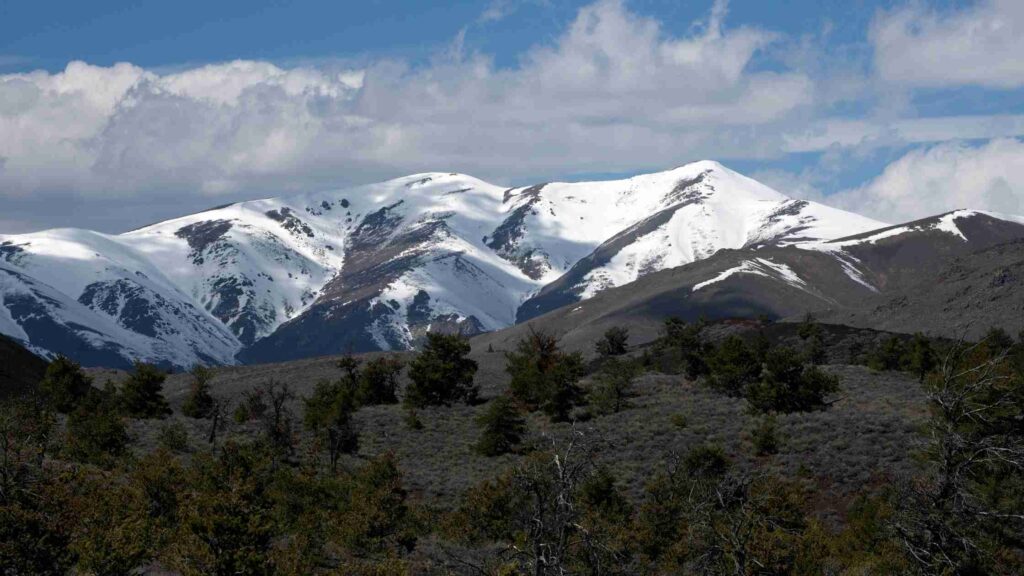 If you love camping, you should check out the Lava Flow Campground, one of the best campgrounds in Idaho, where you spend the nights amidst the lava rocks, along with recreation vehicles and tent campers.
The other popular activities at Craters of the Moon are hiking and caving. The best trail is the 2-miles long Broken Top Loop Trail, which passes through tons of volcanic landscapes home to swathes of black rocks and tubes.
Caving within the lava tubes of Craters of the Moon requires a permit, and so does camping. You can collect both permits from the Ranger Station.
Visit The Minidoka National Historic Site
Another day trip you might want to consider while exploring Twin Falls is the Minidoka National Historic Site, located about a 30-minutes drive away in Magic Valley in Jerome County. This place is a memorial and tribute to thousands of Japanese and Japanese-American men incarcerated during World War II.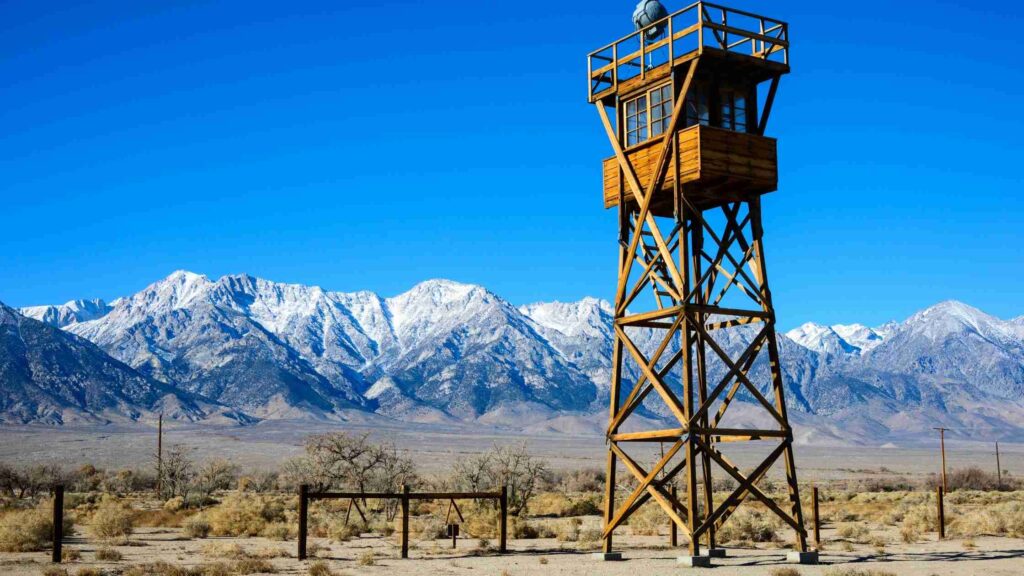 Visitors explore one of the most painful chapters in the nation's history as they know about the past. After the Pearl Harbor attack in 1941, 120,000 ordinary people were forced to leave their homes and jobs and spend the rest of WWII in camps like this one, upon the orders of then-President Franklin Roosevelt. Following this, more than 10,000 internees were transferred to this spot in the high desert of Southern Idaho, included many ordinary families and notable people.
Check out the memorial on a 1.6-mile self-guided trail. There is also a visitor center with exhibits and a feature movie about the site.
Opening hours – Fridays and Tuesdays, from 10 AM to 5 PM. There is no fee to enter this site.
The City Of Rocks National Reserve
One of the fabulous day trips from Twin Falls worth planning is a visit to the City Of Rocks. Located about 88 miles southeast of Twin Falls at the south end of the Albion Mountains, this 14000 acres national reserve consists of mystical geological formations comprising spires, arches, gorges, hoodoos, mushroom caps, domes, pinnacles, and other unique rock formations.
The reserve boasts over 600 climbing routes that range from 30 to 600 feet long, make it one of the top sites in Idaho for rock climbing. The park is also famous for hiking trails, mountain biking, landscape photography, camping, off-roading, and bird watching, with over a hundred wild bird species residing here.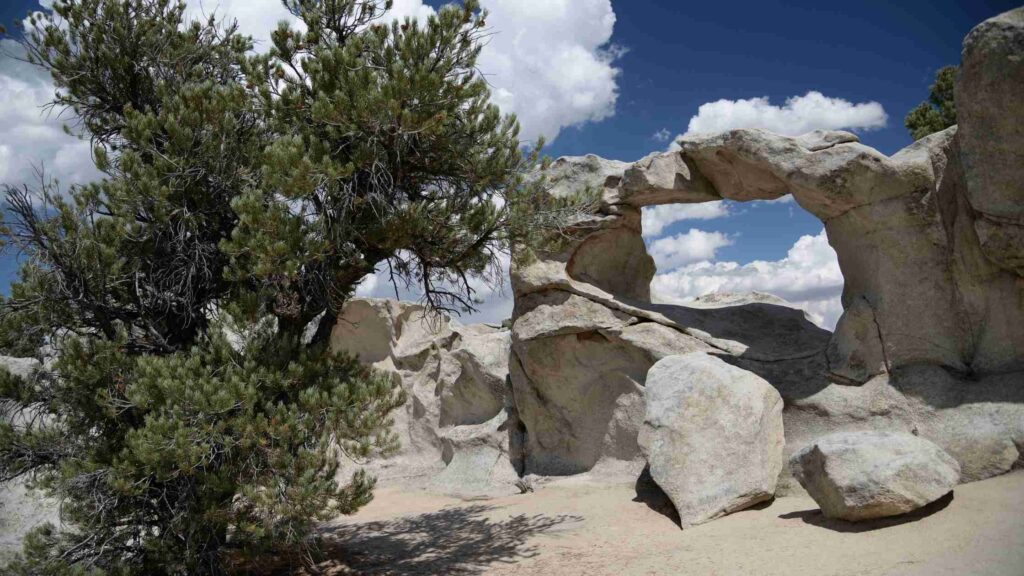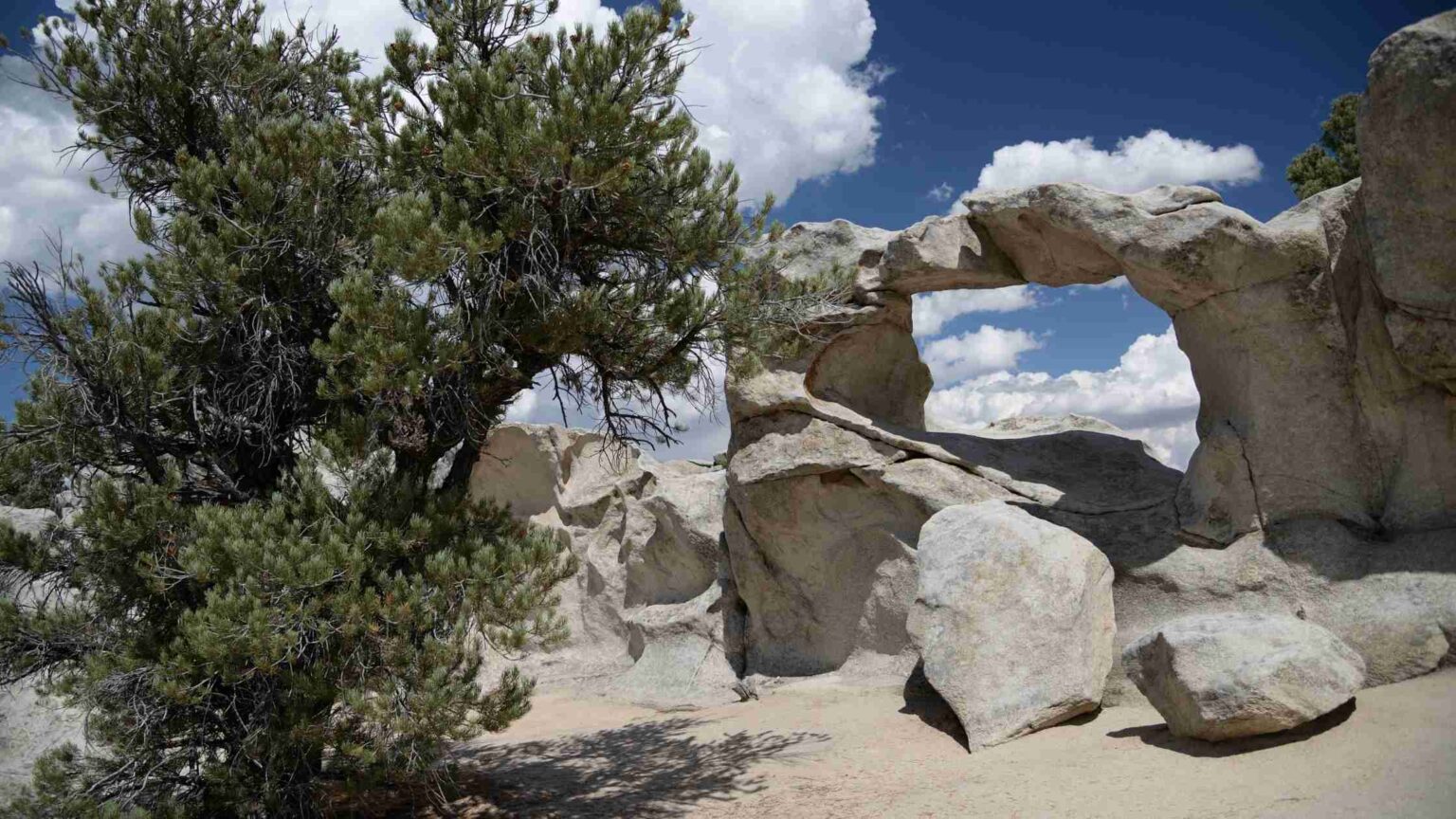 Spring is a beautiful time to explore the City Of Rocks as the landscapes are carpeted with wild spring flowers, coloring the otherwise arid valleys. If you are into photography, don't miss capturing the landscapes around sunrise and sunsets, and also at night, stargazing is a fantastic experience from here.
Opening hours – Throughout the year. Camping needs prior reservation. No permit is required for rock climbing.
Castle Rocks State Park
Located two miles northwest of the village of Almo in southern Cassia County, Idaho, a day trip to Castle Rocks from Twin Falls is also a drive through the countryside of Idaho. Nestling in Big Cove at the base of Cache Peak in the Albion Mountain, this public park spanning over 1700 acres is known for its abundant natural beauty, loads of hiking trails passing through gorges, cascades, and streams.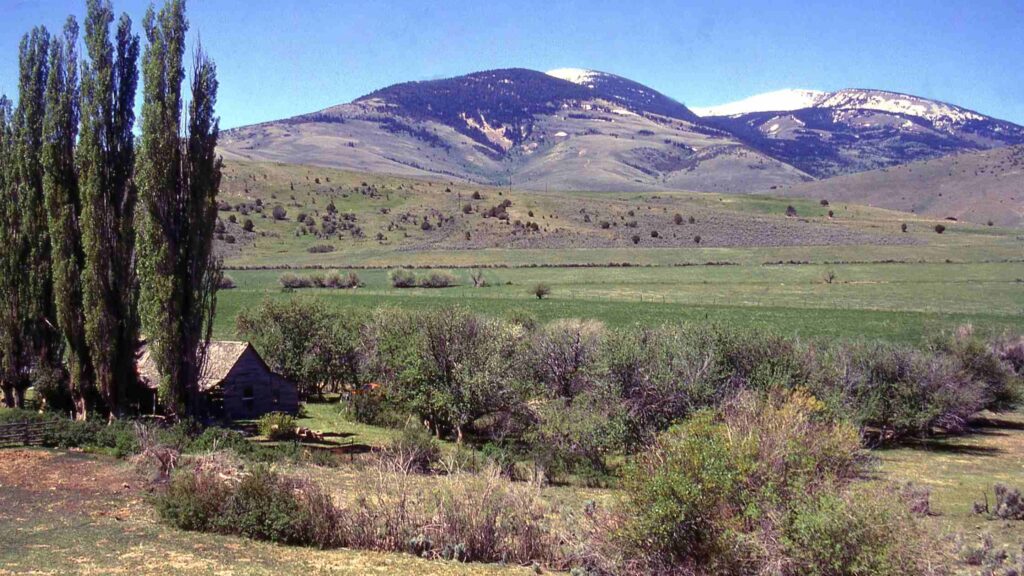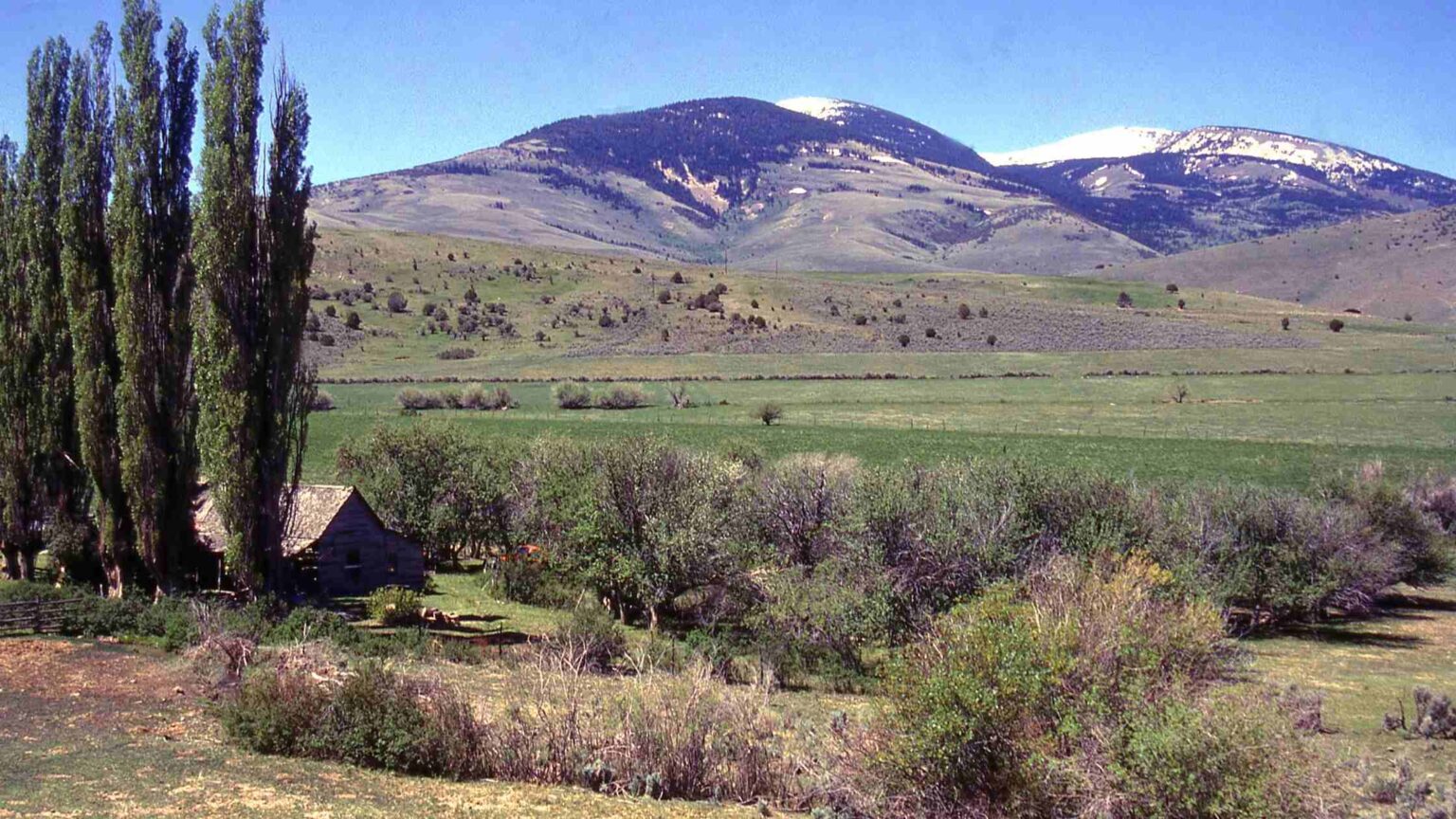 The panoramic views of the towering Cache Peak and the surrounding mountains are some of the top takeaways of Castle Rock. The park also has a rich history of ranching. You can see remnants of the ranch that was first homesteaded in 1888 when it was private property.
The diverse landscape of Castle Rocks State Park attracts rock climbers from around the world. You can enjoy mountain biking, camping at the foot of the mountains surrounded by pine forests, and hiking along more than 35 miles of trails, many with steep slopes. One of the famous trails is the beautiful Skyline-to-the-Sea Trail connecting Castle Rock with Big Basin Redwoods State.
Balanced Rock
Just a 30-minute drive southwest of Twin Falls near Buhl, Idaho, is one of the most accessible day trips you can plan impromptu. You will arrive amidst distinct geological formations, rock arches, and deep gorges in the valley.
But the showstopper is the famous Balanced Rock, dominating the landscape at over 48 feet tall and at least 40 tons, perched precariously on a pedestal only 3 feet by 17 inches.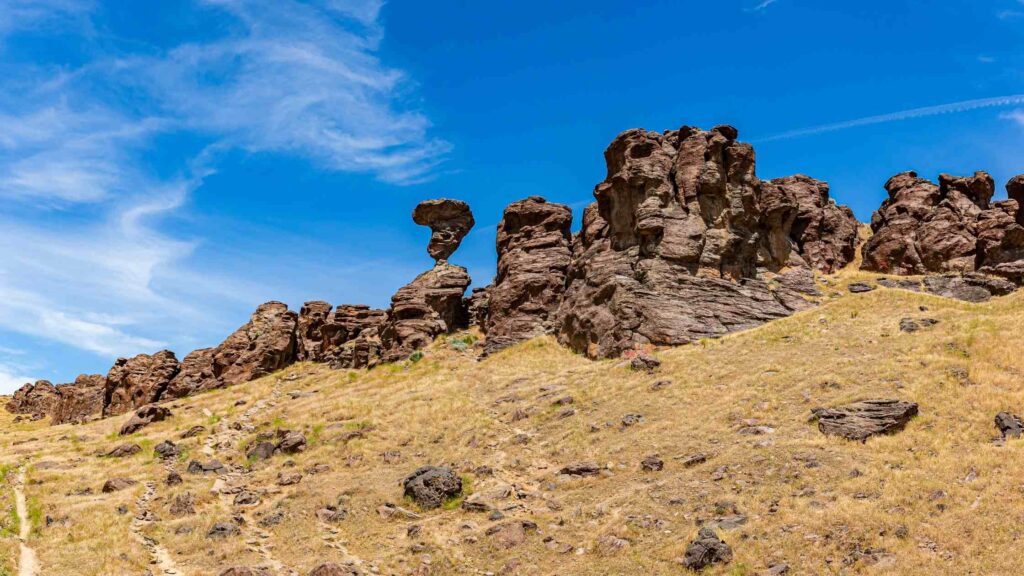 Carved from the rhyolite lava on the canyon cliffside, it is one of the best icons against stunning sunsets and sunrises in the backdrop. The trailhead for Balanced Rock is located west of Balanced Rock Park. It is short but a steep hike to the point of getting up close to the rock.
If you are into photography, you will love capturing the beautiful colors of dusk and dawn. If you are passing by to stop here, it is best to arrive sometime before sunset to find the best spot for capturing.
The nearby Balanced Rock Campground is an excellent spot for a picnic or camping if you want to stay overnight to witness the sunrise.
Sawtooth National Forest
One of the beautiful Twin Falls day trips you will love is visiting the massive Sawtooth National Forest, which spreads across more than 2.1 million acres of area in south-central Idaho and northern Utah, covering towns in Twin Falls, Fairfield, Ketchum, and the Sawtooth National Recreation Area near Stanley.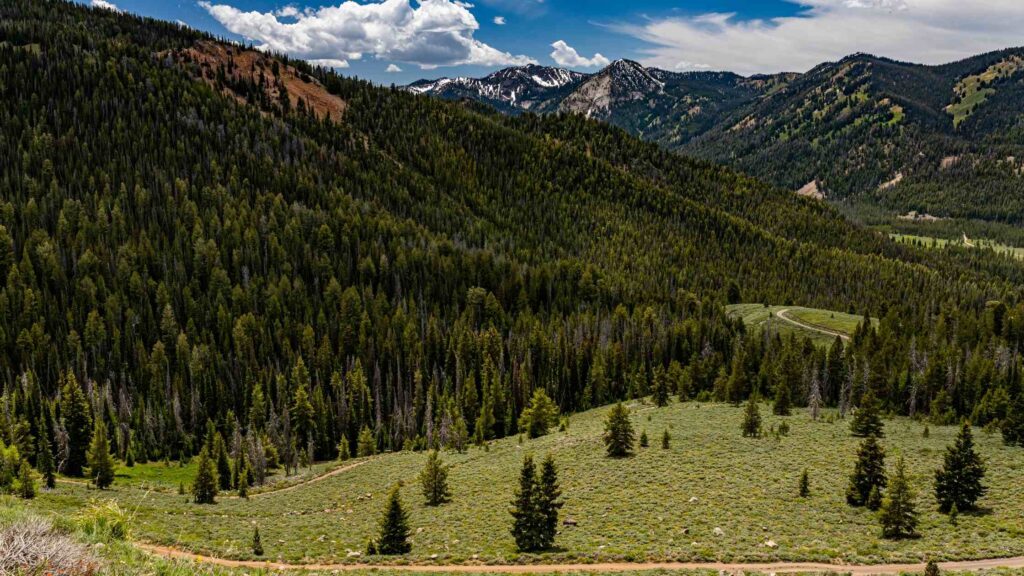 The forest also has a 754,000-acre Sawtooth National Recreation Area, and you can access the Sawtooth National Forest from Twin Falls with a two-hour drive. The forest is home to more than a thousand lakes, over 3000 miles of rivers, cascades, and streams filling the gorges, including the important Salmon, South Fork of the Boise, South Fork of the Payette, and the Wood Rivers running through deep jungles.
Depending on the town you plan to go to in southern Idaho, you can explore different parts of the forest flourishing with rich flora and fauna, fantastic landscapes throughout the year. You can enjoy a wide range of outdoor activities no matter where in the forest, from hiking the many miles of beautiful trails, kayaking, mountain biking, rock climbing, fishing, camping, or planning picnics in the spring and summer seasons.
If you are here in winter, you can enjoy snowshoeing and cross-country skiing. If you are looking for day trips from Twin Falls Idaho in the Sawtooth Forest, the Hummingbird Trail is one of the most beautiful things, easily accessible from Twin Falls. It is a sanctuary for hummingbirds that migrate from Mexico to Canada, and they make homes in the pine trees adorned with hummingbird feeders arranged by local volunteers.
The best time to plan a trip to Hummingbird Sanctuary is late Spring through early fall. The entry to the trail is free, but you need a permit for camping and also reservations if you want to access the main campgrounds.
Wahlstrom Hollow South Hills
Located near Magic Mountain and around 30 miles away from Twin Falls, Wahlstrom Hollow is one of the things to do near Twin Falls. It is a unique landscape formed out of volcanic remains, and today, hoodoos, arches, distinct rock formations dominate this high desert landscape.
Mountain biking is a popular activity in Wahlstrom Hollow, with avid bikers trying their skills navigating through the arduous trails involving many steep and narrow paths.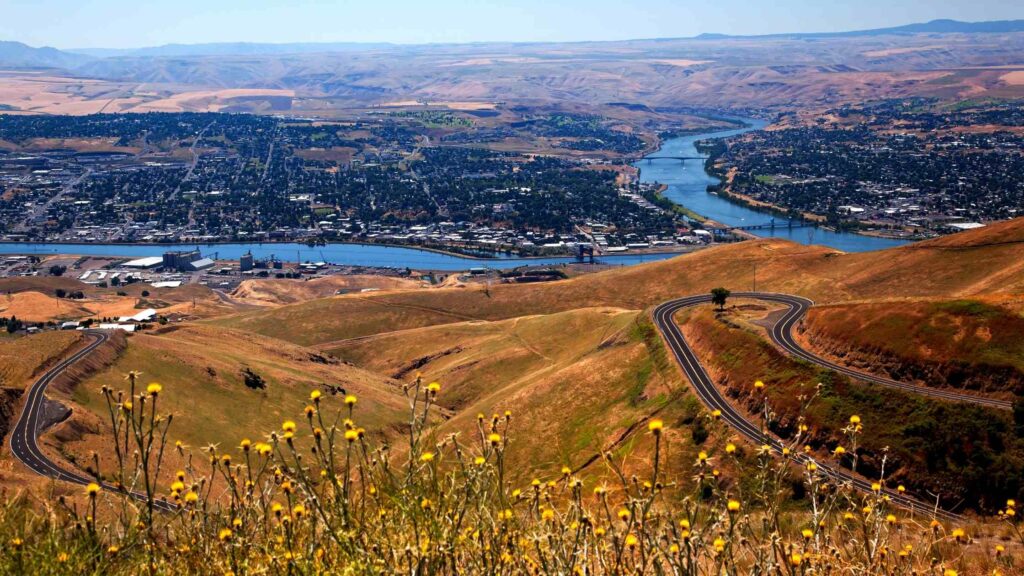 You can also enjoy hiking and camping. You can combine hiking trails around the Creek and the Third Fork. If you are here in winter, snowshoeing is one of the best activities you will love doing here.
There are no fees to enter Wahlstrom, but you need permits for camping. It is a deserted area with few amenities or comforts. So be sure to pack water, snacks, proper layers, and footwear before heading here.
DAY TRIPS FROM TWIN FALLS IDAHO – CAVES AND CANYONS
Shoshone Ice Caves
The Shoshone Ice Cave natural wonder is one of the popular day trips from Twin Falls Idaho most tourists plan on their Twin Falls itinerary. The popularity of these caves is not a surprise considering the beauty and the fascinating ecological formations.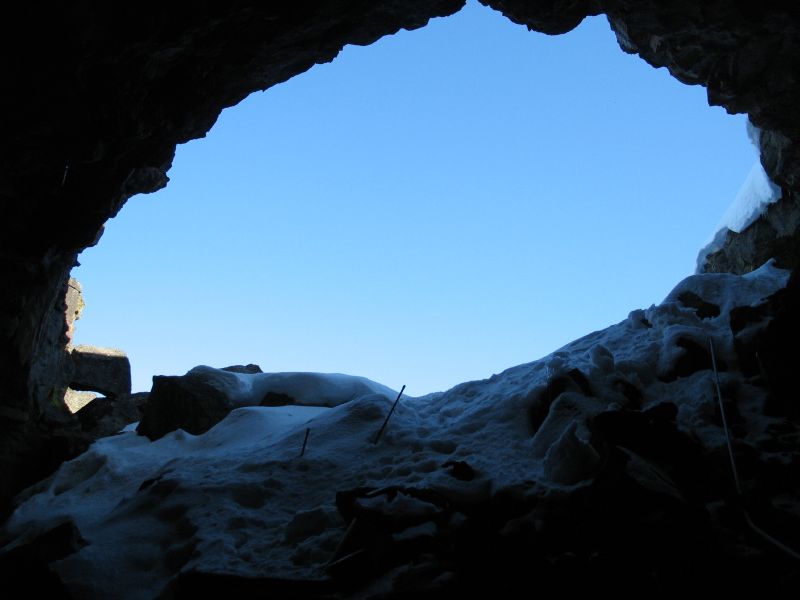 The ice cave is a lava tube that is 1,000 feet long, with an ice depth ranging between 8 and 30 feet in height. Take a guided tour to know about this unique wonder and the phenomena. The Shoshone Indian Ice Caves features below-freezing temperatures all around the year, making the subterranean water freeze with the top ice depth being 30 feet.
So even in the middle of a hot summer, you will need to dress in layers when you are here. Visit the museum while you are here that has excellent exhibits of Native Indian artifacts, gems, and minerals.
The entry price is USD 12 per adult and USD 8 for children between 4 to 12 years.
Opening hours – 9 AM to 7 PM
Malad Gorge State Park
Located in Thousand Springs Park is the spectacular 250-feet deep Malad River Canyon, 2.5 miles long, passing through stunning vistas filled with rocky cliffs, pine forests, and cascades. This 451-acre park, located just off Interstate 84 at the Tuttle exit, is one of the best day trips from Twin Falls Idaho, you will love it for many reasons. 
Recommended For You – 15 Stunning Waterfalls In Southern Idaho You Should Visit
The Malad Gorge is formed by the roaring Malad River crashing down stairstep falls and into the Devil's Washbowl through a beautiful 250-foot gorge on its way to the Snake River. The bridge offers the best viewing spots of the valley.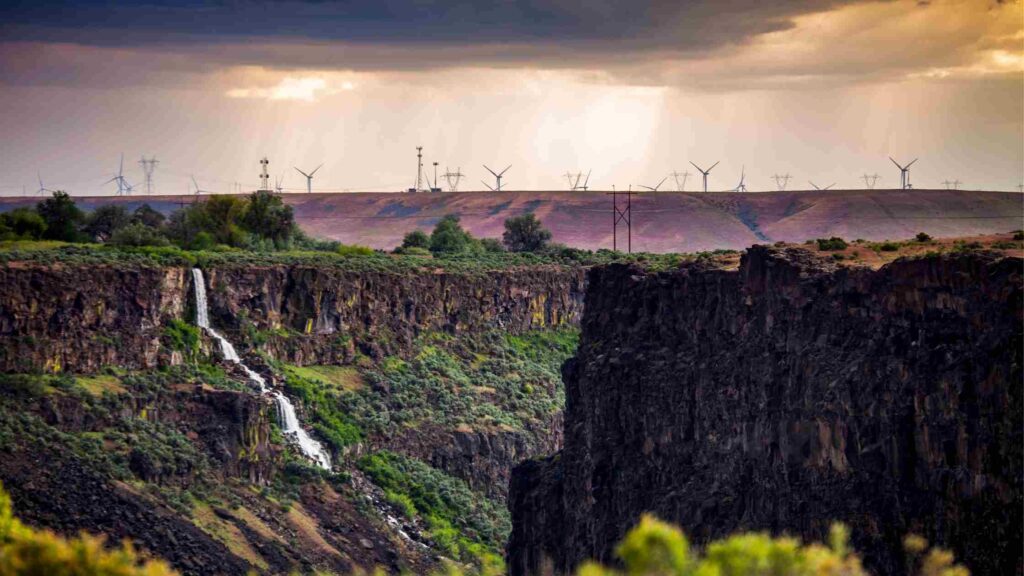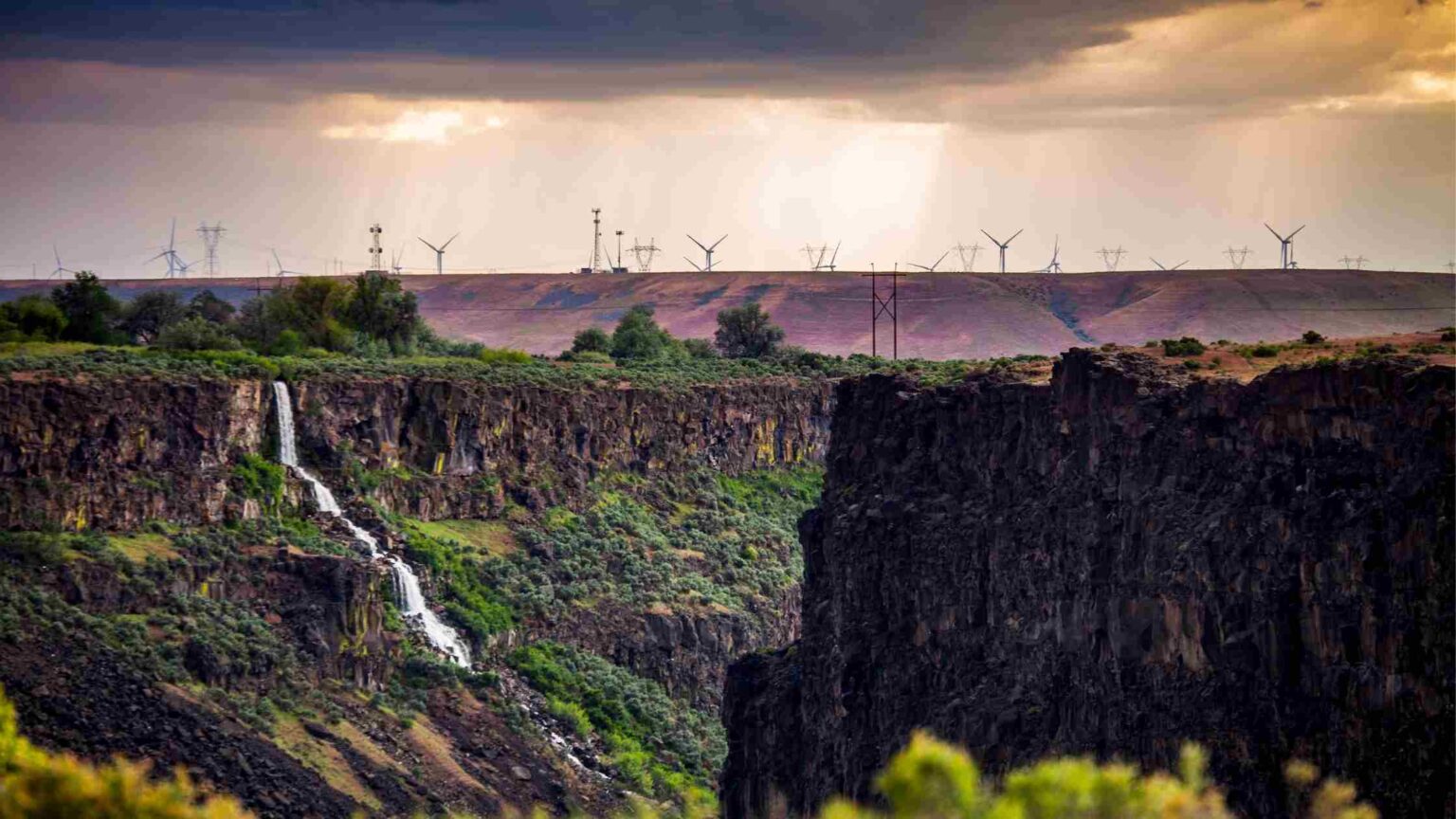 Head to Malad Gorge State Park to view the Canyon and walk along the rim. Or enjoy other hikes, plan picnics or capture the stunning vistas on your cameras – No matter how you want to explore Malad Canyon, you will love being outdoors here, which is home to one of the best waterfalls near Twin Falls in Southern Idaho.
You can take a short hike close to the bottom, where you can watch crystal clear springs and ponds. From the footbridge, photographers delight in watching the interplay of light and shadows that consistently change the character of the craggy cliffs.
Opening hours – 8 AM to 4 PM.
Idaho's Mammoth Cave
One of the gorgeous day trips from Twin Falls popular among its visitors is the Mammoth Cave In Idaho, located 7 miles south of Shoshone. This volcanic lava tube cave has different museums with exhibits of rare animals and artifacts from across the world.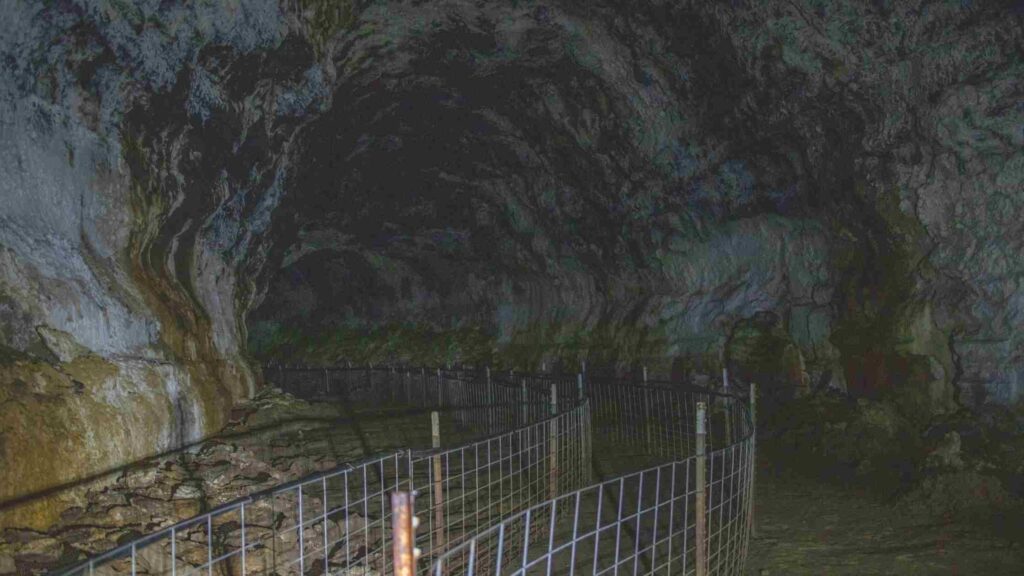 The best part is, you can take a self-guided tour of the Mammoth Cave, following the map. There is a well-laid boardwalk and lanterns are provided. You can carry flashlights with you. It is colder in the cave, so best to carry a jacket. Also visit the Shoshone Bird Museum next door, which has wonderful artifacts of extinct birds, reptiles, and mammals.
The price is USD 12 per adult and USD 6 for kids between 6 to 12 years. Admission prices include both the cave and museum. No reservations are required.
Opening hours – 9 AM to 7 PM all days
Earl M. Hardy Box Canyon Springs Nature Preserve
Just west of Twin Falls is Earl M. Hardy Box Canyon Springs Nature Preserve or Box Canyon State Park, one of the five units that make up Thousand Springs State Park.
Not many know that it is home to the Eleventh largest spring in North America. Once you park in the new parking lot, follow the farm road/dirt trail for about a mile, and you will see the first glimpses of the Canyon. Continue through the course to arrive at the first beautiful natural pool, the crystal clear blue color of the springs will make you fall in love with the Canyon instantly for sure.
You can stop here for a while, enjoy swimming, fishing, relaxing, and taking in the views. Once at the base of the Canyon, if you keep following the trail further from here, you will come across stairs leading to the stunning waterfalls gushing from 20 feet above, which is a splendid sight to behold.
Recommended For You – Plan a Trip To Shoshone Falls In Twin Falls
The fun continues still. After you are done admiring the falls, continue through the forest area, which you lead to another beautiful turquoise pool, perfect for cooling off after all the hike. Some of the other activities in this area you can enjoy are fishing and biking.
Tea Kettle Caves
One of the most iconic caves to see is Tea Kettle Cave secluded in the Southern Idaho desert. An hour north of Twin Falls, located outside Gooding, this is one of the many caves formed due to the volcanic activities thousands of years ago.
The road to the cave is not flat but filled with boulders and desert bush, so it needs a 4WD or a car with high clearance. If you do not have one, you can park it a while back and take a short hike. It is named so because of its little pout, which forms the entrance to the cave, through which you have to crawl.
As you follow the trail in the cave, be sure to avoid the fern and beware of snakes common in this part of Idaho deserts. There is little sunlight, so carry a flashlight, or your phone's light will do. Visit in the late afternoon when the sun rays are the strongest, reaching bits of the cave floors. The first stop on your walk is the Dead Horse Cave, which has stairs and benches on the side. The weather is hot outside but is colder in the caves, so dress in layers and wear good shoes.
TOP DAY TRIPS FROM TWIN FALLS IDAHO – LAKES, RESERVOIRS & HOT SPRINGS
If you are looking for picnics, fishing, and camping by the lakes, check this list for the day trips from Twin Falls Idaho for spending time in nature.
Plan Trips to the Nearby Hot Springs From Twin Falls
Idaho is well known for its plenty of beautiful hot springs, so make the most of your time by planning day trips from Twin Falls Idaho, to the nearest ones in Buhl, accessible under an hour's drive each. Combine your visit to include both Banbury Hot Springs and Miracle Hot Springs, two famous thermal baths 5 miles apart, perfect for a rejuvenating day after lots of outdoor activities and sightseeing in Twin Falls.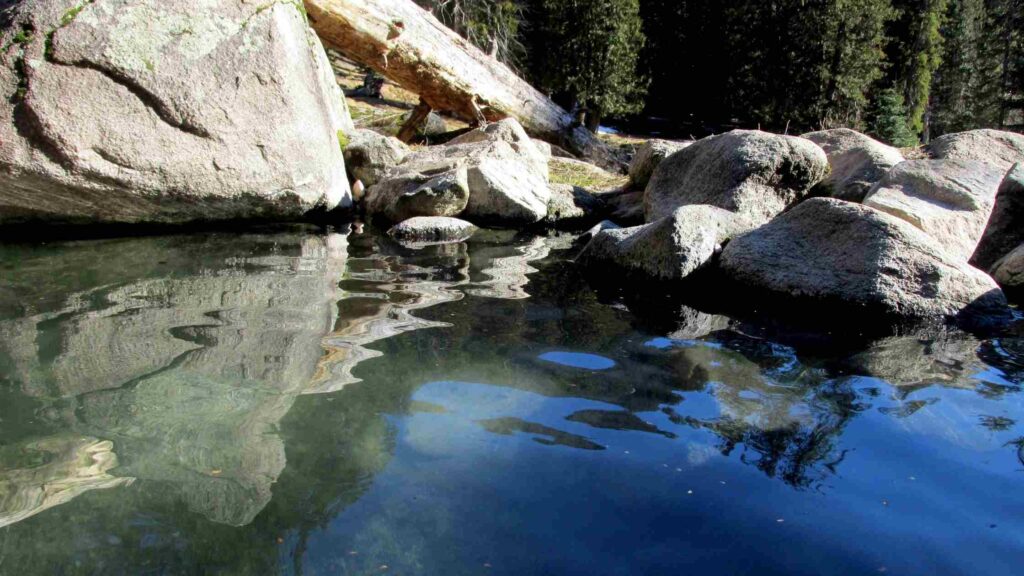 Miracle hot springs Idaho has many natural hot springs and pools of different types, from private hot pools to private VIP pools rich in minerals, relaxing your body and mind. Also, you can take a therapeutic massage offered at Miracle Hot Springs by specialists. You can also spend overnight there as they provide comfortable accommodation on their premises. You can choose from cabins and cottages. Or, you can also choose to go camping on the site.
Banbury Hot Springs has an excellent location with many thermal baths as well as large pools, vintage-themed. Close to the river is a campsite and ground for RVs and trailers. You can stop for a few hours or extend your stay by spending overnight for continued relaxation, amazing views, and fun.
Camas Prairie Centennial Marsh Wildlife
Located 84 miles ahead of Gooding in the north of Twin Falls, this is one of the best day trips for nature lovers. The 2-hour drive to Camas Prairie Centennial Marsh Wildlife, a 3000-acre wildlife management area in Fairfield, is worth your time for all that this gorgeous bushland has to offer.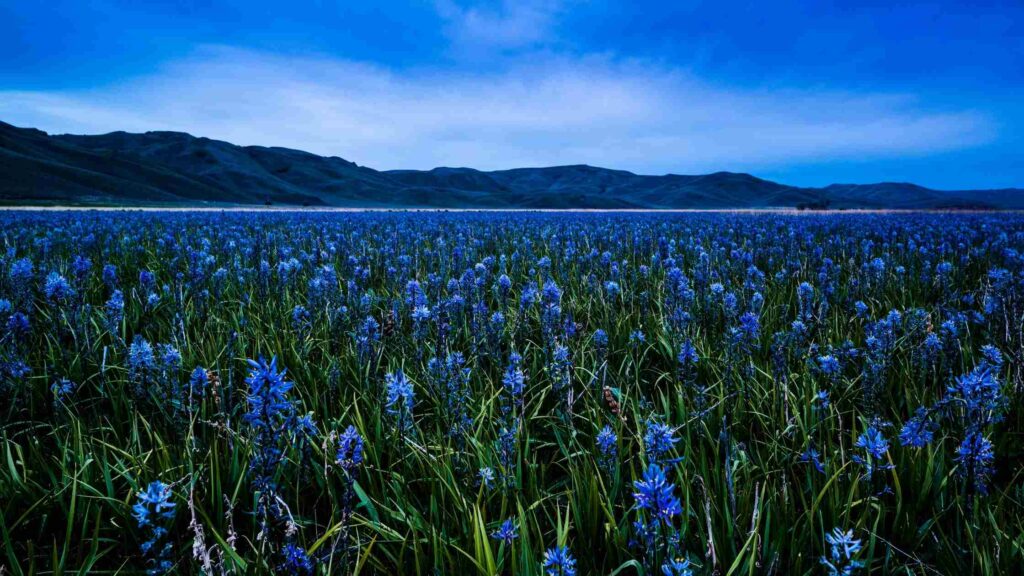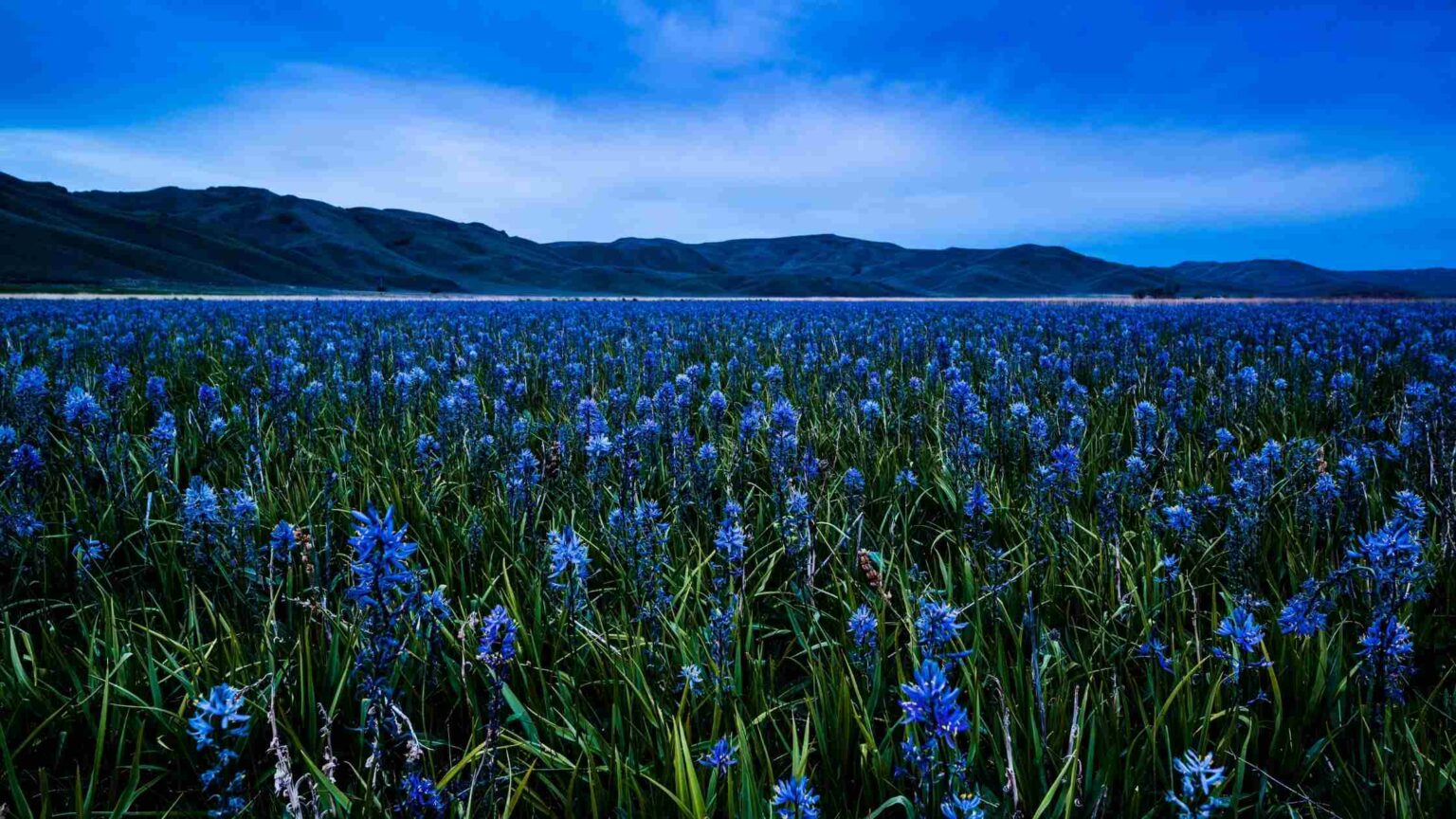 The Centennial Marsh area is most famous for its fantastic display of the Camas Lillies, which flood the landscapes here in spring. Camas lilies bloom beginning in late May until early June, which is the best time to visit the marshland. If you are here in this brief period, you will love the flocks of wild birds attracted by the Camas, including Canada geese, gadwalls, American wigeons, redheads, ruddy ducks, and blue-winged and cinnamon teals.
Historically, the Camas Prairie was the main Camas gathering area and summer hunting grounds for the Native American Bannock, Shoshoni, and Northern Paiute tribes that collected the Camas Lily bulb and roots as a food source. Today, the communities celebrate the bloom with the annual Camas Lily Days the first weekend in June.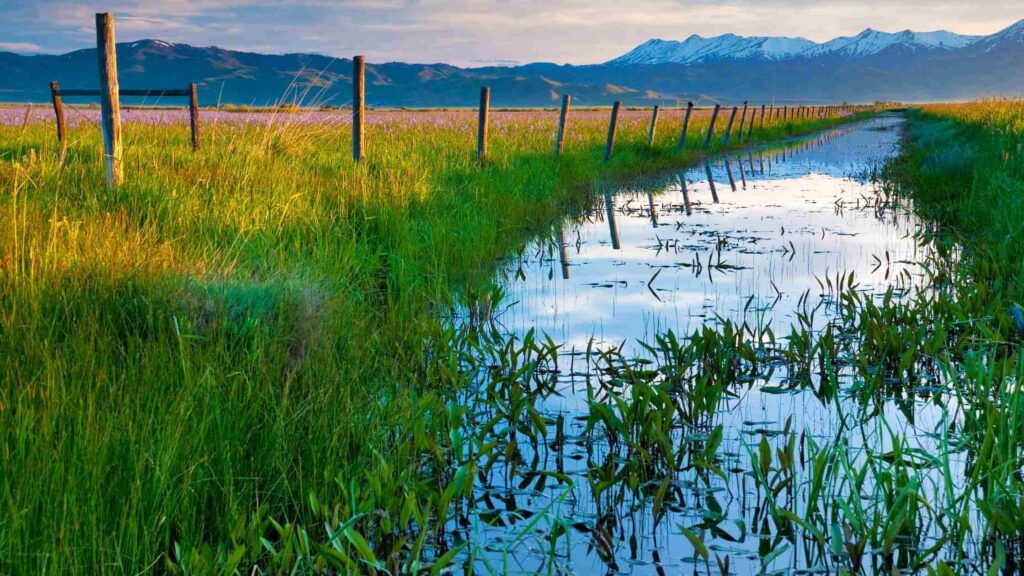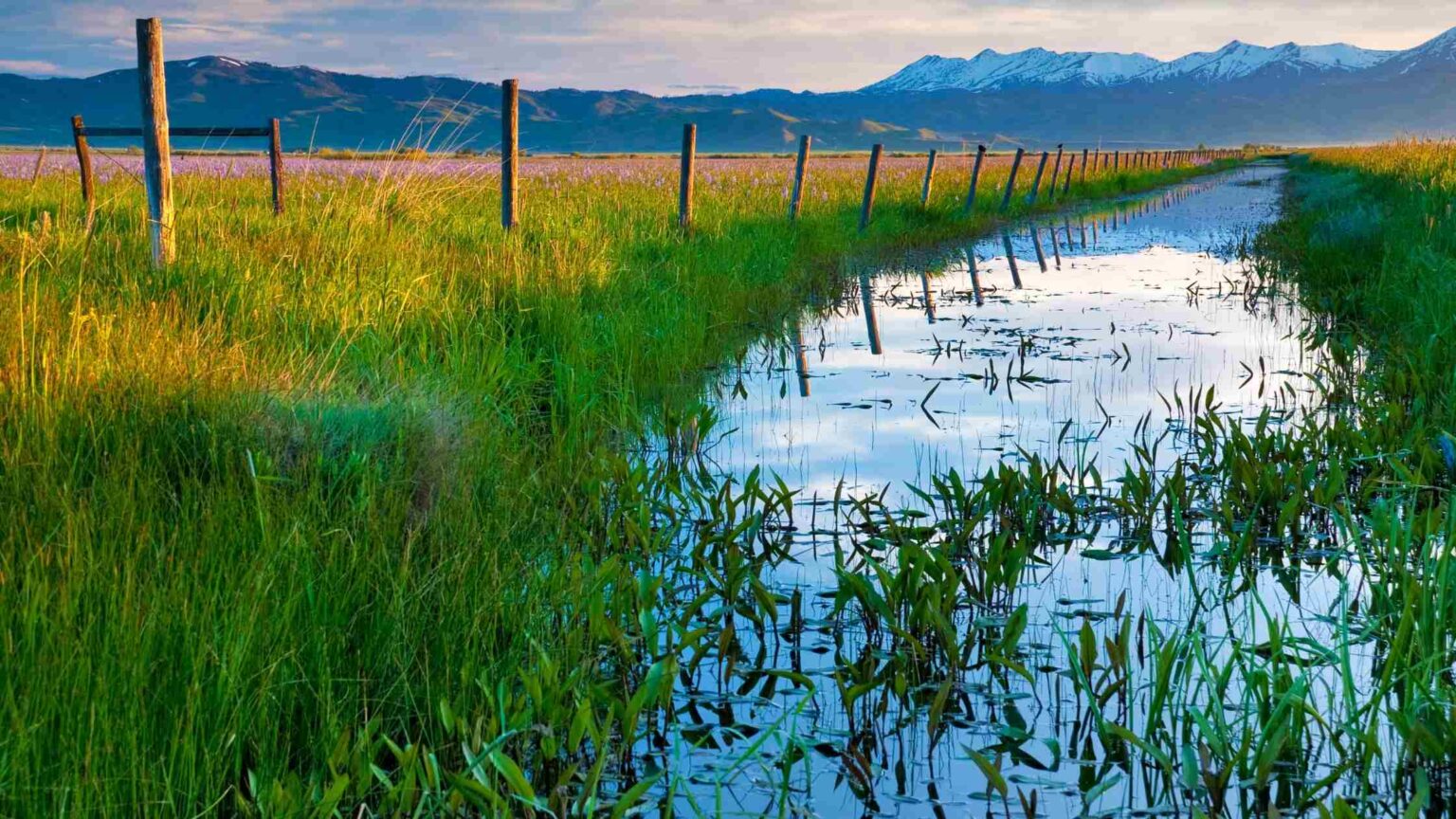 Be a part of the Camas Lily bloom in late May, one of the most visited and photographed times of the year, and also a birding paradise attracting nature and wildlife enthusiasts. You can get on the access roads that allow you to get up close to the birds.
Ritter Island State Park
Nestling alongside the beautiful Snake River, Ritter Island State Park is a complete package for a relaxing family getaway. Ritter Island is one of five units in Thousand Springs State Park. The park is about 30 minutes west of Twin Falls, accessible by road.
Ritter Island is home to one of the last remaining areas of natural springs in the Thousand Springs complex, Minnie Miller Springs. It is named after an enterprising Utah woman who built a successful dairy farm on Ritter Island in the early 1900s. There is a barn on the island open to the public. You can hike the trail to the springs, which have many spots for a picnic.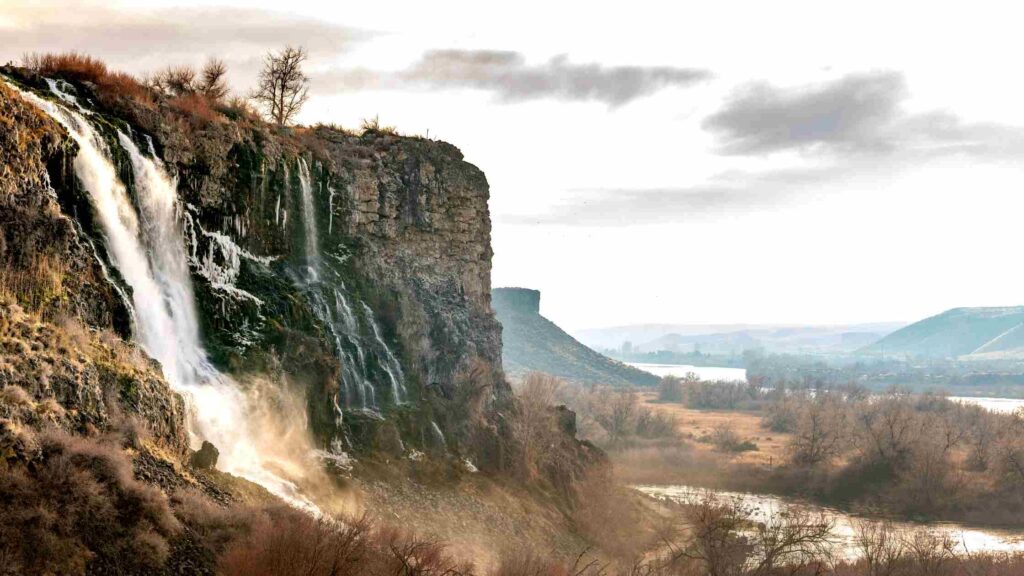 Bird watching, Fishing, Boating, Kayaking, and hiking are some of the fun things to enjoy in Ritter Island, whether you are here for a few hours or a day or more. You also can hike a 1.5-mile trail out to the Bonnieview on the south end of the park property, leading to the site of the Payne Lewis Ferry crossing on the Snake River, an excellent spot for fishing.
If you want to stay overnight nearby, check the old two-story Stone House and guest cabins on Ritter Island, both available for rent by visitors. If you are here in September, attend the famous annual Thousand Springs Festival on the island, featuring arts, crafts, music, food, and drink.
Opening hours – Thursday to Monday (closed on Tuesdays and Wednesdays) 10 AM to 3 PM
Niagara Springs State Park
A part of the famous Thousand Springs Complex is the gorgeous Niagara Springs State Park, one of the beautiful day trips from Twin Falls Idaho you can plan to reach within 30 minutes. Located along the Snake River, Niagara Springs is the park's star attraction, plunging down the canyon side at 250 cubic feet per second into the 350-foot-deep Snake River.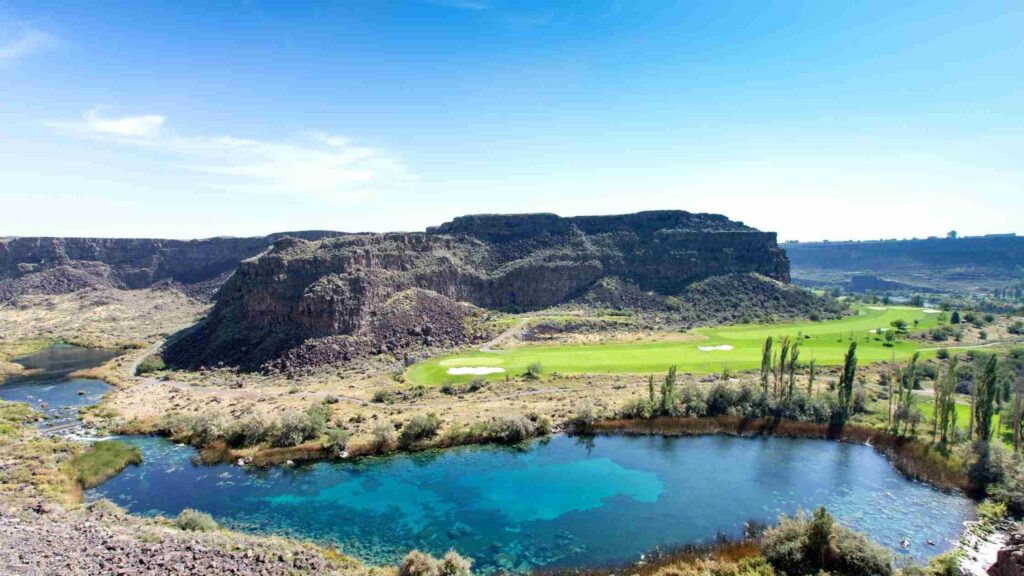 The beautiful turquoise glacial water is a lovely National Natural Landmark in Idaho. There is a lovely picnic area in the park. You can enjoy wildlife and bird watching from anywhere near the gorge. You can access the viewpoints to enjoy the beautiful views of Niagara Springs at some spots in the park. If you want fishing, head to the lovely Cyrstal Springs Lake, one of the best lakes in the area for trout fishing. You can spend a few hours exploring the sites on the way to other attractions ahead, like the Box Canyon and Malad Gorge.
The road around the Canyon is steep, so take care if you want to drive into Canyon. You need to navigate through boulders if you're going to try fishing in Crystal Lakes, so be careful while walking here.
Lake Walcott State Park
Located north of Rupert in Idaho is Lake Walcott State Park, one of the best lakes to enjoy in the spring and summer months. It takes about 1 hour to cover the 55 miles from Twin Falls to Lake Walcott, making it a perfect day trip attraction. You can also combine a visit to Lake Walcott on your day trip to Minidoka County Historical Society, which is on the way to the lake.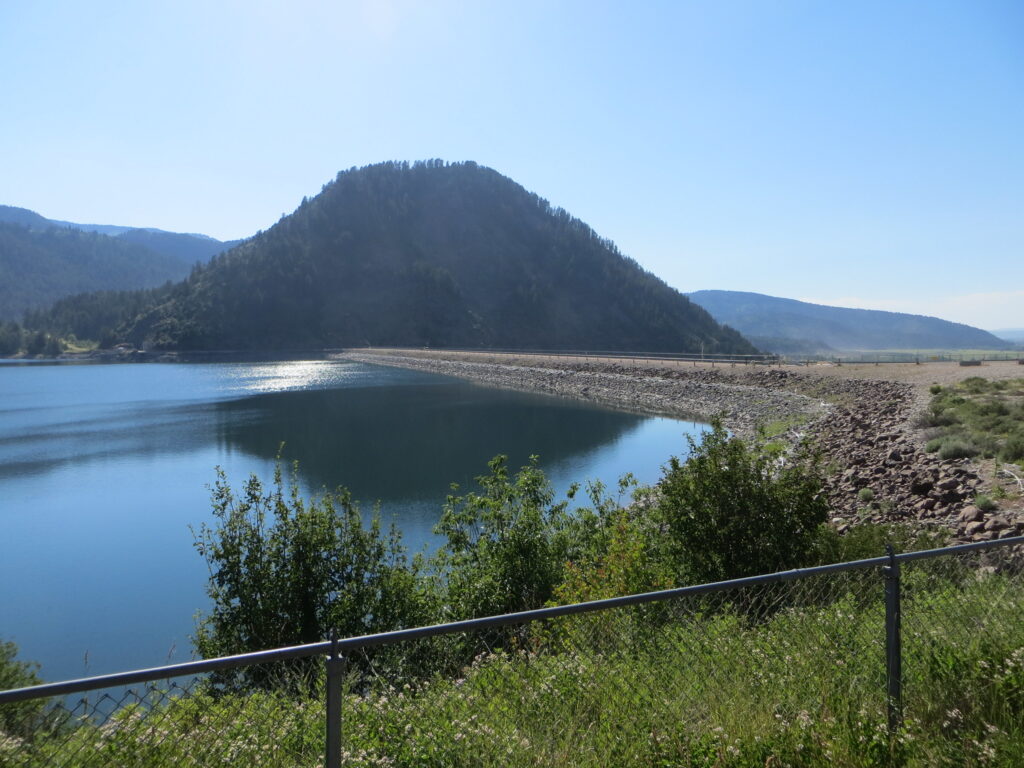 The State Park is a beautiful green space home to many ancient trees, a few short hiking trails around the pretty Lake Walcott. You have the facilities to enjoy a relaxing picnic amidst the woods overlooking the lovely views of the lake.
Water skiing, kayaking, boating, sailing, and windsurfing are top activities in Lake Walcott. However, in summer, fishing, bird watching, and Golf are the favorite things to do for visitors. Hundreds of Pelicans and other wild birds come here for the fish during the migration months.
If you enjoy playing Golf, you will love the excellent 18 hole disc golf course on the premises, one of the popular venues for tournaments, many held in summer.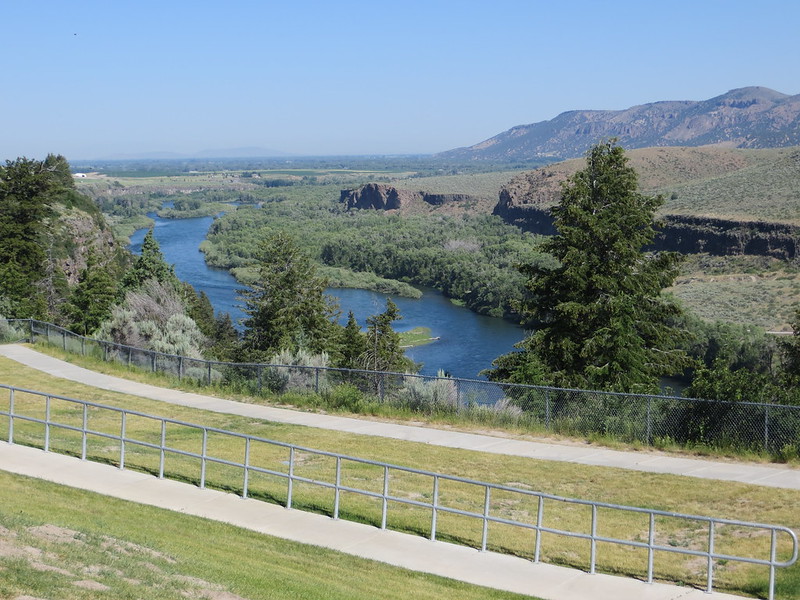 Among the best things about Lake Walcott is that you can rent the rustic cabins amidst lush nature, perfect for an idyllic getaway with your family if you intend to spend overnight in the state park. You can also choose to camp on the grounds in the park. However, thanks to the popularity, it is best to reserve your cabin during the peak months.
Murtaugh Lake State Park
Located just 20 miles away from downtown Fills, one of the relaxing short trips you can plan is to the pretty Murtaugh Lake, which also has an excellent campground, offering stunning views of the forested landscapes and the lake.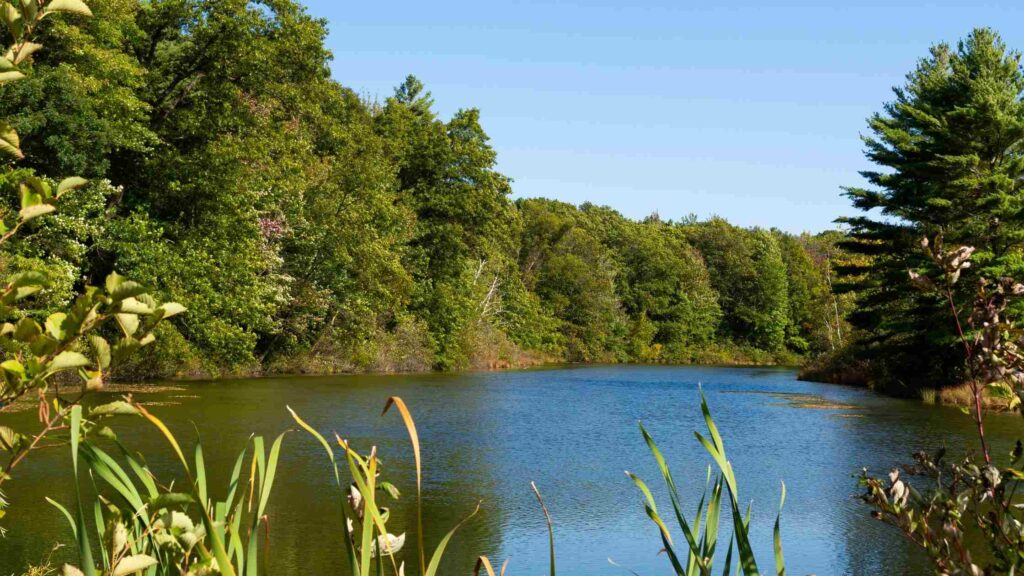 Murtaugh Lake spans 700 acres with many ideal spots for a picnic. Fishing in the lakes is a popular activity, thanks to bass baits, apart from camping. There are 26 campsites set in a lawn-covered area, with three tent camping, in the park. They have a covered picnic table, fire pit, barbecue stand, and dock, along with shared amenities like vault toilets and parking space.
You can also enjoy many activities like bird watching, boating, volleyball, softball, and swimming. For basic food, snacks, and water, you can grab them at Murtaugh town, not far away.
Independence Lakes
A 2-hours drive from Twin Falls towards the southeast, ahead of Murtaugh, is the Independence Lakes, a chain of four alpine glacial lakes located in the Albion Mountains in Sawtooth National Forest. Located 65 miles away, it is one of the beautiful day trips from Twin Falls Idaho. You can plan to enjoy the gorgeous views of Cache Peak north and the east of Mount Independence.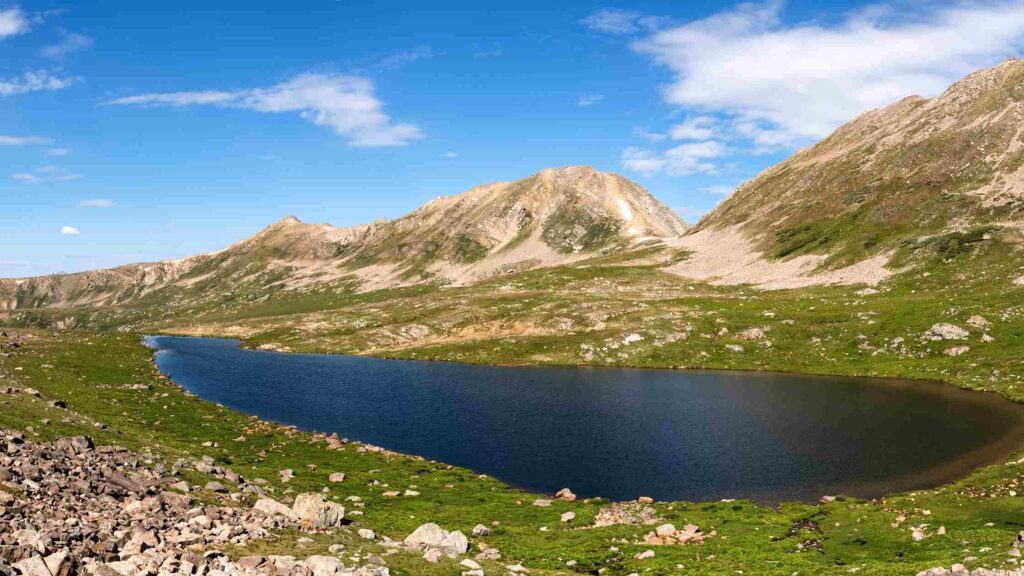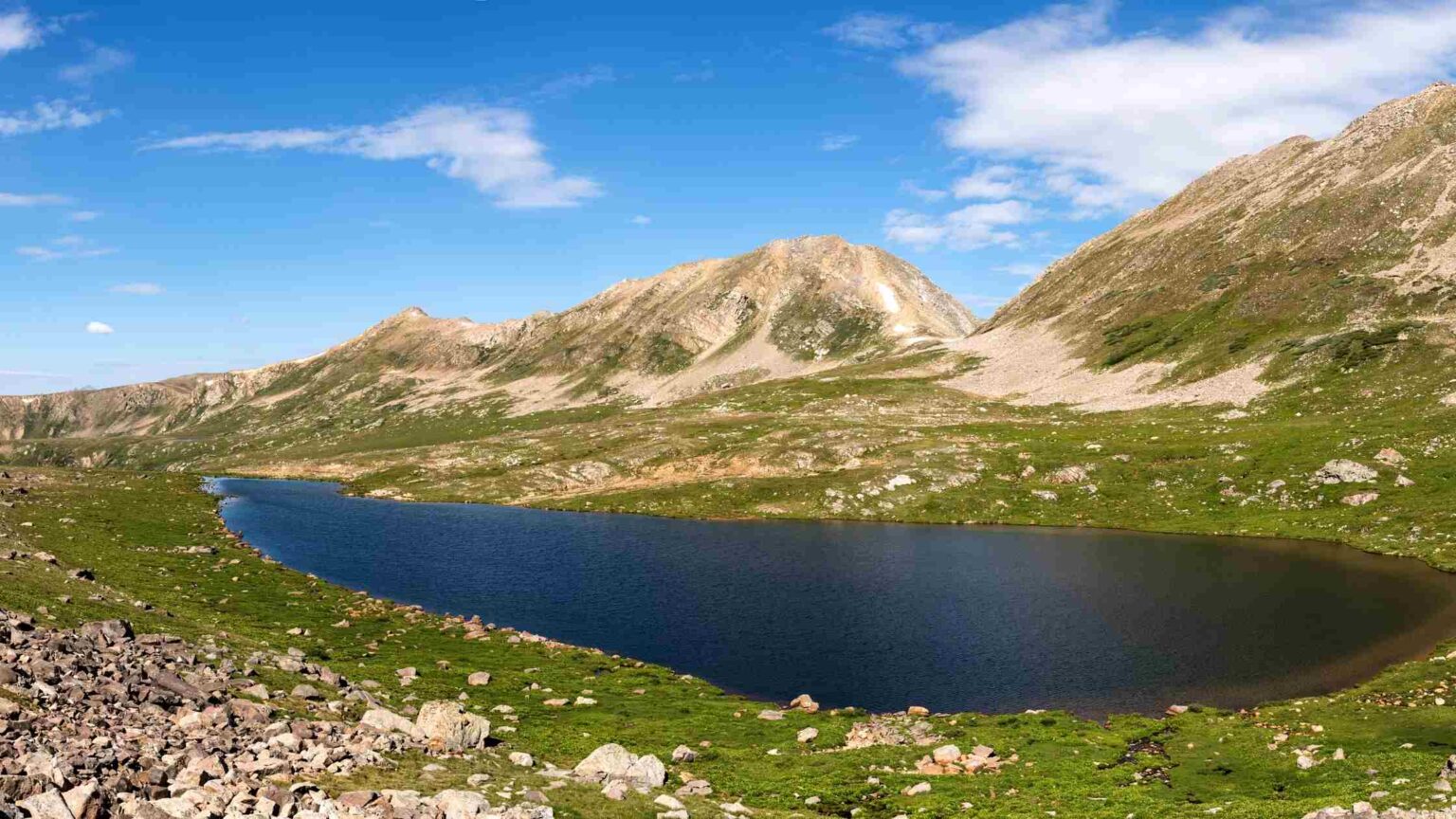 You can access these gorgeous turquoise lakes set amidst the stunning mountains on a 3.5-mile hiking trail beginning from the campground. If you are up for the adventure, you can take the entire 7-mile hike or summit nearby Cache Peak, from where you can admire the dramatic bird views of all three lakes.
All lakes are excellent for fishing, swimming, or paddling, popular during the summer. If you want to camp, check out the Independence Lake Campground and Picnic Area, a non-fee campground and picnic area where reservations are not required, which you can access from July through October. The campground has 5 single sites with 9 tables and grills, toilets, but no drinking water.
Lake Cleveland
Lake Cleveland is one of Southern Idaho's stunning alpine lakes in the Sawtooth National Forest. Easily reachable by road within 2 hours, it is one of the lovely Twin Falls day trips to plan.
Located south of Burley, Lake Cleveland sits at an elevation of 8,300 feet, right below Mt. Harrison in the Albion Mountain Range, offering splendid panorama views. In Spring, the Alpine wildflowers bloom carpet the landscapes, making it magical, attracting hundreds of hikers and campers. Boating, fishing, swimming, and bird watching are other top activities for visitors.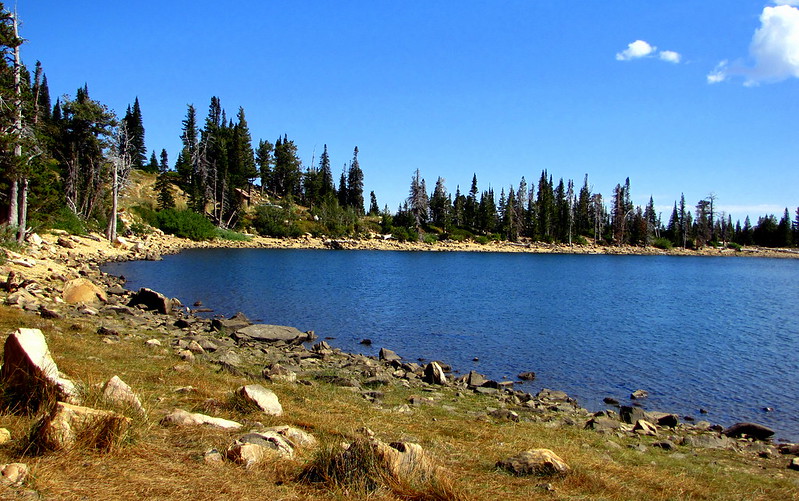 Lake Cleveland Campground is a top-rated summer recreational facility next to the lake for camping, set amidst gorgeous timberline and alpine wildflower meadows. You can also admire the stunning views across the Snake River Plain from here.
Seventeen camping sites are located in the East campground loop, seven of which can be reserved. The remaining ten are first-come, first-served. The East side of the lake is best suited for large RVs. Additionally, there are nine campsites on the West on a first-come, first-served basis.
Wilson Lake Reservoir
Wilson Lake reservoir is a quiet little lake, about 25 minutes outside of Twin Falls town, ideal for a short trip. It is a beautiful 600-acre fishing spot, including a five-acre park, sandy beaches, boat docks, and plenty of places to picnic, set on the agricultural lands, home to rich wildlife as well.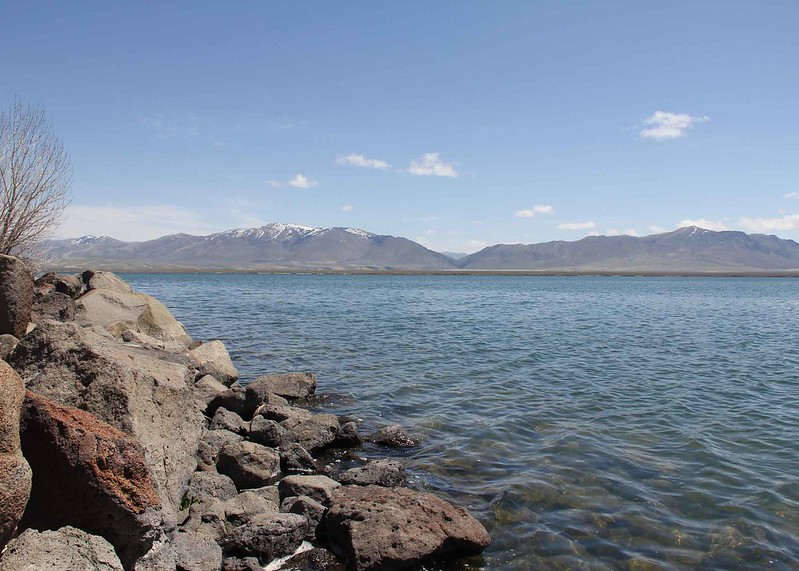 There are 40 campsites on the grass areas across the lake for enjoying the views and indulge in summer activities like swimming, fishing, and boating. Swimming is quite popular here, with many records made over the years, drawing avid fishing lovers.
Thorn Creek Reservoir
Another lake excellent for fishing and picnics in summer is Thorn Creek Reservoir, one of the lovely day trips from Twin Falls Idaho for a relaxing afternoon. Located north of Twin Falls, it takes about 2 hours to reach by road. Thorn Creek Reservoir is surrounded by Great Basin desert vegetation, with beautiful sagebrush and grasslands spanning rolling hills.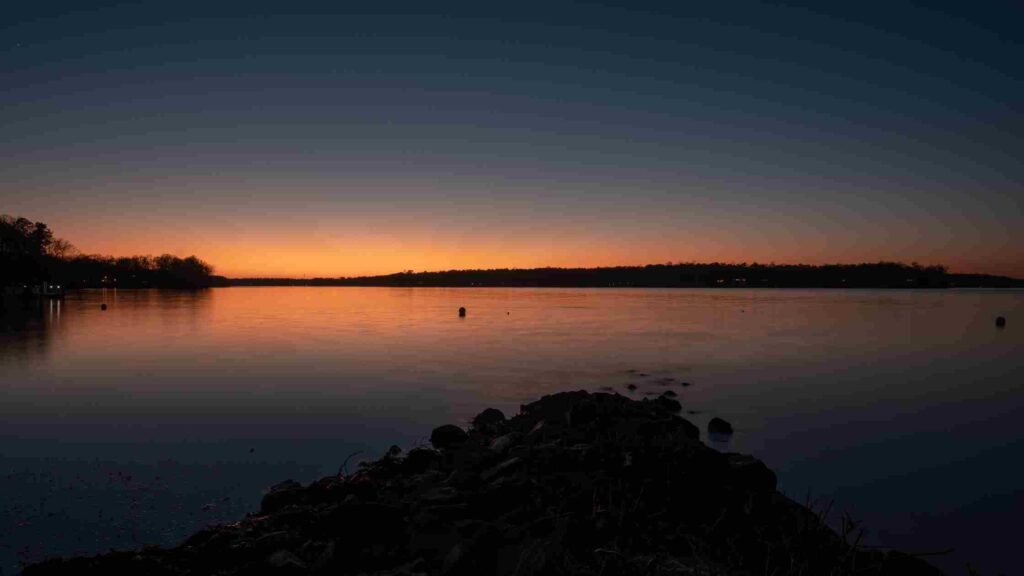 Waterfowl and shorebirds concentrate at the reservoir in the spring and fall as the snowmelt increases the water levels, drawing day-trippers and campers. Trout fishing in Thorn Creek is very popular, along with boating and camping. Compared to other lakes near Twin Falls, Thorn Creek is a remote high desert reservoir, a perfect place if you are looking for secluding camping.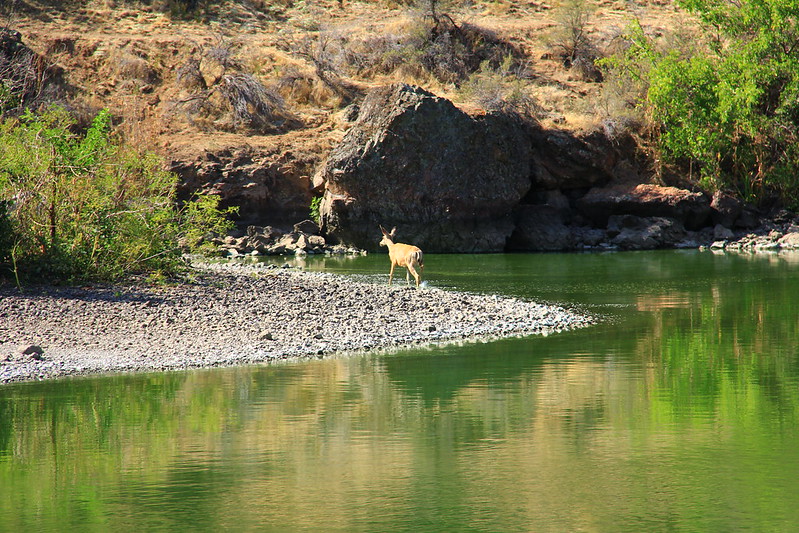 Hiking in spring is recommended for enjoying springtime wildflowers, along with bird watching and wildlife spotting. You can choose from basic campsites or do dispersed camping in some areas around the creek. Note that there is no drinking water, and the amenities are little to none in the campgrounds, so plan well if you intend to camp near Thorn Creek Reservoir.
Salmon Falls Creek Reservoir
One of the best places to catch fish in Southern Idaho is 40 miles away from Twin Falls. So if you are eyeing a big catch in summer, you should not miss checking out the lovely Salmon Falls Creek Reservoir. A 14-mile long reservoir in the high desert is the premier walleye fishery in Idaho, home to nine game fish species. Anglers will find plenty of brown trout, chinook and kokanee salmon, yellow perch, black crappie, channel catfish, and smallmouth bass. If you are here during winter, you will love ice fishing here.
But it is not all fishing in Salmon Creek Falls Reservoir. It is a favorite stop for road trippers, campers, and people looking for secluded places to picnic, try boating, or class I and II floatable opportunities in early Spring. You can enjoy wildlife viewing and also go rock climbing here.
The reservoir has five primitive camping sites, including a fully developed ground at Salmon Dam with designated camping units, picnic sites, RV dump station, and boat docks.
Hagerman National Fish Hatchery
A 45-minutes drive from Twin Falls lies another haven for anglers, the Hagerman National Fish Hatchery. Located in the beautiful Thousand Springs area of the Snake River, this hatchery spreading over 35 acres and established in the 1930s produces more than 4 million rainbow trout each year, released into the Salmon River.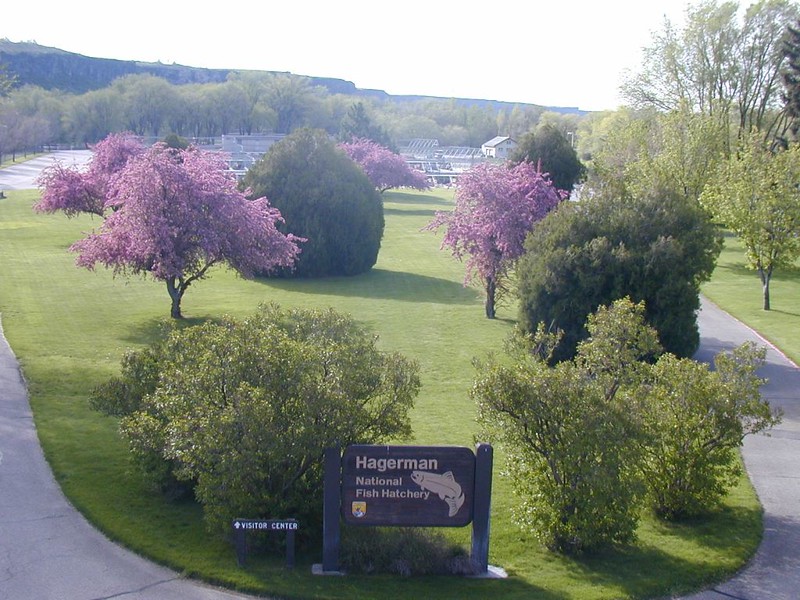 You can view the hatchery any time from 7 AM to 3 PM every day for free, join group tours and explore the nearby areas on walks. There is also a show pond with golden rainbows, sturgeon, and tiger muskies.
This is the list of all the short trips you can plan from Twin Falls in Southern Idaho. Hope you have fun exploring the attractions. Do share your experiences with us in the comments below.
PIN DAY TRIPS FROM TWIN FALLS IDAHO FOR LATER
Please note: This post contains affiliate links, meaning I may earn a commission if you make a purchase by clicking a link (at no extra cost to you). Learn more.