What to pack for a trip to Vietnam? If you traveling in SE Asia for the first time, having a packing list could help given the different weather conditions and seasons that might be different than in your country. Vietnam is no different. The country has different climates in different parts and preparing a packing list for Vietnam could be confusing. Worry, not. In this post, I am covering everything about what to pack for trip to Vietnam checklist, for both women and men. It is a packing list for 2 weeks in Vietnam, which you can customize.
What to pack for trip to Vietnam Checklist
Weather in Vietnam
Before you move to read about Vietnam packing checklist, a few words about the weather, Vietnam's weather differs from region to region. The climate is tropical, which means it is hot and humid by default throughout the year despite the seasons.
North Vietnam – Mountains and greenery dominate the north of Vietnam, and hence the weather is more relaxed, and the humidity is manageable. When it rains during summer or during the monsoon – the weather gets suddenly freezing.
Especially in the remote mountain areas like Sapa at a higher altitude, it feels surprisingly chilly; If you are traveling in summer, the below list should be good.
During winter from late November to January, Hanoi and regions in the north get very cold, particularly at night, when the temperature sometimes fall to single digit in degrees. So it's better to carry some layers additionally.
South Vietnam – The weather in central and south Vietnam is typically warm, and the degree of hotness varies with different seasons. In summer between March and early June, it becomes unbearably hot along with high humidity, which is not a good time to be here, especially in Ho Chi Minh. t also rains which brings its discomforts.
Next, when the monsoon arrives, it pours non-stop, with areas around the sea experiencing floods as well. If you are here at this time, don't forget to carry raincoat and umbrella. The winter in the south is the best time to be here with manageable humidity and pleasant temperatures.
First time in Vietnam?
If you are traveling in Vietnam for the first time, check these 30 top things to know before you visit this country.
What To Pack For Trip To Vietnam Checklist – Travel Backpacks for Vietnam
If you are backpacking in Vietnam, the best way is to carry backpacks. It is especially helpful if you are a digital nomad traveling for months like me. Plus, like in other SE Asia countries, there are no sideways or footpaths along the roads. Most of the times it's challenging to move in the streets if you carry travel suitcases. So backpacks are the best for flexible traveling.
These are some of the best backpacks that I would recommend. I have used these and loved them.
If you are going on a short backpacking trip between 1 to 3 weeks, you could pick from any of these.
If your trip is beyond three weeks, you would need a slightly bigger backpack, and these are the ones I would recommend.
Packing cubes – Until some time, I had no idea about what packing cubes are, but for a lazy packer like me, it's been a blessing. You can categorize clothes and other packing stuff in these cubes and then the job is to pack them in your backpack.
Too easy, right? You will role clothes which would give more space and keep them free of wrinkles. If you are moving around a lot, you can take a few of these packing cubes and leave the rest with your luggage in your additional bag. If you are sold or need more examples, check these packing cubes that I use and why you should buy them as well.
Team a backpack with an additional travel bag and a sling bag or what I call a day trip bag. Below are some of the recommended travel bags and small bags.
Below are the travel bags for carrying extra clothes, electronics and miscellaneous.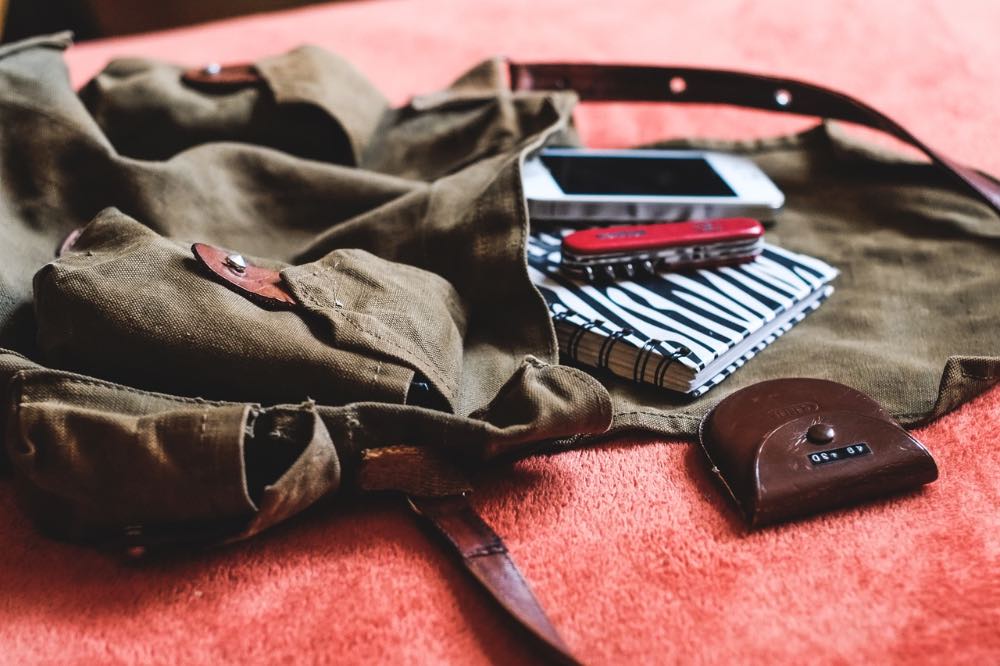 Below are some of the best Ditty bags or folding bags or whatever name you want to pick.
What to wear in Vietnam – Clothing Packing List for Vietnam
Coming to the clothing list for Vietnam, the country is relaxed, and casual wear is the norm. Unless there is a party at a star hotel or you are on a regular business trip, you can wear casual clothing everywhere.
While visiting temples and places of worship, be sensitive to respect the dress code – which involves covering your back, shoulders and knees. You can pack a sarong with you for this purpose. Also, try to avoid skimpy clothes like tiny tops or short shorts or anything too tight as the country is conservative against these and also tight dresses are worse for humid weather.
Female Packing List For Vietnam
3 shorts – Carry 1 to 3 shorts which are a mix of loose, denim and athletic shorts.
4 dresses – Dresses are cute and great for photographs. Carry light weighing cotton dresses, which goes just up to the knees or below. Avoid the ones having a deep cleavage or deep backs though. Maxi and midi summer dresses in vibrant colours would do the job.
1 pair of jeans
2 skirts – Skirts are another great fashionable option to team up with cute tops. Avoid skirts that are too short or above your knees.
5 T-shirts & 2 Tank Tops – Have a mix of regular cotton t-shirts with one or two having long sleeves along with 2 tank tops for indoors and hot weather
1 pair of cotton leggings – Could be used as an alternative to jeans
1 cotton trouser – You can buy them in SE Asia, which are very cheap
8+ Underwears – Laundry is inexpensive in Vietnam, but I would recommend carrying at least 10 to be safe.
4 bras – Depending on what you prefer, also add one or two more if you want.
1-Cardigan – One multi-purpose light weighing cardigan.
1-winter jacket – Highly useful if you are traveling in the north amidst the mountains and also from high AC.
2 Bikinis/swimsuit – You'll need these in the beaches and islands, and even if you are indulging in watersports. Check these interesting ones.
1 Rain jacket – Carry one lightweight raincoat or a poncho
1 Umbrella
4-5 pair of socks – Carry ankle length and high length woollen socks that are easy to dry and don't smell! I would recommend these.
1 Sarong or lightweight travel scarf
1 lovely hat for protection from the sun and to look cool
1 microfibre travel towel
2 polaroid sunglasses (one as a backup)
If you are a female solo traveler, it is better to also keep a pepper spray and a pocket knife.
Male Packing List for Vietnam
Since men also are my readers, this is for them.
3 travel shorts
2-3 pair of travel jeans or traveling pants that are lightweight
5-6 T-shirts – A mix of T-shirts with one or two full-sleeve ones.
7-8 Underwears
1- Winter jacket
2-3 swim shorts
1 Rain jacket – Carry one lightweight raincoat or a poncho
1 Umbrella
4-5 pair of socks – Carry ankle length and high length woollen socks that are easy to dry and don't smell! I would recommend these.
1 travel scarf or sarong
1 sun hat
1 microfibre travel towel
2 polaroid sunglasses
What footwear for Vietnam?
It is preferable to have 3 kinds of footwear while traveling in Vietnam. A good pair of hiking shoes for mountains, 1 set of cheap flipflops and 1 pair of sandals or walking shoes.
For women, these are the hiking/walking shoes I would recommend
Try these sandals that are chic and not expensive.
These are some of the good hiking shoes for men along with crocs or closed shoes.
Toilet Accessories for Vietnam
Toilet packing kit essentials for women
Toothbrush and Toothpaste
Shower gel or soap bar
A Facewash
Moisturizing shampoo & conditioner
Deodorant
Moisturizer
Lip balm
Makeup kit
Nail cutter
Menstrual Cup or Sanitary Pads
Toilet Packing Kit Essentials for Men
Toothbrush and Toothpaste
Shower gel or soap bar
Moisturizing shampoo & conditioner
Facewash
Deodorant
Moisturizer
Shaving kit
Nail cutter
Other Vietnam Packing Essentials
A basic medical kit is a must, which should ideally include band-aids, medicines for headache, cold, stomach pain, cough, vomiting, gauze, cotton.
Flashlight – A small LED flashlight
Mosquito repellant
Hand sanitizer
Sunblock – A good sunblock cream and lotion
Water bottle – A good water bottle with filtration. Saves money and you can avoid adding to the plastic waste.
Wet wipes – These feel like heaven when you are out in the sun
Packing Cubes – Mentioned above but reminding again because they are great!
Padlocks & Zip locks – Essential if you are solo and stay in hostels
2 Microfibre Towels – 2 smaller additional towels. Will be useful in hostels.
What To Pack For Trip To Vietnam Checklist -Travel Electronics
The electronic gadgets that you carry depend on your preferences. If you are a travel blogger, photographer or a digital nomad, you would need all of these, but otherwise, it's better not to carry some of these.
Unlocked smartphone
Power Bank – A lifesaver for your smartphone.
Camera – I would prefer these versions of Nikon or Sony. Go for point and shoot alternatively.
SD Cards
1 External Hard Disk (If living out or working on the go, to backup data)
1 Universal adaptor or converter
iPod or Ipad
Headphones
Go Pro
Laptop
Miscellaneous Things to Pack
Local sim cards – These are the local sim cards that work best and are economical.
Eye mask and earplugs – Super useful if you stay in hostels.
If you are going to rent a motorbike, which is most likely, make sure to carry a full-length raincoat, a headscarf and offline maps.
If you are a book worm like me, I would recommend carrying a Kindle, which would be a great companion especially if you travel solo.
If you go hiking or take up adventurous activities, carry an extra pair of t-shirts and socks just in case.
Travel books
If you love reading, some of the travel books that I would recommend for you to carry are
What To Pack For Trip To Vietnam Checklist – Travel Insurance
Whether you are traveling in Vietnam or anywhere abroad, having insurance will save you hundreds of thousands of your money. You can get sick from the food, water or air in Vietnam. Also, the country is infamous for the road accidents that bikers face. It's better to prepare for the worse. With travel insurance, you don't have to worry about covering your expenses if you get sick or hospitalized on the road.
I prefer travel insurance by World Nomads because it covers a wide range of benefits irrespective of your travel duration.
What To Pack For Trip To Vietnam Checklist – Vietnam Visa
Most countries need a Visa to enter Vietnam. You can check what rules apply for your nationality and how to get a visa here.
Some countries can get Vietnam Visa on arrival if they have an online approval letter, that is very easy to secure. You can get a Visa upon submission of this letter along with other documents. These are some of the things to know about an approval letter.
The Visa on Arrival is only applicable for people who travel to Vietnam by Air upon producing a valid approval letter.
An approval letter issued by Vietnam Immigration Department is not your visa. You can get a visa by producing a hard copy of this letter along with the relevant documents at one of the following international airports in Vietnam – Tan Son Nhat Airport in Ho Chi Minh, Cam Ranh Airport in Nha Trang, Da Nang Airport in Danang or Noi Bai Airport in Hanoi.
Your passport should have a validity of at least 3 months.
There is no need to hand over passport physically to apply for the approval letter.
Next, read the documents checklist below for Visa on Arrival at the airport.
A print copy of the visa approval letter that you get via email.
The Vietnamese Visa application form filled with your details (Fill this before you come to the airport to avoid waiting in the queue). Add your photograph as well.
2 passport-sized pictures of yours with a white background in 3*4 cm, 4*6 cm or 5*5 cm
Visa fees in USD.
That's it folks – This is your super packing list for Vietnam. Hope I have answered what to pack for Vietnam. If I have left out anything or you want me to suggest anything to add, let me know.
Share this Post. Pin it!
Connect with me on Facebook, Twitter, and Instagram for travel stories.