This post is about how to reach Bhutan from India, where I have updated with the latest information. I've tried to collate and mention all possible means of reaching Bhutan from India for all budget ranges. There's a lot of difference in the price depending on how you choose to reach Bhutan. So, here are the ways how you can go to Bhutan from India.
How To Reach Bhutan From India?
Crossing the border is pretty easy for Indians
Reaching Bhutan by air – Flying to Bhutan from India
You can fly to Bhutan from India and also obviously the most comfortable way to visit Bhutan from India. Needless to say, this is the most expensive
Paro is the town in Bhutan which has an international airport. And from Delhi, Kolkata, and Bagdogra you can reach Bhutan by taking a flight to Paro. However, there are no direct flights to Paro, and the only airlines are Drukair, which offers scheduled flights. The price is expensive, and also it does not fly every day. So, if you intend to go by Drukair, it's better to plan well ahead to save some money and time!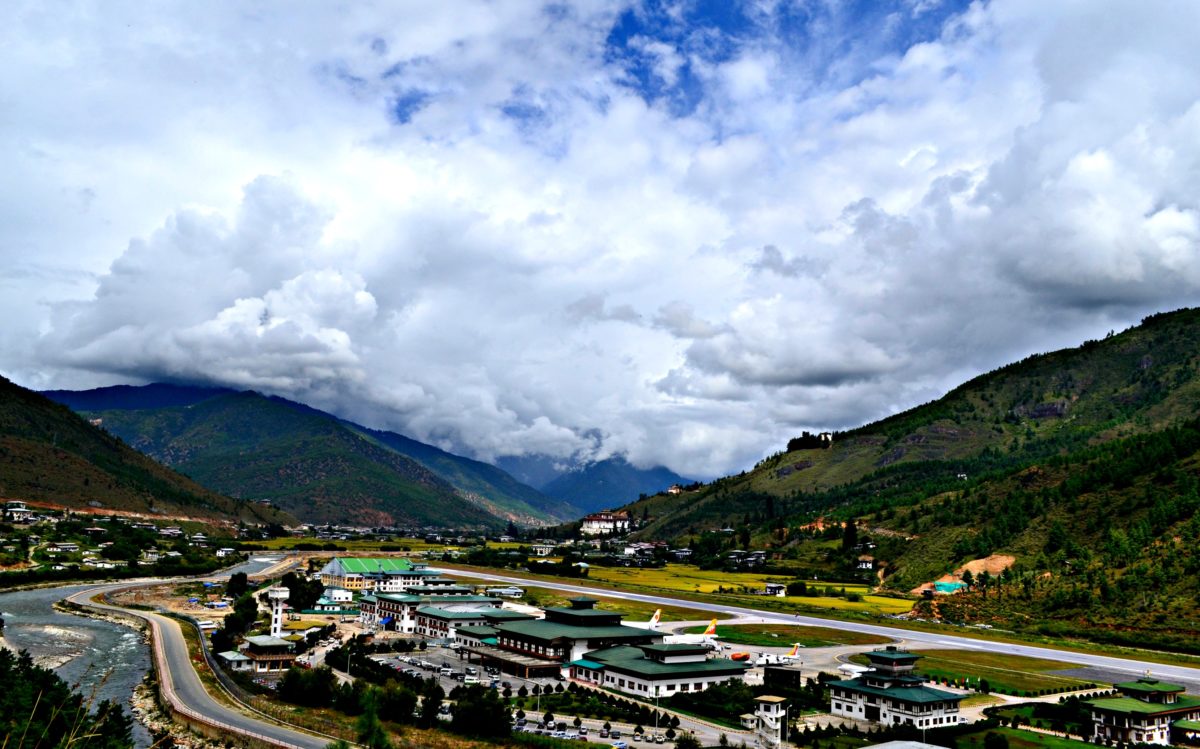 Guaranteed spectacular views! This is the gorgeous town of Paro, and that's the scenic airport at the center
Bhutan Permit If flying
The permit formalities are done at Paro airport's immigration office, and you will be granted permission to visit Thimphu and Paro. You need to carry a valid Indian passport. Please note that the officials are very particular and don't accept or entertain any other forms of ID proof. So, please ensure to carry the originals of either of these two and passport size photographs.
How To Get To Bhutan? India to Bhutan by road
Entering Bhutan by road is a relatively cheaper option. You can combine this with trains to reach Bhutan by road. Kolkata, Delhi and Bangalore are the popular cities in India from where most people travel to Bhutan. The distance from Kolkata to Bhutan (Phuentsholing) is 708km whereas it takes almost a day to reach Bhutan from Delhi as the distance from Delhi to Bhutan ((Phuentsholing) is over 1600km!
I am sharing the details of the India Bhutan borders through which anyone can travel to Bhutan from India. There are only three towns which grant permits for Indian travelers or any travelers arriving by land, which form the route to Bhutan from India – Phuentsholing, Gelephu, and Samdrup Jongkhar. The popular town among these is Phuentsholing, as it's closer to the principal cities like Thimphu and Paro and because of its better connectivity.
a) Reach Bhutan From Phuentsholing (Entry from South Western Bhutan)
Recommended read: What is the best time to visit Bhutan?
India To Bhutan By Train
Phuentsholing lies beside Jaigaon, a town in West Bengal and you don't need a permit to enter Phuentsholing. You can enter Phuentsholing in any of these two ways, which include the mode of reaching Bhutan by train.
01 | From Bagdogra
Bagdogra is the closest town with an international airport and is about 170 km from Phuentsholing. You can fly to Bagdogra from Kolkata which is about an hour's flight. From there, look for a shared auto (inexpensive) or a prepaid taxi (slightly expensive) to Siliguri which is about 17 km from Bagdogra.
From Siliguri, Bhutanese public buses ply to Phuentsholing at regular intervals. But it's better if you plan in such a way that you reach Siliguri before 2.30 PM as the last bus to Phuentsholing is somewhere between 3 to 4 PM.
Another option to reach Phuentsholing is to take a cab directly from the airport. They charge a standard amount of Rs 2500. This a feasible option if you're traveling in a group.
02 | From Hasimara – How to reach Bhutan from New Jaipalguri? (Reaching Bhutan by train)
This option is the cheapest and the best, provided you've ample of time. The Hasimara railway station is just about 17 km from Phuentsholing. To reach there, you've to take a train from the New Jalpaiguri Junction (NJP). From Bagdogra airport, you've various options for reaching NJP junction like rickshaws, shared taxi or a prepaid taxi.
Once you reach NJP, you can take a train to Hasimara. There are many intercity passenger and express trains which go to Hasimara. The only thing which you need to take care here is to check the train timings and availability well before. Sometimes, trains don't arrive on time, or they don't run on particular days. Make sure you do your homework on this if you plan to reach by train from Hasimara.
From Hasimara, one can easily reach Phuentsholing by availing a shared taxi.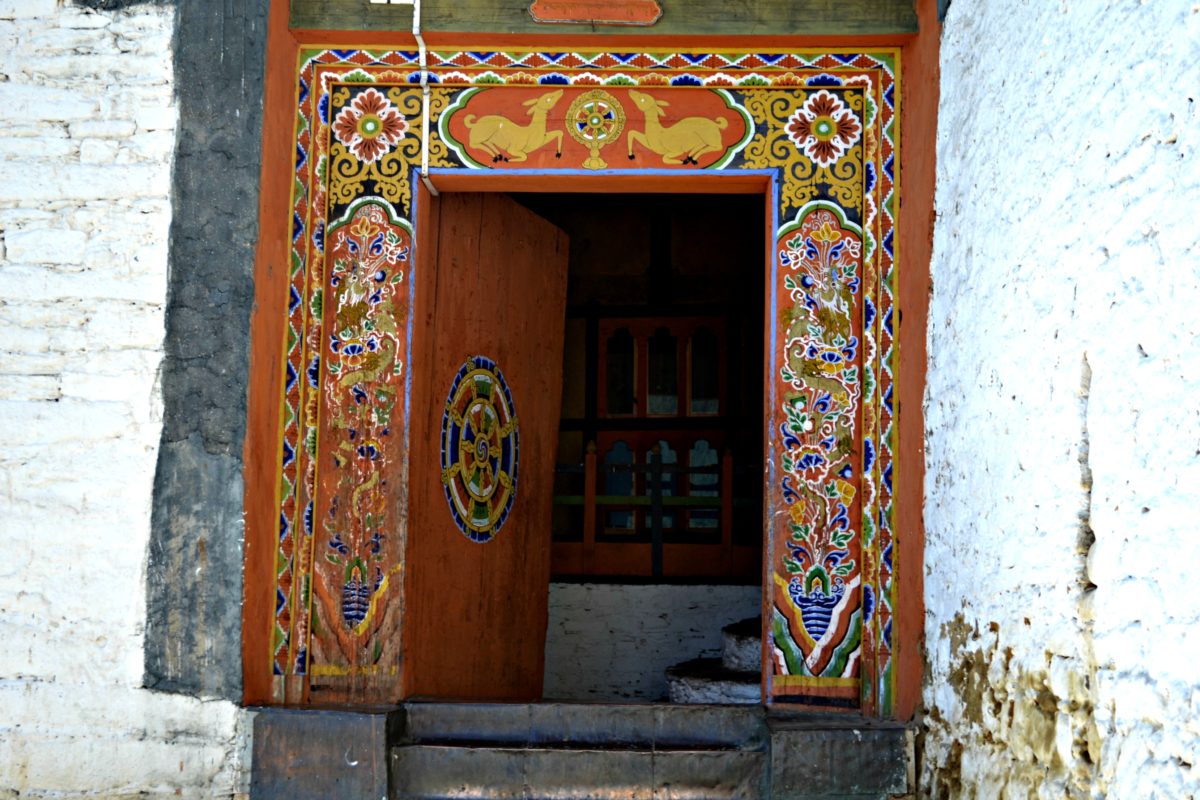 The colorful doors of the Dzongs
Visa Permit for Bhutan from India
The immigration office located very close to the gate near the border issues the permit to enter Bhutan. As I said earlier, please carry a valid passport for identity proof along with few passport size photographs. The immigration office is open from Monday through Friday and opens at 9 AM BST.
You'll be asked to fill a form, after which the verification happens. Later, they take a photograph of yours and your fingerprints. The permit is issued on a Regional Immigration Office letterhead. Its validity is seven days, and the grant is only given to visiting Thimphu and Paro. If you need to visit any place beyond these, you should obtain the same only in Thimphu.
The entire permit process takes about 30 min to 2.5 hrs depending on the crowd. To expedite, go near the check post office right next to the gate before 9 AM and collect the form. You can fill it and submit it. It saves time as it gets pretty crowded when people get the same form in the immigration office and start filling them at a time and submit together.
Bhutan Tour Packages For Foreign Travelers
Apart from the Indian, and the nationals of Maldives and Sri Lanka, the other tourists from the rest of the world can't travel independently in Bhutan. They require a visa, and can travel by booking tour packages that comes guides. Also, there is an entry fee per person that has to be paid to travel in Bhutan. The prices vary according to the seasons and the number of people traveling in Bhutan. Here are the details of the permit fees for Bhutan
The high season include the months of March, April, May, September, October, and November. The entry fees are as follows. $250 per person per day, for a group of three or more people. $280 per person per day, for a group of two people and $290 per day for individual or solo travelers.
Recommended read: 11 Festivals of Bhutan That You Shouldn't Miss
The low season include these months – January, February, June, July, August, and December. The price is
$200 per person per day, for a group of three or more people.
$230 per person per day, for a group of two people and
$240 per day for individuals or solo travelers.
Bhutan Permit for Solo Women Travelers
If you're traveling solo to Bhutan, don't worry about the permit. You would be given the permit, but a bit is involved here.The officials were shocked /surprised to see me traveling alone to Bhutan and asked few questions. Don't get intimidated. Just be confident and honestly answer their questions. You'll be asked to write a letter addressed to the officer of immigration offices, stating that you've arrived alone and you'd be responsible for yourself throughout your stay in Bhutan.
Submit this along with the form and the permit would be granted!
Note: This process of writing letter does not apply to Men solo travelers. I got to know later about this when I asked a few guys who'd traveled solo. They told me that they weren't interrogated nor asked to submit any letter!
Anyways, women solo travelers need not have to worry about getting permits or about their safety. Because I traveled solo in Bhutan for about 12 days and I felt safe all along! So basically, you need to be careful just like you'd need to be in any other place and just enjoy rambling in Bhutan.
b) From Gelephu (Entry from South Central Bhutan)
If you want to travel from east India, say, Guhawati to Bhutan, this is the way to go. Gelephu is located on the Indian border and is closer to reach by Assam. It is about 25o km from Thimphu, the capital city of Bhutan. There are bus services and shared taxi/prepaid taxi services to Thimphu and Phuentsholing from Gelephu. It takes about 10 to 11 hours to reach Thimphu from Gelephu.
c) From Samdrup Jongkhar(Entry from South Eastern Bhutan)
Samdrup Jongkhar is about 150 km from Guwahati, the capital city of Assam and takes about 3 hours to reach. You'll pass through many districts to reach Thimphu at the other end of Bhutan. Depending on the road conditions, it takes a minimum of 3 days to reach Thimphu.
How To Get a Travel Permit If arriving to Gelephu and Samdrup Jogkhar from Guhawati?
Permit for tourists, especially to Indians is given intermittently or could even sometimes denied at the immigration office in Gelephu and Samdrup Jongkhar. Because the surrounding region is sensitive and is prone to attacks. So, please plan on getting in touch with the immigration offices here, or any local travel agents if you intend to enter Bhutan from Gelephu or Samdrup Jongkhar.
You'll need a valid passport to obtain the permit here.
Quick Tip *Important* – One of the important things to remember on your travel to Bhutan from India is to carry the original permit as well as a photocopy of it with you all the time while traveling in Bhutan. Permits are regularly checked at check posts throughout Bhutan. The same has to be returned while exiting through the same points. Failing to return would cause a problem the next time you visit Bhutan and traveling without permit attracts a huge fine.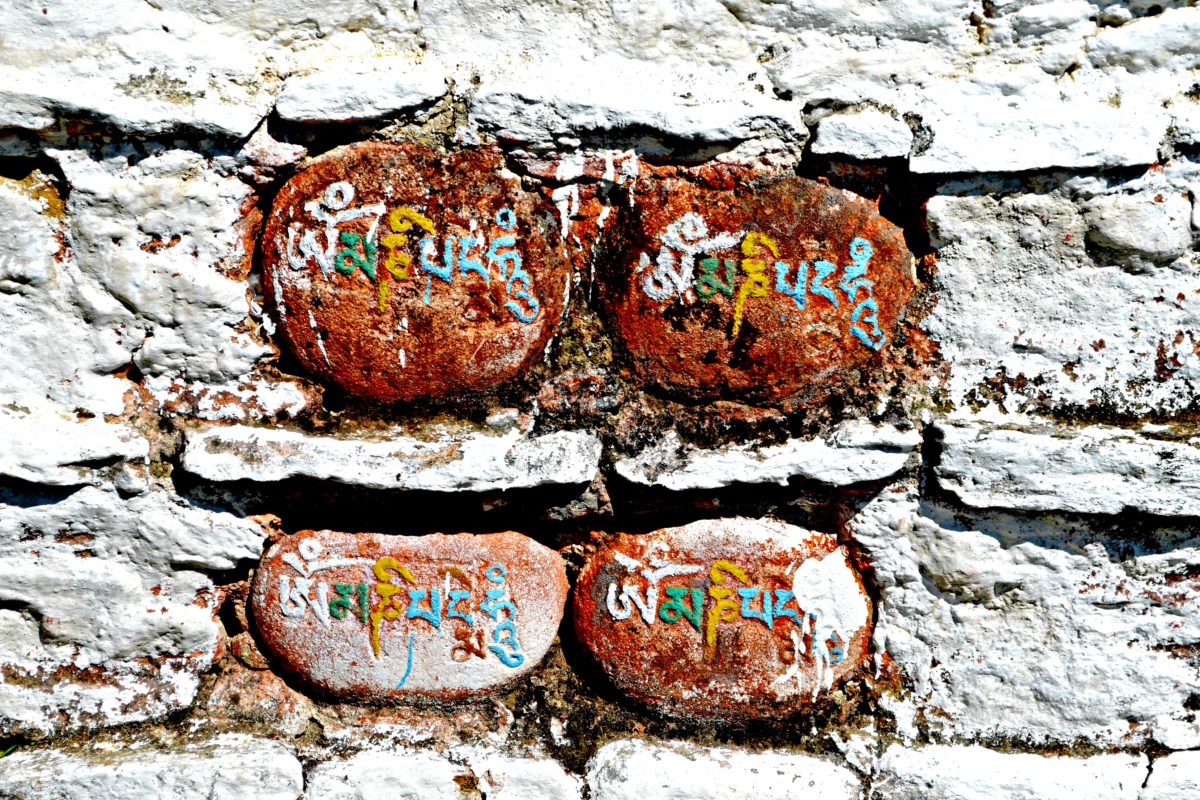 How to obtain an extended permit and route permit for restricted areas in Bhutan?
If you plan to travel in Bhutan for more than seven days, you should get the permit extended at Thimphu. You'll be asked to fill out a form, and after submitting a photocopy of the original permit along with the form, a permit would be granted after verification.
Apart from Thimphu and Paro, the rest of Bhutan is marked as restricted areas, and an individual route permit is required to travel to other places. It This can be got again from the Thimphu immigration office, where you would need to fill a form mentioning the places to which you'd be needing the permit.
Depending on the places you've mentioned and after verification, the permit would be granted. Sometimes, the permit could be denied if there's some roadblock, emergencies or danger.
The time for the process varies, depending on how early you submit the form and the crowd at the immigration office. This office is more crowded as many locals come to seek work permits/route permit. Although tourists are given preference, the process can get over in less than 30 min if you're lucky or go up to half day too.
Being a solo woman traveler, I was asked to go to the chief immigration officer's desk. The officer carefully verified and asked me questions casually. After he had felt convinced, he signed on the permit. Again, just be confident, polite and honest when questioned as there shouldn't be any reason for them to deny the permit!
Start planning your trip to the land of thunder dragon!
Got any questions? Comment below and I would be happy to answer it for you.
OTHER POSTS ON BHUTAN THAT YOU SHOULD CHECK OUT
Interesting Bhutan Facts – Things To Know Before Going To Bhutan
Things to Do in Thimphu – A Travel Guide
Places to Visit in Punakha, Bhutan
A Travel Guide To Bumthang in Central Bhutan
What is the best time to Visit Bhutan?
11 Festivals of Bhutan That You Shouldn't Miss
A trek to the Tiger's Nest in Paro
Follow my stories on Facebook, Twitter, and Instagram.
Subscribe to my posts by email for travel inspiration, destination guides, tips & stories. No spam!