There are plenty of places to visit in Punakha. It is not a quiet abode it once used to be anymore. A great connecting road and a short distance from the current capital of Bhutan, Thimphu and its picturesque beauty makes it a must-visit attraction while traveling in Bhutan.
Punakha is located about an hour drive from Thimphu and Paro. It was the former capital of Bhutan for many decades, and now it is the unofficial cultural capital and the centre of religious and political celebrations.
Most people visit Punakha as a day trip from one of these cities, but if you have time, I'd recommend you to spend a night or two in the town. It is one of the best places to visit in Bhutan where you can unwind amidst the beautiful mountains and rivers as there are not many things to check off your list.
In the town of Punakha, two sacred rivers Mo Chhu and Po Chhu (which translates to mother and father rivers) confluence, and hence the region blessed with fertile terrain where abundant of crops including fresh vegetables and fruits are grown.
Without much ado, let me introduce to the awesome places to Visit in Punakha.
Top Places to visit in Punakha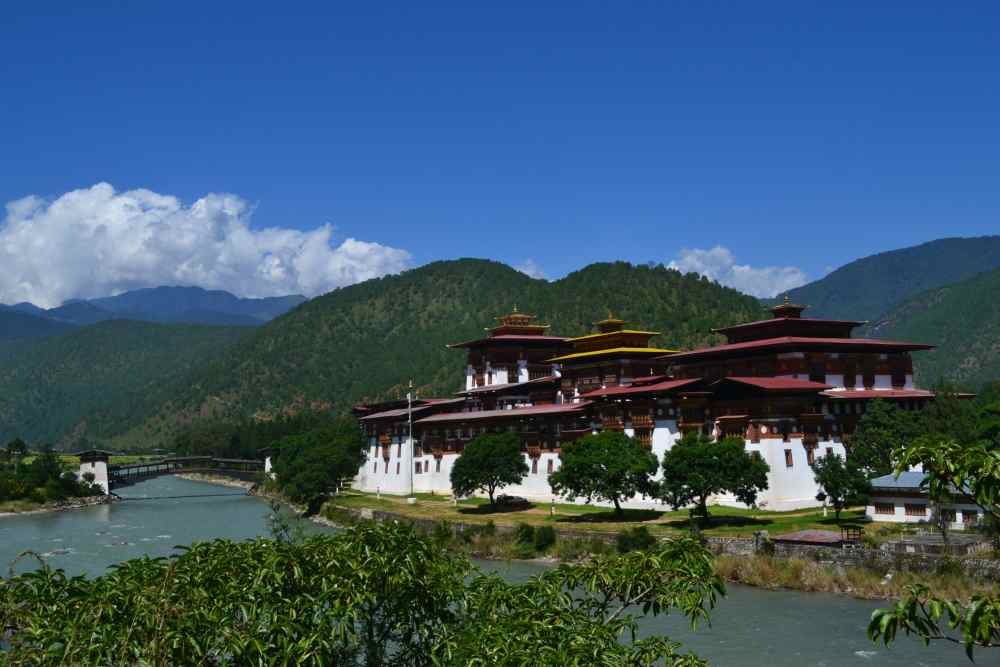 Chimi Lhakhang
Chimi Lhakhang is one of the most scenic monasteries in Bhutan. Scores of lush paddy fields surround this temple dedicated to the mad monk or the Divine Madman Drukpa Kunley, who is known for his unorthodox Buddhist teachings. This temple is also called as Phallus Temple as Phallus is worshipped here – yes it is one of the interesting facts about Bhutan if you didn't know already!
It is an important shrine for locals, especially the couples who come here to seek blessings when starting a family. They are blessed by the monks by placing a wooden Phallus on the head. It takes about 30 minutes to trek to the monastery from the road.
Chimi Lhakhang timings: 9 AM to 5 PM every day.
Punakha Dzong
Punakha Dzong is the icon of the town, which is now an important administrative and religious centre of Bhutan. The Dzong obviously occupies the top in the list of places to visit in Punakha. It is built at the confluence of the rivers Mo Chhu and Po Chhu and is where the famous Punakha Tsechu is held.
Punakha Dzong has played an important role in Bhutan's history and has sustained severe damage by earthquakes that hit the Dzong 4 times.
Recommended read: A trek to Tiger's Nest in Paro
Khamsum Yulley Namgyal Chorten
Chortens are the structures that drive evil spirits and negative forces in check, and you can find many beautiful Chortens all across Bhutan. One of the lovely ones is Khamsum Yuelley Namgyal Chorten, which can be reached by a small hike from the main road across the Mo Chhu river.
You can get stupendous views of the higher snow-capped peaks of the Himalayan mountain ranges from this place on a clear day.
Guru Rinpoche Caves
Around 12 km from Punakha Dzong lies Mitesgang, the place where the Caves of Guru Rinpoche is located. A short drive up a rough road or a 2-hour walk from the highway will lead you to these sacred caves, where Guru Rinpoche is said to have meditated.
Sangchhen Dorji Lhuendrup Lhakhang Nunnery
It is hard to miss the 14-foot main bronze statue of Avalokiteshvara on the top of the hills overlooking the valleys of Punakha and Wangdue, which constitutes the main part of Sangchhen Dorji Lhuendrup Lhakhang.
The temple also consists of many other grand statues of the Buddhist Gods, a higher learning and meditation centre for nuns where nuns also learn statue making and thangka painting.
Recommended read: A Travel Guide to Bumthang
Other Places to visit in Punakha
Dochula Pass
On the way from Thimpu to Punakha lies Dochula Pass, which consists of Chorten built as a memorial to all the soldiers that lost their lives during the combat of Chinese invasion. It overlooks the snow-capped Himalayan mountains that consist of 7 to 8 tallest peaks, and you can also see the stunning views of the divine Jhomolahri Mountain on a clear day.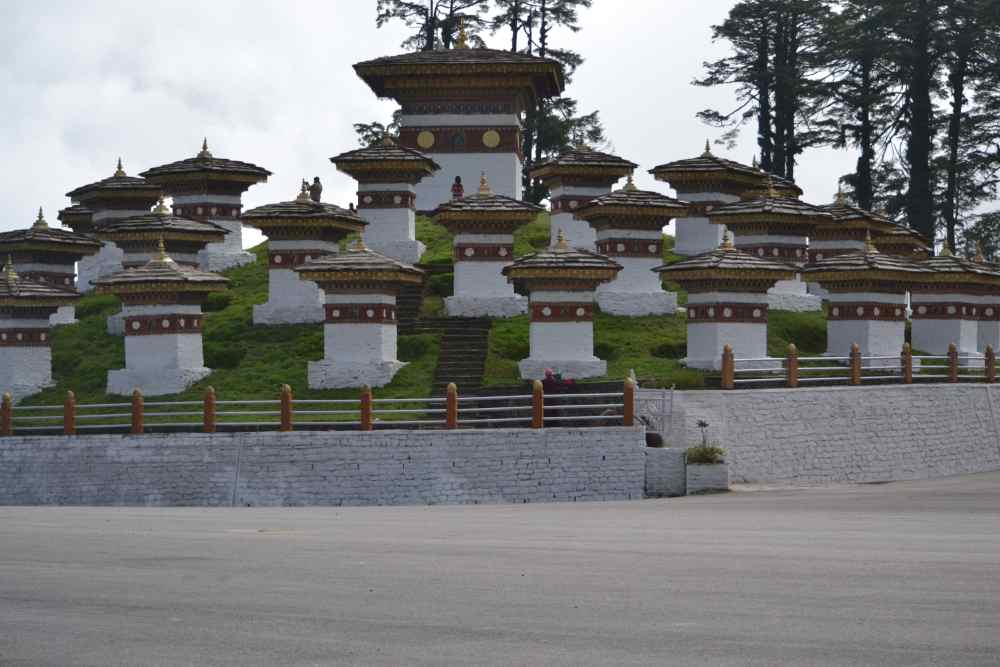 It is one of the most popular stop-overs for people traveling from Thimpu to Punakha. If you are visiting this region during the peak winters, the place is carpeted in thick snow, which is a sight to behold.
Punakha Suspension Bridge
One of the most iconic spots for those traveling to Punakha is the suspension bridge built across the confluence of Mo Chhu and Po Chhu rivers. It is one of the must-visit places to visit in Punakha. Walking on this 250m long suspension bridge is thrilling, but the views of the valley from the bridge is marvellous.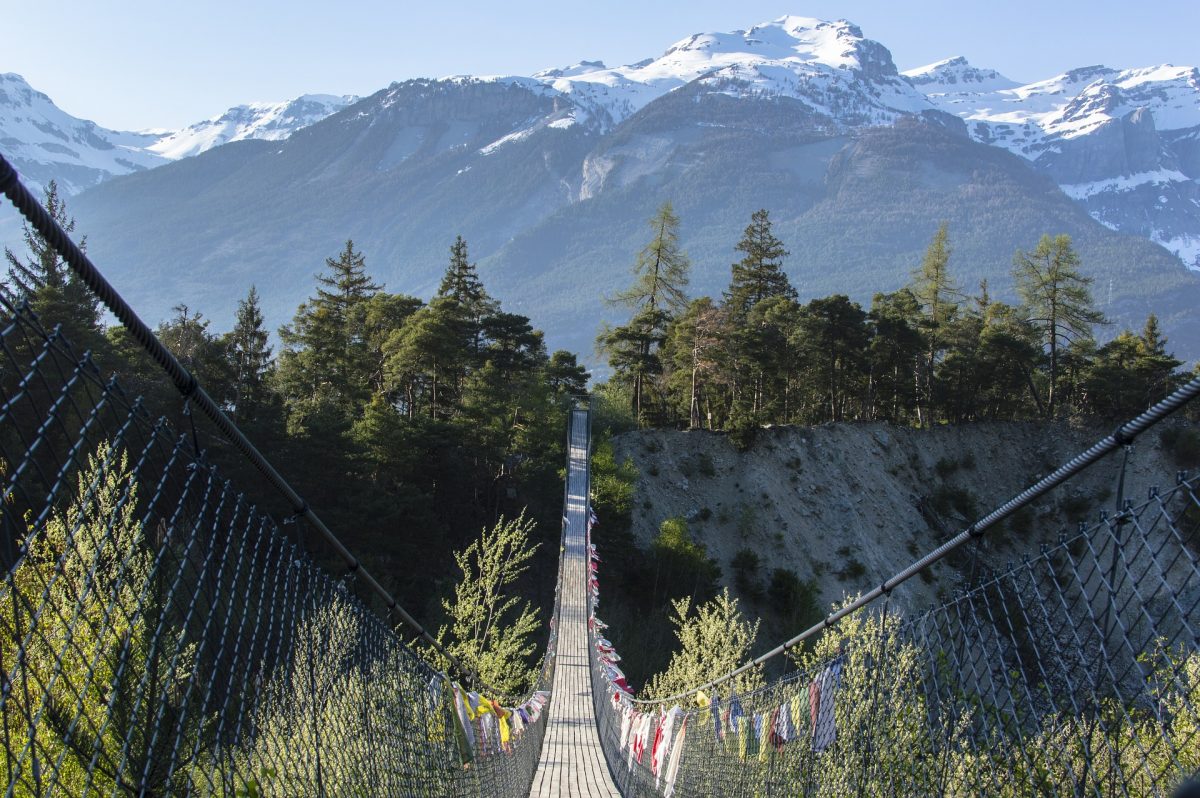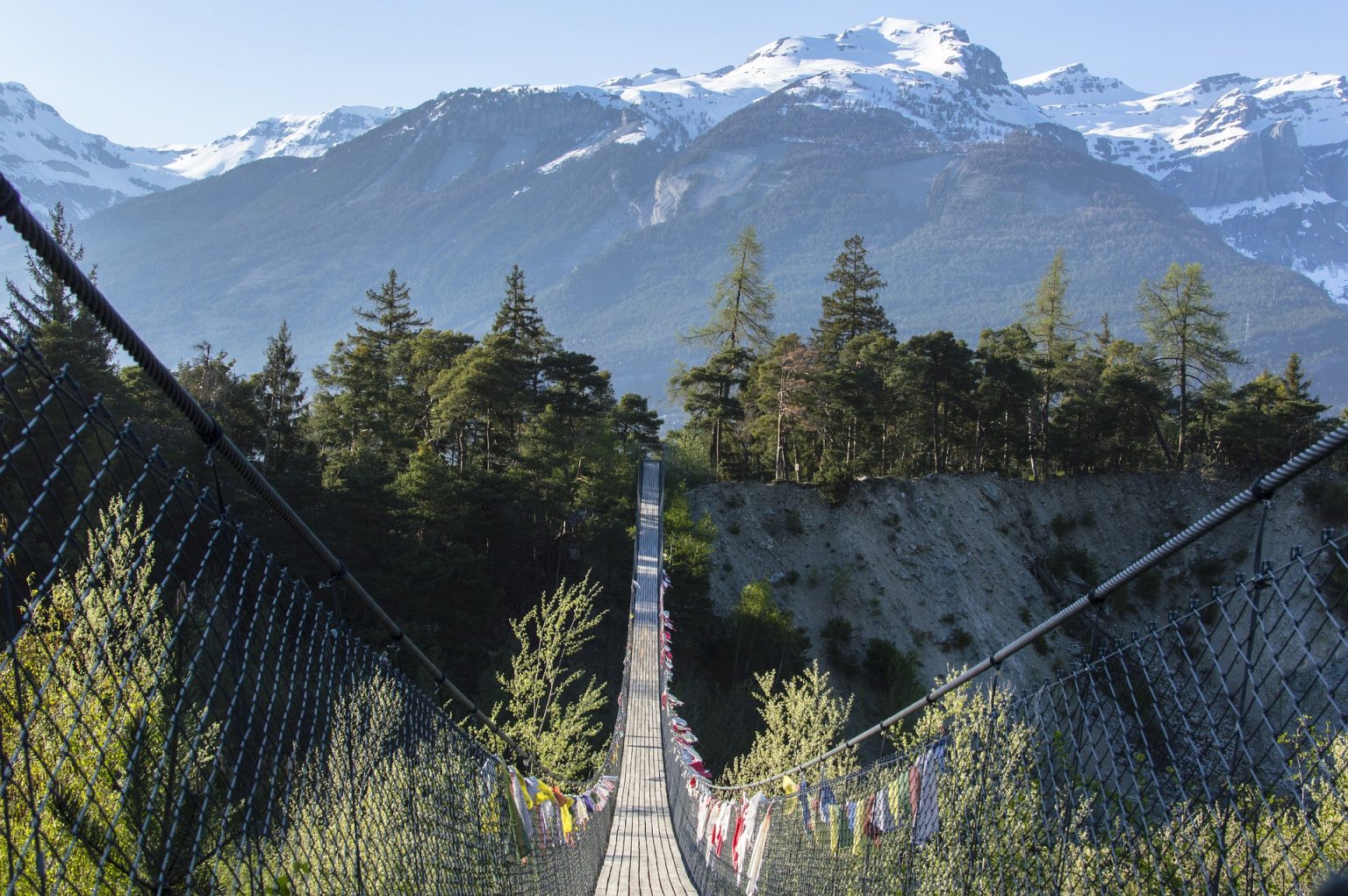 The valley is serene except for the sound of river gurgling and the chirping birds. It is a great place for some photography and to stop over for the views, and surprisingly, it is not on the list of places to visit in Punakha!
Talo
One of the most remote and hygienic villages in Punakha is Talo, scattered along the hill slopes by the river. The village offers a magnificent view of the valleys, laden with crops like paddy, rice, flowers and fruits. Stop by to witness the countryside of Bhutan at Talo.
Limbukha
If you pass through the Punakha Dzong and cross the other side of the suspension bridge, a hike up the hill overlooking the rivers, the bridge and Dzong steeped in abundant greenery will lead you to Limbukha, after a hike of almost 3 hours. T
his region is known for the production of the staple pink/red rice that is consumed widely in Bhutan. The rice, which is said to possess medicinal values, is distributed to the other parts if Bhutan from here.
Recommended read: 11 Festivals in Bhutan You Should Witness Once
Adventure in Mo Chhu River
Whitewater rafting in Mo Chhu River is a popular adventure activity in Punakha. During the spring and the fall seasons, which is the best time to visit Bhutan, the river is ideal for whitewater rafting.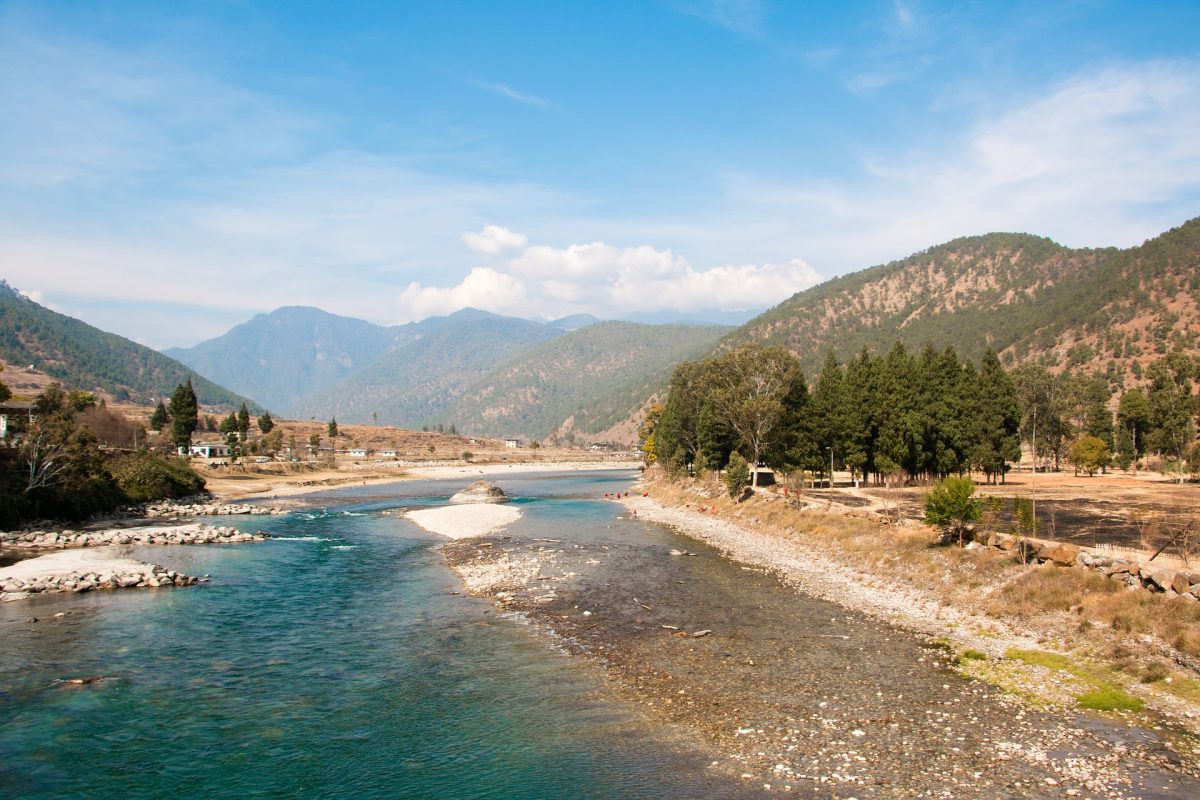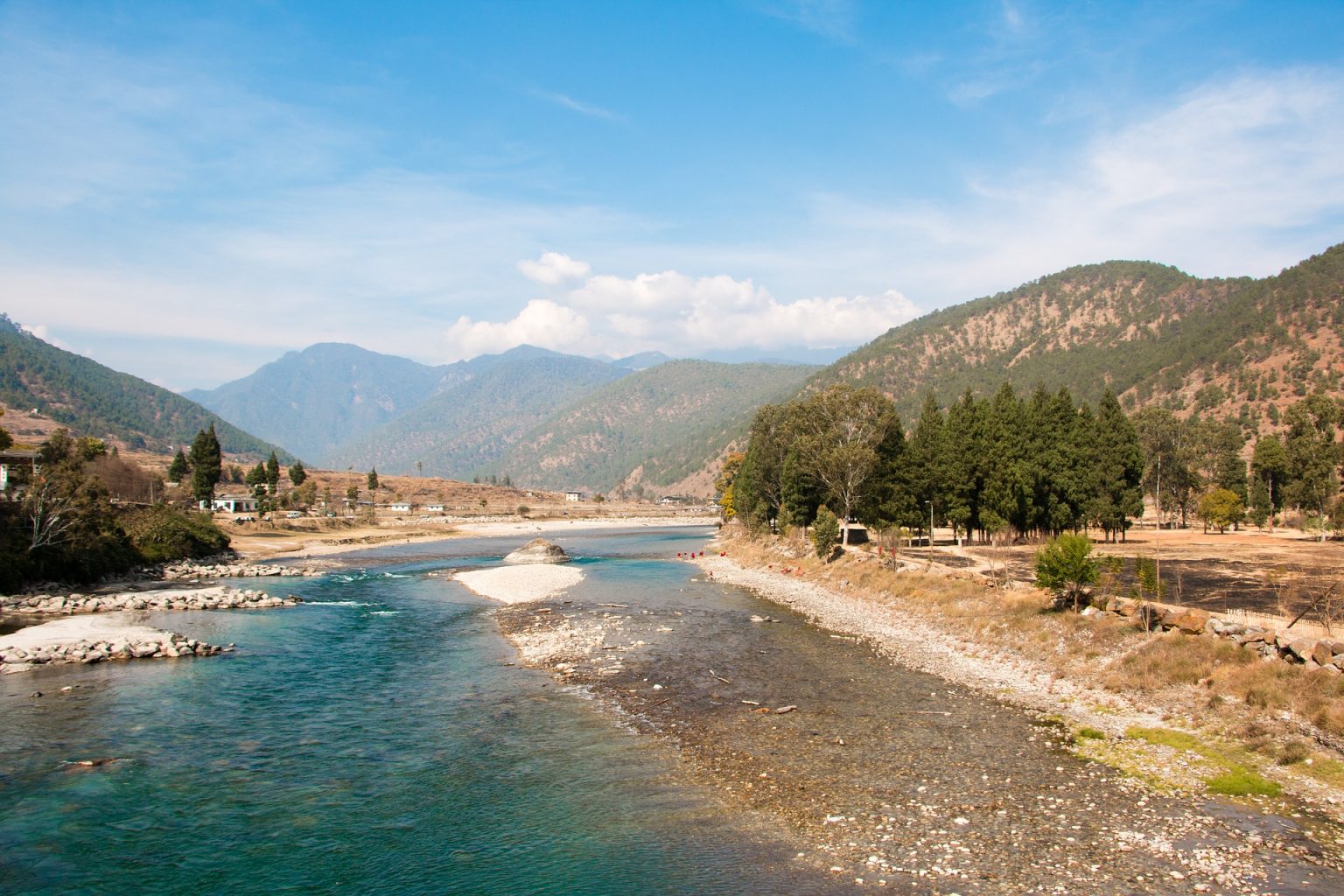 Apart from enjoying the views of the valleys, you get to boost your adrenaline rush through this fun-filled activity
Punakha Ritsha Village
Translating into the foot of the fill in the local language, 'Ritsha is a picturesque village surrounded by rice fields, which is the primary crop of the village. Due to the use of modern equipment and farming machinery, this village is regarded as an example village for latest farming practices in western Bhutan.
One of the offbeat places to visit in Punakha would be to explore Ritsha to experience the rural Bhutanese culture and life.
Jigme Dorji National Park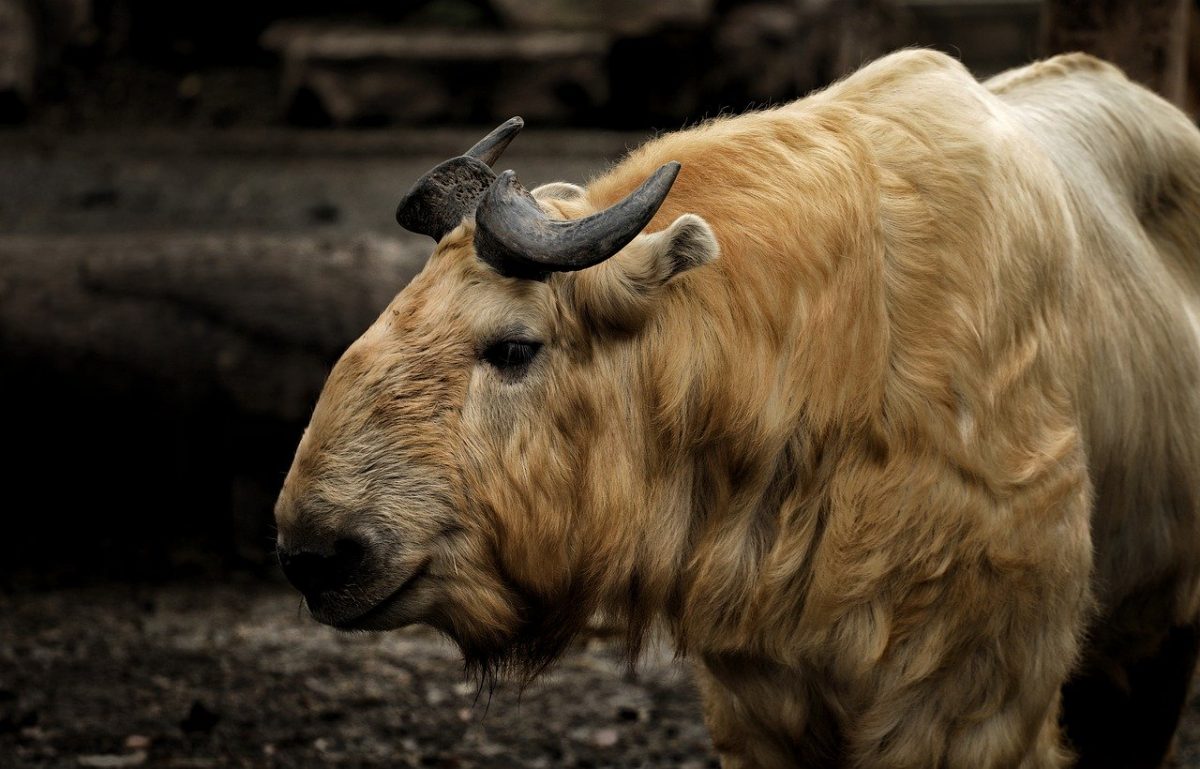 Many do know about the reserve area which is very close to Punakha. Jigme Dorji National Park is huge and is abode to rare wild species including the Red Pand, Snow Leopard, Himalayan Black Bear and Tigers. The national animal of Bhutan, Takin can also be found in this park.
Khamsum Yulley Namgyal Chorten
If hiking is your thing, hike up from the Punakha town to reach the Khamsum Yuelley Namgyal Chorten, which was built to ward off evil forces and restore positivity.
The Chorten is the prominent structure in the upper Punakha Valley offering commanding views across the Mo Chhu.
Koma Tsachu Hot Springs
Did you know? Bhutan is home to hundreds of hot springs, thanks to its terrain, which are perfect getaways when the weather gets chilly. One of the off-the-beat places to visit in Punakha is Koma Tsachu hot springs located amidst mountains. It is a sacred place for the locals whom you will find unwinding here on the weekends and holidays.
Also, when you travel to Mitesgang, you come across this natural hot springs, which is a popular place among the locals for a getaway. Although not very huge, these hot springs are flanked by the valleys which give great views, making it ideal for camping. There are 3 pools, and a building consists of a provision for staying.
Join them to pamper your body and mind – the best way to end your Punakha trip.
Nalanda Buddhist College
Called as Dalayna by the locals and as Nalanda Buddhist College by the monks, this is one of the best places to visit in Punakha to get glimpses of the life of monks.
It is a monastery as well as a religious place, which is located in a beautiful area overlooking the river. Head there and chat up with the kind, smiling monks.
What is the best time to visit Punakha?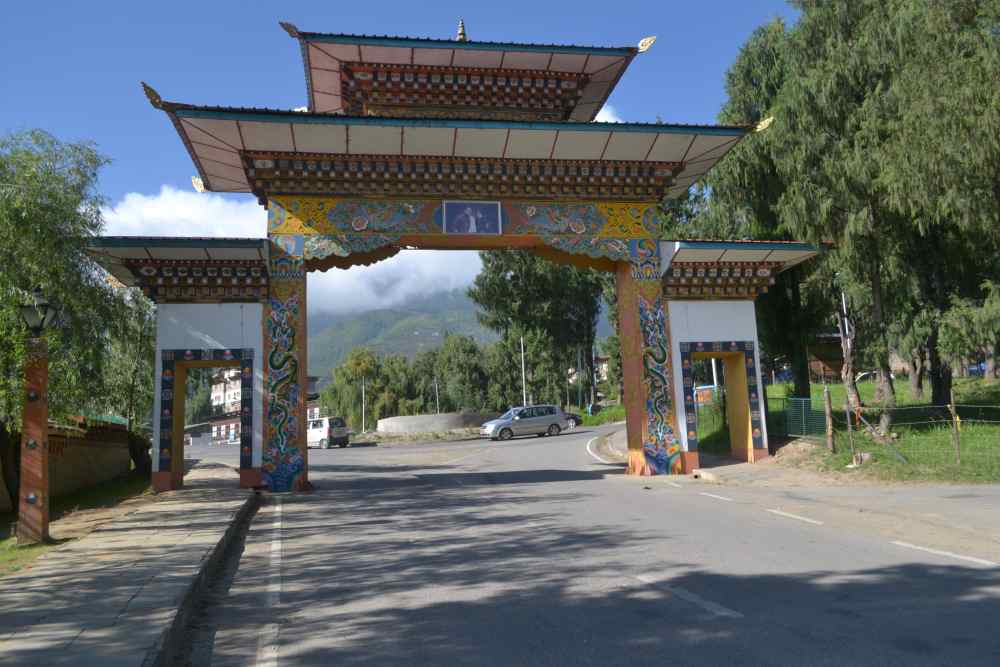 Punakha enjoys the typical weather of Bhutan consisting of 4 major seasons. The best time to visit Punakha is the spring and the fall seasons, i.e. the months of February to May and late September to November.
These months are the best for Punakha sightseeing – You will witness cherry and other spring blossoms during the first quarter of the year and after monsoon, you will encounter lush green landscapes everywhere in Bhutan.
Punakha temperature is around 30 to 32 degree Celsius on an average. The winter is not as severe in the central regions, but snowfall is not uncommon, with temperatures dropping to negative during this season.
Recommended read: What is the best time to visit Bhutan?
How To Reach Punakha?
Thimphu to Punakha – The distance from Thimpu to Punakha is 86km, and it takes 2 to 3 hours to reach Punakha from Thimpu. There are many regular public buses from Thimpu to Punakha, which starts at Thimpu bus stand.
You can also travel by car to Punakha from Thimpu, which is ideal if you are traveling in groups to cover the attractions too. Punakha to Paro distance is more than 125 km and it takes 4 to 5 hours depending on your time of travel to reach Punakha from Paro.
Where To Stay in Punakha?
It is difficult to find hostels or accommodation suiting the backpackers as the culture in Bhutan is more oriented towards homestays, guesthouses, resorts and hotels in Punakha, Bhutan.
You can get budget guest houses as well as luxury budget options. You can check the hotel prices online here on Booking.com
Here are some of the best recommendations for staying in Punakha and further.
Punakha Phuntshochoeling Heritage
Punakha Phuntshochoeling Heritage is a modern resort built-in light wood and whites with excellent views over Punakha valley – a perfect heritage stay to enjoy in the town.
Book your stay on Booking.com
The Four Boutique
One of the excellent hotels in Punakha recently opened for travelers is The Four Boutique.
Book your stay on Booking.com
Punatsangchhu Cottages
Located on the way to Wangdue, Punatsangchhu Cottages is one of the most recommended traditional hotels in Bhutan!
Book your stay on Booking.com
Himalayan Dragon's Nest Hotel
Another hotel on the way to Wangdue right next to the river is Himalayan Dragon's Nest Hotel, a perfect place for a quiet getaway.
Book your stay here.
Plan your Bhutan tour
As you know, you can travel in Bhutan only through guided tours and packages if you are from anywhere except India, Maldives or Sri Lanka. I'd recommend you these awesome guided Bhutan trips offered by Get Your Guide which covers all charges,
To cover the places to visit in Punakha in the best possible ways, book any of these tours providing various options to choose:
If you enjoy a private trip, this perfect 10-day private tour is the best for you, and it covers the highlights of the country including Paro, Thimphu, Punakha, Wangdue, Trongsa, Bumthang, Gangtey, Phobjikha, Kila Gomba and Taktsang Monastery. Book here.
If you have a week, this tour is ideal for you to get glimpses of the country's best including Thimphu, Paro and Tiger's Nest. Book here.
If you are looking for an economic Bhutan tour, book this 4-day tour covering the country's oldest temple Kichu Lhakhang, Thimphu, Punakha and Paro, including the Tiger's Nest. Book the trip here.
Want to combine India's pretty hill towns Sikkim and Darjeeling with a trip to Bhutan? Then this 2-weeks tour is perfect for you. Book here.
Hope you got all you need to know about the places to visit in Punakha! Let me know how your trip was!
Here are some more posts to help your Bhutan trip
A Travel Guide To Bumthang, Bhutan
How To Reach Bhutan From India?
What is the best time to visit Bhutan?
Connect with me on Facebook, Twitter, and Instagram for travel stories.
Share the Love. Pin this post!
Subscribe to my posts by email for travel inspiration, destination guides, tips & stories. No spam