After exploring Osaka for a few days, I planned a Nara day trip from Osaka. There are so many things to do in Nara that ideally, you need more than a day in the city. Nara, formerly known as Heijokyo, was the ancient capital of the Japanese kingdom that existed around 710 AD. Exploring the city is like going back in time, as most of the things are excellently preserved. Home to several temples, gardens and historical sites, no wonder it is UNESCO World Heritage-listed. In this post, I am sharing all that you need to know to plan your Nara day trip. Read further for one day in Nara itinerary.
Nara Day Trip
1. Get Up Close with the Deers in Nara Park
One of the UNESCO heritage-listed sites is Nara Park or Nara Deer Park, which is among the top free things to do in Nara Japan. With the gorgeous Mt.Wakakusayama in the backdrop, the deer park where most of the popular places to visit in Nara are located. There is a public park, many walking trails, lots of temples, shrines and museums, exploring which itself would take more than a day. The entry to the park is free, but there are separate entry tickets for individual attractions.
The main highlight of the park is the deers, thousands of them roaming freely. They are considered sacred and have been the inhabitants of this region since centuries. You can feed them Shika Senbei or Deer cookies which are available for 150 Yen. They are used to tourists feeding them and hence will follow you once they spot the cookies.
If you are looking for some awesome Osaka activities, check this post.
2. Check out the largest Bronze Buddha at Todai-Ji
Todai-Ji was my favourite part in Nara day trip. One of the popular things to do in Nara, Todai-Ji is a large wooden complex, one that has been around since 720 AD. What makes it unique is the large serene statue of Buddha made of Bronze, which is the largest bronze Buddhist statue in the world weighing more than 500 tons. If you want to visit one temple in Nara, then it has to be Todai-Ji.
Timings: 8 AM to 5 PM
Entry fees: 500 Yen
3. Explore Kasuga Taisha in Kasuga Primeval Forest
Passing through the deers that nod adorably for your crackers, you can go to Kasuga Taisha, known for its beautiful stone lanterns amidst dense forests of Kasuga, which adds to the mystic charm. The bright coloured temple with the lush green backdrop is what you should do if you want to know what to do in Nara! The temple premises cost 300 Yen, but you can explore the outer complex for free.
4. Visit the oldest wooden building of Horyuji Temple
Horyuji is the next among the best things to do in Nara in a day. One of the heritage sites, the wooden temple complex here is the oldest wooden building in the world, built around 680 AD. Only some parts of this original structure have stood till now. It is a little ahead of Nara Park, and there are direct buses from Nara park to Horyuji.
5. Go Temple Hopping in Nara
Your Nara tour is incomplete without visiting a few of the temples. There are too many shrines in the city, and you would need more than a day for them. Here I am mentioning some of the ancient, historically rich shrines worth checking out among Nara attractions.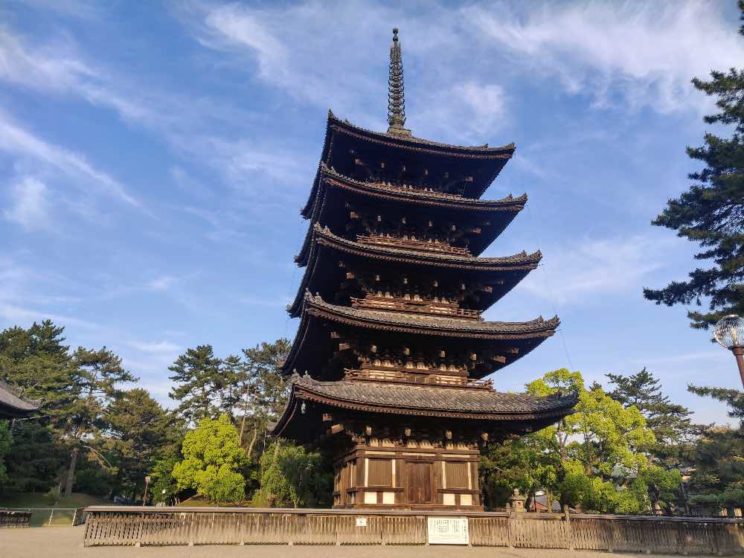 Gangoji
Gangoji is known for the ancient treasure halls, which were known to be the treasure houses. It is smaller but worth visiting.
Timings: 9 AM to 5 PM
Entry fees: 500 Yen
Kofukuji
One of the 8 sites of Nara listed in UNESCO heritage list, Kofukuji was a prominent Buddhist shrine known for its tall Pagoda and many complexes.
Timings: 9 AM to 5 PM
Entry fees: 500 Yen
Toshodai-Ji
Toshodai-Ji was built after a Chinese priest's visit to Nara during the late 9th century when Nara flourished as a capital. It is known for its two structures, the main hall and the lecture hall.
Timings: 8:30 AM to 5 PM
Entry fees: 600 Yen
Yakushi-Ji
Yakushi-Ji temple was built by an emperor to pray for the recovery of his ill wife. The temple is perfectly symmetric, which is a unique architectural feature in the 9th century period. Most of the areas have been preserved since then, unlike the other temples.
Timings: 8:30 AM to 5 PM
Entry fees: 1100 Yen
6. Stroll in Naramachi
Naramachi is the former area where the merchants lived. Today, many of these have been preserved. You can stroll in these narrow streets comprising of the traditional Japanese houses, some of which you can check. The streets are lined with shops selling traditional Japanese souvenirs. After temple hopping, wandering in Naramachi should be one of the things to do in Nara day trip.
7. Isuien Garden
Located close to Todai-Ji, Isuien Garden is one of the top Nara attractions. It's a great change after a temple run to walk amidst the lush garden. Built in the 17th century, it is a lovely Japanese landscape garden consisting of many ponds, a few tea houses and walking trails.
Timings: 9:30 AM to 4 PM
Entry fees: 900 Yen
8. Yoshiki-en Garden
Close to Isuien is another lovely less-visited garden of Yoshiki-en. There are three gardens within Yoshiki. A pond garden, a moss garden and a garden for tea ceremony. A great way to spend some time in the evening enjoying nature after exploring historical and religious sites of Nara. Plus, there is no entry fee for foreign tourists. (You need to show a copy of your passport)
9. Get to know about Buddhist arts at Nara National Museum
Nara National Museum is dedicated to Japanese Buddhist art and comprises permanent exhibits displaying Buddhist artworks in various forms from around the 18th century.
Timings: 9:30 AM to 5 PM. Closed on Mondays
Entry fees: 520 Yen
10. Nara Imperial Palace
Heijo Palace or Nara Imperial Palace was the royal residence in the ancient capital of Nara. It functioned as a central administrative palace where the royal affairs took place. It got eventually abandoned to be later converted to a public office building after the capital was moved from Nara. It is one of the free things to do in Nara as there is no entry fee.
Timings: 9 to 4 PM
Entry fees: Free
11. Go shopping at Higashimukhi shopping district
Like every city in Japan that has exclusive shopping areas, Nara has one at Higashimuki. You'll spot this one quickly because it is a closed shopping arcade with interesting shops on either side. If you got some time and energy, do some Nara shopping as well!
How to get to Nara?
Nara is almost equally distanced from Osaka and Kyoto cities, making Nara day trip option popular among the tourists visiting either of these. But it is close to Osaka as per the time required to reach. The best way to reach Nara is by trains. There are two railway stations in Nara Station for JR line and Kintetsu Nara Station for Kintetsu line.
Osaka to Nara
The best way to travel from Osaka to Nara is to get on the Kintetsu line, which takes less than 45 minutes and will arrive at Kintetsu Nara Station. You have to board this line at Osaka Namba station.
Kyoto to Nara
You can travel from Kyoto to Nara by opting the Kintetsu line, by boarding it from Kyoto station. It takes less than an hour to reach Nara from Kyoto. The JR line is the other but slightly expensive option.
How to get around Nara?
Using bus passes is a great way to get around Nara cheaply. Go for 1- Day Nara Bus Pass costing 500 Yen, which provides unlimited use of Nara Kotsu buses around Central Nara. If you want to access the Horyuji area, the cost for the pass is 1000 Yen. There is also a 2-day pass costing 1500 Yen, which also covers the Asuka area. It would be useful if you are spending more than a day in Nara.
Kansai Thru Pass – For foreigners, there is an exclusive Nara pass, which is very economical. I used the same to travel to Nara from Osaka and to Kyoto after Nara sightseeing. Kansai Thru Pass includes 2-Day Kintetsu Rail Pass and one day Nara Bus Pass. So basically along with the access to buses in and around Nara, you also get unlimited rides on all the Kintetsu local, rapid and express trains between Osaka, Nara and Kyoto. It means you can travel from Kyoto to Nara to Osaka or Osaka to Nara to Kyoto, sandwiching Nara day trip between exploring 2 cities. This pass costs 1500 Yen for 1 day while a 2-day pass costs 2500 Yen.
Kyoto is expensive, but fret not if you are on a budget – Check out this exclusive post to find out all the free things to do in Kyoto!
Nara Day Trip – Final Thoughts
You need at least two days in Nara to explore all the attractions, especially if you want to check out most of the temples. Ideally, you can stay overnight and make the journey to cover all Nara points of interest.
But Nara day trips are more popular among tourists. It makes sense if you are short on time and want to cover the highlights. Most people either opt for a day trip to Nara from Osaka or Nara day trip from Kyoto as it is equally distanced and well-connected from both the cities. If you don't want to do on your own, there are several Nara tours from Osaka as well as day tours from Kyoto, which cost almost the same irrespective of the city.
Some Budget Tips for Solo Travelers
Nara is very popular among the destinations in Japan and is something that you shouldn't miss on your Japan itinerary as well. But it's expensive compared to other places mostly due to the entry fees in every attraction that would soon add up. If you are traveling on a budget, then explore just the outer premises of a few temples as they are free. You can also do the free things to do in Nara mentioned above which will not let you miss some of Nara attractions.
Hope this Nara travel guide will enable you to enjoy your Nara day trip.
OTHER RECOMMENDED POSTS FOR YOUR JAPAN TRIP
The Ultimate Guide to Osaka – Amazing Things To Do In Osaka
Things to Do in Kanazawa – A Travel Guide
20 Awesome Things to do In Nagoya
Share the Love. Pin this post!
Connect with me on Facebook, Twitter, and Instagram for travel stories.
Subscribe to My Blog Posts for Travel Inspiration, Tips, Travel Guides & Stories. No Spam!