Kanazawa fondly called as 'Little Tokyo,' the capital of Ishikawa Prefecture is one of the top things to do in Japan. The last moment decision to explore this lovely town turned out to be the best.
For starters, it is home to one of the best gardens in Japan. It is not as big as any of the other popular cities, but there are plenty of Kanazawa tourist attractions.
It is one of the few cities to spared from WWII bombing, so many of the Kanazawa things to do are well preserved.
Also, it receives relatively fewer tourists and Kanazawa weather is just amazing as compared to others. Read this Kanazawa Japan guide to find out all about the things to do in Kanazawa.
Things to do in Kanazawa Japan
Visit Kenrokuen Garden
The most popular of all Kanazawa attractions is Kenrokuen Garden, one of the three great gardens of Japan. You'll love the serenity in this landscape garden or a Kaiyū-Shiki, dotted with greenery, lakes and streams.
You can see the city's landscape from a viewpoint, stroll in the garden area and also have a tea experience in an authentic tea house located the garden.
The best time to visit is early in the morning or in the evening when the weather becomes very pleasant.
Kenrokuen Garden timings: 7 AM to 6 PM
Kenrokuen Garden entry fee: 310 Yen
Walk the streets of Higashi Chaya district
Chaya in Japanese translates to Japanese Tea houses, and in Higashi Chaya, you can find a lot of traditional tea houses lined up in cobbled streets.
One of the well-preserved heritage sites in the town, it's an awesome place for photography. Being one of the top things to do in Kanazawa, the streets are crowded with tourists.
There are many tea houses that let you experience a traditional Japanese tea ceremony. You can dine in one of the ancient restaurants and watch performances of street artists as well, sometimes.
Watch the views from Kanazawa Castle
One of the answers to what to do in Kanazawa is visiting Kanazawa Castle, built originally in the 15th century.
It is one of the largest wooden castles in Japan, most of which was destroyed many times. Ishikawa Gate, Kahoku Gate and Hashizume Gate are the three popular entry points of the castle known for large walls offering great views of the city.
Kanazawa castle timings: 8 AM to 6 PM
Kanazawa castle entry fees: Free
Get a glimpse of local life at Omicho Market
Omicho market is the kitchen of the city functioning for nearly 300 years.
A centre place for the locals to buy anything related to Kanazawa food, it's really one of the cool things to do in Kanazawa city as a tourist as you get to see the local life and the traditional market experience.
If you want to try some street food, look for small shops in Omicho.
Omicho Market timings: 9 AM to 5:30 PM
Check out the Ninja Temple
Known famously as the Ninja temple, Myoryuji or Ninjadera is one of the unique experiences to have during your Japan travel.
Built in the 15th century during the Edo period, the structure of the temple is designed very cleverly, a 4-storeyed building constructed to appear like a 2-storeyed one to defend any attacks.
In fact, you can go through their Ninja Tera guide which has details.
Explore the temple premises to see all the secret doors and traps built for enemies. was built in 1585 by Lord Maeda Toshiie as a place of worship during the Edo Period.
21st Century Museum
A contemporary art museum also dedicated to architecture and crafts, 21st Century Museum is hard to miss due to its unique, colourful, cylinder-shaped outer structure.
museum lass, which looks like an art object itself. If art is your thing, you'll enjoy it as one of the fun things to do in Kanazawa.
21st Century Museum timings: 10 AM to 6 PM. Closed on Mondays
21st Century Museum fees: Free (Some sections)
Get to know about Zen at Suzuki Museum
Dedicated to the Japanese writer D.T. Suzuki, Suzuki Museum is one of the lesser known places to visit in Kanazawa, but surely worth it.
He is renowned for introducing Zen Buddhism to the western world and here, you can get to know all about the Zen way of life, which is very interesting.
There is also a small lake around which is a lovely Japanese garden, both that you shouldn't miss while you are here.
Suzuki Museum timings: 9:30 AM to 5 PM. Closed on Mondays
Suzuki Museum entry fees: 300 Yen
Pay a visit to Oyama shrine
Oyama is a small but beautiful Shinto shrine dedicated to a former local lord, who was known for his works.
Look for all things made of Kanazawa Gold Leaf
Kanazawa is the capital of gold leaf in Japan. An extremely thin foil of gold, called gold leaf is used in art, decorating temples and other things in Japan, and Kanazawa supplies it to the entire nation.
In Kanazawa, there are shops selling many things made of this gold leaf, including beauty products like face masks, lotions and soaps.
But what's popular among the tourists is the soft icecreams wrapped on top with a foil of gold.
Yes, you read it right. Gold leaf is used in food as well. Be sure to try this in one of the local shops that are not hard to find.
Tour the former Samurai district of Nagamachi
Nagamachi, located close to Kanazawa castle is the district where the Samurais or the warriors of the Edo period lived.
The colony of Samurai houses was owned by a former Samurai lord, all of which are open to the public. You will be reminded of scenes from many Samurai movies in this district too as you stroll through the streets.
Some of these have been converted to tea houses, where you can taste Japanese Matcha tea or green tea.
Admire the modern architecture of Kanazawa Station
Japan's modern architectural ideas are world-wide famous. One of the places to see it is at Kanazawa Station.
A huge station with a uniquely designed dome made of glass, along with Japanese art adorns the station.
At night, it looks even better with all the lighting. Don't miss to stand and observe this station when you arrive in the city here.
Ishikawa Prefectural Museum of Art
Another museum in the city for the art lovers, not as popular as the contemporary art museum, but worth a visit for its unique collection of artworks.
Ishikawa Prefectural Museum of Art entry fees – 360 Yen
Ishikawa Prefectural Museum of Art timings – 9:30 AM to 6 PM
Kanazawa Phonograph Museum
It may look like one of the weird things to do in Kanazawa, but it isn't. If you like anything related to music, visit this Phonograph museum to see a collection of antique radios, old collection of music and more.
A good place to spend a few hours indoors, especially a thing to do in Kanazawa on a rainy day or summer to stay indoors!
Phonograph Museum entry fees – 300 Yen
Phonograph Museum timings – 10 AM to 5:30 PM
Kanazawa Umimirai Library
If you love books and chic architecture, you'll love Umimirai Library. The building looks stylish from the outside with 6,000 holes fitted with translucent glass panels adding to its beautiful design. It should surely be on your Kanazawa Japan things to do.
Umimirai Library timings: 10 AM to 5 PM. Closed on Wednesdays
Umimirai Library entry: Free
What is the best time to visit Kanazawa?
The weather is cooler and pleasant compared to other cities making it a great place to visit in Japan.
The best times to visit Kanazawa are Spring, between March and May, and during the autumn months between September to November.
Things to do in Kanazawa in winter would be different than in spring as you will have two different experiences.
You can enjoy the pleasant weather along with witnessing the beautiful blossoms or Sakura if you travel to the city in Spring.
If you are wondering what to see in Kanazawa in autumn, there would be the regular attractions mentioned above but enjoyed in cold weather.
How To Get To Kanazawa?
The best way to travel to Kanazawa from anywhere is by train.
The extensive train network makes it an excellent option, followed by buses, flights or taxis. Read the details below to know what's the best way to reach based on the city.
Tokyo to Kanazawa
Train – The best way between Tokyo and Kanazawa is by train. The Hokuriku Shinkansen or the bullet train is the best of all the trains.
In Tokyo, you can board the Shinkansen at Tokyo Station or Ueno Station, which arrives at JR Kanazawa Station. Japan Rail Pass is valid on this line.
Flights – The closest airport to Kanazawa is Komatsu Airport. You can fly from Tokyo here, but it costs more and also takes more time than you would take by either trains or buses.
Kyoto to Kanazawa
Train – Again, the best way to travel between Kyoto and Kanazawa is by train. Limited express trains or Thunderbird travel between Kyoto and Kanazawa regularly.
It takes about 2 hours. these operate from JR Kyoto Station. You can use the Japan Rail pass on these trains.
Osaka to Kanazawa
You can arrive at Kanazawa from Osaka by Limited Express trains which run regularly throughout the day, taking about 3 hours.
How to get around Kanazawa?
Kanazawa Loop Bus
Take the Loop Bus to efficiently explore the city on a budget. Running every 12 minutes, the loop buses start from the main station passing through major Kanazawa sights including Higashi Chaya, Kenrokuen Garden, and Omicho Market. The ticket is 500 Yen, which is a one-day bus pass.
If you want to explore offbeat, there are other local buses, which don't have the signs loop buses written on them.
Taxis – Surprisingly taxis are relatively a cheaper option. It also works when you are travelling with your family or in groups.
Bicycles – If you want to enjoy riding bicycles, the city has a rental bicycle system called Machi Nori. You can pick up and drop off bicycles anywhere you want using this.
OTHER RECOMMENDED JAPAN POSTS
40 Amazing Things to do in Osaka Japan – A Complete Travel Guide
Nara Day Trip – Things To Do In Nara In One Day
Things To Do In Nagoya – A Total Travel Guide
Share the Love. Pin this post!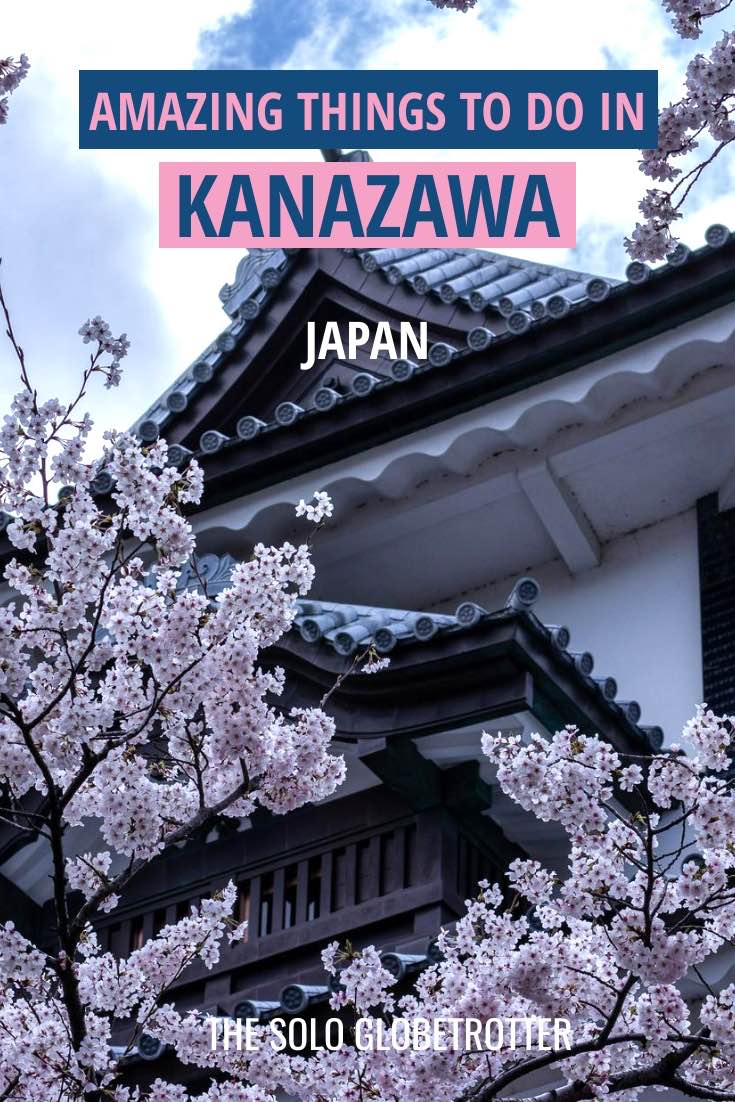 Connect with me on Facebook, Twitter, and Instagram for travel stories.