Did you know that you can explore Kyoto for free? There are so many free things to do in Kyoto, which is a big deal. Because Japan is a bit expensive compared to other countries in Asia, but you can travel on a budget without spending much as I did. In this post, I am going to share how to travel cheaply and explore all the best free things to do in Kyoto.
Free Things To Do in Kyoto
1. Walk along the Philosopher's Path
One of my favourite thing to do in Kyoto was walking along the Philosopher's path. It is a path along a canal connected to Lake Biwa and is very popular during cherry blossom season when the entire way transforms into a magical land.
Even without the blossoms, it is an excellent Kyoto attraction for sure, and you can enjoy some of the best views of nature. I went there after the season of cherry blossoms and didn't like the path any less!
2. Explore Gion, the Geisha district
Gion area is located in Hanamachi sub-district not faraway from Kyoto downtown. A set of streets consisting of traditional wooden buildings will take you back in time.
But the area is mostly famous for Geisha, the beautiful, talented Japanese women who have an excellent dance, singing and art skills. You can easily spot them wearing the lovely Kimono and with traditional make-up on the way to work.
Don't shove cameras in their faces, but politely observe them from a distance and make sure to take pictures only when possible.
3. Pay a Visit to the Sacred Yasaka Shrine
There are plenty of temples in Kyoto, and you might feel templed-out after visiting a few. But I have included only those that are important and worth checking out. Not to mention, they are free to enter. One of them is Yasaka Shrine, which should be on your list of free things to do in Kyoto because of various reasons.
For starters, it is located in the Gion area, and you can pay a visit while checking out this neighbourhood. Yasaka Shrine is the place where Gion Matsuri, Kyoto's major traditional festival happens. Also, if you are lucky, you can witness Geisha performing a dance or some rituals in this temple.
4. Take a Self-guided Walking tour in The Higashiyama District
The Higashiyama District in Kyoto is one of the city's best-preserved historic areas and is one of the free things to do in Kyoto. The cobbled-stone streets of this area are home to traditional buildings, merchant houses and ancient shrines, and will take you back in time. Located close to Yasaka Shrine, you can plan trip combining the two.
5. Spend an evening walking around Maruyama Park
While you are in the Gion area, located behind Yasaka shrine is Maruyama Park, which is one of the attractions in Kyoto worth checking out. It is a traditional garden designed by a famous architect who is credited with creating many popular parks in Kyoto. It consists of all the elements of a Japanese garden including many lovely flowering plants, bridges, walkways, ponds and small streams.
Maruyama is popular among the locals for Hanami party, a tradition that occurs during the cherry blossom season. People picnic and party here amidst a gorgeous display of Sakura shortly before spring.
Recommended read: Top Things to do in Nagoya, Japan
6. Explore Nishiko Market
Nishiki Market is one of the cool free things to do in Kyoto if you love checking out local markets. It is at least 500 years old and was Kyoto's first fish market. It now functions as a food market and is a perfect place if you are a foodie. Here you can try almost all of the local delicacies from baby Octopus served as pancakes to the ubiquitous Sushi.
7. Get Your Instagrammable pics at Fushimi Inari
One of my other favourite Kyoto attractions is Fushimi Inari, which is famous as the temple with thousands of vibrant Torri gates. The temple is free to enter and is open until late night up to 10 PM. It is known for its bright orange and black coloured Torri gates and amazing views of Kyoto from the top.
There is a lot of hiking for going to the top, and you'll pass by many smaller shrines on the way. It is an easy hike but takes at least 2 to 3 hours. Fushimi Inari is one of the must-visit amazing things to do in Kyoto.
8. Get to know about Kyoto's past at Imperial Palace
The Imperial Palace is one of the famous Kyoto attractions, and of course, a free thing to do in Kyoto. It was home to the royal family during the Heian period. The Imperial Palace consists of a beautiful big garden built in Japanese style.
The entry to this enormous palace is free, and you can even book guided English tours without any charges. But if you visit during peak hours, these get booked very quickly. It is an attraction worth checking out in Kyoto for its history, architecture and lovely Japanese gardens.
9. What to do in Kyoto – Watch a Kimono Parade
I loved Kimono, traditional Japanese attire for women, which is still in trend in the country. If you are wondering what to do in Kyoto off the beat, you can head to The Nishijin textile centre, where you can learn how a Kimono is made from silkworms. There are parades many times a day of Kimono dresses, which are amazing. The best thing is it is free to attend the show. You can also witness a demo of how fabrics are made.
It is very close to the Imperial Palace so you can plan a visit together.
10. Check out the ancient Nishi Honganji & Higashi Honganji shrines
If you are still thinking of what to see in Kyoto, there are two more shrines that I would suggest you visit. Not to overwhelm with more temples, but again, these two are unique and worth checking out in Kyoto. These are substantial wooden shrines with a history of at least 300 years, and worth checking because they are free as well.
More Free Things To Do In Kyoto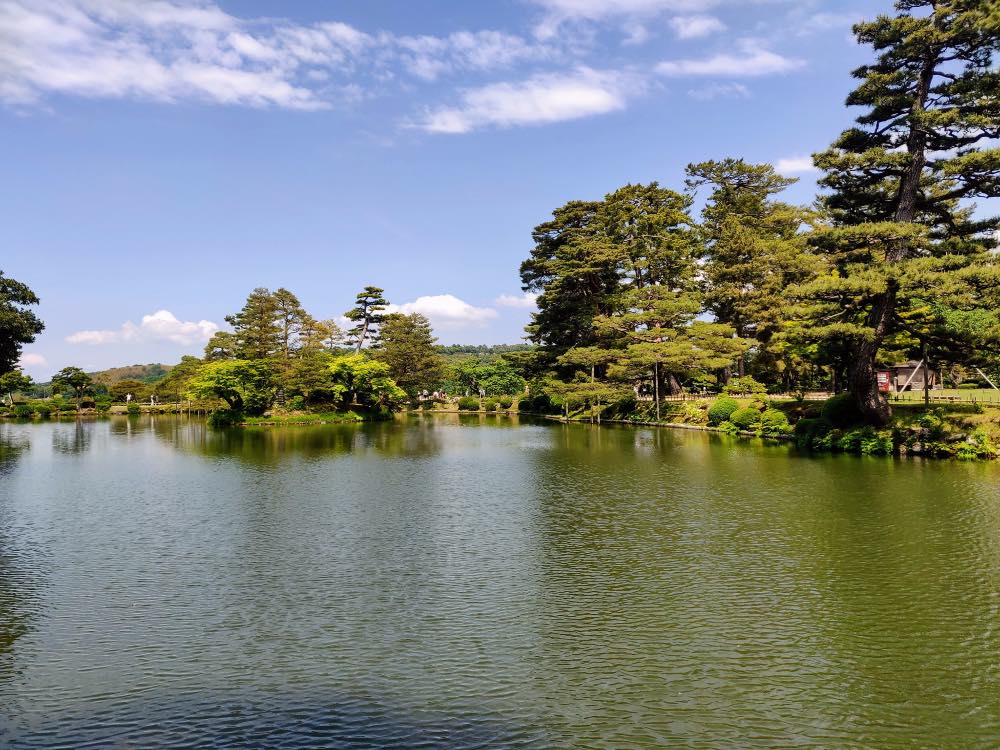 11. Walk along The Kamogawa River
One of the best free things to do in Kyoto is people watching. And an excellent place for that is the banks of the Kamogawa River, which offer scenic views of the city. The locals hang out a lot during the weekends and holidays for a picnic along the riverside. It is also one of the famous cherry blossoms viewing spot in Kyoto.
12. Visit the Samurai shrine at Sengakuji
Last among my shrine recommendations in the city is Sengakuji temple, dedicated to a famous Sumo wrestler Akoroshi Kinenkan, nicknamed 47 Ronin. It is one of the very few Samurai shrines in Japan, which also houses a museum. The temple is free to enter to pay respects at the burial ground.
13. Get some fantastic views of the city at Kyoto station
Okay, a station might not be one of the attractions, but the Kyoto station can pass off as one of the free things to do in the city because of its grand modern architecture. Also, the station has a skywalk, sky garden as well as many cool places to hangout. You need to check out this massive station while you are in Kyoto.
Offbeat Kyoto – Bonus Free Things To Do In Kyoto
14. Admire the beautiful Japanese countryside at Mt. Kurama
A short trip away from Kyoto takes you to Mt. Kurama, located amidst dense greenery. Climbing this mountain for some time would lead you to a temple, but the highlight is Kibune village that you would visit while getting down from the other side. It is a great trip to admire the landscapes of the countryside and enjoy some panoramic views.
15. Free Things To Do in Kyoto – Enjoy the Bamboo forest at Arashiyama
Arashiyama is located a one-hour train ride away from Kyoto. The region itself has many things to do and is a popular day trip option. But if not for a day, head for the most popular Bamboo grove visited by hundreds of travelers every day. The best thing is it is free to enter the Bamboo forest.
That's how to travel in Kyoto without spending a lot of money. Here are other posts that you might want to check out for your Japan Trip
40 Best Things To Do In Osaka – A Complete Travel Guide
Nara Day Trip – Things To Do in Nara
20 Best Things To Do In Kanazawa
15 Top Things To Do In Nagoya, Japan
Share Love. Pin this post!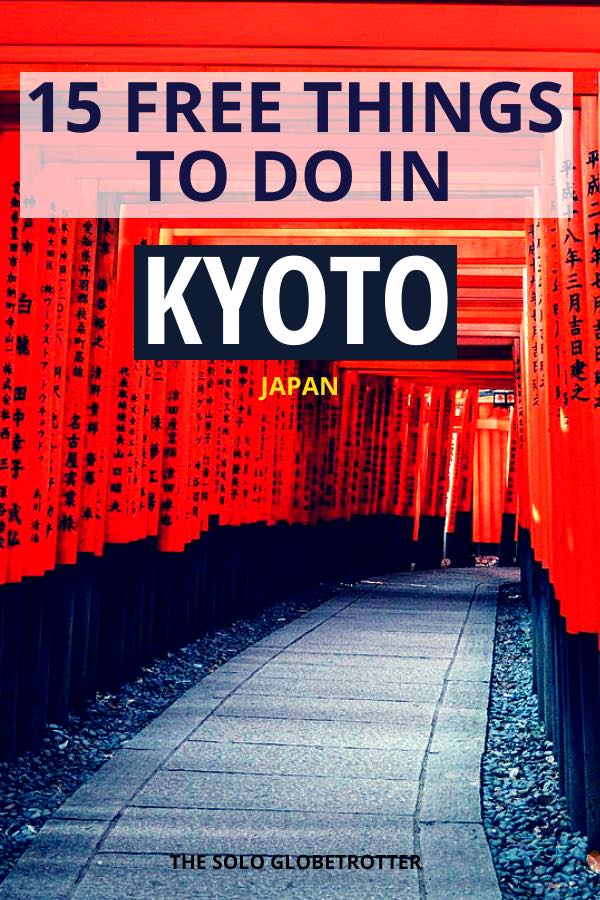 Connect with me on Facebook, Twitter, and Instagram for travel stories.
Subscribe to My Blog Posts for Travel Inspiration, Tips, Travel Guides & Stories. No Spam!