After spending 25 days in Myanmar, I made my way back to India by land. Crossing the border at Moreh in the state of Manipur, Imphal was my next logical choice. Exploring Loktak, the largest freshwater lake in North East India was on my list, and it turned out to be way better than I had imagined, thanks to my stay at Loktak Aquamarine, a floating homestay on the lake.
Yes, you read that right. I spent two nights on a homestay built on the Phumdis or islands on Loktak lake, and it was one of the most memorable experiences. Read on to find more.
Where is Loktak Lake?
Loktak Lake is located in Moirang in Manipur state in India. Many things make it special, apart from its natural beauty and serenity. Here are some quick facts about Loktak Lake.
The lake is known for Phumdis or floating islands, which is a type of vegetation growing on the lake, which is unique in the world.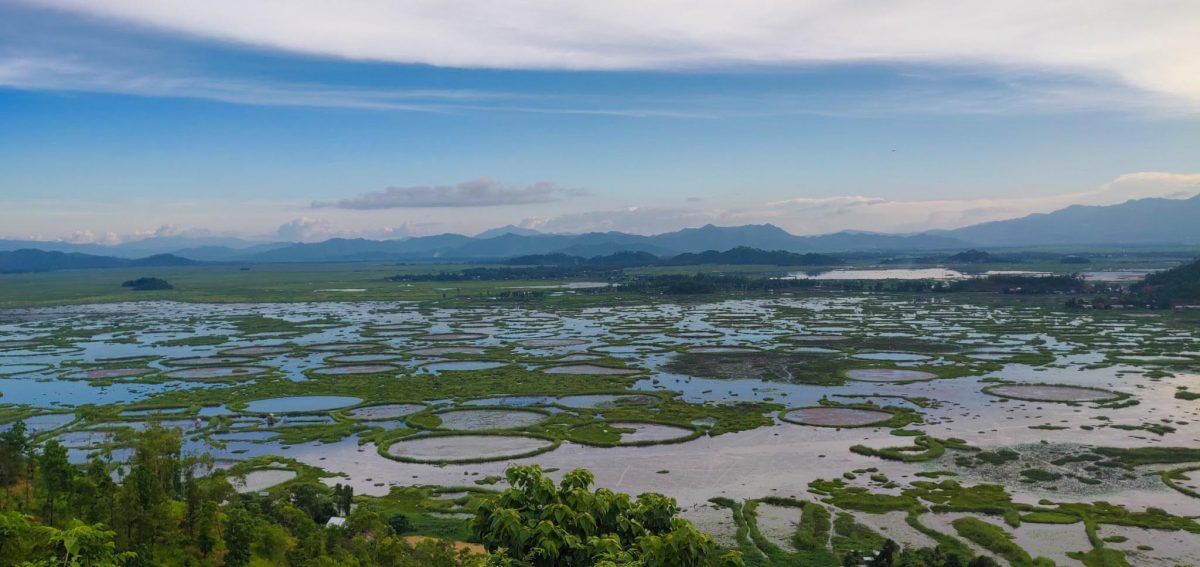 The lake is also home to the Keibul Lamjao National Park, the only floating National Park in the world, which you can explore by taking a boat trip along the swap areas.
The endangered Eld's deer or Sangai, as it is locally known is found in this park. The reserve area was exclusively created to protect this species of deer, which is only found in this part of the world.
Loktak Lake Homestay – A Homestay that Floats!
One of the best ways to experience the surreal beauty of Loktak is to stay right on it! I got to know about this homestay through one of my friends, who highly recommended to experience this place. I arrived at night from Imphal to Moirang, the town home to Loktak.
Ashok, the host picked me up and we started our little journey to the floating homestay on boats. It was pitch black on the road, and all I could see was fireflies, which were creating sparkling moves, which appeared like waves in the air.
Little boats arrived in the dark, and I made my way down to hop on. An elderly couple took us to the homestay on the boat. It was not your usual boat trip. We made our way through swap sprinkled with lotuses, which I could hardly see in the darkness. Both rowed boats in darkness, which made it special. A sky studded star above, a serene lake around me, and the sound of gentle ripples of water were the highlights of this short and sweet boat trip to the homestay.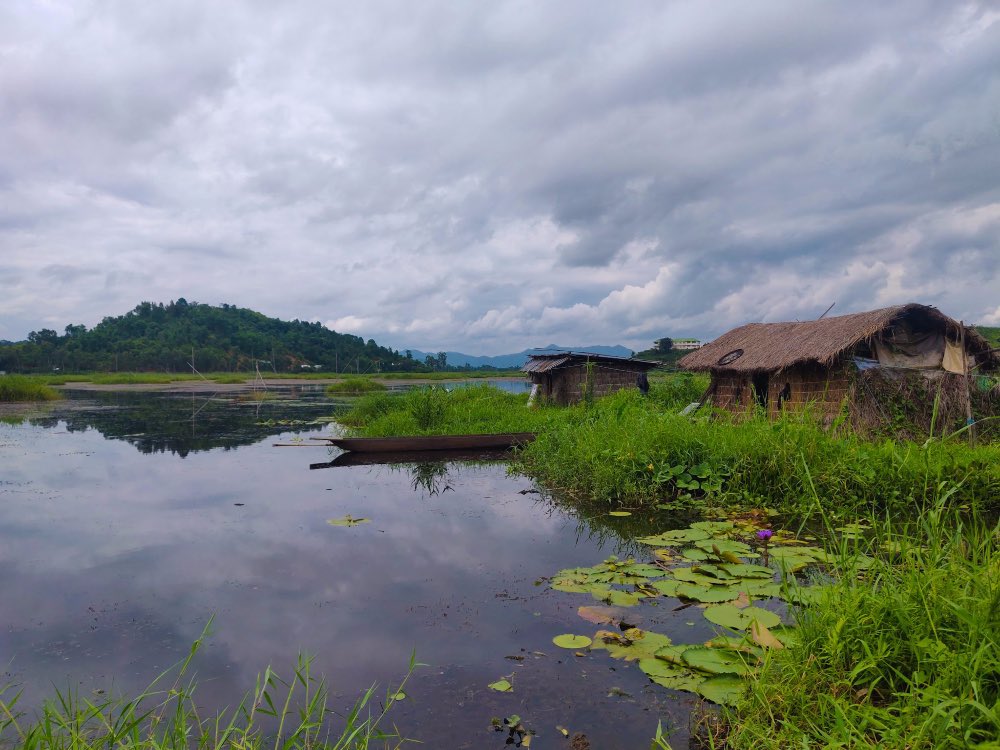 Ashok showed me my cottage, and I settled in after a long and tiring journey of more than 16 hours. After a while, we gathered for a nice dinner, cooked by the elderly lady. I was served the local cuisine, and what's best than a home-cooked meal? A little chit chat later, I came back to the cottage. Sleep caught up with me sooner than expected.
Loktak Homestay Cottages – Simple Yet Elegant
I woke up to some of the best views the next day, surrounded by hills and the lake. The floating homestay, which was started a year and a half ago, has been a work in progress. Ashok has been adding cottages, setting up the amenities, and it's not hard to notice his passion to give a unique experience to his hosts.
There are three cottages right now, all of them located on Phumdis. There is a kitchen area, and hammocks to relax and enjoy the view. Literally cut off from the rest of the world, it is the place to be if you want to escape life and find comforts amidst nature.
After a simple yet refreshing breakfast, I set off with Ashok to explore Moirang and around. After a short boat trip, he drove me to other parts of Loktak Lake. Only then did I begin to realize how huge the lake was!
We went to the viewpoint of Loktak lake driving past the town. Men were engaged in fishing near Phumdis, and kids played along the side of the streets next to the lake.
On the way, Ashok explained all the activities that he offers to his guests and also others who want to travel around. You can rent motorbikes per day from him and explore by yourself or you can get local guides to take you around on their bikes. The best way to experience a place is with locals because they know the best.
After an adventurous ride to the top of the hill, we arrived at the viewpoint. I was stunned at the sheer size and the beauty of Loktak. Circles or Phumdis of all sizes scattered all the way decorate the lake like garlands.
There is an interesting story behind these Phumdis. These are plots on lakes, owned by fishermen. The more and the bigger you own, the rich you are in the community! All the fish belong to those owners, and those circular territories segregate private areas from the public.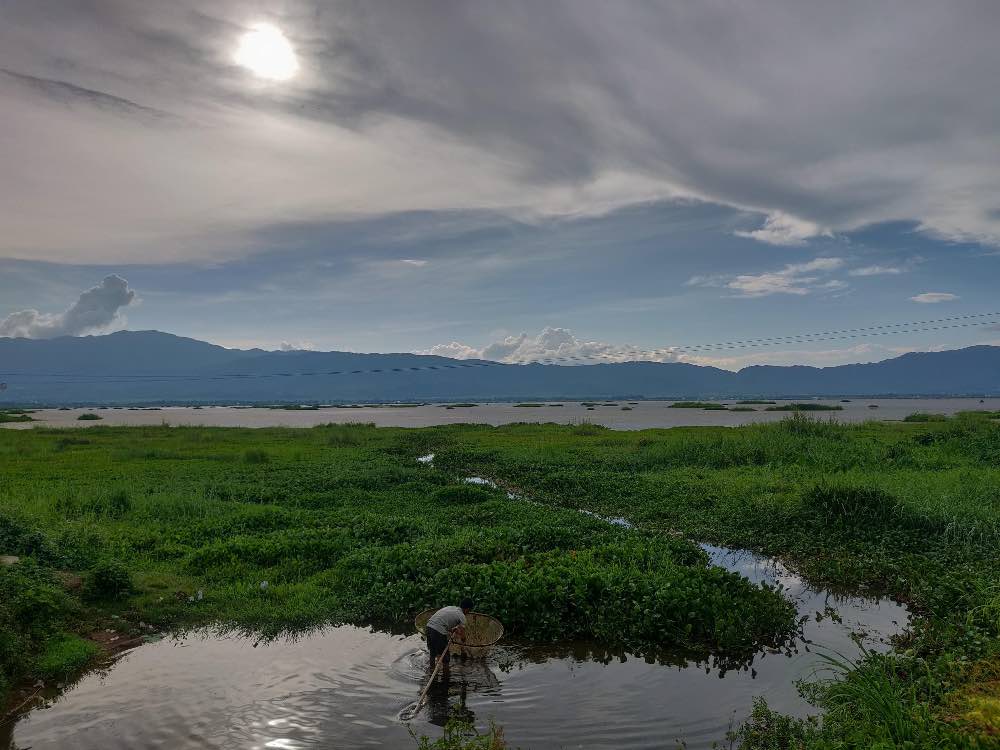 The Phumdi owners, mainly fishermen, help each other in fishing and other activities and have a strong-knit community to support each other.
This approach has helped the communities to survive and thrive along with conserving the lake and also their unique traditions and culture.
I got to know about these fascinating things from Ashok, who himself has been striving to promote the region to boost tourism, by developing his homestay, creating meaningful experiences and also enabling employment opportunities among the locals.
Food in Homestay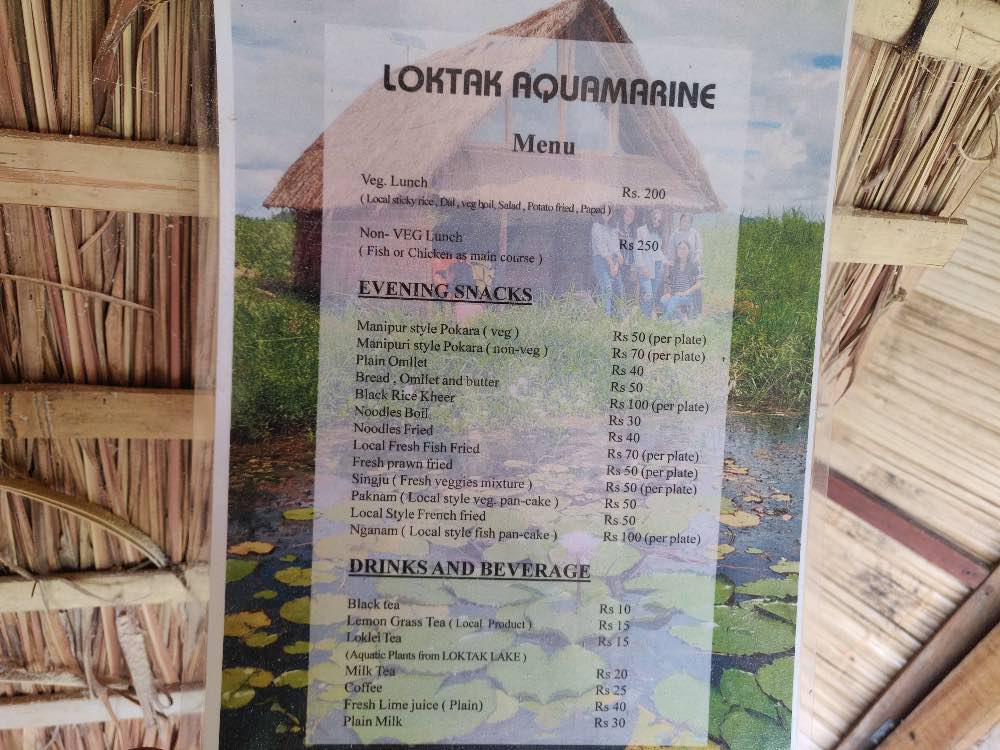 As mentioned earlier, the homestay has a menu serving both vegetarian and non-vegetarian cuisines. All of them are freshly prepared and can be tweaked if you have special requests. Ashok is best in making you feel home while you are here, and it does extend to being your food cravings met.
Activities in Loktak
Depending on your time and preferences, you can do many things in and around Loktak Lake. The homestay arranges boating tours during sunrise and sunset, which offer spectacular panoramic views of the lake. You can rent motorbikes and explore the nearby towns, or hire a local to show you around.
You can sign up for hiking around the hills, go fishing, swim in the lake and walk in the trails. If you want to visit the national park to spot the deers, that would be arranged too. You can also visit Moirang Bazar, Karang island and a few other great attractions around the lake.
Also, one of my favourite experiences in Loktak Lake was that I got to try the traditional Manipuri attire worn by local women. Trying on the dance costume, where the women dress as princesses were total fun, and we had a little photoshoot too. At an additional cost, you can dress up and be prince and princess too!
What makes Loktak Lake Homestay worth a visit?
You should visit Loktak Floating homestay because it's one of a kind experience. I mean, where in the world do you get to camp on a massive lake? You'll wake up to the views of lovely landscapes, get to savour fresh, home-cooked meals, and most importantly, you can connect with nature, sit back and unwind, miles away from all the chaos.
Having said that, it is not for you if you expect luxury, perfection and services as in hotels or resorts. Mind you, the homestay is away from mainstream civilization, on a lake, and the amenities are basic. But all the essentials are taken care of, the cottages are clean, and hygiene is present. Electricity is through batteries, and you need to use boats to get out. As I said earlier, Ashok is working hard constantly to provide the best experience for his guests, and I can assure that you would have a memorable holiday on Loktak Lake.
The tariff per person is 1000 INR per day. It includes breakfast, tea twice a day and dinner. Lunch is served at an additional cost.
You can book this place here to have a lovely holiday at Loktak Lake.
Connect with me on Facebook, Twitter, and Instagram for travel stories.