If you are looking for a detailed level 8 luggage review, you have come to the right place. After spending a lot in these eight years of solo traveling, I have moved from backpacks to check-in and carry-on luggage.
Don't get me wrong, I still love and use all my backpacks, but there is a reason why I have become a frequent user of carry-on, and that is because of level 8 cases.
Many bags offer the best combination of the features of a soft-luggage aesthetic with all the bonuses of a hard-side suitcase, beautifully designed, robust, and careful attention given to the little details, making it a winner.
LEVEL8 invited me to try out a few of their collections. In this post, I am sharing a detailed level 8 luggage review of the Full Aluminum Carry-On 20″, a classic luggage bag I have fallen in love with.
Note – This luggage review was created in collaboration with LEVEL8. But all opinions and recommendations are 100% my own.
LEVEL 8 LUGGAGE REVIEW GUIDE
WHO IS LEVEL 8 LUGGAGE?
I came across LEVEL8 while looking for elegant and stylish luggage bags as I wanted something other than the dull-looking or bulky bags.
LEVEL 8 is a New York City-based luggage company. They are focused on creating stylish and high-quality travel bags that are catered to offer maximum efficiency and usage without compromising on the looks.
The company offers a wide range of products in different sizes, styles, and colours, so there's something to suit everyone's needs, including laptop bags, backpacks, and travel accessories.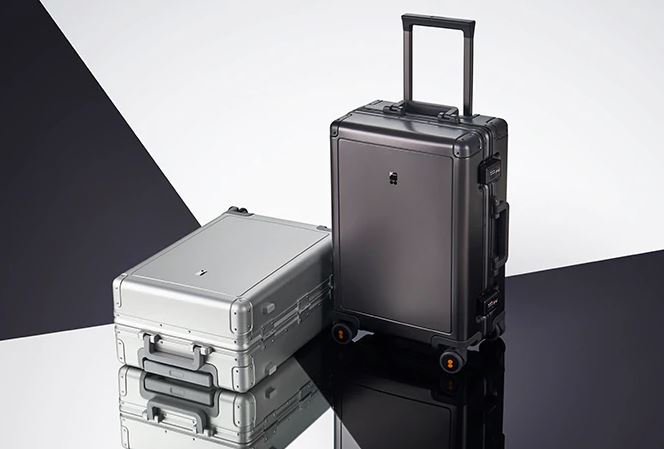 Hence, all their products feature simple, stylish designs but high-quality construction to serve you well.
I particularly love their hard shell luggage as it protects your bag well, thanks to its rigid frame. Plus, they are water-resistant and easier to clean.
Are you looking for a juicy discount? If you want a LEVEL8 discount code, use our exclusive promo code Globetrotter10 to get 10% off any purchase.
WHY LEVEL 8?
The name LEVEL8, as the brand says represents 'endless exploration of the future and life's unlimited possibilities.
Here are some things that I love about LEVEL 8 luggage.
Colours – Some feel Level 8 has not had many colours, but to me, I see a wide array of cool and distinct colours.
Whether you want to go for the more minimalistic grey, black or navy tones, or want to go for the bright steel blue, sea green, bright yellow, violet, pink, and olive, you have a wide variety of colours that you can choose.
Different Designs – Want feminine designs or a corporate feel? Or how about the vintage look?
You can choose between any of these as they have unisex bags, suitcases for men, as well as designer suitcases for women with a classy feminine edge.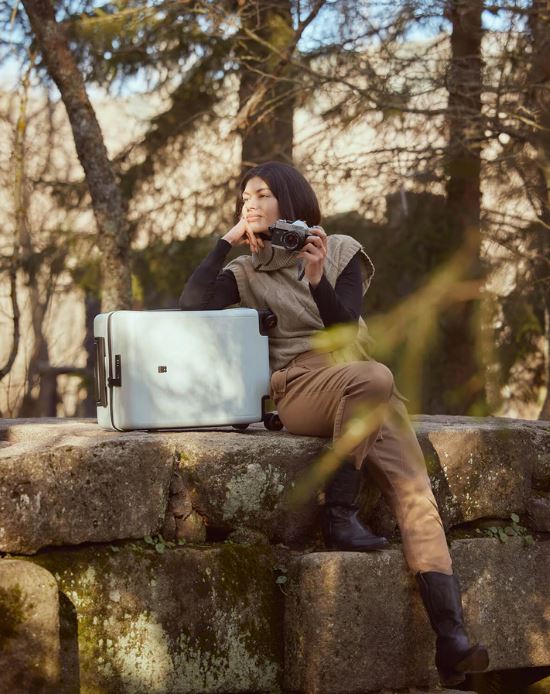 Attention to little things – What makes a product surpass another is the final finish and the meticulous details that make a polished product.
Though Level 8 exudes a highly elegant charm, you can feel the intricate work in the little details, from the branding to the zipper to the inner designs.
Limited lifetime warranty – If you are an avid traveler or like me on the road for months at a time, suitcases and backpacks are more solid investments where you put your hard-earned money.
Since level 8 items of luggage are put through quality tests before shipping out to ensure you're getting the very best from LEVEL8.
They offer a lifetime warranty that covers any functional damage to the shell, wheels, handles, zippers, or anything else that impairs your use of the luggage.
I think this speaks volumes about the brand's confidence in its products. Click here to learn more about their warranty.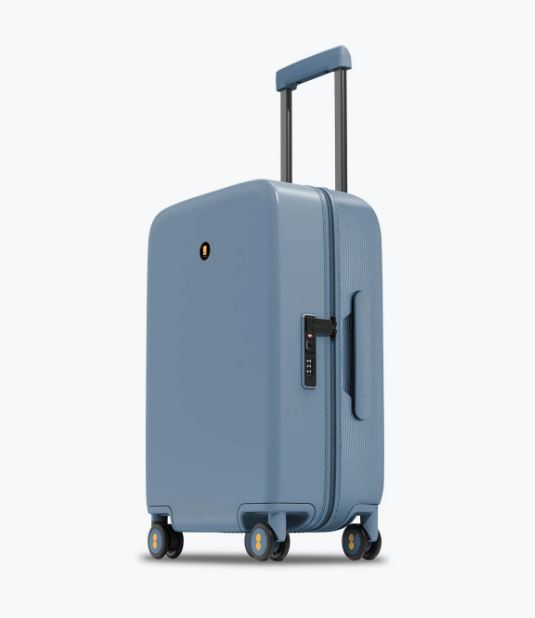 Cool Luggage Sets – LEVEL8 offers luggage sets, and combo products with some of them coming with accessories. You can easily save about 10% to 20% when you buy multiple cases.
So another great feature with these suitcases is if you decide you want both the carry-on size and the checked luggage size, you can buy the same coloured ones for twinning at a good discount.
LEVEL8 also run sales quite frequently on their website, so check out their site for special deals from time to time.
They also offer free shipping to customers in the USA, Europe and the UK. Worldwide shipping is also available.
MY LEVEL 8 LUGGAGE REVIEW IN SUMMARY
Before I share the detailed review covering the features and specifications, I want to summarise the level 8 luggage review.
Overall, would I buy suitcases from level 8 in the future? Yes, definitely. Because the products match my personality and the designs I prefer, one of the first things to look at, I mean, you need to like what you buy.
Whether it is the type of luggage, the colour, the designs, or the material used, there are many options to choose from, which made me choose level 8 in the first place.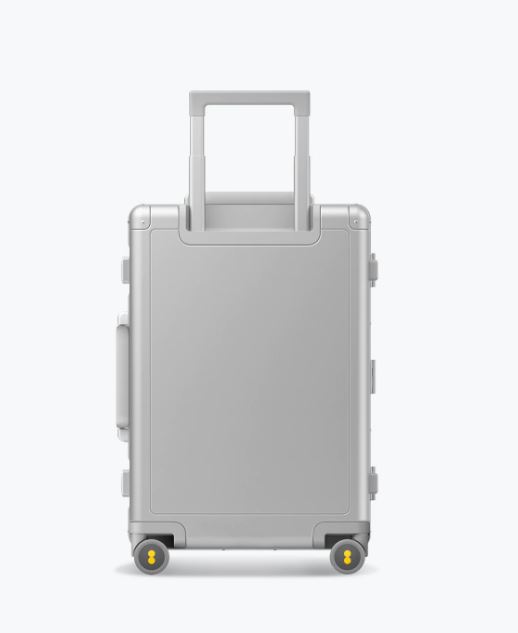 Some products may be pricey compared to others, including the Full Aluminum Carry-On 20", but good things sometimes come at a higher price. To me, the cost looks justified(I have explained why below in the detailed section).
A SNAPSHOT OF LEVEL 8 LUGGAGE REVIEW
Before getting into a detailed level 8 luggage review, here is a quick snapshot of what to expect from Full Aluminum Carry-On 20".
PROS
Sturdy
Durable
Beautiful looking – Sleek and stylish design
TSA approved lock
Easy to lift due to the convenient handles on both top and side
Excellent manoeuvrability thanks to 360° spinner wheels
Multidirectional mobility
Awesome matching packing cubes for organization
Perfect size for a quick trip
CONS
Heavy for a carry-on
Expensive
It may not qualify as a carry-on in some strict airlines
Prone to scratches, fading and slight dents after a few uses
It does not expand, which means I cannot squeeze in extra items that I gather from shopping
DETAILED LEVEL 8 LUGGAGE REVIEW
FEATURES
The LEVEL8 luggage Gibraltar Aluminum luggage 20″ is the most expensive among the collection of suitcases, and rightly so. It is one of level 8's best-selling and Red Dot award-winning luggage.
The moment you see the package, you sense you have a quality product as the neat package with a solid box makes for a safe shipment anywhere in the world.
Although the empty bag is slightly heavier than your average carry-on luggage, the first thing that caught my attention was how stylish and elegant the design is.
Not only is Aluminum 20 inches carry-on bigger, it feels very spacious, thanks to the removable mesh interior divider.
Before I continue with more details about the functionality and significant features, here are the notable features of this aluminium case.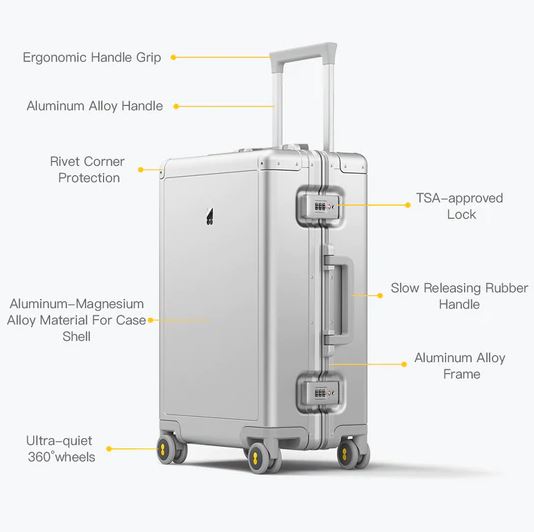 Features
Classic and Durable: Made By Aerospace-grade Aluminum Magnesium Alloy
Keyless and Zipperless, Dual TSA-approved Locks
Slow-release Handles Without Noise and Avoid Pinching Your Hand
Ultra Quiet 360° Durable Spinner Wheels
Mesh Pocket Interior Divider
20-inch Suitable for Most Aircraft Overhead Compartments
Gibraltar Aluminum Luggage Comes With 4 Pieces Organizer Bag Set
Life Time Warranty
Details
Capacity: 36 litres
Weight: 10.14 lbs
Over Dimension: 15"L X 8.5"W X 22"H
BUILD QUALITY
Overall, the quality of level 8 aluminium luggage is excellent, thanks to the full metal body.
Apart from offering elegant looks, the practical features like the riveted corners, folding handles, and combination locks serve the purpose and make your purchase worth it for traveling around the world comfortably.
CONSTRUCTION
LEVEL8 Gibraltar Aluminum luggage features a top-quality construct, Aerospace-grade aluminium-magnesium alloy that offers the best endurance against any wear and tears on your many adventures while simultaneously looking classy and sophisticated to your style statement.
The outside of this carry-on suitcase is made of full aluminium, which gives it a hard, shiny(glossier outer shell) and a smooth feel.
Although this outer shell can easily pick up dirt and fingerprints, you can get rid of them with clean wipes.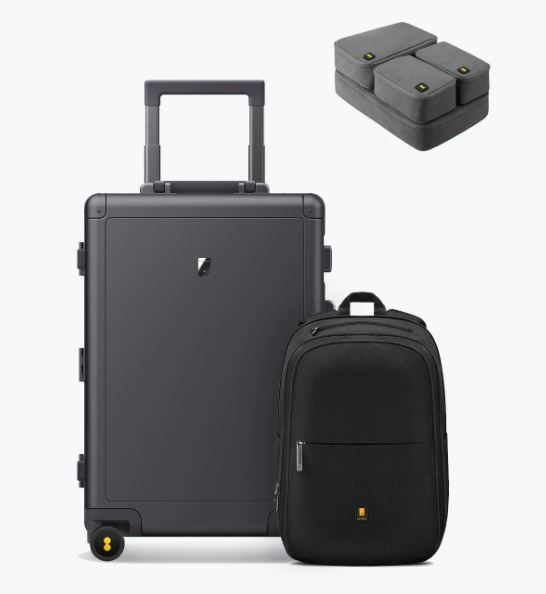 It has a rigid design, rectangular with rounded corners and edges, with the corners coming with a riveted section added for extra protection.
Unlike the other suitcases, you will notice that this case has almost no flexibility.
Level 8 has taken care to ensure that one avoids any wear and tear. Although these features may not protect the bag 100% from unforeseen scratches, they go a great deal.
One of such features is on the hinge-side of the suitcase, where you can find anti-wear stands that prevent the luggage from touching the ground directly, reducing probable scratches.
THE INTERIOR DESIGN AND BUILD
The aluminium 20 inches carry-on comes with perfectly designed packing cubes to make use of the space efficiently for storage,
The interior of the suitcase comes with fully-lined compartments. Two mesh dividers latch on the inside of the briefcase, which helps you if you love organizing, as I do.
The 36 litres capacity case has 2 main compartments with fully lined walls.
You can neatly organize your clothes, folders, and shoes for your trip, leaving enough space inside each sleeve for storing items away when not in use.
They keep things steady and help separate your contents and keep contents from shifting. You can remove these dividers via snappable buttons if you do not like them for any reason.
One divider has a zipper pocket, best for storing smaller items like toiletries during travel.
THE WHEELS
One of the reasons why I avoid the luggage is that although most companies promise free-moving wheels, very few come through.
And what made me love this Level8 carry-on, a rigid aluminium suitcase, is the 360°spinner wheels on the bottom does their job excellently.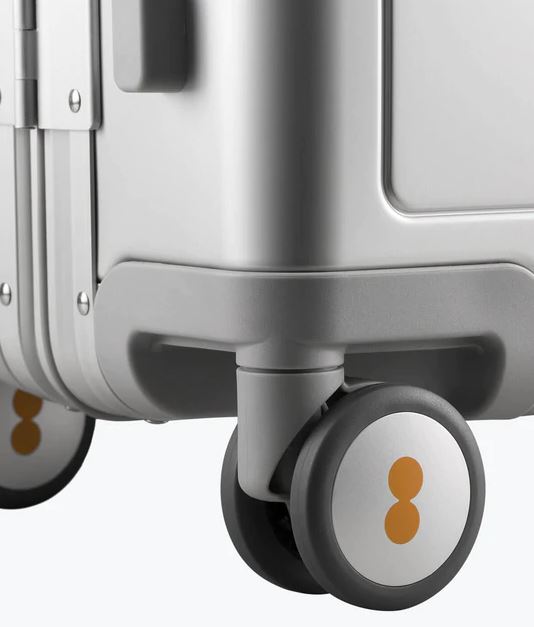 Never once did I feel stiff or have to drag on the streets. On the contrary, the smooth wheels sometimes took off on their own on slippery surfaces, and I had to keep an eye on my luggage from rolling off to unknown places. 🙂
THE HANDLE
One of the things that will come to your rescue in carrying bags, especially if you are a solo traveler is the sturdy handles of the suitcases.
It may seem trivial and nothing to worry about, but a fantastic design of handles goes a long way in a back-ache-free trip.
As I mentioned earlier, Level 8 luggage has two handles, one at the top and another on the side, made of hard rubber folding to lay flat on the luggage.
They are noiseless and move slowly, are easy to hold and quickly pick up when on the move.
There is a button that allows you to move around in four different positions and extend or retract the handle as needed.
COMBINATION LOCK
If you like to avoid zippers for security reasons, you will love the level 8 products that come without zips.
The Level8 Aluminum luggage has two TSA-approved combination locks on the side of the suitcase.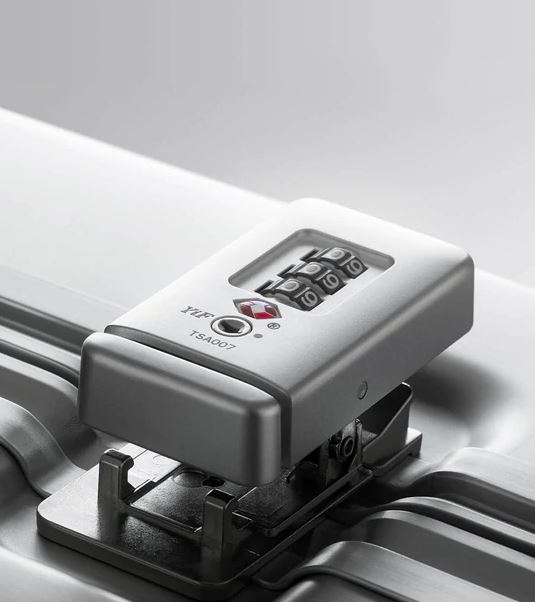 The locks are easy to use with a big button and a visible number pad.
You don't have to worry about your locks being broken when you fly with the suitcase.
THE ADD-ONS
Only a few suitcases in their collection come with the accessories, and the Aluminum 20″ carry-on is one of them.
This suitcase comes with the Level8 Organizer Bag set, which includes 4 waterproof bags of different dimensions to use as you see fit.
Below are the dimensions of the different bags.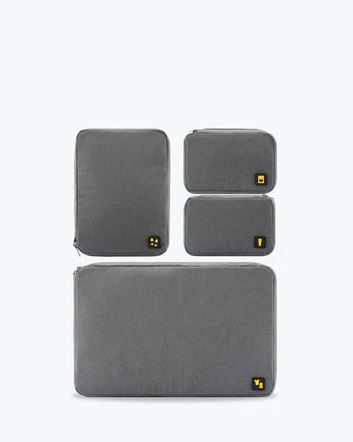 Extra Large Cube: 18"x12"x4" (46x31x10 cm)
Large Cube: 12"x9"x4" (31x23x10 cm)
Medium Travel Cube: 9"x5.9"x3.9" (23x15x10 cm)
Cosmetic Bag: 9"x5.9"x3.9" (23x15x10 cm)
THE FEW DOWNSIDES
As I mentioned, Full Aluminum Carry-On 20" is heavier than your typical carry-on luggage at 10lbs.
Also, if you plan to use it for a carry-on, you may not be able to fly with the LEVEL8 luggage Gibraltar Aluminum luggage 20" on most airlines because it's bigger than what's allowed as cabin luggage in Europe or the USA.
LEVEL 8 LUGGAGE REVIEW – FINAL THOUGHTS
Overall, I was impressed with the Full Aluminum Carry-On 20" as there is a lot to like about the suitcase.
It is an excellent choice if you are looking for a lightweight and stylish carry-on suitcase for travel.
I love this suitcase as it is ideal for traveling on trains(which I do a lot).
It looks great but will mostly avoid use on long-distance flights as many airlines will not allow for carry-on because it's bigger than most allow as cabin luggage and I do not want to get this metal one go ruined in the hold of an aircraft.
Although the price is steep, if you do not mind spending a few bucks for sturdy, high-quality, long-lasting luggage, then the Level8 Luggage would be a great option to choose.
I hope this LEVEL 8 luggage review has helped you to decide whether this is the right suitcase for you and your travel style.
And if you click this link and use our LEVEL8 discount code GLOBETROTTER10, you can get 10% off any purchase.

Latest posts by Reshma Narasing
(see all)