Most people are not sure about the best time to visit Tawang in Arunachal Pradesh. It is no surprise considering so many things – the remote location of Arunachal, the destination still being one of the offbeat places to visit in India, and the general lack of awareness about the North-Eastern states among the people. On my road trip to this gorgeous Arunachal with North East Explorers, I realised how many of these things are true. If you are looking for the best things to do in Tawang, check this detailed Tawang guide.
In this post, I will share the details about Tawang weather throughout the year, what to expect, and how to enjoy and make the most of your Tawang trip no matter what time of the year you plan your trip.
WHERE IS TAWANG?
Tawang is a beautiful town located on the western side of the Indian state of Arunachal Pradesh. This quiet town, located over 3000 meters high in the high altitude Himalayan mountain range, is known for its surreal mountainous landscapes, stunning monasteries, cute cafes, and plenty of places to visit around.
THE BEST TIME TO TRAVEL TO TAWANG – THE WEATHER IN TAWANG
The best season to visit Tawang depends on what you want to explore on your trip. Different seasons offer various things for you to explore, so there is no one size fit when deciding the best time to visit Tawang.
Below are the different seasons in the town, with details about the weather in Tawang throughout the year.
Tawang experiences three significant seasons with a brief period of spring.
SUMMER SEASON IN TAWANG
The summer season in Tawang is from March to July. Tawang in summer is a delight for witnessing the beauty of the town. Since Tawang is located in the higher altitudes of the Himalayas, summer is cold. In the summer months, the temperature in Tawang ranges between 6°C to 22°C, with the temperature dropping to single digits after sunset.
During summer in Tawang, you can easily manage to be outdoors, checking out the attractions, making it one of the best seasons to visit Tawang. Also, you can attend the festival of Moatsu if you are in Tawang in the summer. The festival is held for three days, usually in May, and the whole town decks up to celebrate the end of the crops sowing season. Check out all about the exciting festivals in Arunachal Pradesh here.
The summer nights in Tawang are not very cold either, so you can also walk the streets around. Summer is an ideal time to plan trips to the many lakes around the town or plan hikes.
MONSOON SEASON IN TAWANG
During July, August, and September, Tawang receives heavy rainfall, transforming the landscape into a green bed of beautiful hills. The Tawang temperatures during the monsoon season in Tawang vary between 10°C to 20°C, which means monsoons are cold.
All the valleys will flourish with the sounds of the flowing streams, waterfalls, and rivers, with splendid views that you can enjoy everywhere, whether driving or hiking.
Although these temperatures are ideal for being outdoors, pouring rain is not everyone's cup of tea, especially if you plan to cover the major tourist attractions. Reaching all of them can be a hassle, thanks to the frequent landslides and road blockages you cannot avoid.
There is over a 50% chance of rainfall or slightly more every day during the monsoon season in Tawang. So if you do not mind getting soaked or mind being stuck due to possible roadblocks, monsoon may be a good season for you.
WINTER SEASON IN TAWANG
Winter in Tawang is not for everyone. Period. Even the locals find the weather harsh most days, so if you dare to travel to Tawang in winter, you will need to be well prepared.
The mercury levels drop down every day, with Tawang temperature dropping below freezing points by December. The snow envelopes the slopes, hills, and roads, with many areas opening for skiing, too, if you are up for it. From late October to March, Tawang temperature in December ranges between 8°C and -5 °C during winter in Tawang.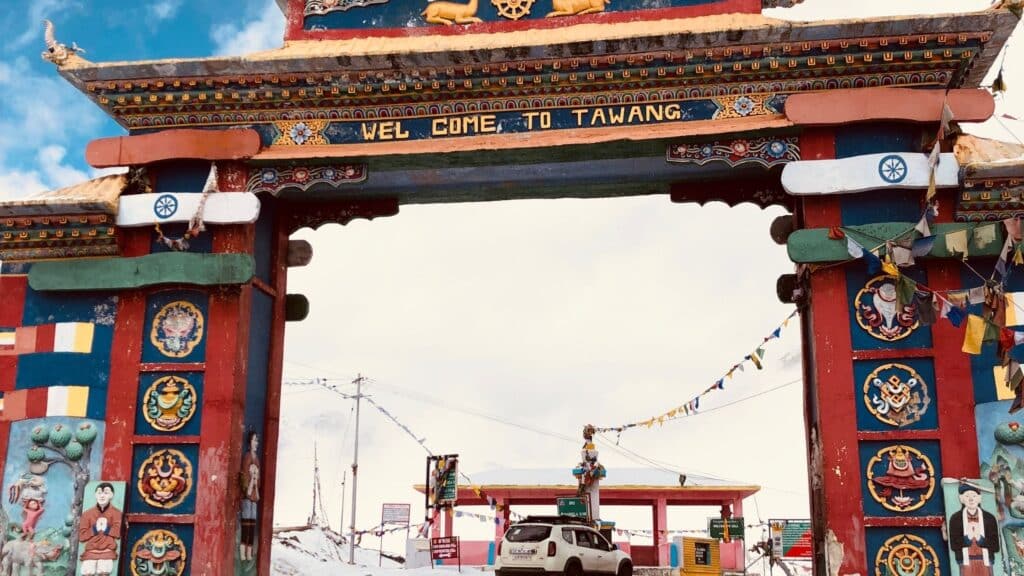 These being the coldest months in Tawang, sometimes it may be challenging to move around due to blockades with snowfall, especially making travel difficult during January and February. So you may miss a few spots if you are here during these months.
Also, if you plan to travel to Tawang in winter, you need adequate winter clothing. Make sure to get warm clothes, including fleece jackets, down jackets, thermals, gloves, and waterproof over jacket and proper waterproof shoes. Check the weather and road conditions before beginning your trip as the situation changes every few hours.
Have some backup plans in case of road closures and unavoidable delays. If you are not an experienced hiker or new to being in cold environments, avoid hiking trips as extreme snowfalls and slides are common. Also, note that it is common for people to experience AMS – Altitude Mountain Sickness while visiting Tawang no matter what time of the year.
Add to that the extremely cold weather, it is not advisable to plan hikes or road trips along to offbeat destinations as help may not be available instantly if needed and also you may be unable to descent quickly via roads during winter.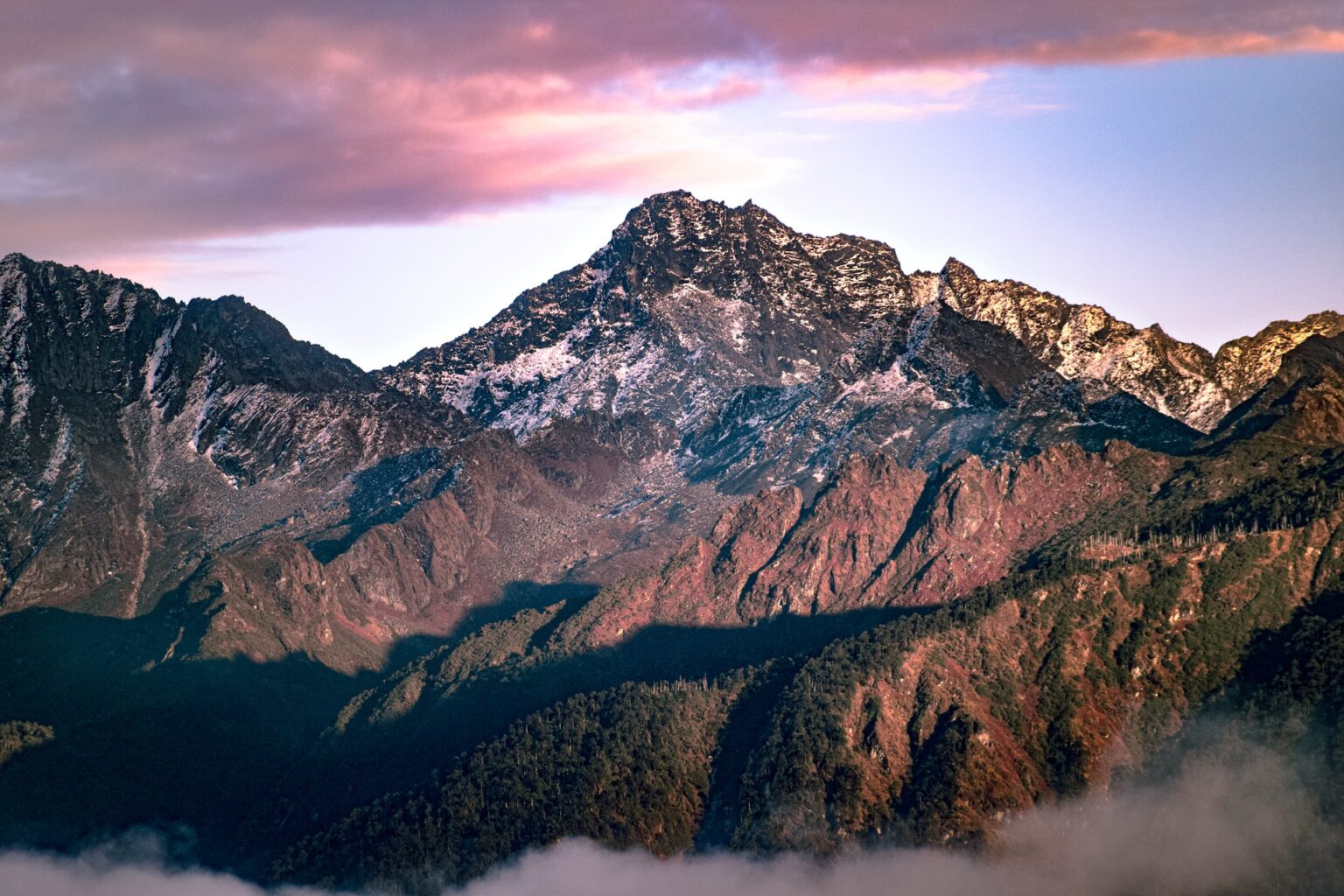 It is best to avoid visiting Tawang by bike or renting bikes to explore locally. As for the cars, unless they have the offroading feature like a 4×4 vehicle or any SUVs, it is best to avoid driving other cars. It is dangerous to ride bikes or go in smaller cars when the roads are filled with snow, especially the edges around the hills prone to slipping.
Here is a summary of the different Tawang temperature ranges throughout the year.
| | | | |
| --- | --- | --- | --- |
| Seasons | Months | Temperature Range | Weather |
| Summer | April to June | 5 °C to 22 °C | Pleasant |
| Winter | November to March | 1 °C to 8 °C | Very Cold |
| Monsoon | July to September | 15 °C to 20 °C | Pleasant |
| Spring | Mid/Late March | 5 °C to 18 °C | Slightly Cold |
Now, based on the type of travel experience you are looking for, you can get a fair idea to decide your best season to travel to Tawang from below.
THE BEST TIME TO VISIT TAWANG – FOR ADVENTURE
Summer and the months right after the monsoon are the best times to plan a trip to Tawang if you are looking for adventure. This includes the months from March to May, September and October.
You can plan hikes to all the lakes, check out the splendid views from many viewpoints in and around Tawang, and spend a lot of your time outdoors conveniently. Many lakes are open only during summer, like the famous Madhuri Lake.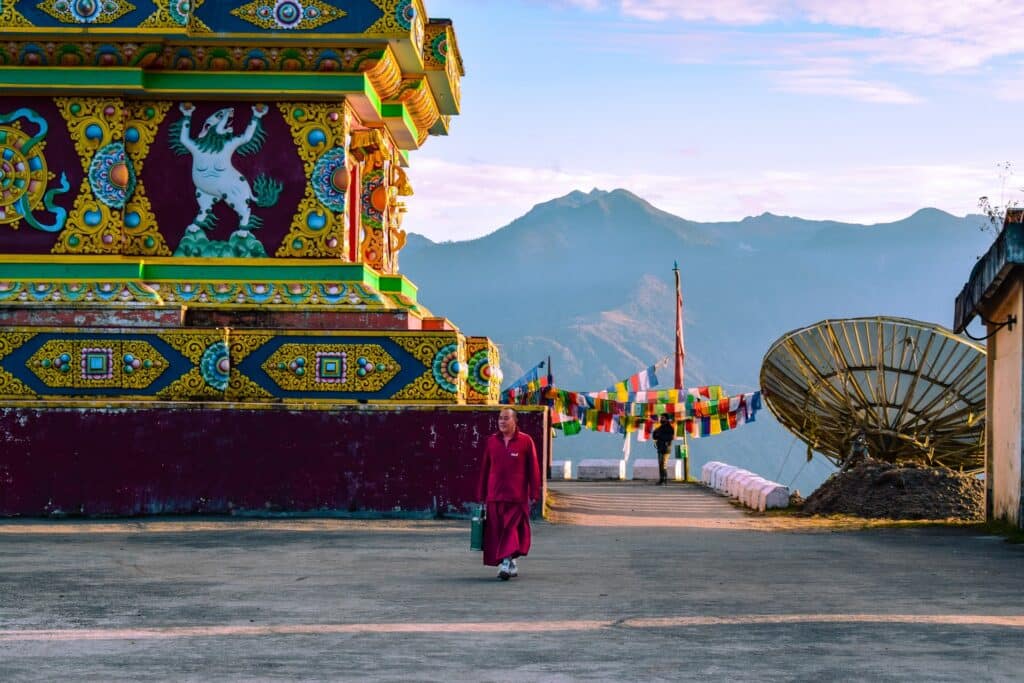 If you are looking for the best time to visit Tawang by car, then pick May, September or October, where there is no snow, no rainfall, or mist. It is a very long drive depending on where you start and involves crossing higher altitude passes like Sela Pass where the road is dangerous as well as only made of gravel. The same applies to the best time to visit Tawang by bike as well.
THE BEST TIME TO VISIT TAWANG – FOR HIKING
You can plan a few treks in summer too but the best season to visit Tawang for fantastic views are September and October. The mountains are carpeted with the fresh greenery right after the monsoon, and the valleys are packed with waterfalls, many accessible via hikes.
To enjoy the best weather and the views, head to Tawang during these months if hiking is one of your main preferences.
THE BEST TIME TO VISIT TAWANG – FOR SNOWFALL
The best time to visit Tawang for snow is the winter season. If you want to witness light snowfall, head to Tawang during the first half of December when the snowfalls begin slowly. January, February, and the first half of March are the months with the heaviest snowfall with the first few weeks of March swinging either way (more or less snow).
If you want to enjoy skiing, check out the frozen lakes(if accessible), or simply want a cold holiday with snow everywhere, pick the beginning or the ending period or just close.
Although Jan and Feb are fantastic months in terms of the beauty of the landscapes, the logistic aspects of travelling also make them the harshest months – road blockades, avalanches, closed tourist spots, unable to do some hikes, and extreme cold weather which may not be ideal for everyone.
THE BEST TIME TO TRAVEL TO TAWANG – FOR SIGHTSEEING
The best time to visit Tawang is from March to May and from September to November if you are here to cover all the best places to visit in Tawang.
Depending on which one you choose, there are upsides and downsides to each month(mentioned below in the next part).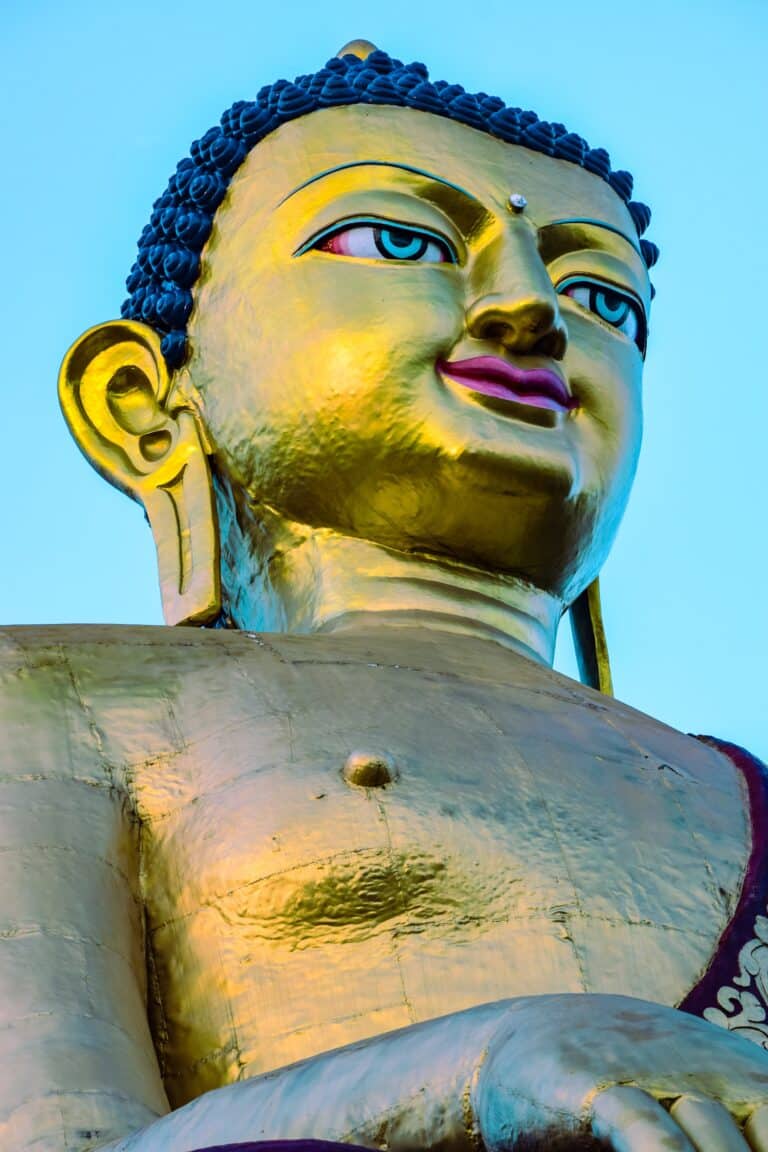 But you can make the most of your trip during these months where you will be able to include many different types of experiences apart from visiting the famous Tawang Monastery.
PROS AND CONS OF VISITING TAWANG IN DIFFERENT SEASONS
Summer in Tawang
Pros
Ideal for general sightseeing, and a bit of hiking
Can plan a road trip or travel by bike
Great weather if cold temperatures are not for you
Can attend a few festivals
Easy to acclimatize and drive through the passes
March and early April are when Rhododendron and other spring flowers blossom.
Cons
Nothing much if you want to check out waterfalls
Not for snow lovers, although you can get to experience the melting snow for a few weeks in March
You will miss the lush green landscapes of the monsoons.
Winter in Tawang
Pros
Perfect for skiing and a winter holiday
Lots of snow around
Very few tourists
Cheaper prices
Can access a few glacial lakes if you are up for an adventure
Cons
Road blockades possible
Extremely cold weather and difficult to acclimatize for some
Road trips and bike rides are not recommended although might be possible to some extent
Some attractions are either closed or not accessible
Monsoon in Tawang
Pros
Beautiful green landscapes all around
Most attractions are open
Weather conditions and temperatures are manageable
Ideal for exploring lakes and waterfalls
A few treks are possible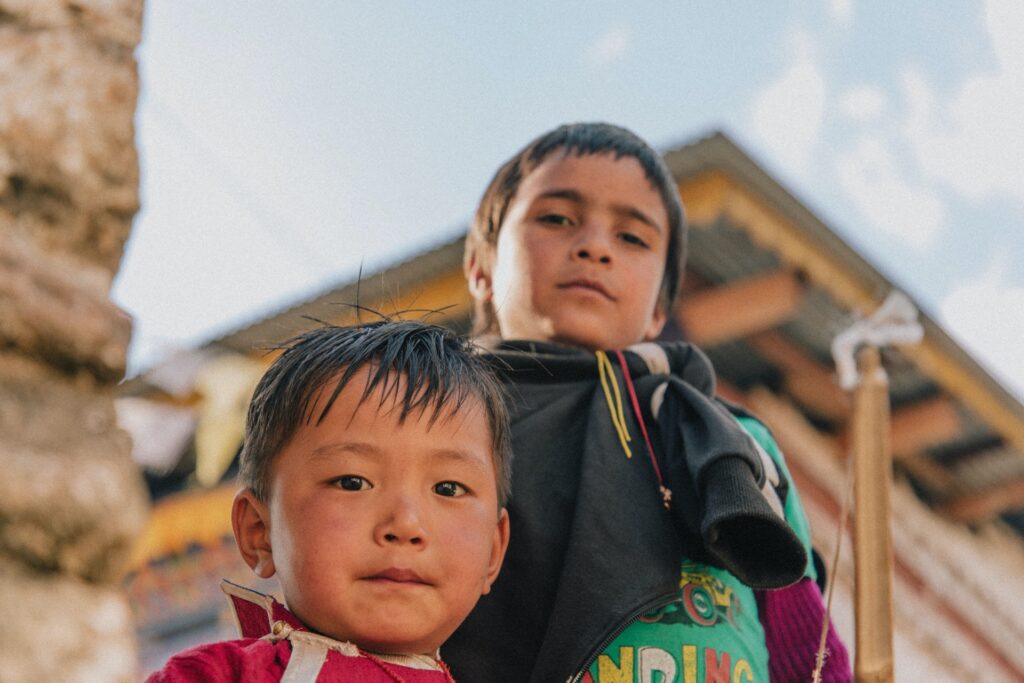 Cons
Landslides can happen to cause road blockades
Heavy rainfall days possible making it impossible to explore
Getting to Tawang is difficult due to the unsuitable roads
Road trips and bike drives are very difficult/not recommended
Check the more specific FAQs about the best season to visit Tawang.
THE BEST TIME TO TRAVEL TO TAWANG – FAQS
Which is the best month to visit Tawang?
May to June, September, and October are the best months to visit Tawang for pleasant weather.
What is the best time to visit Tawang with family?
The summer months of April, May and June is the best time to visit Tawang with family as most activities are open.
Is there snow in Tawang?
The months when you can expect snowfall are between December to March, with some chances of snow in late November and early April.
What is the best time to visit Tawang for snow?
As mentioned, if you want to experience heavy snow weather, December, January, and February are the best months to enjoy. If you want a lighter snow experience, choose the shoulder months like late November or late March and early April.
What is the best time to visit Tawang by bike?
April, May, June, late September and October are the best months to visit Tawang by bike. The passes are clear from any blockades. The weather is ideal for driving and sightseeing. 
What is the best time to visit Tawang by car?
Like biking, April, May, June, late September and October are the best months to visit Tawang by car for excellent weather and ideal road conditions.
Which is the best season for Tawang sightseeing?
The months after monsoon – September and October and the summer months from April to June are the best seasons for sightseeing in Tawang weatherwise.
Is December a good time to visit Tawang?
If you love icy weather, skiing, and snowfall, December is an excellent time to visit Tawang.
Is January a good time to visit Tawang?
January is an excellent month to visit Tawang for freezing weather, heavy snowfall, and skiing. It is also a wonderful time for visiting Tawang if you are looking for a romantic holiday.
TOP TRAVEL TIPS & RESOURCES
Below is the list of the travel resources you can use to organize your travel – from flights to insurance and everything. These are the resources I use myself, which is why I recommend you for a hassle-free travel planning experience and fantastic trips.
Booking Flights
: To score flight deals, search on
Jet Radar
, Kiwi,
or
12go.Asia
(for Asia planning). Book and fly mid-week, taking red-eyes flights or those in the early mornings for better deals and lower prices. Avoid check-in bags on a budget airline.
Booking Trains:
The best websites for booking trains anywhere in Europe are
Rail Europe
and
TrainLine
. Both are easy to manage online and track your journeys.
Booking Cars:
For the best prices and easy handling of renting a car for road trips and day trips, I'd recommend
Discover Cars
or
Rental Cars,
available throughout the world.
Accommodations:
I typically use
HotelsCombined
or
Booking.com
to book hotels. There are special getaway deals with amazing discounts(over 50%!) for this year on Booking.com, and you can find them
here
.
I use
Hostelworld
and
Agoda
to book hostels as the deposit is low, easy change/cancellation is available and reviews are excellent on both. Depending on the destination, I love staying in
VRBOs/homestays
.
Travel Insurance:
No matter whether it is a short trip or longer trips abroad, I strongly recommend buying travel insurance for international trips. I recommend either
World Nomads
or
SafetyWing
for international travel insurance.
Tours:
Being a solo traveler, one of the best ways to optimize my time, budget, and super importantly, meet amazing people from all over the world is by joining tours, especially food tours, walking tours, day trips, culture, and history tours.
You will get a local's perspective, the best opportunities to experience places and people closely. I book using
GetYourGuide
,
Klook
,
Viator,
and
Voyagin.