If you are looking for top tourist places to visit in Dirang, you will not find many. I want to begin this post with this disclaimer because Dirang is one of the hidden gems in Arunachal(I hope it remains that way for a long time). Most travelers make a quick stop or pass through this quaint town on their way to Tawang or Bomdilla, or possibly spend a few hours.
But I beg to differ here because Dirang is one of the fantastic places in Arunachal you should not miss. I was ready to spend a month or more in this town as I fell in love with this tiny hamlet(which did not materialize at that time).
Still, I am grateful that I witnessed this gorgeous small town thanks to my trip with Rajiv, the founder of the excellent North East India Explorers, which arranged my Arunachal trip.
How does a beautiful river surrounded by lush mountains, kiwi orchids, apples and orange farms, incredible viewpoints to enjoy 360-degree of the Himalayas, gorgeous monasteries, and enough places to make you feel the peace sound? Are you nodding your head for a yes? Then make sure to remember that you will fall in love with Dirang as you set foot.
This hamlet of the Monpa tribe is blessed with all these things and much more if you want to go off the touristy radar. Read this post to know all about the best places to visit in Dirang and the offbeat things to do, which will convince you to add Dirang to your itinerary if you are not yet convinced!
TOP PLACES TO VISIT IN DIRANG
Whether you are a nature lover, adventurous soul or a seeker of spiritual journeys, or a photographer, Dirang, a small town located on the banks of Dirang Chu River, lying at the foothills of the snow-clad Eastern Himalaya in West Kameng district in Arunachal, is the ideal place to find all these.
It is on the way to Tawang and is about 40 away from Bomdilla, the district headquarter of West Kameng. Let's check out the top Dirang attractions in this list first.
Check out the Famous Dirang Dzong
Dirang Dzong, or Fort, located at the centre of the town, is one of the famous places to visit in Dirang. It is situated between Sangti and Dirang town on the banks of the Dirang river atop a hill, offering splendid views of the river and the mountain valleys.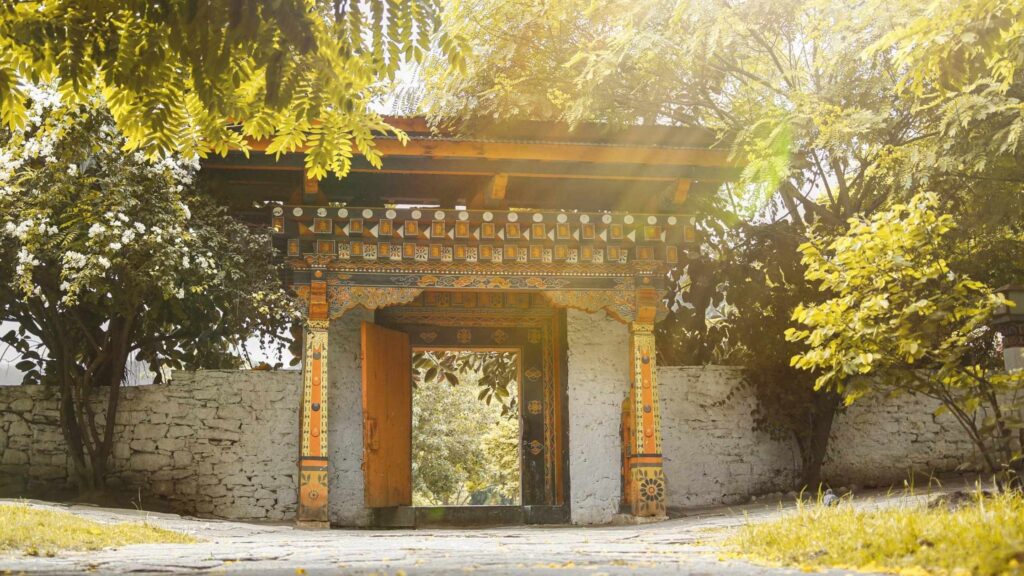 This citadel was built initially in the 17th-century. Although not many artefacts are available to confirm, it is believed that the Dirang Dzong was used by the Britishers as a prison cell during the World Wars and later during the Vietnam War.
The Dzong is known for its fantastic architecture and its rich history. Many old homes, some even dating to over 500 years, can be found here.
These old houses were built to sustain any hostile conditions, including invasions and extreme weather conditions, common in this part of Arunachal.
The wooden gate at the entrance is beautifully decorated in the Tibetan style, and the historic village is a multi-storeys structure with fortified stone roofs coupled with wooden logs.
The inhabitants in these traditional hamlets are from the Monpa community, who are in charge of looking after the historical artefacts of the village.
The best way to reach Dirang is by renting a cab. But you need to climb the stone stairs to reach the Dzong.
Opening hours – 8 AM to 5 PM
Entry Fee – None
Distance from Dirang – 1km
Visit the National Research Centre On Yak
One of the top places to visit in Dirang is the National Research Centre on Yak. Located in the West Kameng District in Dirang of Arunachal Pradesh, this premier institute was established in 1989 by the Indian Council of Agricultural Research(ICAR) to conserve and sustain the Indian species of Yak inhabiting the mountainous regions of the upper Himalayas.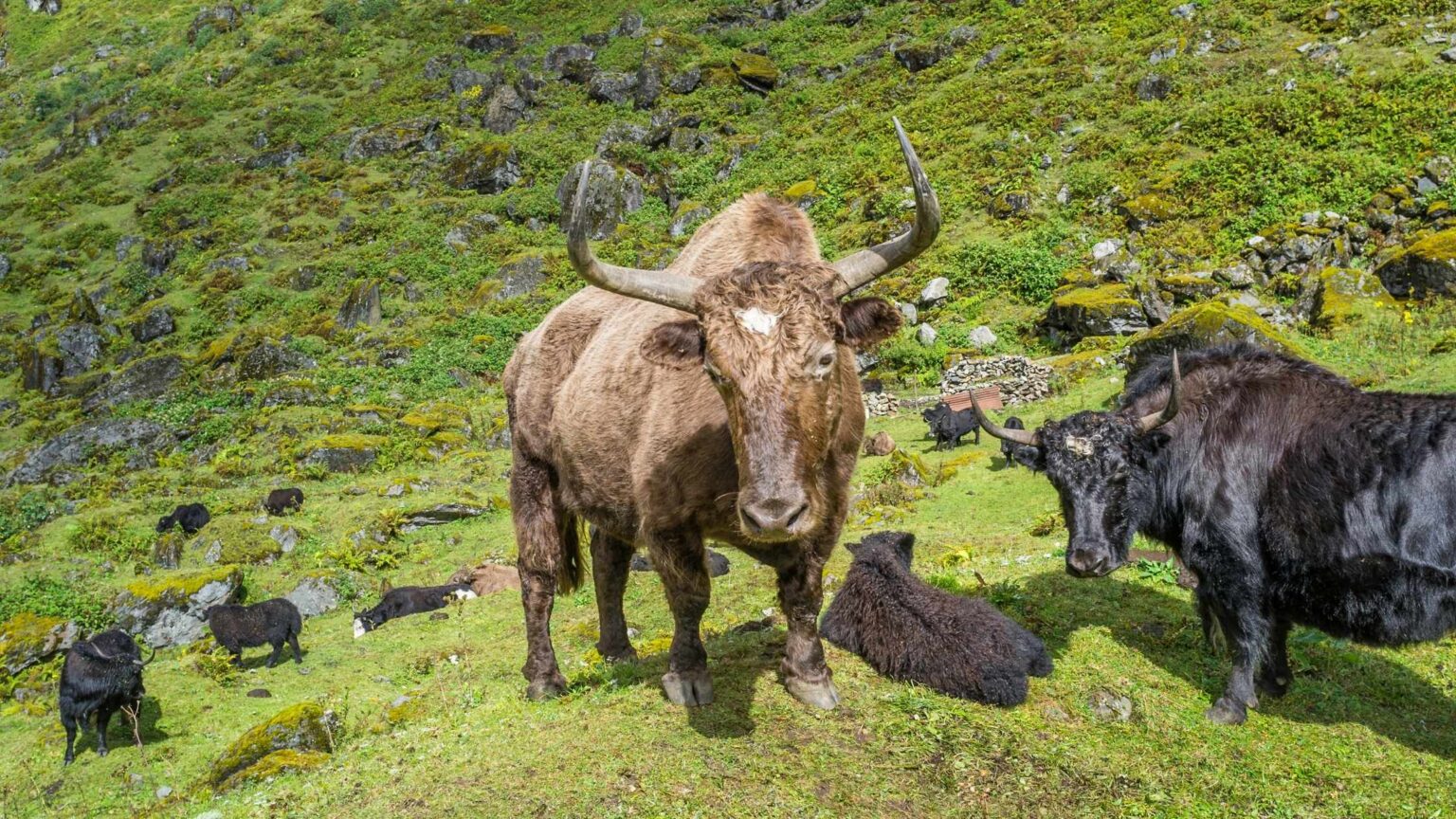 The research centre is also dedicated to the improvement and upliftment of Yak husbandry, including fostering yaks' health and conducting research on genetic resources to improve the efficiency of Yak Farming. You have to secure a permit first at the office to enter the research centre.
Did you know? The Yak research centre has more than 150 varieties of Yaks. Nestled amidst the beautiful Eastern Himalayas, the views from the centre are stunning. It is no wonder it is one of the top tourist places in Dirang that you should not miss.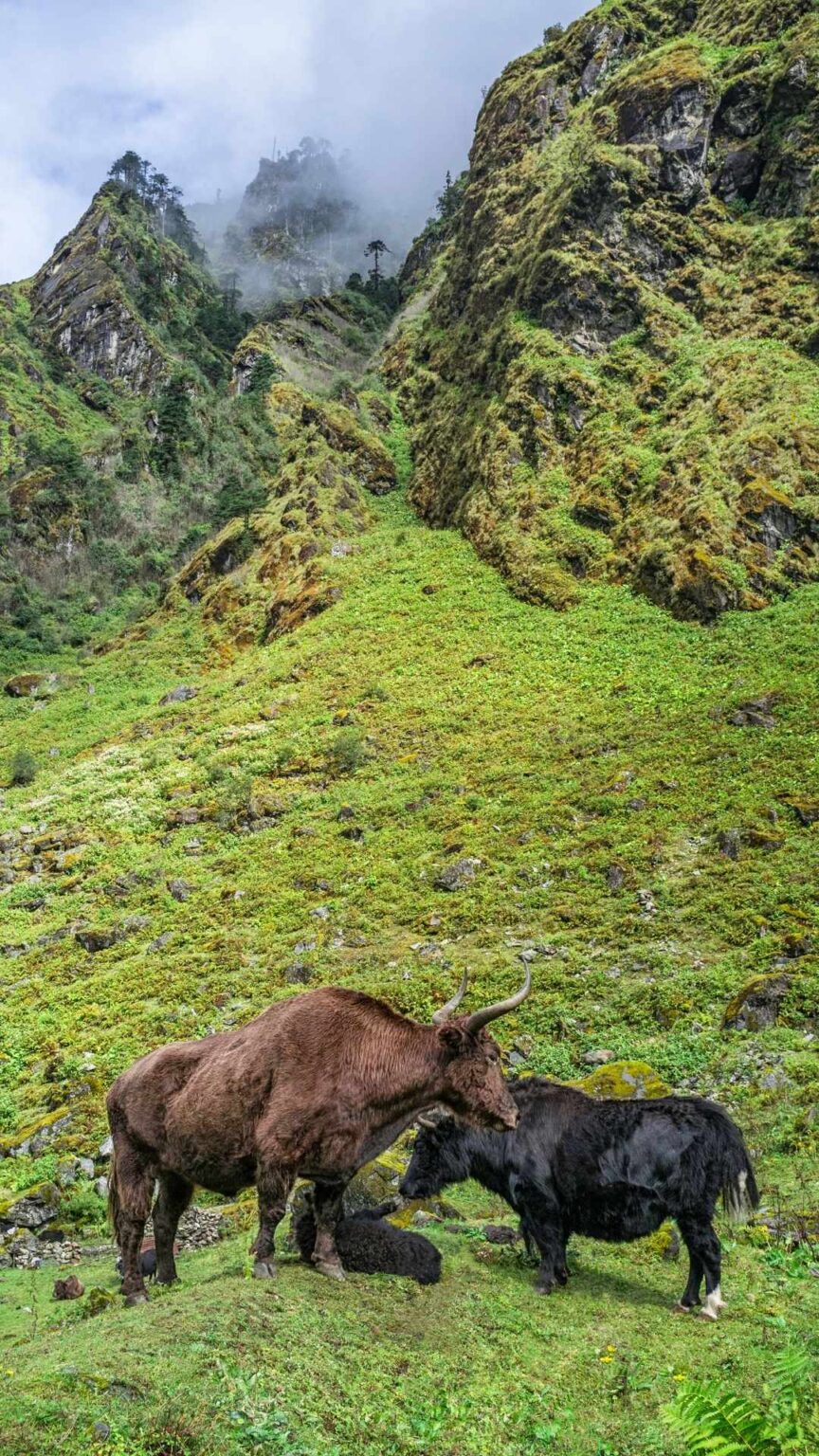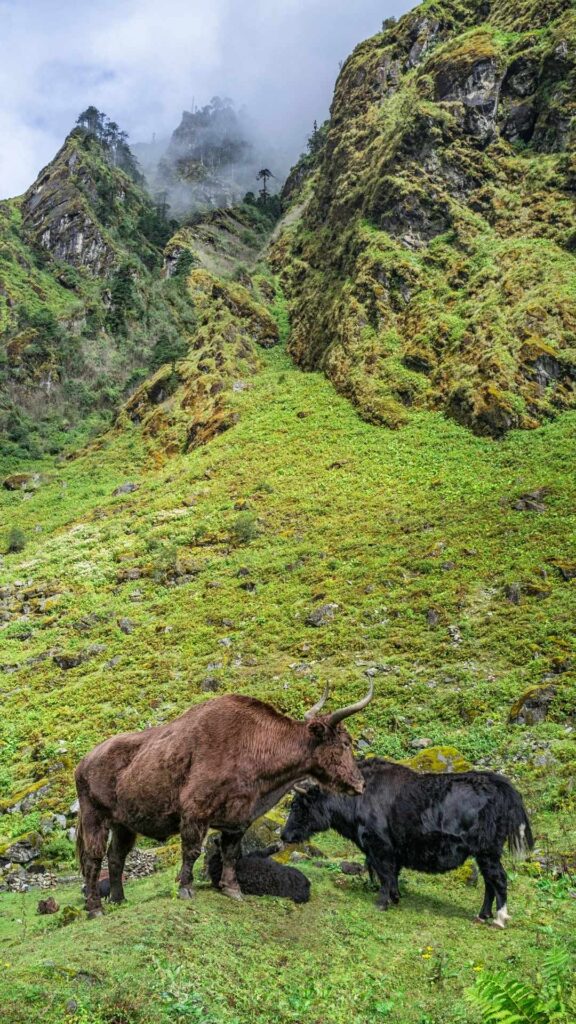 Also, visit their yak farm at Nyukmandung above the main road, where you can shop for different types of cheese and their products, along with some small souvenirs to take home.
Opening hours – 9:30 AM to 5 PM
Entry Fee – None
Distance from Dirang – 30km
Recommended: What is the Best Time To Visit Tawang?
Explore the Beautiful Sangti Valley
Located just 15 km away from Dirang, Sangti Valley is a beautiful destination, which not many visits. Dotted with forested mountains comprising pine trees, wildflowers, rivers, you will get glimpses of the new parts of this state. It is no doubt one of the best places to see in Dirang.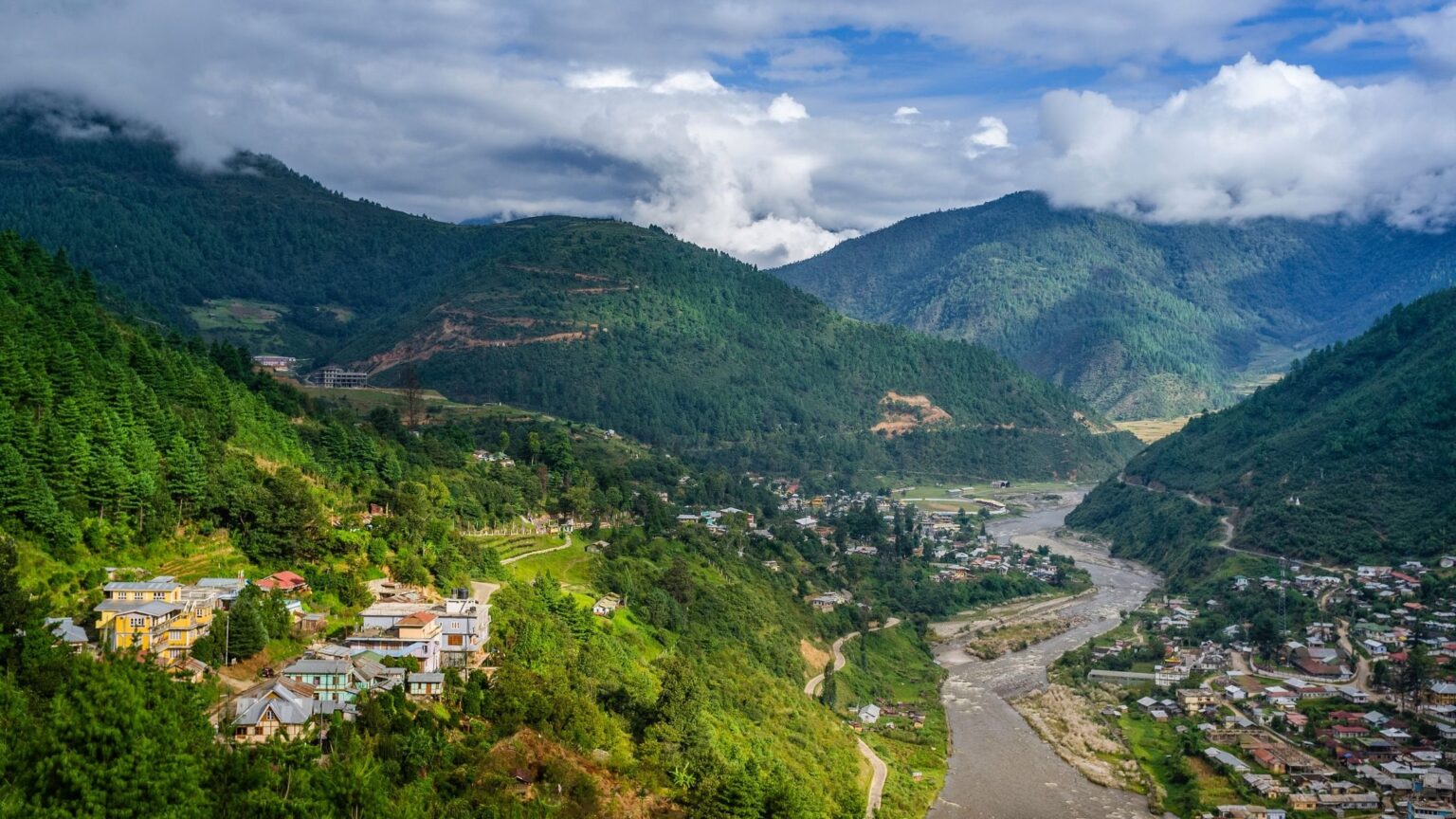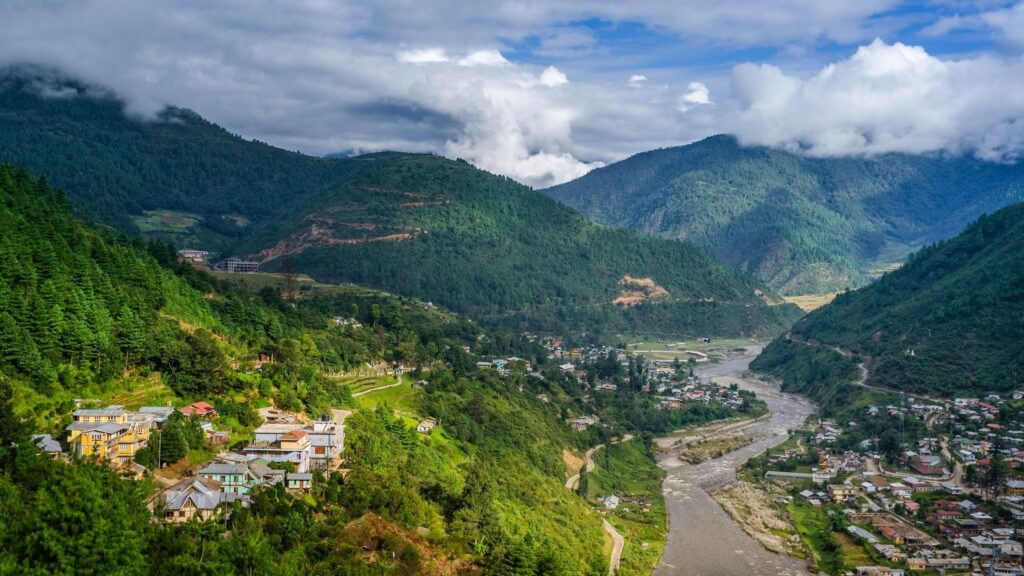 You can visit the homes of the locals, meet the sheep, or stroll through the meadows – no matter what you do, you will love your time in this secluded valley. If you drive, you need around 30 minutes to reach Sangti valley from Dirang, 8km away.
You will love the gorgeous lush landscapes which turn rich green right after the monsoons, with the terraced fields, seasonal flowers, and gushing waterfalls and streams at every turn make the valley fascinating. Also, when you are here, stop at Khaso Steel Bridge near Sangti.
You can witness various fruit orchids, including oranges, apples, lemon and kiwis. Also, do not miss spotting some exotic Himalayan birds when you are here.
If you are here during the winter, you will witness the magical snow-clad valleys and mountains. If you are lucky, you may even get to see snowfall.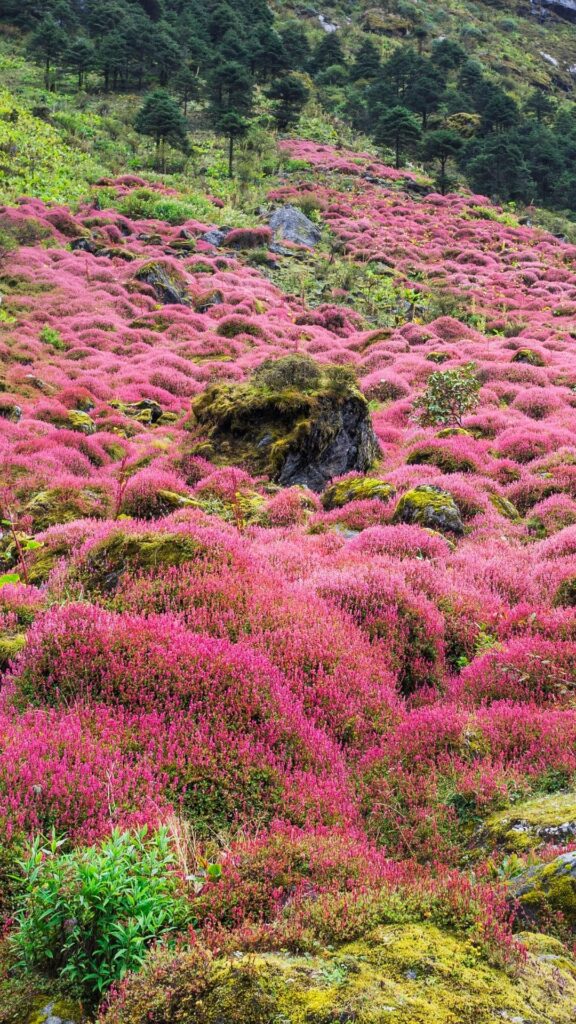 The best time to visit Sangti Valley is the summer between April to June or September to October. If you want to witness snow, late December or January would be ideal, although roads may be blocked if the snowfall is higher.
Relax in the Natural Hot Water Spring
One of the attractions earlier known only to the locals but now one of the top places to visit in Dirang is the beautiful hot spring, located just 1km away from the town centre.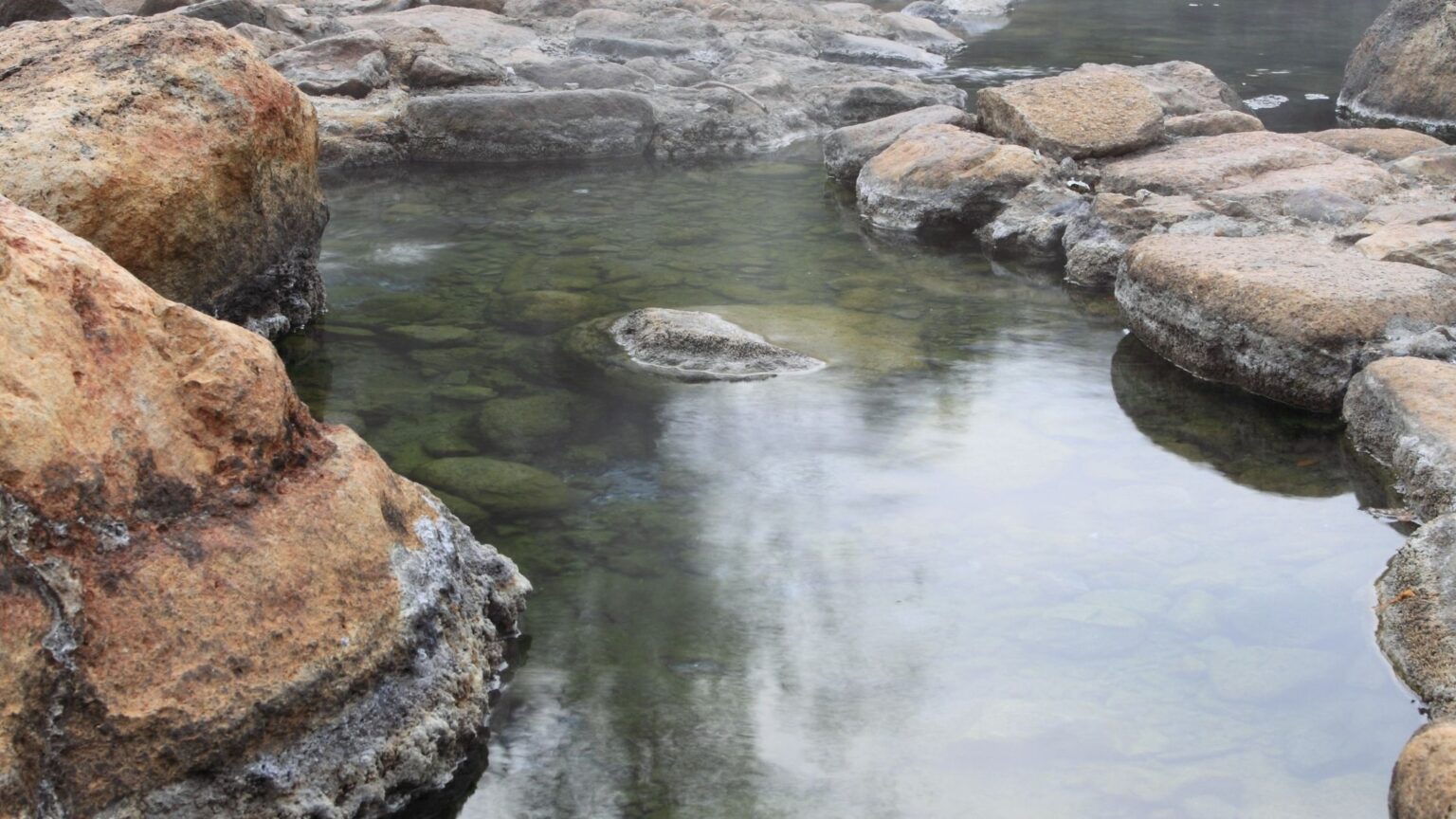 On the way to Tawang from Dirang, you can find this relaxing hot spring that can be accessed by climbing some stairs. It is considered a sacred place by the locals who regularly visit here.
The hot water springs are famous for their medicinal properties as the water of this spring is rich in sulfur content, and it is said to cure many diseases and cleanse the body.
Take a dip in this spring for a rejuvenating experience enjoying the surrounding beautiful views. The hot water spring falls into River Dirang Chu.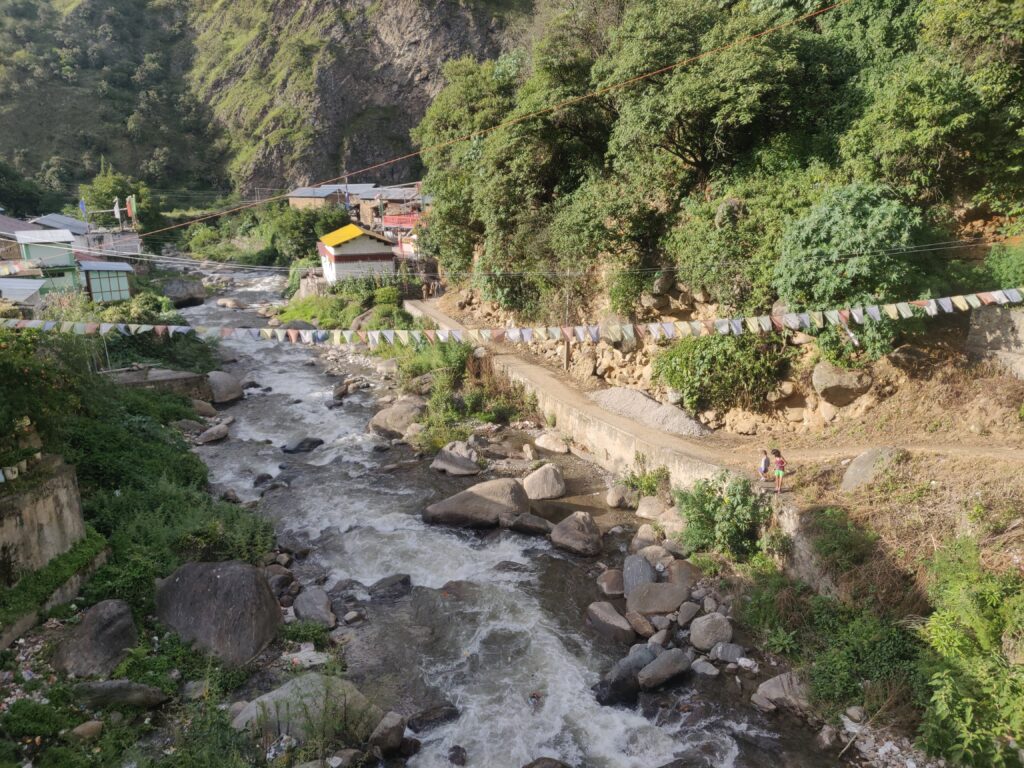 The best time to enjoy the hot spring in Dirang would be November through February, owing to pleasant weather conditions.
Check out the Ancient Kalachakra Gompa
The Kalachakra Gompa is a beautiful 500-years-old monastery in Arunachal Pradesh. One of the most pretty tourist attractions in Dirang, it is situated in a village by the same name.
The Kalachakra village is a beautiful place housing this monastery known for its intricate tiles adorning the walls and floors of the monastery's halls and unique stucco sculptures.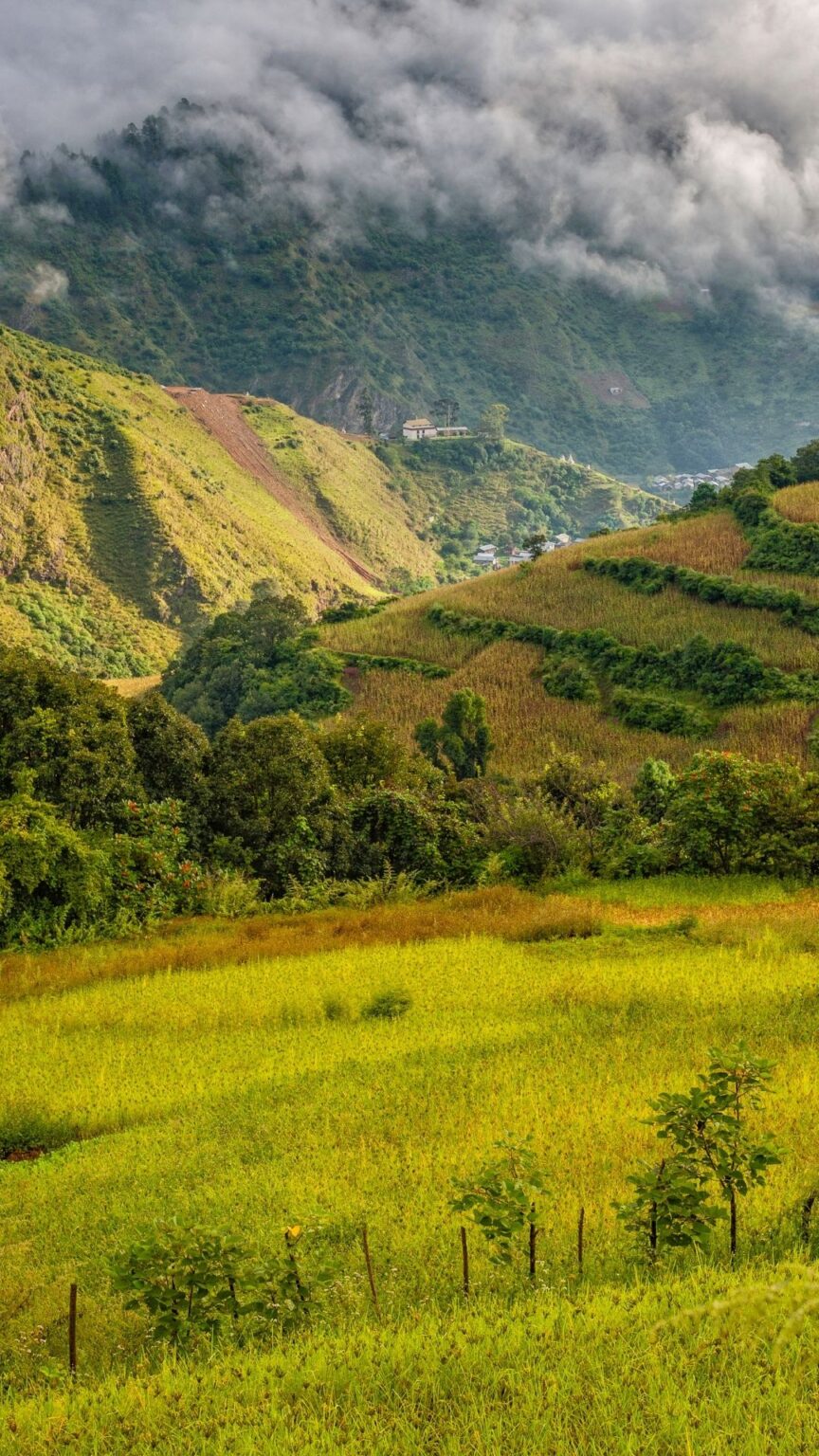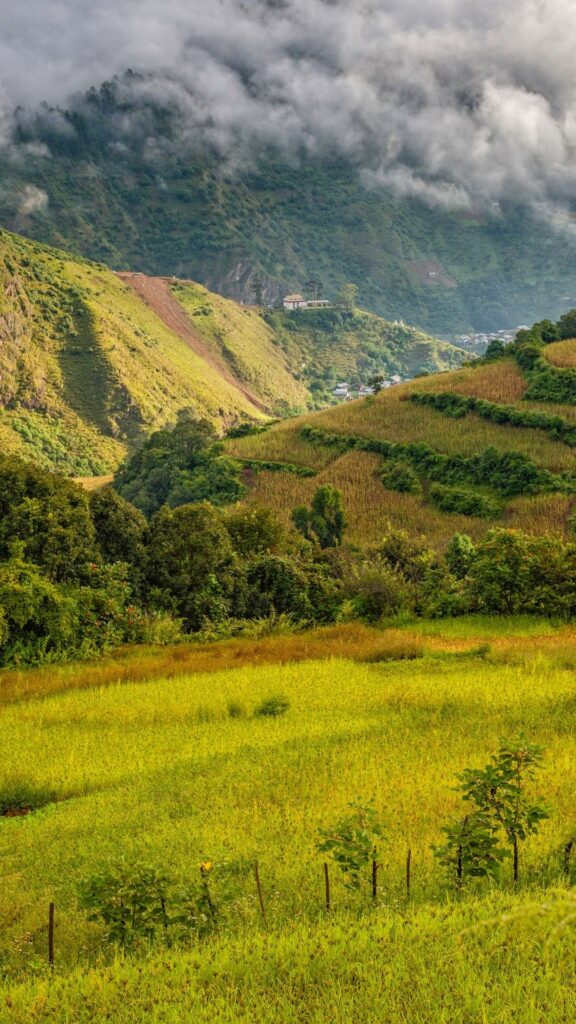 Also, notice the many ancient murals depicting many gods and goddesses of Buddhism, along with many folk tales vividly painted with great details.
Its stunning location amidst the serene valleys of the mountains and beautiful views that you can enjoy are the reasons why you should visit the Kalachakra Gompa.
Considered one of the Buddhists' sacred religious places of worship, this is one of the best places to visit in Dirang to understand and appreciate the culture, traditions, and essence of the friendly Monpa tribe.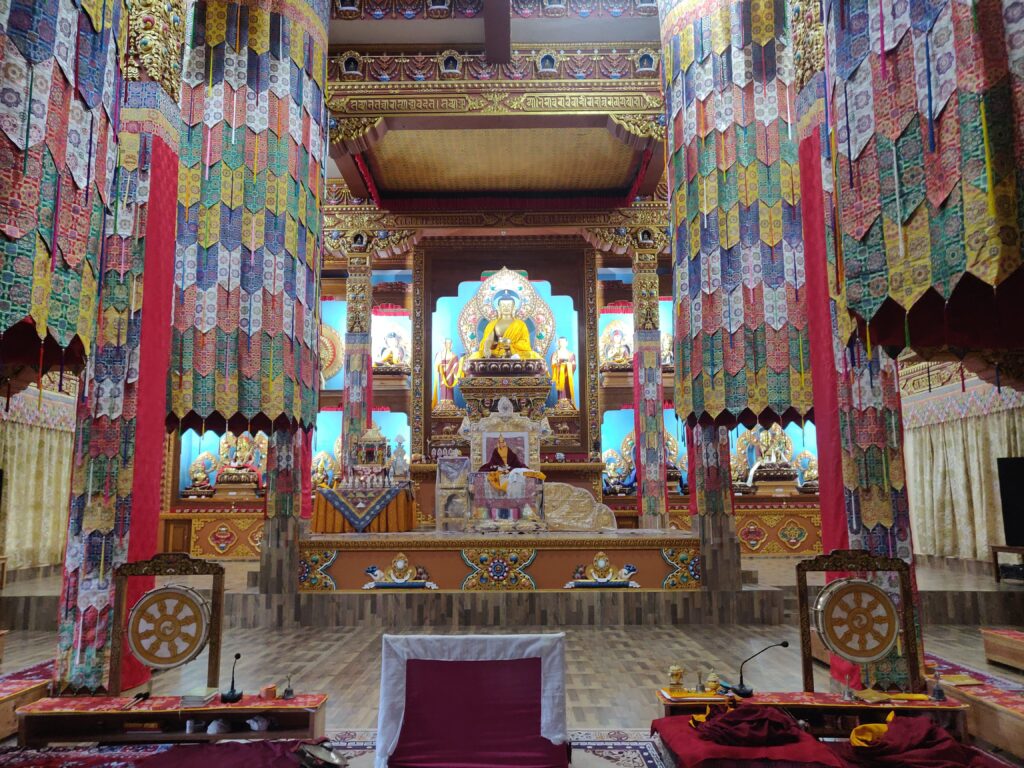 The bright and beautiful yellow-painted walls and doors welcome you, along with an assembly of colourful prayer flags fluttering. In this small but architecturally majestic monastery, you may notice the local kids playing around on the premises on a relaxing day.
You can reach Kalachakra Village by cab and then walk to the Gompa.
Visit the Stunning Sunrise at Thupsung Dhargyeling Monastery
One of the latest additions to the best places to visit in Dirang is Thupsung Dhargyeling Monastery. The largest monastery in Dirang was built in 2017 and was inaugurated by his holiness, the 14th Dalai Lama.
The name Thupsung Dhargyeling Monastery in the Tibetan language means a place that promotes Buddha's Speech.
Standing true to its name, this monastery, known as TDL in short, has been the centre for promoting Tibetan culture and Buddhist Learning for visitors and those ordained.
Overlooking the Dirang Chu River, this beautiful monastery offers fantastic views of the river and the valleys set against the majestic mountains. It is a vast multi-storeyed monastery with a wide gateway leading to the decorated stairs alongside which you will notice prayer wheels and stupas.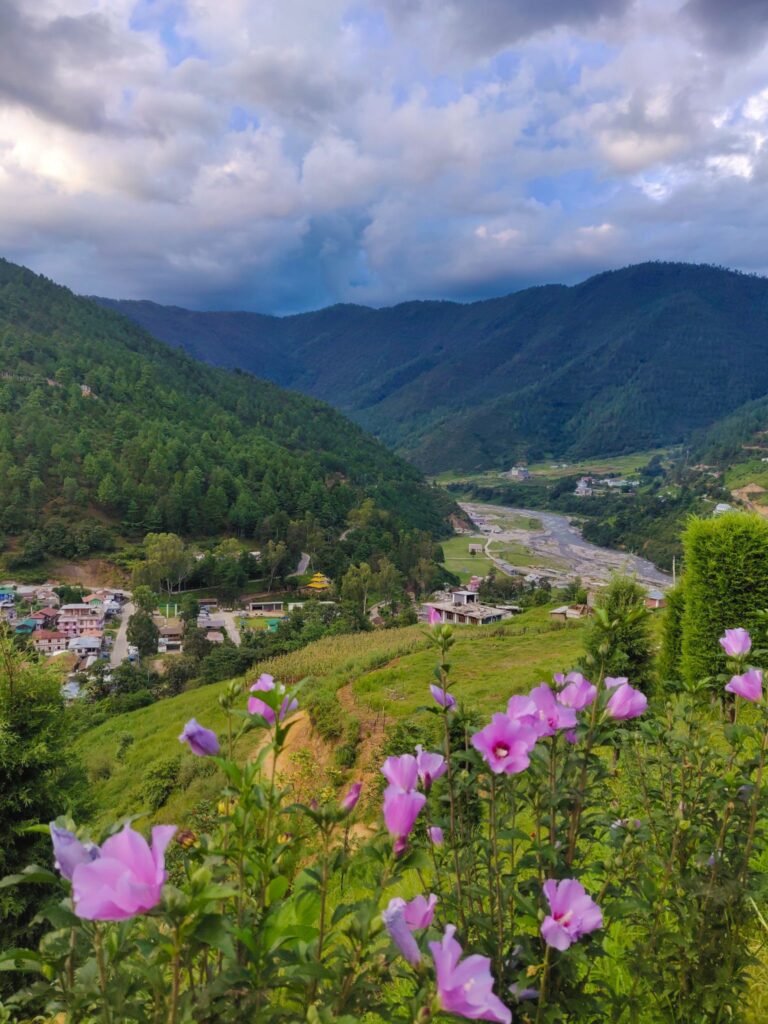 The main prayer hall has many beautiful Buddhist artefacts, sculptures and scriptures. Also, check out the vibrant murals on the interiors leading to the main entrance.
Recommended: The 10 Best Festivals Of Arunachal You Should Attend
On the top, you can sit and relax in the courtyard and can enjoy the gorgeous 360-degree views. The best time to visit is at sunrise, when the monks perform their daily prayers at 6 AM.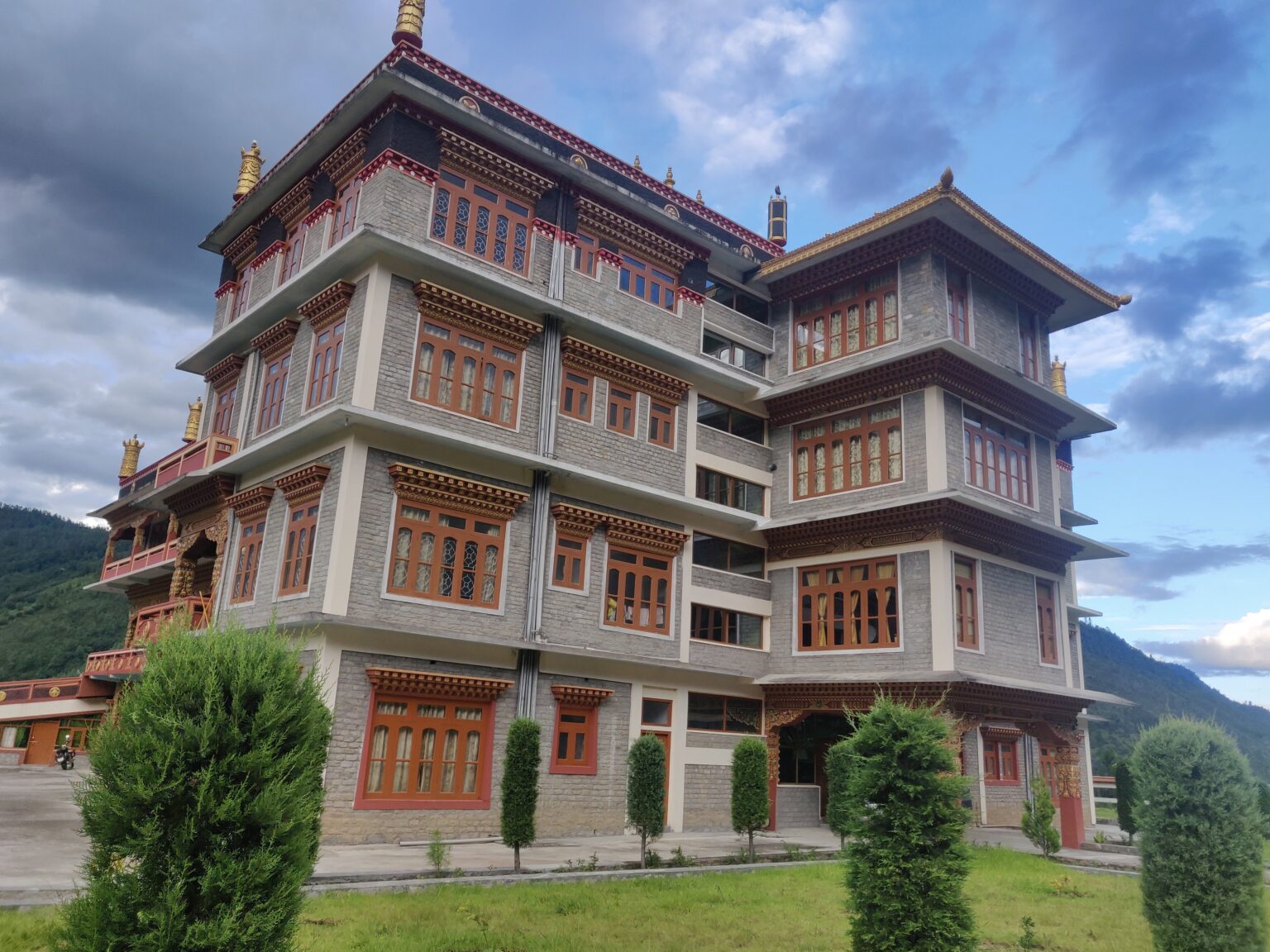 You will find many locals relaxing at this temple or taking walks in the evening in the well maintained and manicured gardens on the monastery's premises.
As you go around, do not miss the impressive bhāvacakra on the back wall on the ground floor, which is constructed as a guide in understanding the Buddhist teaching quickly for the uninitiated.
Check out Khatsung Gompa
Next on your list of the best monasteries in Dirang is Khatsung Gompa, which is about 500 years old. It is a sacred pilgrimage site for many Buddhists and is one of the famous places in Dirang worth visiting.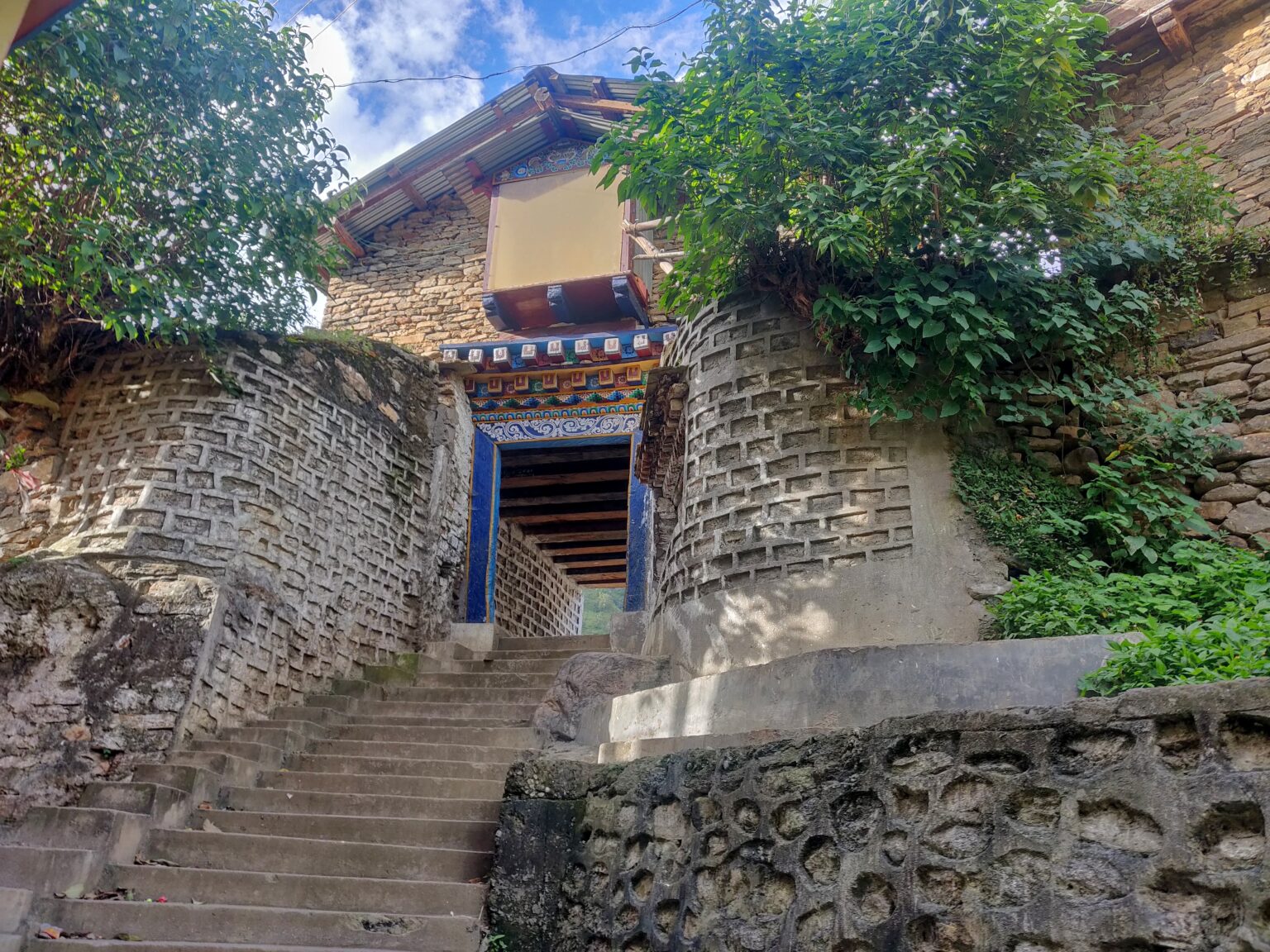 Khastung Gompa is also the oldest Buddhist monastery in Arunachal Pradesh, constructed between the 16th to 18th-centuries, although exact records confirming its origin do not exist. You need to take a short uphill hike passing through local homes and people; that is an experience in itself.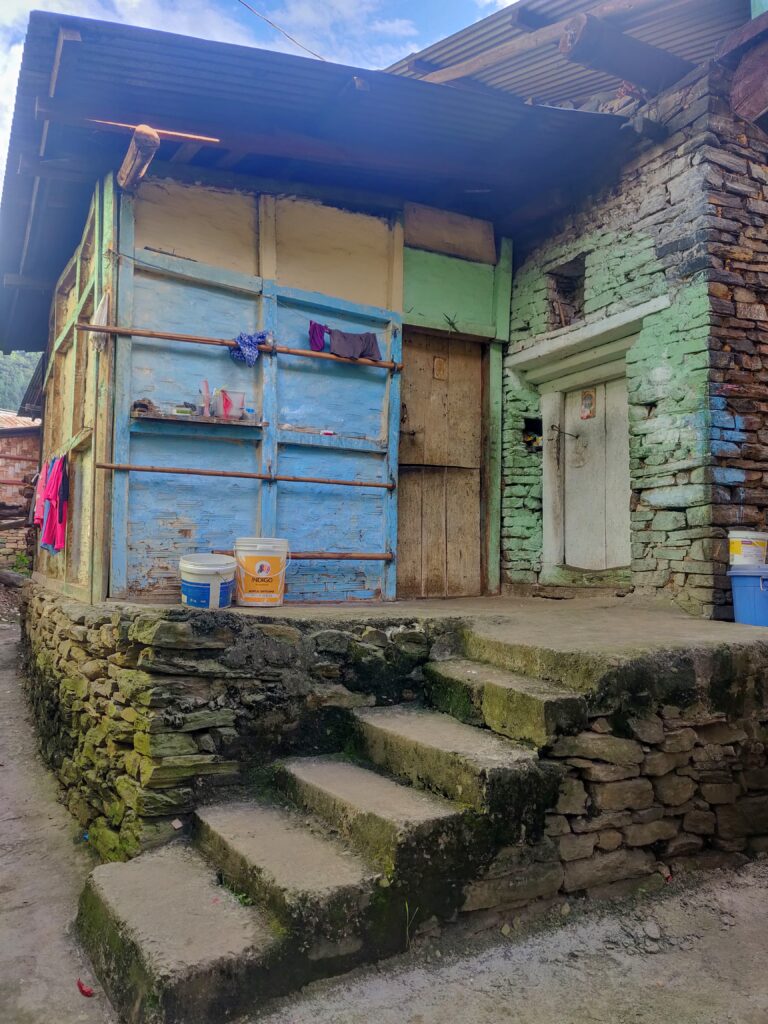 After some climbing up, the bright white stoned walls with intricate artwork welcoming you is the Khastung gompa. You can enjoy serene views of the river, the meadows, and the valleys beyond the monastery. Check out Khatsung for its unique location that will give you peeks into the local lives.
Drive to the Beautiful Mandala Top
One of the most beautiful places to visit in Dirang is the drive to Mandala Top. This stunning top comprises over 108 Buddhist stupas located atop a hill, about 30 km away from the town of Dirang.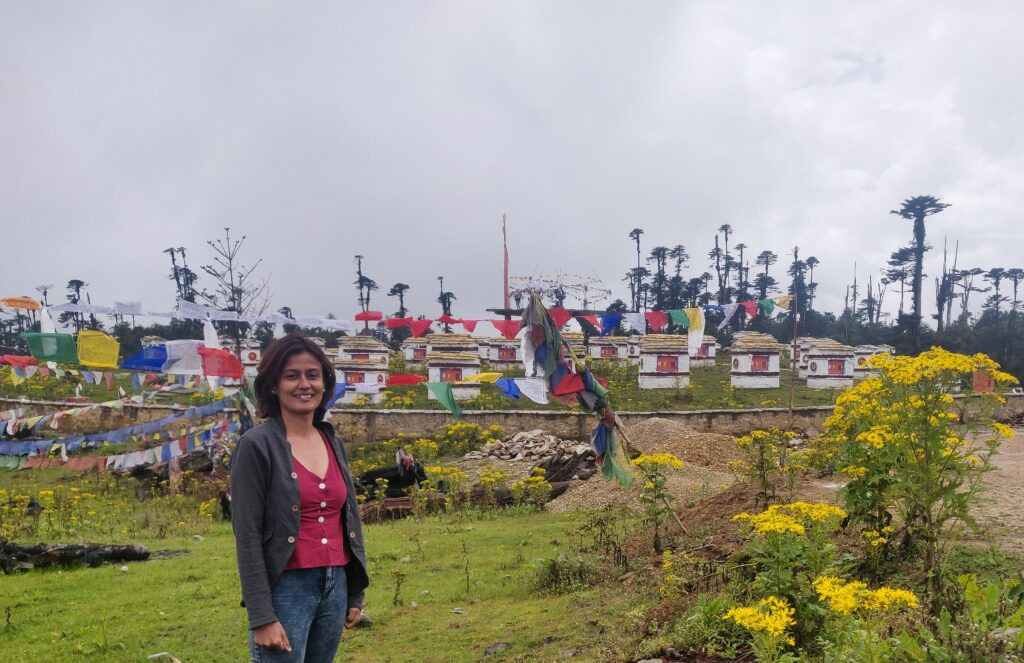 The stupas, also called Mane, is a pillar-like structure in Buddhism that holds religious significance.
The 108 Mane installations at Mandala top were constructed to ward off the evil for the people of Dirang. You can witness the stunning landscapes from the top, along with sipping Yak tea and more at the coffee house.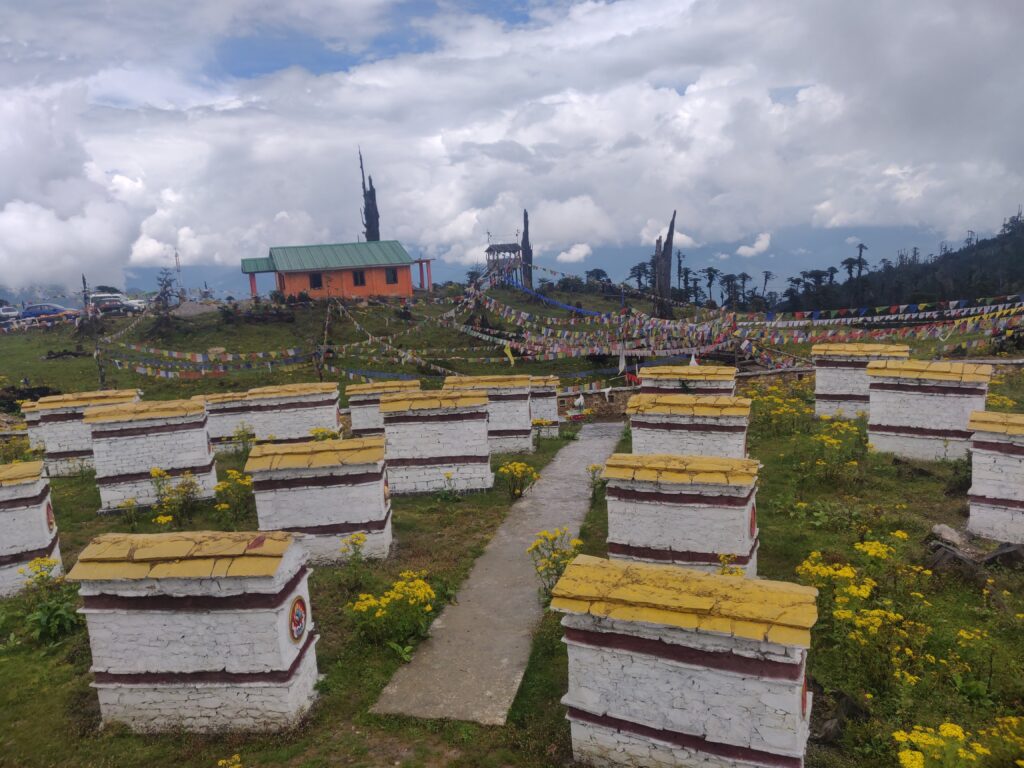 The Mandala Top drive is as beautiful as the stupas, especially after the monsoons and when there is no snowfall.
OFFBEAT PLACES TO VISIT IN DIRANG
Swim in Dirang Chu River
If you are in Dirang during summer, you can enjoy swimming in the pretty Dirang river. If you are like me, you can enjoy taking a long stroll beside the river, or relax and sit by the river with your book. You will come across many rare birds, kids and witness the views from the river.
You will love your time in Dirang River no matter what you choose.
Visit a Weaver's Home
I had the chance to visit the home of a very experienced weaver as Rajiv of North East Explorers was kind enough to show me some glimpses of local lives.
That's how I learned that the people in Dirang are very good at curating textiles and have extensive equipment set up in their homes to do so.
They make things for personal uses, but textile manufacturing, sales, and export is an important small-scale business run mostly by women in Dirang.
You will get to enter a traditional home, get peeks of how they create beautiful things, and of course, you can bring a few of their lovely items back home by buying their woollen wear and traditional clothes.
Take Tours of the Fruit Farms In Dirang
Dirang is one of the most fertile places in Arunachal, like many of its towns and villages. One of the offbeat things to do in Dirang is planning tours of the kiwi farms, apple and orange orchids which are very easy to spot.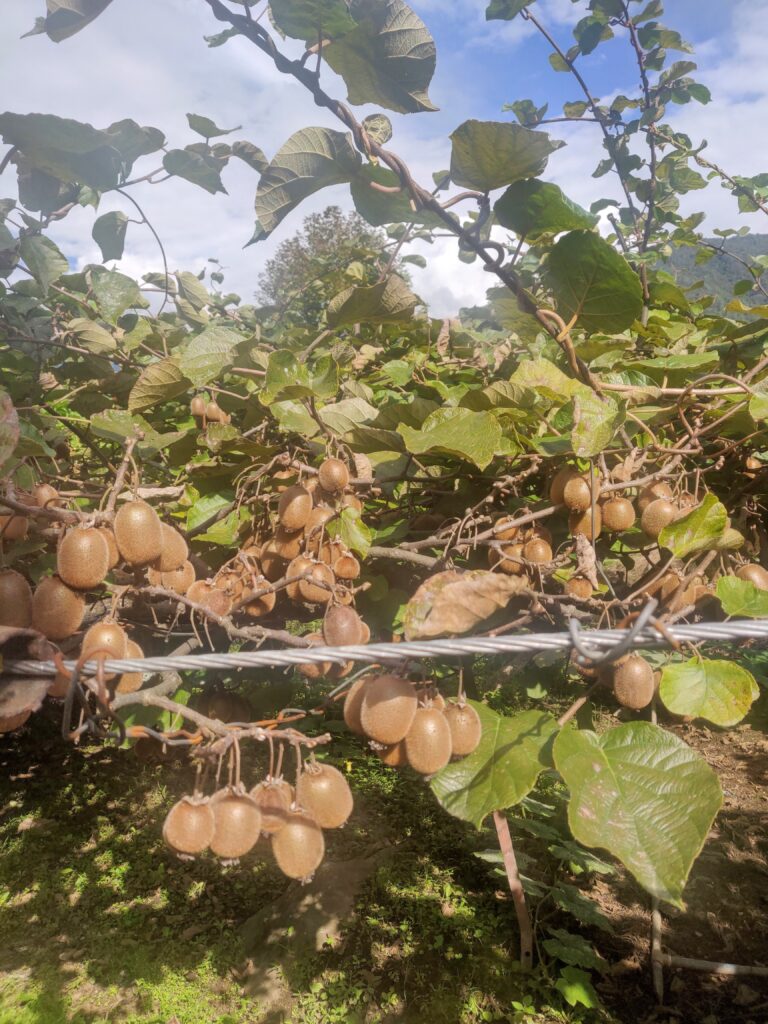 You can stroll through the pretty farms, get to know about their cultivation, go plucking, and of course, taste the delicious fruits. Apart from getting to know about fruit farming, locals will love sharing their experiences, and you can savour the fruits while enjoying the beautiful views.
Enjoy Bird Watching in Dirang
Did you know? Dirang is one of the hotspots for bird watching in Arunachal, and its splendid location amidst the gorgeous mountains and fertile valleys means that no matter what time of the year you visit Dirang, you will spot some unique and beautiful birds that migrate or are local species dwelling in the hills and the faraway forested mountains.
Get on the village's panoramic trails to spot some fantastic species like white-throated redstarts, fire-tailed sunbirds, and Rufous-bellied birds usually spotted around sunrise and early morning hours.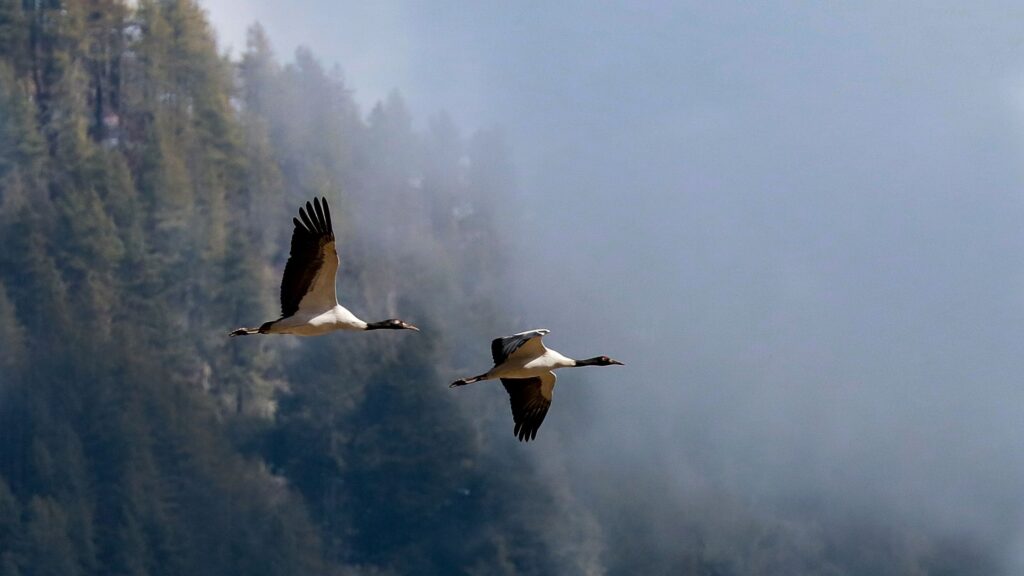 If you plan a Dirang trip during November and December, head to Sangti valley to watch the winter unique migratory birds – the Black Necked Cranes that fly for thousands of miles from upper regions of China to Bhutan and Arunachal every year.
Recommended: 25 Amazing Things To Do In Tawang Arunachal
Plan Treks in and Around Dirang
There is no shortage of trails and viewpoints when you are in Dirang for some adventure. If you are fond of hiking as I do, you can explore the many gravel paths in the hills leading to incredible viewpoints up the mountains overlooking the valley.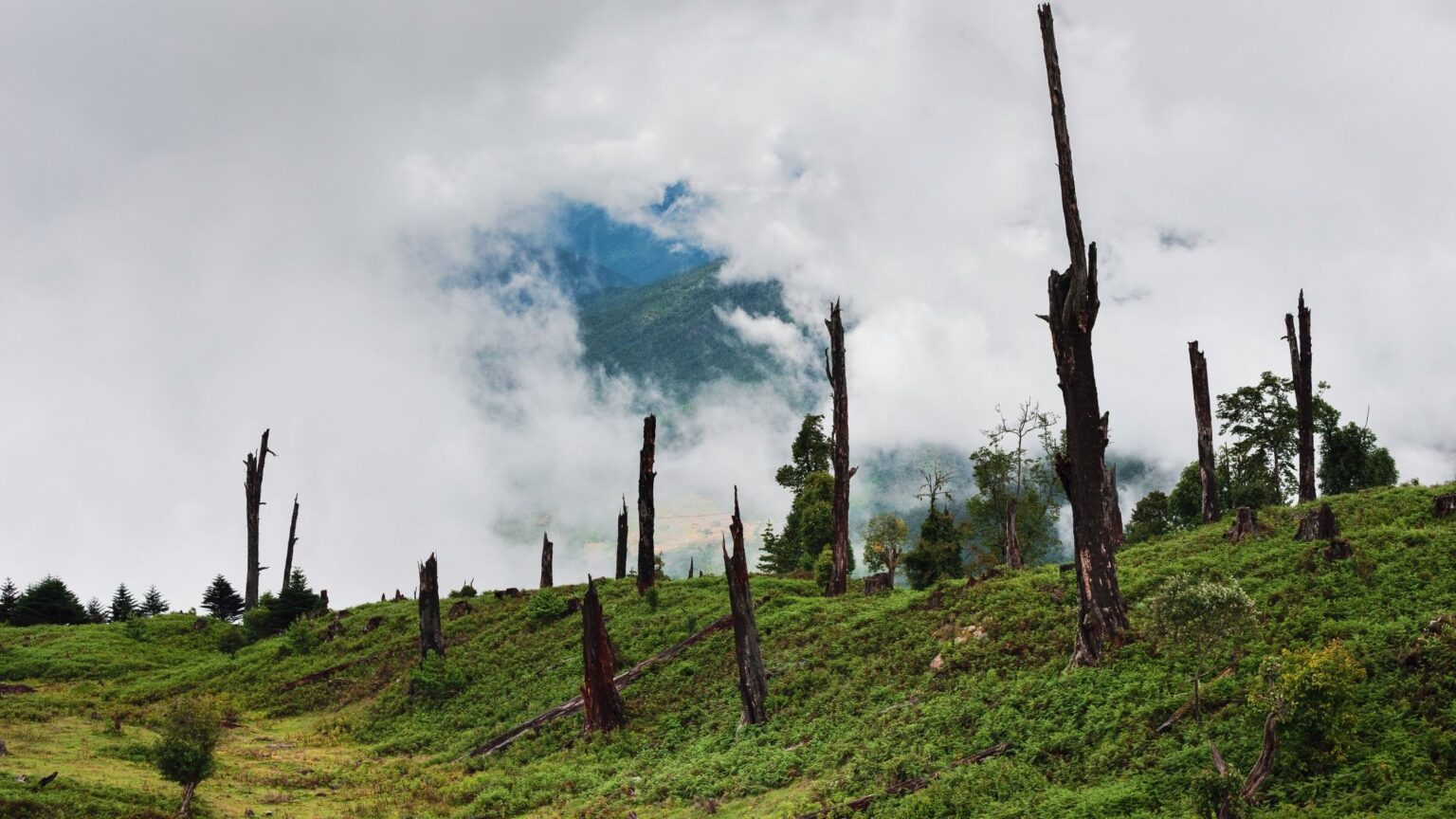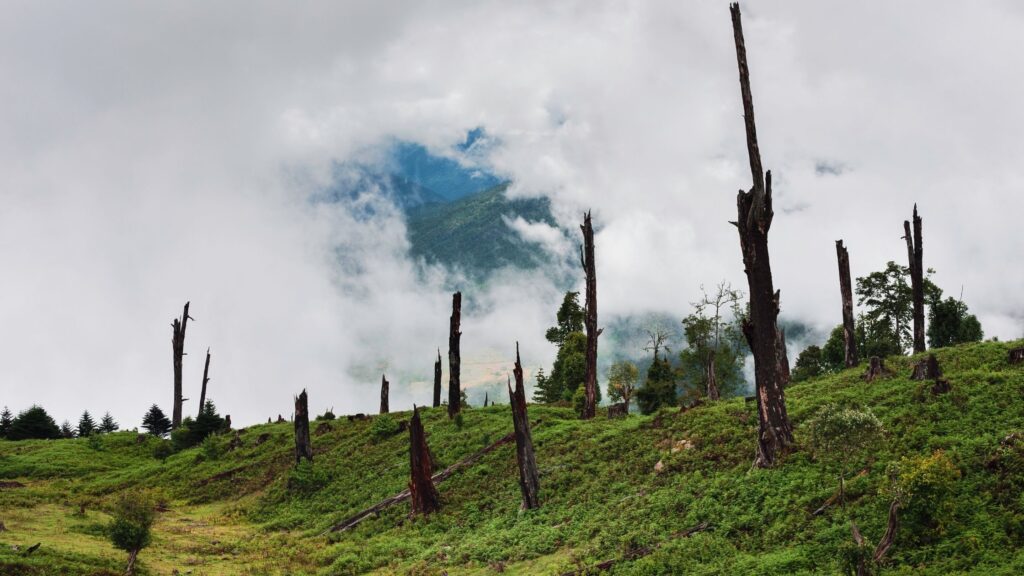 If you want to do multiple-day hikes, you can also visit a few hot springs and lakes. But the best hikes are not only not farther, but easier for any visitor to enjoy. 
You will be rewarded with some of the beautiful panoramas, so make sure you make a climb or two when in Dirang.
Check out the Sheep Farm
Along with yaks, the other animal that you will constantly encounter when wandering in Dirang is the sheep. The herds will block the road for sure, which is fun.
But if you want to know a bit about how they are farmed, check out some farms in Sangti where you can tour and witness the rearing and culture of sheep.
Stroll around Dirang Market
Whether you want to do people watching or do some shopping in Dirang or check out the small shops and taste delicious food in the local eateries, you can do so best while taking walks through the market area in central Dirang.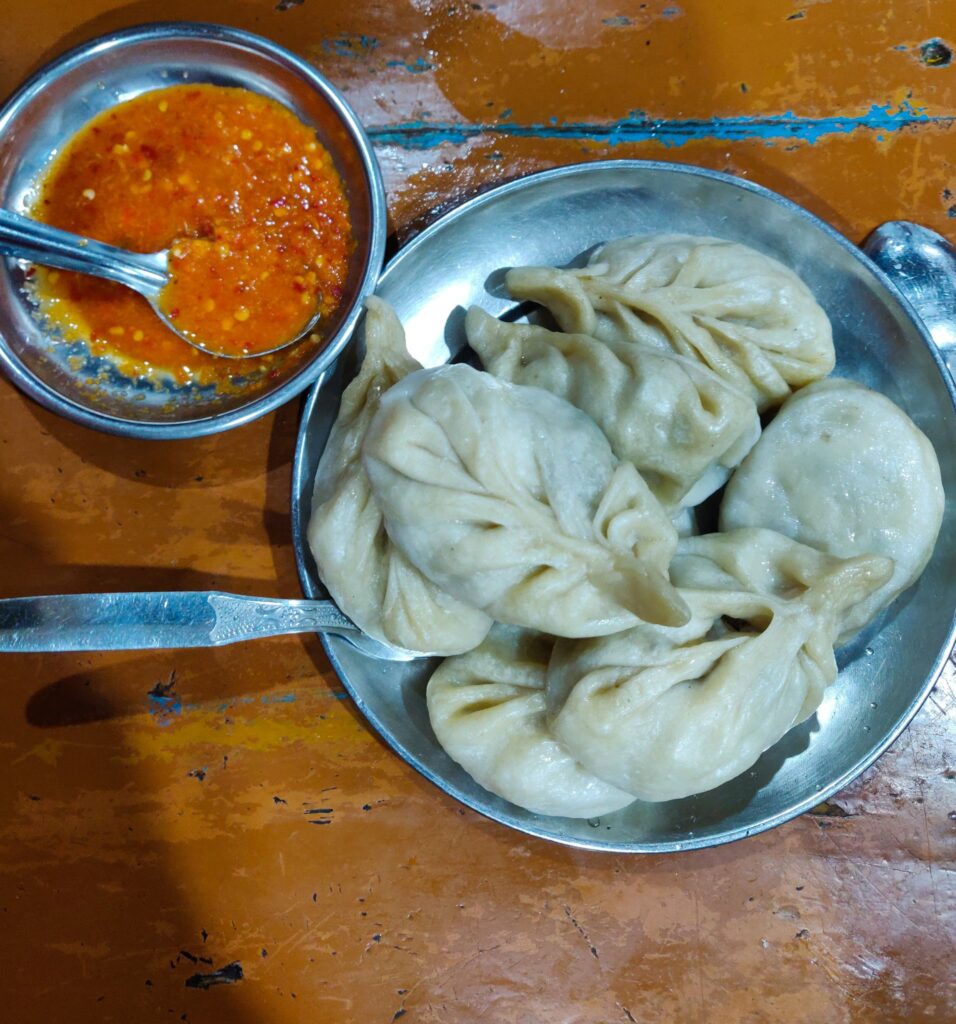 Also, notice the traditions, people selling the unique local fruits, vegetables, handmade crafts, and clothes.
HOW TO REACH DIRANG
Depending on where you plan to travel from, your time, budget, and other preferences, you can choose between these ways to reach Dirang in Arunachal.
Note that no matter how you choose to travel, you will need at least two days to arrive and head back(unless you stay close). So ensure to keep this in mind while planning your Dirang trip.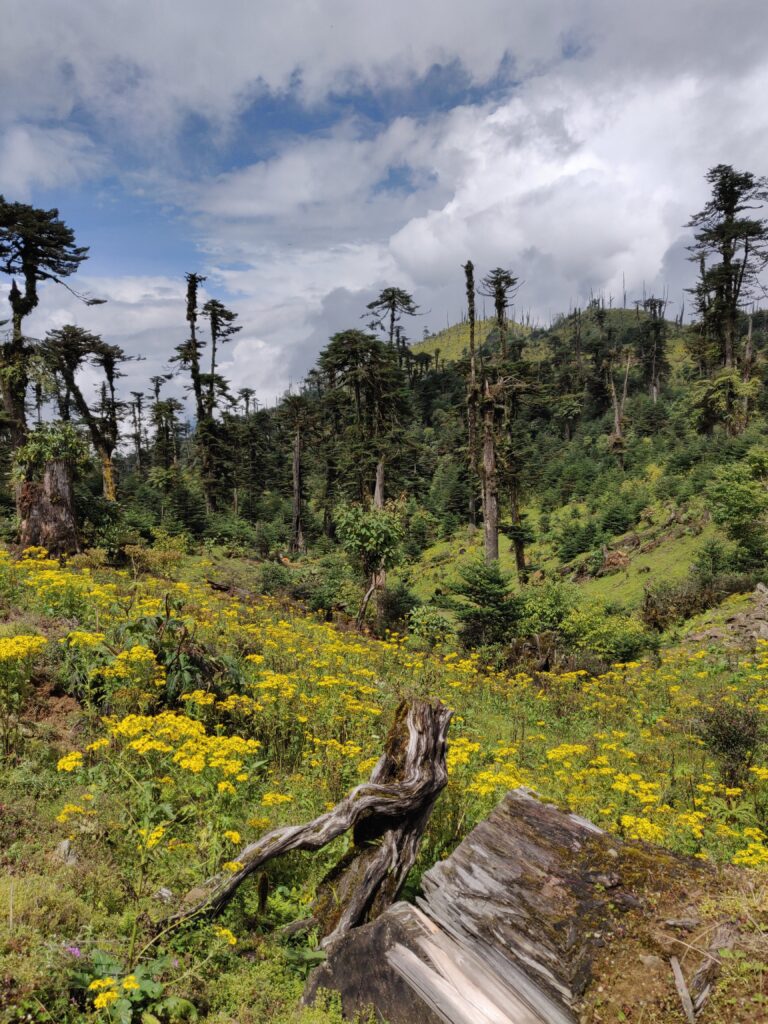 Dirang By Air
If you are flying from abroad, there are two international airports that you can access – Lokpriya Gopinath Bordoloi International Airport in Guwahati, Assam, which is the closest airport.
And the other is the Kolkata International Airport, much further, but well connected to many international cities.
If you arrive in India at any major cities like Delhi, Mumbai, and Bengaluru, you can fly to Guwahati. The distance between Guwahati to Dirang is 350 km. It takes around 8 to 9 hours to drive from Guhawati to Dirang.
By Train
The small town of Tezpur in Assam is the nearest railway station to reach Dirang. The distance between Tezpur and Dirang is 190 km, and you can book a cab from the station that takes about 6 to 7 hours to get to Dirang from Tezpur.
By Road
One of the convenient ways to cover Dirang is to plan a road trip like I did, to explore Arunachal with North East Explorers. You can solve the hassle of transport, food, accommodations and plan for sightseeing, and you will be able to make the most of your time.
Your trip starts from Guhawati in Assam, and from there, you can customise the places and things to do according to your preferences. Neat, right?
You can rent a car in Tawang or Guhawati, Bomdilla, or Tezpur, the nearest bigger towns from where you can arrive in Dirang.
Another fantastic thing about traveling by road is the splendid landscapes that blow your mind away, the local food, and the people's warmth on your journey.
By Bus
Dirang is also connected to other towns through Arunachal Pradesh State Road Transport Corporation bus services with smaller villages Bhalukpong, Tezpur, Itanagar, Guwahati in Assam, and Shillong in Meghalaya.
The upside of the buses is their meagre prices, but the downsides are the very limited buses running every day. If you can plan it right, you can backpack via bus.
FREQUENTLY ASKED QUESTIONS ABOUT PLACES TO VISIT IN DIRANG
WHERE TO STAY IN DIRANG?
Despite being a small town, there are many options available for hotels in Dirang. But I would recommend picking a homestay to experience delicious local food, first-hand hospitality of the locals, and bits of the local culture and traditions, all of which I did when I stayed at a fabulous homestay with North East Explorers.
If you choose hotels, Hotel Pemaling, centrally located, is one of the oldest budget hotels in the area is a great pick.
There is also Awoo Resort, located close to the town, for a mid-budget hotel.
WHAT IS THE BEST TIME TO VISIT DIRANG?
Dirang has a pleasant climate throughout the year. Because it is located at a much lower altitude than most other towns further up, you can visit Dirang during any season for different flavours and experiences.
The winter months from November to February remain a favourite time to visit Dirang for many because the landscape turns stunning after the monsoons. It is also the best time for hikes, watching seasonal birds, witnessing stunning panoramic views, and exploring villages and farms.
People also prefer the early summer months from April to June to travel to Dirang, the best time to visit other destinations in Arunachal. If you plan to do the entire Arunachal itinerary, these months are a great period to explore Dirang.
TOP TRAVEL TIPS & RESOURCES
Below is the list of the travel resources you can use to organize your travel – from flights to insurance and everything. These are the resources I use myself, which is why I recommend you for a hassle-free travel planning experience and fantastic trips.
Booking Flights
: To score flight deals, search on
Jet Radar
, Kiwi,
or
12go.Asia
(for Asia planning). Book and fly mid-week, taking red-eyes flights or those in the early mornings for better deals and lower prices. Avoid check-in bags on a budget airline.
Booking Trains:
The best websites for booking trains anywhere in Europe are
Rail Europe
and
TrainLine
. Both are easy to manage online and track your journeys.
Booking Cars:
For the best prices and easy handling of renting a car for road trips and day trips, I'd recommend
Discover Cars
or
Rental Cars,
available throughout the world.
Accommodations:
I typically use
HotelsCombined
or
Booking.com
to book hotels. There are special getaway deals with amazing discounts(over 50%!) for this year on Booking.com, and you can find them
here
.
I use
Hostelworld
and
Agoda
to book hostels as the deposit is low, easy change/cancellation is available and reviews are excellent on both. Depending on the destination, I love staying in
VRBOs/homestays
.
Travel Insurance:
No matter whether it is a short trip or longer trips abroad, I strongly recommend buying travel insurance for international trips. I recommend either
World Nomads
or
SafetyWing
for international travel insurance.
Tours:
Being a solo traveler, one of the best ways to optimize my time, budget, and super importantly, meet amazing people from all over the world is by joining tours, especially food tours, walking tours, day trips, culture, and history tours.
You will get a local's perspective, the best opportunities to experience places and people closely. I book using
GetYourGuide
,
Klook
,
Viator,
and
Voyagin.