There are many amazing Christmas towns in Texas that will let you have a fabulous holiday in the lone star state. Like the rest of the world, Christmas in Texas is a time to celebrate, indulge, and have fun with family and friends.
As the popular saying goes, everything is bigger in Texas, which means Christmas spirits are very high throughout the state. The towns and cities are packed with holiday lights, markets, beautifully decorated Christmas trees, carols, rides, and parades.
Most Texas Christmas towns are worth visiting any time of the year, but the holiday spirit transforms into magical lands loved by the kids and adults.
Since each town has its unique way of celebrating the holidays, you can choose to spend your winter holidays in Texas.
Texas has mild winters, with temperatures hovering around the 40s to the 70s, which means it is a fantastic time for a fun Christmas vacation in Texas.
From admiring dazzling light displays to enjoying festivities or indulging in lots of good food and drinks, you have many incredible things to enjoy with your loved ones.
If you want to celebrate Christmas in Texas but don't know where to go, here is the list of the best Christmas towns in Texas to experience a magical Christmas in the Lone Star State.
BEST CHRISTMAS TOWNS IN TEXAS
GRAPEVINE
Among the top Christmas towns in Texas is Grapevine, located close to Dallas. It is the official Christmas Capital of Texas since Grapevine holds the most prominent holiday events on a grander scale than any other city in the state.
The best months to visit Grapevine are November, December and early January when the city welcomes its maximum holiday-goers yearly.
Millions of lights and larger-than-life decorations fill Historic Grapevine during their 1400 Christmas events in 40 days. But they are not the only things that make Grapevine one of the best places to spend Christmas in Texas.
There are so many fantastic things to do in Grapevine for the holidays that you can easily spend at least a week here.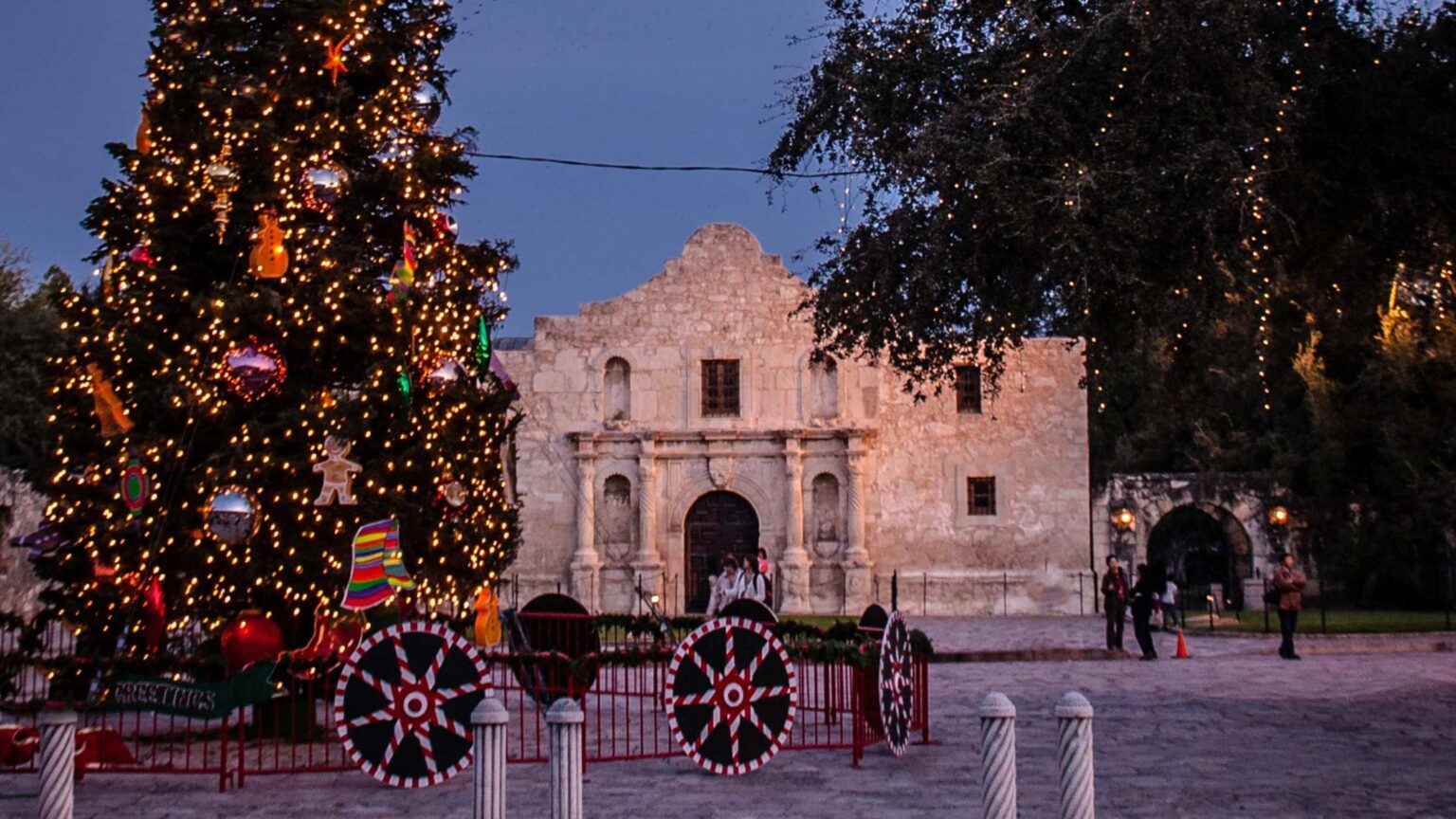 You can celebrate a classic Victorian Christmas with millions of sparkling lights everywhere in the city.
The best way to explore is to stroll around the historic downtown area, the centre for dining, shopping and wine tasting rooms, with all buildings decorated with millions of holiday lights.
Many events and unique activities are held here during this time amidst the beautiful Christmas decorations and trees.
Watch the parade of lights, one of the largest lighted Christmas parades in North Texas, and the Twinkle Light Boat Parade at Lake Grapevine, a unique parade loved by visitors.
Your winter trip to Grapevine is incomplete without spending a day at the beautiful Gaylord Texan Resort, one of the main Christmas celebration destinations.
Watch this resort's 100-foot Christmas tree adorned with dazzling lights and decorations.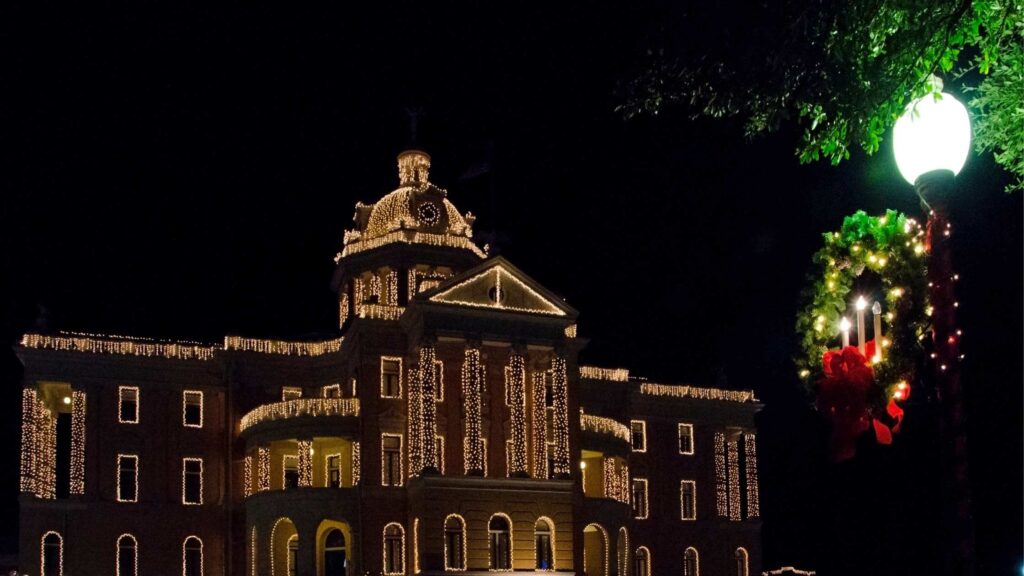 Although Texas may not have a white Christmas, you can visit ice sculptures and slides here at the massive maze created by many local and seasoned ice artists, including popular holiday characters and huge ice slides.
There is an ice skating rink at the resort, apart from areas for snowshoeing, snow tubbing, and playing in the snow.
Hop on the historic Grapevine Vintage Railroad North Pole Express train ride, loved by children and kids at heart. You will taste some milk and cookies specially delivered by and have Mrs Claus.
If you want to taste wine, take a Christmas wine train.
Enjoy classic Christmas movies and musical concerts at Historic Palace Theatre.
FREDERICKSBURG
If you want to experience the charming traditional European Christmas, Fredericksburg is one of the beautiful Christmas towns in Texas you should visit.
Fredericksburg is a pretty German town in central Texas with a rich German heritage as a group of Germans established it in the late 19th century.
There are many cool things to do in Fredericksburg over a weekend, including beautiful architecture and cultural attractions.
But it is during Christmas that this pretty town turns magical as the holiday season gears up for a traditional Christmas celebration that goes on for a month.
There are many amazing things to do in Fredericksburg at Christmas, which gets a kick-off with a traditional Christmas market.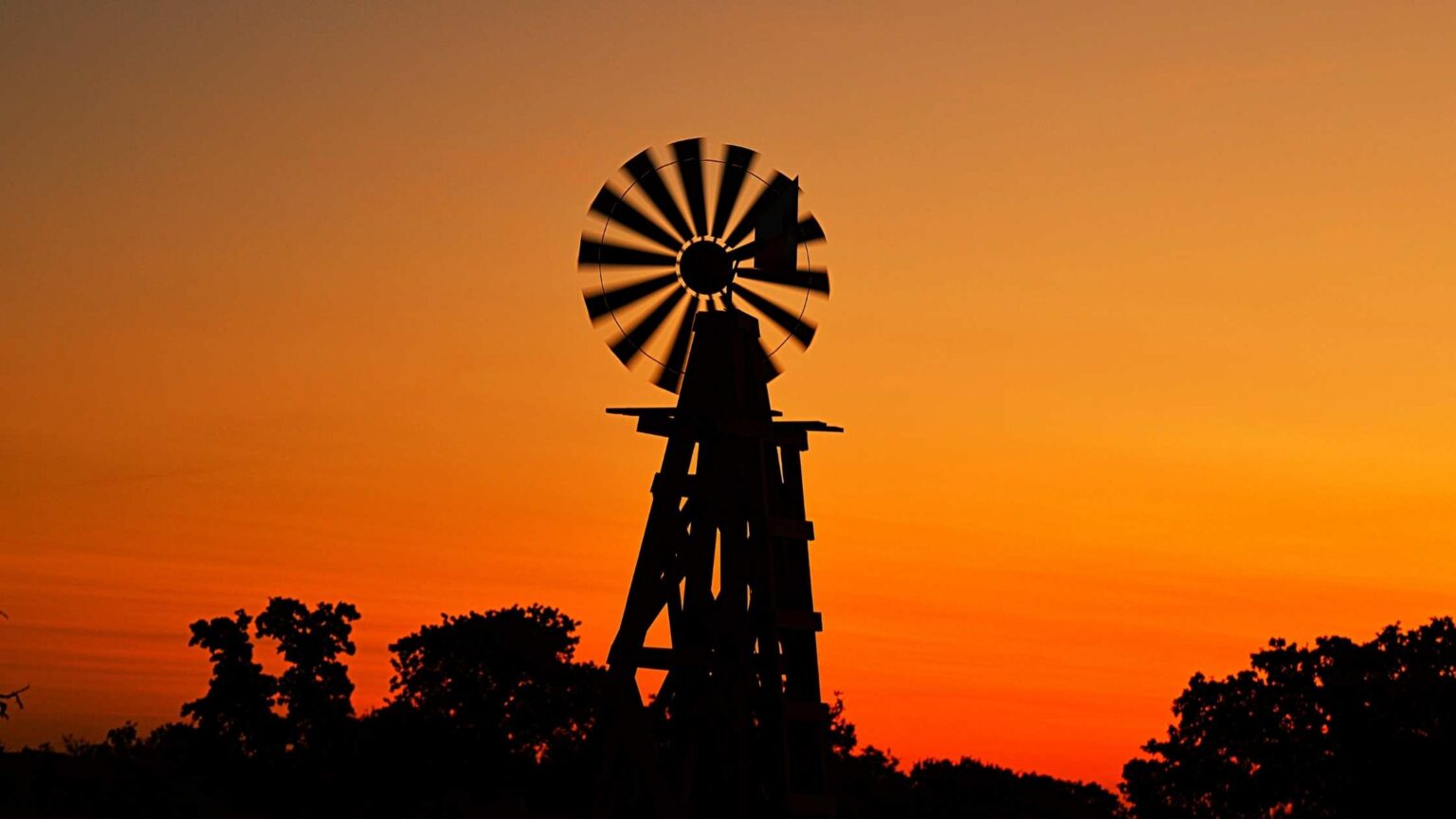 Visit the magical light-filled Marktplatz to witness a gorgeous hand-carved, 26-foot tall, wooden Christmas pyramid. A 30-foot tall, heavily decorated community Christmas tree will also be seen nearby.
The square is decorated with loads of Christmas lights and holiday decor, best enjoyed by walking through the streets at night in this lovely hill country town.
Strap on some skates to ring around the outdoor ice rink, Eisbahn.
Take part in the famous Light the Night Christmas parade, where you can watch the flats gp down amidst holiday music and lights on the main street.
If you love wine, you are in for a treat because Fredericksburg is a renowned wine destination.
During winter, attend the Christmas Wine Affair, an annual fest where over 50 local wineries participate in giving you amazing discounts. You can enjoy wine tasting and shop for the best local wines at Fredericksburg.
SAN ANTONIO
Nestled in south-central Texas, San Antonio is renowned for its rich Spanish history and culture. San Antonio is one of the top Christmas towns in Texas if you want to explore the outdoors in pleasant temperatures.
But there are many amazing things to do in San Antonio, and the list only gets longer during Christmas as the city decks up for the holidays.
The Christmas festivities begin the day after Thanksgiving on the Riverwalk when San Antonio becomes an enchanting winter wonderland.
The spectacular light displays and celebrations go on from November until January, drawing many travellers annually.
Stroll the River Walk, the top attraction decorated with hundreds of thousands of twinkling lights hanging from the bald cypress trees, a sight to behold.
What makes the display more beautiful are the scattered, delicate paper lanterns around the city.
Attend the Fiesta de las Luminarias and the Holiday River Parade along the River Walk, where you can watch illuminated floats with live music and pretty Christmas decorations.
Santa Claus will accompany you if you take the gondola rides.
You can shop at the beautiful German Christmas market, where you will be tempted to shop thanks to beautiful handcrafted gifts, gingerbread, pottery, and fine arts.
The market is also the best place to sip hot chocolate, roasted chestnuts, or binge on pretzels.
Among the many Christmas special delicacies, one of the best cuisine not to miss are homemade tamales, which are a part of the Christmas traditions in San Antonio known as La Gran Tamalade, where you can also learn to make them.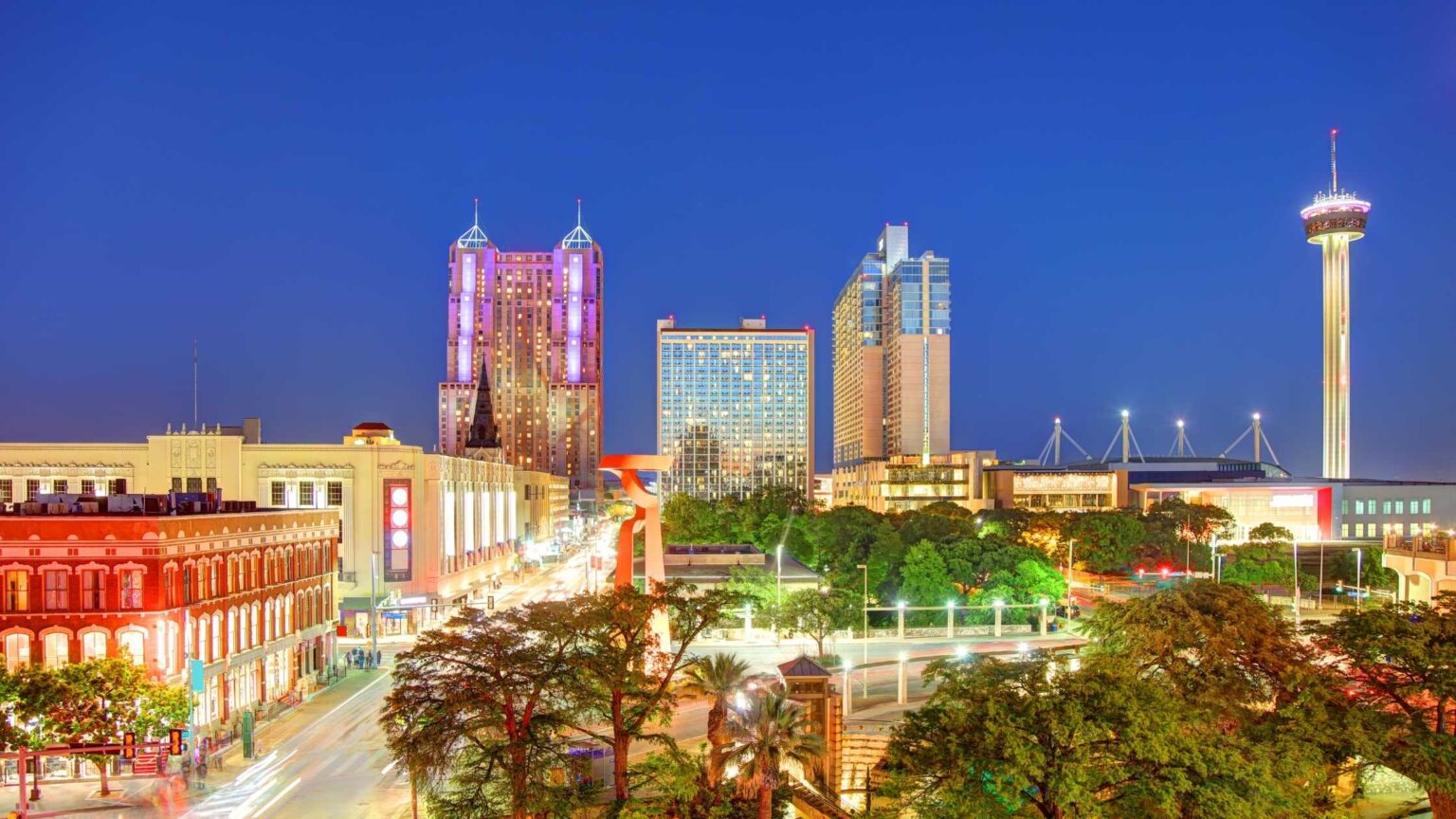 Enjoy the musical performances, carols, and games for kids.
San Antonio's top attractions include many theme parks, which host many events and Christmas-themed holiday activities.
If you are traveling with kids, explore the Ford Holiday River Parade, SeaWorld's Christmas Celebration, and Six Flags Fiesta, which hosts Texas Holiday in the Park.
If you want more fun and lights, head to the Incarnate Word University to attend the light festival with a food and shopping market and brilliant light displays.
JEFFERSON
Jefferson, founded in the early 1840s, and located in northeastern Texas, is known for its rich heritage architecture.
If you love history, you will love Jefferson, but what makes it one of the best Christmas in Texas is that you can learn about the historical architecture and its past during Christmas when the town draws many visitors for its brilliantly lit buildings.
Jefferson's oldest Victorian-style homes are grandly decorated for the holidays, which you can tour famously as the Holiday Trail of Lights or the Candlelight Tour of Homes. It is one of the top attractions during Christmas in Jefferson that you should not miss.
Watch the gorgeous Christmas parade through the downtown main street, comprising millions of Christmas lights, music, carols and colourful floats of all shapes and sizes.
Follow the parade to next watch the annual Christmas tree lighting ceremony.
You can enjoy Christmas shopping at antique stores or go around in the ancient horse-drawn carriages.
If you love museums, do not miss visiting the Museum of Measurement and Time and Gone With the Wind Museum.
Stroll through the Enchanted Forest, encompassing over a hundred trees adorned with beautiful holiday lights.
Hop aboard the Christmas Express Train at the Historic Jefferson Railway, a favourite not just for kids but adults.
It is a 3-foot narrow gauge railway that takes you through beautiful piney woods along the Big Cypress Bayou. Admire the views while listening to the Christmas stories and a cup of hot chocolate.
WIMBERLEY
One of the leading shopping destinations in the US is Wimberley in Central Texas. If you plan to visit Fredericksburg or New Braunfels for the holidays, add a stop at Wimberley, which is also one of the most beautiful Christmas towns in Texas.
Wimberley is famous for the Holiday Trail of Lights at the EmilyAnn Theatre.
It is a stunning spectacle capturing the holiday spirits across eight acres of spectacular light displays encompassing hundreds of thousands of lights against the warmth of the Yule Log.
The best part is it is one of the fun-free things to do in Wimberly.
On this trail of lights, you can enjoy live music and visits from Santa Claus. Check for periodic movie viewings featuring Christmas classics at the theatre.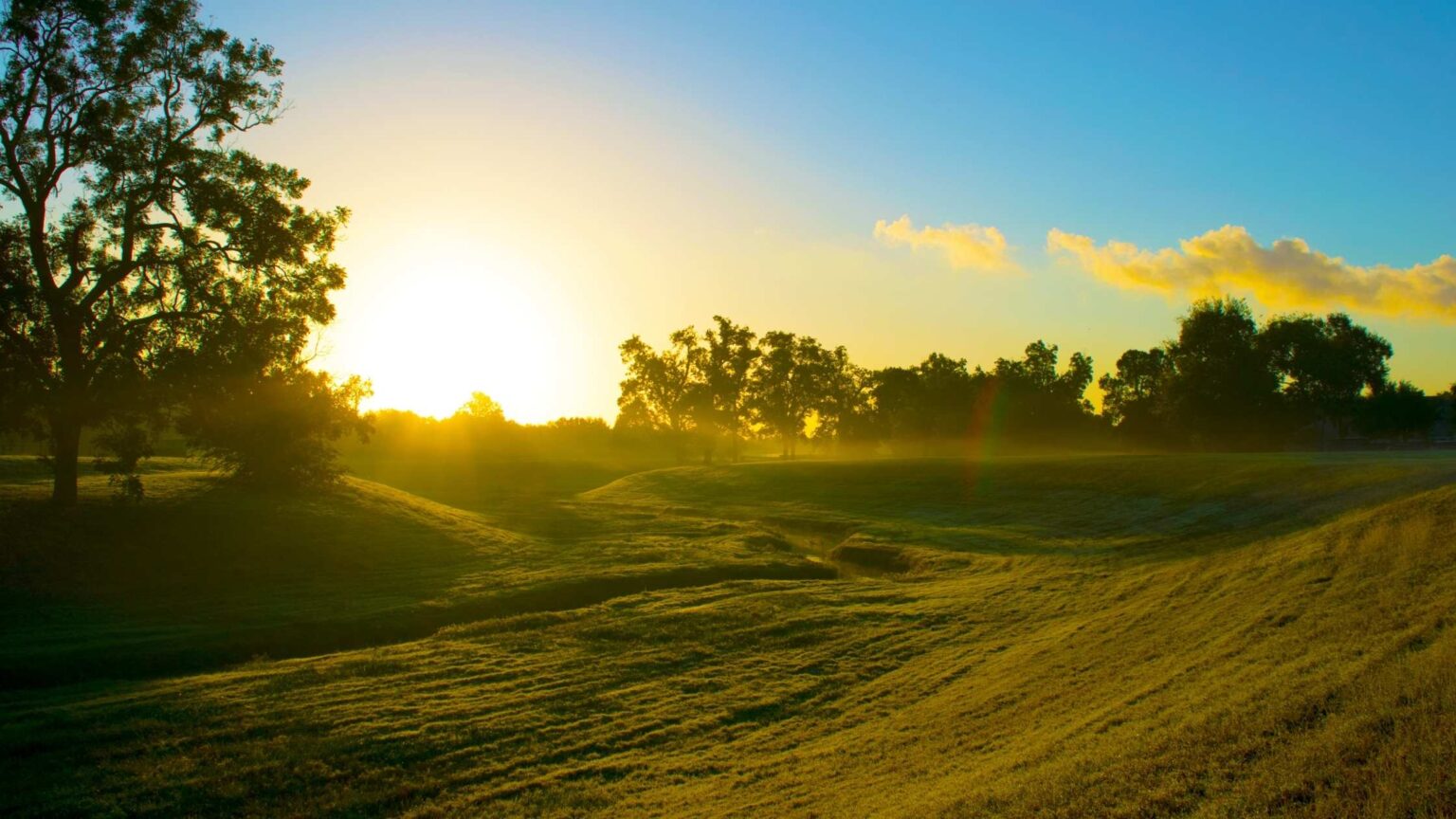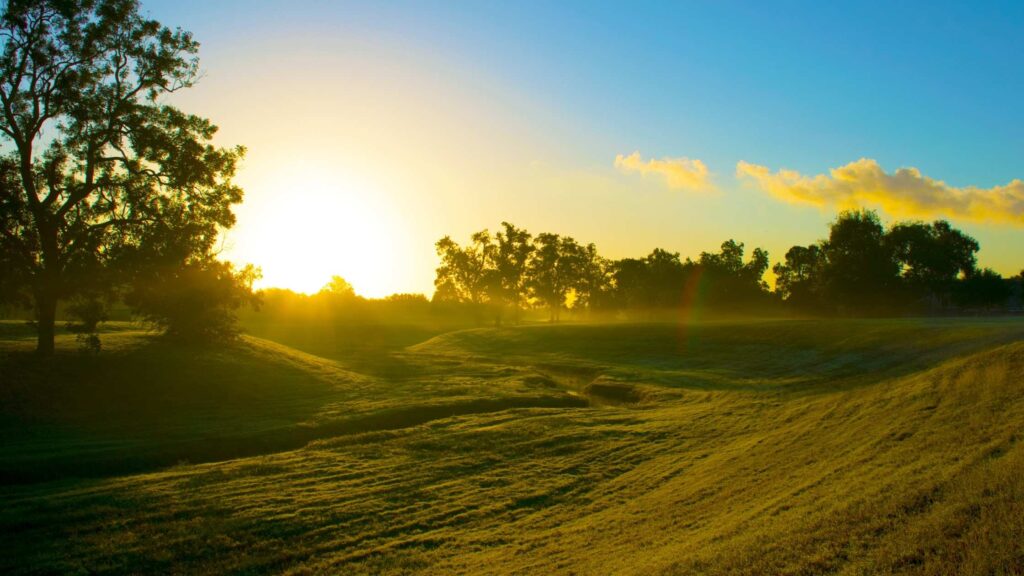 This place is also a popular hotspot among visitors that enjoy roasting hot dogs and marshmallows.
Stroll through downtown near Wimberley square, which is filled with shops decorated with holiday lights. There are many places popular for shopping for some fantastic Christmas gifts.
Additionally, check out Wimberley Farmers Market and Wimberley Market Days for buying fresh local produce and handmade souvenirs.
There are also many holiday-themed markets where you can try delicious Christmas special bakes and wooden items ideal for seasonal décor or gifts during the Christmas season.
GALVESTON
One of the most beautiful beach towns in Texas, Galveston is a popular destination for beach lovers that flock to the beautiful beaches for sandy shores and water sports throughout the year.
If you are looking for a warm island for the winter, one of the best Christmas towns in Texas is Galveston.
Galveston is the self-proclaimed Winter Wonder Island of Texas since the beach town hosts more than 50 days of holiday events and Texas Christmas activities from November through New Year's.
Unlike the other towns here, Galveston allows you to watch the stunning display of holiday lights and decor along the coast, a unique Christmas Texas getaway with your loved ones away from the cold weather.
Watch the famous old-fashioned Victorian holiday festival in Galveston, Dickens on the Strand, which includes costumed vendors, Victorian-style food, drinks, and crafts.
Head to Moody Gardens, where Christmas celebrations are top-notch. Stroll along the mile-long lights display at the annual Festival of Lights, the largest holiday lighting festival along the Gulf, or attend the festival of ice sculptures – Iceland.
You can also enjoy outdoor skating in the gardens, shop for Christmas souvenirs, and try the local specials at the pretty Christmas market.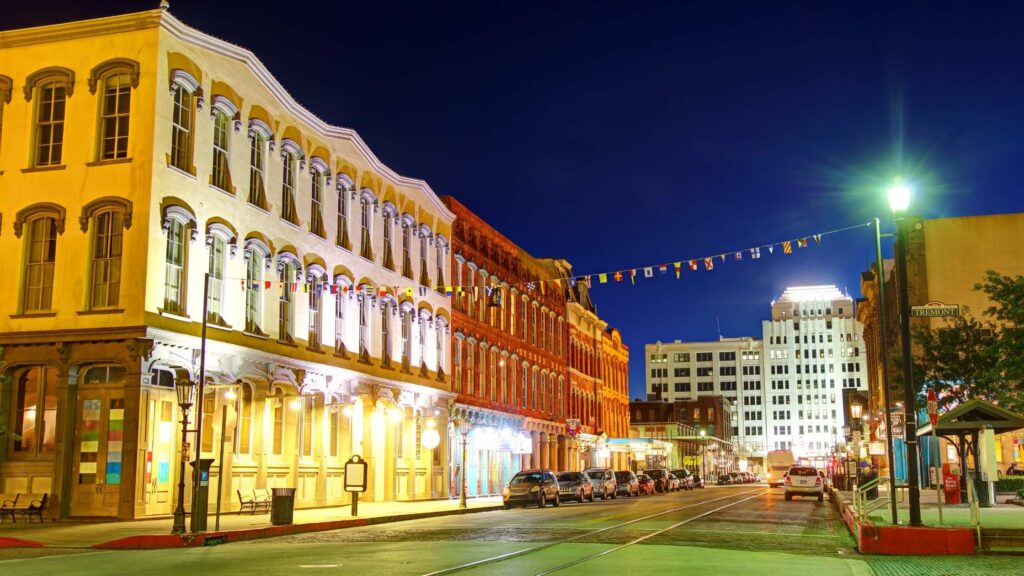 If you visit Galveston for Christmas in Texas, they also have a unique 4D Rudolph experience, ice slides, and train rides at Moody gardens.
Or better, watch classic movies, including A Christmas Carol, Harry Potter, and The Polar Express, with them at the screenings.
Hop on the Polar Express ride at the Galveston Railroad Museum accompanied by Santa.
DALLAS
If you want a big city winter holiday in the Lone star state, one of the beautiful Christmas towns in Texas is Dallas.
Christmas in Dallas is magical, as you will feel the holiday spirits and Christmas cheer thanks to the many festivities, colourful holiday displays, and lots of activities to enjoy, with something for everyone.
Watch the vibrant Dallas Holiday Parade, one of the best Christmas parades in Texas, where you will see larger-than-life floats and other types of floats, musical performances, and beautiful light displays.
Another place to witness lighting is the Galleria Tree Lighting, where you can enjoy ice skating while watching the tallest indoor Christmas tree light up.
Visit The Dallas Heritage Village to watch the Candlelight celebration with your family.
Many events are held throughout the city, themed for families and couples.
The Dallas Arboretum is one of the top Christmas attractions in Texas.
The 66-acre botanical garden features 12 Days Of Christmas display, presenting a live rendition of the traditional story you can enjoy as you stroll through the garden decked up with brilliant twinkling lights.
The Arboretum also has a magical Christmas village, where you can meet Santa.
With a 50 ft tall musical Christmas tree heavily decorated with tens of thousands of lights at the centre, you will be transported back to a traditional Santa village, where you can also find wooden Christmas village displays.
Shops are selling the best Christmas specials, drinks and foods, which you can gorge on while enjoying the live music.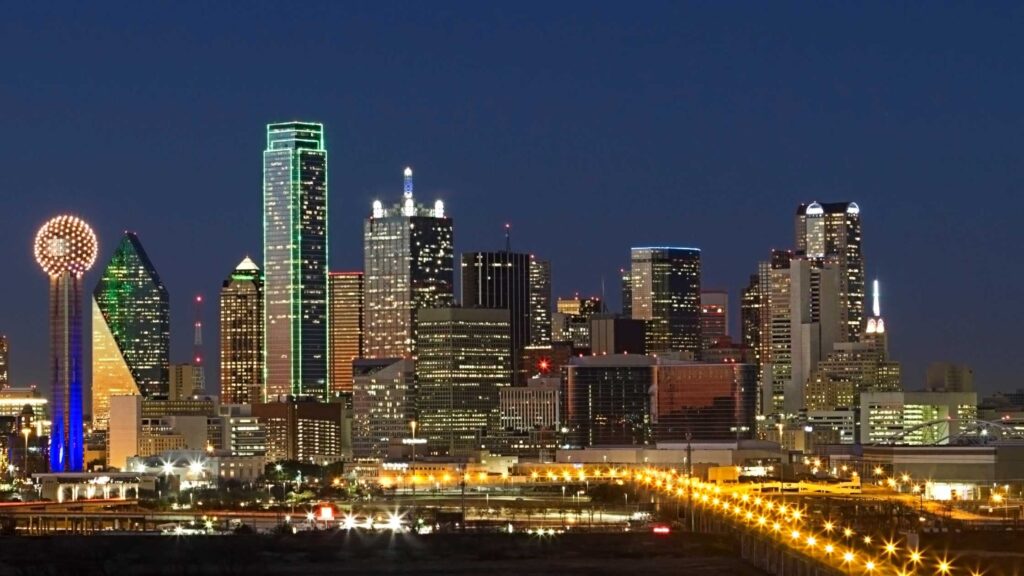 There are many skating rinks, chocolate tasting tours, and walking tours to watch the celebrations in Dallas.
Do not miss visiting the Dallas Zoo with kids, as you can enjoy over a million twinkling lights here. There are many exhibits and interactive games for kids; of course, you can meet Santa.
Head to the interactive Snowday Dallas to watch different Christmas traditions worldwide.
NEW BRAUNFELS
One of the closest places near the capital city Austin to enjoy Texas Christmas is New Braunfels, also close to San Antonio if you plan to visit more than one Texas Christmas town.
Summer is the peak season for most tourist crowds that arrive to float the river, enjoy hiking, or visit the theme parks in this south-central Texas town.
New Braunfels is one of the best Christmas towns in Texas though as the town gets all decked up, organising many colourful events and bringing in the Christmas cheer.
Since New Braunfels has a rich German heritage, you can experience a traditional German Christmas.
A drive through Santa's Ranch is one of the top Christmas attractions in New Braunfels. You will witness the winding road decorated with more than a million twinkling lights and animated holiday light displays.
It is considered one of the most incredible Christmas light displays in Texas, which is no surprise.
You have to tail the long line of cars waiting down the axis road of I-35 to watch this dazzling spectacle on Santa's Ranch.
No German Christmas is complete without their signature markets. So when at New Braunfels, visit the Weihnachtsmarkt, the German-themed holiday market, where you can indulge in all types of winter special delicacies and shop for handmade gifts, unique souvenirs and artisan produce.
Continue your holiday shopping next at Gruene Christmas Market Days. And when you have had your fill, head to the Hometown Holiday Christmas Parade.
There are many colourful events and celebrations that you must not miss attending when in New Braunfels.
If you love music, especially carols, attend Christmas at the Caverns, a unique Christmas carolling experience held underground at the Natural Bridge Caverns.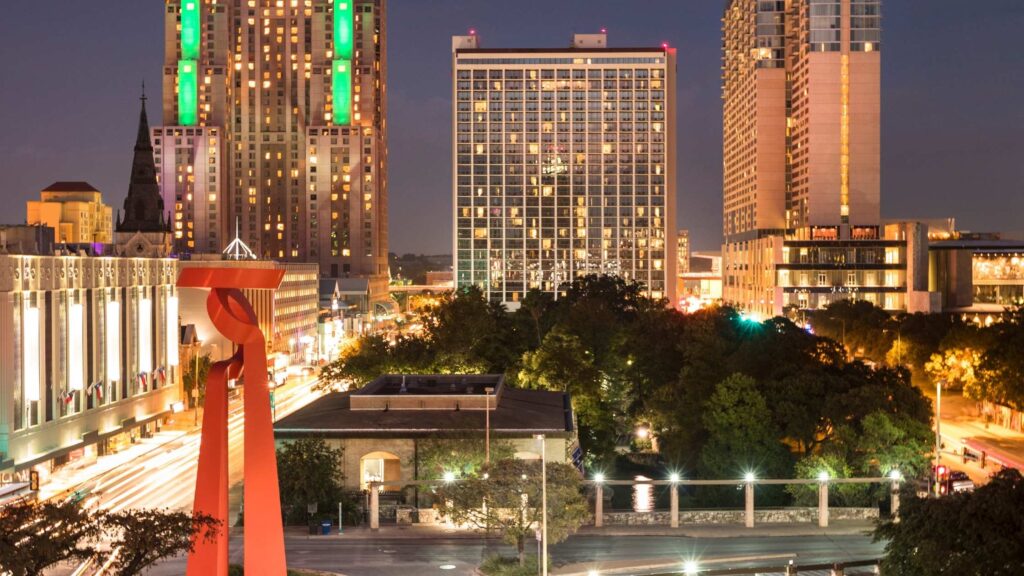 You can also enjoy the zipline and tour the Christmas village near the caves.
If you love music, especially carols, attend Christmas at the Caverns, a unique Christmas carolling experience held underground at the Natural Bridge Caverns.
You can also enjoy the zipline and tour the Christmas village near the caves.
You can taste the best German ciders at the downtown cider festival, a fun festival with lots of music.
Visit Gruene, a historic district located only a 10-minute drive from New Braunfels, for Christmas displays and decorations at the famous Gruene Dance Hall. You can also take a train ride on the Pony Express here.
COLLEGE STATION
Do you expect a university city to be one of the best Christmas towns in Texas? Yes, as surprising as it may sound, College Station, known as a college town, as it's home to Texas A&M University, is one of the best places to visit for Texas Christmas.
Located close north of Houston, it makes a perfect day trip from the city if you are short on time.
College Station is a great pick to celebrate Christmas in small-town ways, but that does not mean it would be anything less than fabulous festivities.
This youthful city transforms into a Christmas town every holiday season.
College Station is home to the spectacular Santa's Wonderland, a holiday village complete with everything that makes it Christmas.
There are tons of activities lined up here for everyone. Actual snow, a hayride tour through millions of twinkling lights, live music, an old western village with unique holiday gifts, Santa Claus himself, snow machines, and an outdoor screen playing Christmas movies.
You can also enjoy ice skating, horse carriage rides, and a holiday train ride here and taste many types of food and beverages.
Also, check out a Texas-sized Gingerbread Village made from 500lbs of gingerbread dough, topped with a lot of icing and candy.
AUSTIN
Austin, the capital of Texas in the central region, may not be your first choice if you want a unique winter holiday, but many love visiting Austin as it is one of the fantastic Christmas towns in Texas.
The city, which has mild winter weather and is known for exceptional food, and quirky culture, gets magically transformed into a winter wonderland with decorations, events, festivals, markets, and games for children and adults.
It is one of Texas's cities with the most display lights during Christmas.
The most famous place to see a spectacular display of lights is at the Trail of Lights at Zilker Park, where you can watch over two million lights, 90 glistening Christmas trees, more than 70 light tunnels and 40 beautiful holiday displays spread across two miles.
You can taste delicious street food here by exploring the food trucks and enjoying live music and performances.
See a 155-foot Christmas tree made from draped streams of lights in the city centre, which is also decked up with decorations.
Visit the Circuit Of The Americas to experience Peppermint Parkway, a drive-through attraction decorated with thousands of sparkling lights and a romantic mistletoe booth.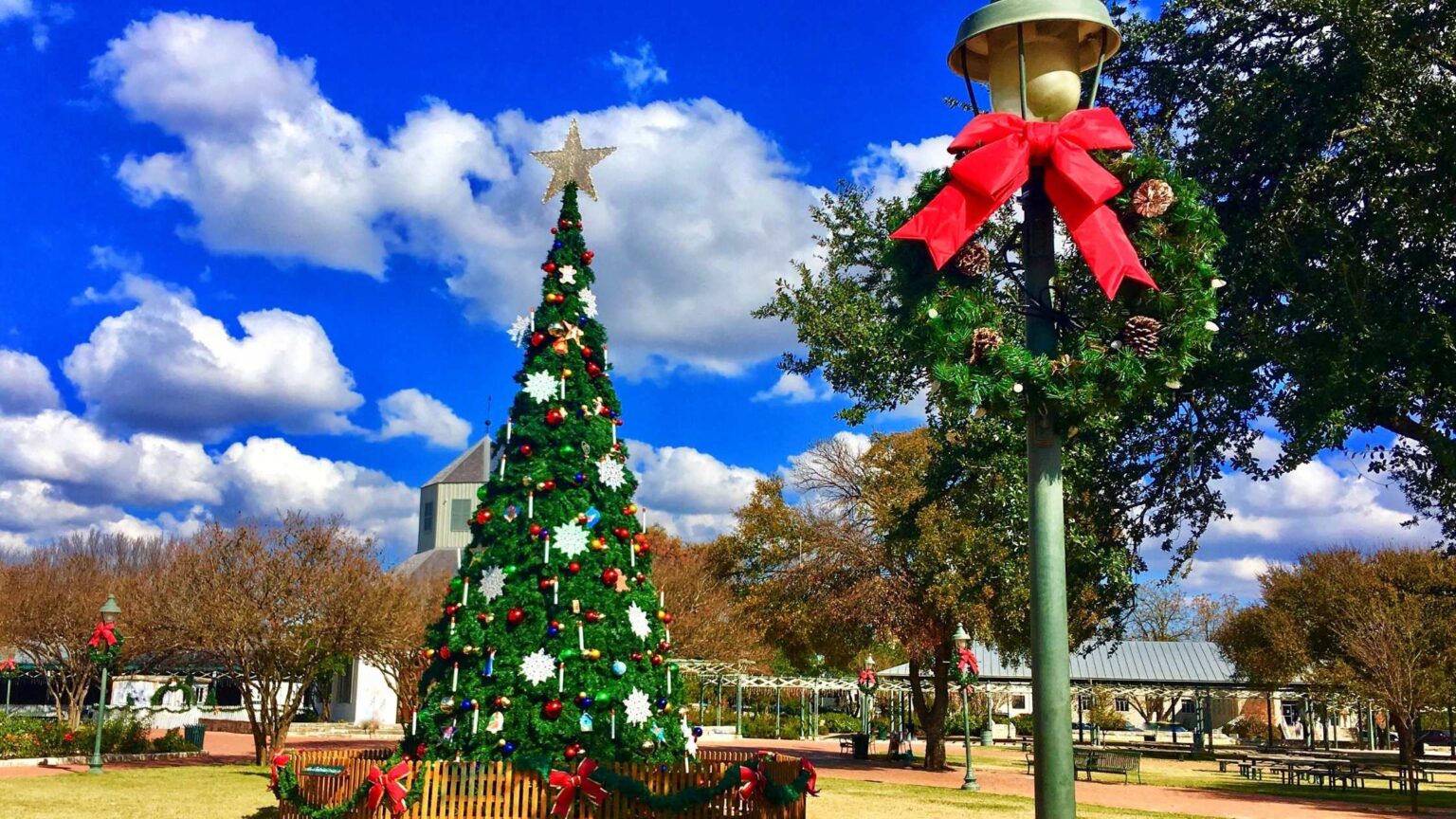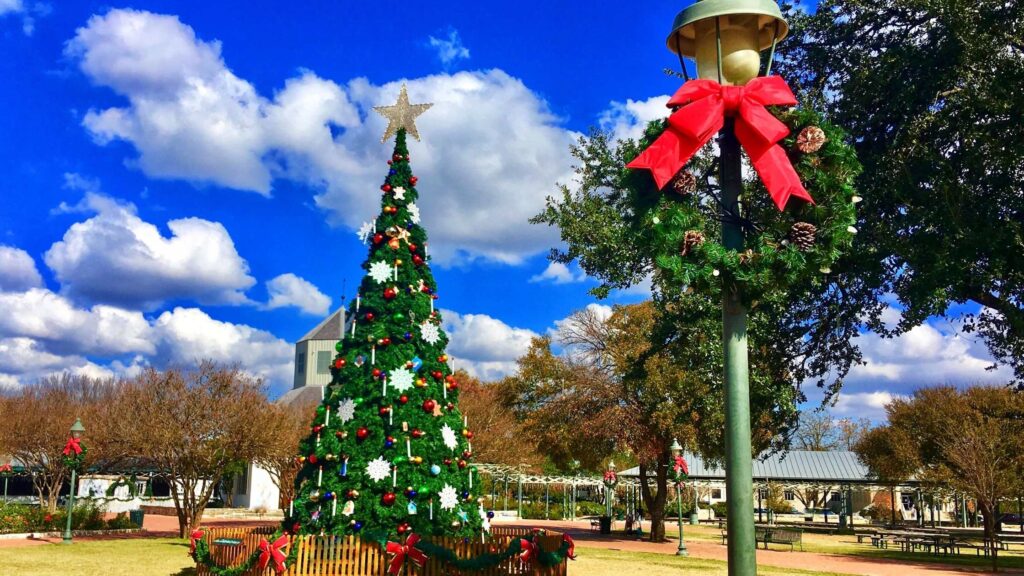 Enjoy the views of Austin's skyline gleaming with decorations from a beautiful viewing tower at the Parkway.
If you want a more traditional experience, check out the Austin German Christmas Market, one of Texas's best and the biggest German Christmas markets.
It is the perfect place to shop for handmade gifts, wooden souvenirs, Christmas decor, and savouring many traditional Christmas specialities, including cookies, pretzels, cakes, hot cocoa, and more.
Check out other Christmas shopping markets scattered throughout the city for more shopping.
Among these markets is a famous one, the Armadillo Christmas Bazaar, known for its distinct festive art.
One unique attraction to Austin Christmas is Mozart's Coffee Christmas Lights Show, held by Mozart's Coffee Roasters, a famous coffee shop.
Grab some coffee and watch the perfectly choreographed light show.
Their patio is the best spot to watch this spectacle, which can be reserved for a small fee.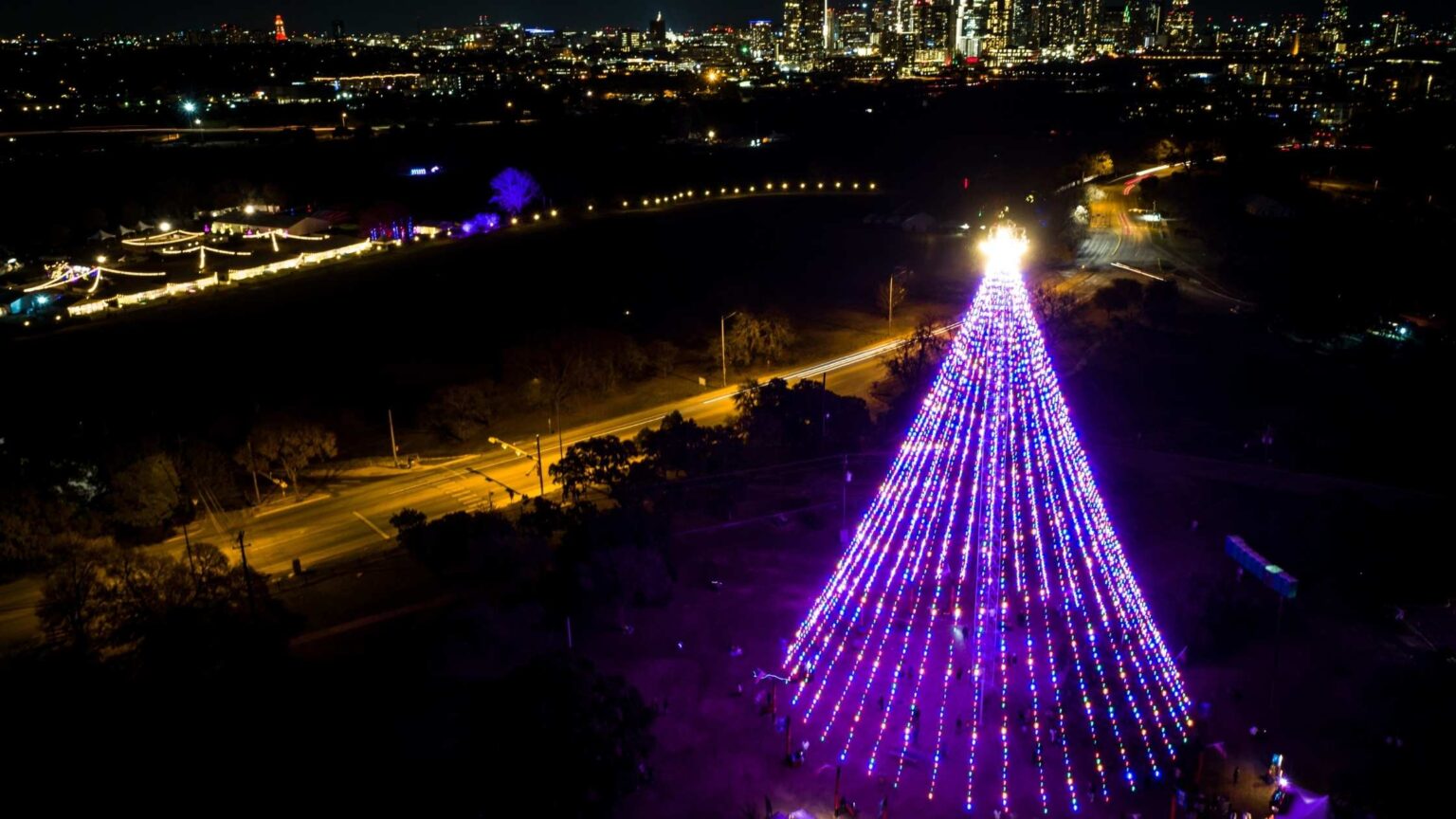 Another top attraction in Austin during the holidays is the Lady Bird Johnson Wildlife centre, a beautiful botanical garden illuminated by Christmas lights, including luminaries. You can also enjoy musical performances, taste local food from the food trucks, and have fun playing games.
If you want more holiday lights, there are more places in Austin! Head to Santa's Ranch for twinkling lights and a farm tour.
Theatre is another activity loved by holiday goers, and the capital city is the best place in Texas for enjoying movies with your family.
See the screenings of classic festive movies at theatres like Alamo Drafthouse. Many pubs also deck up for Christmas, offer discounts and host many colourful events. You will love many seasonal unique brews and delicacies as well.
FORT WORTH
Fort Worth is one of the Texas Christmas towns perfect for visiting with your kids if you want to experience the small-town holiday charm away from big cities.
It is one of the few places in the state where you can experience a Texas-style Christmas, showcasing the unique culture of the state packed with activities, lots of good food, drinks, games, rides, music, and theatre.
The festivities kick off with the Fort Worth Parade of Lights downtown, where you can see floats, carols, dance, and a beautiful display of lights of all shapes and sizes.
Head to the stockyards next for some annual Cowboy Christmas experience, which is also one of the top places for shopping.
Over 250 vendors sell bespoke holiday gifts, wooden souvenirs, jewellery, furniture, home decor, and original art. Meet Santa here, grab a cup of hot cocoa, and shop to your heart's content.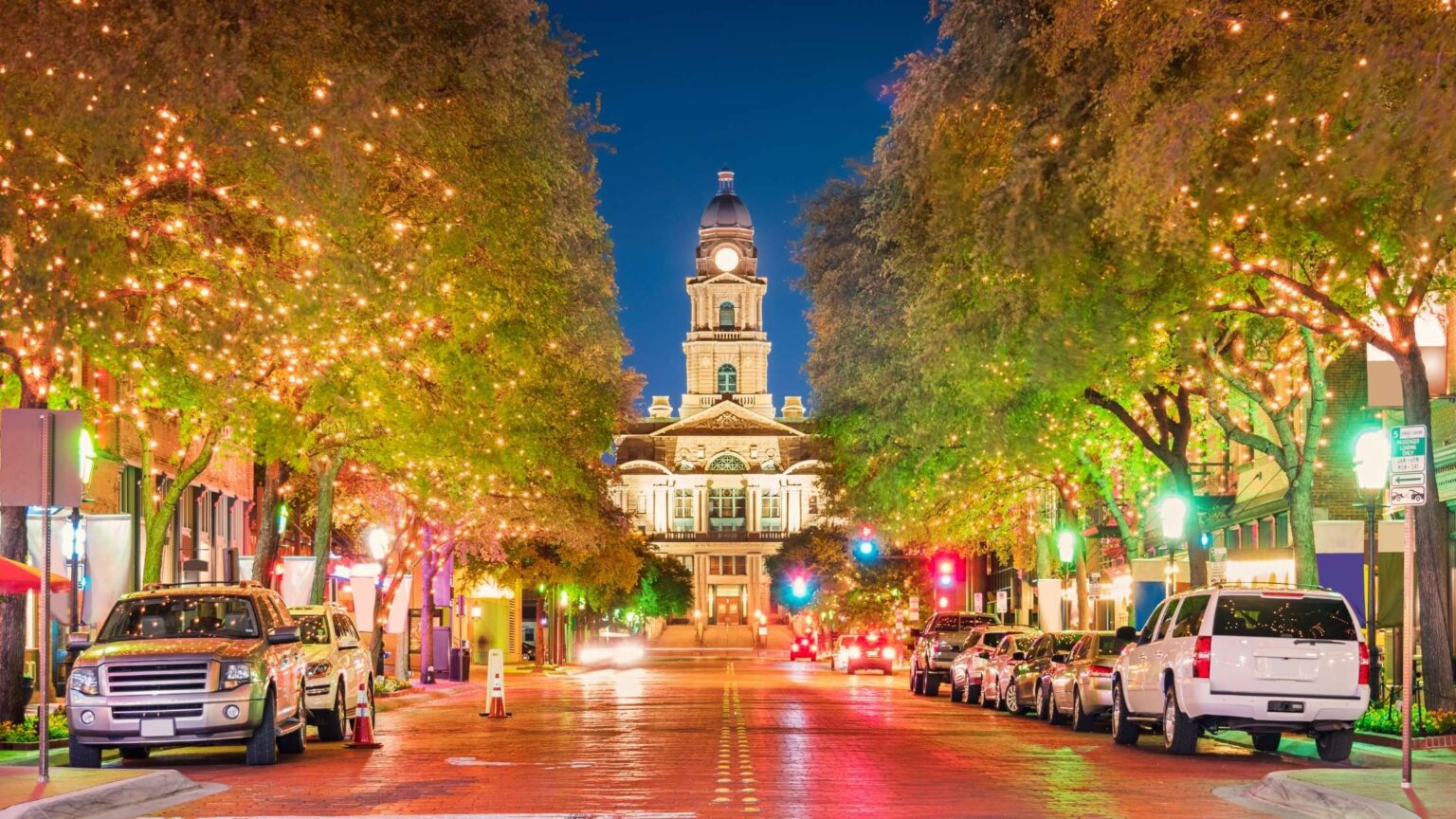 You can continue your shopping spree at Sundance Square Plaza, one of the top shopping spots in Texas, all decorated with dazzling lights, a Christmas tree, and shops offering deals and discounts.
Drive around the historic Fairmount neighbourhood to see thousands of lights, and around Texas Motor Speedway to see over 2 million LED lights.
Museums are worth visiting during this holiday time for their exquisite collections and amazing lights. If you are into arts, do not miss the Modern Art Museum.
Skate around Panther Island Ice, the only outdoor ice skating rink in Fort Worth. Music lovers should witness musical concerts featuring holiday music at the pretty Bass Performance Hall.
MARSHALL
One of the best places to visit in winter in East Texas is Marshall, located near Caddo Lake.
From ice skating to train rides and everything in between, Christmas in Marshall start in early November and lasts all through December until New Year's Eve, giving you plenty of time to plan your Texas Christmas town trip.
Marshall is one of the pretty Christmas towns in Texas you must check out if you are planning a winter trip for one top reason – The Wonder of Lights.
This month-long annual Christmas event, established in 1987, is one of the largest light festivals in the state, boasting more than ten million lights illuminating the city in the holiday season, visited by hundreds of thousands of travelers every year.
The historic landmark courthouse is wholly decked up with lights as a part of this festival.
A pretty outdoor Christmas market sells all types of Christmas goodies, hand-made gifts, wooden items, and the best local holiday delicacies.
Horse-drawn carriages are pulled down the streets of downtown. Take part in the noted Wassail Walk .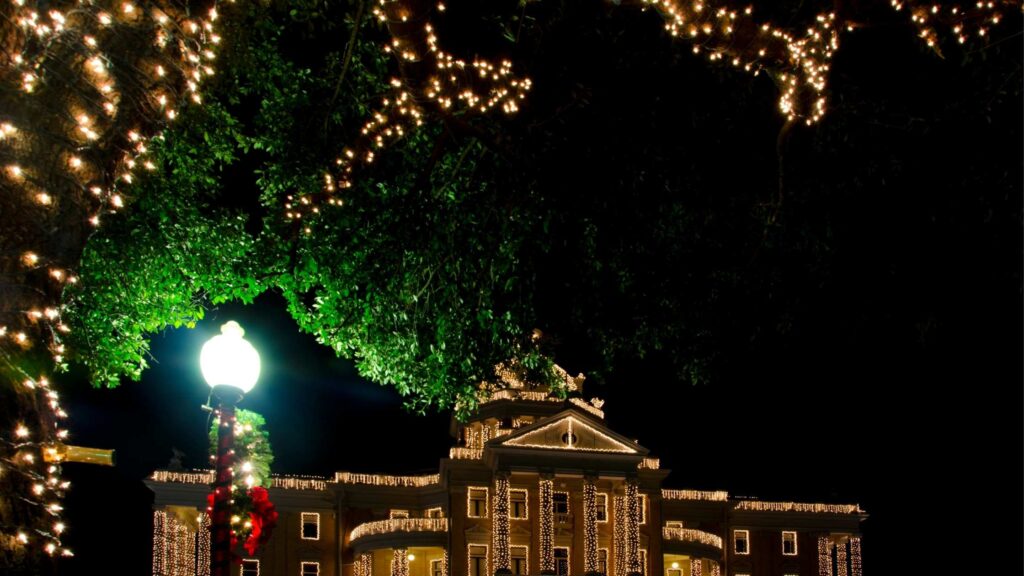 Attend the lighted Marshall Christmas Parade, run the 5K Jingle Bell run, enjoy Santa's Workshop with your kids, learn some secret recipes at Mrs Claus's Kitchen, let your kids join the train rides and have fun with them at the outdoor ice skating rink.
You can meet Santa at Santa's Village, hop on the old-fashioned carousel, walk down the main street amidst millions of glittering lights, or join the carolers in the holiday spirit in this small town.
Amidst enjoying all the festivities, there are many top attractions in Marshall worth exploring, including the Michelson Museum of Art, American Museum of Magic that your kids will love, Harrison County Historical Museum, and pretty State Historic Park.
GRAND PRAIRIE
If you are visiting Dallas, I recommend adding Grand Prairie to your itinerary, as it is worth checking out.
Grand Prairie is home to the largest light display in the state and is a favourite among many Texans.
Check out the top attraction of Grand Prairie, the gorgeous drive-thru Prairie Lights display.
Located at Lynn Creek Park on Joe Pool Lake, you will drive through a 2-miles-long tunnel twinkling with over 4 million Christmas lights and stunning holiday displays, making it the second most giant lighted tunnel in Texas.
It takes around 1 hour to get through the whole display. It is best to show up early as the line to get in can be very long. You can skip the line by reserving a spot online.
Halfway through this drive, you will come across a fabulous Santa village, where you can savour delicious seasonal food, shop for unique souvenirs and handmade items at the gift shops, and watch an indoor laser show.
If you are with kids, the crafts session and then meeting with Santa are a must. Enjoy musical and theatre performances here, or hop on the Polar express.
Head next for more shopping at the Holiday Gift Market.
If you have more time, I recommend visiting neighbouring Arlington, a fantastic Texas Christmas town, to enjoy and house the most prominent outdoor Christmas market in the Southwest, Texas Christkindl Market, which is worth visiting with your kids.
Grand Prairie gets cold during Christmas, so carry warm clothes on your trip.
CLEBURNE
Located about 40 minutes southwest of Fort Worth, you can enjoy small-town Christmas spirits at Cleburne, which needs to be on your Texas winter holiday bucket list.
It is one of the best Christmas towns in Texas you should visit if lots of twinkling lights smite you during Christmas.
Each year, Cleburne is turned into a winter wonderland as Christmas celebrations begin early on the last week of November.
The local Park Hulen Park transforms into a paradise of lights and dazzling displays with over 3 million twinkling lights spanning three acres.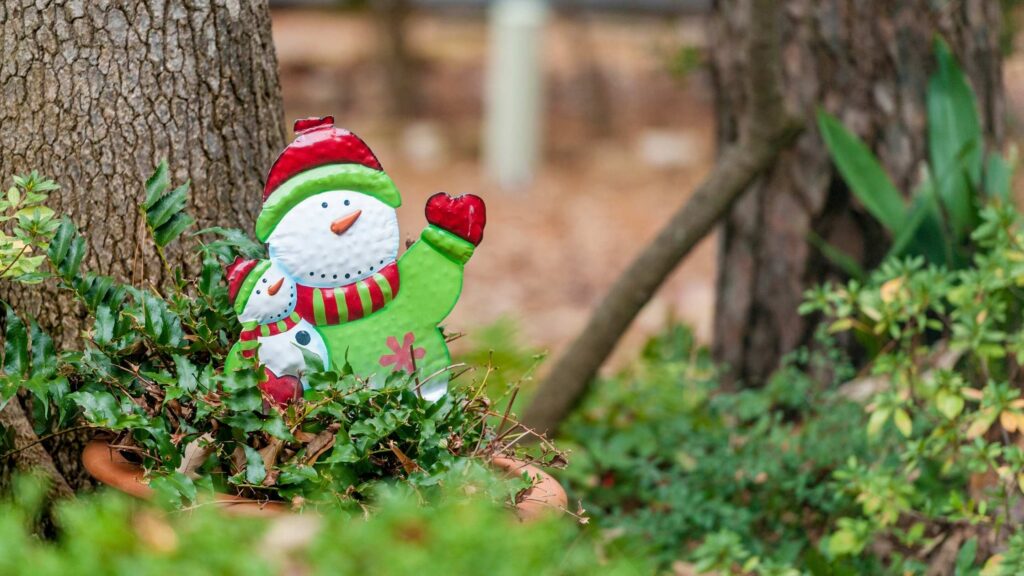 The Park is the centre of bustling events, games, food, and shopping. There is also a lighted tunnel, train rides, and wagon rides, along with many holiday events throughout the season for a month.
Participate in the Lighted Christmas Parade to watch the fantastic floats amidst fun music and dance.
Attend the Cowboy Christmas on the Trail organized by Chisholm Trail Outdoor Museum to experience a ride on a covered wagon through 4 different scenes & listen to the Legends of Texas re-enact life. There are food trucks, shopping to do, and meeting Cowboy Claus.
Other activities you can enjoy during Christmas in Cleburne are candlelight driving tours of homes, where you will be driven through Cleburne's most beautiful houses decorated for the holiday season, carol performances, train rides and a meet with Santa for kids.
JOHNSON CITY
Whether it is a traditional Christmas celebration or millions of stunning lights or parades or food, no matter what you pick, one of the best Christmas towns in Texas where you can choose to celebrate the holiday spirits in more than one way is Johnson city in the Texas hill county.
You can make an early trip and plan your visit to Johnson City from the last week of November when the festivities kick off the Friday after Thanksgiving with Johnson City Christmas Lights.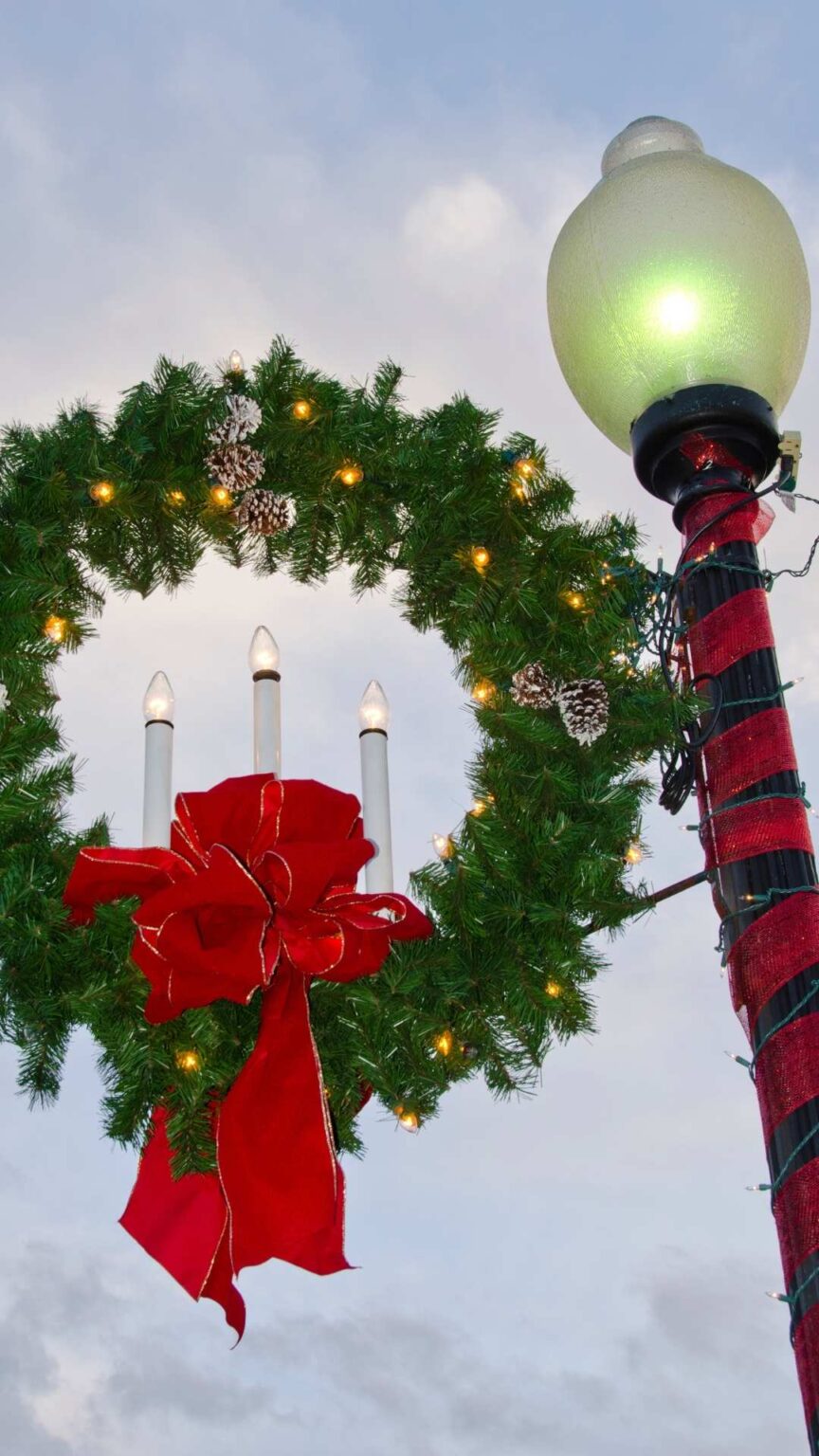 Johnson City's entire downtown square gets illuminated with all types of lights every holiday season.
The Blanco County Courthouse is draped with more than a hundred thousand twinkling white lights next to a sparkling Christmas tree.
Drive through the Pedernales Electric Cooperative headquarters to watch over 1.3 million LED bulbs lighting up the whole campus until the end of December.
You can also enjoy traditional Christmas celebrations, including a giant Christmas tree, nativity scenes, carriage rides, and hayrides in Johnson City.
PALESTINE
If you are a fan of the Grinch or love trains as I do, plan a winter trip to Palestine, one of the beautiful Christmas towns in Texas, for an intimate celebration.
Palestine is famous for its Polar Express train run by the Texas State Railroad. On this trip to the North Pole on this historic steam train, the classic Christmas story comes to life on the ride, and kids get to enjoy hot chocolate and Christmas cookies, sing carols and watch movies.
At the end of the train ride, you'll be greeted by Santa and his elves, which gift you a silver sleigh bell, the first gift of Christmas.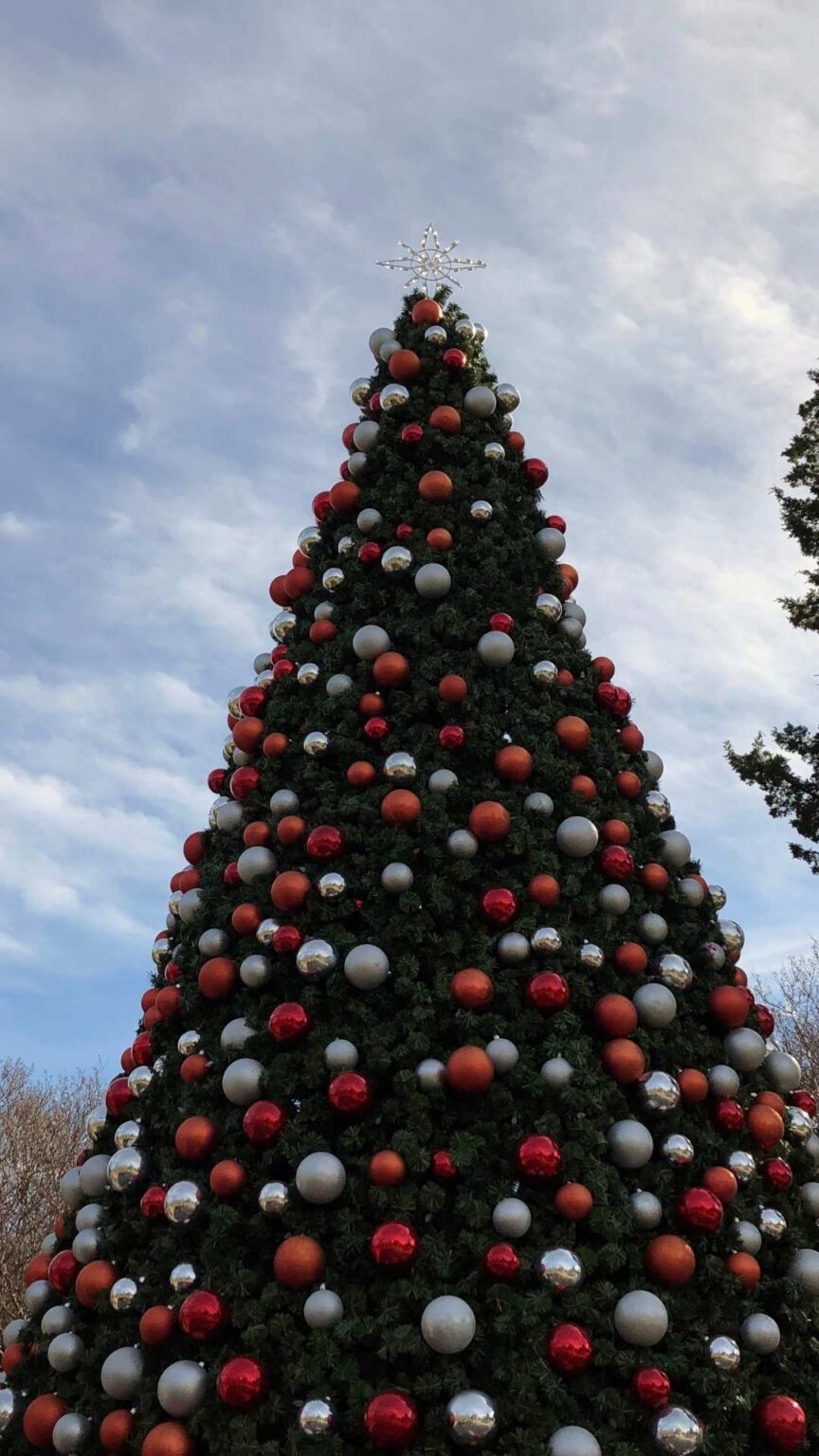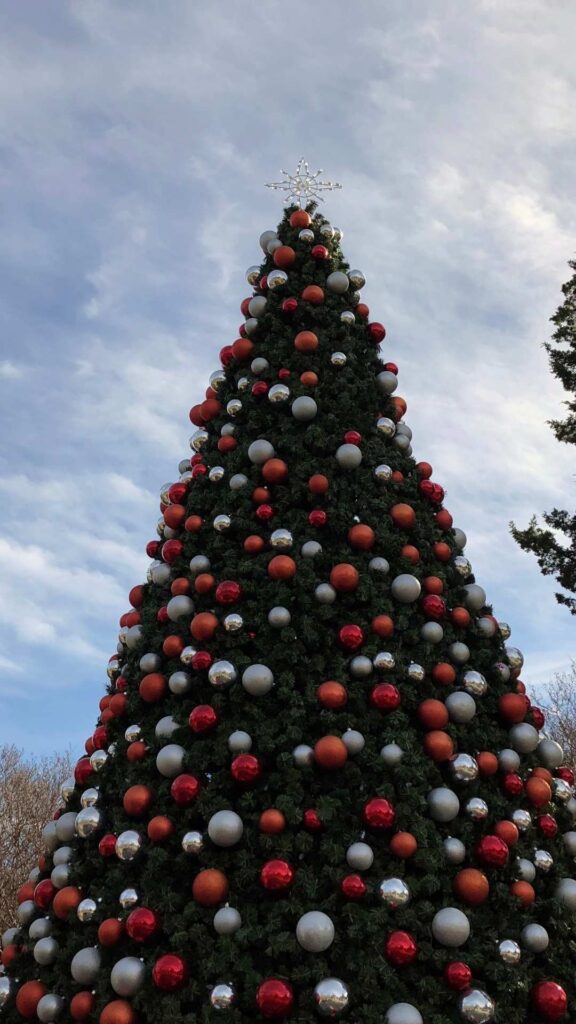 Or take the Old Town Carriage Rides, on which you can enjoy the spectacle of lights throughout the city.
You can meet the Grinch at the Grinch's Lair held in Texas Jail House, Anderson County Jail in Palestine.
Get your blades for Ice skating, and shop to your heart's content.
Plan a family breakfast with Mrs Claus for the best start to your holiday, watch classic Christmas movie screenings at the Park, take part in the walking tours of homes and downtown, and join craft workshops or wine tours. There is something for everyone when it is Christmas in Palestine.
GEORGETOWN
Voted as the best for many consecutive years being home to the most beautiful town square in Texas, Georgetown is one of the cool Christmas towns in Texas loved by families and couples for a winter holiday idea.
You can easily spend a winter weekend with this town's holiday spirits as the historic square transforms to look more magical than usual.
The town square looks sparkling with display lights, a giant Christmas tree decorated with unique items, and window lights at all shops and buildings dazzling with complete illuminations.
Georgetown is also famous for cheaper but elegant souvenirs, drawing Christmas shoppers all through the season, whether for crafts or handmade jewellery.
EL PASO
If you want a Christmas with a slight Mexican twist, head west to El Paso, one of the underrated Christmas towns in Texas worth adding to your Christmas travel bucket list.
Known for its Hispanic cultural traditional Christmas celebrations, seasonal events, lights and many fun-filled activities for families, it is one of the best places to visit during Christmas with your kids.
Attend WinterFest, which starts from November till January and is one of the top Christmas things to do in El Paso. Held in the city's heart, you can indulge in delicious food, admire the lights, shop, or do outdoor ice skating.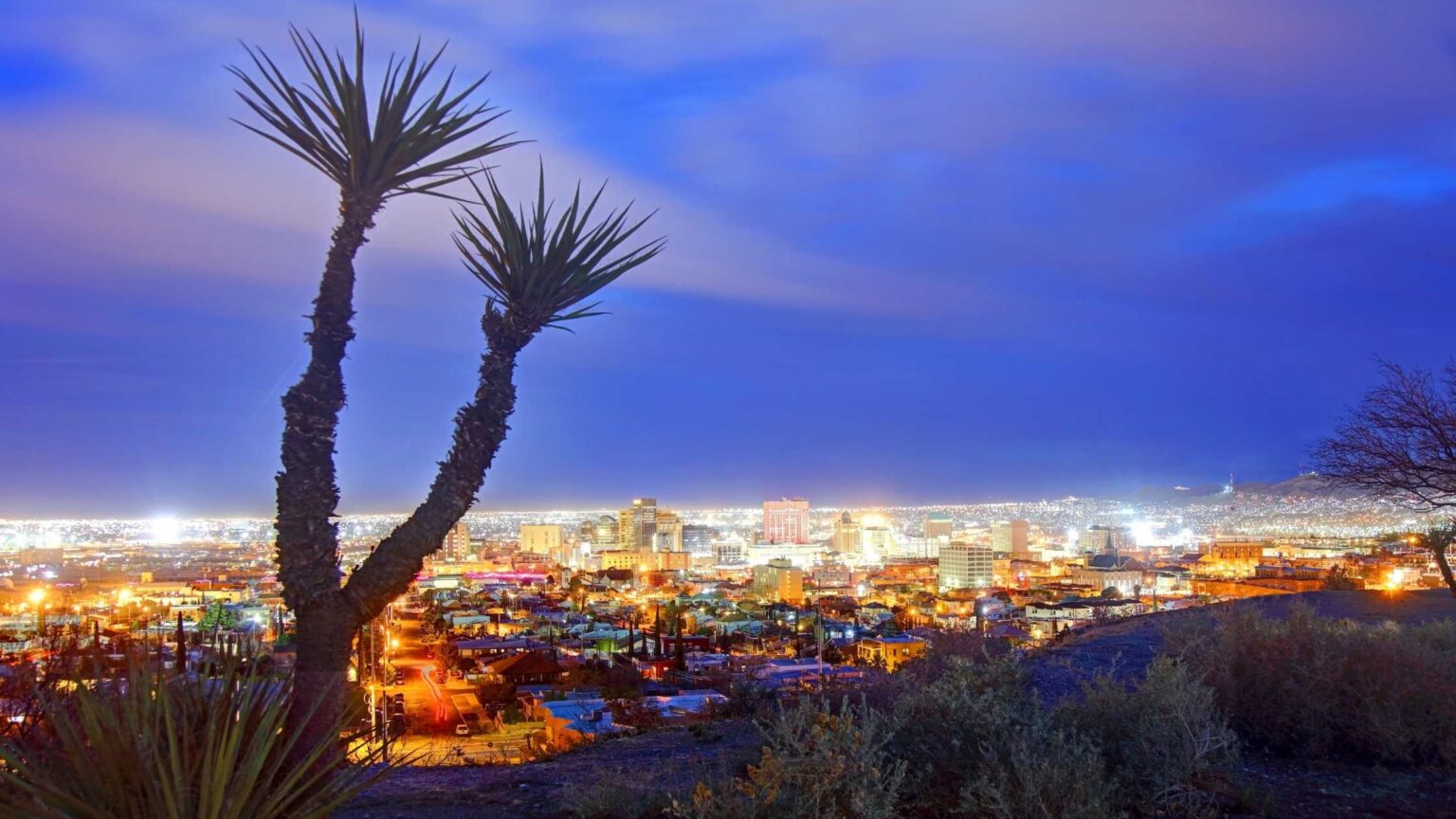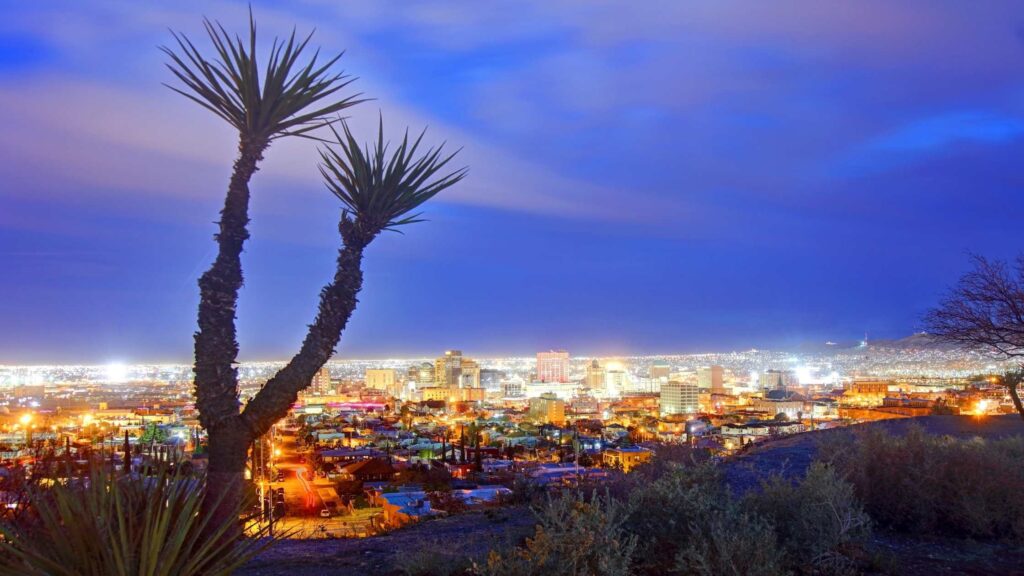 One of the top attractions in El Paso is the massive Christmas market, a famous shopping destination and all things Christmas.
This market has grown and visitors everywhere, with over 200 shops housing artisans and traders selling you various items.
While tasting the best hot cocoa, you can shop for traditional Christmas toys, lights, and handmade crafts.
Theatres screen Christmas specials, including Gracias Christmas Cantata and Merry-Achi Christmas, that you can enjoy with your family.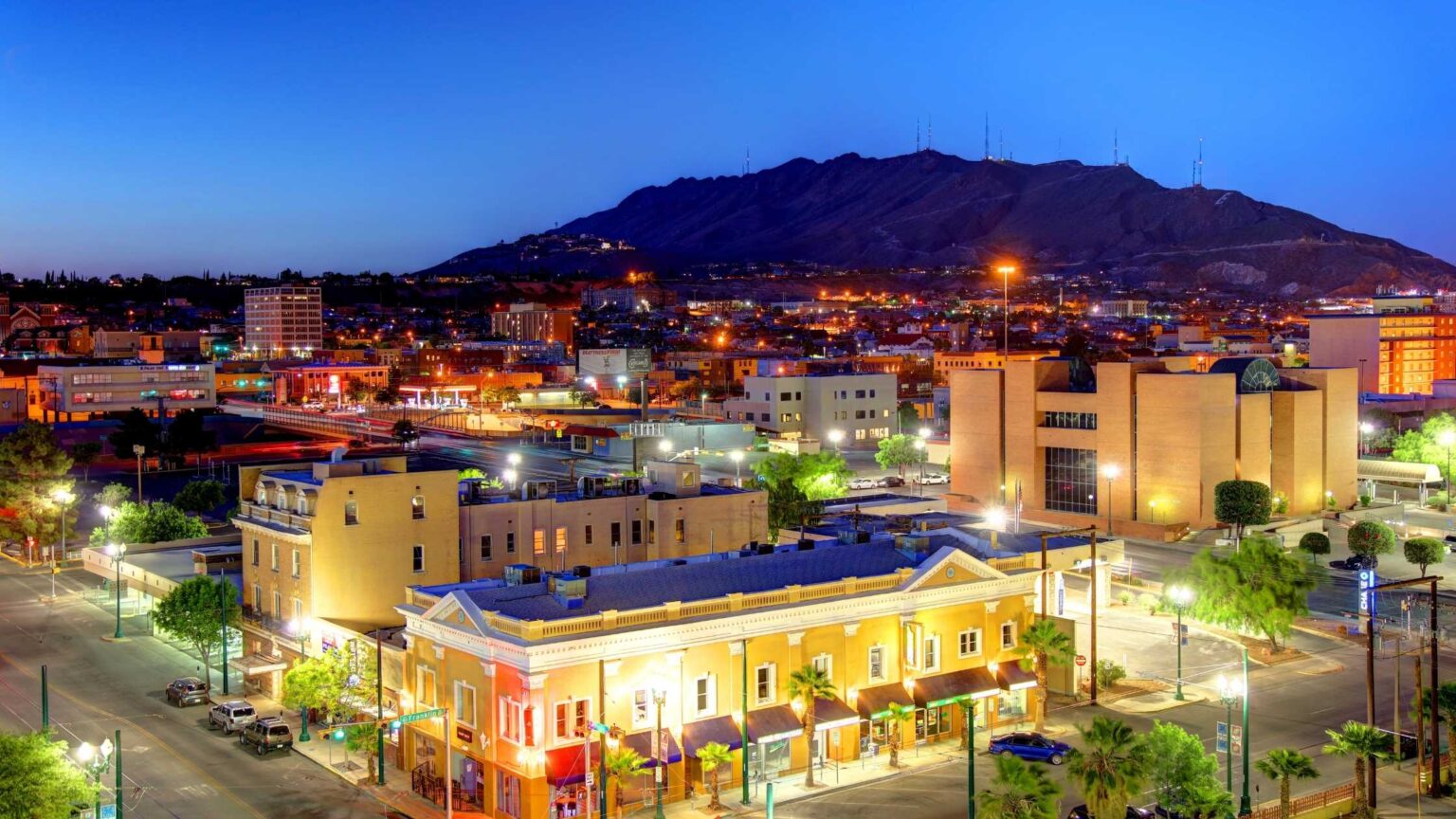 Explore San Jacinto Plaza with over half a million lights. Or, drive down Scenic Drive in El Paso, where the buildings, homes, and famous landmarks are decorated with beautiful traditional Mexican Christmas lanterns.
If you love football, make sure to be here around New Year's Eve for the tournament that hosts kids' activities, including rides and fun games.
AMARILLO
How about some adrenaline-kicking adventures for Christmas? If you want an adventurous holiday, you should head to Amarillo in the north, one of the beautiful Christmas towns in Texas that will indeed offer you a memorable experience.
Amarillo hosts many themed winter races that are ideal for all levels and perfect if you want to burn off your holiday calories.
Head to the Amarillo Botanical Gardens, which is Christmas in the Gardens, an annual holiday event where you can watch stunning Christmas light displays, visit food trucks to try local delicacies, and enjoy the carol performances.
Drive through the beautifully decorated Bishop Hills neighborhood that dazzles with buildings decked with thousands of lights.
For a more personal experience, head to Maxwell's Pumpkin Farm, which hosts Maxwell's Magical Christmas, when the farm is decorated with tunnels and walking trails comprising brilliant colourful lights and animated displays.
MARBLE FALLS
One of the easy day trips from Austin known for its spectacular beauty is Marble Falls. But not many know that it is one of the beautiful Christmas towns in Texas that transforms into a magical place full of holiday spirits.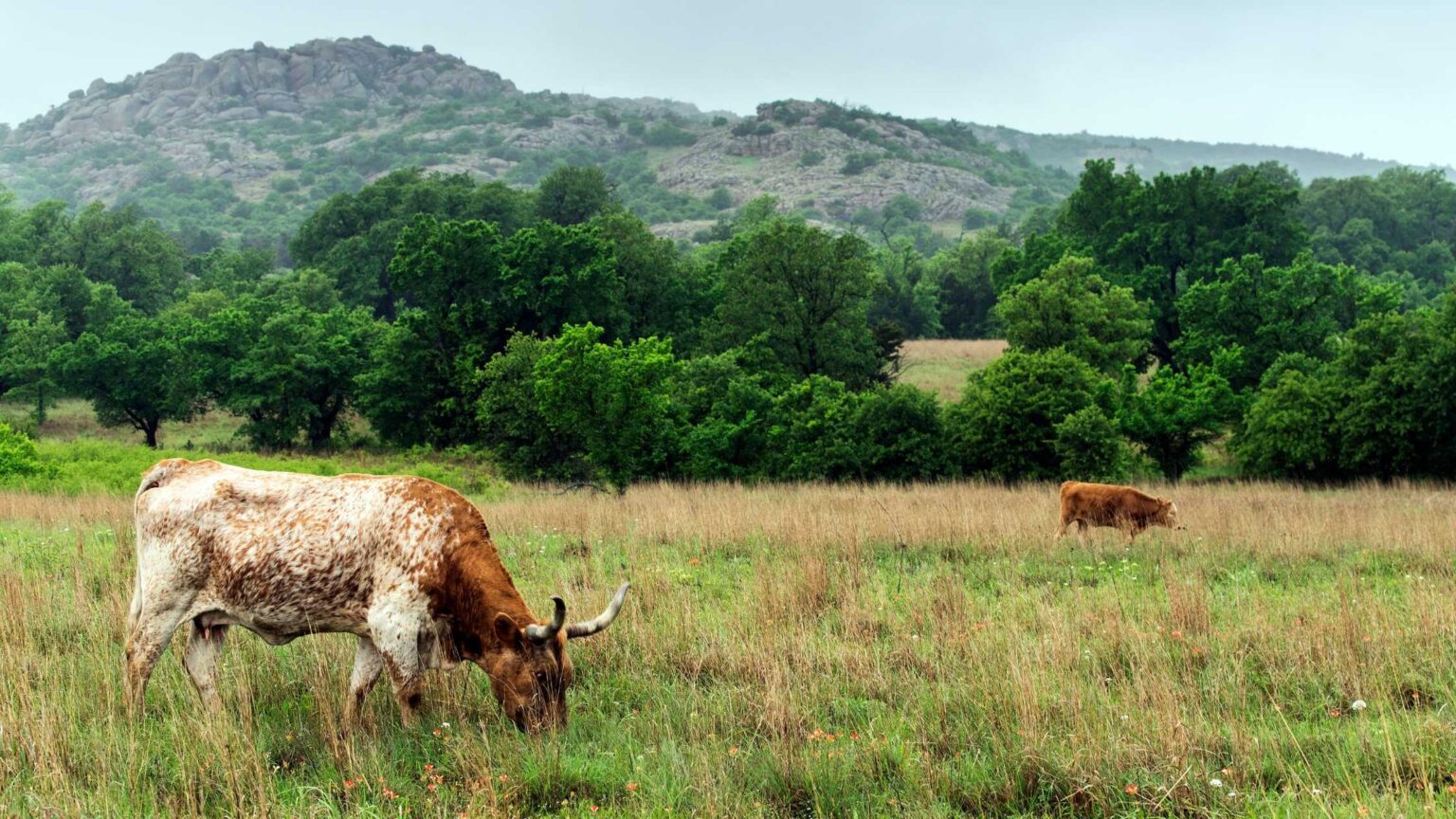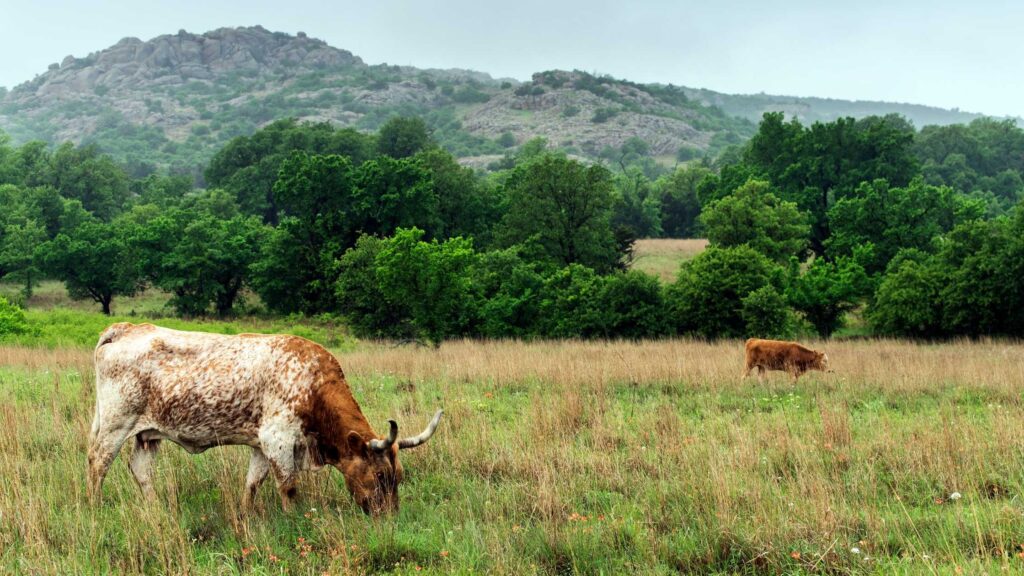 Marble Falls host the annual free festival Walkway of Lights on the bank of Marble Falls Lake, where over two million twinkling lights are on display.
Enjoy the small town Christmas walking around this trail, and then head downtown to see holiday sculptures, meet Santa Clause, and shop for Christmas and holiday gifts.
OFFBEAT CHRISTMAS TOWNS IN TEXAS
TYLER
Another destination in the lone star state worth visiting on your holiday for a brilliant spectacle of lights and basking in joyful events is Tyler, one of the pretty Christmas towns in Texas.
Tyles is famous for Santa Land, a stunning Christmas drive-through park featuring millions of lights. The gorgeous Tunnel of Lights is home to over 50,000 flashing lights and animated displays, including life-size statues of soldiers.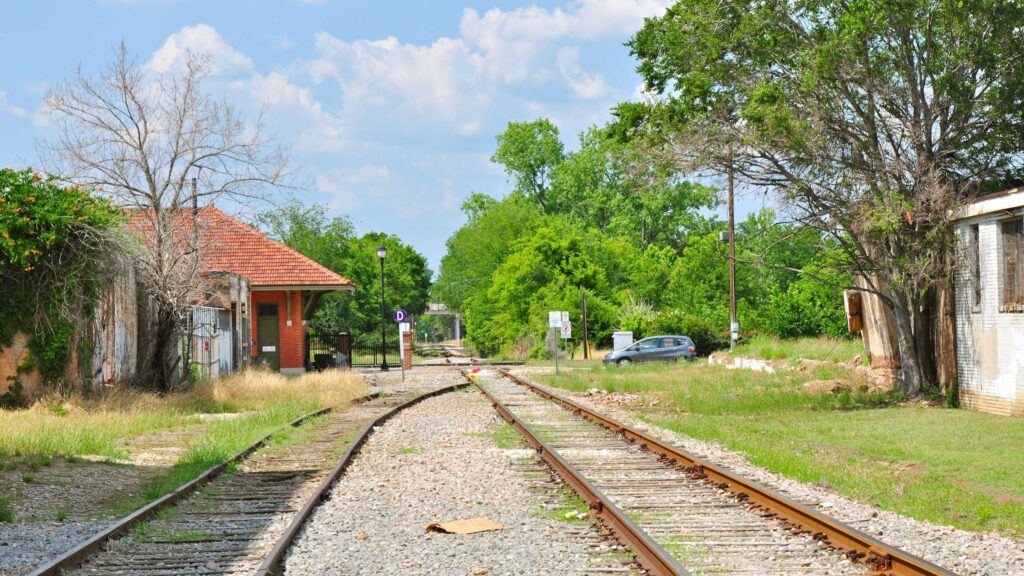 You can stop on the way to enjoy snacks, join carols or shop for Christmas goods, or meet Santa.
Explore the stunning Azalea District transformed into a wonderland of lights with all the homes and buildings adorned with beautiful lights and Christmas decorations.
RICHMOND
Among the small towns that celebrate Christmas with full pomp and joy is Richmond, located close to Houston, a popular day trip destination from the city throughout the year.
You will love exploring Richmond if history interests you. The town is home to the George Ranch Historical Park, which is customized for Christmas and offers a bit of history and many fun activities.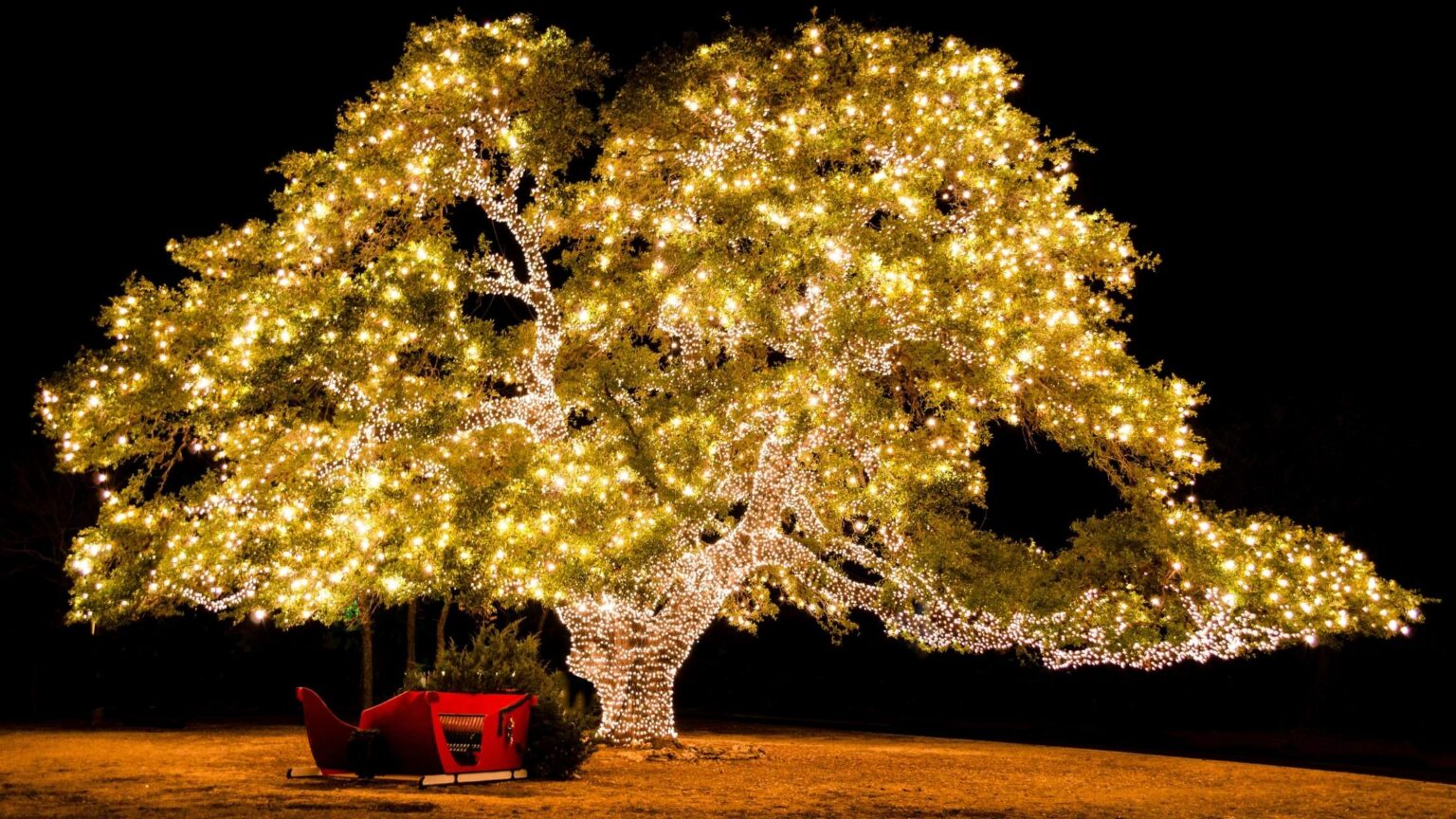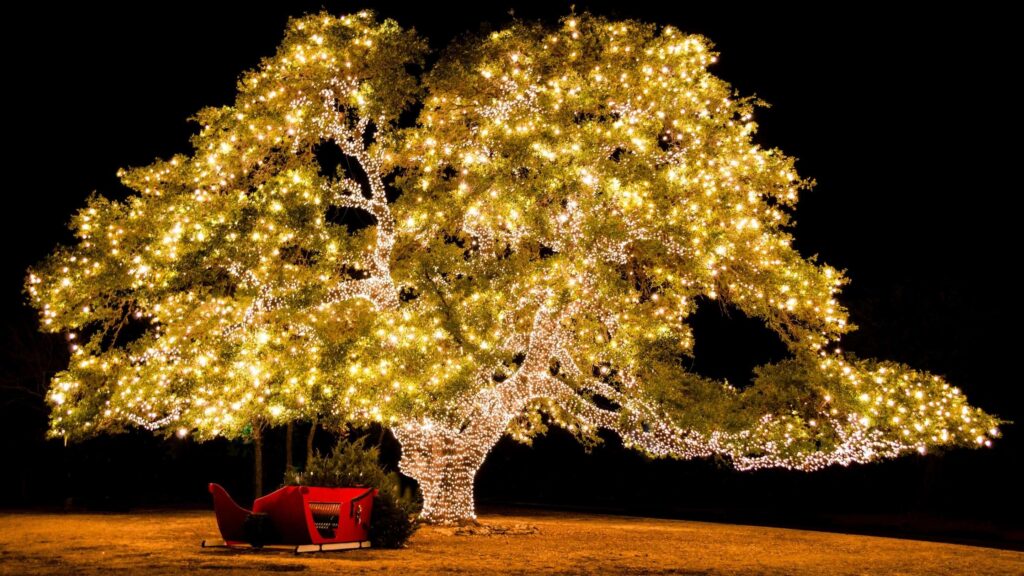 Join the hayride to learn about the history and admire the Christmas display nights, followed by enjoying carols. You can enjoy joining a campfire and take part in roasting marshmallows at the park, or better, enjoy a full-fledged Christmas dinner by the fire.
Stroll downtown for shopping and tasting local Christmas cuisines after visiting the Ranch.
HIDALGO
Located in the pretty Rio Grande Valley, among the underrated Christmas towns in Texas, is Hidalgo, known for its stunning Festival lights, loved by the locals and travelers.
The holiday season, running from November, is marked by this festival of lights you can enjoy driving through or on a train ride. You will pass through winding roads for about three miles packed with over 4 million Christmas lights and beautiful holiday displays.
Explore the town centre beaming with decked-up buildings, including the City Hall Plaza, which is also the venue for many Christmas activities, including carols and musical performances.
NACOGDOCHES
The oldest town in the state, this city in the east knows how to celebrate holidays. If you are looking for a quiet trip, one of the best Christmas towns in Texas to visit is Nacogdoches.
Join the town to celebrate Nine Weeks of Nine Flags hosted by Main Street. This annual festival runs through the end of December, where you can enjoy carols, savour Christmas food, enjoy drinks, and shop for festive gifts.
For more shopping, head to the Christmas market, or participate in an Elf scavenger hunt with your kids for fun.
WACO
Known for its fabulous festival Waco Wonderland, Waco is one of the best Christmas towns if you want a low-key destination without crowds.
Waco Wonderland, which goes on for a month in December, is packed with activities for everyone, from nativity scenes to markets to parades to food and music.
Watch the colourful Christmas Parade downtown. Shop from artisans at the Christmas market and explore Mistletoe Market for delicious Christmas food and rare souvenir finds.
Meet Santa at his heritage house on the square during Christmas at the Silos event, or run the marathon with your family at the Wonderland Run.
Kids will enjoy snow tubing and the train rides; you can even ride the Ferris wheel if you want more adventure.
MAP OF CHRISTMAS TOWNS IN TEXAS
Please note: This post contains affiliate links, meaning I may earn a commission if you make a purchase by clicking a link (at no extra cost to you). Learn more.
TOP TRAVEL TIPS & RESOURCES
Below is the list of the travel resources you can use to organize your travel – from flights to insurance and everything. These are the resources I use myself, which is why I recommend you for a hassle-free travel planning experience and fantastic trips.
Booking Flights
: To score flight deals, search on
Jet Radar
, Kiwi,
or
12go.Asia
(for Asia planning). Book and fly mid-week, taking red-eyes flights or those in the early mornings for better deals and lower prices. Avoid check-in bags on a budget airline.
Booking Trains:
The best websites for booking trains anywhere in Europe are
Rail Europe
and
TrainLine
. Both are easy to manage online and track your journeys.
Booking Cars:
For the best prices and easy handling of renting a car for road trips and day trips, I'd recommend
Discover Cars
or
Rental Cars,
available throughout the world.
Accommodations:
I typically use
HotelsCombined
or
Booking.com
to book hotels. There are special getaway deals with amazing discounts(over 50%!) for this year on Booking.com, and you can find them
here
.
I use
Hostelworld
and
Agoda
to book hostels as the deposit is low, easy change/cancellation is available and reviews are excellent on both. Depending on the destination, I love staying in
VRBOs/homestays
.
Travel Insurance:
No matter whether it is a short trip or longer trips abroad, I strongly recommend buying travel insurance for international trips. I recommend either
World Nomads
or
SafetyWing
for international travel insurance.
Tours:
Being a solo traveler, one of the best ways to optimize my time, budget, and super importantly, meet amazing people from all over the world is by joining tours, especially food tours, walking tours, day trips, culture, and history tours.
You will get a local's perspective, the best opportunities to experience places and people closely. I book using
GetYourGuide
,
Klook
,
Viator,
and
Voyagin.

Latest posts by Reshma Narasing
(see all)