You already know that I'm a mountain person and a big fan of the Himalayas. So in Nepal, I was excited for Ghorepani Poon Hill trek lined up in my trip.
Although I knew about the gorgeous Annapurna mountain ranges, I didn't know about Ghorepani Poon Hill trek in Nepal. But I didn't try to Google up further to know more, as I thought of going unprepared and be surprised.
Well, the idea worked and Poon hill trek turned out to be one of the most wonderful treks that I have done in the Himalayas, but certainly not an easy one!
Ghorepani Poon Hill Trek – A Few Facts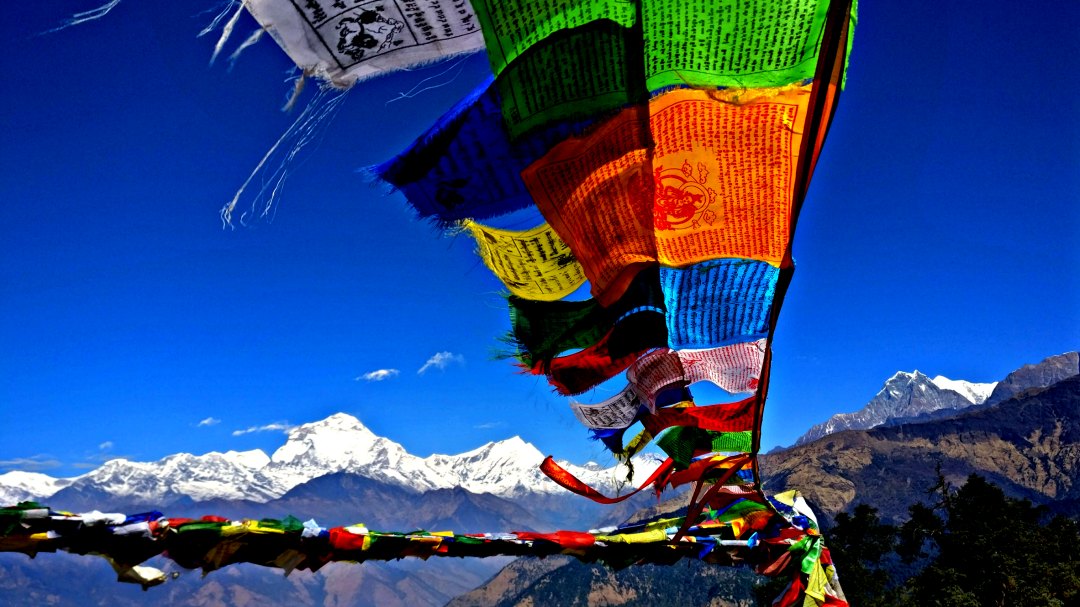 Ghorepani Poon Hill trek is a part of the Annapurna base camp trek, which lasts between 13 to 18 days, depending on how long you plan to do it. So the Poon hill trek itself can be done between 3 to 5 days, and it is a moderate trek in terms of difficulty. The summit is at a height of 3,210 meters or just over 10,000 feet.
There is not much of altitude gain. So AMS – Altitude Mountain Sickness is not a concern, but this trek needs some decent level of fitness.
The astounding views of the Annapurna mountain range at sunrise mark the summit of Ghorepani Poon Hill trek. If you just want to 'see' the Annapurna mountains, the Poon hill trek will fulfil your wishes. The Annapurna base camp circuit popularly known as ABC trek, both the half and the entire circle is for the next level of adventure enthusiasts who want to 'conquer' Annapurna!
Recommended: Are you a digital nomad? Check out these cafes with fast wifi for digital nomads in and around Kathmandu
Poon Hill Trek Day 1: Pokhara > Nayapul > Sudame
Pokhara, the second most populous city of Nepal is from where all the treks in the Annapurna range begin. The first step is to obtain the permit for the trek at the tourism office in the city. Check the end of this post for complete details on the permit.
After securing the permit, we drove until Nayapul in a Jeep from Pokhara. After about 45 to 50 minutes, we were dropped off at the foot of the mountains. A long series of cobbled stairs was visible to us that looked uphill.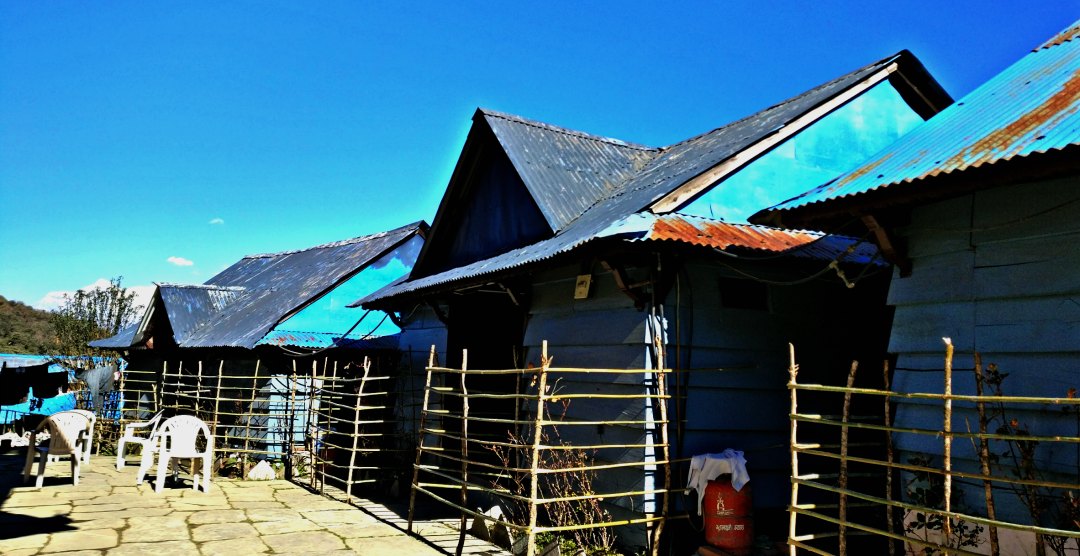 Our guide Shyam & Rajan, told us that we would be climbing around 3,500 + steps. As much as I like trekking, I hate any uphill climb! So my first day was not too exciting, and I just wished the day be over soon. Well, unfortunately, it wasn't as easy my wishful thinking. The trek got difficult with time.
Ghorepani Poon Hill trek can be done almost throughout the year, but obviously, the views are different in each season. We trekked in February, and snowfall had just stopped and winter was about to end. Hence the valleys looked arid.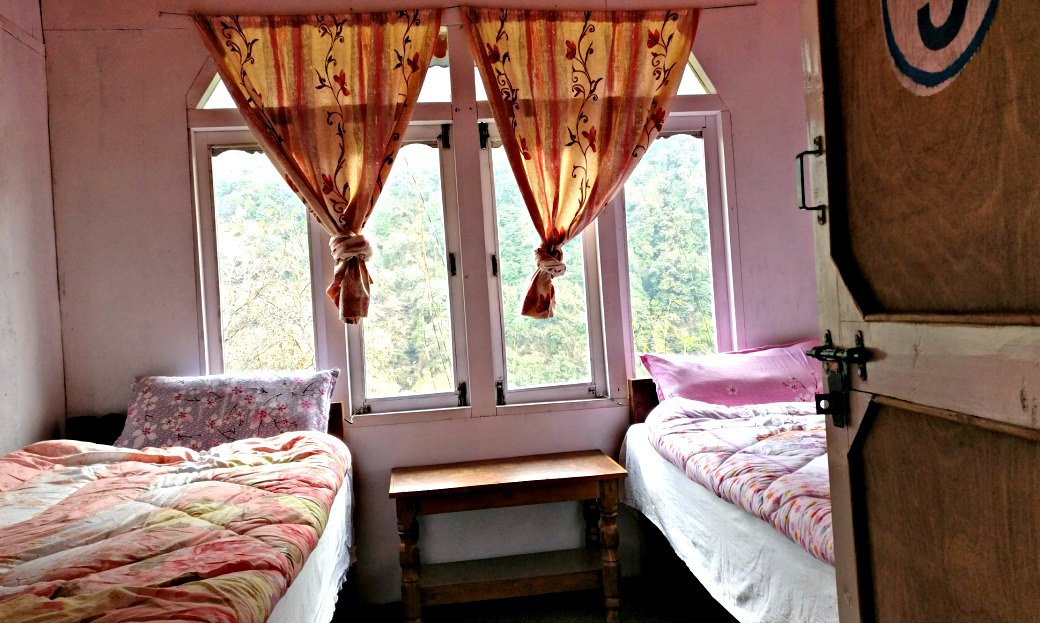 After about 2 hours, the views gradually changed, and by the time we reached Sudame, our first day's camping village, we got a glimpse of the few snow capped peaks lurking far, including Dhaulagiri. We reached a tea guest house after trekking for almost 5 hours.
It got really cold at night, and the cold blankets did little to help. We all gathered around the fire in the lounge to warm up and had dinner watching some hilarious movies. After chatting for a while we dozed off for a good night's sleep.
Day 2: Sudame > Ghorepani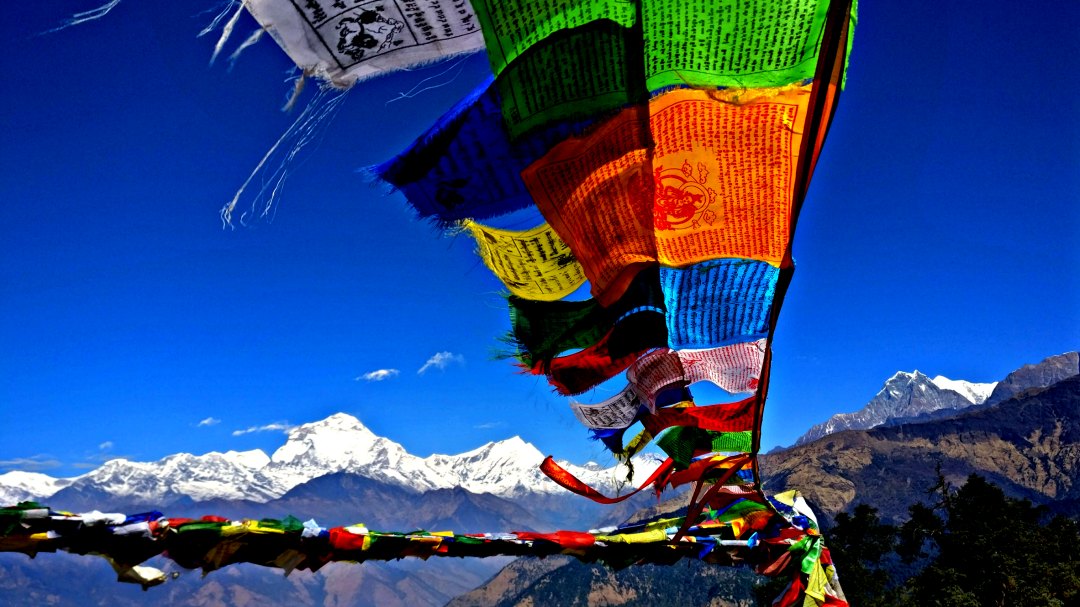 Thankfully unlike the previous day, the trek to Ghorepani was not entirely uphill. So I enjoyed the day better. Also, the landscape changed dramatically as we trekked further and the altitude gained.
We made it early in the evening and had a lot of time for fun and to relax. But as the night swept, the accompanying cold weather made it unbearable bringing all of us back to the fireplace in the lounge.
The night ended quickly for us as we had to make it to the summit the next morning for the sunrise.
Day 3: Sunrise at the Summit > Trek to Tadapani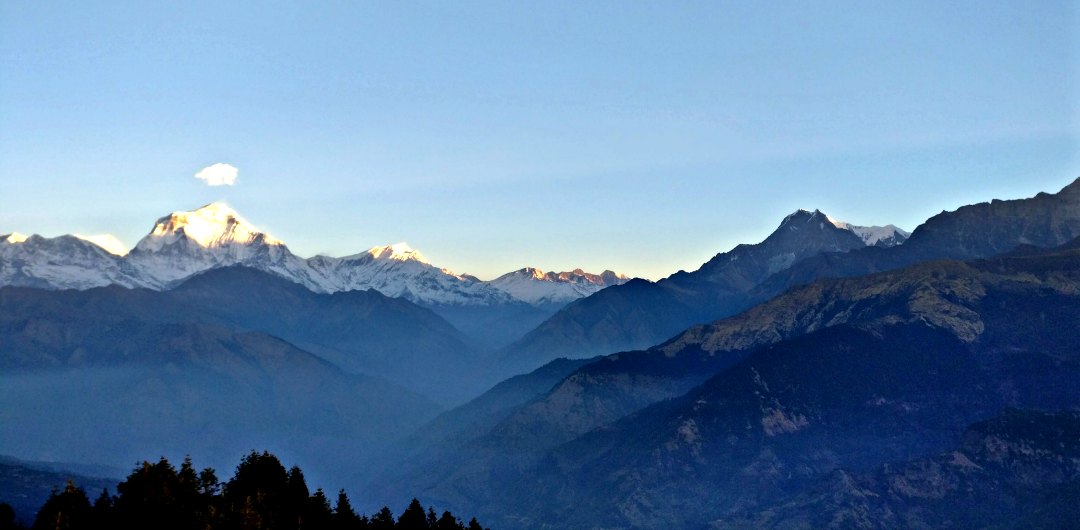 I woke up around 5 AM the next morning and set out wrapped with layers in the freezing cold. I was almost half asleep and walked liked a zombie with the rest of the group with my focus solely on surviving cold. I was jolted to be woken up wide soon as the climb became uphill and now more than one challenged cropped up.
Obviously, I became the last person in the group with Shyam waiting around for me as I panted for breath and rubbed my fingers that had started hurting due to the cold (my normal gloves didn't help at all!).
The last streak of the summit was the toughest. The stairs to success are hard and steep, right? It was literally the case here.
The peaks of the Annapurna mountain range gleamed slightly at a distance waiting to be bestowed for the more rays of the sun to shine upon them. It already looked majestic on all the 4 sides, as I glanced every now and then to gather my steps and even my breathing.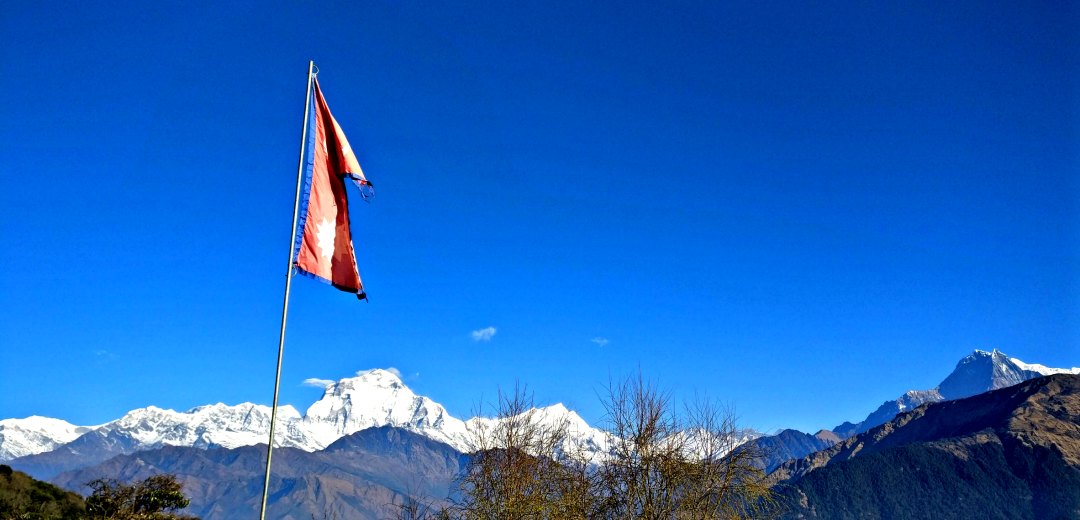 Shyam encouraged me saying that we were too close to the summit. Well, I sincerely hoped so, as my fingers had turned blue by then and hurt a lot.
But my attention soon changed after a few steps. Because Shyam was right. In a few minutes, we had made it to the summit! I saw a huge crowd of people waiting exaltedly to capture the sunrise.
I almost ran, hurriedly thanking Shyam telling him that I would catch up with the group later as I had too much to absorb and admire. I went straight to the watch tower and secured a small spot for myself to watch the rising sun.
In less than a few minutes, the fresh rays of the sun emerged from the clouds, caressing the peaks so gently, brushing them with their glowing touch. The faint light turned slightly radiant, changing the sky behind from pink to yellow to golden.
Mountain Annapurna shone in the light that now that had turned into a tight embrace from a gentle touch. I saw Dhaulagiri, the seventh highest peak in the world, that basked in the sunshine standing tall at 8167 meters.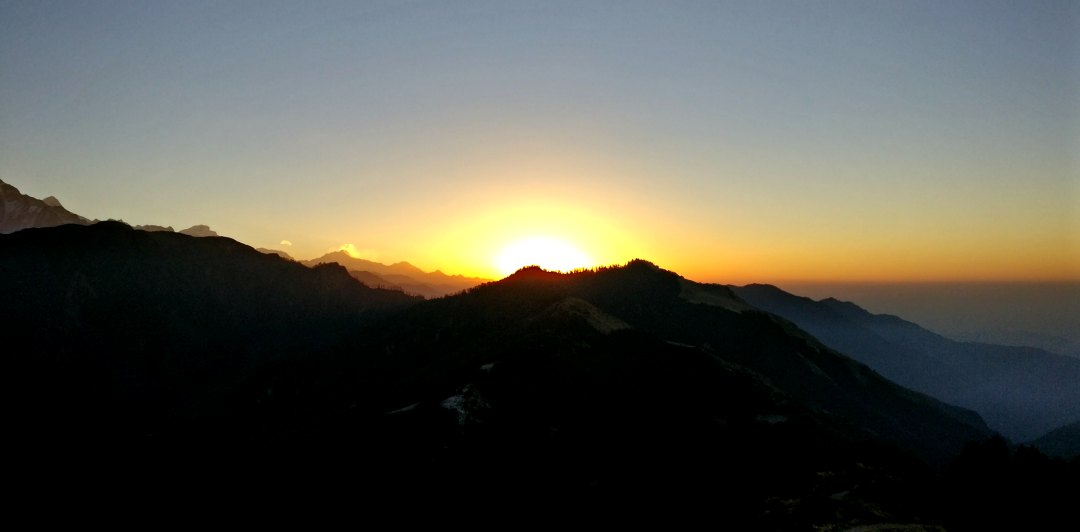 I have seen countless sunsets in my life now, but very few sunrises, and so it was special. It must have been really long since I couldn't recollect the last time I had witnessed this spectacle. Yes, things that I miss for not being a morning person!
After taking a lot of pictures and some more fun, we headed back to the hotel for breakfast. Our stomachs were growling with hunger, but we couldn't stop smiling after witnessing such a dramatic sunrise. The visual treat continued even at the restaurant, as we were again presented with the panoramic view of the peaks.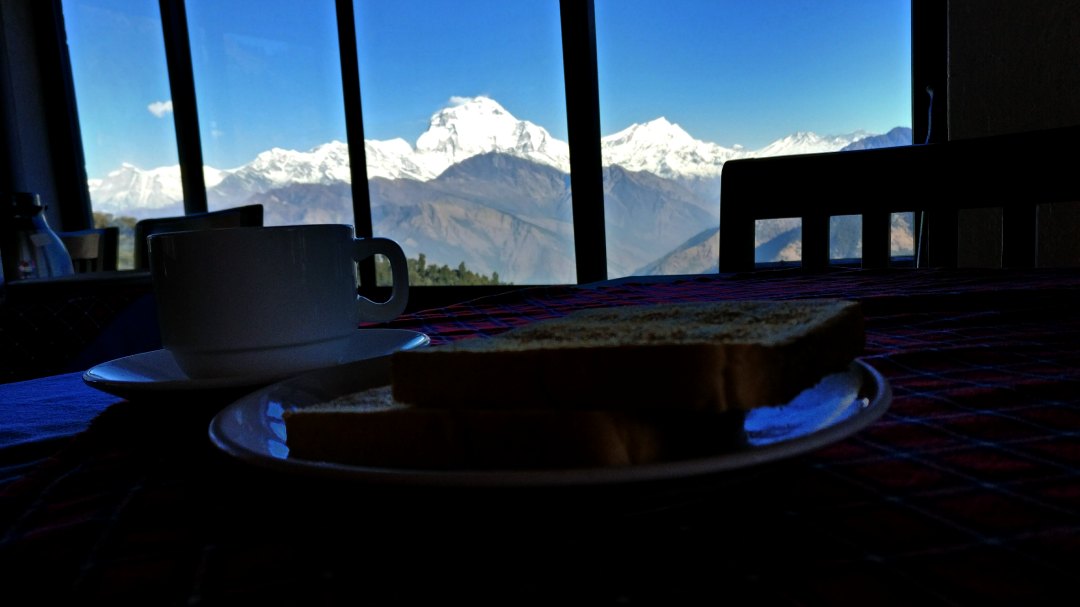 A breakfast with a view is surely an awesome cherry on the top!
After packing, it was time to bid adieu to this majestic place. Our next stop was Tadapani and we had a long distance to cover. The trail was a mix of difficulty levels, and after about 5 hours, we reached our guest house, which was perched on the top of a hill.
I was too exhausted to know what I felt, but of the many things, I could feel happy for being able to wander in the mountains. After a very relaxing night involving some card games, delicious dinner, and laughter, we hit the bed soon.
I dozed off in a few minutes declaring to myself that it was hands down my favourite day of the trek!
Day 4: Tadapani >> Ghandruk >> Nayapul >> Pokhara
The last day of the trek was as expected mostly downhill and hence much easier. We passed through the little villages in the valley to reach Ghandruk in the afternoon, where we stopped for lunch.
It was evening by the time we completed the circuit at Nayapul. We boarded the cab to Pokhara after patting our backs for the accomplished trek!
I must say that it was one of the most comfortable treks that I have ever done. I loved how everything was perfectly arranged – from the logistics to rooms to good food, right on time.
Unlike my trek to the Valley of Flowers in the Uttarakhand region of the Himalayas which I did by myself, this was a relaxed trek to me. Because one of the advantages of trekking with companies is that you don't have to worry about any of the planning. So Kathmandu Adventures did a great job in organizing an awesome trek.
Would I recommend the same to you? Yes, you should book with them if you don't wish to dirty your hands with all the hassle!
Preparing for the Trek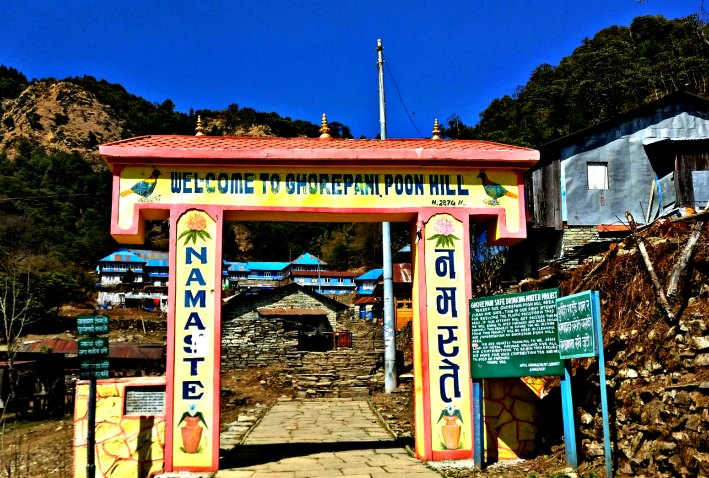 Ghorepani Poon Hill trek can be difficult if you have NEVER done a trek at all. Otherwise, if you already have some experience in the mountains, expect this to be a trek in easy to moderate range.
For the beginners, it is thus expected that you do some prior workout before signing up for the Poon Hill trek. No need for any vigorous sessions, just the regular running, jogging or flexing would help!
What to Pack for Ghorepani Poon Hill Trek?
The seasoned trekkers among you can skip reading this, while others can continue to check!
I am mentioning the things to carry in the order of their importance.
-Two to three layers of winter clothes including a thick jacket, fleece, a and wind jacket.
-Two to three pairs of thermal clothes, trek sticks (essential!),
-A good pair of solid gloves,
– Trek shoes with warm woollen socks
-One water bottle, basic medicines, plus your regular clothes – 2 to 3 T-shirts & trousers should be fine.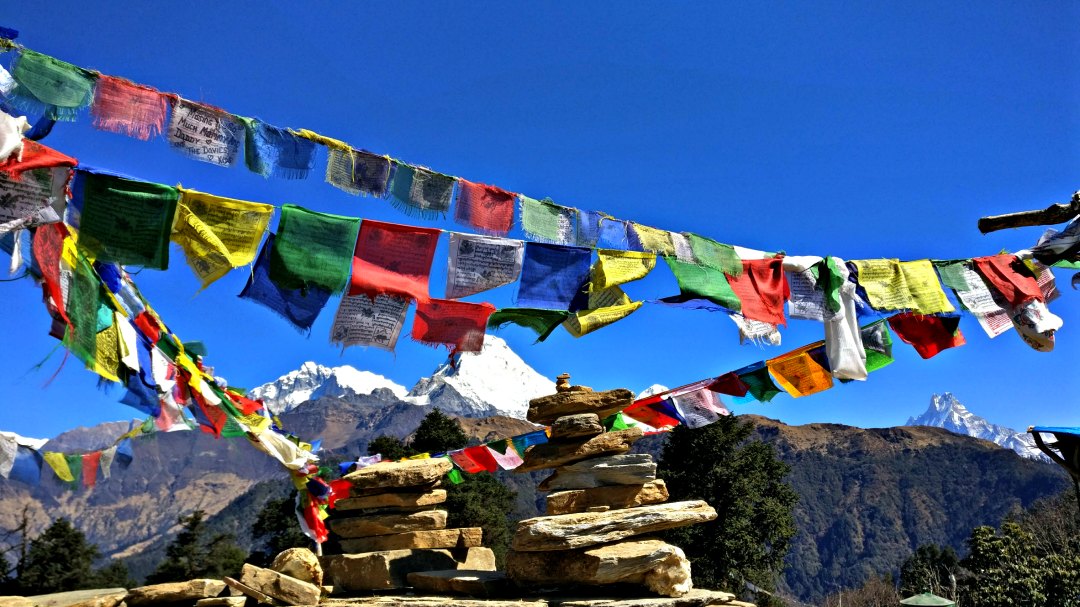 Before the trek – Things to Know
Whether you are doing the Poon Hill trekking with a trekking company or by yourself, you first have to obtain the necessary permit, which is issued at Pokhara and Kathmandu.
Entry Permit to Visit and Trek in Annapurna Conservation Area (ACA):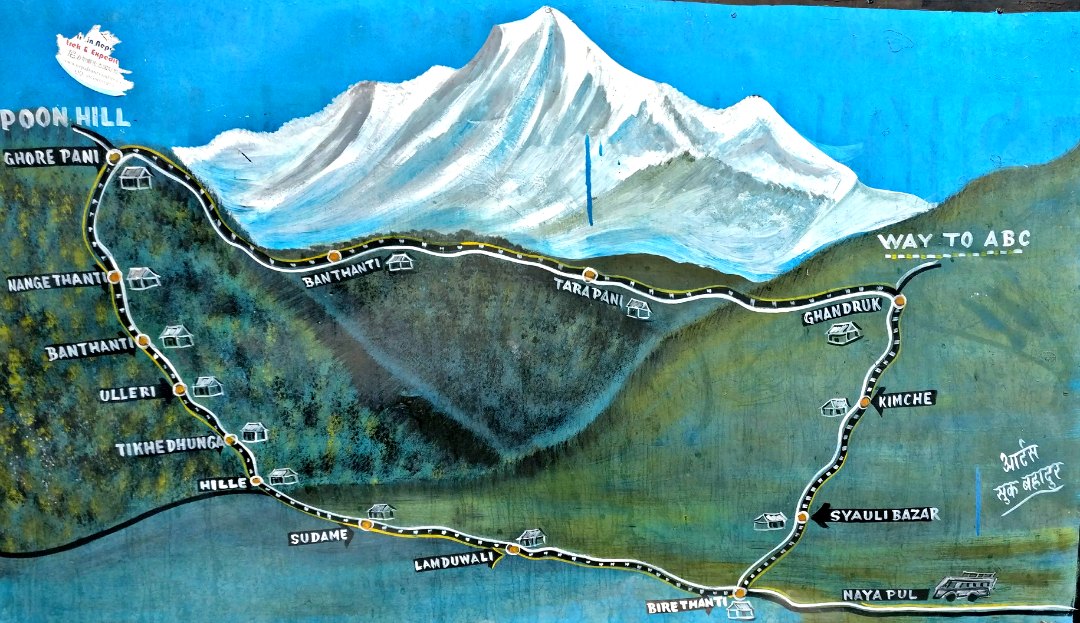 For SAARC Nationals: 200 Nepali Rupees
For other Nationals (other than SAARC countries): 2,000 Nepali Rupees
TIMS Entry 
Mandatory for the trek – Trekkers' Information Management Systems Fees – 1600 Nepali Rupees
Carry a valid ID (passport preferred for Indians as well), 2 Passport-size photos and Nepali currency for the fees to be paid (Cards are not encouraged or accepted well).
There is no entry fee for children below 10 years. These are a one-time entry fee for one-way, and cannot be transferred and is non-refundable.
Have you got any more questions? Feel free to ask me in the comments below or write to me. I'll be happy to answer.
Have you been to Nepal? How did you like it? Let me know 🙂
Share the Love. Pin this Post!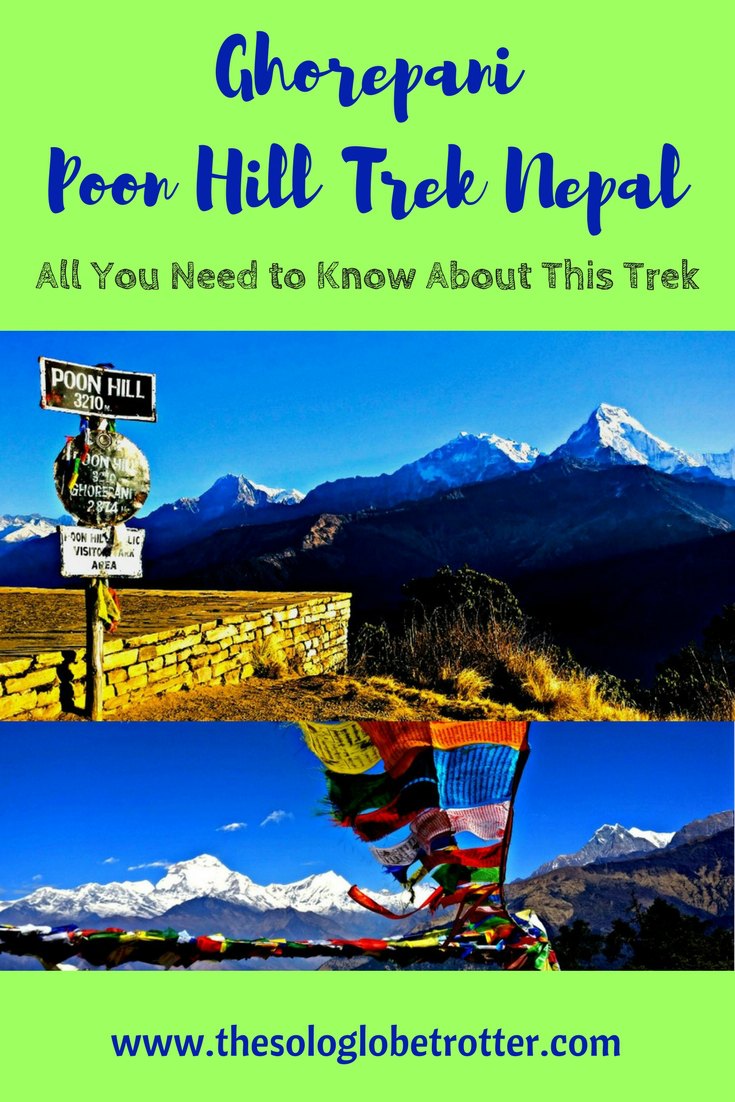 Connect with me on Facebook, Twitter, and Instagram for travel stories.
Subscribe to My Blog Posts for Travel Inspiration, Tips, Travel Guides & Stories. No Spam!