Are you looking for a Dubai itinerary? You are in the right place. Dubai is one of the few places that cater to every interest, and is one of the most beautiful Middle East Cities. There are many reasons to visit Dubai. Bursting with the right measure of modernity, culture, history, and creativity, a visit to Dubai will promise you a vacation of a lifetime. So if you are heading to Dubai for a week, you are fortunate enough to have plenty of time to make the most of the region's both iconic and hidden attractions. For more inspiration and excellent tips, check out this dedicated guide on how to spend a week in Dubai.
ONE WEEK IN DUBAI ITINERARY
I've systematized the Dubai itinerary in such a way that you get to see all of the city's main attractions, discover the top city neighborhoods, go on a day trip to Abu Dhabi, and even be part of off-road adventures such as desert safari.
But, not all travelers have the same interest. So, use this 7 days Dubai itinerary as your base to add more experiences or swap attractions at your relaxed pace.
7 DAYS DUBAI ITINERARY IN DETAIL
Below is the day-by-day breakdown of the Dubai itinerary, including things to do, alternatives, and places to visit, ideal for families, kids, and couples, apart from solo travelers.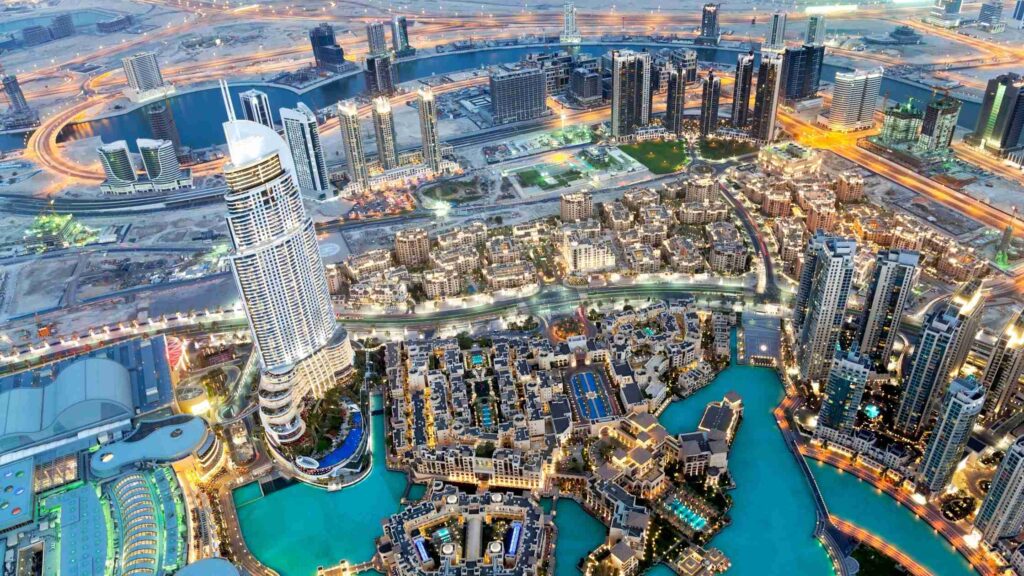 Day 1: Dhow Cruise
Highlights of Day 1
Arrival and check in to your accommodation

Head to Dubai Marina or Dubai Creek for Dhow Cruise
After you check in to your hotel in Dubai, relax in your room to overcome jet lag and then step out for a laid-back evening dinner cruise before starting your Dubai itinerary. Although you can choose from two cruise spots, I highly recommend you to go on a dhow cruise at Dubai Marina, one of Dubai's happening hotspots.
As this two-hour cruise begins, delight in the breathtakingly illumed city skyline views while relishing buffet dining and traditional shows like Tanura onboard. To avoid hassles, make sure that you add hotel transfers when booking your dhow cruise.
As this is your first day in Dubai, I don't suggest you get active or do anything insane. That said, if you are an adventurist and can manage to reach here early (at Dubai Marina), you can choose to add activities such as XLine Dubai, which is worth trying, being the world's longest and fastest urban zipline.
Day 2: Old Dubai & Desert Safari
Highlights of Day 2
Take a Heritage Bus Tour
Visit Al Bastakiya Quarter
Abra Cruise
Explore Souks
Dubai is a super stylish modern city, but its well-preserved historical attractions across Old Dubai are a must-experience. Walk down the 19th century Al Bastakiya Quarter (also called Al Fahidi Historical Neighbourhood) in Bur Dubai to glance into how life was for Dubaiites before discovering oil.
Don't miss the museums, art galleries, and other cultural attractions that abound the region, mainly Dubai Museum, Camel Museum, and Sheikh Mohammed Centre for Cultural Understanding.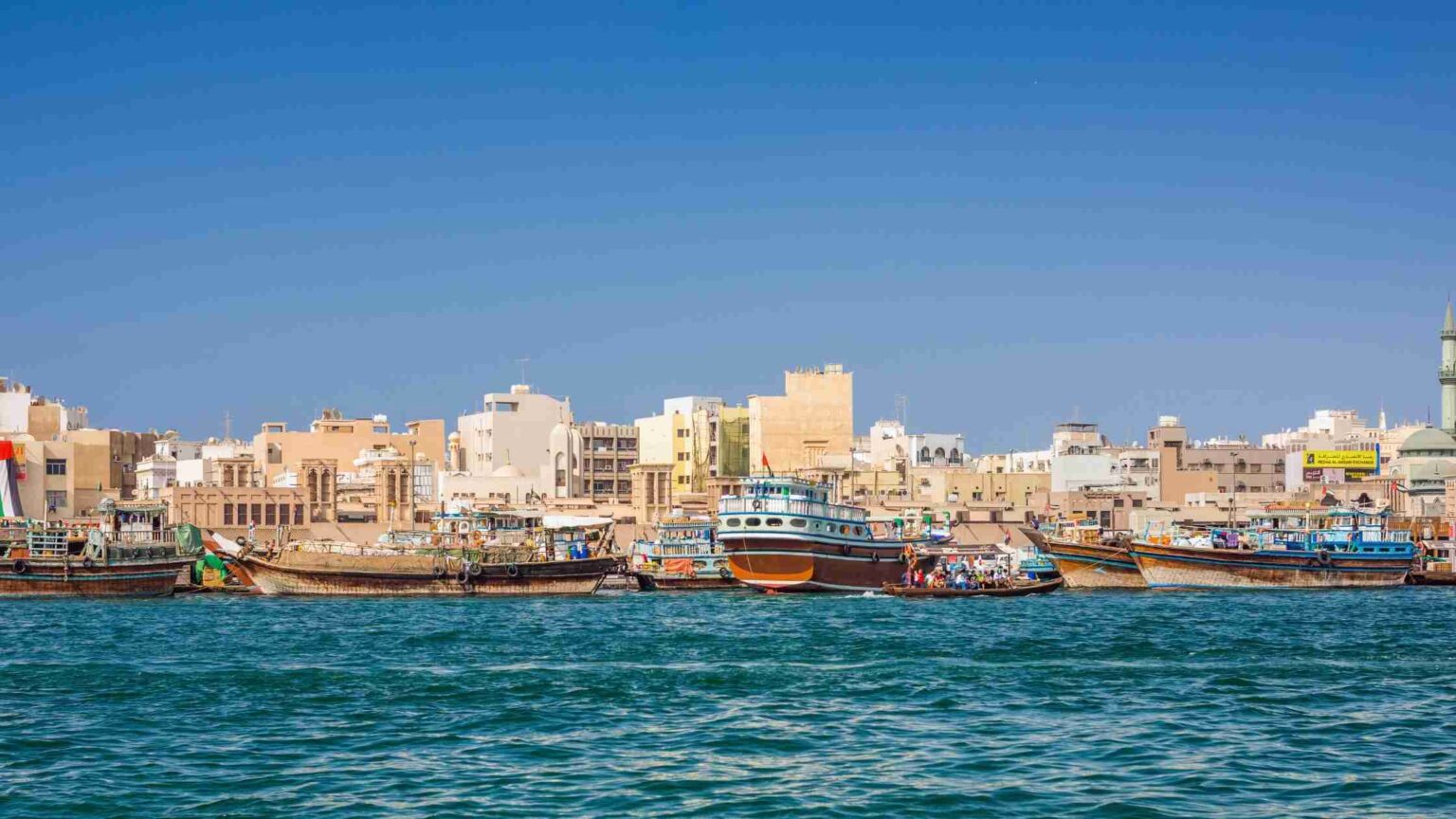 Following this, head to Dubai Creek, just a few blocks away, where you can take an abra ride to reach the other side of the creek, i.e., Deira. You can take a taxi or board a metro as well, but this cruise offers a pleasant experience and won't cost you more than AED 1.
Once in the Deira region, take time to wander through the Arabian bazaars (locally called souks), such as Gold Souk, Perfume Souk, and Spice Souk. Unlike Dubai's malls, you can haggle here to your heart's desire, allowing you to shop your favorite souvenirs, aromatic spices, and even one-off jewelry pieces at bargain rates.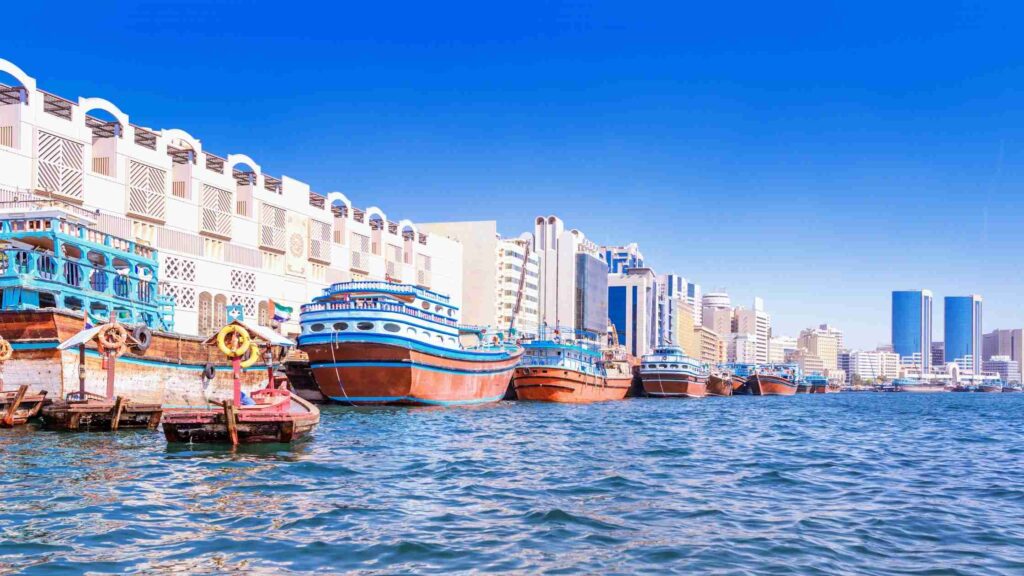 After you have had your fill of culture and shopping, keep your evening for a thrilling desert trip. With all transfers and the most exciting cultural experiences included, a desert safari in Dubai is probably the perfect way to culminate your culture-and-history-inspired day out in Dubai. 
The main draw is an electrifying session of 4X4 dune bash and adds to these activities like camel ride, sandboarding, and dune buggy ride. You further get to watch traditional entertainment (like Tanura), savor buffet BBQ dining, and participate in activities including henna tattooing, Shisha smoking, etc.
Day 3: A Day At Palm Jumeirah
Highlights of Day 3
Visit the View at the Palm Jumeirah
Have utmost water fun at Atlantis Aquaventure
Take a Monorail Tour
Watch Palm Fountain
Your day three in Dubai itinerary is all about Palm Jumeirah and for all right reasons. Set entirely on a stunning artificial island that resembles a giant palm tree, Palm Jumeirah is the epicenter of the action, thrill, and entertainment in Dubai.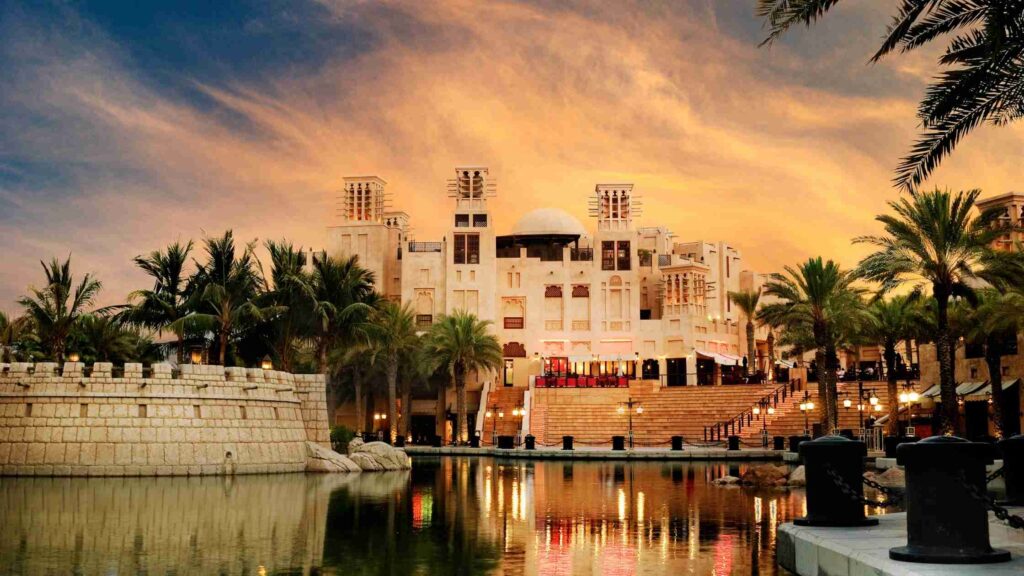 One of the best ways to catch the wholesome display of this island is from a sky-high vantage point, such as a helicopter ride or on a crazy sky diving session.
Are you looking for an affordable alternative? Head straight up to the 52nd level of Palm Tower, home to the View at the Palm Jumeirah. As the name indicates, it treats you with the grandest ever view of the island and is one of the must-do things on your Dubai itinerary.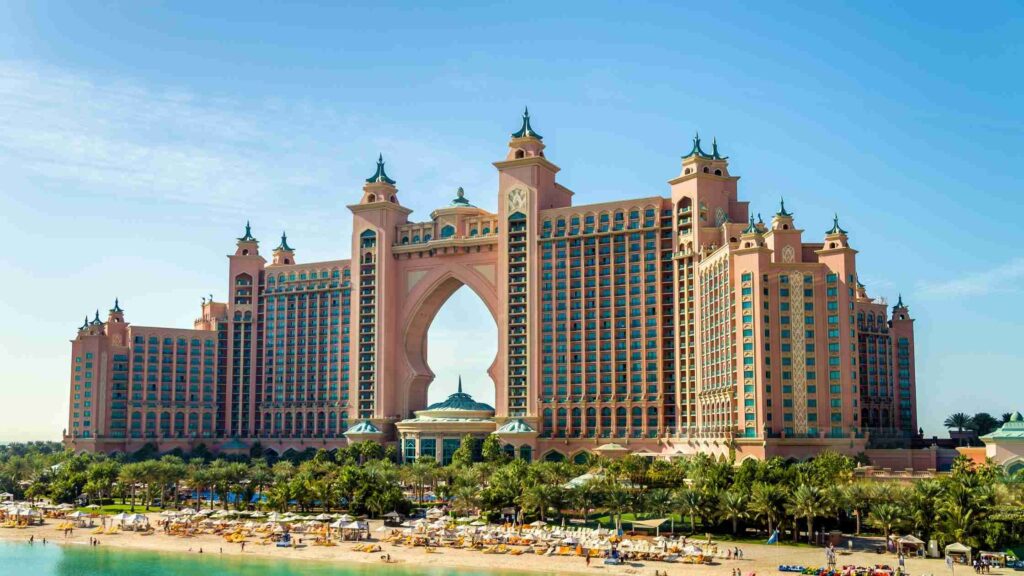 Continue to Boardwalk or opt for an entry to Atlantis, The Palm Resort. Located at the crescent part of Palm Jumeirah, this imposing resort is not all about its five-star comforts; you can visit its leisure and edutainment zones such as Aquaventure Water Park, Dolphin Bay, and Lost Chamber Aquarium, to name a few.
Apart from these, you can take a monorail ride, giving you a fantastic overview of the island's spectacular attractions.
The final treat of day 3 is the Palm Fountain show! Located at the Pointe and with Atlantis, The Palm in the background, this is the world's largest fountain where the stunning harmony of choreographed water, music, and lights is sure to blow you away.
Day 4: Downtown Dubai
Highlights of Day 4
Ascend to Burj Khalifa
Explore The Dubai Mall
Wander through Souk Al Bahar
Click pictures against Palace Downtown Hotel
Delight in Dubai Fountain Show
Continuing the Dubai itinerary, on day four, make your way to Downtown Dubai; it is one of Dubai's most stylish and trendiest districts. It has to its credit some of the city's major claims to fame that make it renowned all over the world.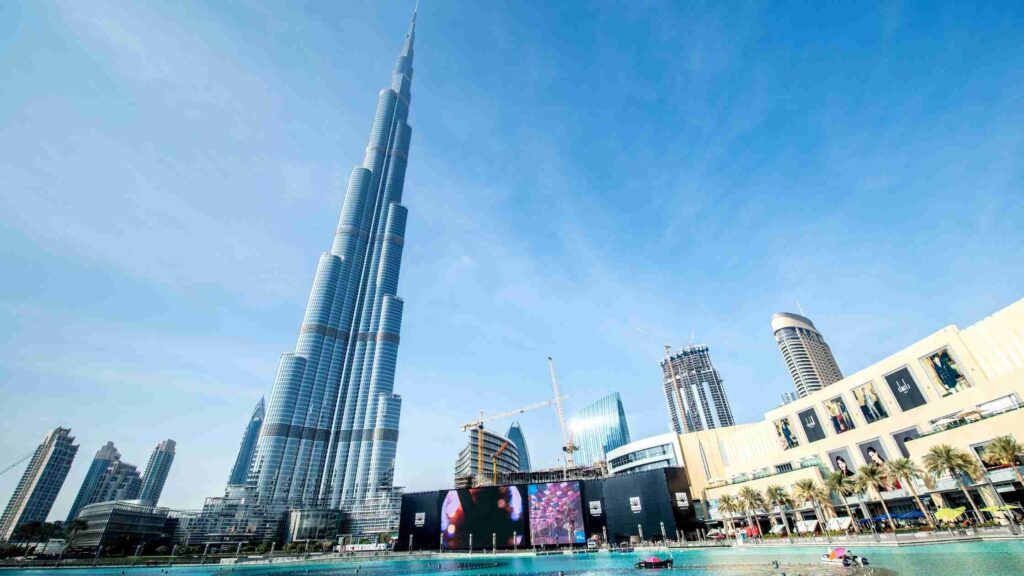 The main attraction here is undoubtedly Burj Khalifa. This massive structure, towering to a height of about 828 meters, is visible from almost all parts of the city, but seeing it up-close on a dedicated Burj Khalifa tour is an altogether different experience.
Don't miss it; your entry ticket to Burj Khalifa primarily offers access to its 'At the Top observation deck on 124th or 148th or both (dependent on your ticket choice), along with the chance to enjoy one of the world's fastest elevator rides.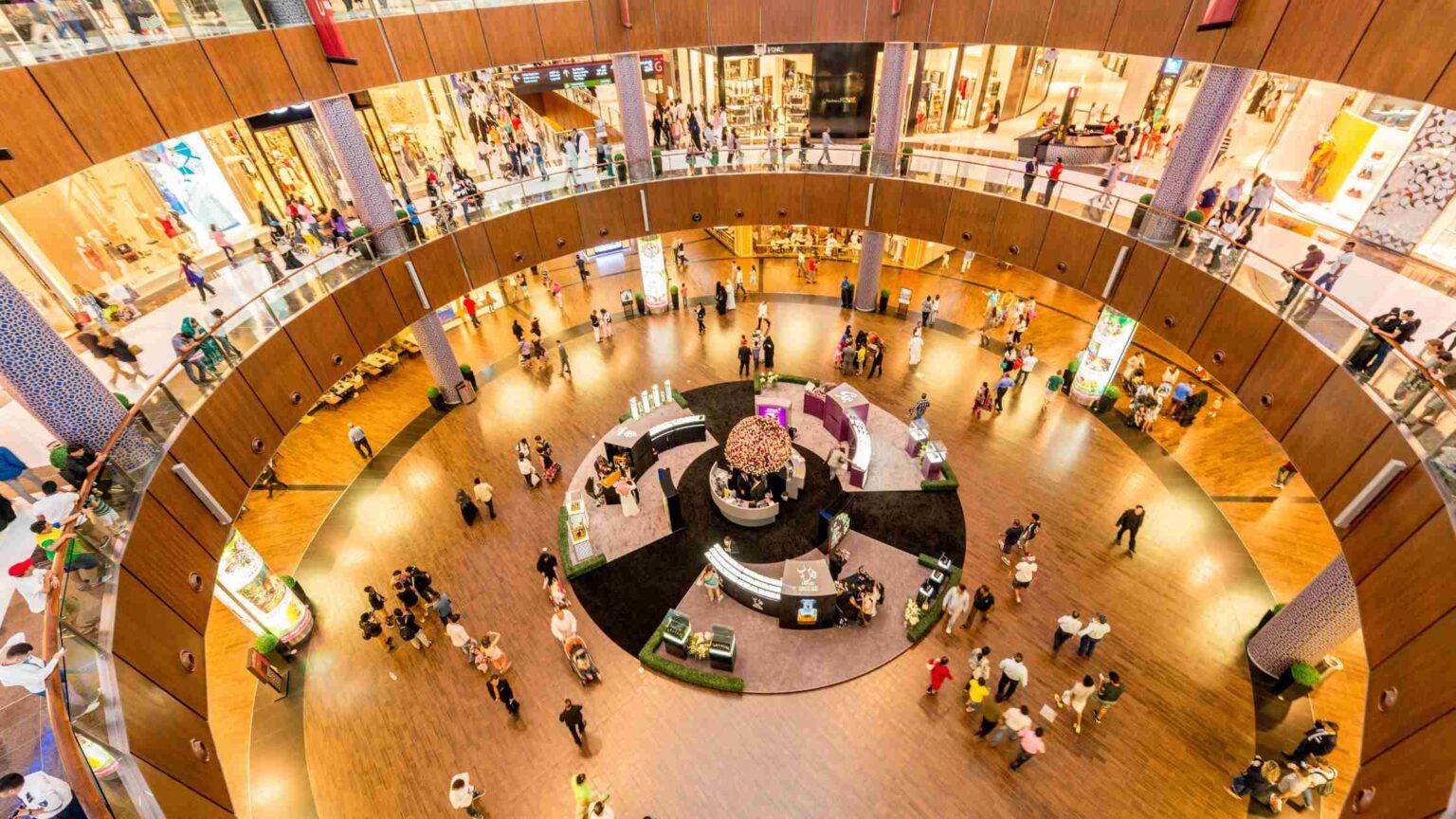 Back on the ground, you can continue to check out other significant sights of Downtown Dubai, notably the Dubai Mall. It is one of the world's biggest malls means you can imagine the sheer amount of things to do here. A bit of research and pre-planning is vital to make the most of the time you spend here.
Shoppers are spoilt for choices with over 1200 outlets, while foodies are guaranteed the best options, thanks to its 200 plus dining venues.
Moreover, it is a haven for fun and leisure seekers, which you will love enjoying your Dubai itinerary if you are a water baby at heart. You can walk into Dubai Aquarium and Underwater Zoo with more than 33,000 marine creatures or have the fun of the lifetime at VR Park Dubai, Ekart Zabeel, and Dubai Ice Rink, to name a few.
From traditional-style shopping at Souk Al Bahar to watching stunning shows at Dubai Opera and capturing regal clicks against Palace Downtown Hotel, more attractions and experiences await you in the region. Finally, keep your evening free to watch the classic Dubai Fountain show.
It was the world's largest fountain till the launch of Palm Fountain. With that being said, it continues to be one of the Dubaiites' favorite attractions, and you can watch it with a twist on an abra ride along Burj Lake or by hitting the exclusive Dubai Fountain Boardwalk.
ONE WEEK DUBAI ITINERARY
Day 5: Abu Dhabi Sightseeing
Highlights of Day 5
Check off Abu Dhabi's iconic sights
Take in Yas Island
Don't restrict your Dubai holiday to just the city sights. You can easily add a few day trips to your Dubai itinerary, thanks to the excellent connectivity. Be sure to venture out of Dubai; it assures you of a refreshing escape from the glitzy pictures for a few hours. One of the top recommendations is to head towards Abu Dhabi. It is not only the UAE's largest emirate but also the largest city. Consider taking a full-day Abu Dhabi city tour through a reputable tour provider.
With transfers to and from your Dubai location included, it covers almost the entire of Abu Dhabi, with a stop at the iconic Sheikh Zayed Mosque (also known as Grand Mosque), and Heritage Village and photo ops at the region's top attractions such as Emirates Palace Hotel, Abu Dhabi Corniche, and Yas Island. There will also be a drive through the Date Market as well as Abu Dhabi City Centre.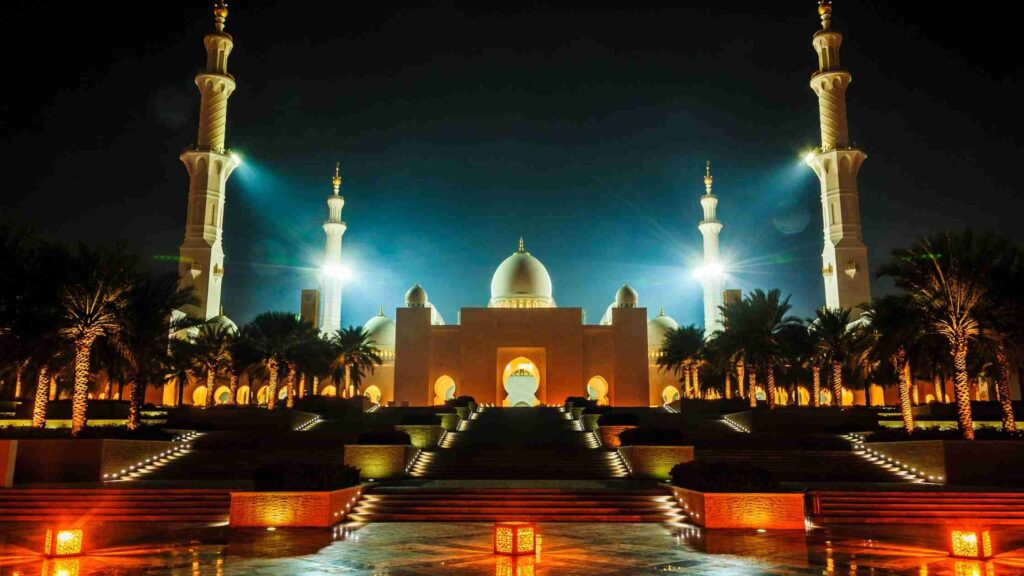 You can also choose to add more attractions and adventures to your Abu Dhabi trip. Buy an entry ticket to Yas Island's theme parks like Ferrari World Abu Dhabi / Yas Waterworld, or sign up for a kayaking adventure at Mangrove National Park. For maximum savings, opt for combo passes such as one bundled with Abu Dhabi sightseeing and Louvre Abu Dhabi Museum entry.
Abu Dhabi is more or less like Dubai. If it is nature and lush scenery you are looking for in your day trip, take a trip to Fujairah or Al Ain, which is considered the greenest spot in the UAE.
Day 6: Theme Park Outing At Dubai Parks And Resorts
Highlights of Day 6
Enjoy theme park fun like no other with DPR's four diverse parks
Take in overall 100 incredible rides and attractions as you hop from one park to other
Whether you are a theme park enthusiast or not, it is worth setting aside an entire day for Dubai's theme parks! If you are a hardcore theme park fan, you should surely visit Dubai Parks and Resorts. It is an integrated resort and the first of its kind in the Middle East. Apart from its multiple accommodations, dining, and retail options, what makes this resort extra special is its four theme parks: Motiongate Dubai, Bollywood Parks Dubai, LEGOLAND Dubai, and LEGOLAND Water Park.
Motiongate Dubai is wholly themed around Hollywood movies, whereas Bollywood Parks Dubai will journey you into the world of Hindi cinemas. LEGOLAND Dubai and LEGOLAND Water Park are created for families of kids from 2 to 12 years.
You can choose to hop from one park to another in a single day or decide to visit one or two parks with the right Dubai Parks and Resort pass, one of the recommended passes to buy while planning a Dubai itinerary.
Day 7: Last-Minute Shopping, Spa Or Theme Park Visit
A highlight of Day 7
Watch a show, get a spa treatment or do some quick shopping
As you have covered almost most of Dubai by now, spend your last few hours in Dubai by doing something that interests you the most. You can catch a show (such as Dolphin and Seal Show at Dubai Dolphinarium) or do last-minute shopping.
For a personalized shopping experience, it is ideal for taking a shopping tour. It ensures that you don't miss out on the city's top shopping spots. Subject to your flight time, you can also utilize this day to visit a theme park such as the snow-covered Ski Dubai, undergo a soul-refreshing spa treatment, or relax in the room.
PLANNING DUBAI ITINERARY – THINGS TO KNOW BEFORE YOUR DUBAI TRAVEL
Plan; yes, do it at least three to four months before your Dubai travel. From accommodation and airline tickets to airport transfers and sightseeing, book every aspect of your Dubai holiday as early as possible.
Before you make a booking, determine the best time to visit, which varies according to your personal preferences. For outdoor activities and seasonal events like DSF, the winter months (October to March) is the best time. Summer months may be unbearably hot, but it is the best time for a budget holiday with the most fantastic activities and experiences on offer.
Choose the correct visa, such as a single entry or multiple-entry visa, with your unique travel requirements.
With a single NOL card, you can access all of Dubai's public transport, including the fastest of its kind Dubai Metro. It is affordable too. Want to get around the city with zero stress? Nothing can probably beat a private transfer that comes with or without a driver. Be sure to bring your international driving license if you are planning to drive in Dubai.
That's a wrap for the Dubai itinerary for 7 days. If you want to add more day trips, you can extend your Dubai trip easily to more than ten days, or even spend 2 weeks in Dubai. Have you been to Dubai? If you have more suggestions for Dubai itinerary for 2 weeks or less, do share them in the comments below.
PIN DUBAI ITINERARY FOR LATER
TOP TRAVEL TIPS & RESOURCES
Below is the list of the travel resources you can use to organize your travel – from flights to insurance and everything. These are the resources I use myself, which is why I recommend you for a hassle-free travel planning experience and fantastic trips.
Booking Flights
: To score flight deals, search on
Jet Radar
, Kiwi,
or
12go.Asia
(for Asia planning). Book and fly mid-week, taking red-eyes flights or those in the early mornings for better deals and lower prices. Avoid check-in bags on a budget airline.
Booking Trains:
The best websites for booking trains anywhere in Europe are
Rail Europe
and
TrainLine
. Both are easy to manage online and track your journeys.
Booking Cars:
For the best prices and easy handling of renting a car for road trips and day trips, I'd recommend
Discover Cars
or
Rental Cars,
available throughout the world.
Accommodations:
I typically use
HotelsCombined
or
Booking.com
to book hotels. There are special getaway deals with amazing discounts(over 50%!) for this year on Booking.com, and you can find them
here
.
I use
Hostelworld
and
Agoda
to book hostels as the deposit is low, easy change/cancellation is available and reviews are excellent on both. Depending on the destination, I love staying in
VRBOs/homestays
.
Travel Insurance:
No matter whether it is a short trip or longer trips abroad, I strongly recommend buying travel insurance for international trips. I recommend either
World Nomads
or
SafetyWing
for international travel insurance.
Tours:
Being a solo traveler, one of the best ways to optimize my time, budget, and super importantly, meet amazing people from all over the world is by joining tours, especially food tours, walking tours, day trips, culture, and history tours.
You will get a local's perspective, the best opportunities to experience places and people closely. I book using
GetYourGuide
,
Klook
,
Viator,
and
Voyagin.
Please note: This post contains affiliate links, meaning I may earn a commission if you make a purchase by clicking a link (at no extra cost to you). Learn more.