I didn't get to know about Arambol drum circle until sometime, and also the flea market, and decided to check it out while staying in Goa. And I must say that it is mind-blowing!
I was looking to get away from the popular places but still wanted to laze by the beachside. Also, with my purpose of this trip is looking for offbeat experiences in Goa, I had decided to stay in the north, away from the main circuit.
At Wanderer's hostel, I got to know about many things about Arambol beach from fellow travelers, the most interesting being the drum circle.
Recommended read: Backpacker Beaches in Goa – Your Total Guide to Goa's Offbeat Beaches
Discovering Arambol Drum Circle
I drove my bike to Arambol on an evening. The hot afternoon sun just waning away, the cool breeze provided a relief as I reached the beach.
So what's this drum circle? Every day, a group of people form a circle at the each shore of Arambol called the drum circle. They have many musical instruments that play, some of them so unique and even unheard or unseen!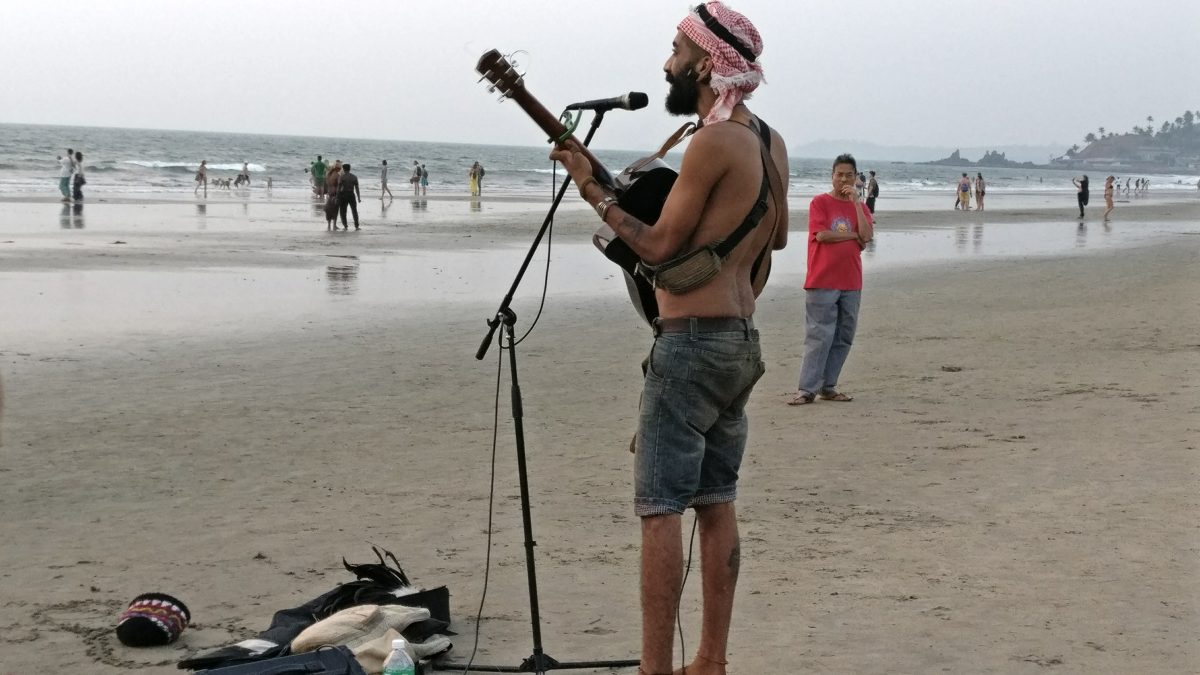 Most of these are hand-made, customised instruments and everyone is free to pick up, pass and play them. The group begins to gather as the evening sets in and the performance go on until sometime after the sunset.
Editor's note: 175 Awesome Beach Quotes to Inspire Your Next Beach Vacation
People gather in the circle and dance to their heart's content, and it's a lively performance to watch. You are free to play music, dance or simply stand by and watch. The crowd grows as it progresses and so does the music which gets louder, beautiful and lively.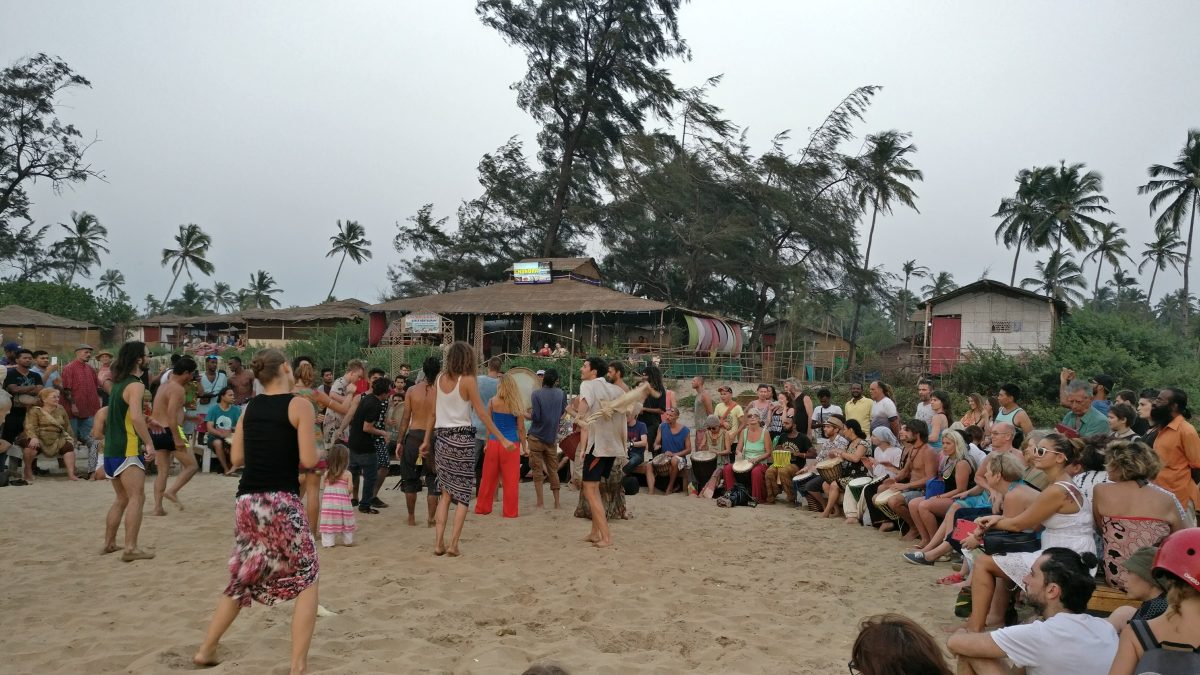 I really enjoyed the vibes and the performance at the drum circle. I shot a video, check out below. It's really cool!
Arambol Drum Circle Video
Hippie's Market
After watching the drum circle, I took a slow stroll along the beach shore, watching the sunset, trying to absorb the views around. Just along the beach's shore, you'll find many hawkers and small shops set up forming a straight line, which looks very colourful.
This 'market' is set up by these sellers every day as well. The interesting thing about this market is that most of the sellers are expats, hippies from different countries who sell their products and skills. In fact, I hardly saw any local or an Indian seller.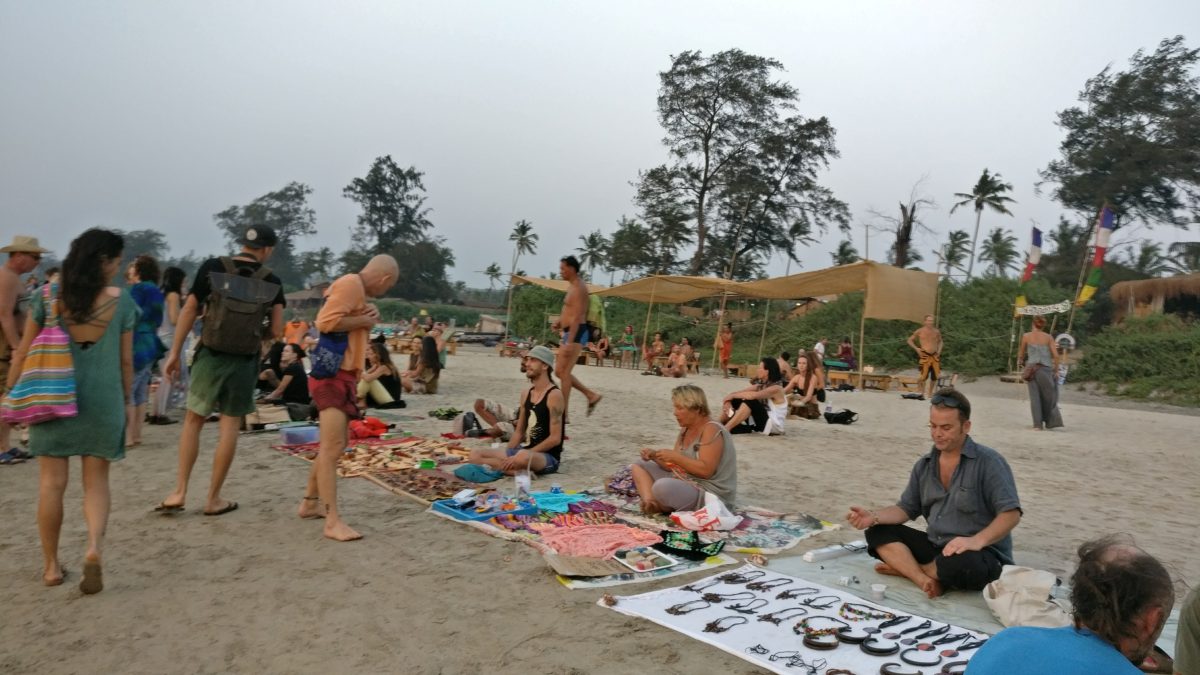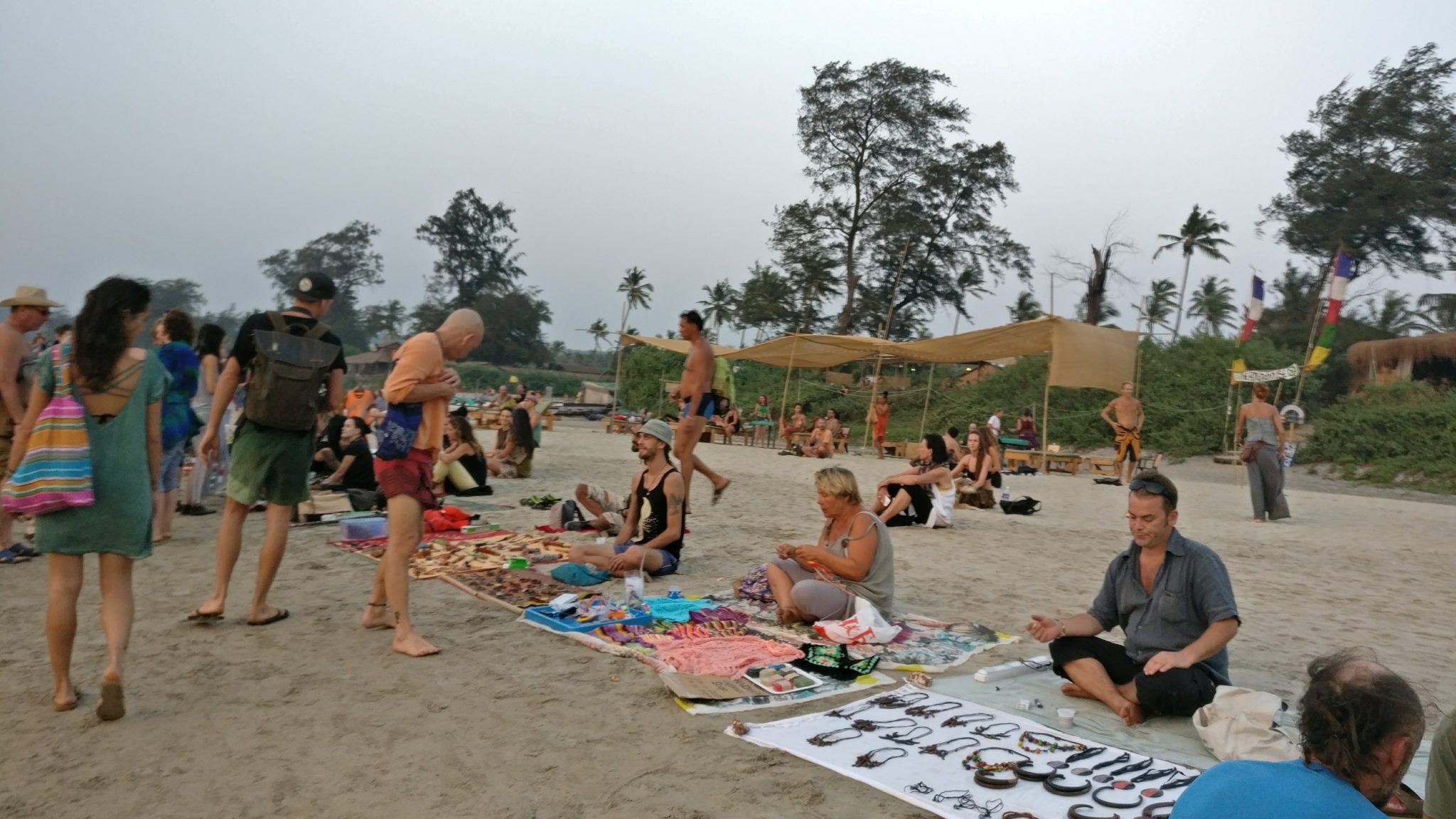 Most of these people are long term travelers and backpackers from various countries trying to make an income to sustain their travels. You get many things to buy here – hand-made jewellery, fashionable outfits, musical instruments, herbal products, paintings, local food, antique jewellery, souvenirs and much more.
This part reflects the ancient Goa that was home to a lot of hippies (and is still is). Albeit all the modern amenities or technology, hippie's market is a place to experience Goa in its 90's. The rustic charm of Goa that was present decades ago is still intact here at Arambol.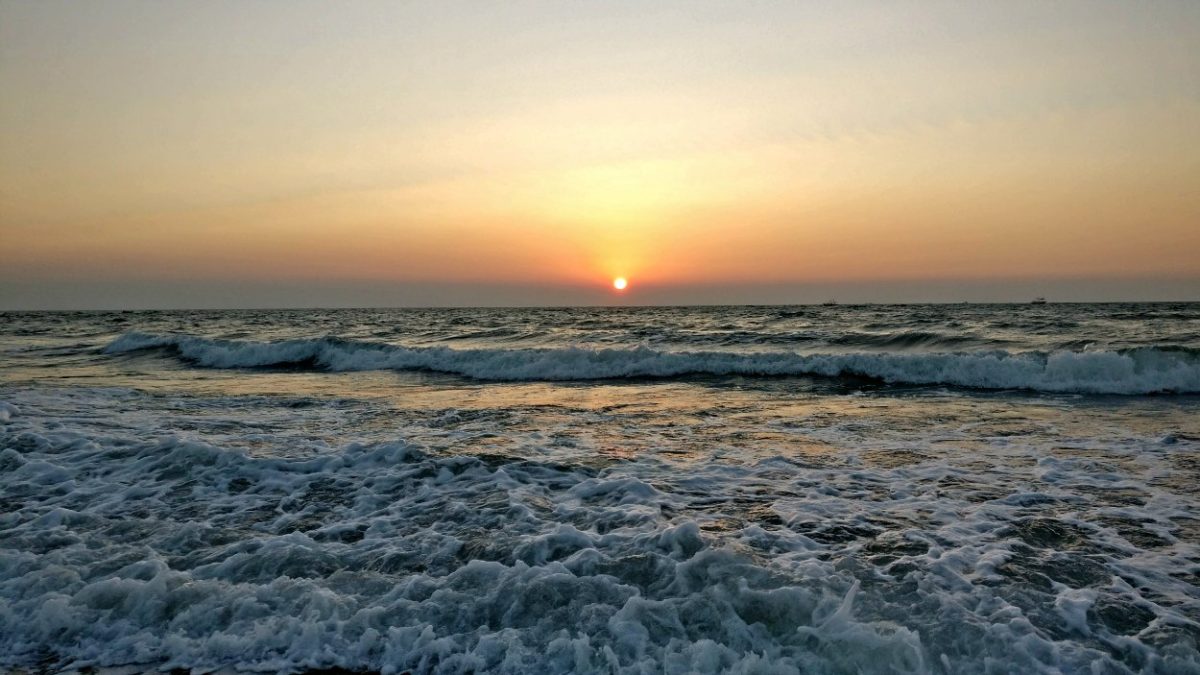 I ended up loving Arambol beach for more than one reason – the drum circle, hippie's market, a beach that's clean and the crowd itself, which was so different and unlike any of the beaches that one will notice.
The crowd was more of my type – the hippies, gypsies at heart, artists, slow travelers, people writing, reading, taking a quiet walk, hawkers, and a lot of skilled performers – people doing hoop circles, gymnastics, Yoga, playing with dumbells and other objects, performing excellent stunts.
The drum circle is a different experience that's worth visiting. If you are trying to move away from the touristy Goa, go get a glimpse of the hippie culture here at Arambol.
Editor's note: 25 Practical Solo travel tips that you need for your solo trip
Where to stay?
If you love the vibes of Arambol, the best way to enjoy more of this beach is to make your base there. There are plenty of hotels in Arambol, especially in low and mid-budget ranges, which makes it very popular among backpackers.
Here are some of the cheap and mid-range hotels in Arambol that I would recommend, all of which has great reviews.
For other offbeat experiences in Goa, check these posts as well:
Tambdi Surla – Forget beaches, Have You Heard of the Oldest Temple of Goa?
Dudhsagar Spice Plantation – A Unique Farmstay Experience in Goa
Fort Tiracol – When I Drove To The Northern Most Place of Goa
Planning Your Trip To Goa?
Check this complete guide to Offbeat Goa
Share the Love. Pin This Post!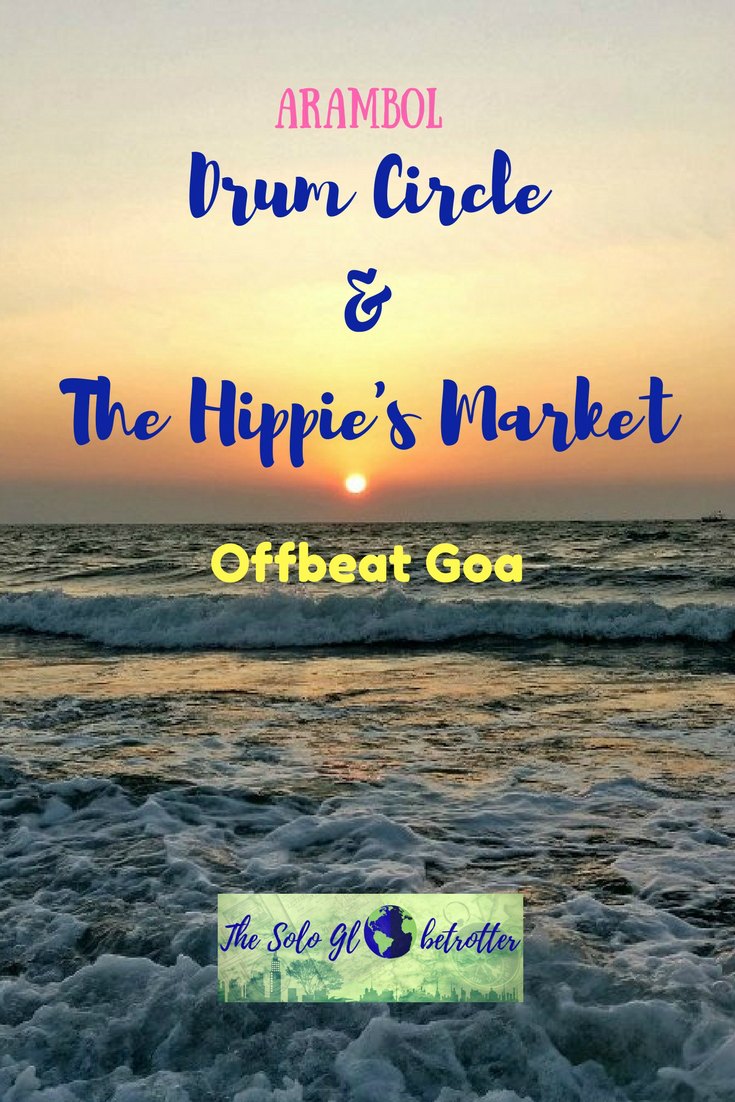 Follow my stories on Facebook, Twitter, and Instagram.
Subscribe to my posts by email for travel inspiration, destination guides, tips & stories. No spam!