The Swing in Bali Ubud has been one of the many destinations that have caught Instagram travelers' attention in the last few years. Let me guess. You must have spotted this surreal Bali swing on Instagram. What's so special about this Bali Swing Ubud? And why has it become so popular? Well, among the many things that Bali is known for, this swing in Bali nestling amidst a thick canopy of tropical jungles carpeted with terraced rice fields is one of the best Instagram spots in Bali.
The original one's splendid location has been the top reason, but did you know there are at least eight more Bali swings that are worth checking out?
In this guide, you will find out everything about the original swing in Bali and the other famous Bali Swings and Ubud Swings to pick the ones you want to explore on the amazing Bali trip.
THE SWING IN BALI – ALL YOU NEED TO KNOW ABOUT BALI SWINGS
The original Bali swing is one of the many on the island, which became a phenomenon over few years – thanks to the Instagram pictures of being in the air on a large swing, surrounded by dramatic landscapes, unique, vibrant bird nests beautifully decorated, and the adventure that comes along.
QUESTIONS YOU MAY HAVE ABOUT THE FAMOUS BALI SWING
These things have made the swings in Bali very popular. In this section below, check out all the things about the real Bali swing, followed by the others that you might want to check out as well.
Where is the Swing in Bali?
If you wonder where the swing is in Bali, you might be referring to the original one. The first Bali swing, also the most famous Bali swing, is located in Ubud, nicknamed 'the giant swing in Bali'.
There are 15 different single swings in Bali park here, along with three tandem swings.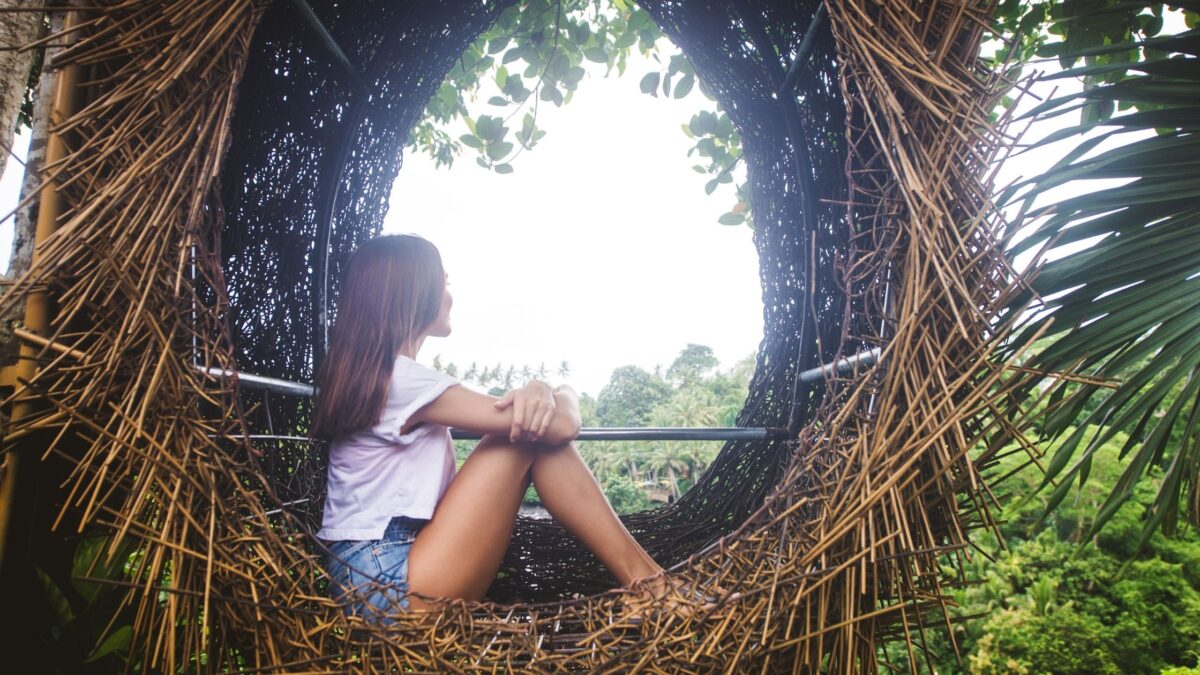 There are also 6 beautifully decorated bird nests and 4 huge stones to pose for the best Instagram shots.
Thanks to its immense popularity, it is one of the top attractions. This real Bali swing is not hard to locate at all, about 15km from Ubud center. This is the location – Jl. Dewi Saraswati No.7, Bongkasa Pertiwi, Abiansemal, Kabupaten Bandung, which you can find on Google Maps here.
How to get to Bali Swing?
The best way of getting to the Bali Swing from Ubud is by renting a bike, and it takes about 25 minutes to reach Ubud if there is no traffic, but it might take more time during the peak hours of traffic.
If you plan to get to the Bali Swing from Kuta, Seminyak, or Canggu, it will take at least 1.5 hours or more as the traffic gets worse sometimes.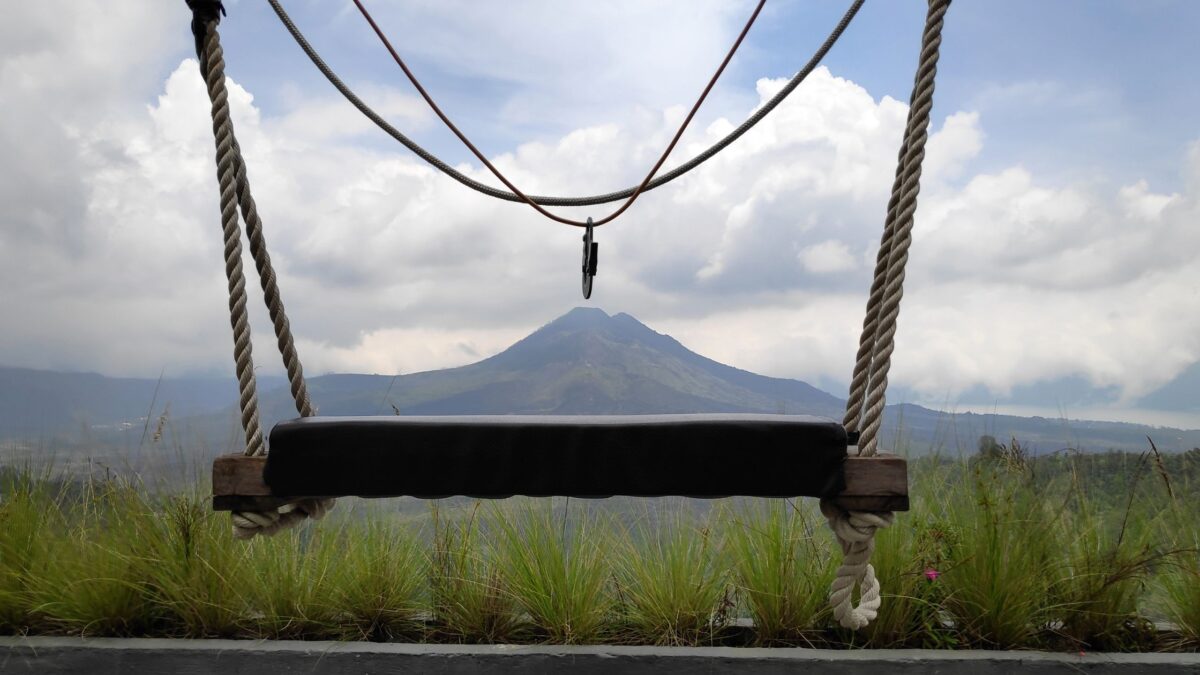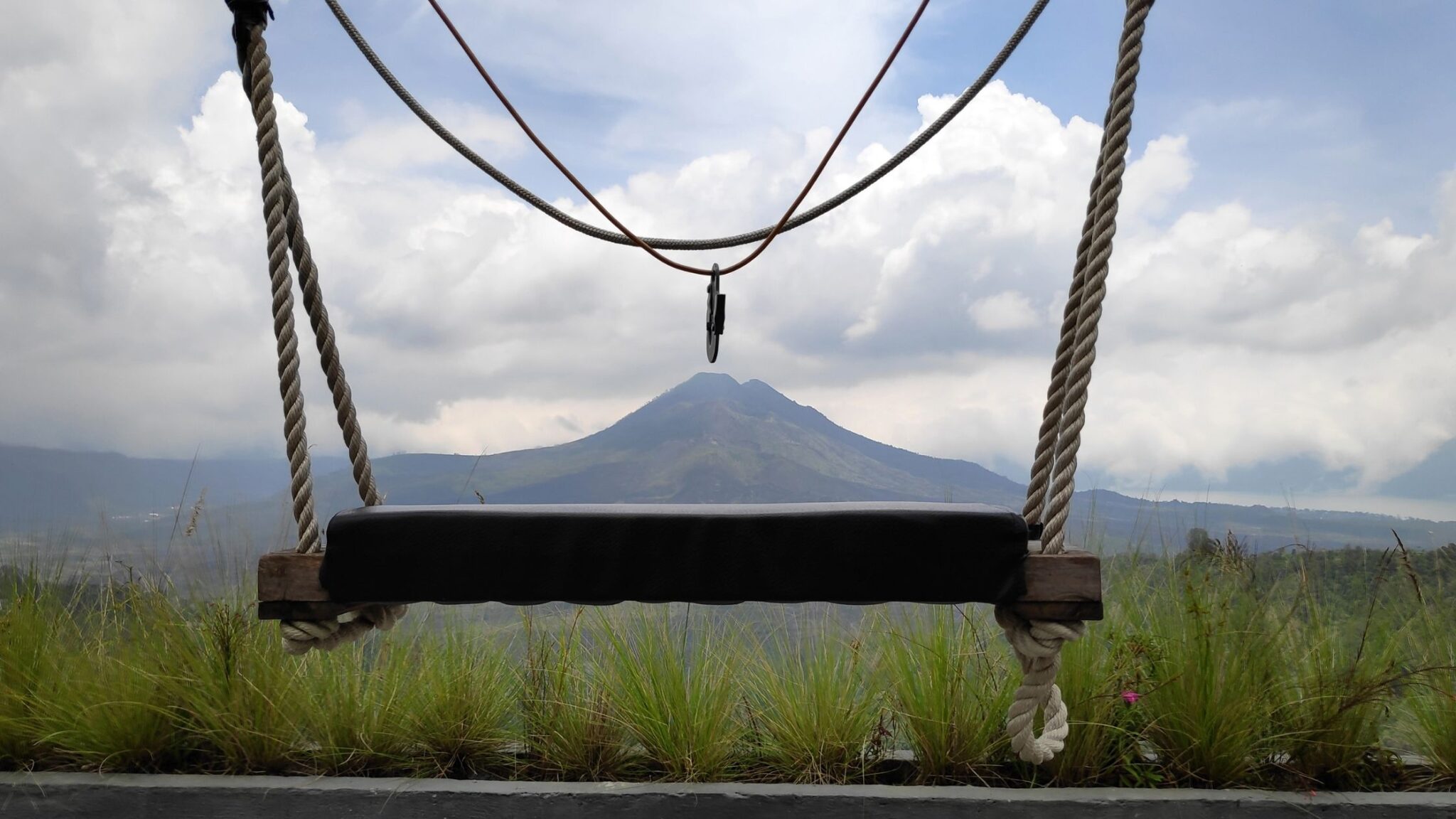 If you are not comfortable with renting motorbikes, you can avail of the free shuttle to Bali Swing, which runs every day from 9 AM until 3 PM, which runs four times a day.
On the expensive side, the other option is renting a car, for which you can obtain better prices by negotiating.
What is the best time to go to the Bali Swing Ubud?
As you can expect, the Bali Swing, being the most popular, receives the highest visitors throughout the year. The peak hours mean you have to wait for your turn in long queues to access the swings.
If you are looking for the best settings for taking epic photos of this swing, it is best to get here early in the morning when the sunlight is soft and is optimal for great photos.
If you are here within 8 AM, preferably around the time they open, you can avoid the lines, get to spend more time without crowds.
Is the Bali Swing safe?
Swings in Bali will have some risk but be assured that all the swing parks in Bali have had to up their security and safety standards in recent years – thanks to big crowds, the popularity, and a few unfortunate accidents – all these reasons forcing them to provide safe swings.
So it is safe to get on these Bali swings. If you feel the controller might push you high and forcefully, then you can always tell them not to do so if that makes you uncomfortable, or even go on your pace of the swings without their help.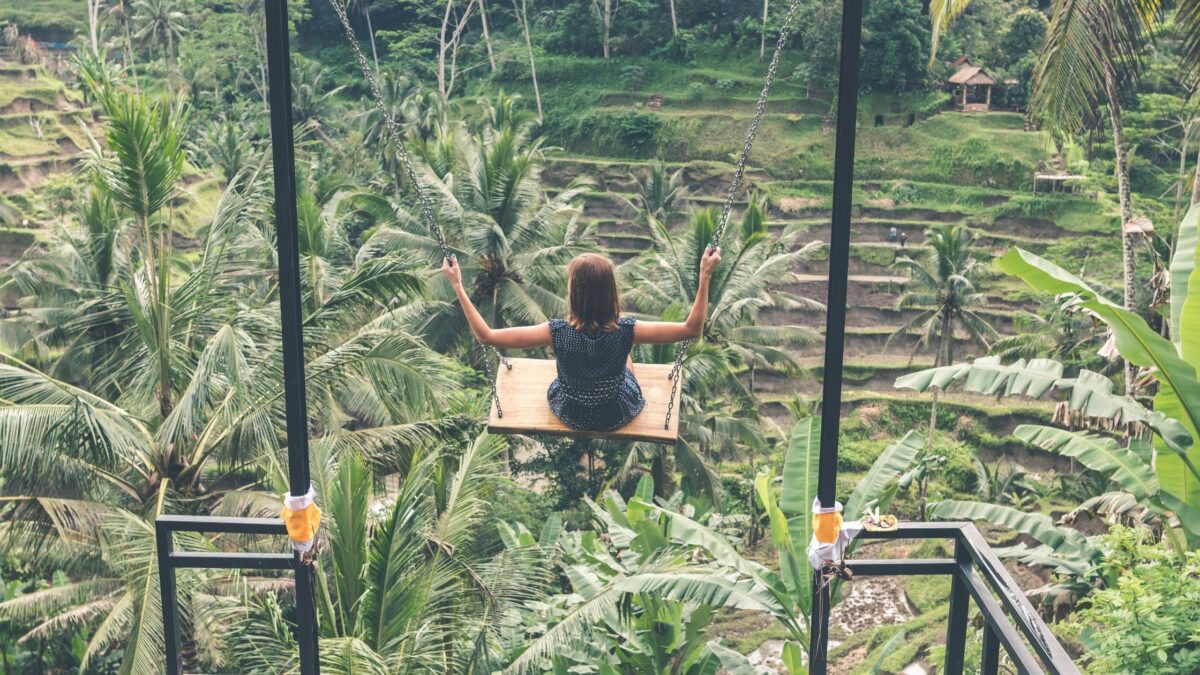 You may not enjoy these swings in Bali if you are afraid of heights, though. So in case that is your reason, you can try to go for the ones with the harnesses that hold you firmly tied to the swing, in case you are afraid of falling off the swing.
Although these harnesses were optional earlier, now almost all these Bali swing parks have rules to procure a harness if you like to use any of the swings – which should ease your safety concerns!
If you are unsure about safety, check with the operators, and asking for safety procedures and protocols is not a bad idea.
What is Bali Swing Ubud Price?
The official Bali Swing is the most expensive of all the swings in Bali. If you want unlimited time on the swings, access to the nests, lunch, and pick up from Ubud Palace point, the Bali swing price per person costs around USD 40. At an additional cost, you can also opt to be picked up from your hotel directly.
You can also pay only for the photos and not use the swings too, which costs around 10 to 15 USD, depending upon the season.
Booking the Bali Swing
I'd highly suggest you book the tickets in advance and skip the queues. Check below to reserve your Bali swing tickets.
BOOK BALI SWING TICKETS
What is the best Swing in Bali?
So which is the best Bali Swing – Well, it depends on what you are looking for. If you want the original swing experience along with stunning backdrops for those perfect Instagram pictures, head to the original Swing in Bali Ubud.
However, thanks to the swings' popularity, you have many other swings in Bali offering similar or better views, added attractions, and activities, giving you more options.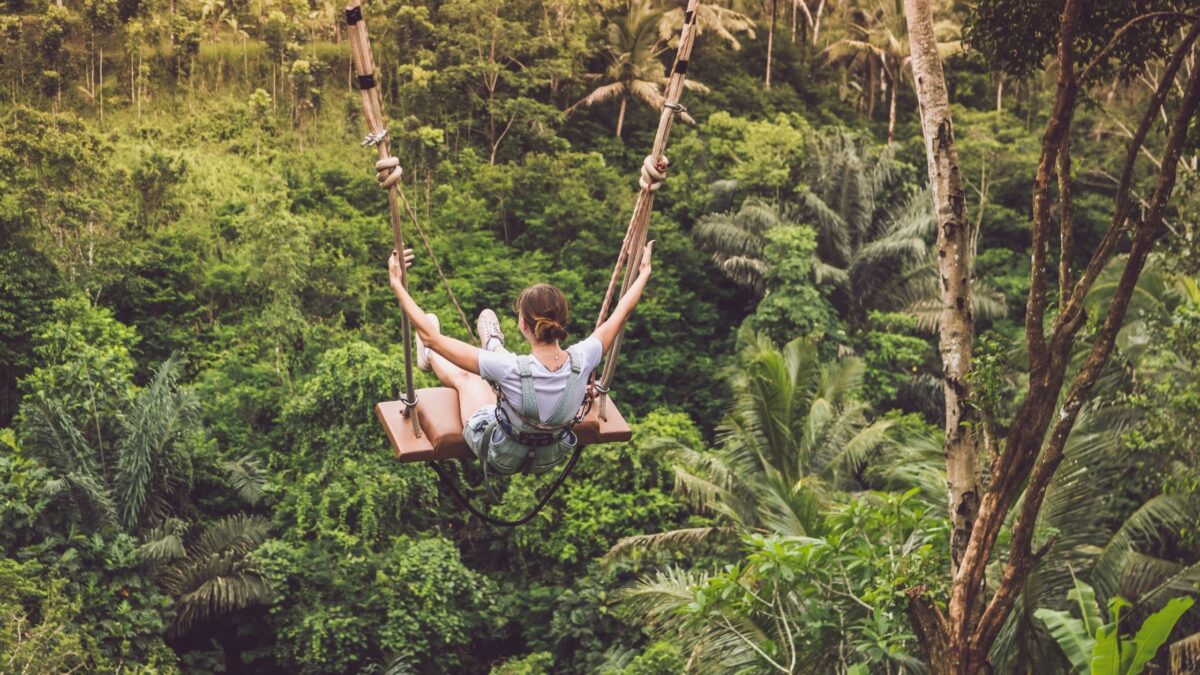 If you want the views, pick the original Bali Swing. Although they are the most expensive ones, they are safer, the park is fantastic, and the views are incredible.
If you want something cheaper but a great location, check out Tegalalang swings, or plan a trip to Wanagiri Hidden Hills. No matter where you go, Bali's swings are a unique experience that you must add to your itinerary.
What is the Bali Swing Ubud opening time?
The original Bali Swing opens at 8 AM, which is the best time to be here. The park is open up to 5 PM.
If you want to arrive by their free shuttle, the pickup from town doesn't start until 9 AM. So the place can get crowded by the time you reach if you rely on the free shuttle. Hence, it is best to use another transport mode if you plan a Bali Swing park trip.
What to expect from Real Bali Swing?
The location of these swings is Beautiful, and you will end up loving the sweeping panoramic views. But since it is very popular, expect large crowds most of the time. You may not enjoy it here if you are looking for something offbeat or secluded.
You will have to pay to wait in long lines to get your spots on nests and swings and get those Instagram pictures. Expect waiting periods unless you are among the first few in the early morning.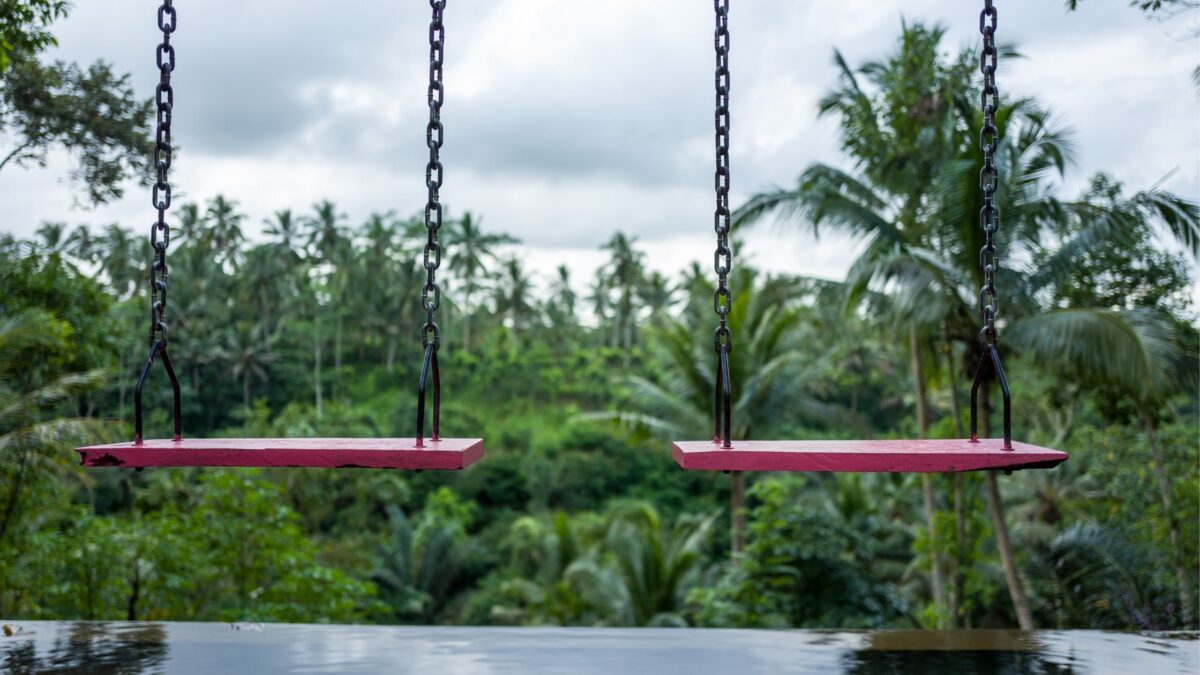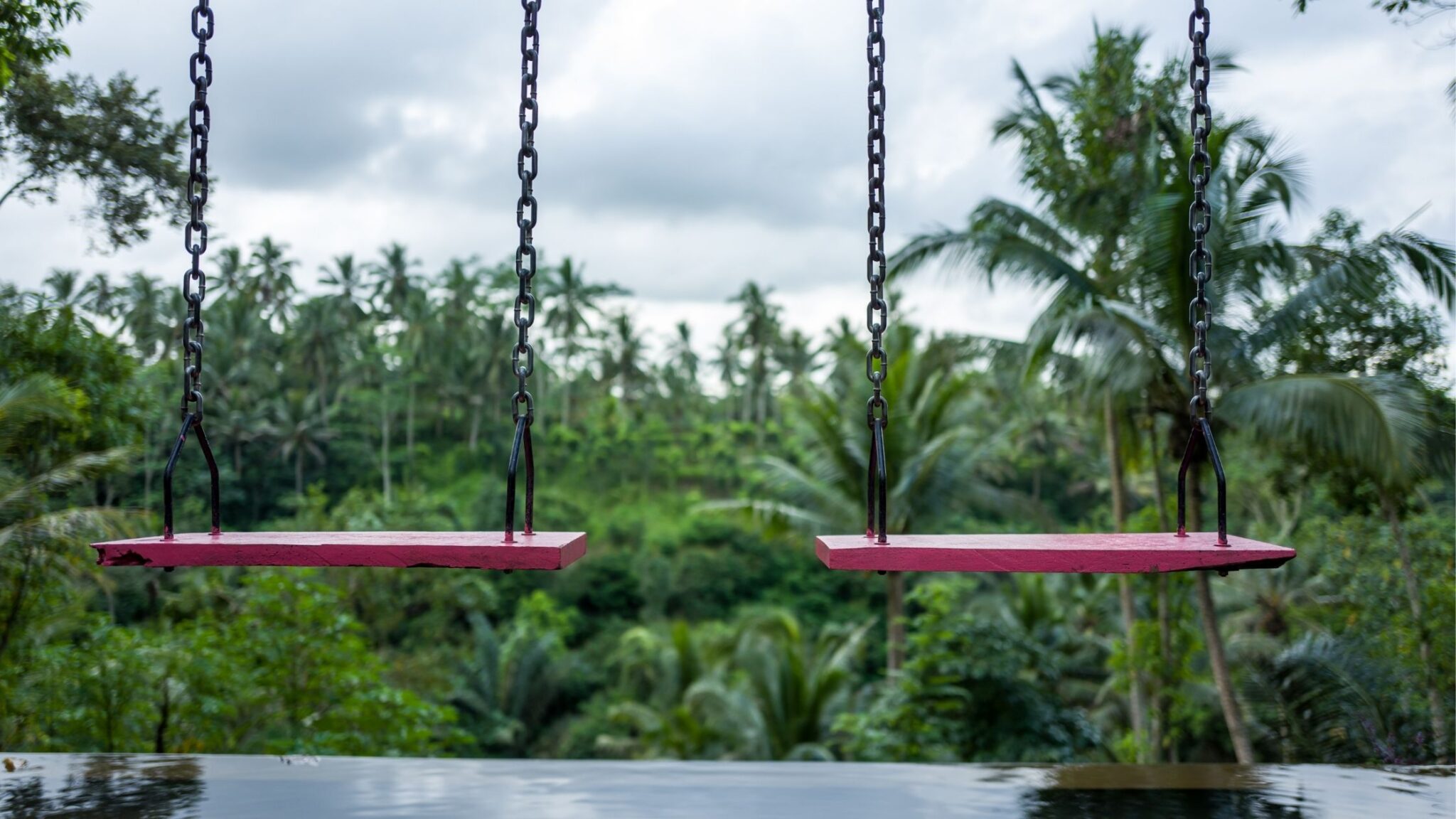 Bali is humid and hot no matter the time of the year, which means you will most likely be dripping with sweat wearing those pretty dresses.
Speaking of dresses, if you don't have one in your backpack, don't worry. You can go for Bali swing dresses for rental, which are available there in the park.
THE OTHER NESTS AND BEST SWINGS IN BALI YOU SHOULD TRY
Zen Hideaway Swing
Among the most beautiful swings in Bali is the Zen Hideaway swing, which was once accessible to the public, although it belonged to a guesthouse.
Thanks to its increased popularity, you can now only use the swing if you are a guest of Zine Hideaway. They have three properties, and you can enjoy the swing if you are a guest at any of them.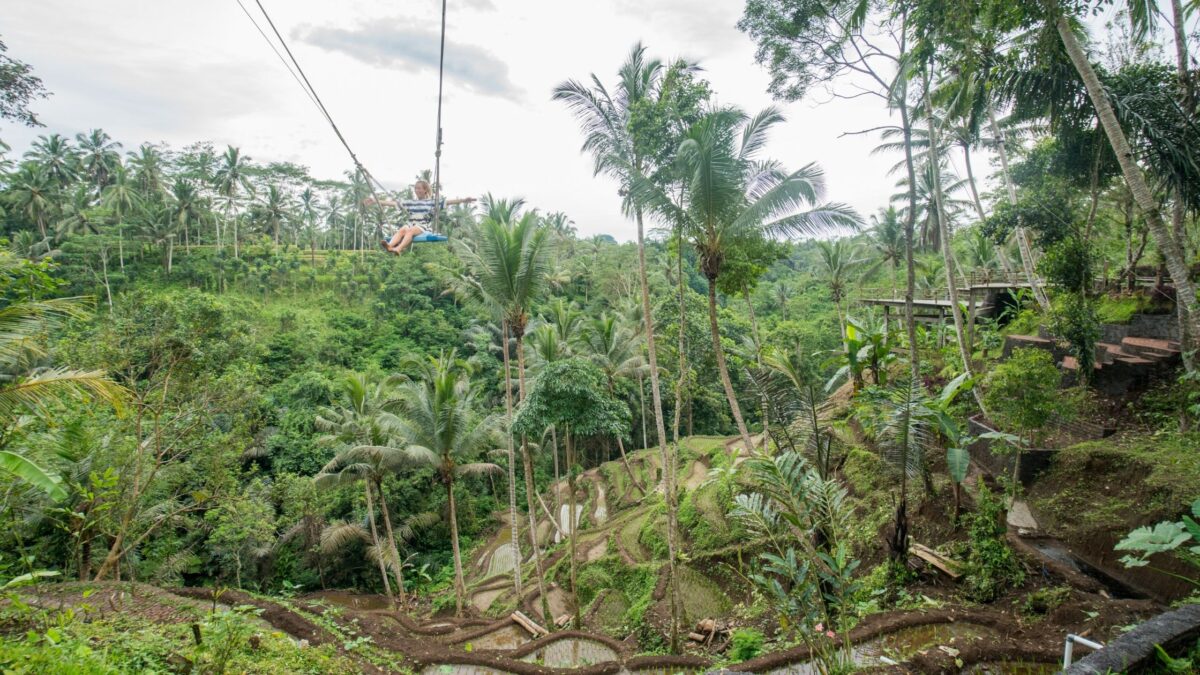 If you plan to stay in one of these, I'd recommend you booking the earliest, as they get occupied often during the peak seasons. You can visit many places around this guesthouse, apart from enjoying this famous swing in Bali, including Ubud Monkey Forest.
The views from the swing, set between the palm trees, are spectacular. You can admire the rice fields, waterfalls, the beautiful Ayung River, and Mount Agung.
How to get to Zen Hideaway: It is located about 30 minutes-ride away from Ubud, accessible by a bike or a car.
Zen Hideaway Swing Opening Hours: 12 PM to 2 PM
Zen Hideaway Swing Price: 350k IDR
Address: Jalan Dewi Saraswati, Banjar Tegalkuning, Bongkasa Pertiwi, Abiansemal, Badung Regency, Bali.
Terrace River Pool Swing in Bali
How do you like about 15 amazing swings each offering splendid views of the vistas? Before the swings at Tegalalang Rice Terraces is this Terrace River Pool Swing, located in northern Ubud, which makes it ideal to add to your itinerary.
You can spend a day exploring all the swings in this area, beginning at the Terrace River Pool Swing, then the Tegalalang Rice Terraces swings, and Uma Pakel swings. It is perfect for a day filled with riding a bike and going on swing adventures.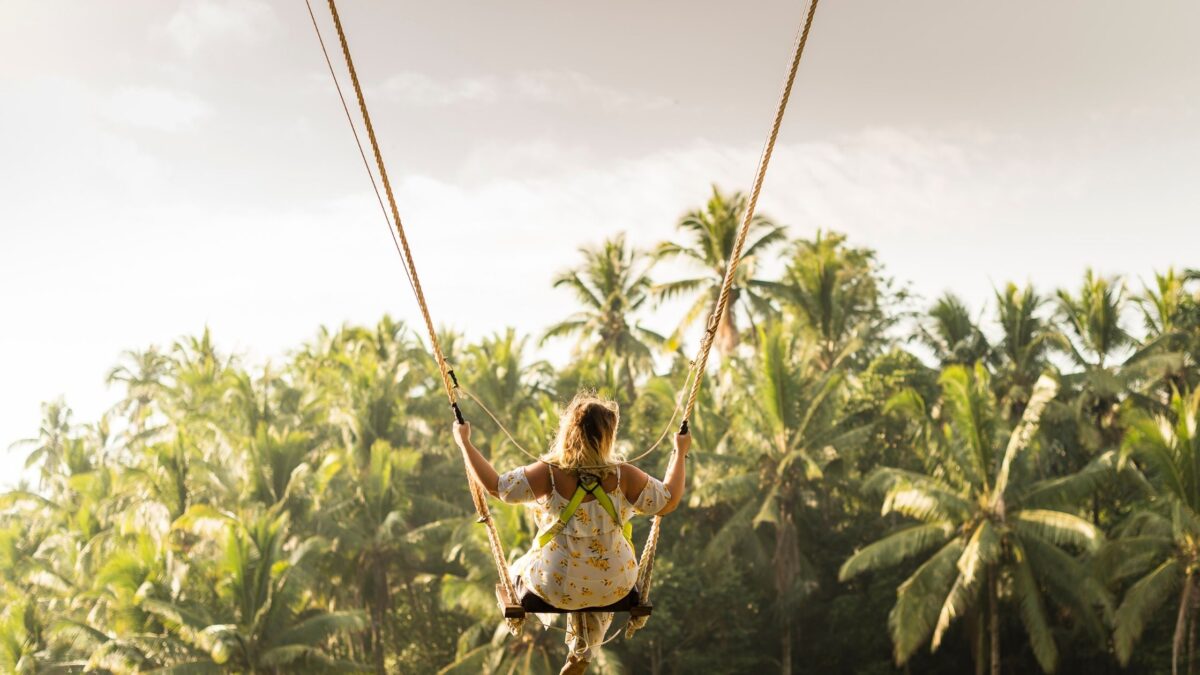 The 15 amazing swings also include a cute couple swing, 45 meters above the ground, and a super extreme swing, 60 meters above the ground, which is a must if you are here with your special someone.
Not only the swings, but there are also many cool-looking nests, including a large bird's nest, perfect spots for Instagram pictures.
Terrace River Pool Swing Prices: 150,000 IDR to 300,000 IDR
Terrace River Pool Swing Opening hours: 9 AM to 6 PM
Location: Jalan Raya Tegallalang, Gianyar
Tegalalang Rice Terrace Bali Swing
As the name suggests, Tegalalang Swings in Bali is set over the lush terraced rice fields, which offer beautiful views from above. There are two swings in Tegalalang, one at a lower level(, and the other placed slightly above.
They are not as high as the swing in Bali swing park, but Tegalalang is still one of Bali's most famous swings for photo spots. There is also a giant nest great for enjoying the views.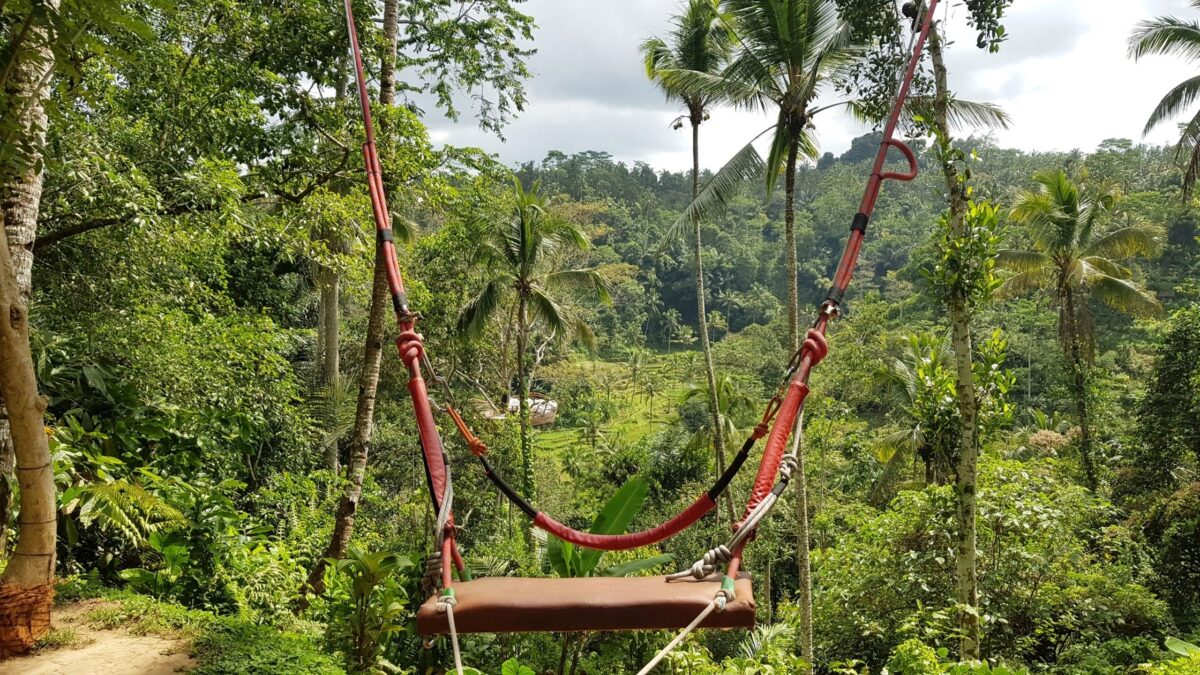 To reach the higher swing, you have to trek a little, but the other one is easily accessible, just off Tegalalang village's road.
Unlike the other Bali swings, they provide a harness, which I think is essential considering the height (up to 45 meters), and the force with which the local guide will push the swing for a maximum swing!
The Tegalalang Rice Terrace Swing is an excellent option for you if you seek some adventure, but probably not your cup of tea if you are afraid of heights. There is also a couple-swing if you want to try it with them!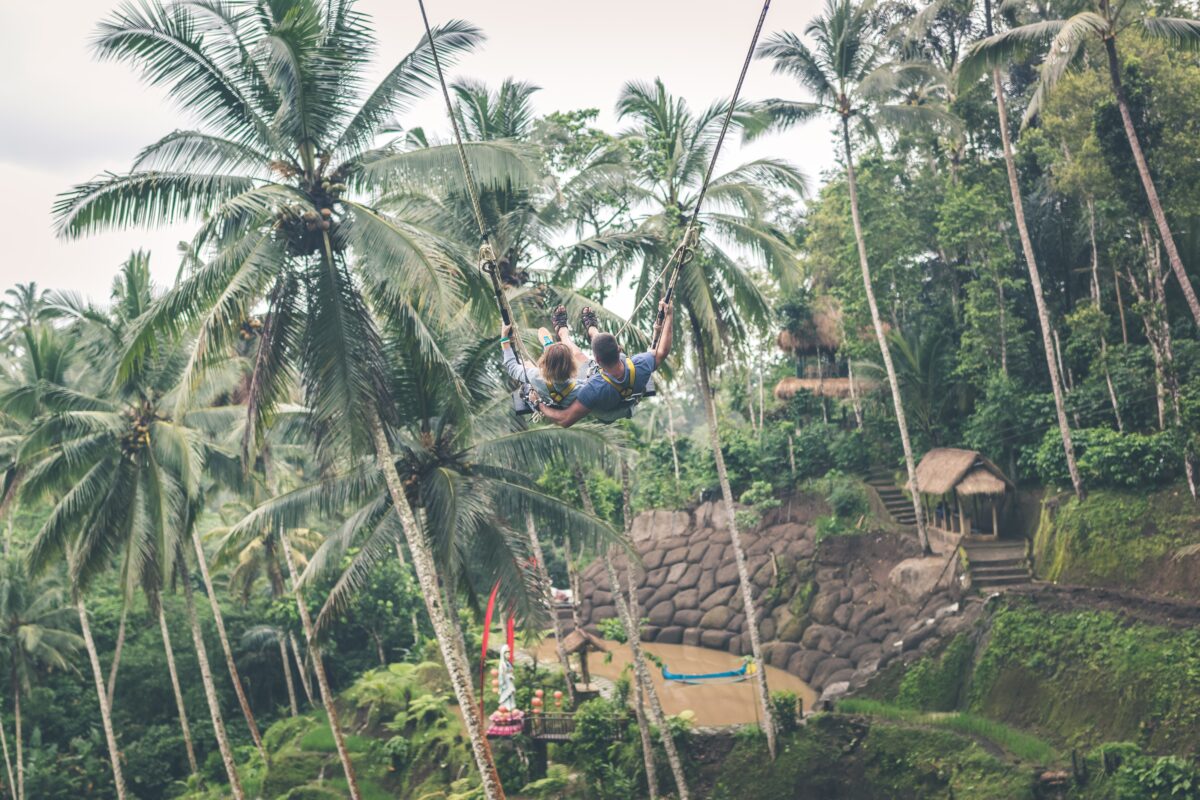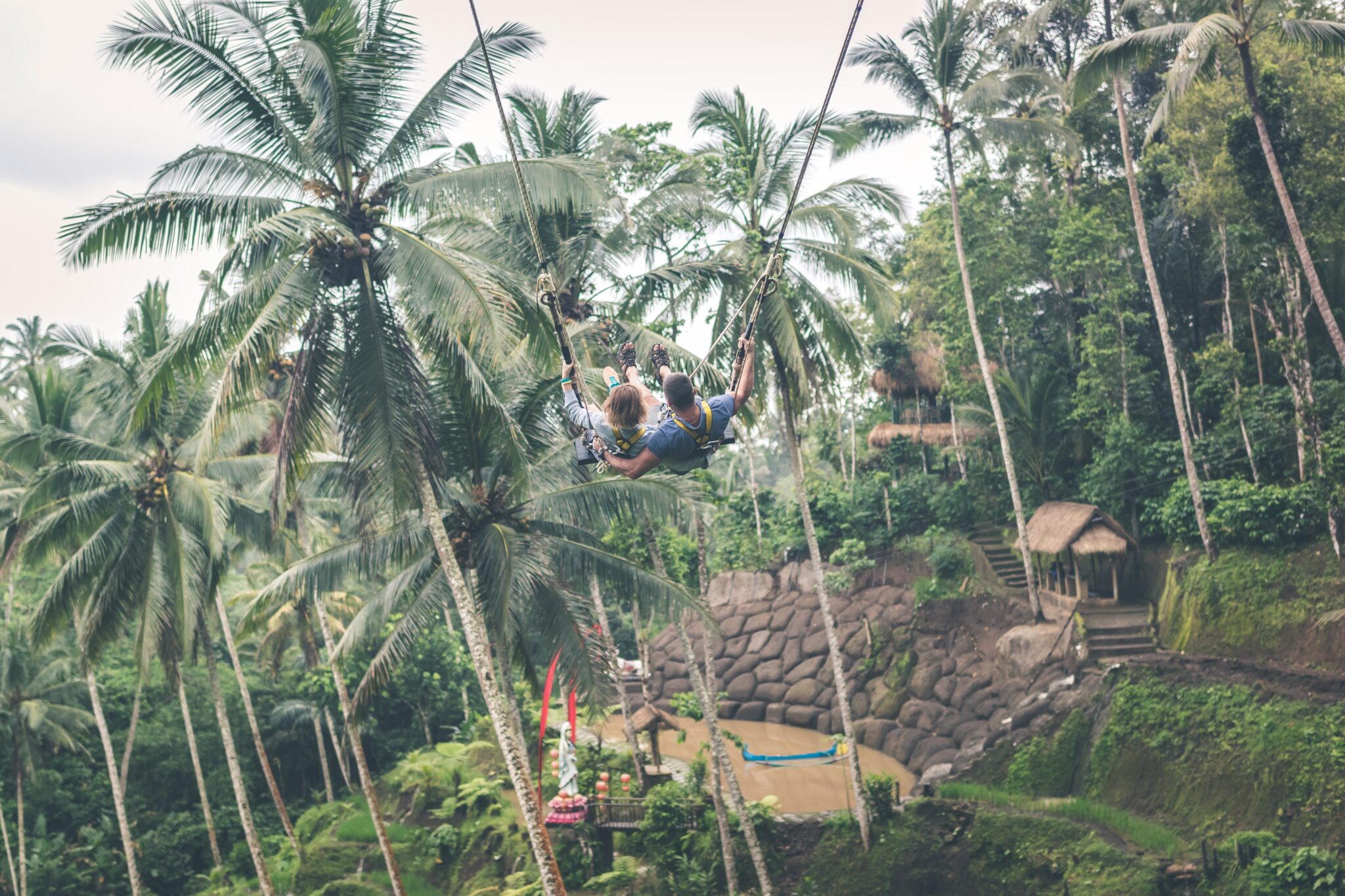 How to get to Tegalalang Rice Terrace Swing: It is located about 20-minutes away from the city center of Ubud, accessible best by bike.
Opening Hours: 9 AM to 6 PM
Price: 200,000 IDR
Address: Jl. Raya Tegallalang, Tegallalang, Kec. Tegallalang, Kabupaten Gianyar, Bali 80561, Indonesia
Aloha Ubud Swing
One of the best swings in Ubud Bali has to be the Aloha Ubud Swing, located in Tegalalang. Apart from the swings, you can explore the nearby plantations, join a coffee tour, and also sign up for other activities when you are here, making it perfect for a short day trip when you are in Ubud.
Thanks to its proximity to the center, this swing has become a famous tourist attraction in recent years.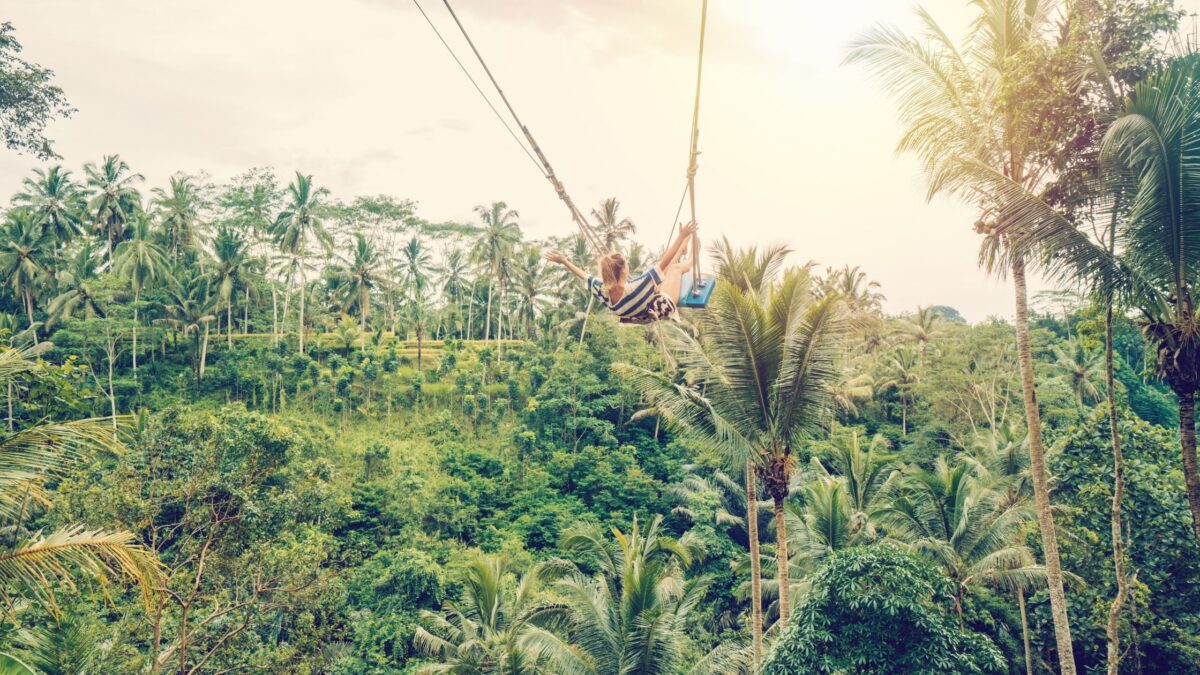 Nestling between tropical jungles and lush rice paddies below, there are five swings in the Aloha park, ranging in heights between 10 meters to 60 meters, offering many possibilities if you are not comfortable with heights.
They also have human-sized bird nests, which are pretty photo spots and the best places to enjoy the views if you don't want to go on the swings.
How to get to Aloha Ubud Swing – It is located close to Arjuna state reserve, and you can reach it on a bike or a car within 20 minutes.
Aloha Ubud Swing Opening Hours: 8 AM to 5 PM
Aloha Ubud Swing Price: 100,000 to 300,000 IDR
Address:Jl. Raya Tegallalang, Tegallalang, Kec. Tegallalang, Kabupaten Gianyar, Bali 80561, Indonesia
Wanagiri Hills Hidden Swing
Among the beautiful Bali hidden gems are Wanagiri hills, but thanks to this pretty swing, Wanagiri hills may soon be off the list of Bali's secret places.
Located on the hilltop of Wanagiri near Munduk, this incredible swing in Bali should be on your list for sure when you are here. Among the famous swings in Bali, the one after the official Bali Swing and Tegalalang are this.
Apart from the sweeping views of the panorama, you should visit Wanagiri swings for its fantastic photo spots, overlooking the pretty Buyan Lake and Lake Tamblingan. There are a few swings at different locations here, offering various dramatic views.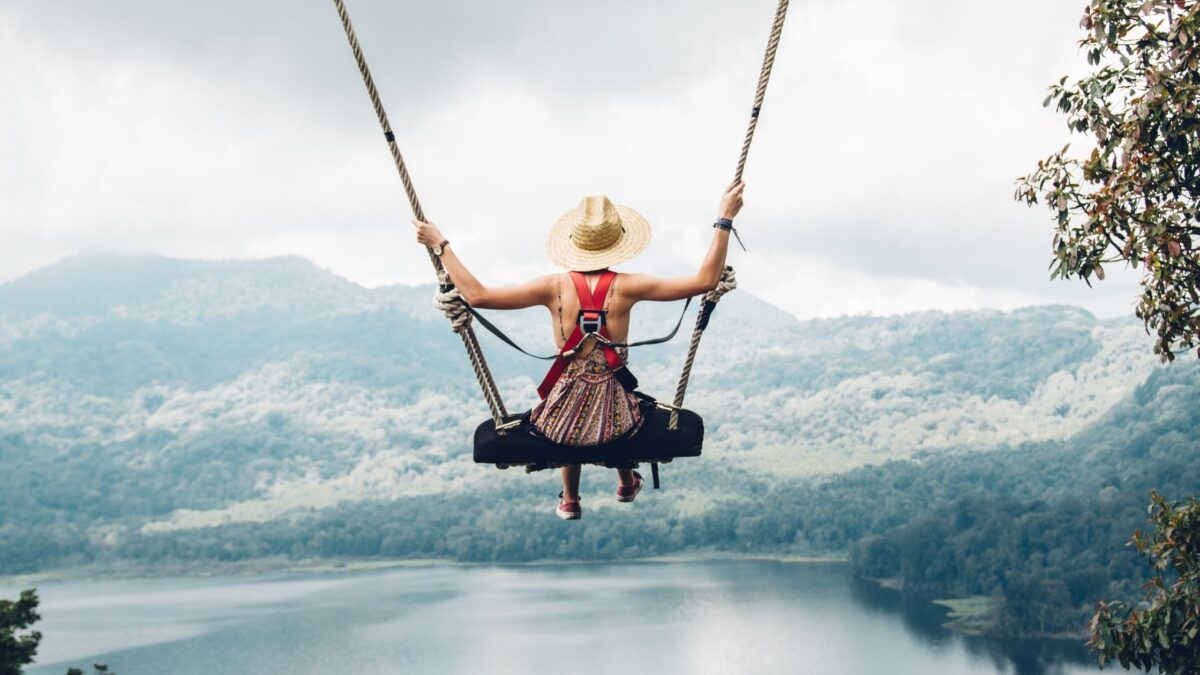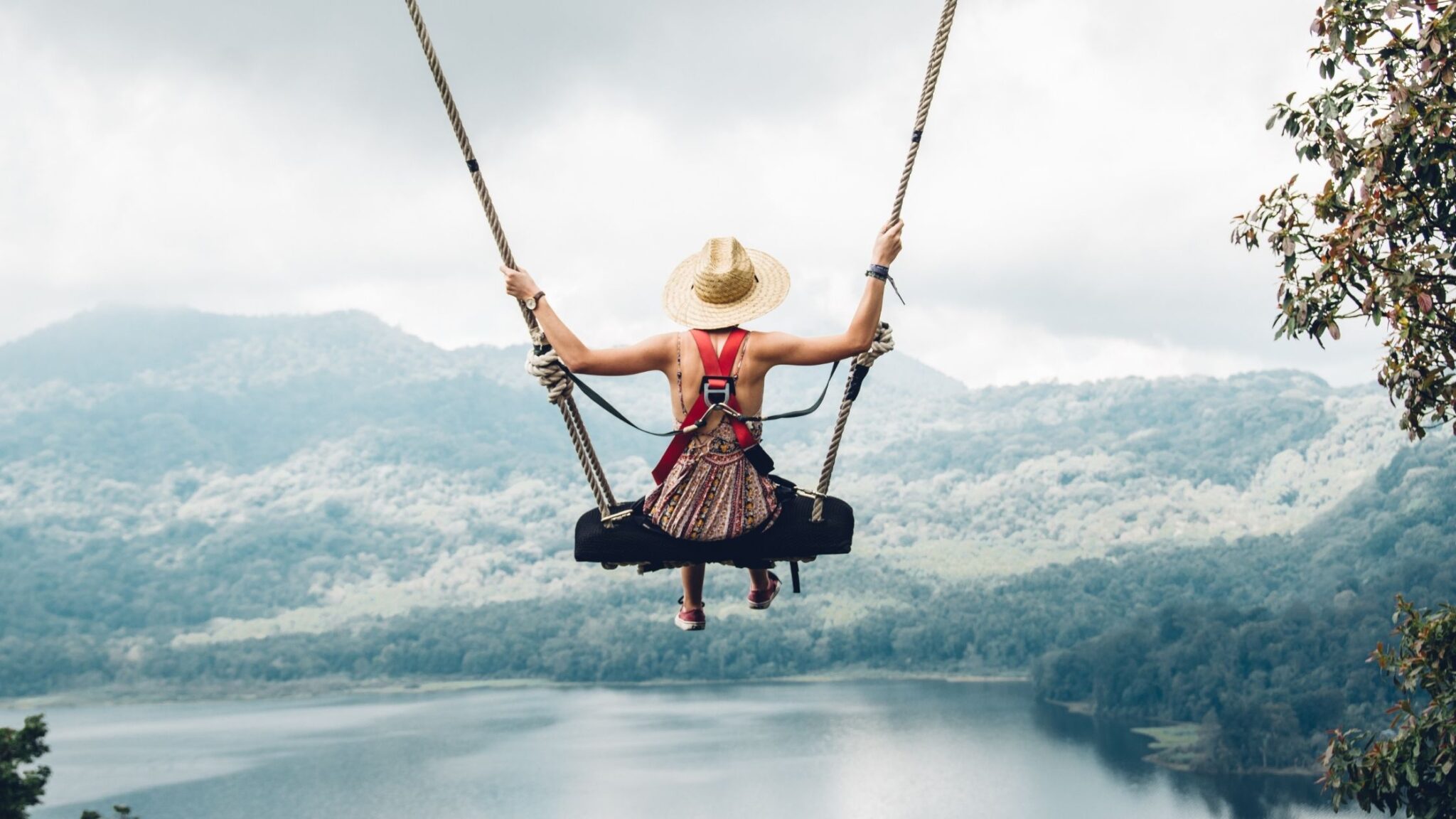 There are many pretty Instagrammable nests set up too – the loveliest being the giant bird's nest, wooden teacups, the bow of a boat, wooden stars, and also a beautiful treehouse, all of which you can access for relaxing and taking photos. Get there early to avoid crowds and enjoy the peaceful views.
How to get to Wanagiri Bali Swing – From Ubud, the best way to get to this swing is by renting a car or a bike. If you are hiring a car, I'd suggest you get it for a day, as you can spend the rest of the day exploring many attractions in Wanagiri, not to forget the epic countryside landscapes that you will get to enjoy on the way to Wanagiri.
It takes about 1.5 to 2 hours from Ubud to Wanagiri.
Wanagiri Swing Opening Hours: 8 AM – 6 PM
Wanagiri Swing Price: 150,000 IDR (~USD 11)
Address: Jalan Munduk – Wanagiri, Wanagiri, Sukasada, Pancasari, Kec. Sukasada, Kabupaten Buleleng, Bali
Uma Pakel Swing in Bali
Next to the Tegalalang Rice Terrace Swing is another one that has been gaining the attention of late. Uma Pakel in Ubud is one of the best swings in Bali you should check out, where you can feel like being in the air over the rice fields, the valley filled with forests, and the river.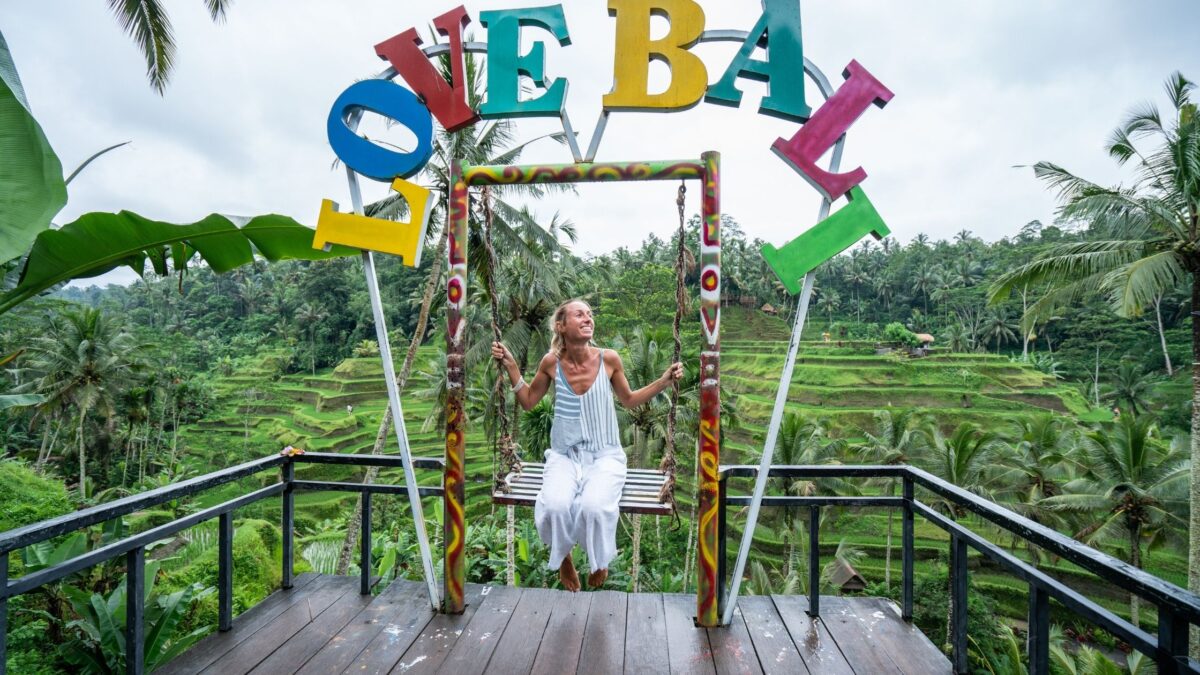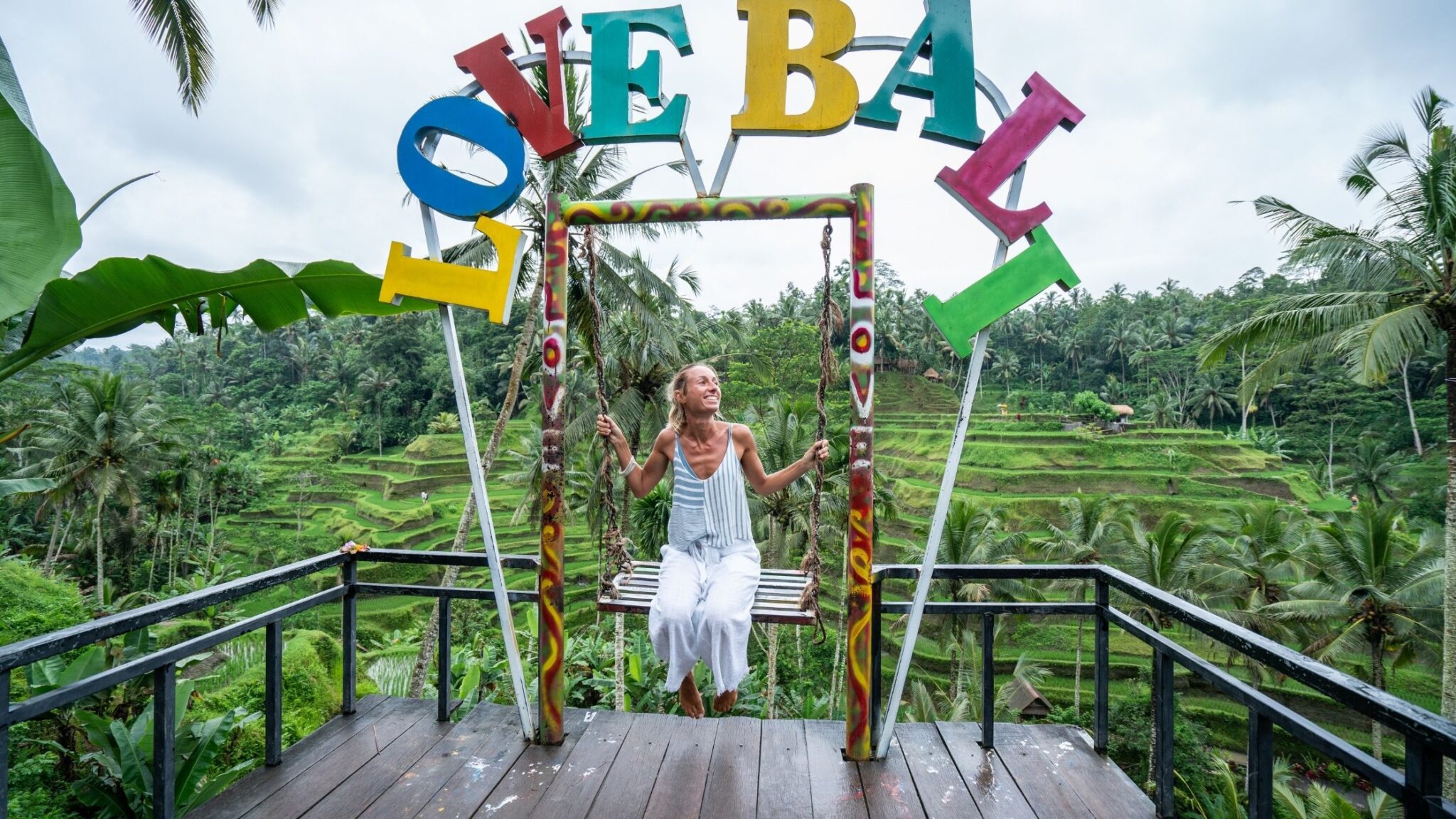 Among the other attractions here are a bridge from where you get to witness fantastic views, a bird's nest – a fantastic spot for an Insta-worthy picture, and a coffee estate
Uma Pakel Swing Opening Hours: 8 AM to 7 PM
Uma Pakel Swing Price: 200,000 IDR
Address: Jalan Raya Tegallalang, Tegallalang, Kec. Tegallalang, Kabupaten Gianyar, Bali
Alas Harum Swing in Bali
Close to the Tegalalang Rice Terraces, and just about 20 minutes from Central Ubud is Alas Arum Swing, located in Alas Arum village. It is one of the famous swings in Bali – thanks to its excellent location and plenty of outdoor activities to enjoy.
From tasting a local specialty coffee to zipline to bridge and nests – you can easily spend half day here having fun.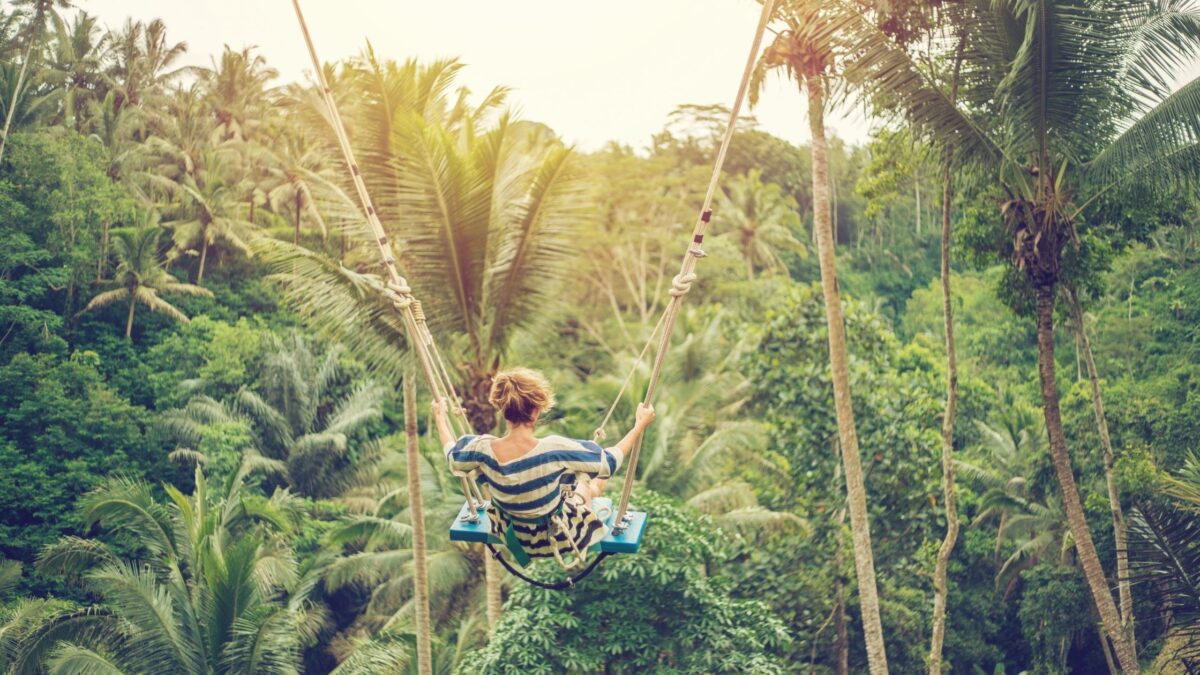 Take a tour of the Luwak coffee plantation in Alas Harum, where you can see how this delicious coffee is made.
Check out the three different swings that come with harnesses – all at various heights offering dramatic views of the fields and the jungle around.
Then carry on the adventure by signing up for a zipline, or try sky biking. Relax at the pretty bird's nests while capturing some amazing pictures.
Opening hours: 8 AM to 5 PM
Alas Harum Swing Prices: 50000 IDR to 150000 IDR
Address: Tegallalang,gianyar,ubud,bali, Tegalalang,
Le Kaja Bali Swing
Close to the city center of Ubud(8 km) in the northern part is Le Kaja swings in Bali, one of the quick adventurous getaways you can plan when you are here.
It comprises three swings, overlooking the dense forests and rice fields around, and all less than 15 meters high – best for those not comfortable with heights.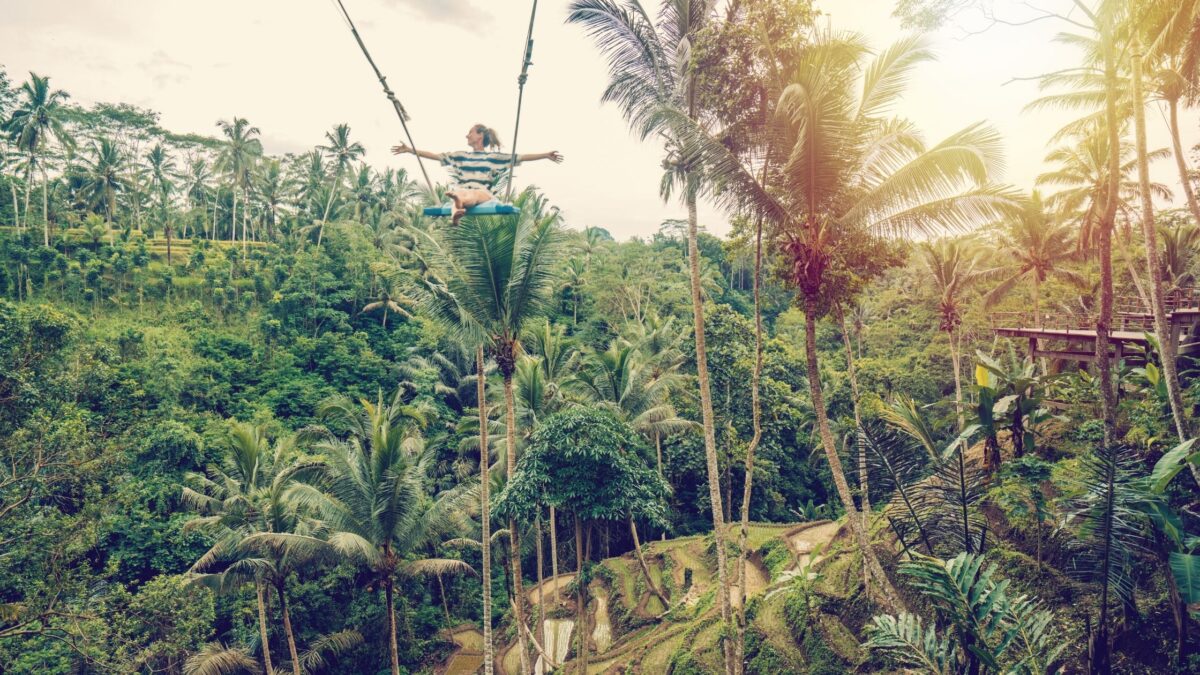 One of them sits pretty within a heart-shaped frame, which is a favorite background for many that come here for photos.
You should also check out the many bird nests and a pretty bridge. But there is more here – you can go ziplining or white water rafting too.
Opening hours: 8 AM to 5 PM
Alas Harum Swing Prices: 150000 IDR to 300000 IDR
Campuhan Ridge Walk Swing in Bali
If you are looking to combine a swing with a short hike amidst Bali villages, consider Campuhan Ridge Walk, where you will hike through rice fields, palm tree farms, and jungles to enjoy a swing. It is a pretty easy trail, so it's for everyone along a pretty river.
Unlike the other swings in Bali mentioned here, as you can see, this one involves some leg work to get there. But it would help if you also rent a taxi or a bike to get to the trail entry point. There are small cafes and eateries to relax.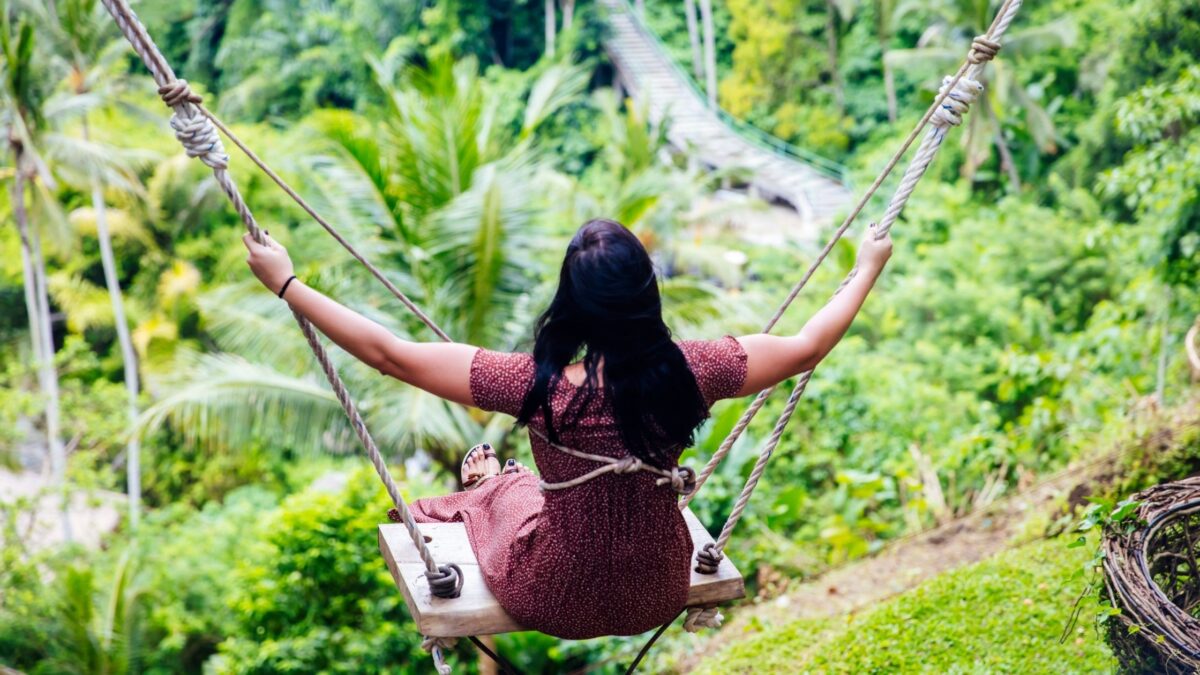 The swing offers beautiful views of the vista, and you will notice that it is smaller than many swings.
Campuhan Ridge Walk Swing Opening Hours: 7 AM to 6 PM
Campuhan Ridge Walk Swing Price: 10,000 IDR
Address: Jalan Bangkiang Sidem, Ubud, Gianyar Regency, Bali.
D'tukad River Swing (Blangsinga Waterfall Swing)
One of the beautiful Bali swings that's worth a mention on this list of Ubud swings is the one at the Tukad river club, which offers views of the stunning waterfalls, and valleys filled with tropical jungles, rice fields, and village houses.
How about combining a day out exploring beautiful waterfalls and swings in Bali? If you want this spectacle, plan to visit D'tukad River Club & Swing, or Blangsinga Waterfall Swing, to enjoy the waterfalls and swings, along with other fun activities.
Located 30-minutes away from the center of Ubud, you can easily reach there by bike or car.
You can swim in the infinity pool overlooking beautiful landscapes, get your best selfies, relax on the swings next to the Balangsinga waterfall, which makes it unique because it is one of the few swings in Bali next to a waterfall.
Blangsinga Waterfall Swing Opening Hours: 7 AM to 6 PM
Blangsinga Waterfall Swing Price: 10,000 IDR
Address: D'tukad River Club in Banjar Balangsinga, Saba village, Blahbatuh, Gianyar Regency
Sidemen Bali Swing
In the East region lies one of the beautiful swings in Bali – The Sideman Swing, located atop a hill in the village of Sidemen, between the palm trees, offering dramatic views of the countryside of Bali.
Sidemen is one of Bali's villages worth visiting for a day or two, as there are plenty of activities to explore the countryside and Bali beyond the commercialized attractions.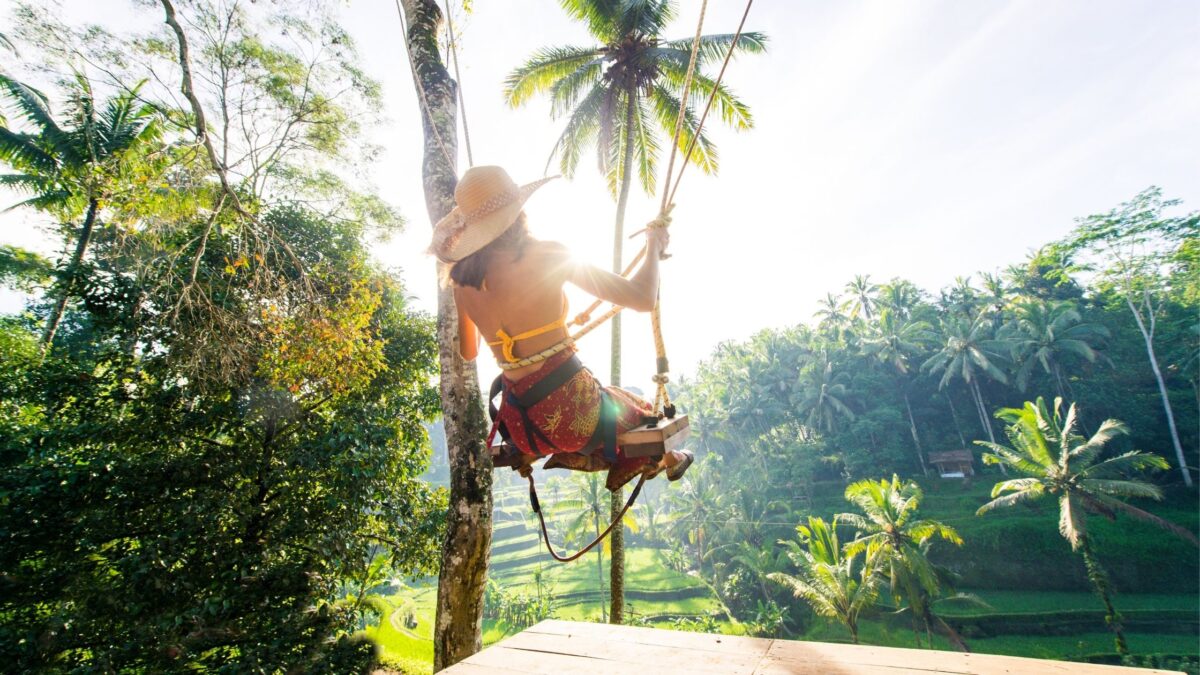 Although you can plan a day trip from Ubud for the swing alone, I'd recommend spending overnight or maybe a few days in Sidemen.
Sidemen Bali Swing Opening hours: 9 AM to 5 PM
Sidemen Bali Swing Price: 350,000 IDR
Address: Sideman, Sangkan Gunung, Karangasem Regency, Bali
Bas De Atayana Swing(Swing in Bali)
Located in the village of Sribatu, Swing in Love at Bas De Atanaya is one of Bali's best swings. Set amidst plantations of coffee and many spices, head here to taste local farms and enjoy the beauty of the panorama on the swing.
Known as the Swing of Love, this is a unique one between a large heart shape symbol, making it one of the top Bali swings for couples or romantics.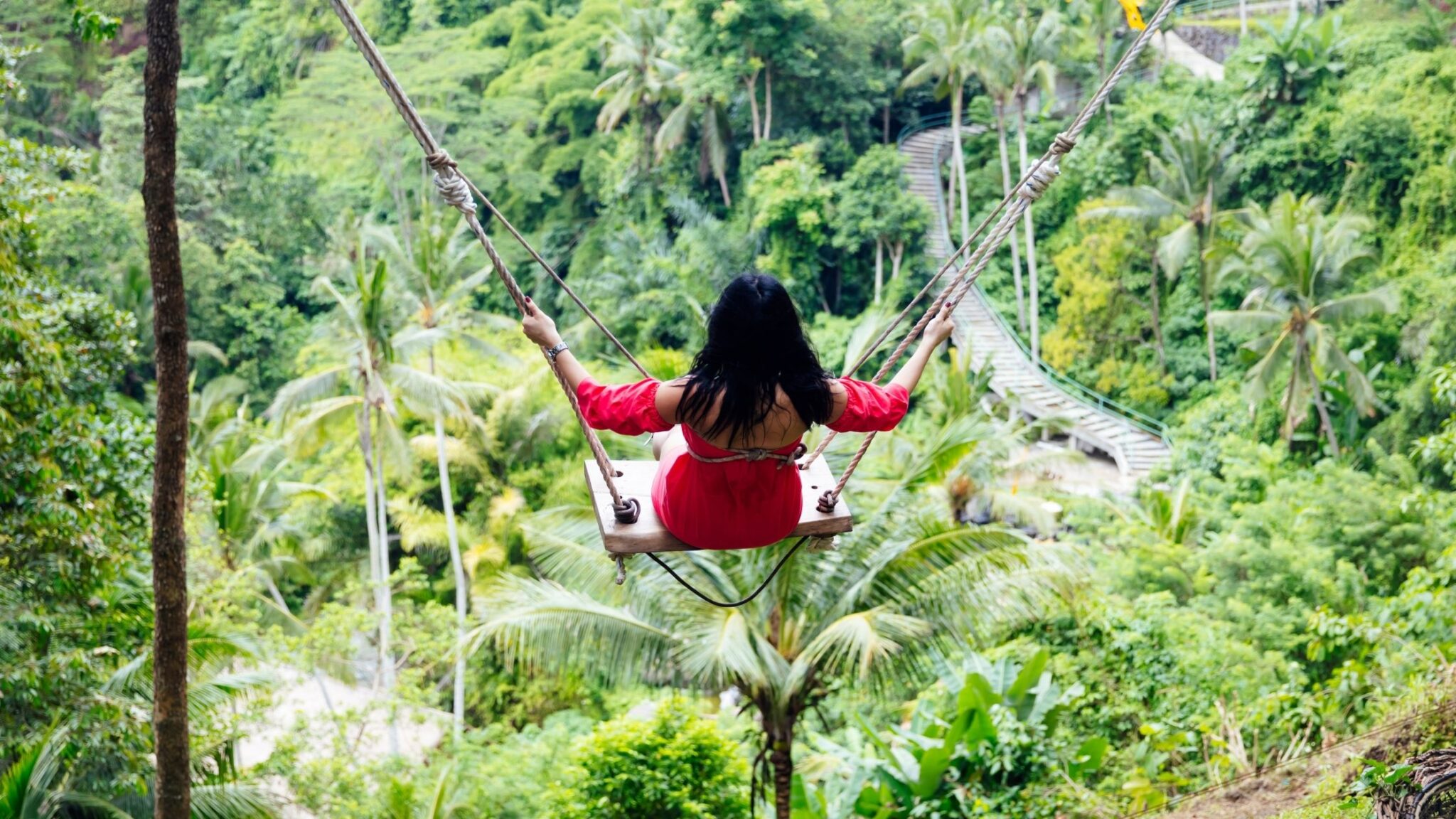 Take plantation tours of coffee, spices, and fruits and find out how coffee is made. Relax in the nest, enjoying the beautiful views.
Bas De Atayana Swing Opening Hours: 8 AM to 7 PM
Bas De Atayana Swing Price: 150,000 IDR
Address: Jalan Raya Jurusan Tampaksiring – Kintamani Br. Sribatu, Penglumbaran, Susut, Kabupaten Bangli
Where to stay?
It is best to base in Ubud and spend a few days here to explore the swings in Bali. Ubud is one of the best places to experience the lush countryside, natural beauty, and food, with many attractions and day trip options.
There are plenty of excellent guesthouses in Ubud or beautiful Ubud resorts in all budget ranges.
These are the best places to stay to try the Bali swings.
Hostels: Beach Hut Hostel, Pudak Sari Unizou Hostel, and Lokal Bali Hostel
Budget hotels in Ubud: Purana Suite Ubud, Purana Boutique Resort, Adiwana Unagi Suites, Adiwana Bee House, and Adiwana Monkey Forest
Medium-range hotels: 11 on Kajeng, Dwaraka The Royal Villas, and Tejaprana Bisma
Luxury resorts/villas:  Ubud Valley Boutique Resort, The Kayon Jungle Resort by Pramana, and The Udaya Resorts and Spa