Whether you are planning your first trip to check off your Cambodia Bucket List or want to return to take in more of this fantastic country, you are in the right place.
Cambodia is close to my heart as it was one of my favourites, thanks to the history lover in me.
From stunning architectural wonders to natural beauty to exotic food and kind people, Cambodia surprises everyone in different ways.
If you're visiting Cambodia for the first time, you will surely experience it. Plus, since it is very easy to secure visa online, planning a trip to Cambodia has never beer easier.
Read on to find out the best Cambodia bucket list experiences.
TOP CAMBODIA BUCKET LIST EXPERIENCES YOU SHOULD TRY
Admire the Magnificent Angkor Wat
One of the top destinations you must add to your Cambodia Bucket list is Siem Reap, one of the oldest cities in the world.
This city, which transports you back in time is known for being home to Angkor Wat, one of the largest and oldest temples in the world.
Angkor Wat is among the ancient wonders of the world. Experience the stunning architecture adorning every space on the premises, which needs at least a few visits!
I highly recommend joining one of the guided tours and also witnessing the golden colours of sunrise or, better, watching the sunset over this monumental wonder.
Be Awed by the Smiling Buddha
Another stop worth making when in Siem Reap is the beautiful Bayon temple.
No trip to Cambodia would be complete without visiting the iconic Bayon Temple in the Angkor Archaeological Park.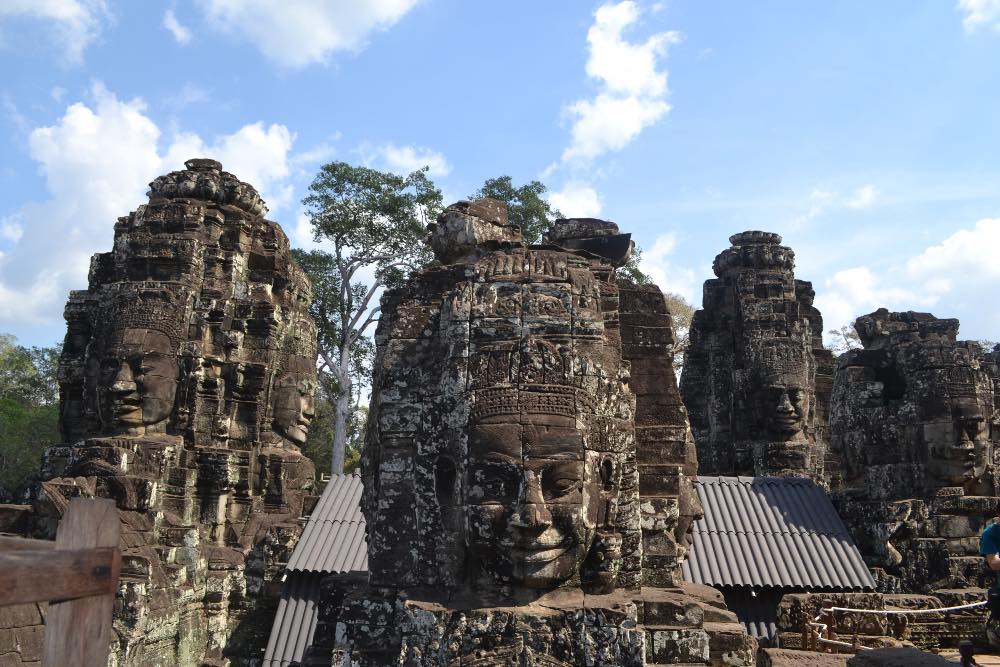 This iconic Khmer temple close to Angkor Wat is renowned for its over two hundred four-sided smiling face towers.
The best way to explore Bayon Temple and around it is by hiring a tuk-tuk driver.
Like everywhere in Cambodia, the weather is hot and dusty, so the best time to explore the temples is early morning or evening.
Spend A Day Or Two In Kampot
One of my favourite destinations that I highly recommend you add to your Cambodia Bucket list is the quaint town of Kampot.
Known for its stunning natural beauty and famous pepper plantations, there are many fantastic things to do in Kampot, a charming town ideal for couples, families, and outdoor lovers.
I suggest renting a bike or bicycle to explore the lush countryside. Enjoy kayaking down the river, or simply stroll the streets.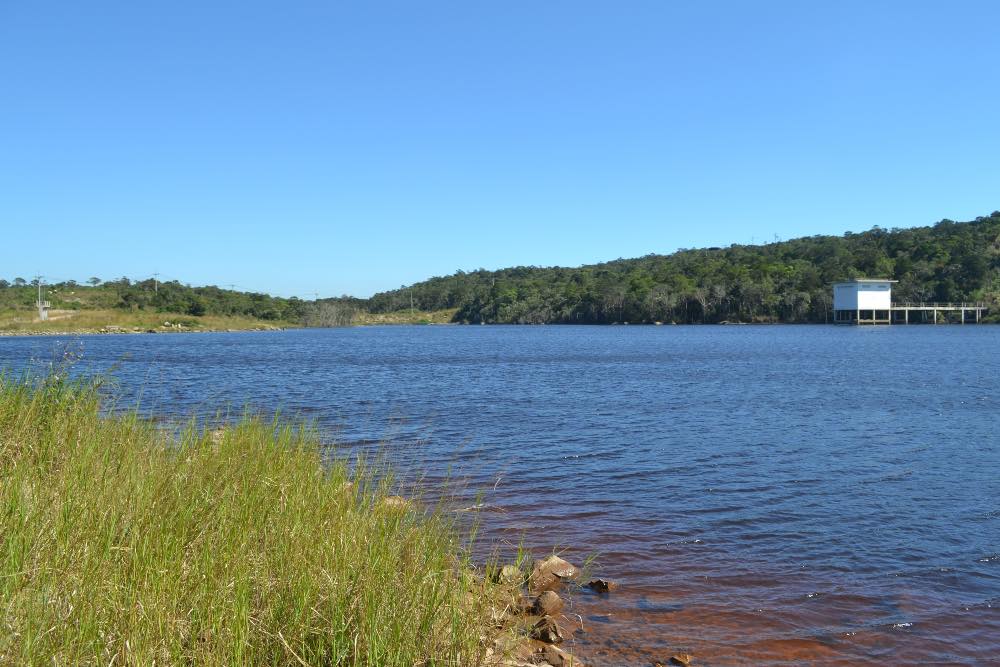 You can easily reach Kampot in approximately four hours from Phnom Penh.
The Bokor National Park is one of the many activities you should include in your Kampot itinerary.
It is one of the vast parks home to many historic landmarks including the abandoned palace, Veang Khmao and Bokor Old Church and stunning viewpoints.
Take a Boat Tour Of Tonle Sap Lake
One of the best experiences to add to your Cambodia Bucket list if you are fond of water is exploring Tone Sap Lake.
Tonle Sap is a UNESCO-designated biosphere reserve and the heart of millions of residents who inhabit the surroundings of many floating villages.
The best way to go around Tonle Sap Lake is by taking a boat trip that will take you to many popular floating villages, including Chong Kneas.
A tour will cost you around $30 and it lasts for around two hours through wooden houses amidst mangrove forests.
Watch Thousands of Bats Flying
One of the Cambodia bucket list items for thrill seekers is heading to the famous bat caves in Battambang, a former sleepy town now beckoning thousands of tourists every year thanks to the bats.
Join a tour with a splendid sunset, and then head to one of the two locations to view the spectacle.
Once the sun sets, thousands of bats will emerge from the cave for nearly an hour and it will be one of the memorable experiences for sure.
Visit The Killing Fields
Located on the outskirts of Phnom Penh, the Killing Fields are a must-do for anyone who visits Cambodia.
This place, which gives you glimpses of the dark history of this country deserves to be on your Cambodia bucket list.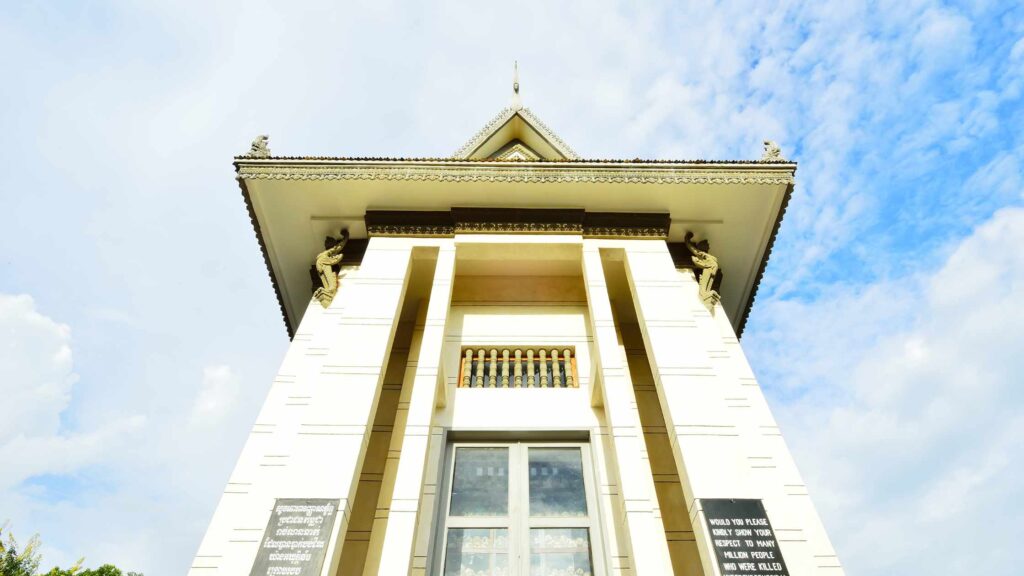 This place stands as a testimony to the history and culture of the Khmer people and Cambodia.
Visit both the Tuol Sleng Genocide Museum and the Killing Fields on a day trip that you can plan by renting a tuk-tuk or joining a tour.
Check out The Royal Palace
Home to Cambodia's Royal Family, including the current King, the Royal Palace is one of the best things to do in Phnom Penh and a landmark worth adding to your Cambodia Bucket list.
Join a tour to admire the spectacular architecture with beautiful, intricate decorations in the interiors.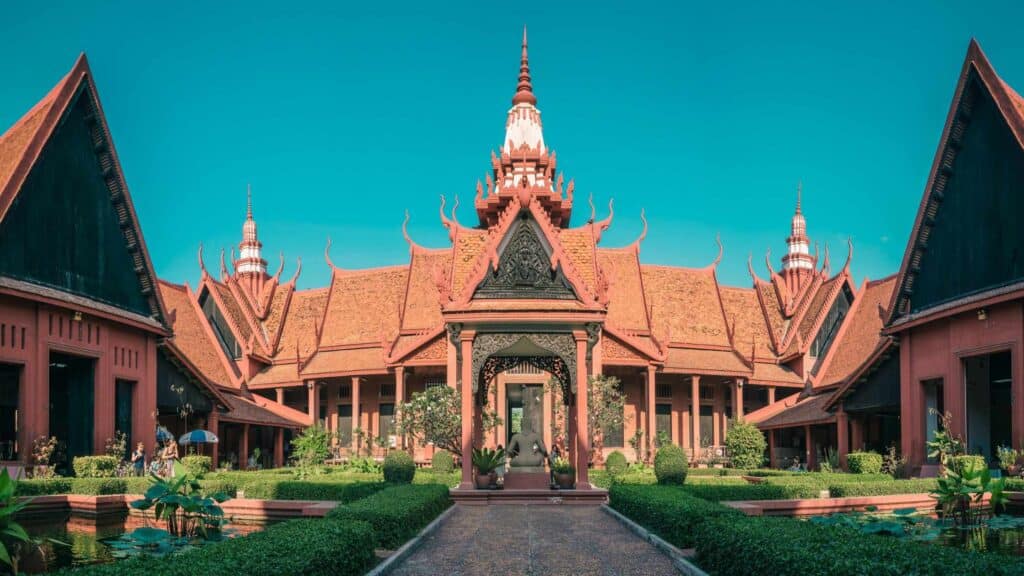 Some important landmarks you should check out are the famous Silver Pagoda, known for its splendid sterling silver floors, marble staircases, the throne hall and the collection of King Sihamoni's outfits.
Note that since it is a sacred place, you must dress modestly covering your shoulders and knees to get inside.
Shop at Phnom Penh Night Market
If you are like me and love night markets in Asia, you will fall in love with the famous night market at Phnom Penh, one of the best night markets.
The famous Phnom Penh night market is in the city's centre near the riverfront a perfect item for your Cambodia bucket list for shopping and tasting the best local street food.
Open every night over the weekend, it is the best place to buy cute souvenirs, especially handmade items, ranging from purses, clothes, lights, ceramics, and more.
Make Merry all Night at the Pub Street
If you are looking for fun similar to Khao San Road of Bangkok or the Walking Street of Phuket, head to Pub Street.
This is the best place for all-night fun and must be on your Cambodia bucket list.
Pub Street, also called Street 08, transforms into a happening nightlife district as the road is closed to motor traffic.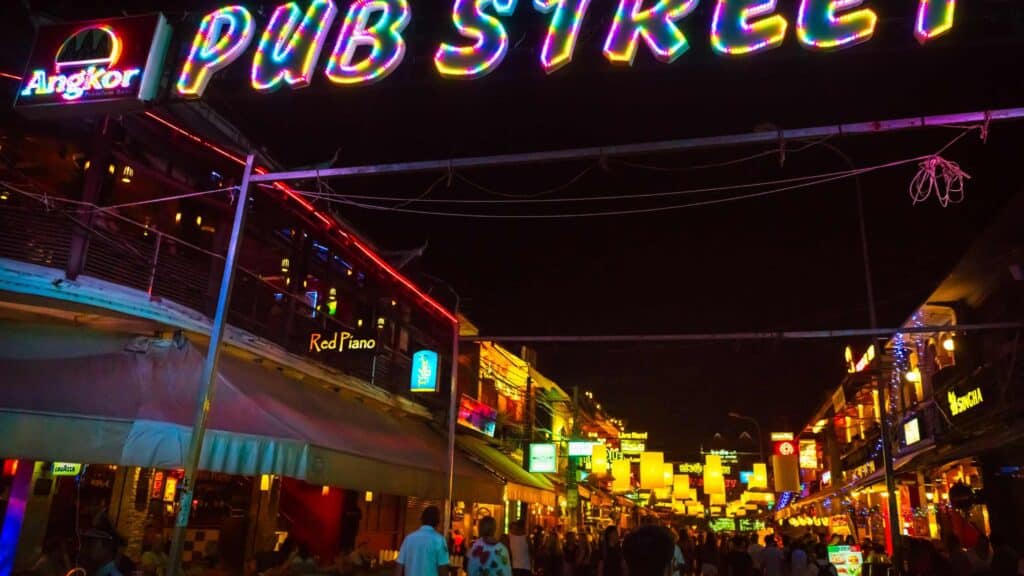 Stroll the streets for delicious street food, and extremely cheap alcohol during happy hours, beer pong and throbbing music.
If you are not into alcohol, loud music or street food, I still recommend you visit this street for colourful street performers, shopping and people-watching.
Swim with Bioluminescent Plankton
On the island of Koh Rong, located around 25km from the coast of Sihanoukville, you can enjoy a dream swim with a bioluminescent Plankton.
It is one of the experiences for your Cambodia bucket list as you watch this spectacular natural phenomenon, only visible at night here with no pollution.
There are five ferry companies operating boats from Sihanoukville to Koh Rong.
Watch the sea light up with star-like plankton as you swim on Coconut Beach, a 30-minute boat ride from Koh Touch, the main tourist area on Koh Rong.
If you are looking to unplug on Koh Rong, then you may want to stay on Coconut Beach and save yourself the journey, but beware of jellyfish and octopus.
If you prefer watching from the shores, head to Long Set Beach.