If you are looking for the top 20 most beautiful cities in Mexico, you are at the right place.
Whether embarking on a solo adventure or bringing along your friends and family, this post helps you discover the best Mexican cities to visit.
Step back in time as you explore ancient Mayan ruins and lounge on untouched beaches.
Each city boasts thousands of years of captivating history, from bustling coastal resort towns to tranquil mountain retreats.
So, get ready to dive into this handpicked list and plan your trip to these prettiest cities in Mexico.
MOST BEAUTIFUL CITIES IN MEXICO
MEXICO CITY
One of the most beautiful cities in Mexico, Mexico City is the largest metropolitan area in the Western Hemisphere.
Roam the historic Centro Historico, marvel at the colossal Zocalo, and explore the traditional UNESCO Heritage Site of Xochimilco.
Visit Chapultepec Park, twice the size of Central Park, which offers an expansive urban escape.
Mexico City is home to over 1,000 museums covering topics from anthropology to art and Tequila, making it one of the top tourist cities in Mexico.
Delve into the fascinating history of the former Aztec capital city and admire the awe-inspiring Cathedral.
Spend an entire day in the sprawling Bosque de Chapultepec, an urban park that rivals Central Park in size.
If you are a foodie, you are in for a treat in Mexico City. Explore the culinary delights that range from street food to gourmet restaurants.
Mexico City also has a pulsating nightlife with an alluring charm. Check out the hipster hangouts and traditional mezcalerías across the town.
TEOTIHUACAN
If you are a history buff, visit the ancient city of Teotihuacan, one of the most beautiful cities in Mexico.
Explore the remnants of the largest pre-Columbian city in the Americas, once inhabited by around 150,000 people at its zenith.
It is believed that Teotihuacan is where the gods orchestrated the creation of humanity.
Teotihuacan is home to some of the world's most colossal pyramids; climb to their summits for spectacular vistas.
Ascend the Temple of the Sun for one of the best vantage points for sweeping city views.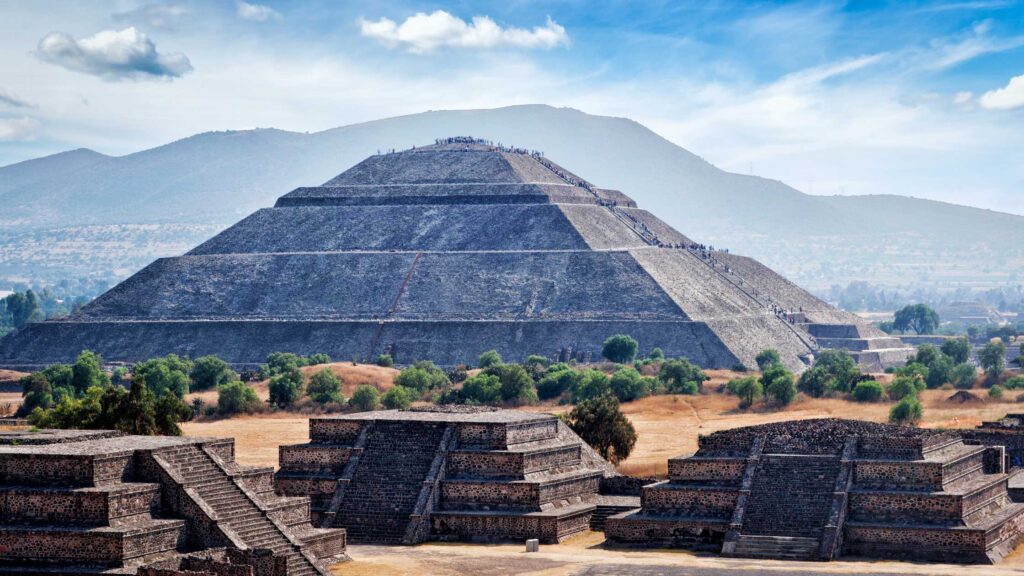 Indulge in a unique dining experience at La Gruta, a restaurant nestled within a cave.
Take guided Mexico City tours, including a trip to Teotihuacan and a tantalizing taste of Tequila.
The ideal time to visit Teotihuacan would be around April or May.
If you have spare time, visit the nearby Yucatan Peninsula to discover other remarkable Mayan ruins like Ek Balam, Coba, and the iconic Chichen Itza.
These sites offer a deeper understanding of Mexico's ancient civilizations and their enduring legacies.
SAN CRISTOBAL DE LAS CASAS
Located in the state of Chiapas in the Central Highlands, San Cristobal de Las Casas is one of the most beautiful cities in Mexico to visit.
Surrounded by beautiful mountains, San Cristobal de Las Casas offers nature enthusiasts an array of delights – rivers to follow, caves to explore and lush forests to wander.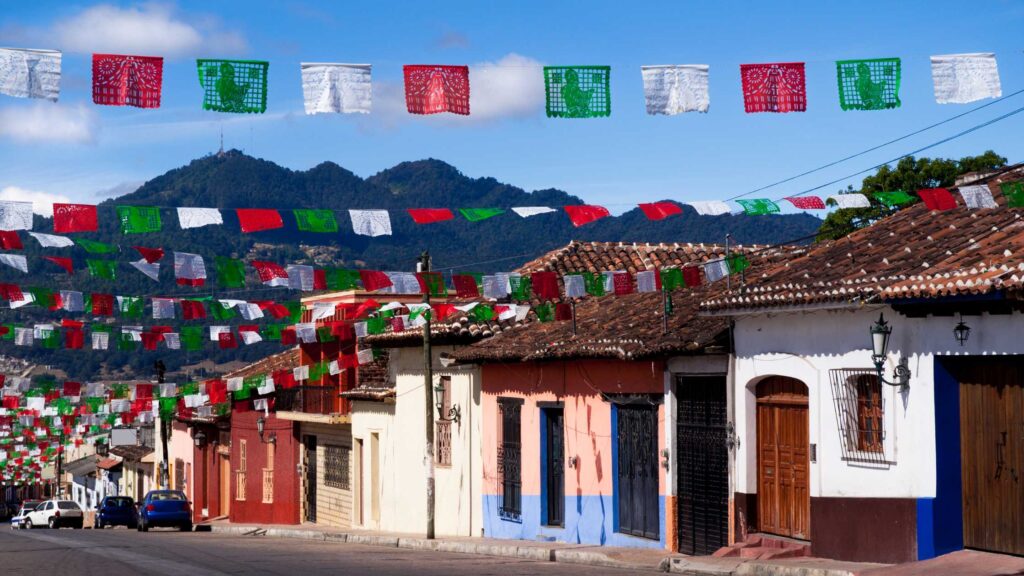 It was the state capital until a few years ago, but now it just holds the title of the cultural capital of Mexico and has become a favourite place among Digital Nomads.
Grab a cup of renowned Chiapas coffee and stroll along its beautiful streets adorned with cobblestones.
You will be greeted with colonial architectural buildings and vibrant houses with blooming balconies.
Admire iconic landmarks like the rosy Santo Domingo church, the stately Cathedral, and engaging museums that showcase the city's architectural splendour.
Check out the local handicraft markets, savour hearty traditional fare, and indulge in the vibrant festivities and rituals of the city.
Visit the gorgeous Sumidero Canyon, a testament to nature's artistry and the famous Palenque Ruins nearby.
Don't miss to visit San Juan Chamula, an indigenous community, and glimpse the age-old customs of Chiapas.
SAN MIGUEL DE ALLENDE
One of the most beautiful cities in Mexico is San Miguel de Allende, located in Guanajuato in Central Mexico.
The city, nestled among the spectacular vineyards and mountains, is also on the list of UNESCO World Heritage Sites.
San Miguel beckons with its meandering cobblestone streets and immaculate Spanish architectural buildings, which have existed for over 250 years.
This mid-sized town has adeptly preserved its colonial allure while embracing contemporary comforts, including upscale dining and a lively nightlife.
It's a walkable city which allows you to effortlessly discover its exceptional restaurants, numerous art galleries, museums, and artisanal shops.
Visit the iconic Parroquia de San Miguel Arcángel, a 17th-century church with pink spires that stands as the city's most photographed and beloved landmark.
San Miguel is a haven for culinary enthusiasts. The city boasts restaurants helmed by some of Mexico's finest chefs.
Did you know that this most beautiful town in mexico has become a haven for expatriates from the US, Europe, and Canada?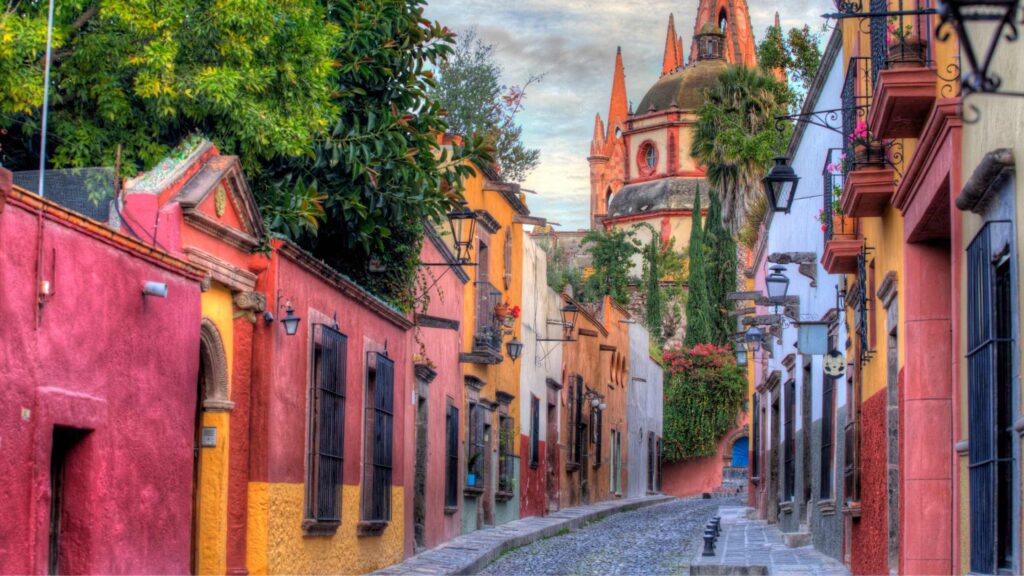 It's an exceptional place in the state to study Spanish, with homestay options that provide abundant practice.
Plan day trips to Atotonilco, known as the "Sistine Chapel of Mexico," the Chapel of Jimmy Ray, and the soothing La Gruta Hot Springs if you have spare time.
OAXACA CITY
Oaxaca City (pronounced wa-HAH-ka) is a testament to the state's rich history, magnificent colonial architecture, artistry and gastronomy, making it one of the most popular cities in Mexico.
Explore the Centro and Reforma neighbourhoods, home to The Basilica of Nuestra Señora de la Soledad, the temple and ex-convent of Santo Domingo de Guzmán.
Check out the Macedonio Alcalá Theater, one of the architectural gems that grace the cityscape.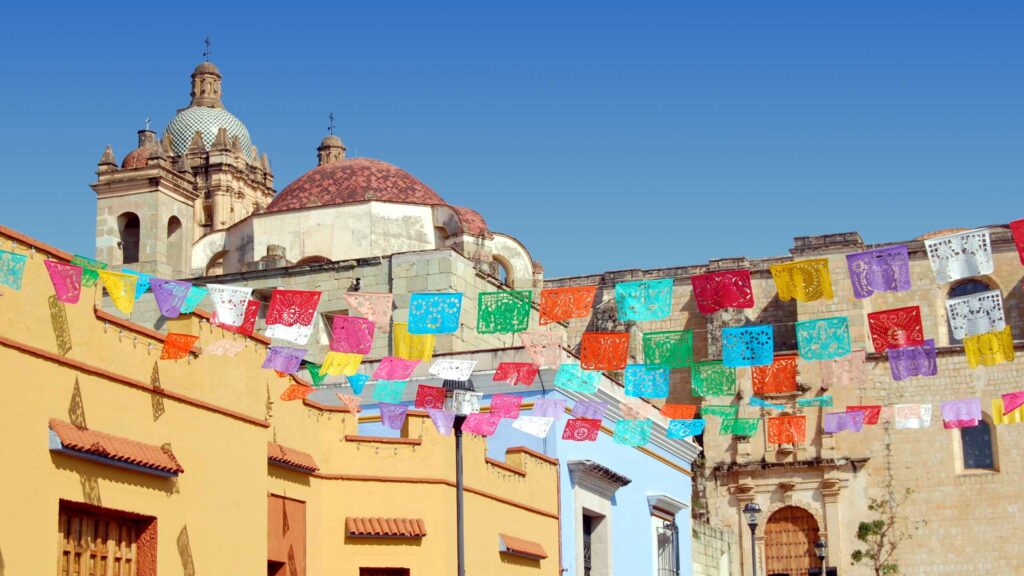 Meander through narrow streets adorned with colourful facades, symbolizing the city's artistic spirit.
You will notice that the city's striking colonial-era homes and cathedrals are crafted from a distinctive green stone, a hallmark of the city.
With stone streets and Neoclassical architecture, Oaxaca exudes a European charm while honouring its strong Mesoamerican heritage.
Oaxaca is celebrated for its unique mole sauces, empanadas, and tamales, all rooted in local culinary traditions.
Hop on a food tour or take lessons to cook these delectable dishes yourself.
If you time your visit right, you might witness the magnificent Dia de Los Muertos (Day of the Dead) festival.
During this time, you will witness stunning parades with people dressed in elaborate costumes and learn about the traditional ceremonies.
Check out the Guelaguetza festival, where you will learn about the area's indigenous culture and sway to the tunes of traditional music.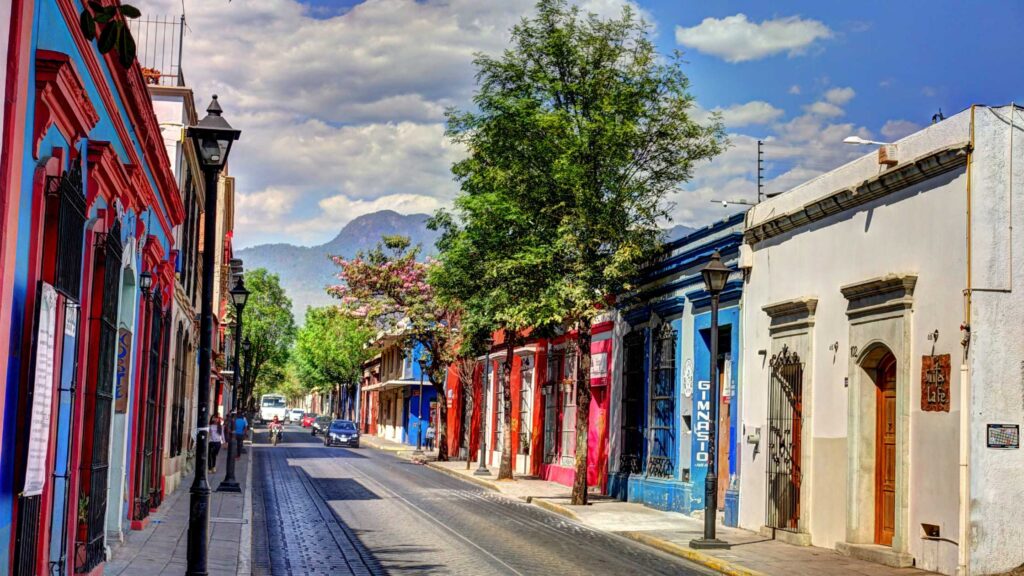 Oaxaca proudly claims the birthplace of mezcal, an agave-based spirit known for its smoky allure.
While mezcal is cherished throughout Mexico, Oaxaca boasts some of the finest distilleries, making it a must-visit destination for wine and beer aficionados.
If you are into florae, check out the Jardín Etnobotánico de Oaxaca, where native plants and flowers showcase the region's biodiversity.
Don't miss the nearby Monte Albán archaeological site, the most significant Zapotec ruin in the state.
It reveals the ruins of El Observatorio, Edificio de los DanzantesEl Palacio, Patio Hundido and Palacio de Ocote.
PUEBLA
Located in Eastern Central Mexico in Popocatépetl, about 110 km from Mexico City, Puebla is one of the most beautiful cities in Mexico.
This town is more like a cleaner version of Mexico City, which presents a unique blend of colonial architecture, delectable cuisine, and renowned pottery.
Its cobbled streets dotted with vintage buildings, vibrant markets, and world-class museums are a haven for history enthusiasts.
Explore the UNESCO-listed historic downtown area, which features Baroque-inspired architecture and 1000 colonial-style buildings.
Check out the vibrant Talavera pottery adorning streets and structures, adding colour.
Visit iconic landmarks like Puebla Cathedral and Capilla del Rosario. The inside of this Cathedral and chapel is decked in gold, gorgeous statues, and affluent ornaments.
Visit Teatro Principal and the 17th-century Biblioteca Palafoxiana, the first public library in the world that features cedar wood furniture.
Hop on a ride to the Estrella de Puebla, a Ferris wheel that offers a remarkable first impression of the city.
Stroll in the Parque Ecológico, a reserve with lush gardens, cycling trails, and an aviary.
For stunning city vistas, visit La Purificadora Hotel, a boutique hotel with a transparent rooftop swimming pool.
Puebla is home to the world's largest pyramid by volume; you need not go to Egypt but head to Cholula, a mere 10 km (6 miles) away from Puebla.
Cholula is also home to the stunning Virgen de Los Remedios church perched atop the Great Pyramid, radiating a golden hue.
The best part is the Puebla's elevation, nearly 2,200 meters above sea level.
You will get excellent vantage points, which offer dazzling views of Matlalcueye (4461m) and Popocatépetl (5426m) volcanoes.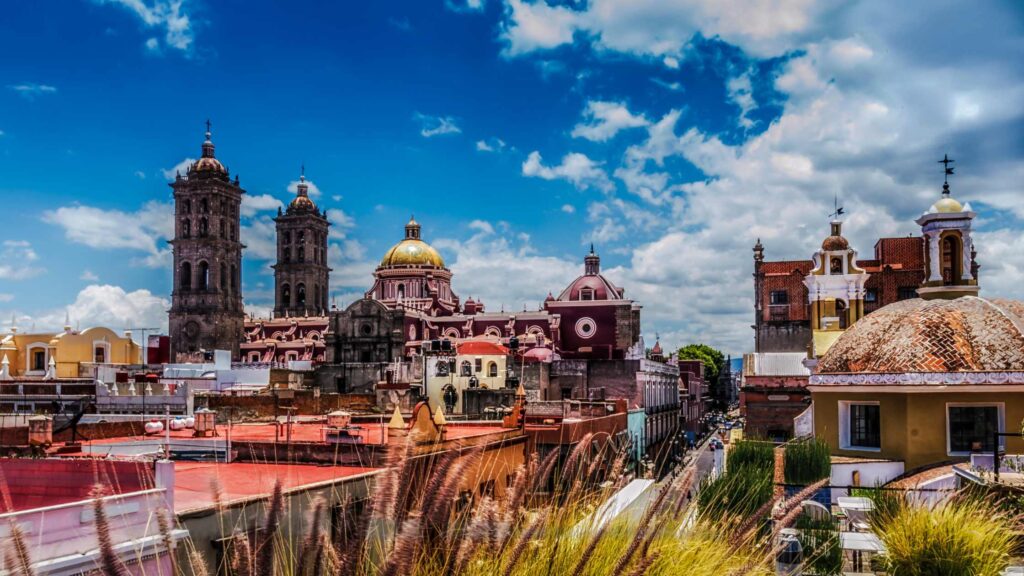 I recommend taking the guided volcano hiking tours for an up-close encounter.
Don't miss Puebla's annual Cinco de Mayo festival, the world's largest, commemorates the victory of the local army over French expeditionary forces in 1862.
You will witness vibrant colours, delectable street food, and lively parades, attracting visitors from across the globe.
Puebla is a paradise for foodies. It boasts a delectable array of traditional dishes, including chiles en nogada, Mole Pueblano, Cemitas and Memelas.
Don't forget to indulge your sweet tooth on Calle de los Dulces, or "sweet street."
GUANAJUATO
Guanajuato City is a treasure trove of beauty and history and is one of the most beautiful cities in Mexico.
The city was founded by the Spanish in the early 16th century and has a fascinating history of silver mining.
Guanajuato's vibrant arts scene, marked by museums, theatres, and galleries, reflects the city's creative spirit and lively culture.
Over 20,000 university students from the University of Guanajuato add to the city's dynamic atmosphere.
Stroll along the narrow alleys, or "callejones," and hike the surrounding mountains, admire the stunning architecture, panoramic churches, and tree-lined plazas.
Ascend Cerro de la Bufa via cable car to relish spectacular vistas of the city and its surroundings.
If you are seeking more adventure, hike to the summit of Cerro de la Bufa, which offers gorgeous views and a sense of accomplishment.
Immerse yourself in the city's culture by participating in a callejoneada, led by musicians and storytellers, as you navigate the labyrinthine alleyways.
Delve into the history of silver mining with a tour of the La Valenciana silver mines, gaining insights into the city's economic backbone.
Experience the unique and somewhat eerie Mummy Museum, home to naturally preserved mummies.
PLAYA DEL CARMEN
If you are a beach bum looking for one of the beautiful cities in Mexico to unwind on a clean beach, visit Playa Del Carmen, which sits on the shores of Riviera Maya.
Nestled on the stunning Caribbean coast, Playa Del Carmen is a tropical paradise surrounded by immaculate white-sand beaches and natural wonders, making it one of the most beautiful Mexican cities.
Unwind on the clean palm-fringed beaches and enjoy sun-kissed days.
Dive in and explore vibrant coral reefs, try snorkeling or go on other exciting water activites like fishing and yachting.
Beyond the beach, Playa del Carmen offers eco-parks that provide opportunities for birdwatching, cave exploration, underground river adventures, and even swimming with sea turtles.
Playa del Carmen blooms to life as the sun sets with a dynamic culinary and nightlife scene.
From techno and salsa clubs to bohemian mezcalerías and everything in between, the city offers diverse experiences for every taste.
The best part of Playa Del Carmen is that you will be spoilt with choices of day trips to unique destinations like Holbox, Chichen Itza and a multitude of cenotes scattered throughout the region.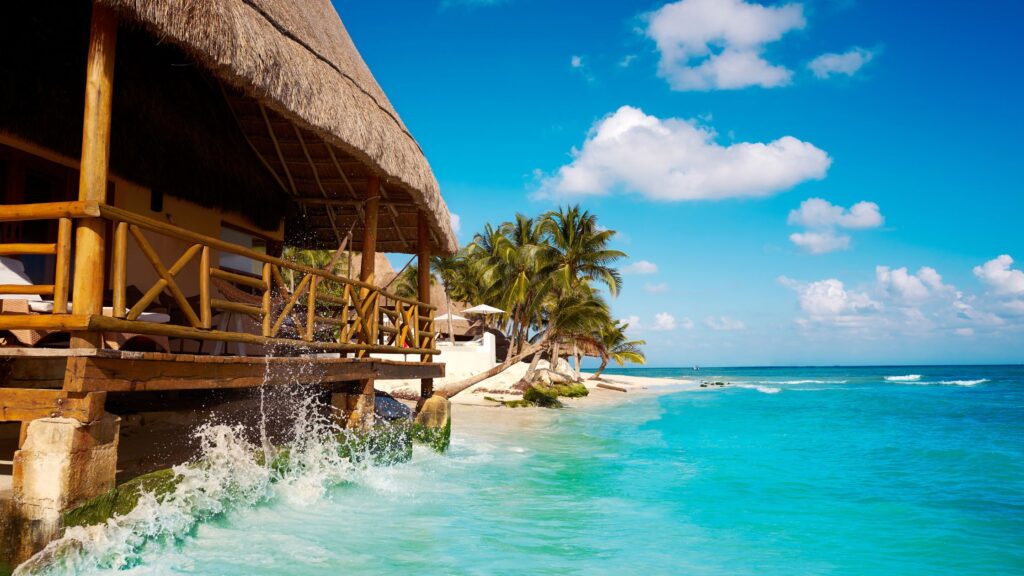 Playa del Carmen is increasingly attracting digital nomads who appreciate its work-friendly environment.
Days are filled with remote work, while evenings offer sunset beach strolls, delectable dinners, and vibrant nightlife.
If you have spare time, explore the nearby treasures such as Cozumel, Tulum and quaint beach villages en route to the Belize border.
GUADALAJARA
Guadalajara, often called the cultural heart of Mexico, is the country's second-largest city and is one of the most beautiful towns in Mexico.
Th city exudes rich history, vibrant tradition, and art, making it one of the best cities in Mexico.
Visit the city's historic centre, which features awe-inspiring architecture and is home to the magnificent Guadalajara Cathedral and the UNESCO World Heritage-listed Hospicio Cabañas.
Enjoy a show at the Degollado Theater, established in 1866 as another architectural gem in the city.
Check out the iconic Minerva roundabout, adorned with the Roman goddess of wisdom statue, which adds to the city's emblematic monuments.
Guadalajara proudly claims to be the birthplace of two iconic elements of Mexican culture: Mariachi music and Tequila.
The region surrounding the city is dotted with tequila distilleries that welcome visitors for tours and tastings, offering insights into the tequila-making process.
Guadalajara is also known for its diverse culinary scene. Be prepared to treat your taste buds as you get to sample local specialties such as charro beans,birria, torta ahogada,carne en su jugo,pozole and enchiladas.
If you are looking for souvenirs or home decor, you are in for a treat.
Witness local artisans who masterfully work with clay, crafting adornments and everyday household items that showcase the region's artisanal traditions.
CANCUN
Cancun, built in the 1970s, is one of the best tourist cities in Mexico, which offers a beautiful blend of modern luxury and authentic Mexican experiences.
This iconic city is like a coin with two distinct sides: the dazzling Zona Hotelera and the vibrant El Centro.
Zona Hotelera is a long strip of beachfront adorned with high-rise hotels, gourmet restaurants, and lively bars.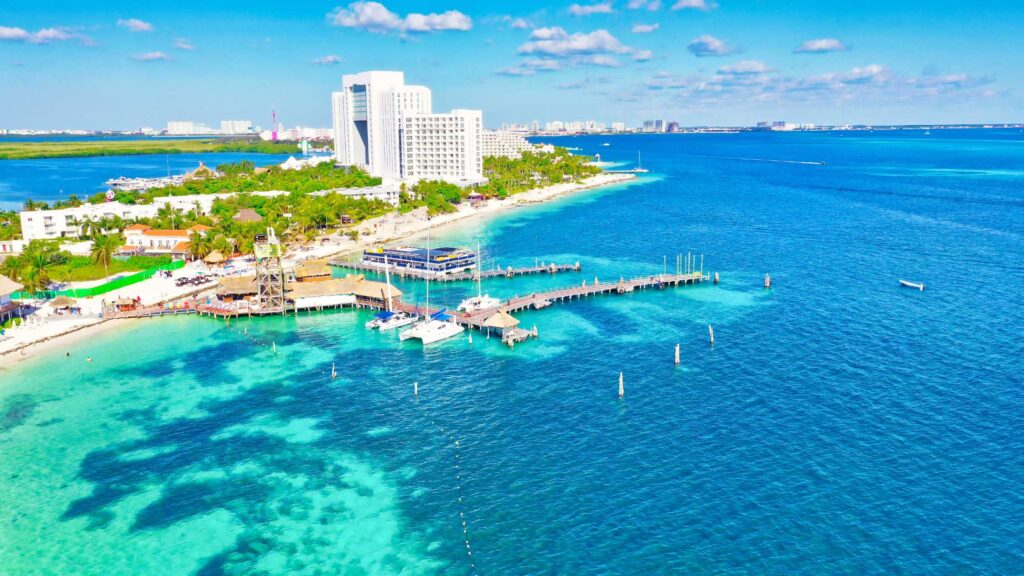 Revel here in the lap of luxury while savouring international cuisines. Explore exclusive shopping centres and enjoy the well-maintained beaches.
On the other side of the coin lies El Centro, Cancun's downtown area, which offers a more authentic Mexican experience.
Witness colonial and historic attractions alongside charming eateries which serve delicious tacos.
Cancun is surrounded by unique natural wonders and offers many water activities. Try snorkeling in the clear waters to explore cenotes.
Sail across the bay to the gorgeous Isla Mujeres or visit the nearby Mayan archaeological sites, which provide ample opportunities for exploration and adventure.
Cancun serves as the gateway to El Mundo Maya—the Mayan World—making it an ideal starting point for discovering the region's rich cultural heritage.
Delve into the fascinating Mayan history by visiting renowned sites like Chichen Itza, considered one of the World's New Seven Wonders.
Mercado 23 and Mercado 28 provide excellent shopping opportunities if you are looking for authentic handicrafts.
PUERTO VALLARTA
Puerto Vallarta, nestled between the stunning beaches of the Banderas Bay and the gorgeous mountains of the Sierra Madre Occidental, is one of the most beautiful cities in Mexico to live in.
Its alluring sandy beaches, framed by the azure waters of the Pacific Ocean, are a playground for water sports enthusiasts.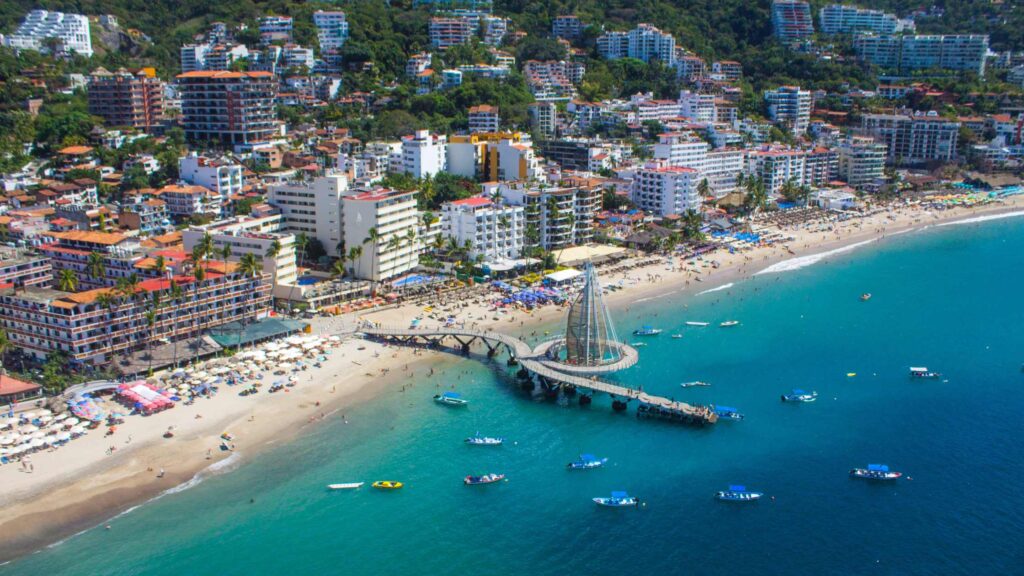 Puerto Vallarta is one of the hotspots for tourists who gather to bask in the sun, swim, and indulge in thrilling aquatic adventures.
While the beaches are an undeniable attraction, Puerto Vallarta's heart lies within its beautiful historic centre.
Stroll along the cobblestone streets which wind through the city, leading to quirky shops and art-filled boulevards.
Puerto Vallarta is a haven for thrill-seekers. Skydiving, bungee jumping, and paragliding await you. Go on a cruise to Yelapa Island.
Satisfy your palate by embarking on a culinary journey, savouring delectable dishes at Puerto Vallarta's finest restaurants.
Enjoy your favourite craft beer in the city's vibrant craft breweries and fantastic cocktail bars.
If you plan to stay, then the charming evening of Puerto Vallarta will not fail to impress you.
Enjoy the best theatre performances, visit art galleries, and check out the buildings decked with colourful lights.
MERIDA
Founded by the Spanish in 1542, Merida, the vibrant capital of the Yucatan state, is one of the most beautiful places in Mexico.
Its impeccably preserved colonial architecture, which dates back to 2600 B.C. and the ancient Mayan civilization, has earned it the title of the American Capital of Culture.
Merida's allure lies in its photogenic charm, making it the most beautiful city in Mexico. Every street and square seems to be perpetually camera-ready.
Head to Plaza de la Independencia, the main square boasting 16th-century mansions and San Ildefonso Cathedral, one of Latin America's oldest churches.
Visit the city's historic centre, which showcases an array of colourful colonial buildings in pastel shades of pink, green, and purple.
Stroll along Merida's central avenue, Paseo de Montejo, and admire the lavish mansions, leafy groves, and monuments.
If you are a history buff, check out the Gran Museo del Mundo Maya and the Museum of Anthropology and History in Palacio Canton, which provide glimpses into European-style architecture and family history.
Take guided tours of the Quintana Montes Molina, a grand mansion which takes you back in time.
Don't miss the spectacular view from Picheta's rooftop during sunset, one of the most romantic things to do in Merida.
Experience the Mayan ballgame, Pok Ta Pok, and evenings filled with music and dance to add more fun charm to your Merida nightlife.
Merida serves as an ideal base for exploring the Yucatan Peninsula.
If you have spare time, check out the nearby attractions, including the spotless beaches of Progreso and Sisal, ancient Mayan sites like Uxmal, and the city of Campeche.
MOST BEAUTIFUL CITIES IN MEXICO OFF THE BEATEN PATH
CAMPECHE
Nestled along the Gulf of Mexico on the Yucatán Peninsula, Campeche is the prettiest city in Mexico known for its colourful colonial architecture.
As you explore this beautiful Mexico City, you will be awestruck by the dramatic blend of vibrant colours and soft pastels adorn its buildings.
Take a guided city tour on which you will notice the historical significance palpable in every corner, reflecting its flourishing Spanish colonial era.
The city's past is brought to life through its colonial mansions, the grand Cathedral, and the formidable walls erected to protect against notorious pirate attacks.
Admire the baroque architecture, check out the murals and explore the archaeological sites to learn about the city's historical importance.
A stroll along the exquisite Malecon allows you to connect with yourself while admiring the coastal beauty.
Campeche's intricate defence system, including imposing ramparts with bastions, was recognized by UNESCO as a World Heritage Site.
This recognition spurred extensive restoration efforts throughout the city, ensuring that its colonial heritage remains beautifully preserved.
If you are a nature enthusiast, Campeche beckons you with access to the nearby Calakmul Biosphere Reserve.
This immaculate wilderness is home to diverse wildlife and some of the Yucatan's least-visited Mayan ruins.
Explore the nearby less-visited Mayan sites like Hochob and Dzibilnocac, which showcase the remarkable architectural achievements of the ancient Mayans.
For an immersive experience, stay at Hacienda Puerta Campeche, a historic hacienda transformed into a luxury hotel in the city's heart.
This elegant retreat offers a glimpse into the regal heyday of hacienda living and is the perfect base for exploring Campeche's historic landmarks.
It also allows you to make new acquaintances with the beautiful Mexican people.
MONTERREY
Located in the Sierra Madre mountain region, Monterrey, the capital city of Nuevo León, is one of the most beautiful cities in Mexico.
Monterrey boasts a thriving urban landscape dotted with factories and establishments, which makes it the Industrial Capital of Mexico.
With exceptional quality of life, a favourable year-round climate, and a reputation for serving the finest grilled steaks in the country, Monterrey is one of the best cities in Mexico to live in.
Check out the expansive Macroplaza—a showcase of cutting-edge design or visit Mexico's premier university, which exudes a youthful and vibrant atmosphere.
Apart from Industries, Monterrey is surrounded by natural wonders. Explore caves, discover enchanting waterfalls, and embark on thrilling hiking adventures.
The city is a hidden gem for eco-tourism, offering opportunities for mountain biking, rock climbing, hiking and more—all within easy reach of the town.
Don't miss the chance to visit the dramatic La Huasteca Canyon or explore the mesmerizing caves nearby.
If you enjoy history, visit the Mexican History Museum.
Hop on a leisurely cruise to sail along the manmade river to Parque Fundidora and witness a mesmerizing sunset.
If you are with kids, visit the Fundidora Park. For more adventure, see Cerro de la Silla, which has four peaks that beckon hikers and nature enthusiasts.
Visit Cerro de las Mitras, a natural monument of great significance.
Monterrey is also often called "La Sultana del Norte," a city where tradition and innovation thrive together.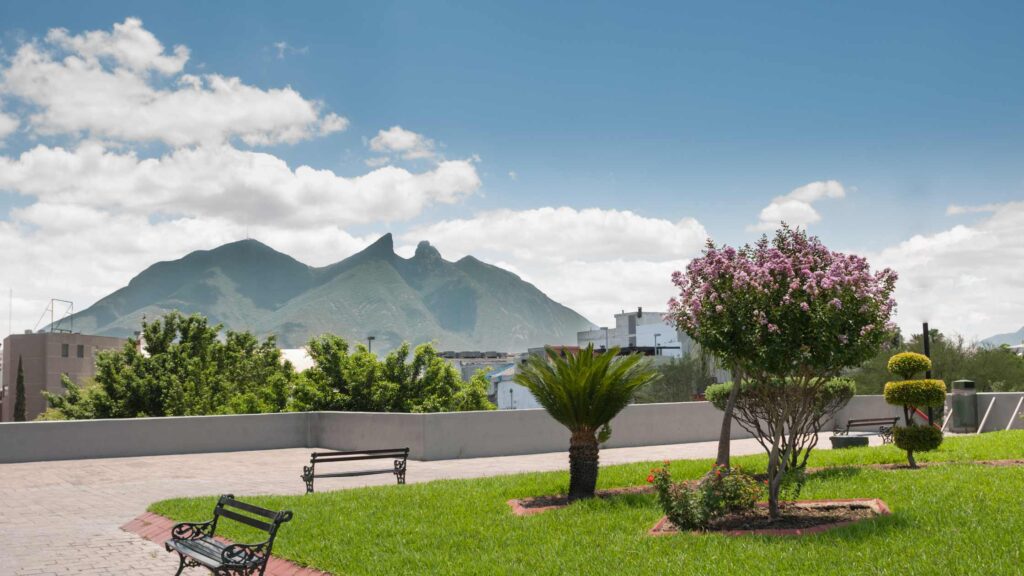 Learn about the rich cultural heritage via landmarks like the Old Quarter, the Cathedral of the Immaculate Conception, and the Palace of the Bishopric.
Additionally, Monterrey's modern icons, such as Torre Pabellón Monterrey, Torre Ciudadana, Parque Fundidora, Puente de La Unidad, and Monumento a Las Banderas, stand as testaments to its contemporary achievements.
The city's vibrant nightlife, charismatic Barrio Antiguo (old town), and captivating cultural and culinary scene make it one of the nice cities in Mexico.
Don't miss to savour the local speciality, cabrito (slow-roasted goat) and enjoy the "norteño music"- traditional folk songs to complete your Monterrey experience.
MAZATLAN
Mazatlan, often called "The Pearl of the Pacific," is a captivating coastal city on the Pacific coast and is one of the prettiest places in Mexico.
With its eclectic blend of history, expansive golden sandy beaches spanning 20 kilometres offer a vibrant and dynamic experience.
Mazatlan played a pivotal role during the mid-19th century mining fever, attracting a wave of German immigrants who left a lasting mark on the local culture.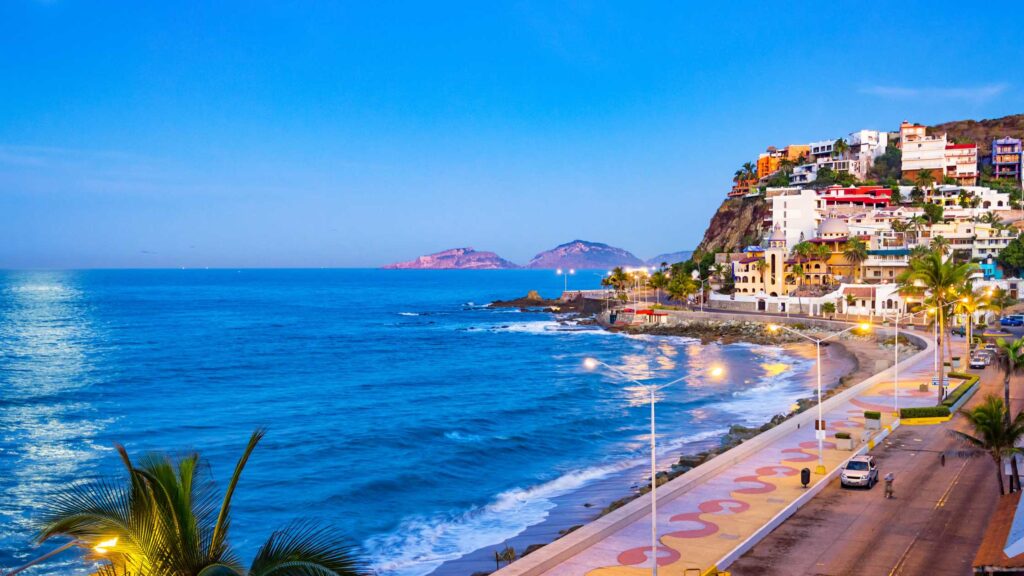 In 1900, these settlers established Pacifico Brewery, which today produces the popular pilsner-style Pacifico beer throughout the region.
The city's historic centre features an exquisite blend of colonial architecture and colourful buildings.
Mazatlan is renowned for its lively Carnaval celebrations, offering a Mexican twist on the global festivities.
During Carnaval week, the oceanfront Malecon comes alive with parades, fireworks, live music, and an unforgettable atmosphere of festivity.
Explore the beautiful historic centre, indulge in various water activites, enjoy a round of golf, or simply unwind on the nearby Stone Island beach.
The Centro Historico is a particularly charming part of the city, and Casa Lucila, a nine-room boutique hotel with an intimate rooftop pool, provides an excellent accommodation option.
The Zona Dorada, or Golden Zone, boasts hotels, beachfront restaurants, and souvenir shops.
If you have spare time, explore North, where lies the ritzy marina, followed by Nuevo Mazatlan, known for its upscale developments and burgeoning restaurant scene.
VALLADOLID
Nestled in the heart of the Yucatan Peninsula between Cancun and Merida, Valladolid is the perfect blend of Mayan history and colonial charm and is one of the most beautiful places in Mexico.
Visit the architectural gems, including the Church of San Servacio, which uniquely faces North instead of West as per Catholic tradition.
Stroll through the main square to witness women donning traditional Mayan attire against pastel-hued buildings and an elegant central cathedral.
Check out the other religious structures, such as the Santa Lucia and San Juan churches and the temple and ex-convent of San Bernandino de Siena.
Visit the civil architectural attractions that include the Palacio Municipal, Calzada de los Frailes, the Museo de the Parque de los Héroes and San Roquethe Casa Cantón.
Natural wonders, including enchanting cenotes like Zací and XKekén, surround Valladolid.
The Mayan archaeological site of Ek Balam is just 28 kilometres to the North, offering a glimpse into ancient history.
The renowned Chichen Itza archaeological site is a short 45-kilometer journey from the city.
The Yucatan Peninsula is known for its thousands of cenotes and underground sinkholes that offer a refreshing respite from the heat.
Valladolid provides easy access to several cenotes, with one located just a short walk from the main square.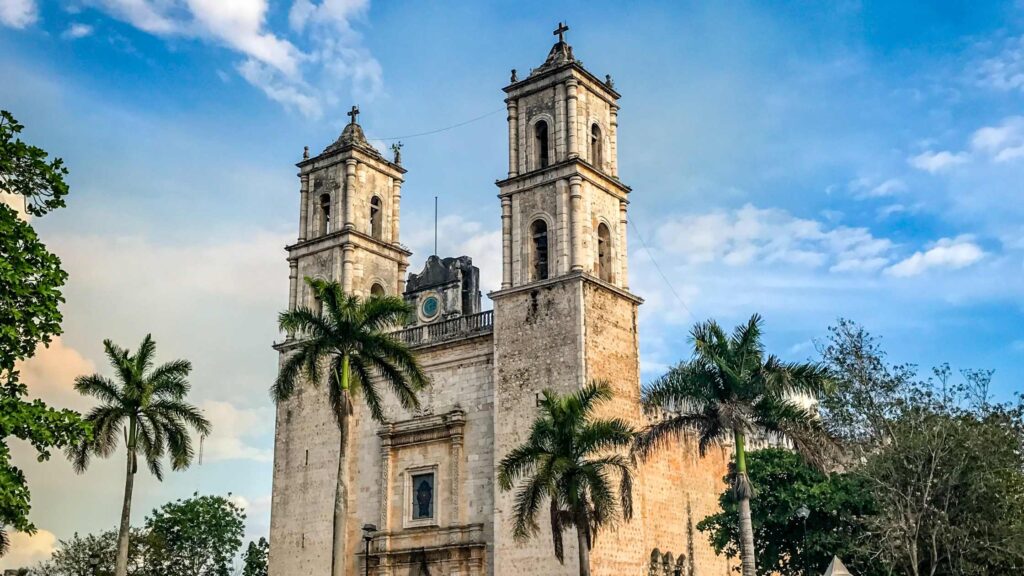 If you are a foodie, you will enjoy an authentic taste of Mayan cuisine at Valladolid, which has evolved over centuries.
Savour traditional dishes like sopa de lima, relleno negro and cochinita pibil.
Don't miss the opportunity to visit local markets and savour various regional delicacies.
Check out the nearby treasures such as Chichen Itza, Merida itself, the striking pink lakes of Las Coloradas, and many cenotes, including one right in the heart of the historical centre.
SANTIAGO DE QUERETARO
If you are a history buff, you should visit Santiago de Queretaro, often referred to simply as Querétaro, home to 1400 historic monuments and one of the prettiest towns in Mexico.
This beautiful city boasts a youthful atmosphere and enjoys pleasantly temperate weather year-round, creating a lively and inviting environment.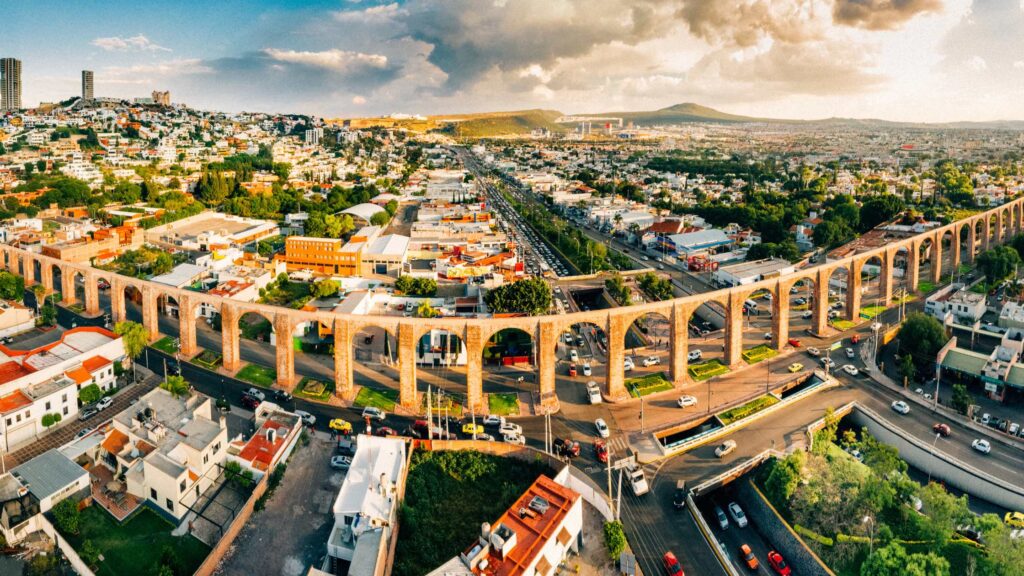 Querétaro stands out as one of the safest cities in Mexico, known for its spotless streets, stunning plazas, and well-preserved colonial architecture.
The cityscape is adorned with a wealth of museums, galleries, and churches, offering a rich cultural experience to visitors.
Check out the Roman-style aqueduct, which stretches almost two kilometres and dates back to the 1700s.
The aqueduct, with its 74 arches and height of 28.4 meters, is an architectural gem from the early 18th century and is among the designated World Heritage Sites.
This duct has been delivering water to Querétaro from the surrounding mountains for centuries and is one of the city's distinctive landmarks.
Visit the Mirador de Los Arcos lookout point, a perfect vantage point which offers a panoramic view of this impressive aqueduct.
Check out the historic centre, adorned with baroque buildings that have been meticulously preserved.
Querétaro is also surrounded by natural landscapes, including the iconic Peña de Bernal monolith, one of the largest in the world.
Spend a night in the cabanas at Cuatro Palos within the Sierra Gorda Biosphere Reserve to the East, which promises a spectacular and memorable experience.
LOS CABOS
Los Cabos, consisting of Cabo San Lucas and San Jose del Cabo, sits on the southern tip of the Baja California Peninsula and is one of the most beautiful cities in Mexico.
Los Cabos offer a blend of natural beauty with well-maintained hiking trails, luxurious beach resorts, world-class sport fishing, and championship golf courses and is one of Mexico pretty places.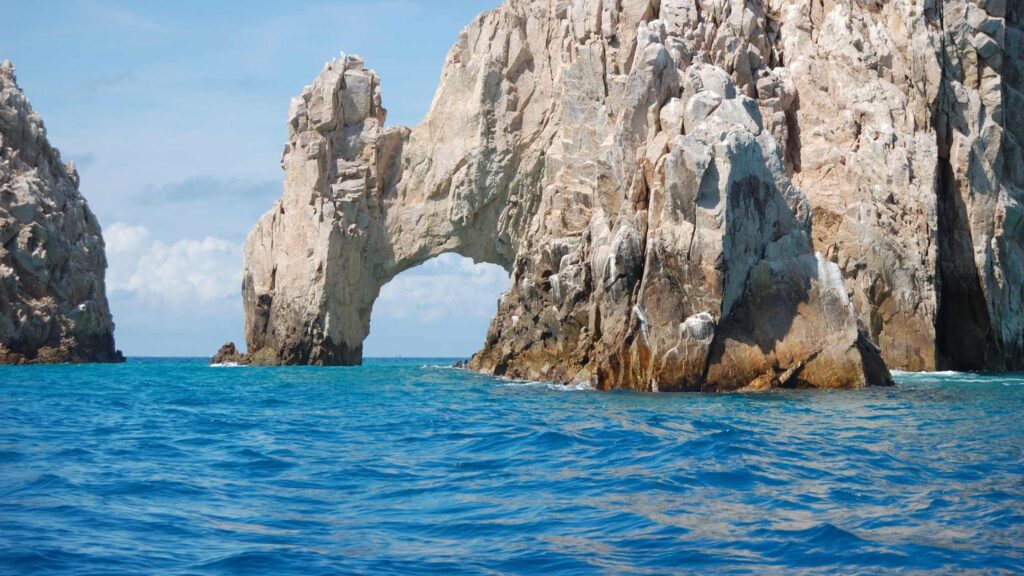 Cabo San Lucas and San Jose del Cabo offer distinctly different experiences despite their proximity.
San Jose del Cabo retains a traditional Mexican ambience, adorned by cobblestone streets and a tranquil tree-lined plaza surrounding a magnificent cathedral.
Cabo San Lucas is renowned for its vibrant nightlife, making it a favourite destination for those seeking lively entertainment.
Between the two towns lies the Resort Corridor, a stretch adorned with upscale resorts, golf courses, and stunning ocean vistas.
This area is a haven for vacationers seeking the perfect blend of relaxation and recreation.
Drive along the stunning valley dotted with vineyards and wineries and offer a delightful wine-tasting experience amid the lovely landscape.
Explore the downtown art district, especially during the Thursday Art Walks from November to June, which provides an opportunity to make acquaintances with the gallery owners and budding artists.
Witness the exceptional culinary journey, with farm-to-table and sea-to-table restaurants showcasing regional delicacies and fresh ingredients.
If you time your visit right, you may witness one of the festivals celebrated throughout the year, including the Day of the Dead celebration and Restaurant Week.
TIJUANA
Tijuana, situated just a stone's throw from the U.S. border, is a dynamic and ever-evolving border town and is one of the most beautiful cities in Mexico.
The city's streets are a melting pot of diverse cultures decorated with beautiful street art.
Stroll along Avenida Revolución, Tijuana's main avenue, filled with cosy bars, lavish restaurants, chic boutiques and shops, cute souvenir stores, and an abundance of sombreros.
Tijuana has an impressive art scene anchored by the expansive Centro Cultural Tijuana.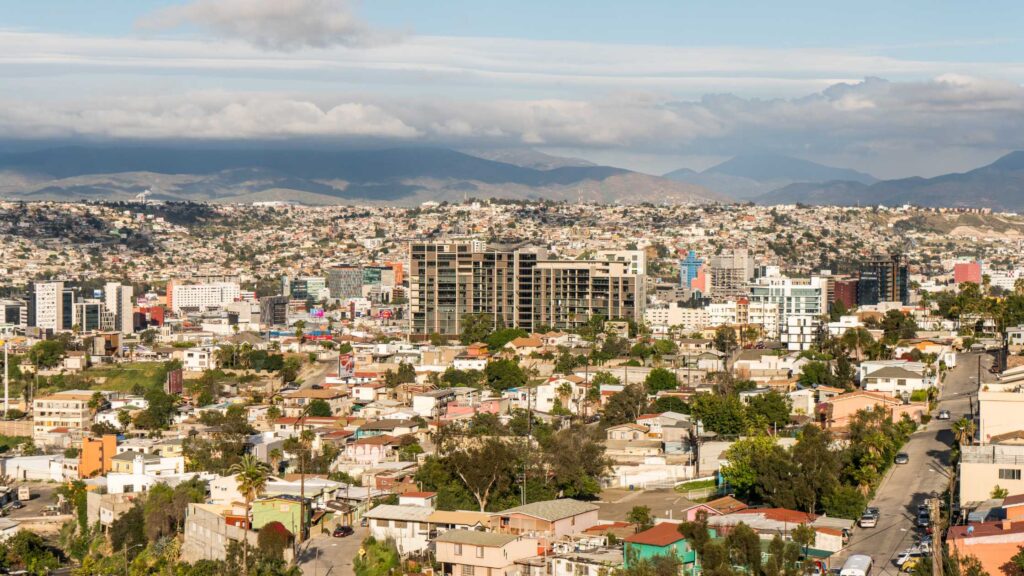 If you are a beach bum, head to the neighbouring town of Rosarito, which has well-maintained sandy beaches.
It's worth noting that the Pacific Ocean here is the same one that graces San Diego's shores.
For a unique experience, consider attending a night of lucha libre wrestling.
Tijuana is renowned for its vibrant nightlife scene.
The city offers a wide range of entertainment options, whether you are exploring craft breweries or indulging in tequila tastings. Tijuana is the "Craft Beer Capital of Mexico."
LA PAZ
La Paz, the charming capital of Baja California Sur, which sits on the Sea of Cortez, is a hidden gem for those seeking an escape from the hustle and bustle of the city.
The city is home to Mexico's finest waterfront promenades, providing an ideal setting for strolls and making it one of the best Mexican cities.
Along the promenade, you will discover art shops, stalls offering delectable fish tacos, and cosy restaurants to take in the lovely views over the crystal-clear waters.
Surreal beaches surround La Paz, and the famous Balandra Beach is a must-visit.
These beaches offer powdery sands and tranquil waters, perfect for relaxation and water activities.
La Paz is a diving paradise. The waters here are teeming with marine life and greets you with vibrant underwater ecosystems.
Dive with sea lions, encounter hammerhead sharks, and embark on thrilling whale-watching adventures.
The ideal time for whale watching would be between January and March.
MAP OF THE MOST BEAUTIFUL CITIES IN MEXICO