A hostel this big? That too with a swimming pool?
These were the thoughts when I looked at the pictures of Wanderers hostel on the internet while I was looking for a hostel in Goa.
I was back to the beaches after having had a serene experience at Dudhsagar spice plantation and was planning to explore the beaches in North Goa. Morjim was the first place that I wanted to stop over. This is when I came across Wanderers hostel and was instantly drawn by its pictures that depicted.
Now, based on my travel experiences, I can say that pictures can be quite deceptive. I have made wrong choices in the past having doomed by the pretty pictures.
Also, when selecting hostels, I basically have two criteria in mind – cleanliness and Wifi connection. Well, we all expect a minimum hygiene and none would like to stay where the taps are broken, there is no water and mosquitoes haunt you all night (yes, all these have happened to me!). After embracing the life of a digital nomad, a decent Wifi connection has made it to my list of preferences. The third is the price, and I'm not very rigid on this as long as the first two criteria are met.
So with a little apprehension, I decided to give it a try based on some of the reviews that were surprisingly very nice. And it was one of my best travel decisions ever! Trust me, I don't exaggerate things.
Tents or Dorms?
Wanderers hostel is huge, and you have more than one type of accommodation that you can try. There are the regular dorm rooms – mixed, female and male, and there are specialised tents around the swimming pool. Well, in summer it gets a little hot inside the tents during the day, but if you wish to try something different and love being close to the pool, tents are for you.
The tents are priced cheaper than the regular dorms. I stayed in the tents as this was something that I had not tried by the pool. It was a bit hot during the day but it was realtively cooler at night as the breeze came in.
Swim, Play, Read or Do Nothing!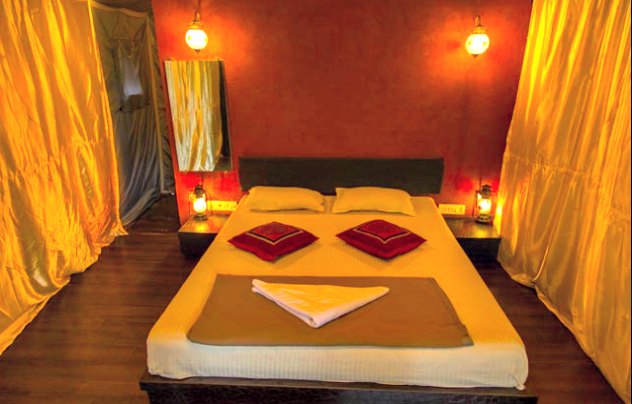 You can spend much of your time in the hostel itself as you are spoiled by the options that you have. There are many indoor games including snooker tables in the lounge area, and a cupboard of good books to keep the bookworms occupied. For the ones looking for some outdoor activity, there is the big pool and a restaurant cum cafe next to it in the garden amidst the tall palm trees.
Recommended Read: 10 Things to Do in Goa Other Than Being at the Beach
Restaurant – A hangout place for the wanderers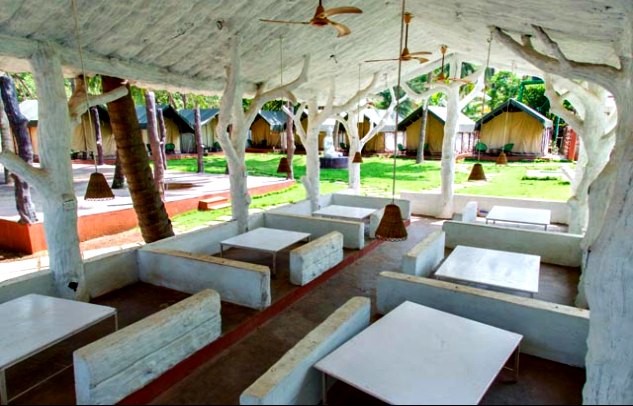 My favourite part of Wanderers hostel was the cafe, for two reasons. Food and the chance to meet fellow travelers. Every evening travelers gather in the restaurant and it's a great place to socialise with other backpackers. I tried mostly Indian cuisine and they were all delicious. However, you can get a nice meal for a cheaper price at some of the restaurants in the same street, if you want to experience seafood or Goan cuisine.
My Verdict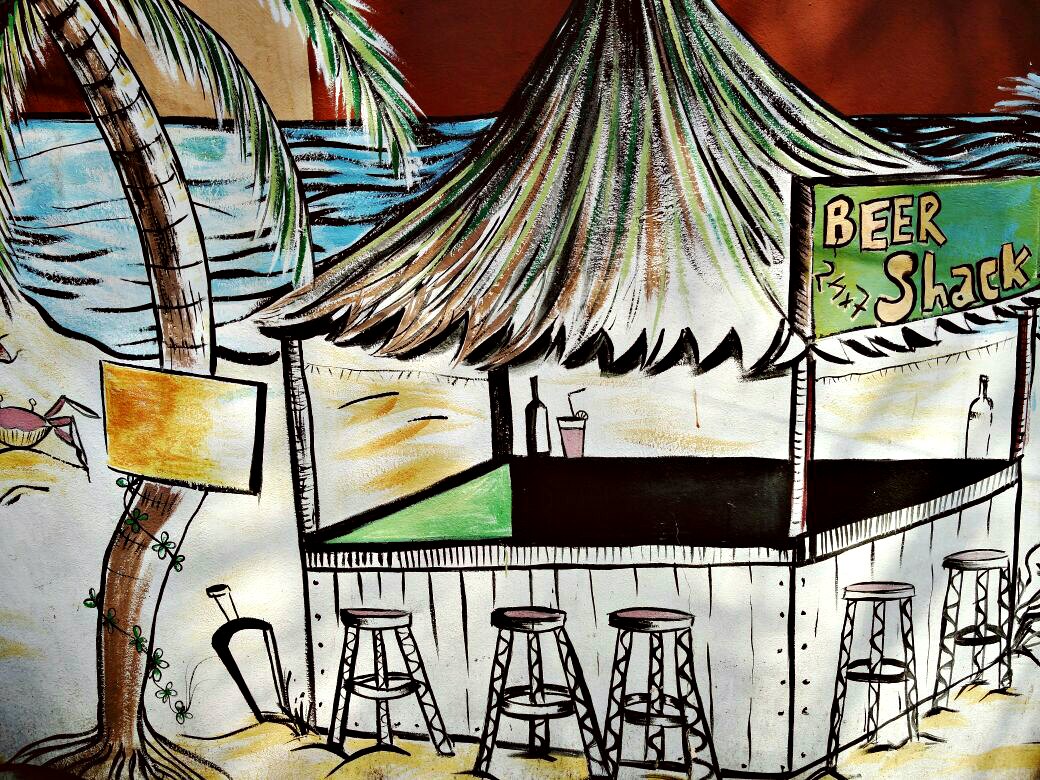 Not only were both of my requirements met at Wanderers hostel, I had a memorable experience meeting a lot of people and made new friends. It's a total package for a typical backpacking wanderer wanting to explore North Goa. Do give it a try if you are around Morjim.
They accept bookings via their website. However, for the most part of the year except the low season, the dorms remain full. So it's always best to book ahead. They have a listing on booking.com where you can book without paying in advance.
Check the prices on booking. com below:
[button link="http://www.booking.com/hotel/in/wanderers-hostel-morjim.html?aid=1248558&no_rooms=1&group_adults=1″ type="icon" icon="search"] Check the prices here![/button]
Recommended Read: Offbeat Goa Travel Guide
PS: I wrote this post in collaboration with Wanderers hostel. However, all the views and opinions are my own.
*Disclosure – This post contains affiliate links and if you use them, it would give me a small sum to fund my travels at no extra cost to you!
Share the Love. Pin this Post!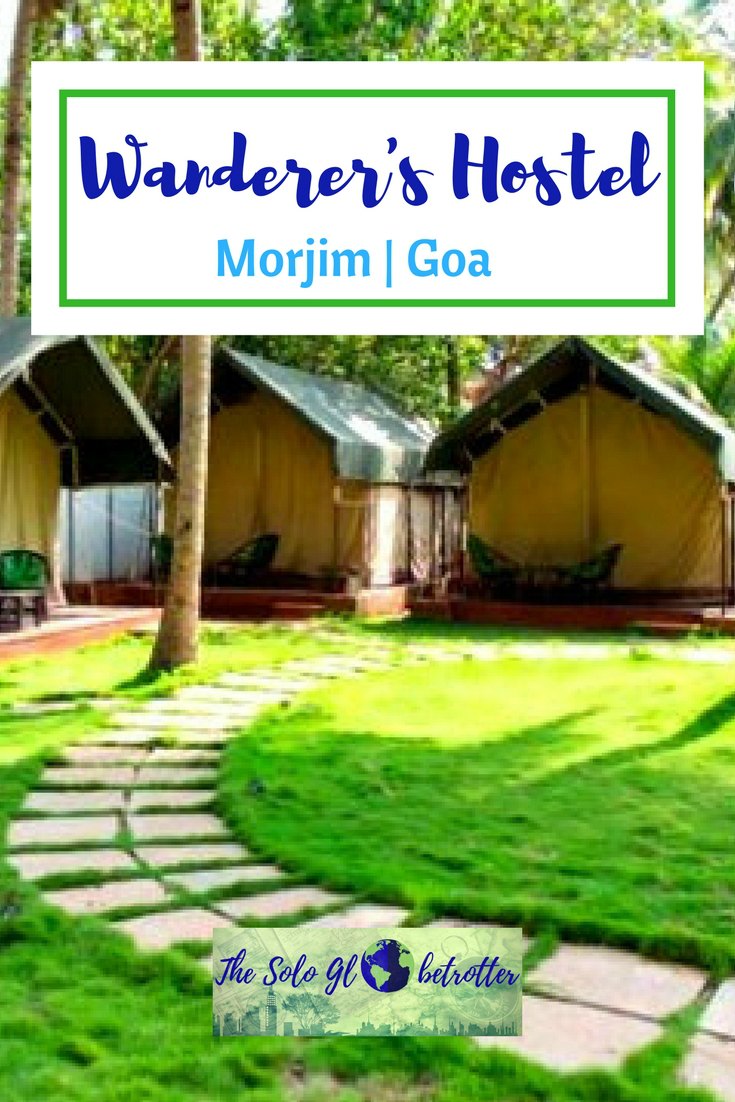 Follow my stories on Facebook, Twitter, and Instagram.
[author] [author_image timthumb='on']https://thesologlobetrotter.com/wp-content/uploads/2015/04/Untitled-design-1.png[/author_image] [author_info]Reshma Narasing is a dreamer, a bibliophile, a hopeless travel addict, a passionate writer, and a girl who gulps down large mugs of coffee many times a day. The Solo Globetrotter is the place where she takes people like you virtually, sharing her combined love for traveling and telling stories. [/author_info] [/author]
Subscribe to my posts by email for travel inspiration, destination guides, tips & stories. No spam!