I still remember the day when I first heard about the Himalayas. I was in class 4, looking at a small black and white image of a snow-capped range of mountains. Our teacher vividly described the traits of the Himalayan mountains. She gave poignant details and weaved interesting stories to imprint the images in our head. She did her best to give a picture of the majestic Himalayas that stretched. And I'd listened to her intently, forming images in my head as my figment of imagination let me frame.
Since then, I'd read and read about the mesmerising beauty of the places. I'd scoured the internet countless times as I grew. I never missed any article which related to the Himalayas.
It had been a dream for me to travel to the Himalayas since then. I travel often and I've traveled far. But, I'd to harbour my dreams of the Himalayas. So long, that the restlessness had started to reach its threshold until last year when we enrolled for the bone-chilling Kuari pass winter trek. So, from being just a series of images formed over the years,visiting the Himalayas was finally becoming a reality.
To me, it was the most anticipated trek so far. Usually, I'm curious about the places that I would be exploring, about the stories the destinations behold or the things which I'm going to experience. But for this trek, it meant none of these. The only image and thought process going on in my head was my first glimpse of the Himalayas – how would the picture be? when would I first get to see the mountains? What would be the colour of the backdrop? and so on.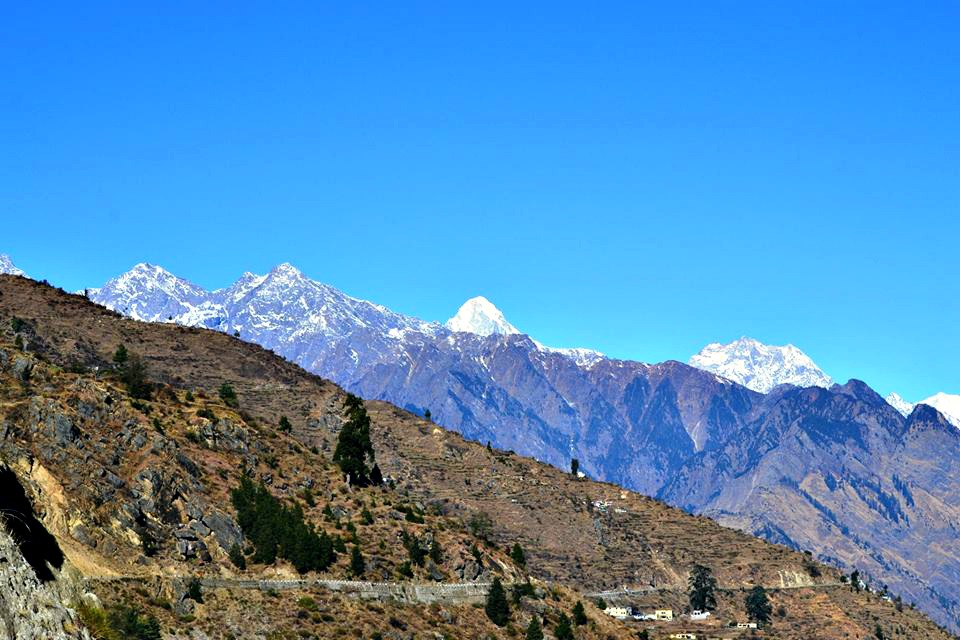 Our group headed from Haridwar on a chilly winter morning to Joshimath, our base camp. It was going to be a day-long journey. I sat beside the window of our vehicle, wrapped in four layers of clothes – half sleepy, mildly shivering and highly restless. We passed through several towns through which the mighty river Ganga meandered, bearing different names in different towns. The Ganga flowed, making her way through rugged cliffs, under man-made bridges, above the rocks as if directing us to her birthplace, which called her home – the Himalayas. I traced the river as far as I could, as I watched her beauty, bewildered.
Curiosity took the better of me and left me sleepless, although I was too exhausted. The sun was already getting ready to bid goodbye for the day, but no sight of the Himalayas yet! I'd begun convincing and preparing myself that I would be able to see them only the next day.
I'd almost given up when it happened. A whitish-golden layer shone at the horizon, which began to take shape as we approached. A snow-capped peak emerged between high rocks in the distance. The setting sun turned the skies into a glimmering gold colour. I caught a glimpse again and I knew this time. The Himalayan peak shimmered from behind, standing tall. I was happy beyond my expectations and didn't care to hide my smiles. My eyes welled up and my heart leapt as if I'd met a long lost love!
It was only the beginning, as our driver drove through the narrow and dangerous roads with ease to take us to Joshimath. It had become dark by now and I was no longer awake. I'd passed into a blissful sleep, contented with my little encounter.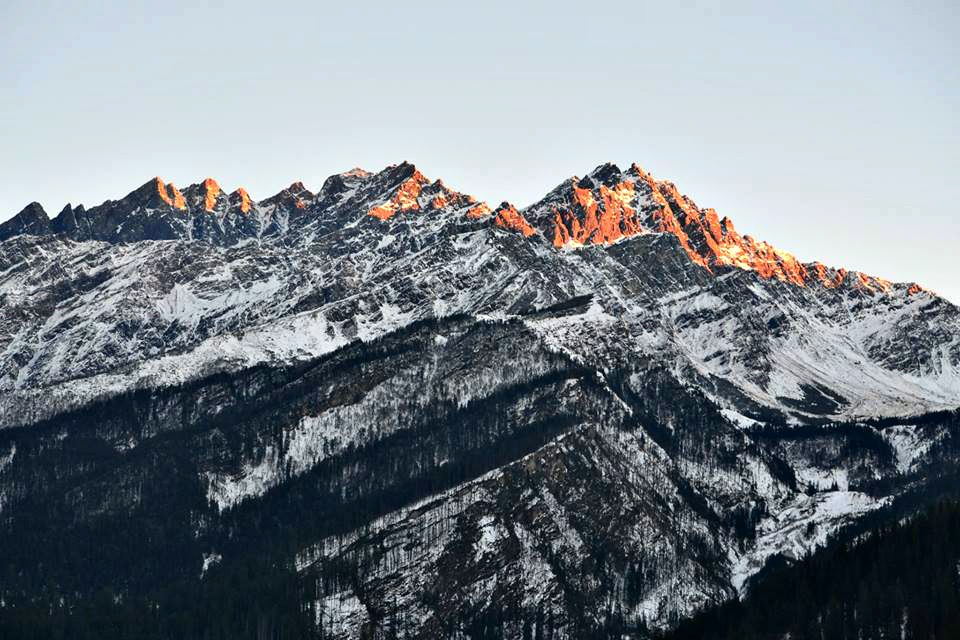 From the next day, it was only a panoramic view of the Himalayas, which I witnessed 24/7 for a week long! I was awestruck by the sheer beauty of the Himalayas, which towered over to kiss the clouds. There come moments in life when you are happy and the reason is not any materialistic possession. Instead, happiness turns out to be a deep sense of pristine joy, which percolates through our veins. The experience of happiness is pure bliss then.
Each day of my encounter with the Himalayas was new. As the trek went further, I began to form a bond with these splendid mountains. A profound respect for these hills filled my heart and I couldn't fathom why – was it the imposing might? Or the intimidating views? Maybe the Himalayas just command respect, by default.
We passed by a little, remote village known as Tugasi, which was sparsely populated. The kids of this village beamed as they saw us, asking for chocolates. The simplicity of these people shook me and I was shocked to discover how the comfort levels were defined. These people weren't after wants but lived their lives fulfilling what they need. And they looked more contented than I was, who a city dweller like me had other notions about comfort and needs.
The Himalayas showed me how tiny I was, in the bigger scheme of things. The mountains seemed to showcase me of the beauty of the planet we inhabit. I felt extremely lucky to witness this spectacular beauty of these hills and the magnitude of their awesomeness. When I looked stalled, tired of climbing and unable to bear the biting cold, I would hear these mountains, asking me to stand up and face the difficulties. Just like they withstood the test of times since ages.
I sat by the campfire warming myself and gazed at these wonderful mountains, as our group chit chatted. I would get lost in a silent conversation in these mountains which threw so many questions. Did they stand as if blocking my way, as if demanding answers – was it them or was I finding answers?
I watched the clear and bright sky with millions of stars hovering above me, shimmering. I wondered at the marvel of this planet as the Himalayas glittered from the moonlight falling on them. I became a child in the lap of the Himalayas who soothed me. As I sensed the shallowness of things, my ego received a bashing deep inside. And I cried, as the humbleness took over me. These mountains told me stories, stormed me with some questions which none had asked me before, in a rapid-fire round. The mountains answered many of mine and shared a few of its secrets.
The enigmatic charisma which the Himalayas behold made sense to me. The pain(of the death of my mom a few months before)buried deep in my heart slowly resurfaced.I let it flow as I couldn't hold my tears anymore. Because the pain was too much and too hard.I poured my heart out to these gigantic friends who seemed to comprehend and didn't utter a word, but let me be.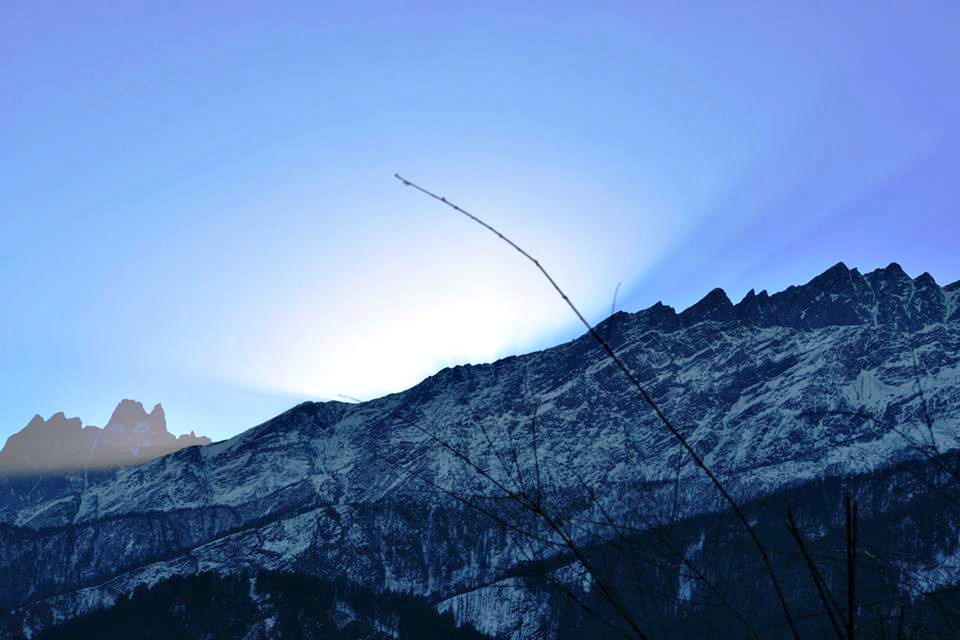 Because there is nothing to say or do when you lose someone who means your world. It is said that time heals everything. But, it's just a cliche. As time lapses, loss and pain become just a void space in your heart, which stares at you for the rest of your life. And these majestic mountains knew that exactly and did their part – of warmly embracing me, in total silence.
By the time I was done with my maiden trek in the Himalayas, I wasn't the same person again. Because something in me had changed forever. If there is a vision captured by my eyes during my travel, which I shall behold until my memory withers, It would be the sights where I caught the various hues of the Himalayas. If there are days from my travels about which I would love to endlessly rant upon, it would be my days I spent amidst this paradise of Himalayan abode.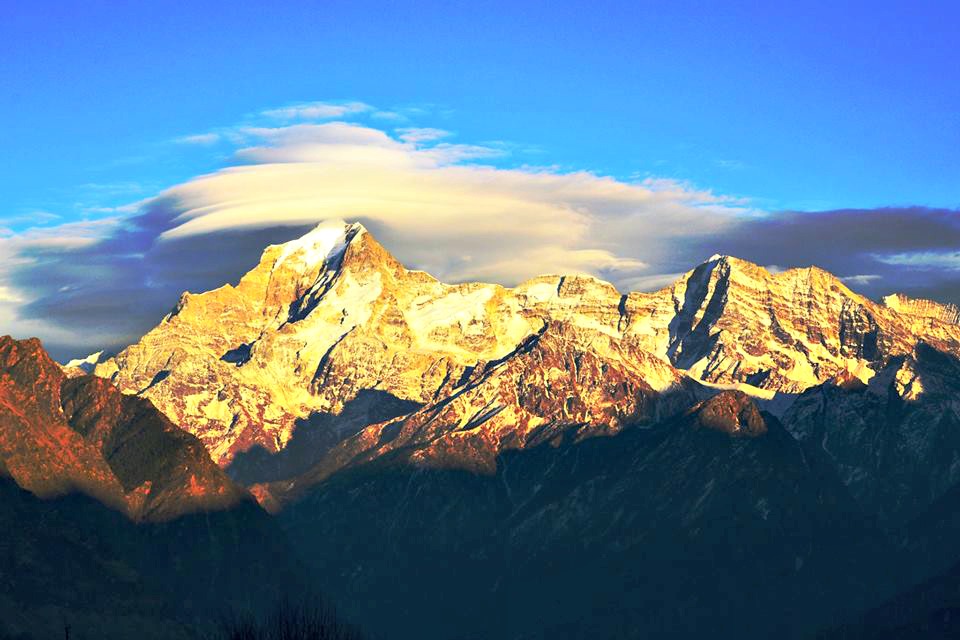 The Himalayas made me realise how I'd little or no control over certain things in life. The Himalayas taught me that my days on earth are numbered and this life is all that I've got to chase my dreams. They taught me that I've got to stand up for what I desire. The Himalayas gave me wings to discover my passion and made me go for what makes my heart flutter.
Follow me on Twitter & Facebook for my travel stories.
Subscribe to my posts by email for travel inspiration, destination guides, tips & stories. No spam!