Did you know you don't need to leave the USA to have the Instagram-worthy experience of relaxing in natural hot springs surrounded by serene nature? Here are the best hot springs in Death Valley, California, that you can't miss.
Despite the name, Death Valley is a delightful place if you choose the right time to visit. It is the lowest point in North America at 86m below sea level and one of the hottest places on earth, with average summer temperatures over 40℃.
Death Valley is not just deserted, cracked, dry ground and bare rocks. This national park comes alive in springtime with the hills and valleys covered in colourful wildflowers.
Also, the area around Death Valley is home to some incredible hot springs!
Let's jump in if you're ready to add this unique experience to your bucket list.
WHEN TO VISIT THE BEST HOT SPRINGS IN DEATH VALLEY
Before you go, remember that Death Valley is known for being one the hottest and driest places on earth. The best time to visit is early spring and late autumn before the snow covers the park or the heat gets unbearable.
Naturally, the hot springs are more enjoyable when a bit cooler.
Remember that Death Valley encompasses a vast area and might be quite a distance between gas stations and water-fill points. Bring enough water with you, follow the map and don't stray away from the marked trails.
BEST HOT SPRINGS IN DEATH VALLEY
THE OASIS AT DEATH VALLEY
The Oasis at Death Valley is what it sounds like, a well-deserved resort in the heart of the deserted terrains of Death Valley. Regardless of whether you're coming here to unplug and relax or hiking in the area and need a place to gather your strength, you will love this hot spring resort!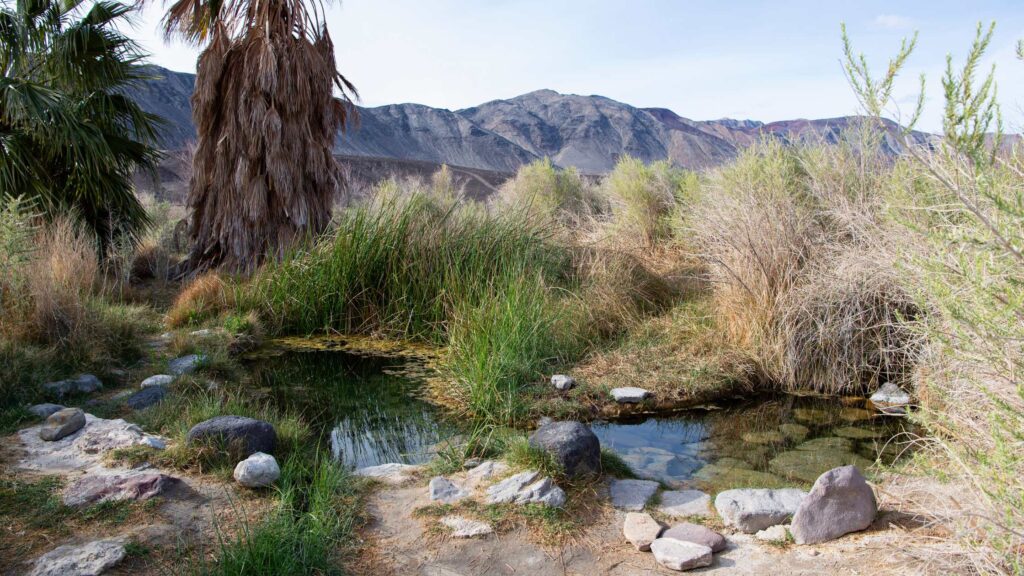 The Inn at Death Valley resort was built in 1927, and it's been welcoming guests looking for relaxation in mineral water pools ever since! The pool water constantly changes as it is fed directly from the spring for maximum health benefits.
Check availability and book your stay at The Inn at Death Valley here.
SALINE VALLEY HOT SPRINGS
Saline Valley Hot Springs are a small complex of three natural hot springs constructed in stone with stunning views of Death Valley's breathtaking landscapes.
These hot springs are pretty isolated, and the only way to reach them is an 80km long, unpaved dirt road that can be dangerous if you don't have the right vehicle.
The hot springs are free to visit if you've already paid the National Park entrance fee!
You can soak in three different levels of pools, upper, middle, and lower springs. The water temperature ranges from 37 to 44°C; the warmest is the lower springs pools.
The surroundings are lovely, as palm trees shaded the hot springs, making for an authentic oasis atmosphere.
Recommended – 11 Best Hot Springs In Mammoth Lakes For Unwinding Amidst The Sierra Nevada
KEOUGH'S HOT SPRINGS
Keough's Hot Springs is on the northern end of Death Valley National Park, towards Bishop. If you want the hot springs to experience but want to avoid roughing it and soaking it in questionable open-air pools, this place is for you!
Keough's Hot Springs is the largest natural hot spring pool in the Eastern Sierra. These pools were built in 1919, and they are still used to this day.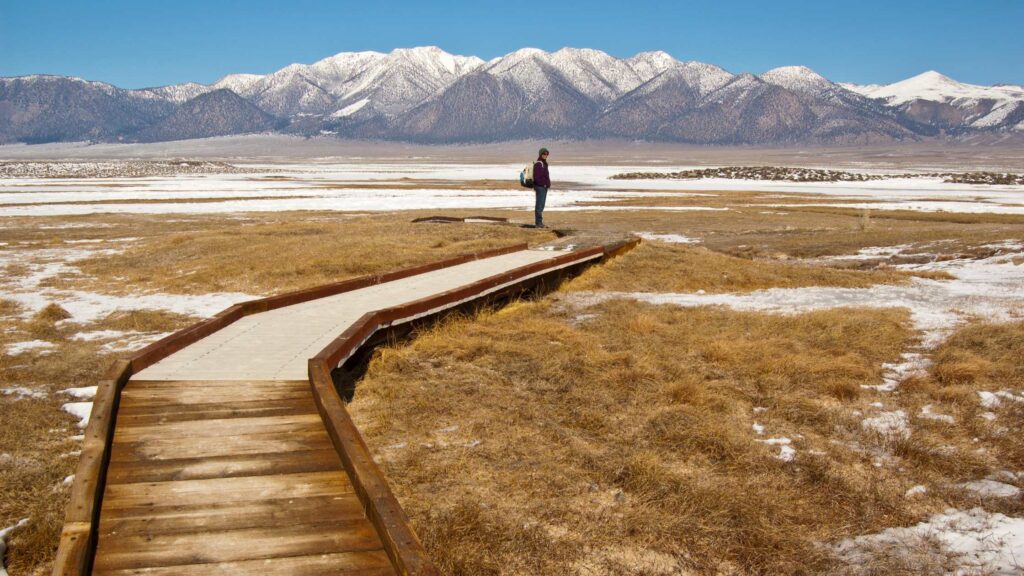 You can choose between swimming in the larger or smaller pool, filled with fresh, free-flowing natural spring water, with the minor pool being the hotter.
The adjacent river stream is a hot water river. The best part, it is free to bathe in the river if you want to try out the water and avoid paying for a day pass at Keough's Hot Springs.
LONG VALLEY HOT SPRINGS
Long Valley Caldera is located on the northern end of Death Valley National Park, under the jurisdiction of the town of Bishop. There are several natural hot springs in the area, and all of them are in the backcountry.
Rock Tub Hot Springs is one of this area's most picturesque hot springs. A single soaking tub surrounded by nothing but short bushes with a view of dramatic mountains with snow-covered peaks.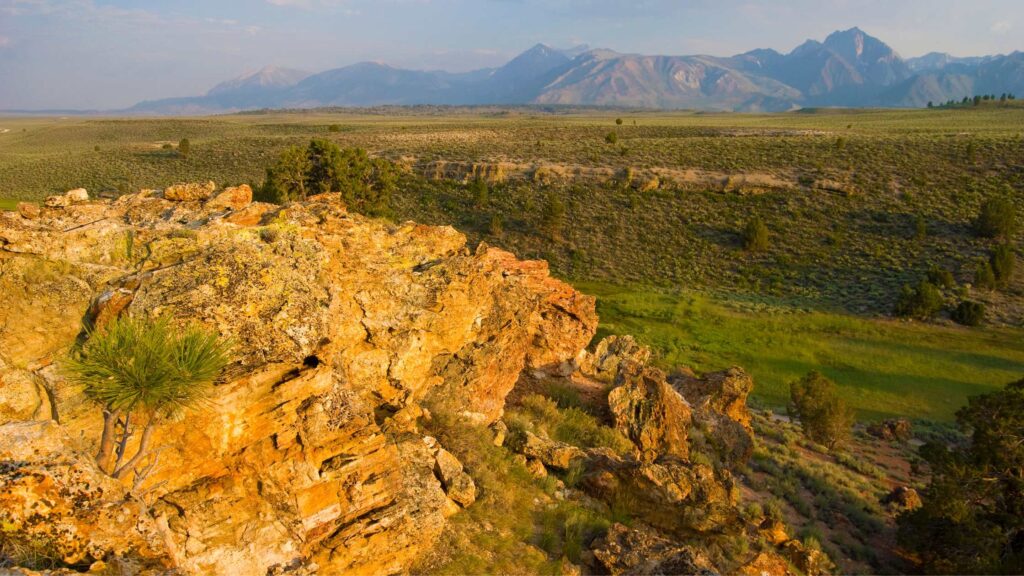 Wild Willy's Hot Spring is especially spectacular if you visit in winter when the rest of the area is covered in snow. The small steaming hot spring looks like it came straight out of a fairytale.
It is free to soak in this natural pool, and as it is quite a popular spot, you should arrive early to have it all to yourself.
Finally, there's the Hot Creek Geological Site. It is a geothermally active area known for its boiling geysers and stunning vivid turquoise pools.
While they are undoubtedly appealing, swimming is forbidden in these hot pools as there are unpredictable bursts of boiling hot water! Heed the warnings and observed from a distance.
TECOPA HOT SPRINGS
Located at the southern end of Death Valley national park, the Tecopa area is a geo-thermally rich site with a couple of hot springs, some of which are free to access, while others are within campgrounds and simple desert resorts.
You can choose a few places to stay and enjoy your time in the springs.
Delight's Hot Spring resort has a couple of private hot tubs and a larger pool, all with natural hot spring water. You can either rent a room and stay for a night or purchase a day pass and enjoy the springs.
Check availability and book your stay at Delight's Hot Springs here.
Tecopa Hot Springs Resort is far from a luxurious resort, but it is a popular spot for campers and people who want to relax in natural hot spring pools surrounded by desert landscapes.
Similarly, Tecopa Hot Springs Campground & Pools offers basic accommodation facilities but incredible hot spring pools with crystal-clear mineral water to make your skin softer than any spa treatment money can buy!
TECOPA MUD BATHS
One of the unique hot springs in the Tecopa area is its mud hot springs, where you can cover yourself with warm, bubbling mud.
Tecopa Mud Baths are a collection of hot springs that combine into a small hot pool. It is surrounded by the desert landscape, making for a unique experience.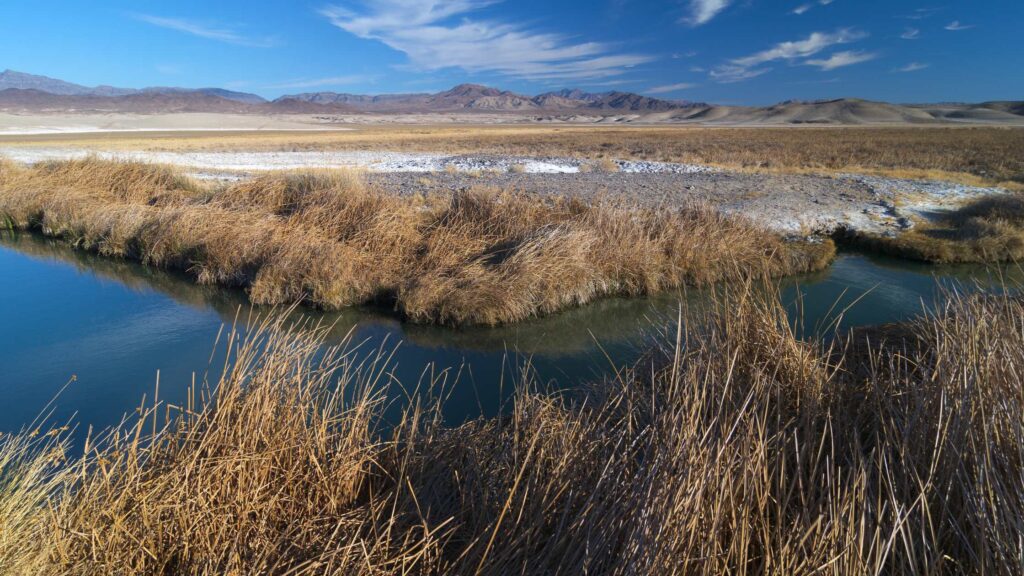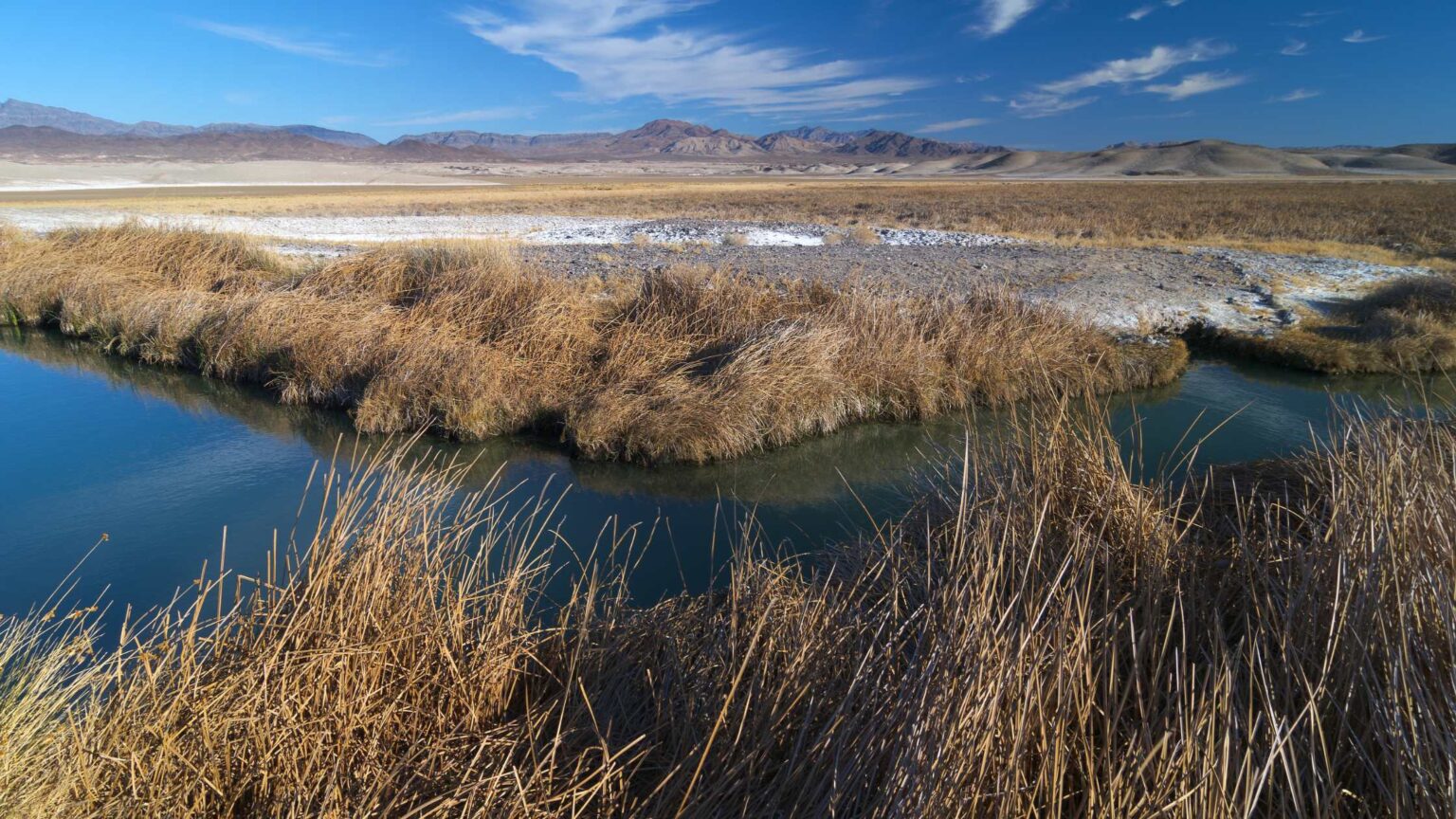 The water from the hot mud pool flows through to another, slightly larger pool, but it cools down along the way, so the second pool is less hot.
This mud pool is completely free to enter, but be aware that there is a sign notifying visitors there are mud mites in the hot spring, and they can bite! There are no facilities around, so come prepared.
You will find Tecopa Mud Baths about an hour and a half from Las Vegas, Nevada.
FINAL THOUGHTS ON THE HOT SPRINGS IN DEATH VALLEY
After seeing all these hot springs, Death Valley does not sound that bad anymore. This incredible national park is full of fantastic adventures to add to your itinerary, and soaking in the picturesque hot springs should be at the top of your list!
There's no need to use your hotel'shotel's heated pool when you can warm up in one of these natural hot springs!
Whether you stay in a resort with private hot springs or adventure looking for hot springs in the backcountry, there is something for everyone!
MAP OF THE BEST HOT SPRINGS IN DEATH VALLEY CA